Reykjavík, the World's Northernmost Capital
by Yanshu
Reykjavik
20 Dec 2020
A vibrant and dynamic metropolis, Reykjavík city is the hub for many amazing things. It hosts numerous impressive art museums, many avant-garde art galleries, various charming streets, and myriad fusion cuisine, with countless adventures and excursions starting from here. The capital of Iceland is a great place to explore and see the exciting side of the island nation.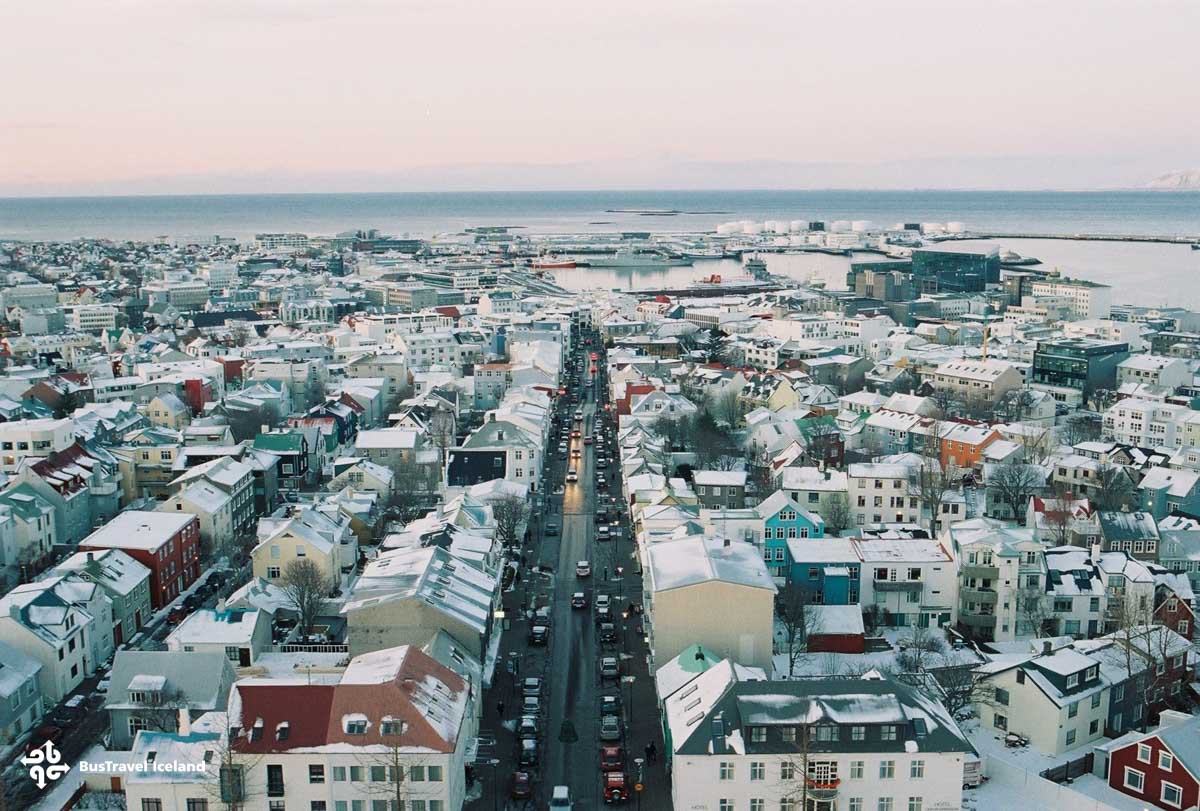 Reykjavik, the capital of Iceland, is a thriving, colorful metropolis, with a glorious, rising skyline
A vibrant and dynamic metropolis, Reykjavík city is the hub for many amazing things. It hosts numerous impressive art museums, many avant-garde art galleries, various charming streets, and myriad fusion cuisine, with countless adventures and excursions starting from here. The capital of Iceland is a great place to explore and see the exciting side of the island nation.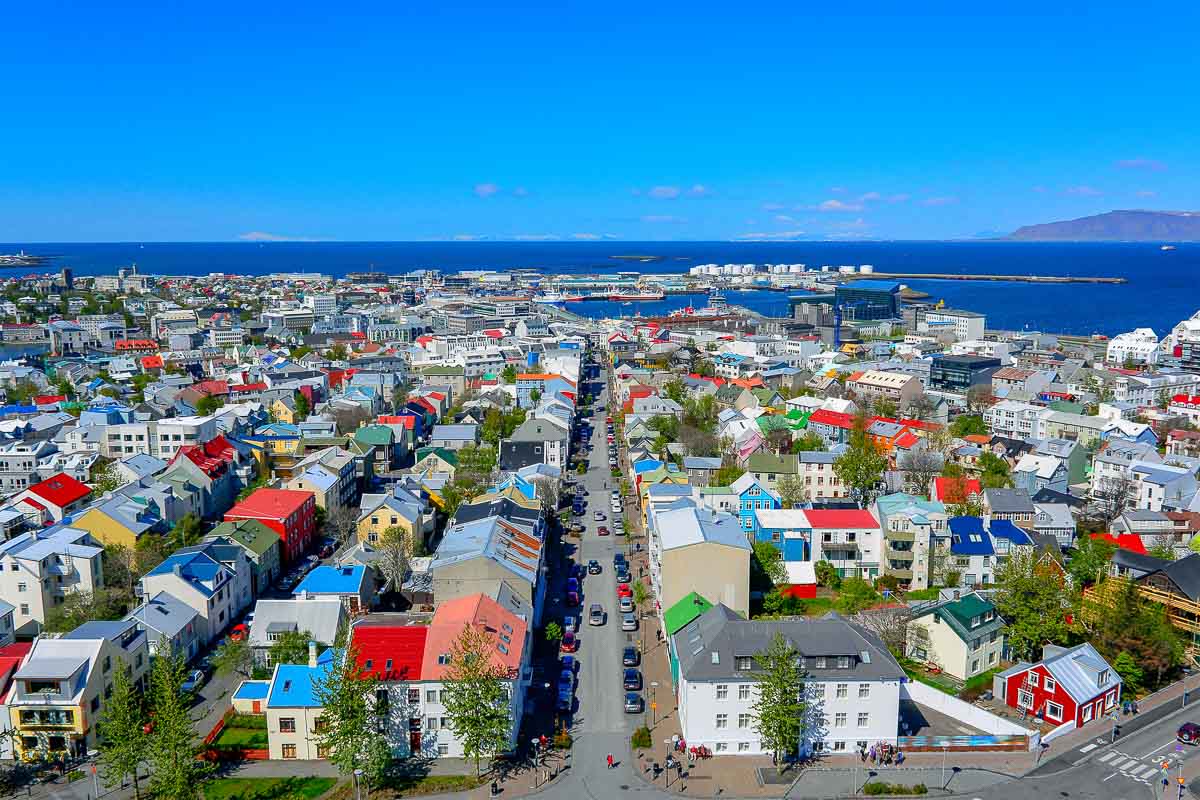 The colorful houses in downtown Reykjavik, a view from Hallgrimskirkja Church towner.
Where is Reykjavik?
Reykjavik is the capital of Iceland, a Nordic country located in the North Atlantic Ocean midway between North America and Europe. As a harbor city, Reykjavik is on the southeast coast of the island and facing north from Faxaflói bay.

The view to Faxafloi Bay from Reykjavik. ©️Yanshu Li
The biggest advantage of the city's location is that it allows for many opportunities for sea trips. Starting from the famous Old Harbor, also called  Reykjavik Harbor,  many sea based attractions are available for whale watching, and Northern Lights hunting.
Reykjavik is also a wonderful spot to see the wonderful birdlife like the puffins, with tours leaving the harbor on board the Puffin Express.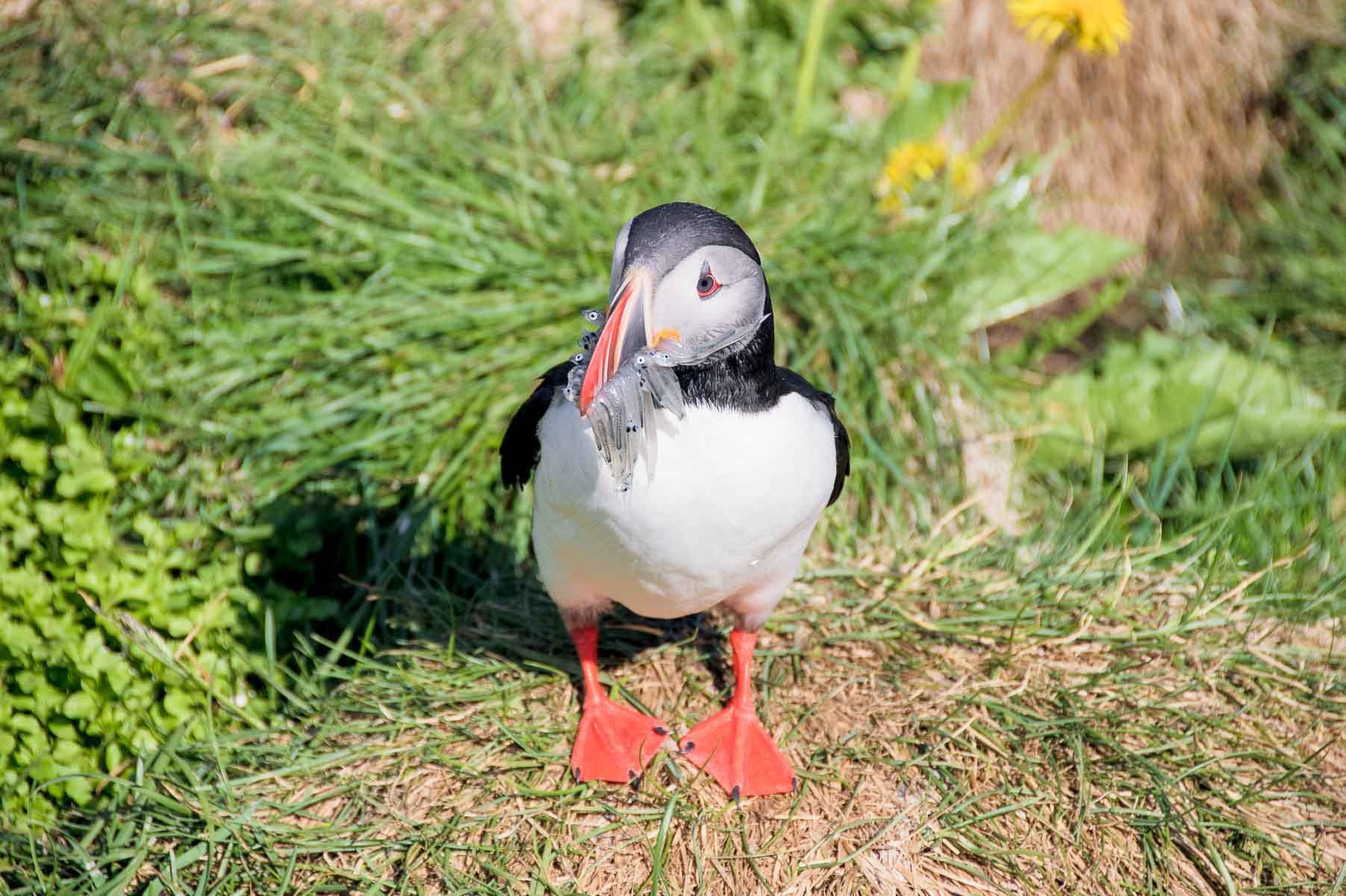 A Puffin bird with fresh food from the sea, Summer, Iceland. ©️Yanshu Li
How Do You Pronounce Reykjavik?
Rarely a city's name sounds so lilting and melodic as the pronunciation of Reykjavik does, like a pleasant rhythm dancing on the tip of the tongue. To pronounce Reykjavik  like an Icelander, you can slow down the rhythm, and separate the syllables as "rey – kay – ya – vik" or "rey – kya – vik." It's all about the rhythm.
Like many Icelandic words, Reykjavik is a combination of different words, used together to make a new word. Reykjavik translates into "reykja," meaning "smoke," referring to the steam coming from the ground. And "vík" means  "a small bay or an inlet." So the capital's name means "a smoky bay."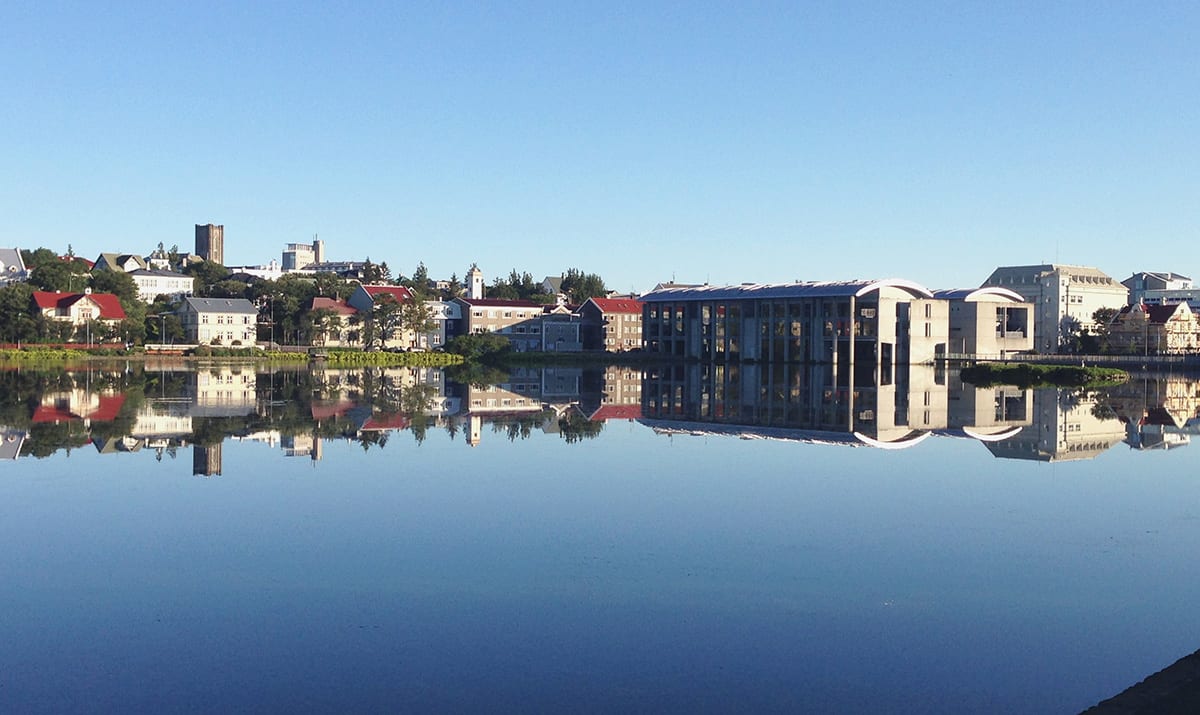 The surrounding view of Reykjavik city hall and the Tjorn lake in downtown Reykjavik.
When is the Best Time to Visit Reykjavik?
We want to say 'all year round', but we know you need more helpful details, so let's go through the pros and cons of visiting Reykjavik and Iceland at different times of the year.
Summer in Reykjavik
Summer, or the high season, as we call it, lasts from June to August. The daylight hours are much longer, the weather is pleasantly warm, and the scenery is picturesque, the wildlife vivid.
Over the summer, Reykjavik has a lot of public events and celebrations, such as the Seaman's Holiday, Icelandic National Day, Reykjavik Pride, Reykjavik Culture Night, and Secret Solstice Music Festival.
The Midnight-Sun is another natural spectacle, and the most popular spot in Reykjavik to see the glorious scene is beside the Sun Voyager, Solfar sculpture.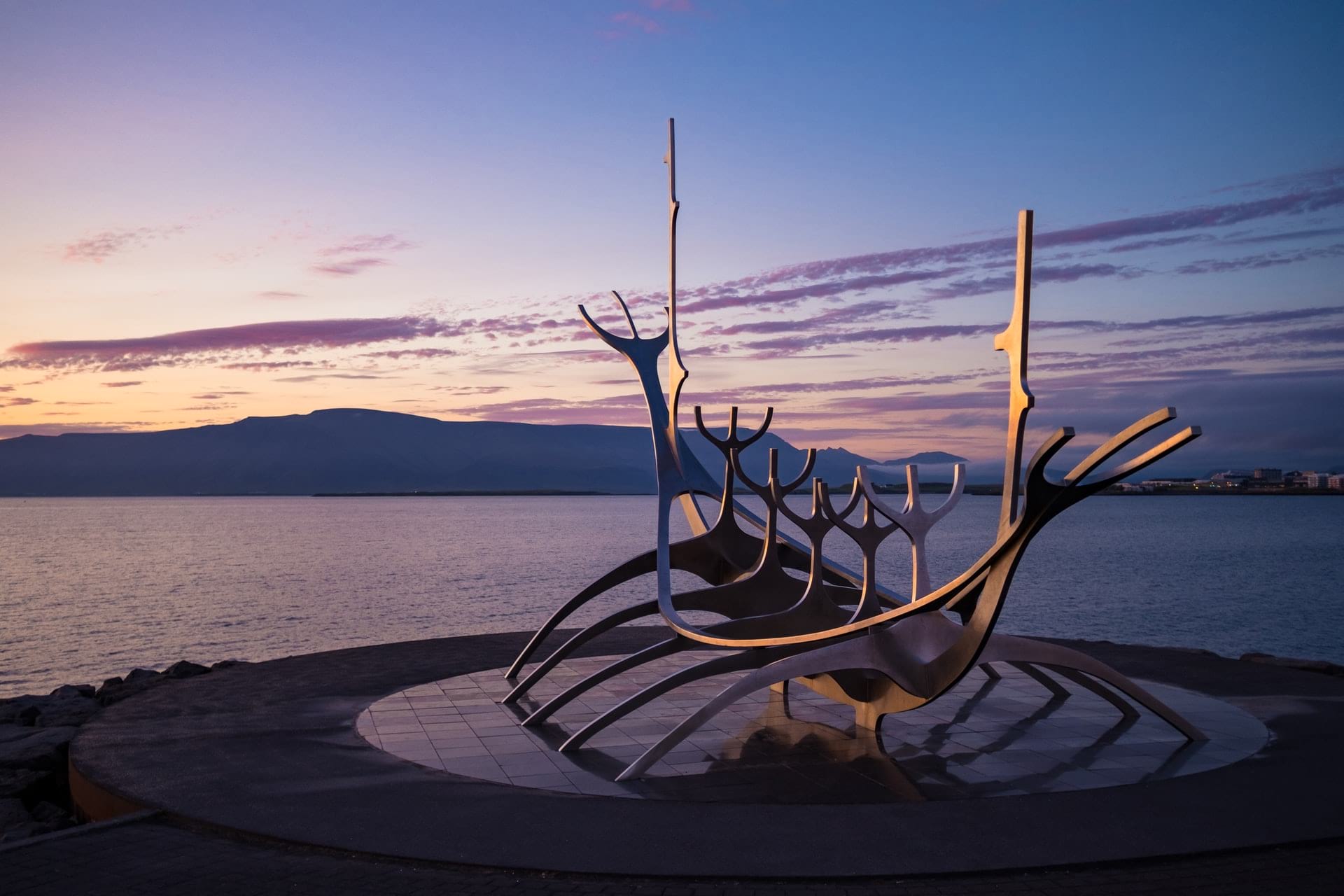 Reykjavik's Sun Voyager sculpture in the glow of the Midnight Sun. ©️Yanshu Li
If you want to immerse yourself in the local community, spending time in the geothermal swimming pools is your best option. We recommend purchasing a Reykjavik City Card to get access to swimming pools, museums and galleries, the botanical garden and more!
Now with an active erupting volcano close to the capital, you can hop on the active volcano evening tour from Reykjavik to see the hot lava under the midnight sky.
The colorful Landmannalaugar highlands is also open in summer to visitors with 4X4 vehicles, Or an alternative suggestion would be to drive around Iceland for a Ring Road trip.
Pros: Numerous events and celebrations. long daylight hours. The Midnight Sun phenomenon. Warmer weather.
Cons: The Northern Lights are not visible. The crystal ice caves are not yet accessible for visitors. The cost of stay can be higher as there's more demand.
Winter in Reykjavik
Iceland in the wintertime ranges from November to March, and has become increasingly  popular over the past few years. During snowy, stormy weather, multiple indoor adventures are available, but Reykjavik's winter can be even more delightful if you make the best of your itinerary.
The Northern Lights are the highlight for many visitors. The splendid natural phenomenon is best observed from September to March, when  Iceland is the only country in the world where the Northern Lights can be seen anywhere within the entire island.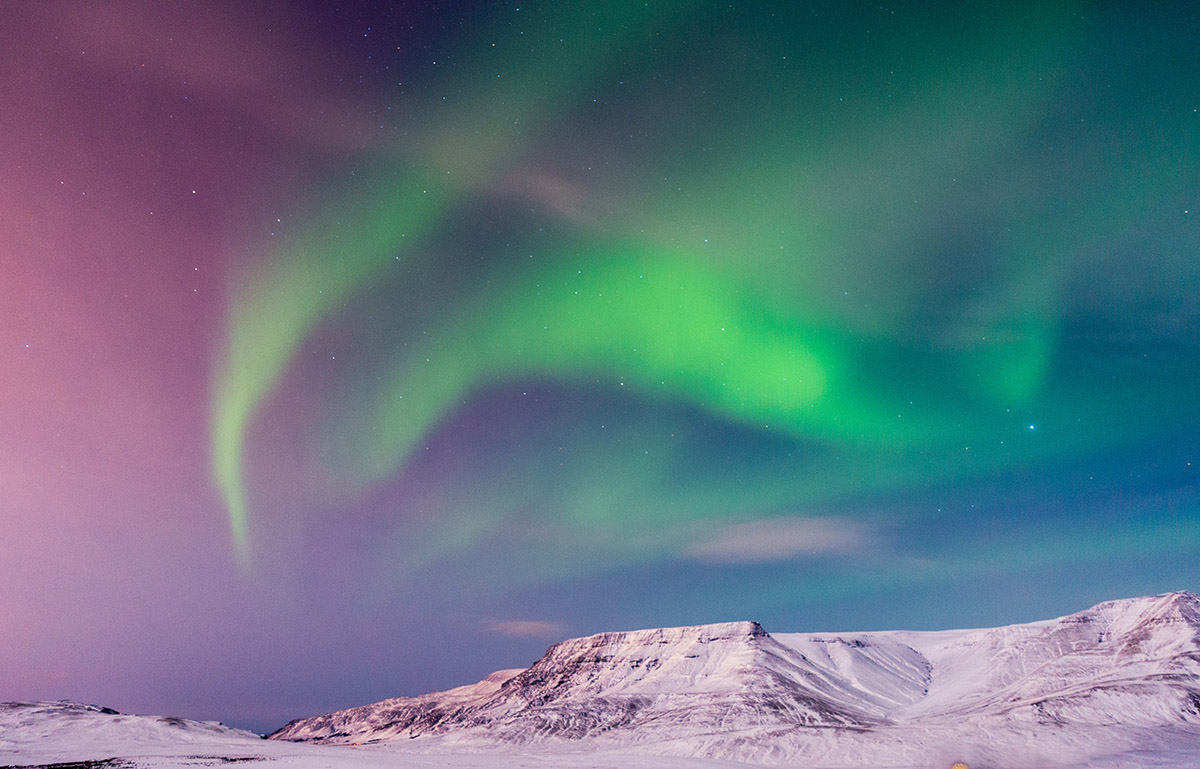 Sign up for a Northern Lights Hunting experience for the amazing green bliss in the sky.
Granted, it can be a bit harder to see the aurora borealis in central Reykjavík,due to its light pollution, but you can sign up for a Northern Lights Hunt, where an experienced guide will take you to the best possible spot to see the breathtaking show. Please keep in mind that the KP index is the best indicator to the light coverage you might see.
Another mesmerizing natural phenomena in winter are the crystal ice caves. The glistening blue ice walls are a natural wonder, carved by wind and glacial summer meltwater . Their brilliant appearances and mysterious locations are what make them so rare and attractive.
Winter in Reykjavik is filled with holiday joys, as the Christmas season approaches. Reykjavik city center hosts a Christmas market and an ice skating pond. The Christmas lights are lit everywhere, making the city so festive and cheerful.
Even when there are snow storms outside, the world's northernmost capital is never short of entertainment. Many indoor experiences are available for you to get a taste of Reykjavik's culture.
Pros: The Northern Lights. Crystal Ice caves. Snow.
Cons: Possible cold weather. limited access to highlands. Difficulty self-driving.
Spring and Fall in Reykjavik
Both Spring and Fall seasons are  short in Iceland – April to May and September to October, respectively. By the end of spring, it's possible to get a quick glimpse of the Northern Lights, in the few hours of darkness when conditions are met, and at the tail of the fall, some ice caves may start to open.
In Iceland, The off season scenery and landscapes are always memorable. Streets in the capital city are decorated with flowers in Spring, and autumn foliage adorns the city with the charm of the fall.
Pros: Icelandic nature in peaceful surroundings. Cost of the stay.
Cons: Possible to miss the highlights of some amazing natural phenomena.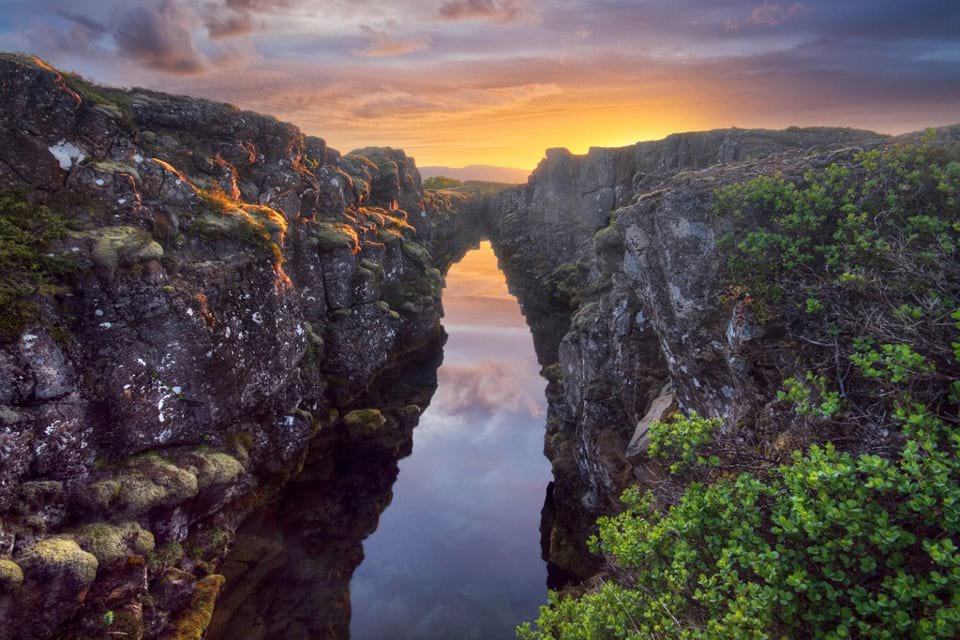 Travel via the Golden Circle Route to see the historic Thingvellir National Park.
Things to Do in Reykjavik
For locals and visitors, Reykjavik is the domestic hub for various fascinating entertainment and the starting point to experience numerous exciting adventures.
Within walking distance from downtown Reykjavik, , you can easily access venues like bars, clubs, live houses, and theaters. For a more laid-back experience, you can go for a Reykjavik walking tour or try a downtown food tour.
The Harpa Concert Hall performance schedule is constantly updated  and a variety of shows are available all year round. The Harpa building itself is one of the highlights in the city, as the hexagon glass facade reflects a whole spectrum of lights during the day, creating an intriguing atmosphere next to Reykjavik Harbor.
Many tours depart out of Reykjavik, the most popular being the Blue Lagoon, Golden Circle attractions, the South Coast of Iceland, and the erupting volcano. All amazing sights are only within a day's reach.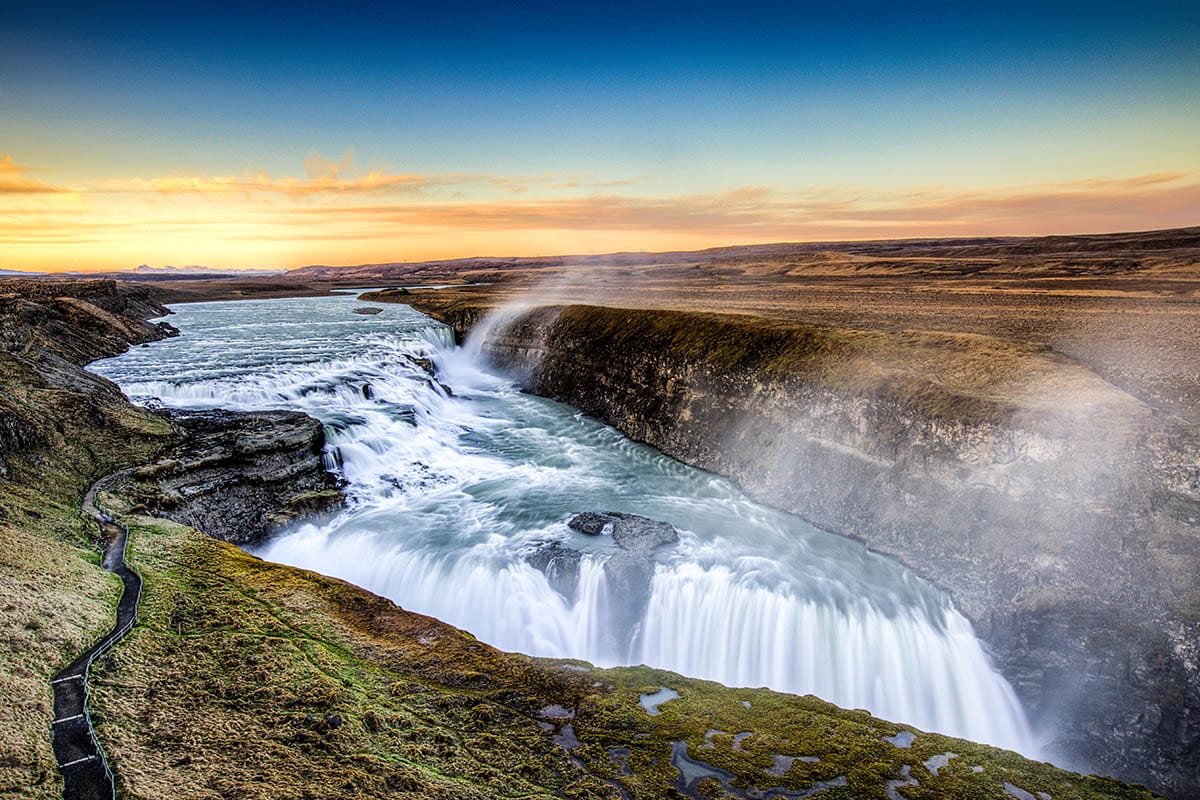 The Gullfoss waterfall is one of the three main attractions along the Golden Circle Route, close to Reykjavik.
The Accommodation in Reykjavik
Tourists in Reykjavik have a variety of accommodation options to choose from, depending on their preferences and budget. Some popular options include:
Hotels: There are many hotels in Reykjavik that cater to different budgets and preferences, ranging from luxury hotels to more affordable options. Some popular hotels include Hilton Reykjavik Nordica, Hotel Borg, Radisson Blu Saga Hotel, Fosshótel Reykjavík, and Icelandair Hotel Reykjavik Marina.
Hostels: For budget-conscious travelers, hostels offer a more affordable alternative to hotels. Some popular hostels in Reykjavik include KEX Hostel, Loft Hostel, and Reykjavik Downtown HI Hostel.
Guesthouses and B&Bs: Guesthouses and bed & breakfasts provide a more intimate and cozy experience. Examples include Guesthouse Sunna, Eric the Red Guesthouse, and Freyja Guesthouse & Suites.
Apartments and vacation rentals: Renting an apartment or vacation home can be a good option for those looking for more space and privacy. Websites like Airbnb, Vrbo, and Booking.com offer a range of options in Reykjavik.
Boutique hotels: For a unique experience, boutique hotels offer personalized service and distinct design elements. Some examples in Reykjavik are 101 Hotel, Sandhotel, and Canopy by Hilton Reykjavik City Centre.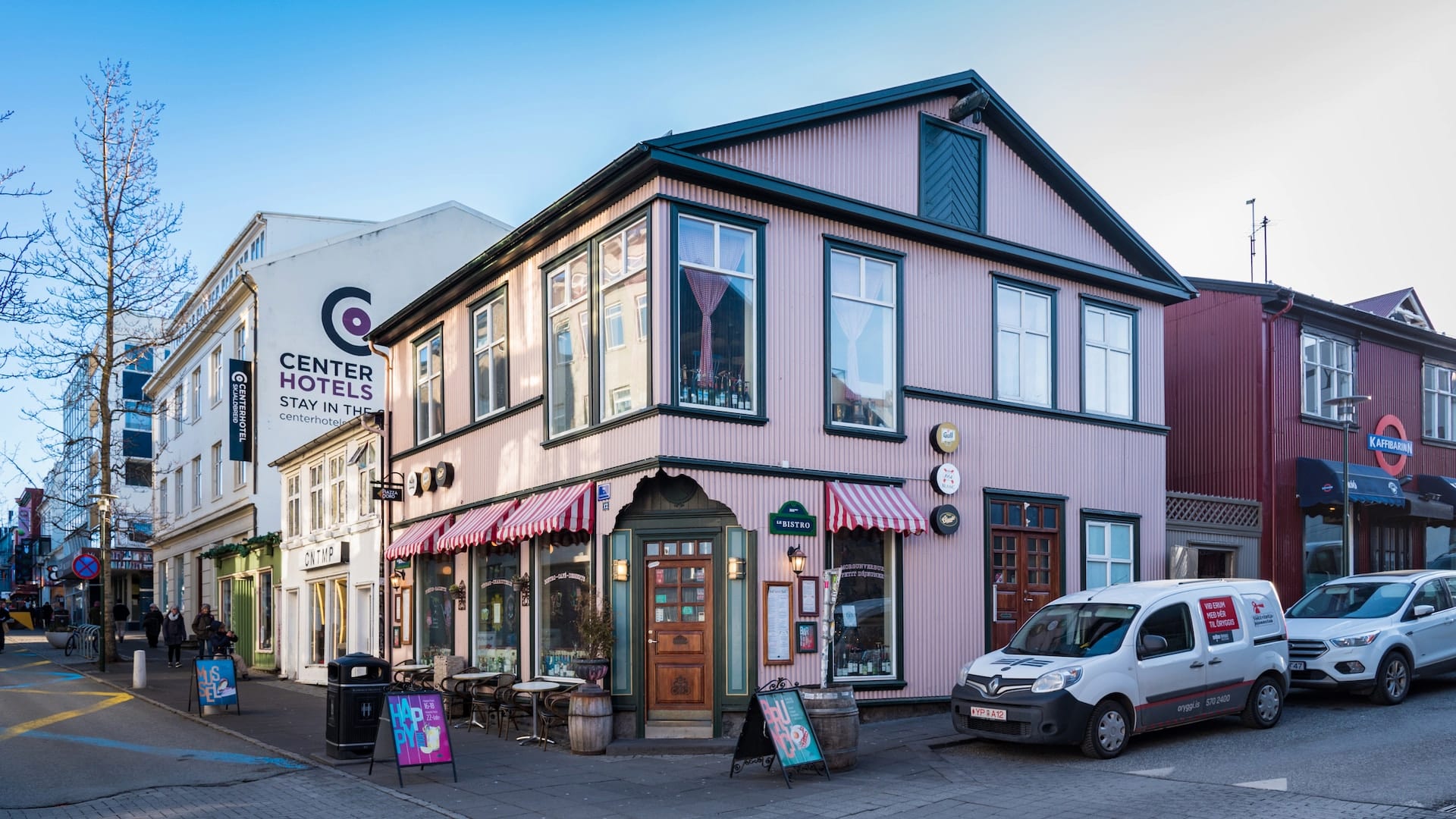 It's important to book your accommodations well in advance, especially during the high season (June to August), as Reykjavik is a popular tourist destination and accommodations can fill up quickly.
The Food Scene in Reykjavik
The food scene in Reykjavik is diverse, vibrant, and continually evolving, offering a delightful culinary experience for visitors and locals alike. Reykjavik's food culture is deeply influenced by its rich maritime history and bountiful natural resources. Fresh seafood, such as cod, haddock, and langoustine, features prominently on many menus. Icelandic lamb, known for its distinct flavor and tenderness due to the country's free-range farming practices, is another local favorite.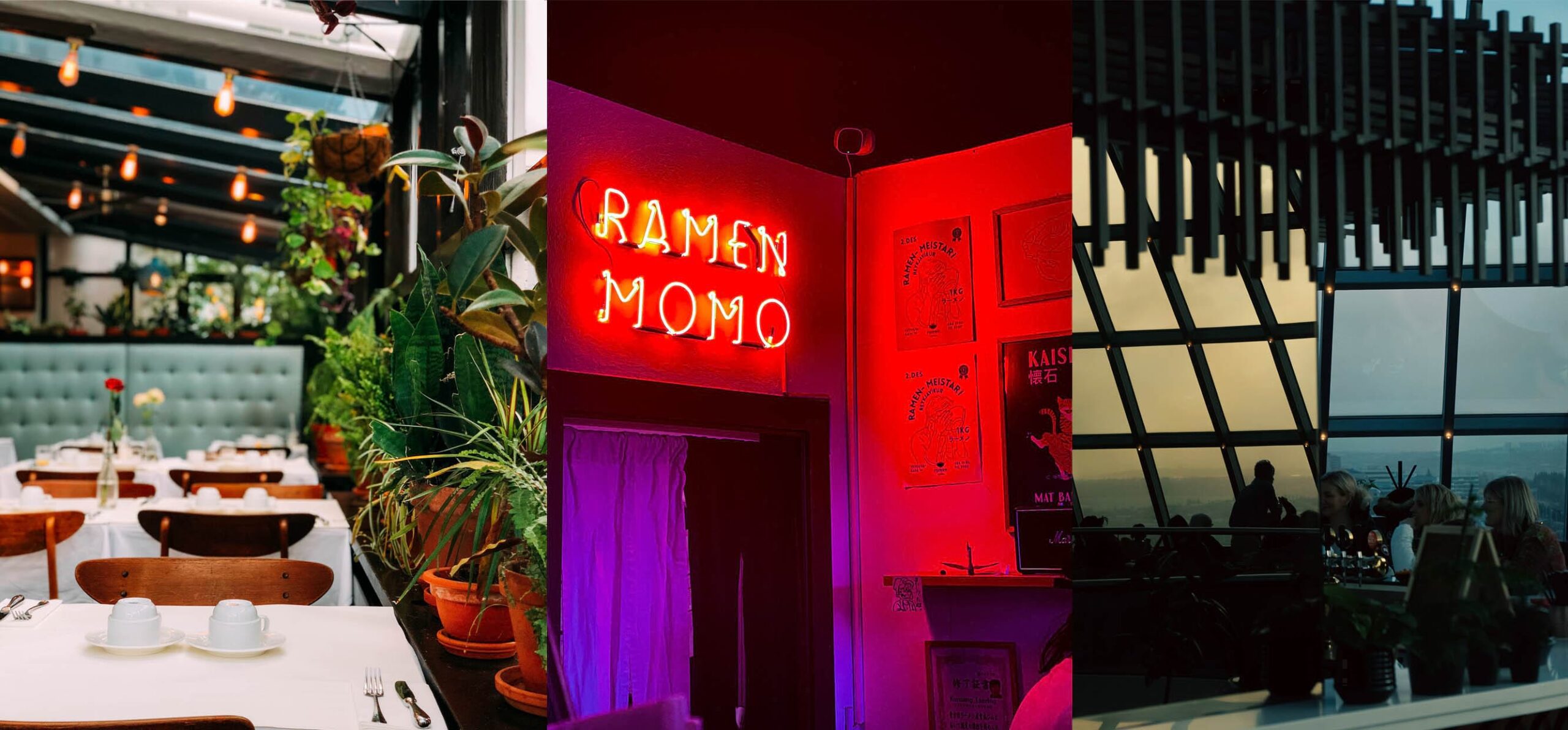 Traditional Icelandic dishes, such as plokkfiskur (a fish stew), harðfiskur (dried fish), and hangikjöt (smoked lamb), can be found at various establishments, allowing you to savor the authentic tastes of Iceland.
In recent years, Reykjavik's food scene has expanded to include a wide range of international cuisines. You'll find establishments serving Italian, French, Chinese, Thai, Indian, and more, reflecting the city's growing cosmopolitan nature. The city also boasts a burgeoning vegetarian and vegan scene, with an increasing number of restaurants offering plant-based options.
Cafes and coffee shops are abundant in Reykjavik, where you can enjoy a leisurely cup of coffee, often accompanied by a selection of pastries or sandwiches. The city's coffee culture is thriving, with many local roasters and specialty cafes dedicated to providing high-quality brews.
Reykjavik is also home to a lively bar and nightlife scene. Microbreweries and craft beer establishments have gained popularity in recent years, offering a wide range of Icelandic and international brews. Many bars and clubs stay open late into the night, particularly on weekends, providing ample opportunity for socializing and entertainment. Besides food and drinks for nightlife, if you are looking for a quick bite in the morning, there are A.M. eateries in Reyjavik available.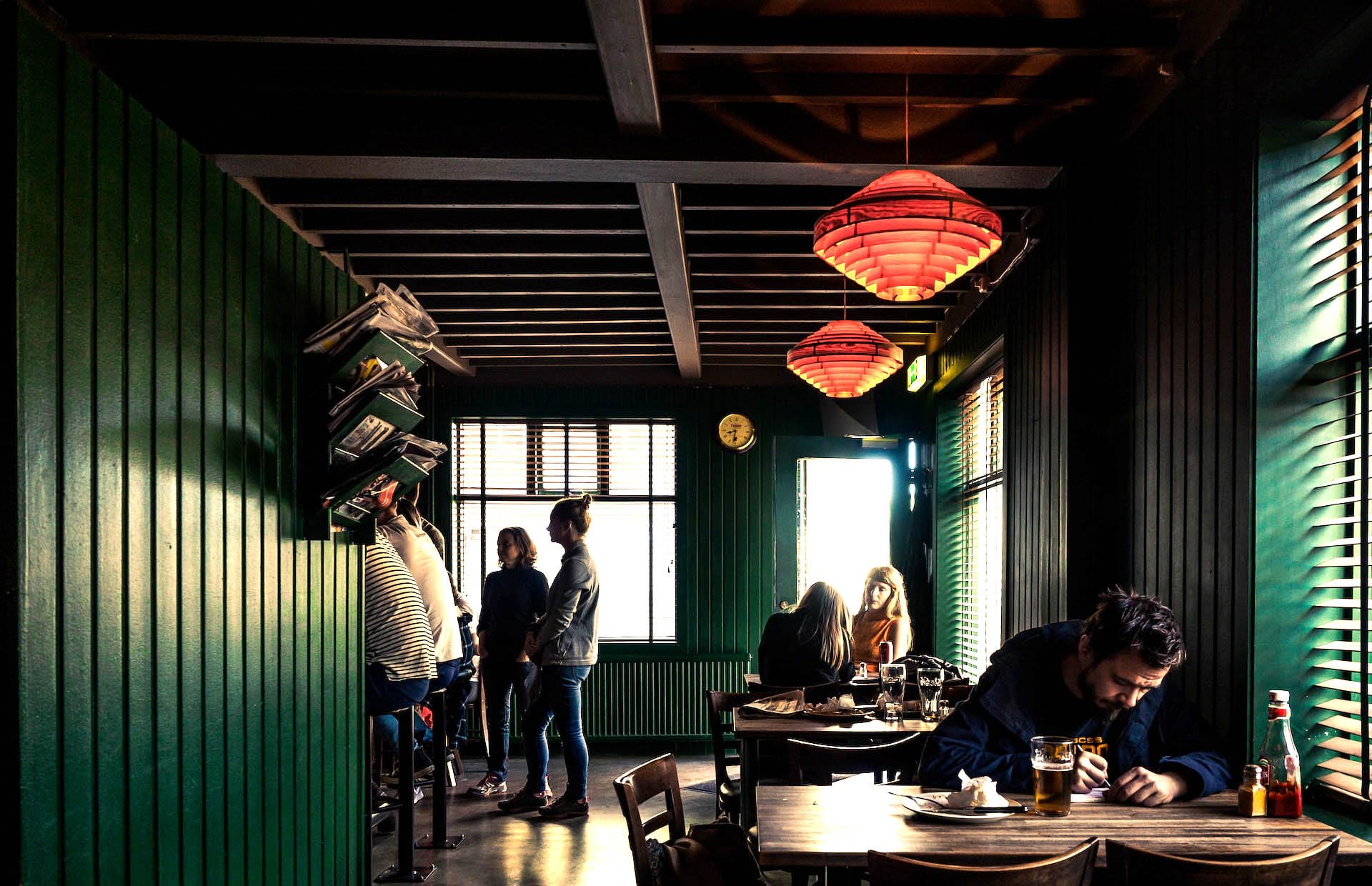 We are here to provide you with these lists in different categories.
Types of restaurants:
Traditional Icelandic
Seafood
Fine Dining
Steakhouses

Íslenski Barinn
Matur og Drykkur
Café Loki
Fiskmarkaðurinn (Fish Market)

Sægreifinn (The Sea Baron)
Grillmarkaðurinn (Grill Market)
Fiskfélagið (Fish Company)
Kopar

Dill Restaurant
VOX Restaurant
Sumac Grill + Drinks
Nostra
Grillið Restaurant
Matarkjallarinn – Foodcellar

The Steakhouse (Steikhúsið)
Grillmarkaðurinn (Grill Market)
Geysir Bistro
International cuisine:
Italian
Asian
Indian

Caruso
Eldsmiðjan
Ristorante ROSSO
ÓX

Fine Restaurant
Núðluskálin
Ramen Momo
Ban Thai
Sushibarinn

Hraðlestin
Shalimar
Gandhi Indian Restaurant
Some delicious fast food and snack bars:
Burgers and Fast Food
Cafés and Coffee Shops
Bakeries and Pastries
Vegetarian and Vegan
Pubs and Bars

Hamborgarabúlla Tómasar (Tommi's Burger Joint)
Block Burger
Pylsuhúsið
Dirty Burger and Ribs

Reykjavik Roasters
Stofan Café
Café Babalú
Mokka Kaffi

Brauð & Co.
Sandholt Bakery
Bernhöftsbakarí
Kaffi Loki

Glo
Kaffi Vínyl
Garðurinn (Ecstasy's Heart-Garden)
Veganæs

Kaldi Bar
MicroBar
Skúli Craft Bar
Bryggjan Brugghús
Reykjavik's food scene is a delightful mix of traditional Icelandic fare and diverse international cuisines. The city's cafes, restaurants, and bars offer something for every palate, ensuring a memorable culinary experience for all who visit.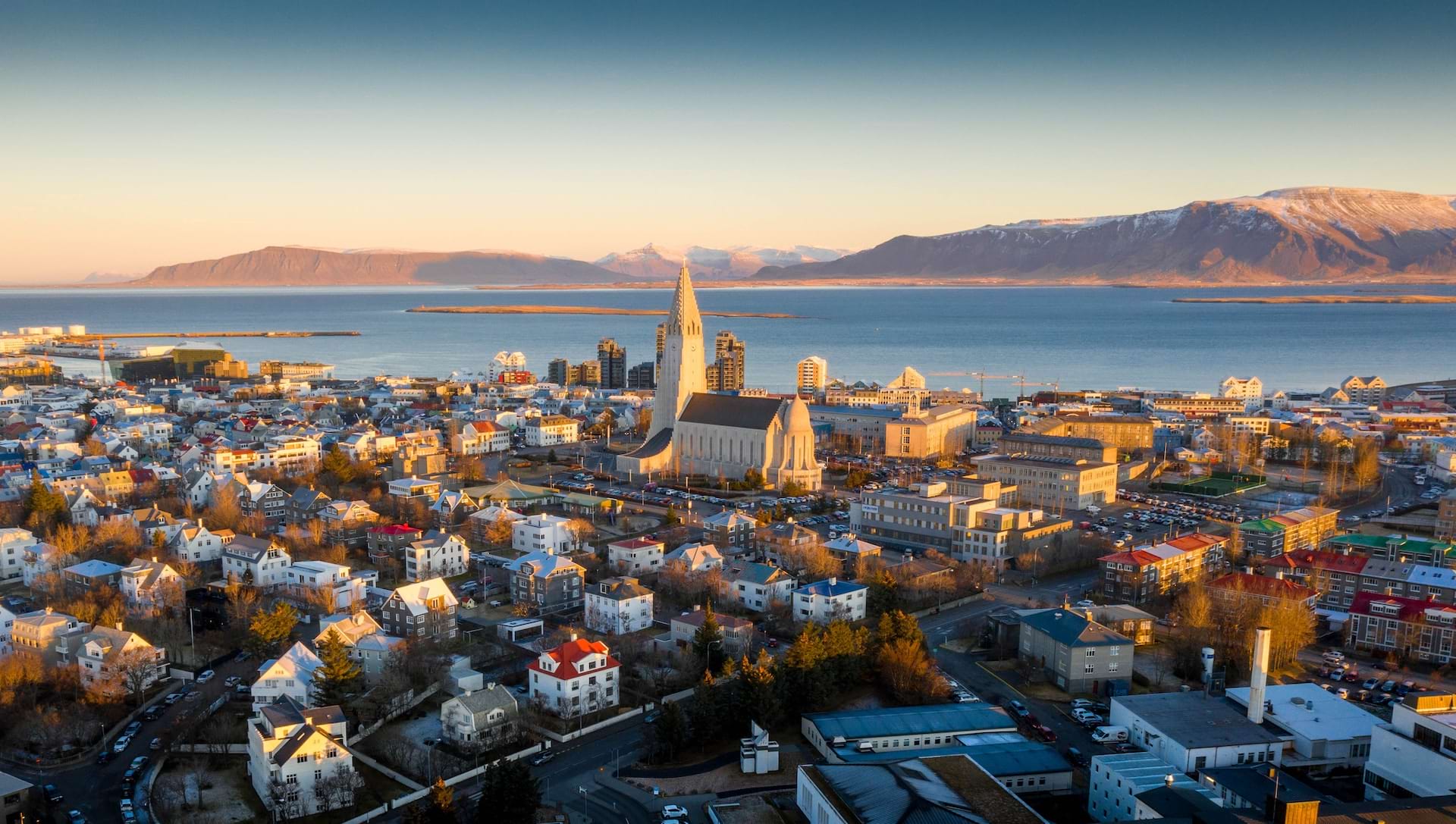 Reykjavik as a Cruise Port
Reykjavik, the capital city of Iceland, serves as a prominent cruise port in the North Atlantic. Welcoming a diverse array of cruise ships and passengers, this picturesque harbor offers visitors a gateway to explore the unique wonders and natural beauty that Iceland has to offer.
As you approach the harbor, the scenic coastline, dotted with colorful houses and surrounded by volcanic landscapes, sets the tone for an unforgettable adventure. The cruise port in Reykjavik is called Skarfabakki Cruise Terminal. It's located approximately 2.5 miles (4 kilometers) northeast of the city center, making it easily accessible for passengers looking to explore the heart of Reykjavik and its surroundings.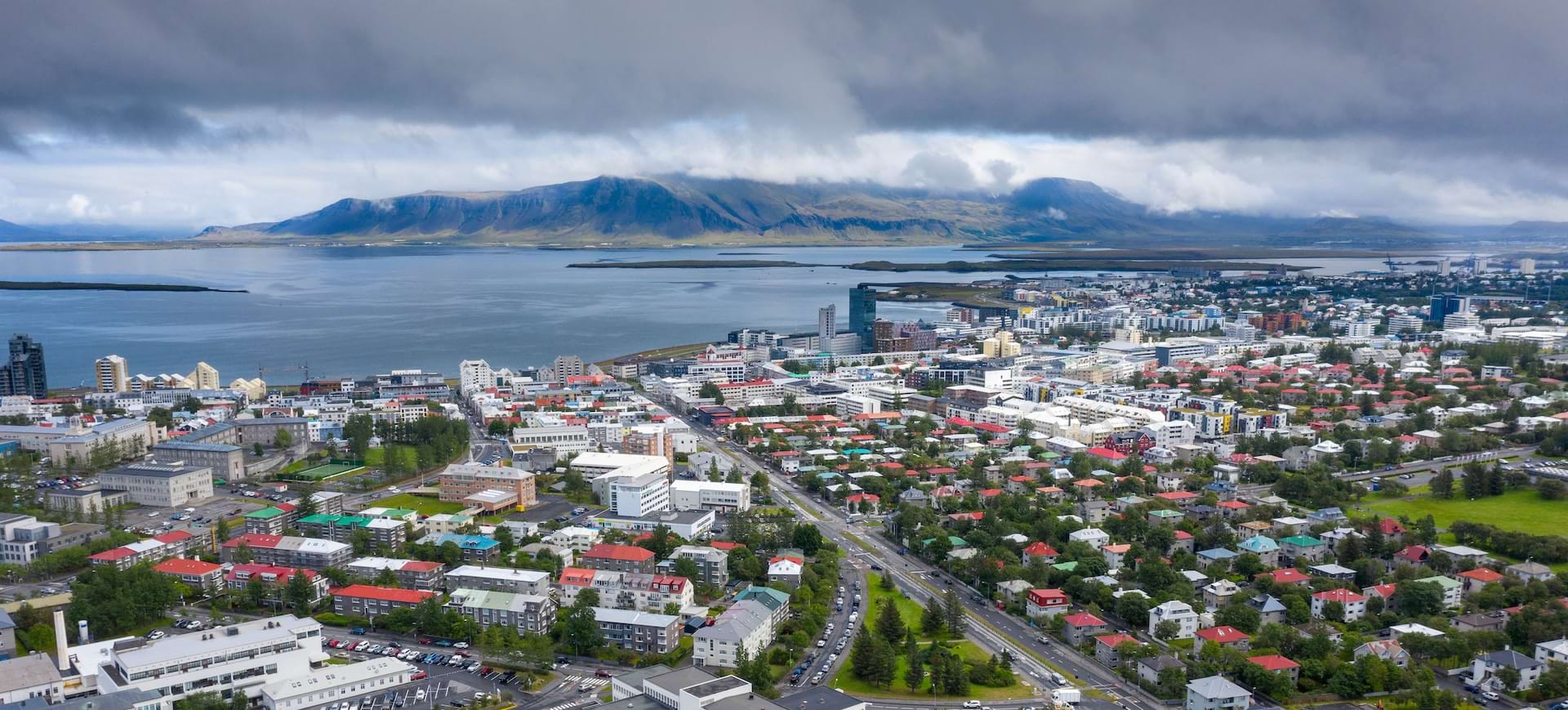 Upon disembarking, visitors have the option to use taxis, shuttles, or public transportation to explore the city and its surroundings. Many cruise lines also offer organized shore excursions, providing a hassle-free way to discover the region's most popular attractions.
However, the true allure of Reykjavik as a cruise port lies in its proximity to Iceland's natural wonders. The Golden Circle, a popular sightseeing route, encompasses several iconic attractions such as Þingvellir National Park, the Geysir geothermal area, and Gullfoss waterfall. These sites showcase the geological marvels and breathtaking landscapes for which Iceland is renowned.
Another unforgettable experience for cruise passengers is the opportunity to relax in one of Iceland's geothermal pools, such as the famous Blue Lagoon or the lesser-known Secret Lagoon. These natural hot springs provide a rejuvenating and soothing break from exploring the country's rugged terrain.
During the summer months, visitors can also embark on whale watching excursions or puffin tours to witness the incredible marine life that inhabits the surrounding waters. In the winter, lucky cruise passengers may even catch a glimpse of the elusive Northern Lights, a mesmerizing natural light show that graces the night sky.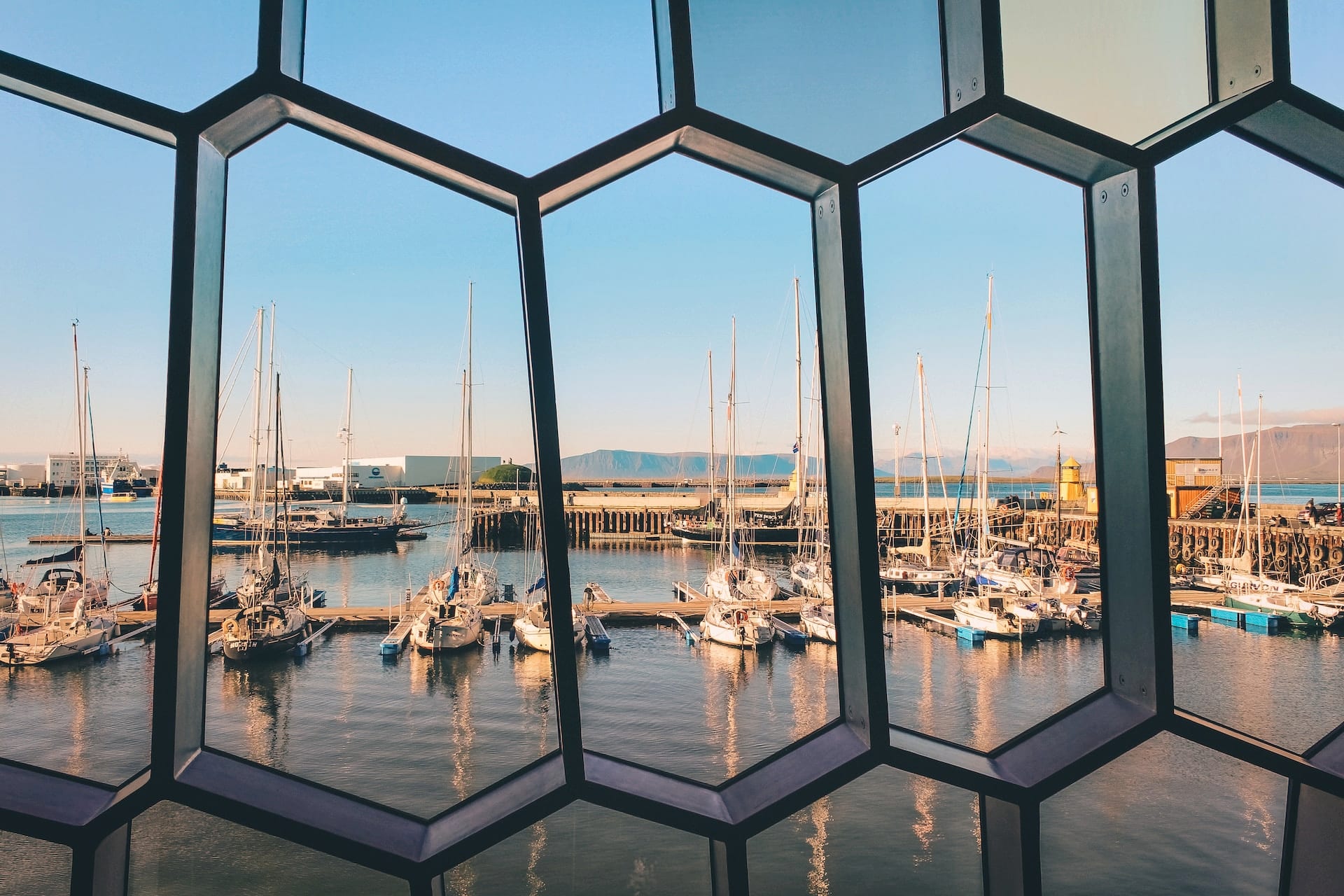 With its diverse attractions and enchanting landscapes, a visit to Reykjavik is sure to leave a lasting impression on all who come ashore.
---
As a thriving harbor metropolis, Reykjavik's vibrant city sphere and diverse culture have attracted many admirers over the years, with rising awareness to embrace diversity and inclusion. In 2011, it joined the list to become the fifth UNESCO City of Literature and it is also one of the safest places in the world to visit!
Reykjavik Quick Facts:
Population: 13,136 (2020 statistics)
Area: 273 square kilometers
GPS coordinates: 64.1466° N, 21.9426° W
Time zone: Reykjavik's time zone is the same as Iceland's. It's UTC +0, on Greenwich Mean Time (GMT). And there's no adjustment in daylight saving.
Time in Reykjavik:
Climate: Subpolar oceanic climate. Reykjavik's climate features warm summers and mild winters, less prone to temperature extremes.
Reykjavik's Weather:
Distance to the Keflavik International Airport: 50 kilometers (31.07 miles), about 47 minutes to drive via Route 41.
The highest structure: Hallgrimskirkja Church.74.5 meters (244 ft) in height.
The first permanent settlers: Ingólfur Arnarson and his wife and brother, founded Reykjavik in 874 A.D.
Recommended
Iceland tours
Explore Iceland's beauty with our tours curated just for you, showcasing the best attractions for an unforgettable adventure.