Iceland Volcano Eruption on Reykjanes peninsula
by Yanshu
Reykjanes
21 Apr 2021
Fiery Reykjanes, home to Litli-Hrutur, Merdalir & Fagradalsfjall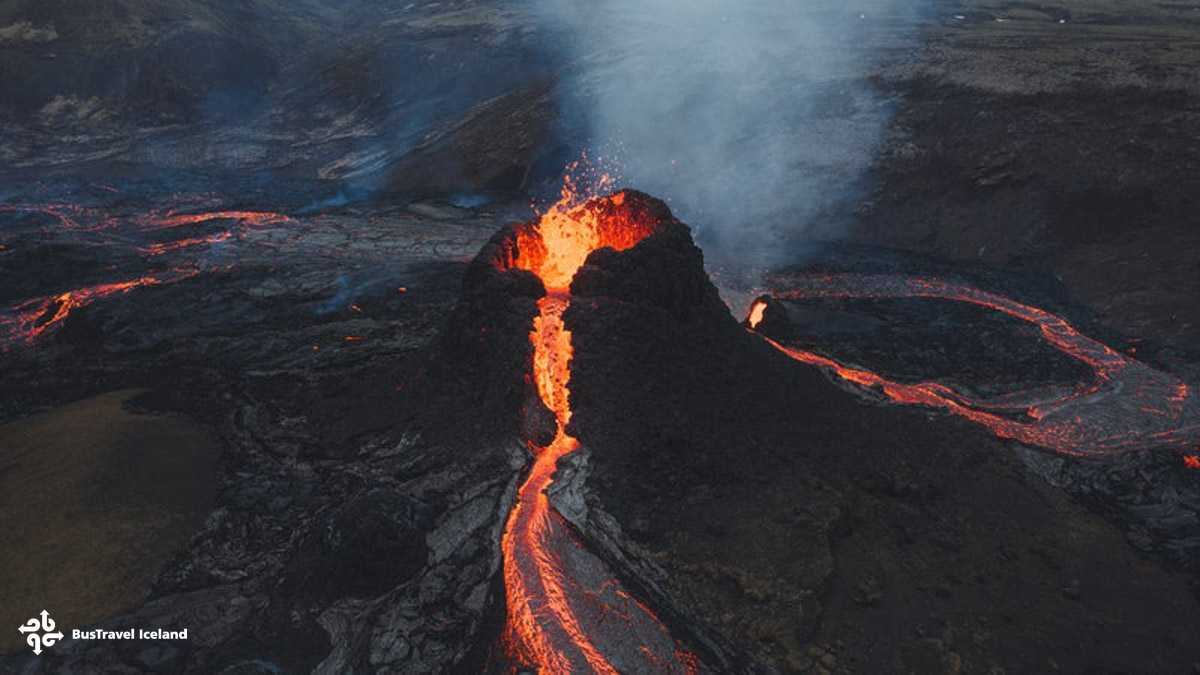 Updated July 2023
On July 10th 2023, a week-long cluster of thousands of earthquakes on the Reykjanes Peninsula culminated in the 3rd volcanic eruption in the area in just over 2 years. This new eruption at Litli Hrutur has formed an impressive crater and has garnered widespread attention and generated much excitement for locals and tourists alike.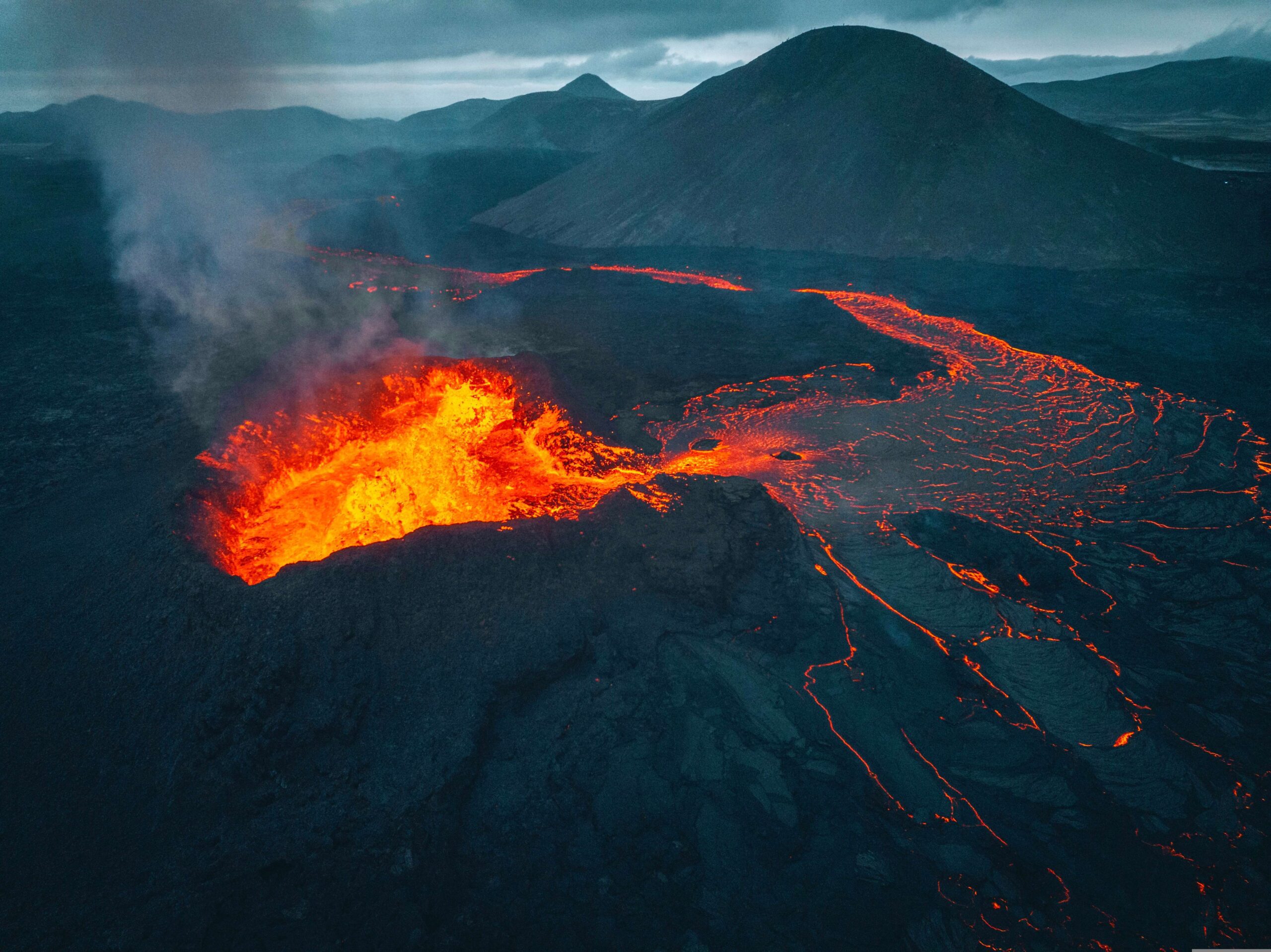 Photo courtesy of Bruno Veiga
Litli Hrutur follows eruptions two separate eruption. The first at Fagradalsfjall began on March 19th, 2021, which erupted for the first time in approximately 8 centuries. It brought the land of fire and ice back to the center stage for explorers and adventurers. The eruption continued for around 6 months.
This was followed by the August 2022 Meradalir eruption. This volcano whileinitially more powerful that Fagradalsfjall ceased after only 3 weeks or so.
According to ongoing research, Reykjanes ridge will stay active for many years, and more eruptions can begin at any time. There is however no way to tell when exactly. Meanwhile, the new eruption sites provide an extraordinary opportunity to see the newly formed land.
The three eruption sites are very close to each other and the new lava flows from both eruptions are connected. The area is just under one hour's drive from Reykjavik and is relatively easy to access.
It´s not possible at this time to predict how long Litli Hrutur might erupt. We do hope that it will be more like Fagradalsfjall than Meradalir in this regard and that we can  continue offering out exicting active volcano tours.
Fagradalsfjall and Meradalir Volcanoes in Reykjanes Peninsula, Southwest Iceland
Fagradalsfjall volcano is located south of the Reykjanes Peninsula, only 15 km (9.32 miles) from the world's famous Blue Lagoon geothermal spa. When the eruption started, it was referred to as "Geldingadalir eruption" as the valley is to the very south of Fagradalsfjall.
Meradalir volcano is in the same area, the eruption got its name from the valley where it is situated.
But why do many Icelanders call it an eruption in Reykjavik's backyard?
That's because, on a day of good visibility, for people in Iceland's Capital Region the sight of the volcano eruption was also possible  – especially because the volcanoes were constantly changing form! Probably the best view was when Fagradalsfjall volcano's main crater was ejecting hot magma even higher up into the air, making it a spectacular sight for people to observe from a distance. Such activity could be compared to one of a geyser, but with glowing magma shooting up instead of hot water!
---
Fagradalsfjall and Meradalir Volcanoes' Pronunciation and Meaning
Before we get to the meaning of the volcano's name, we need to figure out how to say it. We've been perplexed by the rhythm of the Eyjafjallajökull volcano glacier since  2010 and this one is no less of a tongue twister.
We can break "Fagradalsfjall" down into "fa – gra – dals – fjall." Once the word is broken down into syllables for non-Icelandic speakers, it becomes much easier and pronounces like "fa – gra – dals – fi – yat." Like many other location names in its native language, the volcano's name is a compound of several Icelandic words.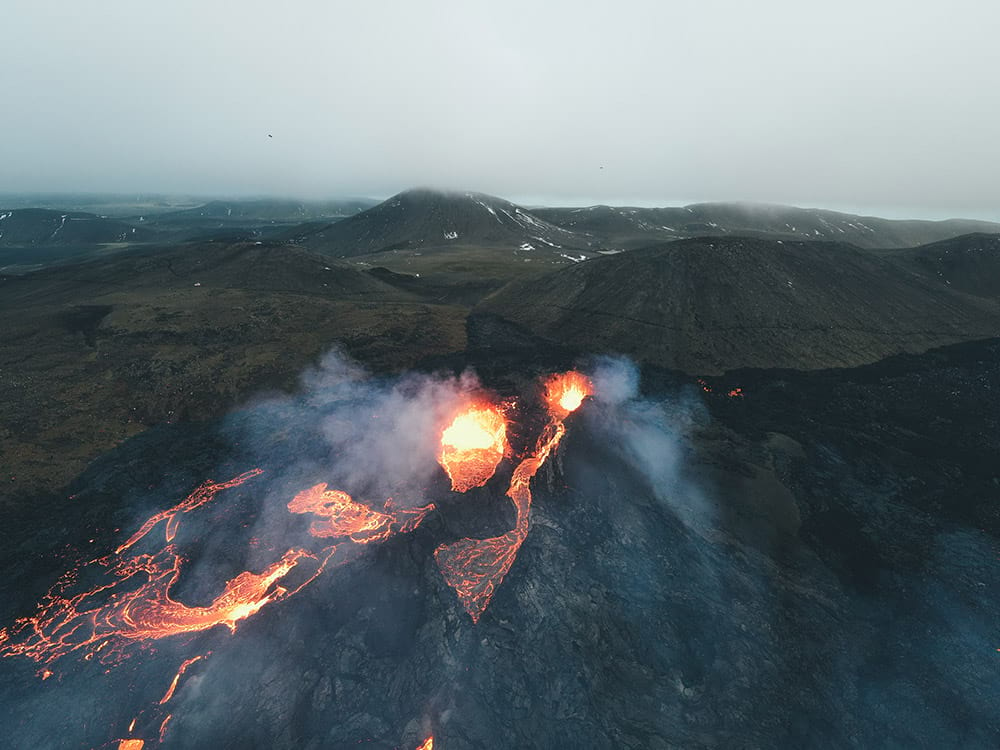 Fagradalsfjall volcano eruption live stream from Iceland National Broadcasting Service.
"Fagra" is the feminine form of "beautiful." Then "dals" is the genitive case for "dalur" which means "valley." And "fjall" is the Icelandic noun for "mountain" in its nominative case. To put everything together, Fagradalsfjall means a beautiful valley mountain.
The low-rise mountain region is surrounded by hilly, gravel areas and sometimes mossy fields. Now, with the newly spilled lava, we call the area "beautiful valley lava fields" – Fagradalshraun in Icelandic.
Meradalir sounds just too simple for an Icelandic volcano, but to be fair, it's also a rather small one. While consisting of 4 syllables as well: "me – ra – da – lir", the name has definitely fewer letters and is much easier to pronounce.
The name comes from two words: "mera" means a "mare" (a female horse) and "dalir" is plural for "valley". So together it means "valleys of a mare" or "mare valleys".
It is interesting that the horse theme continues in the name Geldingadalir. As you may have guessed, it means "gelding valleys", from "gelding" (a castrated horse) and once again "dalir" – valleys.
---
Timeline – From Earthquake to Eruption Night and Now
As of the beginning of June, the Fagradalsfjall volcano eruption has been erupting for more than two months. It first started with a series of frequent earthquakes, many of which were palpable in the Reykjavik region. According to the Icelandic Met Office, over 50,000 quakes have occurred since late February, before the eruption finally started.
Around 8:45 p.m. on the evening of 19 March 2021, a fissure vent between 600 to 700 meters began to pour out lava. For many Icelanders, that evening was an unforgettable one, as people turned on their TV's to follow the Iceland volcano eruption live coverage. It was lucky that the eruption site is in the middle of wild fields so that it posed no threats to local life.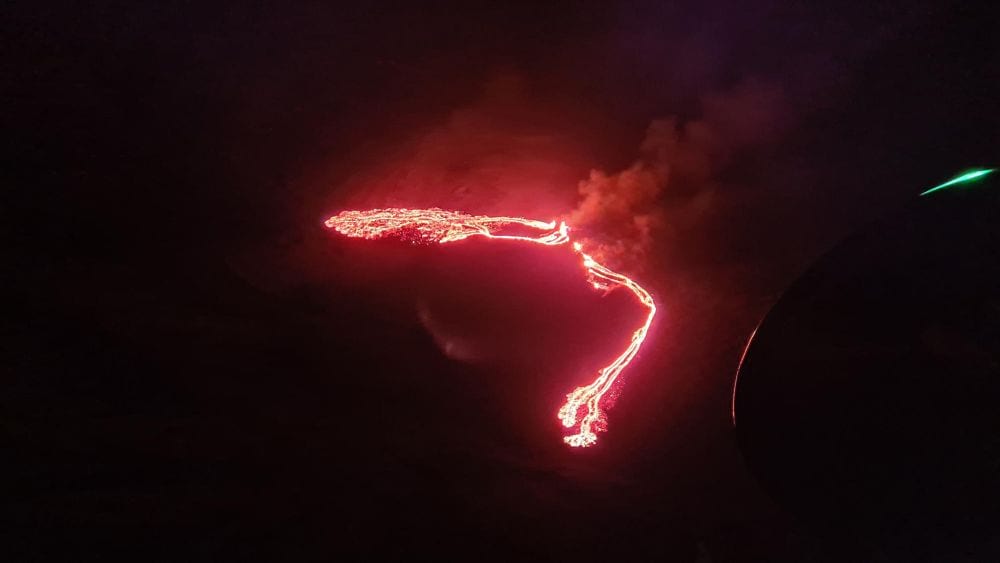 The beginning of the eruption at Fagradalsfjall volcano on March 19. Photo credit to Veðurstofa Íslands. ©Iceland Met Office
On 5 April A new fissure opened up, about a kilometer away from the first fissure vent. As more hot magma ejected to the ground, local efforts reinforced the safety measures to make sure visitors could safely enjoy the spectacular sight.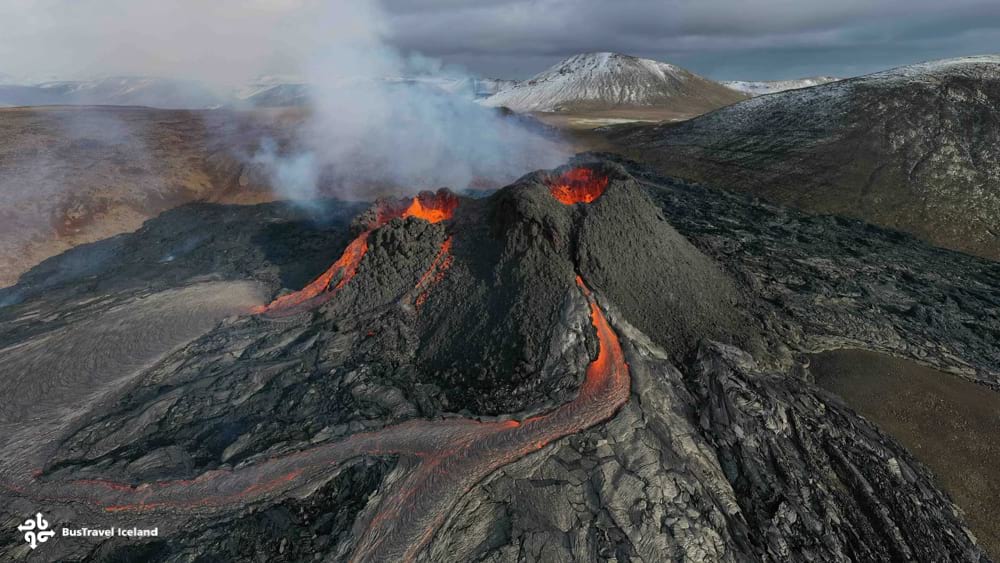 Multiple fissures have opened at Fagradalsfjall volcano eruption site.
Five more fissures have opened subsequently leading up to 11 April. Massive amounts of hot lava flowed out, attracting visitors, especially photographers, to come for the stunning view. The latest volcano update indicated that since the eruption, approximately 30 million cubic meters of molten lava have been spilled nearby with the discharge rate increasing since 10 May.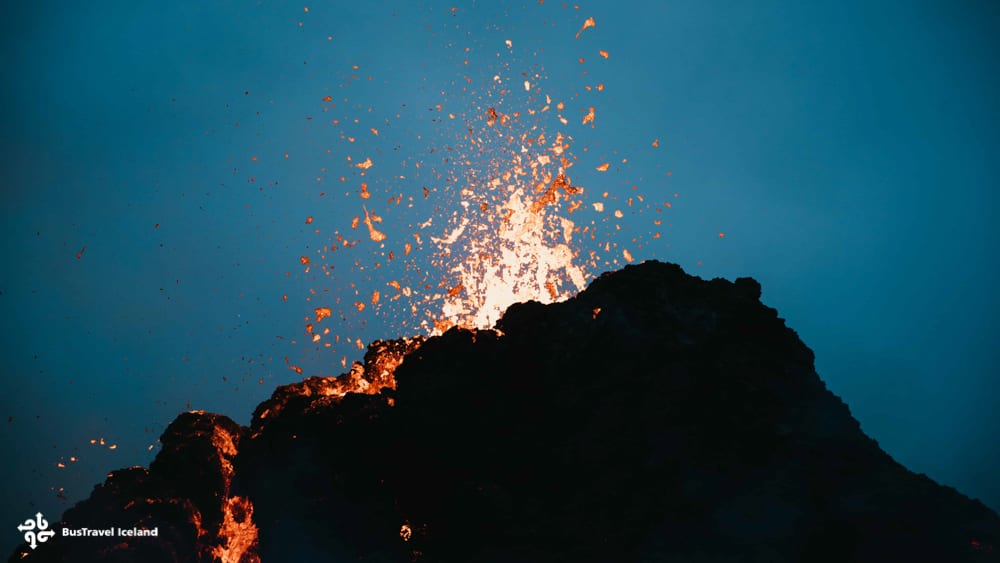 Currently (beginning of June) only one fissure remains active, in a shape resembling a lava fountain. From Reykjavik, it's more visible than ever, with explosive eruptions from  the crater, from time to time. A record-breaking number of visitors have been to the vicinity of the eruption site, many of them multiple times. Without a doubt, Fagradalsfjall volcano has recently become one of the most popular attractions in Iceland.
---
How to Get to the Eruption Site
Join a guided tour
The easiest way to visit the Fagradalsfjall volcano eruption site is to join a guided tour. The day trip departs from Reykjavik, leading you through Iceland's iconic lava fields and many beautiful landscapes in the Reykjanes Peninsula. The hike begins at the volcano parking lot where the marked trail is not a particularly challenging walk, but there are sections of stony slopes that hikers need to pay extra attention to.
A sturdy pair of hiking shoes, a waterproof jacket, some warm inner layers, beanies, and gloves are the best combo for an enjoyable hiking experience. One way to the eruption site takes about one and a half hours.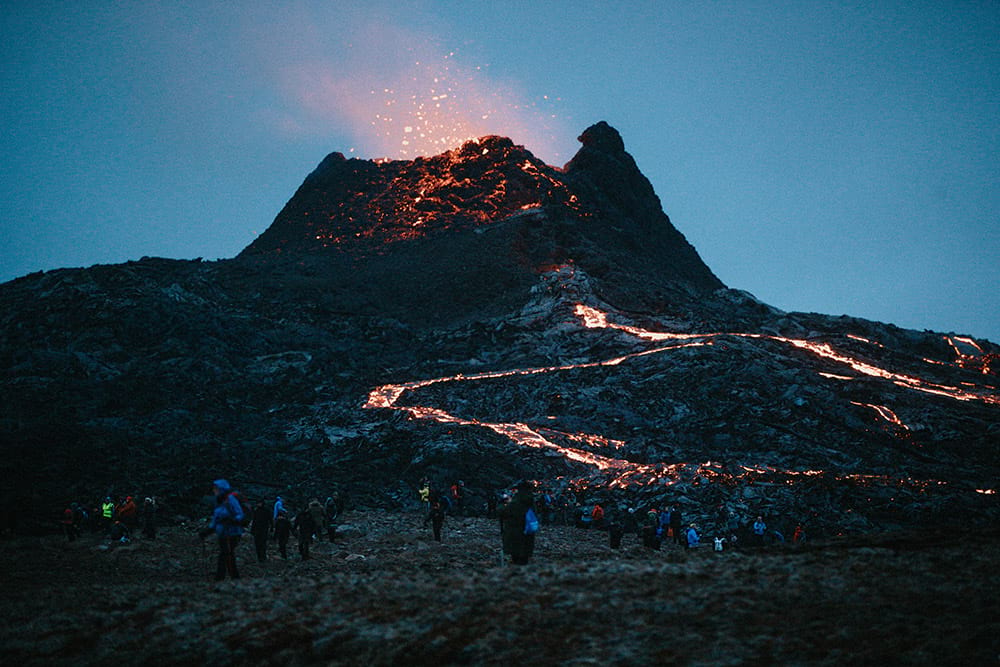 Record-breakng number of visitors have gone to the Fagradalsfjall volcano eruption site.
The entire duration of a visit can be longer than expected, as you may want to spend some time at the site taking pictures and taking in the magnificent scene, so we also recommend you pack a meal and some snacks with you. In winter, it's necessary to carry hiking lights or headlights, and hiking poles can be helpful as well.
The Blue Lagoon geothermal spa is only a 15-minute-drive away from the volcano parking, so combining a visit to the Fagradalsfjall eruption site before or after a soak in the Blue Lagoon is a very popular itinerary.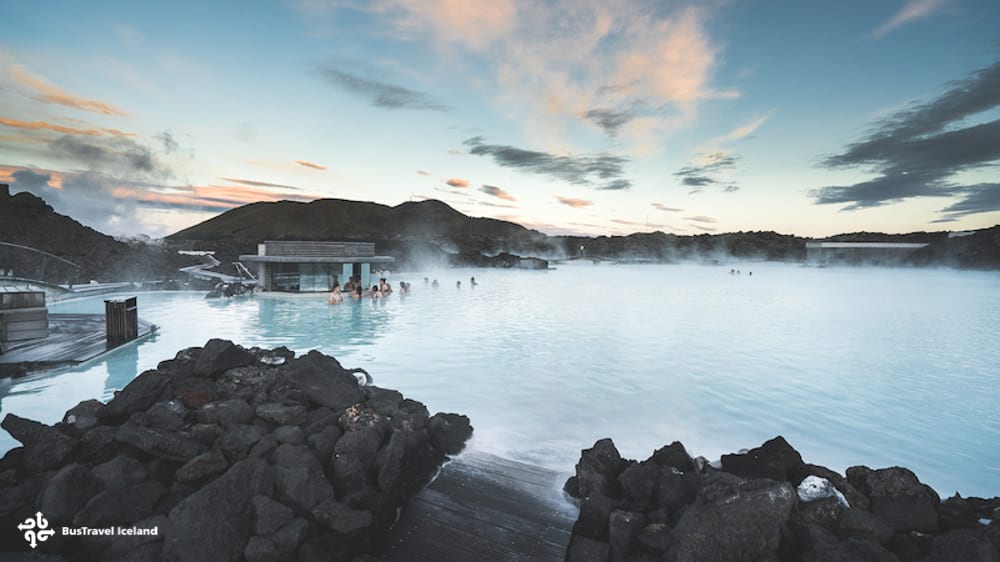 Blue Lagoon is not far from the Fagradalsfjall volcano, Reykjanes Peninsula.
Self-drive and hike without a guide
If you want to hike on your own and drive to the site, it takes about 50 minutes to drive from Reykjavik to the Fagradalsfjall volcano parking. The best route to take is to: first head out from Reykjavik to Grindavik, a town in Reykjanes, by taking Road 41 – the main road that leads to the Keflavik International Airport. Then take the exit to Road 43 that leads to Grindavik. Once you drive into the town of Grindavik, take Road 427, this will take you to the Fagradalsfjall volcano parking.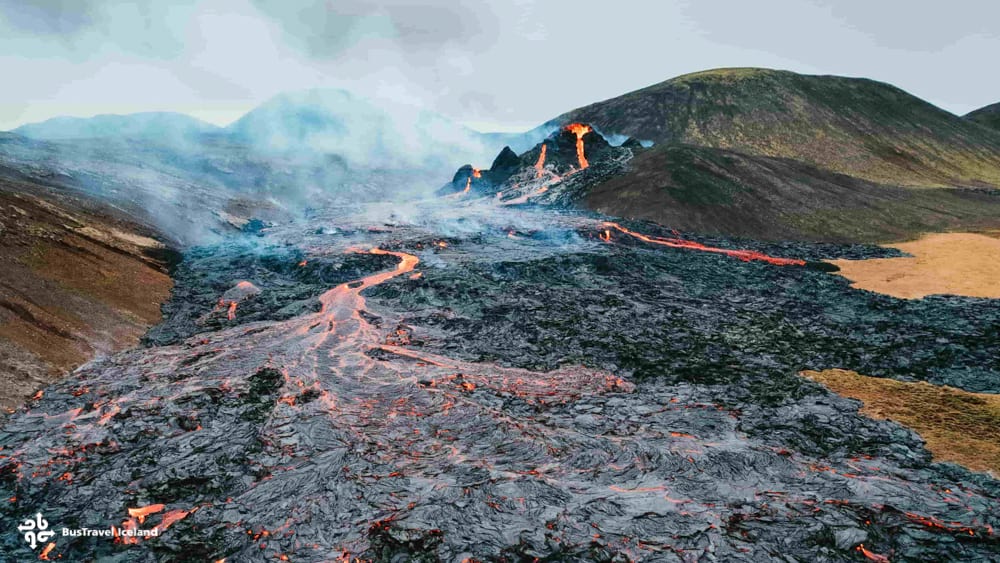 Airplane and helicopter tours
Some visitors book airplanes and helicopter tours to see the magnificence of the eruption from above. Several companies in Reykjavik offer this kind of luxury experience,which costs between 20,000 kr to 50,000 kr per person, depending on the  type of aircraft you choose. Small airplanes usually offer a one-flight tour, during which there is no stopover in the middle, whereas helicopter tours can offer one 15 minute stopover for passengers to get a close, personal view of the volcano. Both provide some fabulous aerial photographic opportunities.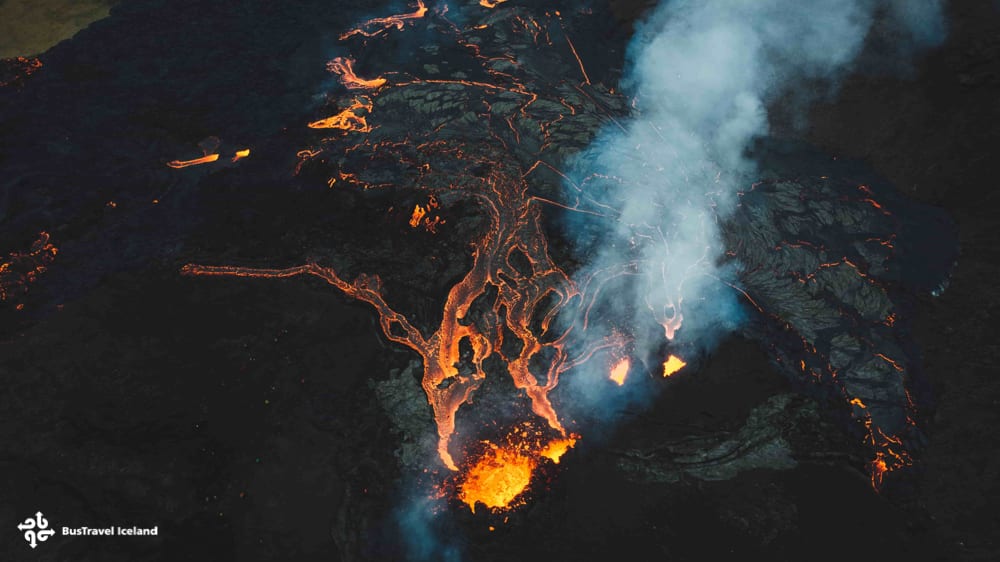 What to be Aware of When Going to the Eruption Site
The volcanic eruption is magnificent. But it can be dangerous if we don't take precautionary steps. To explore nature in Iceland you always need to be prepared and informed before you head out. Here are several tips  you need to know before you start your adventure.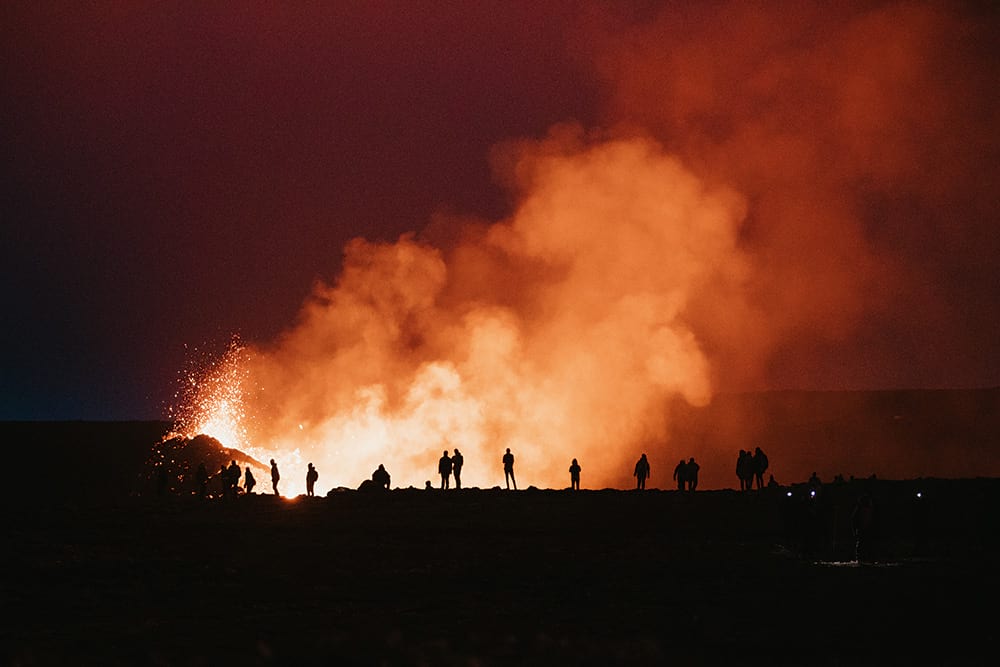 The photo is taken using a telephoto lens, in reality the visitors in the picture stood far away from the volcano crater.
 – Check the latest update from Safe Travel if you're planning on visiting the eruption site.  (Safetravel is the official site for safety information when it comes to traveling to Iceland.)
     – Check the local weather forecast before you plan your trip to the site.
     – The dispersion of volcanic gases can be a hazard if you are not paying full attention. Check the volcanic gas dispersion on Icelandic Met Office. It's highly recommended to avoid having the wind blow in your face as you get closer to the eruption site, where it is best to stay upwind when possible.
     – Volcanic gases, some of which are odorless, accumulate on lower grounds like valleys and dells. Please stay on the marked trail and stick to higher ground, like ridges and hills.
     – If you have a GPS device, bring it with you. Install the safetravel app on your fully charged phone. This is available free on charge on itunes and Google Play. If you have questions, find the nearest rescue workers for directions. Iceland's landscapes can be confusing, so get help when you need it.
     – No matter where you travel in Iceland, off-road driving is always illegal and you could get a fine.
     – During the pandemic, face masks can't protect you from volcanic gases, so take extra precautions when you are close to the lava. If you feel unwell, please walk away from the site with the wind against you and seek help if necessary.
     – Please do not stand on lava that looks hardened or seemingly black. Daylight won't show the molten lava underneath, which can be life-threatening.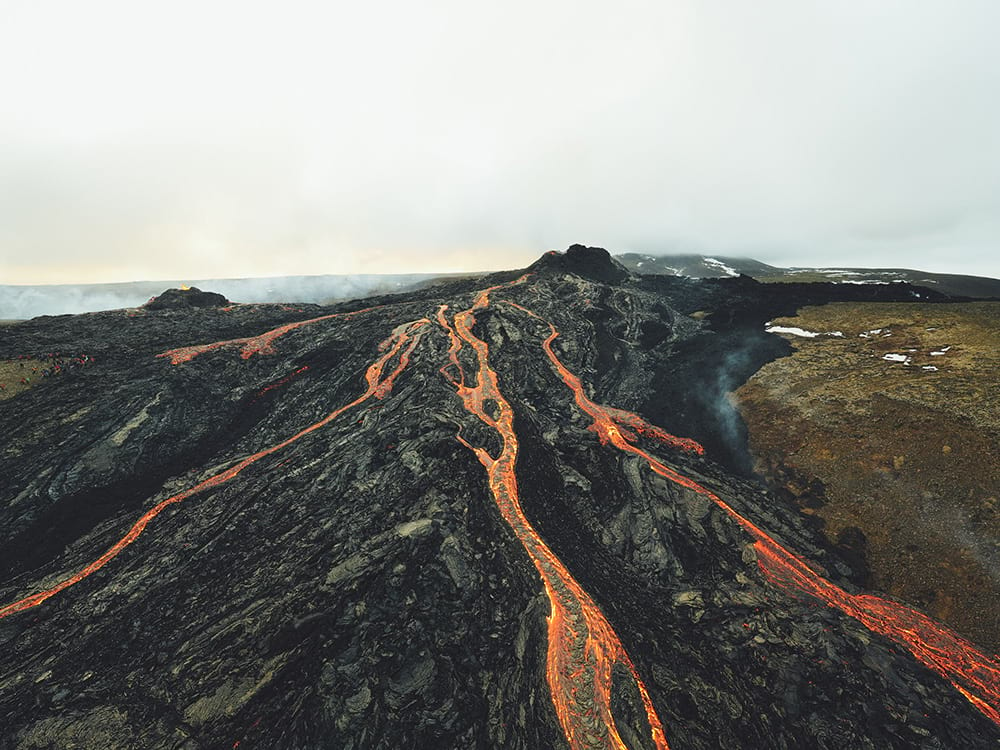 There are 130 volcanoes in the land of fire and ice and Mt. Fagradalsfjall is one of the most active volcanoes in Iceland,  There are many others that scientists believe will erupt sooner or later. That's Iceland!
---
Best Guided Experiences to the Volcano Area
The Fagradalsfjall volcano is in the Reykjanes Peninsula – an underrated region, in our opinion! It is home to some amazing geological formations and splendid attractions. To make your adventure worthwhile, we highly recommend that you explore the entire region, not just the volcano itself.
The most popular – the Volcano and the Blue Lagoon
Rated as the world's top wonder, the Blue Lagoon is a must-visit when you are in Iceland and it's only 15 km (9.32 miles) from the eruption site. This tour takes you from Reykjavik to some of the most iconic sceneries in the region, including Lake Kleifarvatn and its surrounding area. You also get an admission ticket to the Blue Lagoon, which is a perfect way to end your day of adventure.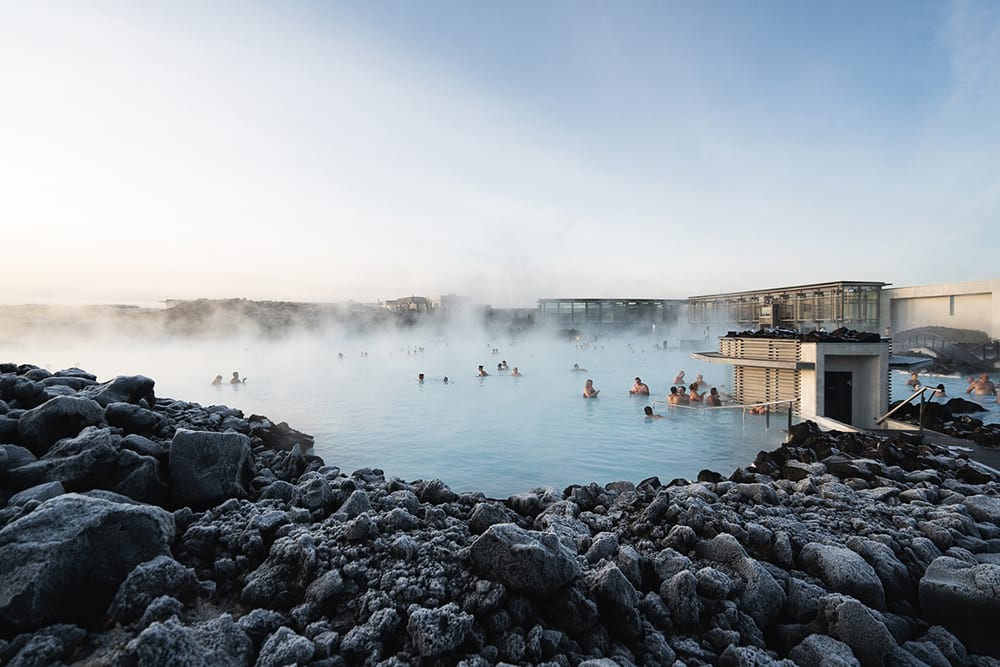 The most comprehensive – the Volcano and the Reykjanes Peninsula
A sightseeing journey through the Reykjanes Peninsula is an unforgettable visual treat.  The region has been  a Unesco Global Geopark Since November 2015, as it is dynamic, diverse, and attractive. Reykjanes has numerous unique natural attractions and massive untouched lava fields, with high geothermal activities and vivid birdlife.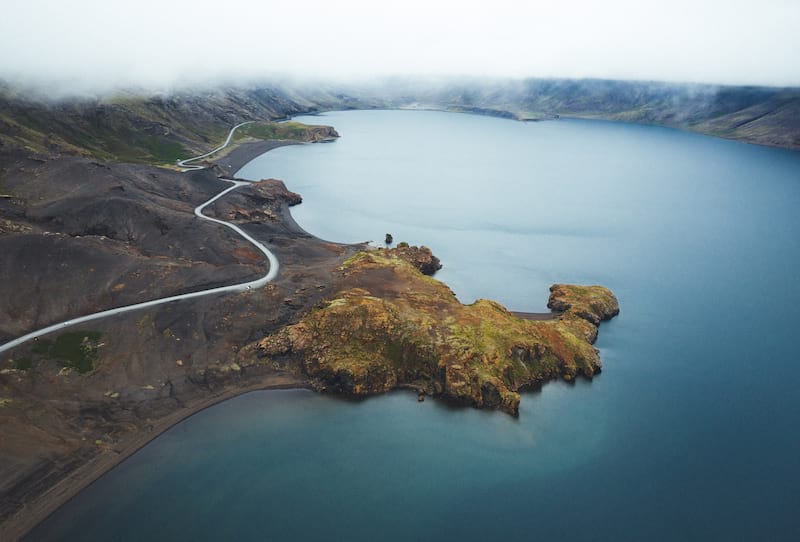 Lake Kleifarvatn is famous for its serene appearance, Reykjanes Peninsula, Iceland.
Combining the volcano visit with a sightseeing tour in Reykjanes takes only one day, but with all the Icelandic natural essence. Lake Kleifarvatn, Gunnuhver hot springs, the Reykjanesviti lighthouse, and the Bridge between two Continents, a variety of landscapes await.
---
Brief Geological History of the Reykjanes Peninsula
Before the eruption, Mt. Fagradalsfjall was  just an undistinguishable mountain ridge, 385 meters above sea level at it's the highest elevation. It has been dormant for at least 6000 years but was a tuya volcano, active more than 10,000 years ago in the last glacial period, whereas Geldingadalur erupted about 800 years ago. In the Reykjanes Peninsula, the last eruption occurred between 1210 to 1240 AD, which was named Reykjanes Fires.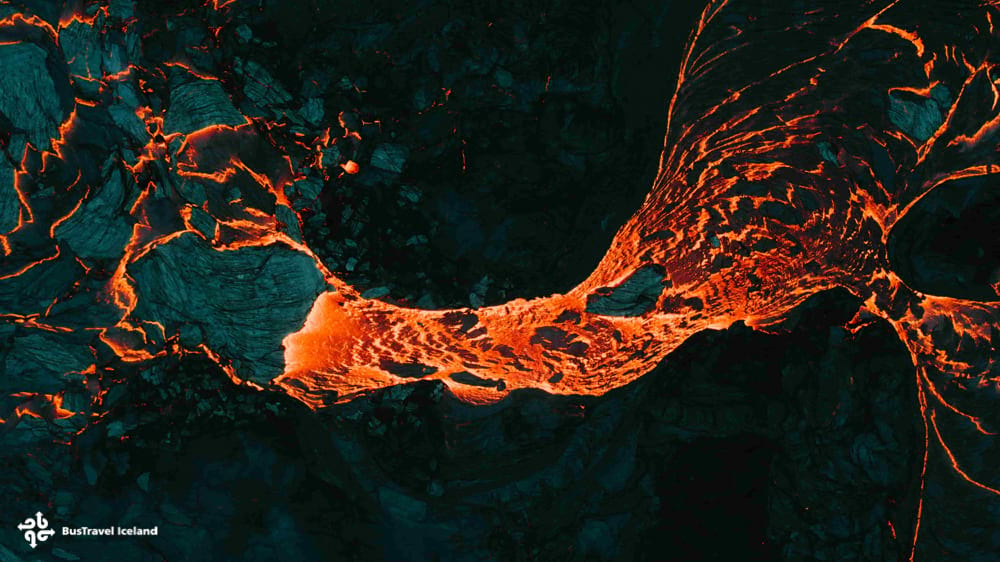 Over time, periods of earthquakes  were frequent on the peninsula, the most recent being between 1927 – 1955 and 1967 – 1977. But, the current earthquake episode that eventually led to the eruption of Fagradalsfjall has been the most intense in recorded history, by far.
Iceland's Reykjanes Peninsula has a vast geothermal area. What's so amazing about Iceland's dynamic volcanic activity and rich geothermal power? It has everything to do with the very location on the planet.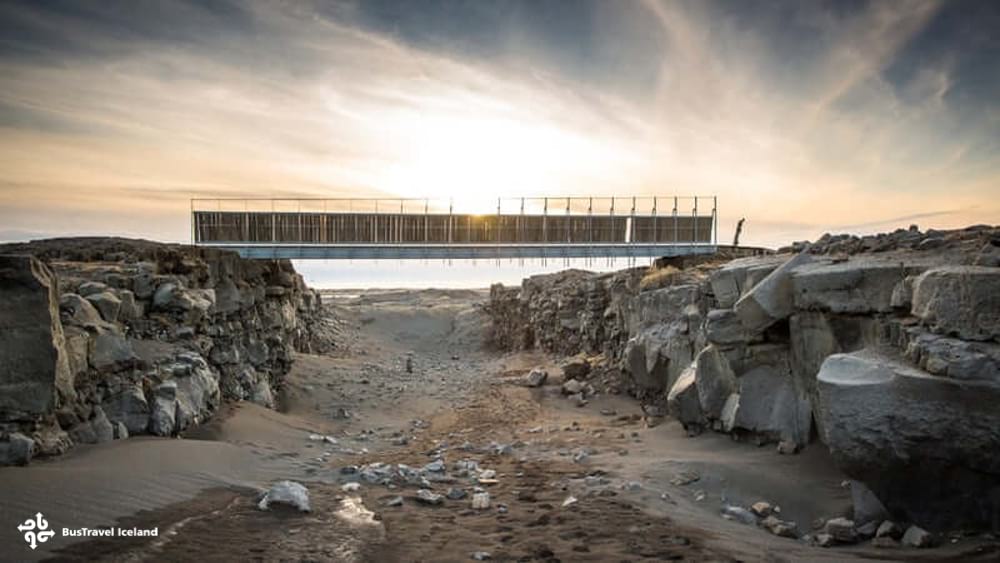 Bridge between Two Continents is a landmark structure on the Mid-Atlantic Ridge, Reykjanes Peninsula.
The entire island sits on the Mid-Atlantic Ridge, the divergent boundary between the Eurasian and North American tectonic plates, which move apart from each other at a rate of 0.02 meters per year. The Fagradalsfjall mountain ridge is located within the Krýsuvík-Trölladyngja volcanic system on Reykjanes Peninsula.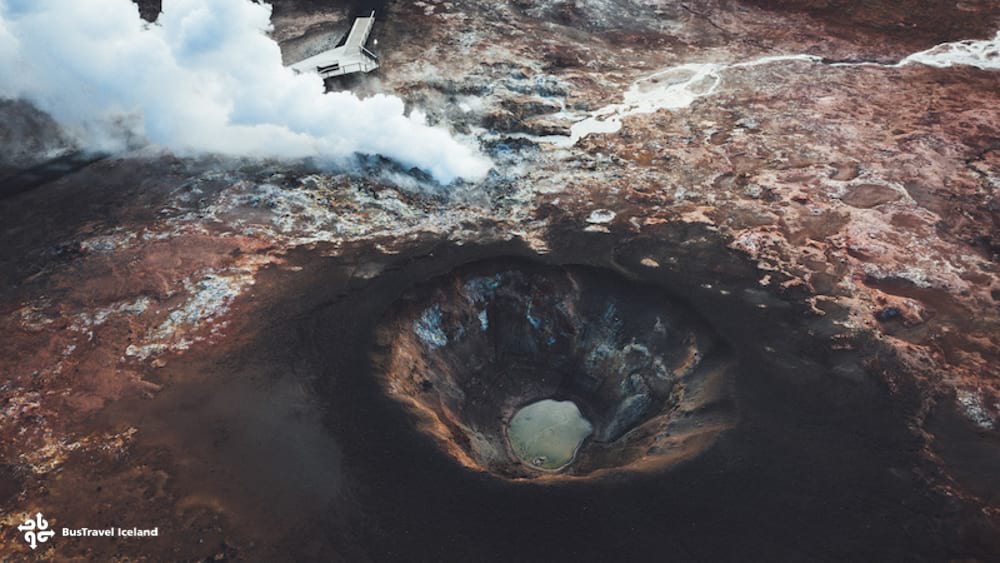 Gunnuhver hot springs is a popular destination in Reykjanes Peninsula, Iceland.
The active volcanic system created an amazing cluster of diverse scenes in the region,  each with its own distinctive features.
     – Lake Kleifarvatn, the largest lake in the region, has the greatest depth measuring 97 meters, and is famous for its serene surface and lack of visible streams going in and out. It's also a popular spot for geothermal hot spring diving.
     – Gunnuhver hot springs, Iceland's largest, most vigorously boiling mud pool, has drawn many visitors to appreciate its grandeur. The cloudy steam coming from boiling water underneath is at a scalding heat of 298.9-Celsius degrees (570 F).
     – The Reykjanesviti lighthouse, the iconic white lighthouse, is also the most popular one in Iceland according to a survey. It's 69 meters above sea level, greeting the chilling wind from the North Atlantic Ocean.
     – The Bridge between Continents, one of the best places on the Mid-Atlantic Ridge between two continents, was built as a symbol to show the geological significance of Reykjanes. The other one is at Thingvellir National Park on the Golden Circle Route.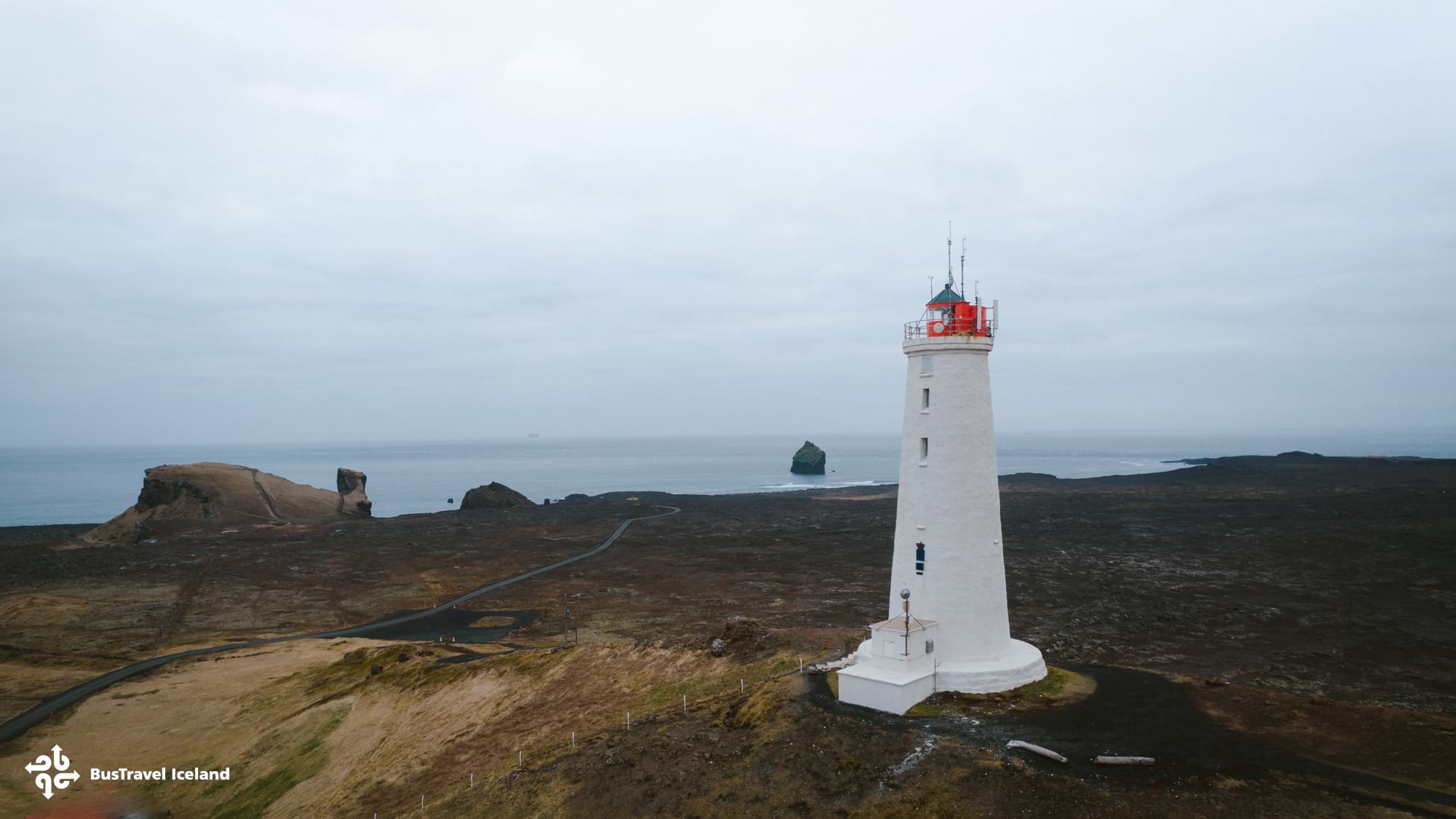 The Reykjanesviti lighthouse is an iconic structure in Reykjanes Peninsula, Iceland.
The Key Takeaways
Volcanologists are not certain when the eruption of Mt. Fagradalsfjall will stop, so we might be expecting a long hauler. This is good news for visitors coming to Iceland as now you can add an active erupting volcano to your bucket list! We are here to help you enrich your journey.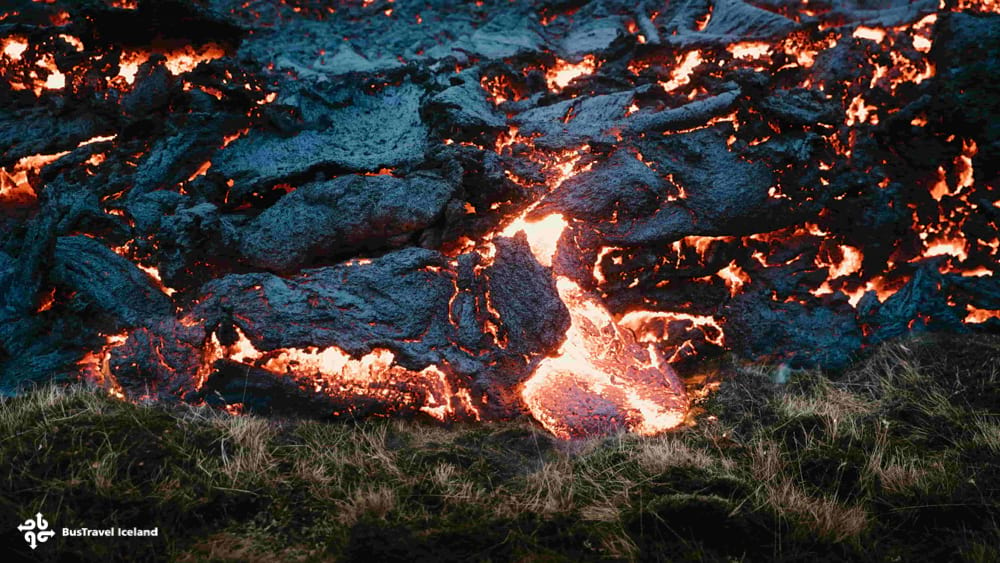 Here are several takeaways.
 Fagradalsfjall volcano means beautiful valley mountain in Icelandic.
 The volcano is in the Reykjanes Peninsula, home to the Blue Lagoon.
 The volcano can be seen even from Reykjavik and the Capital Region of Iceland.
 There are different ways to see the eruption site but the best is to join a guided hiking tour.
 Be prepared and stay informed, and remember safety always comes first.
 Plan your day trip to the volcano along with other attractions in the region.
 Reykjanes Peninsula is a Unesco Global Geopark with a range of diverse sceneries.
Enjoy the stunning show!
BusTravel Iceland
Recommended
Iceland tours
Explore Iceland's beauty with our tours curated just for you, showcasing the best attractions for an unforgettable adventure.