Introducing Litli Hrutur, Iceland´s Youngest Volcano
by Neil
Reykjanes
24 Jul 2023
Litli Hrutur is estimated to be larger than Merdalir, and ... the crater walls have collapsed under the sheer weight of the emerging magma, only to rebuild themselves once more. Witness the creation of a new mountain.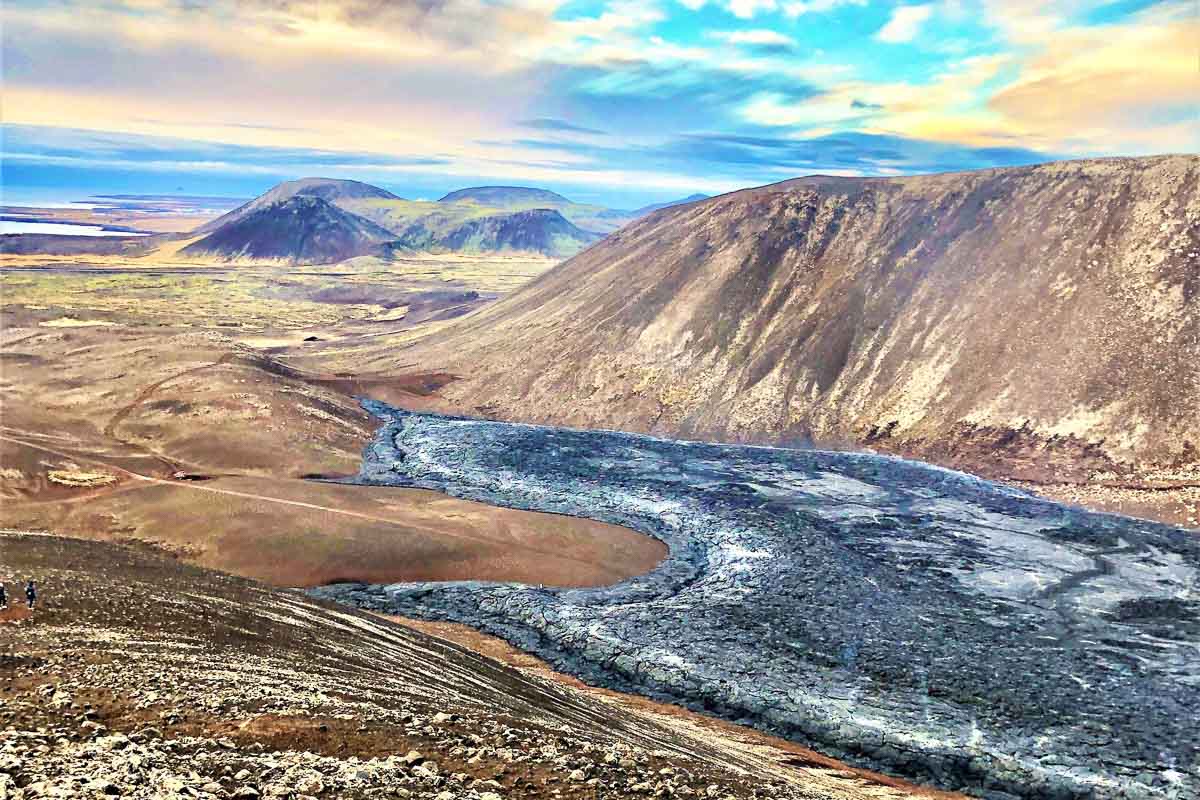 Fagradalsfjall new lava field
South-West Iceland is basking in the warm glow of its third volcanic eruption in as many summers. On July 10 2023 a 900m fissure opened on the Reykjanes Peninsula at Litli-Hrutur. Situated just a few kilometres north of the eruption sites at Meradalir and Fagradalsfjall, active in 2022 and 2021 respectively, Litli Hrutur soon formed an impressive crater which continues to grow day after day.
Volcanic eruption in July
The Fagradalsfjall eruption raged for 6 months, whereas the Meradalir eruption ceased after just a few weeks. Litli Hrutur is estimated to be larger than Merdalir, and in just two weeks has changed appearence several times. The crater walls have collapsed under the sheer weight of the emerging magma, only to rebuild themselves once more. The fear from an infrastructure point of view is that the lava flow will continue to head south, potentially wiping our the coastal road. If this were to happen, the journey between the villages of Grindavík to Þorlákshöfn, currently 45 minutes, would increase to 1h and 20 minutes or so. Luckily there are no residential area in the immediate vicinity, so there is no risk to human life.
Of course this event has captured the imagination of locals, visitors and scientists alike. Reaching the eruption site is no mean feat, involving as it does a hike through the barren wilderness of this remote area. In the days following the eruption´s start, thousands of enthusiasts flooded the area, hoping to catch a glimpse of this rare phenomenon.
What are the safety guidelines for tours in this area?
With so many hiking over non-existent trails, accidents can happen. A twisted ankle far away from any roads may require the mobilisation of the the Icelandic Search and Rescue Squad (Björgunarsveit). Therefore strict safety guidelines are in operation on site. Coupled with wildfires causing excessive smoke, access to the volcano has been strictly regulated, with the trails at times closed for days at a time. At the time of writing, a curfew of 6pm in in place, offering welcome respite to the overworked volunateer force in charge of the area.
Smoke from the volcano has been reported as being visible as far away as Ísafjörður in the far north-west, with haze adversely affecting the air quality in both that town and throughout vast other swathes of the country.
BusTravel Iceland offers 4 different Litli Hrutur tours, combining this magestic display of natural forces with Reyjanes Sightseeing, and the Blue Lagoon. As always the safety of our passengers is our priority so we abide strictly by the advice of the Safety Squad.
Our guides are very familiar with the area, as we have been operating guided tours here since 2021. Our evening tour is particularly popular as it is really is an experience to view the red lava pour forth in the failing twilight. Right now that departure is on hold due to restricted opening hours, though we hope to offer again soon.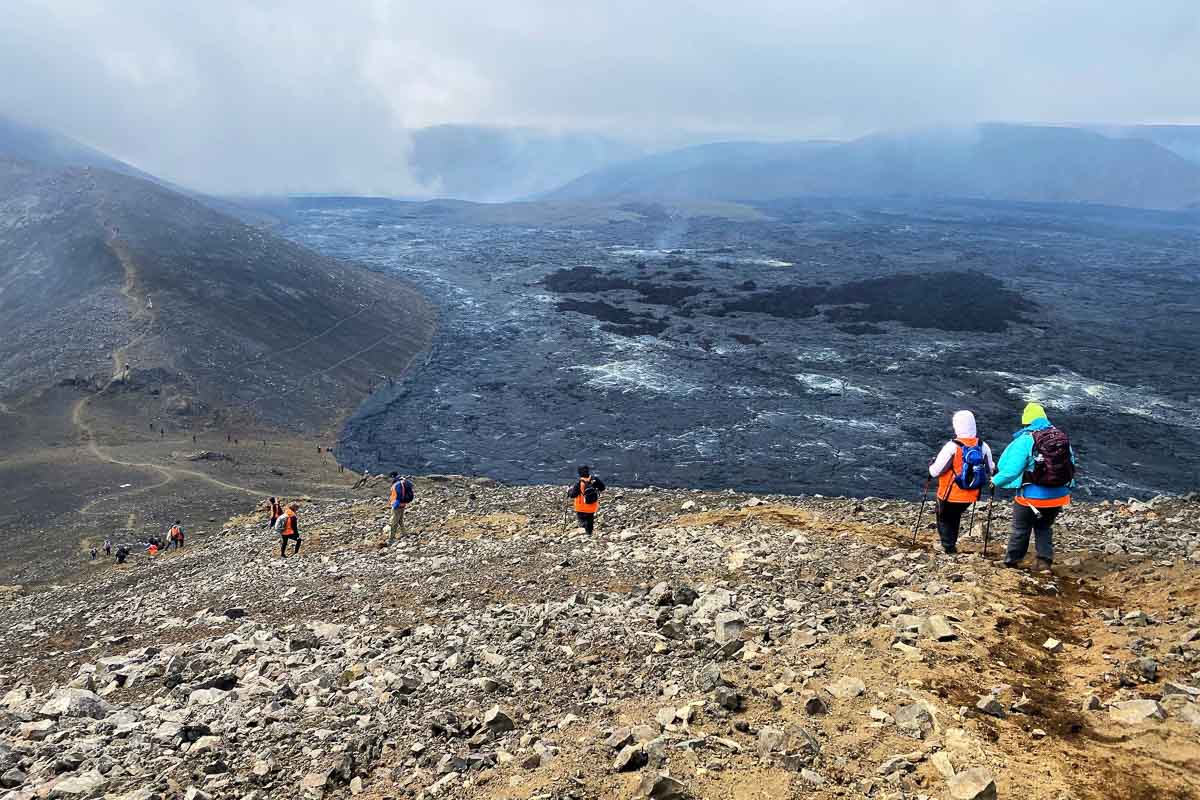 Our guides are trained in emergency procedures and first aid. Our tours are a great choice for those as fascinated as we are by lava, magma and eruptions. These tours are perfect for those without their own transport or perhaps not confident in hiking in the wilderness by themselves.
Recommended
Iceland tours
Explore Iceland's beauty with our tours curated just for you, showcasing the best attractions for an unforgettable adventure.