Your Essential Guide To Landmannalaugar
by Neil
Iceland Highlands
21 May 2023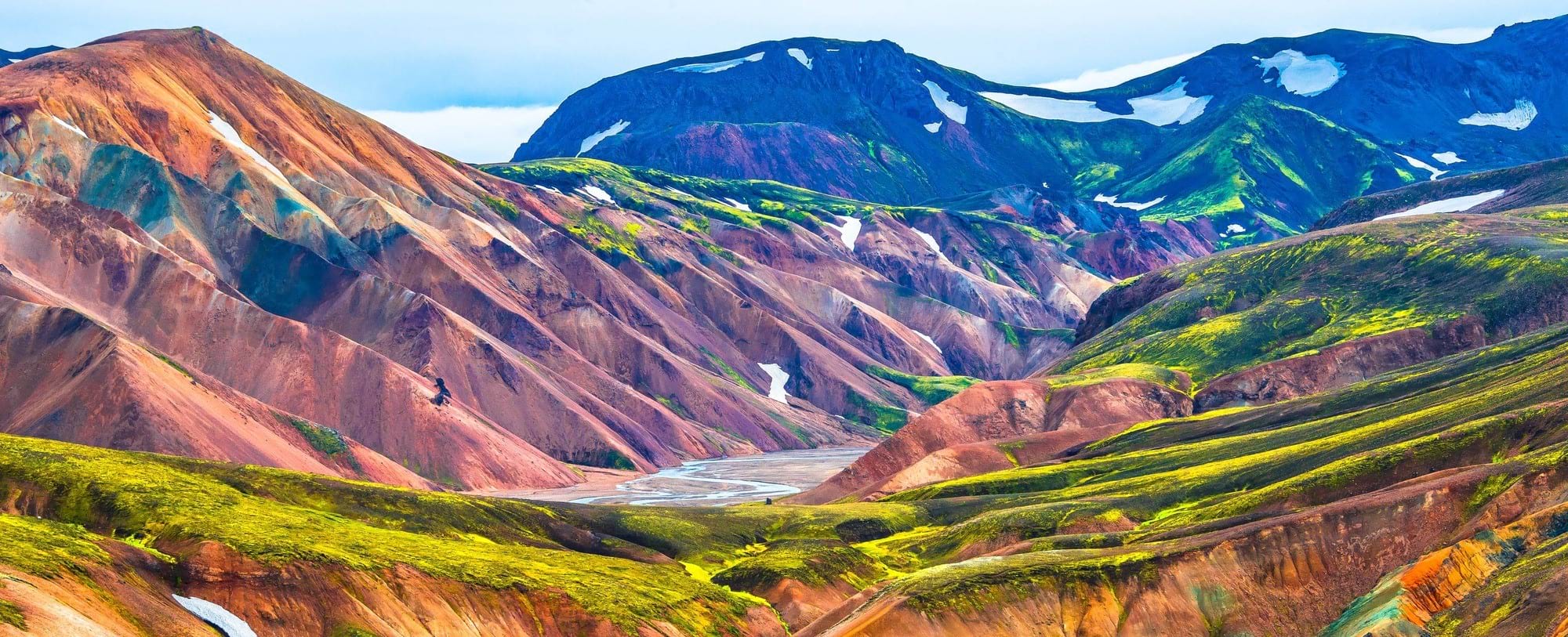 Landmannalaugar, the Pearl of the Highlands
Landmannalaugar is a region in the Fjallabak Nature Reserve located in Iceland´s highlands.  The mountains here are dense with a mineral called rhyolite which is what causes the dazzling array of colors that the area is well known for. It is a popular hiking and camping destination, known for its stunning landscape of ancient lava fields, colorful rhyolite mountains, hot springs, and trails. Icelanders and visitors alike flock to the area in summertime for outdoor pursuits including hiking, trail running and mountain biking.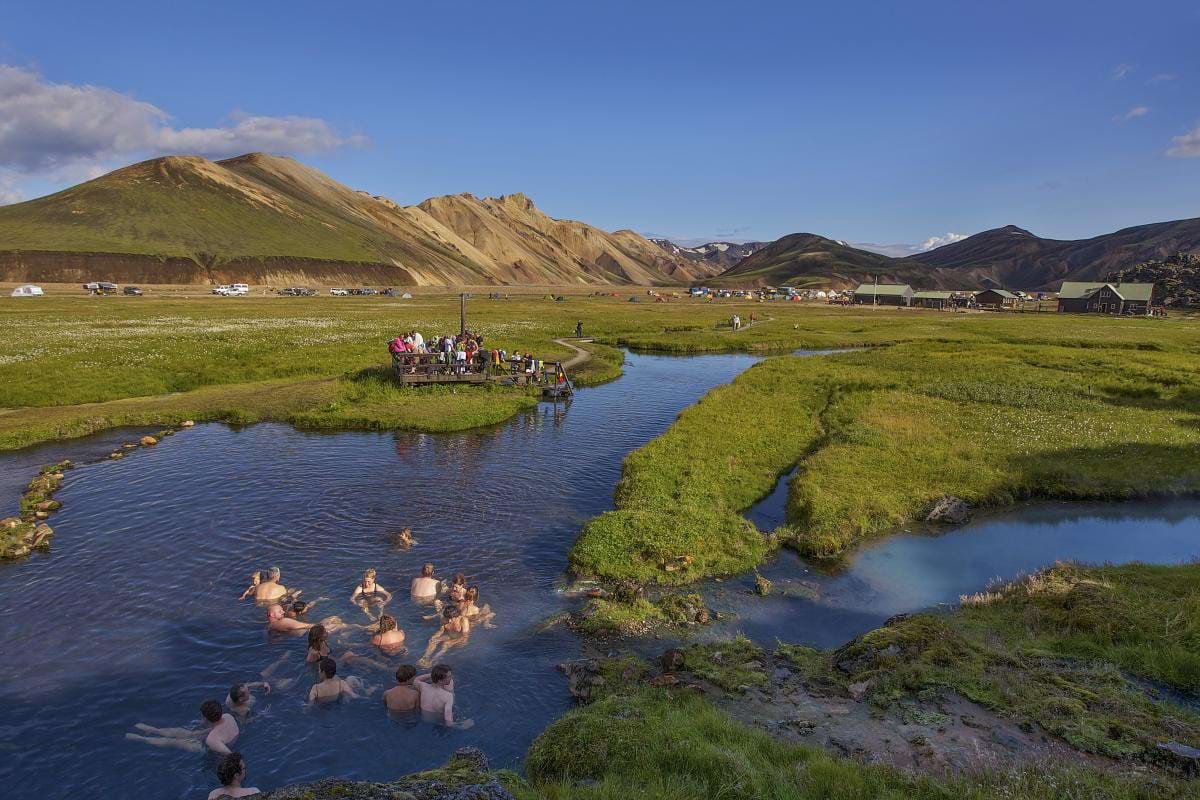 Landmannalauagr is popular not only as a destination in its own right but also as a starting point for several other multi day tours through the highlands. The most famous of these is the Laugavegur Trail, with Landmannalaugar situated on the northern end of that trail. The name Landmannalaugar translates as the people's pool, in reference to the geothermal hot-springs here.
How to get to Landmannalaugar from Reykjavik
Guided Tours to Landmannalaugar
BusTravel Iceland offers a fantastic tour to Landmannalaugar from Reykjavík daily during summer. Our Landmannalaugar Hiking, Nature Bath & Háifoss Tourstarts running in June when the F225 road finally reopens after the spring thaw and continues until the end of September. If the road has not reopened by your tour date, we can reschedule or of course refund in full.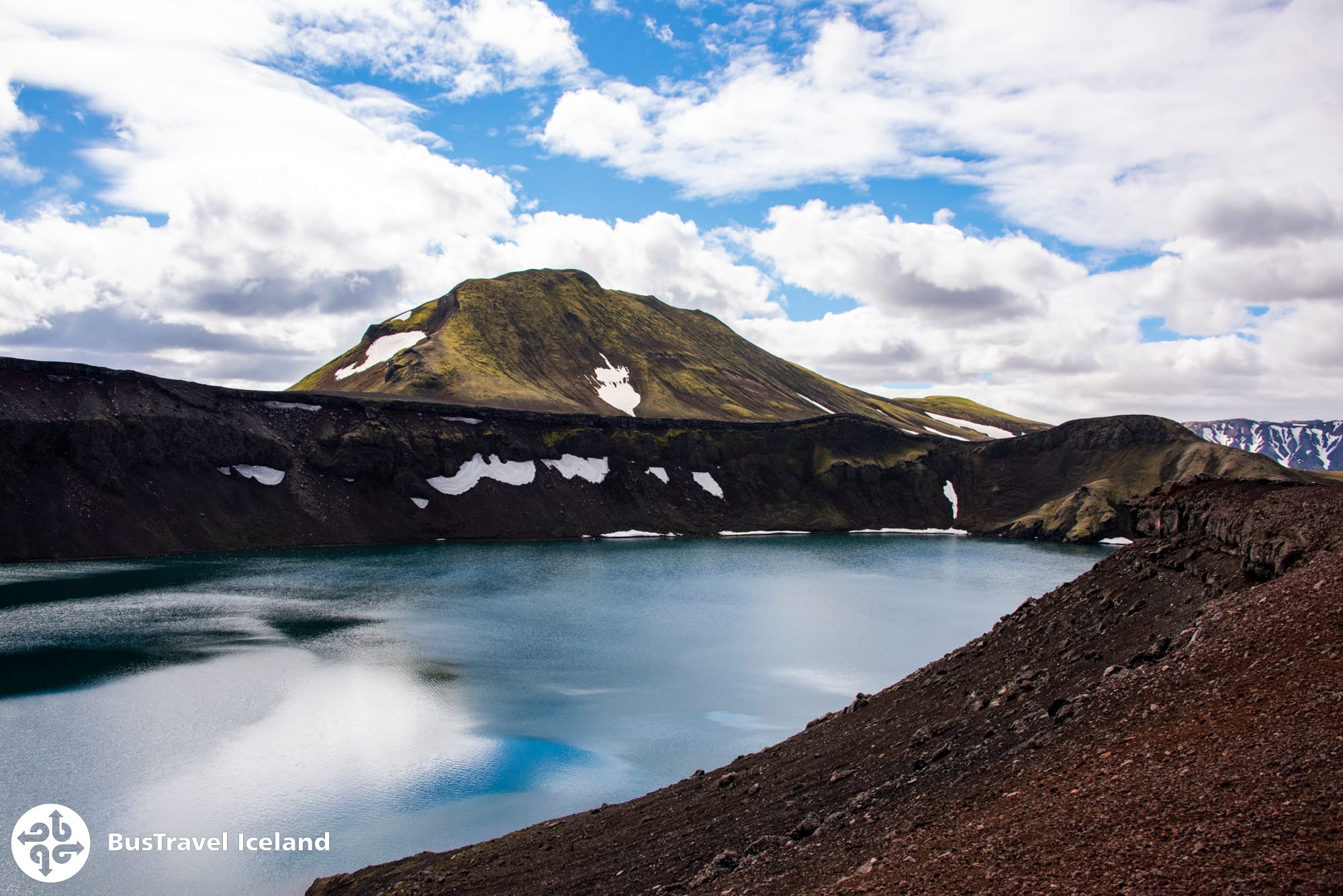 From hiking trails through ancient lava fields and rolling rhyolite hills, bathing in hot-springs to beautiful sites such as Hjálparfoss, Granni and Háifoss waterfall and Hnausapollur volcanic crater lake, there is something for everyone on our Landmannalaugar tour. Join us then on our highland bus and visit beautiful Landmannalaugar. Our tour has great reviews and is a terrific introduction to the highlands of Iceland.
Self-Drive to Landmannalaugar
The drive from Reykjavík to Landmannalaugar takes about 3.5 hours. Dómadalsleið (the F225) and Fjallabaksleið nyrðri (F208) are the main routes to Landmannalaugar. The F225 is the main route visitors will use though. But this road closes in spring due to mud and flooding that results from the melting of the winter snow. The median opening date for the road is June 18th, but it has been known to open as early as May 28th or as late as June 26th.
4×4 rental cars can make the journey and you can park before the river leading to the campgrounds. Fording the river is not recommended for those without experience and few if any rental car companies will cover river crossings.
Be sure to check that your rental car company permits you to drive this route before you go as your insurance might not cover any damages.
Highland Bus Transfers to Landmannalaugar
Several tour operators offer daily summer transfers marketed towards day visitors and through hikers taking the Laugavegur trail to Thorsmork. We recommend Reykjavík Excursion´s Iceland On Your Own service. They also service Thorsmork and Skógar, so are a great option for those hiking the Laugavegur Trail and also those who do the Fimmvorduhals add-on hike.
You can book your Landmannalaugar transfers here.
Where to stay in Landmannalaugar?
Landmannalaugar Hut
The Hut at Landmannalaugar is operated by an organisation called Ferðafélag Íslands (The Iceland Touring Association). The hut is two-stories and can accommodate upto 78 people in single beds in dorms. This is therefore a communal rather private accommodation option. You will be sleeping in one of the 4 dorm rooms with strangers.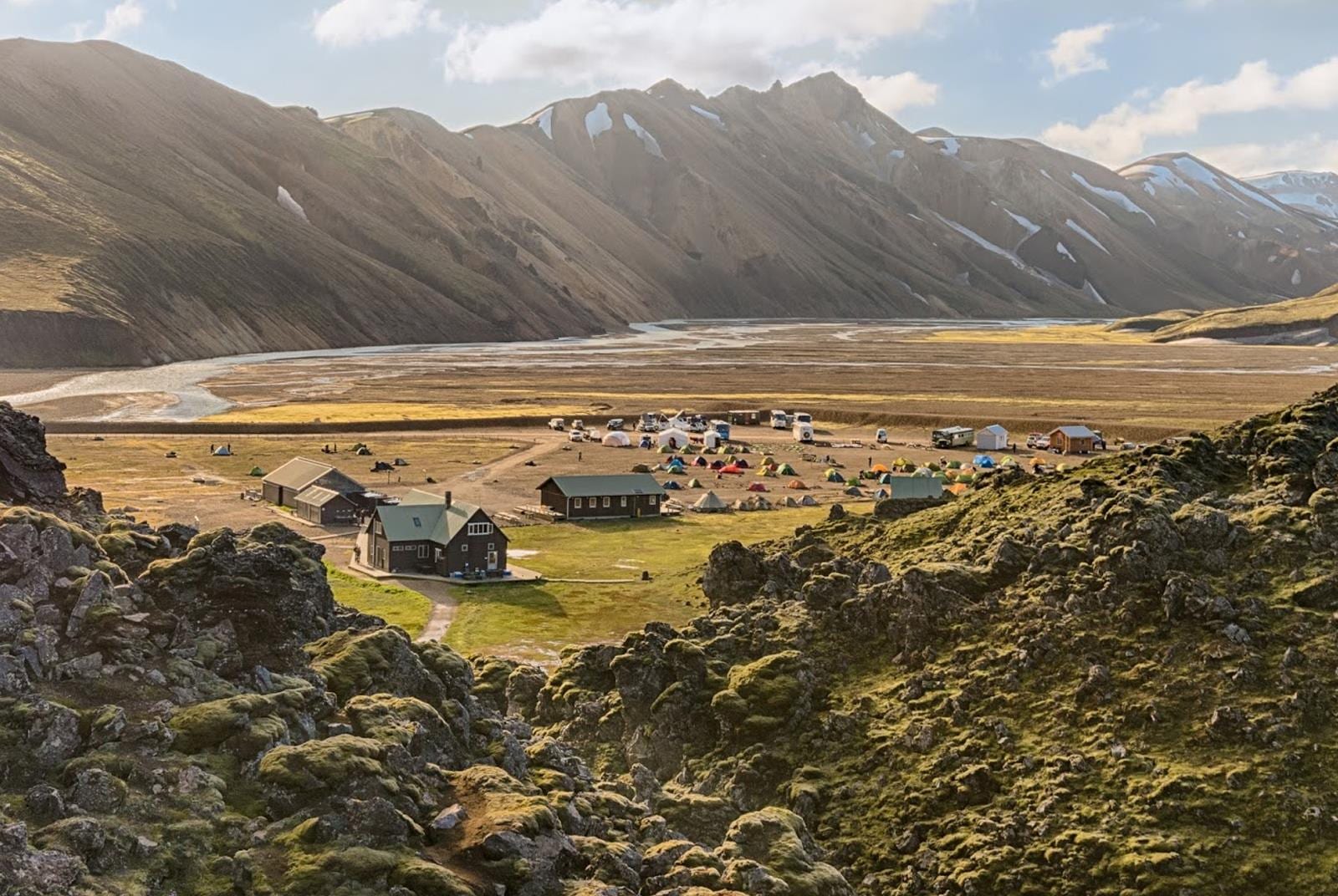 The kitchen is fully equipped with hot and cold water, gas grills and utensils.
WC and shower facilities are available in a connected out-building. A 5-minute shower will set you back ISK 500 and is not included in your stay.
The cost of a bed for one night is ISK 11,000. Availability is limited and one is therefore advised to book well in advance. All summer accommodation for 2023 is already sold out and they do not operate a waiting-list.
You can read more about the hut and make a reservation request here.
Camping in Landmannalaugar
Camping is a great option in summer. The area is surrounded by hills so is relatively sheltered, or at least as sheltered as one can hope for in the highlands of Iceland. On busy summer days, there is a great community spirit and atmosphere to be experienced here.

Camping does not need to be booked in advance, but it is advisable to pitch your tent early to get a good spot. The camping fee is ISK 2500 per person per day and this includes access to facilities including out-door grill and cooking camp as well as the toilet. You can also use the hot-springs at no additional charge once you have paid for camping. You can pay on site with card or cash.
Hiking Trails in Landmannalaugar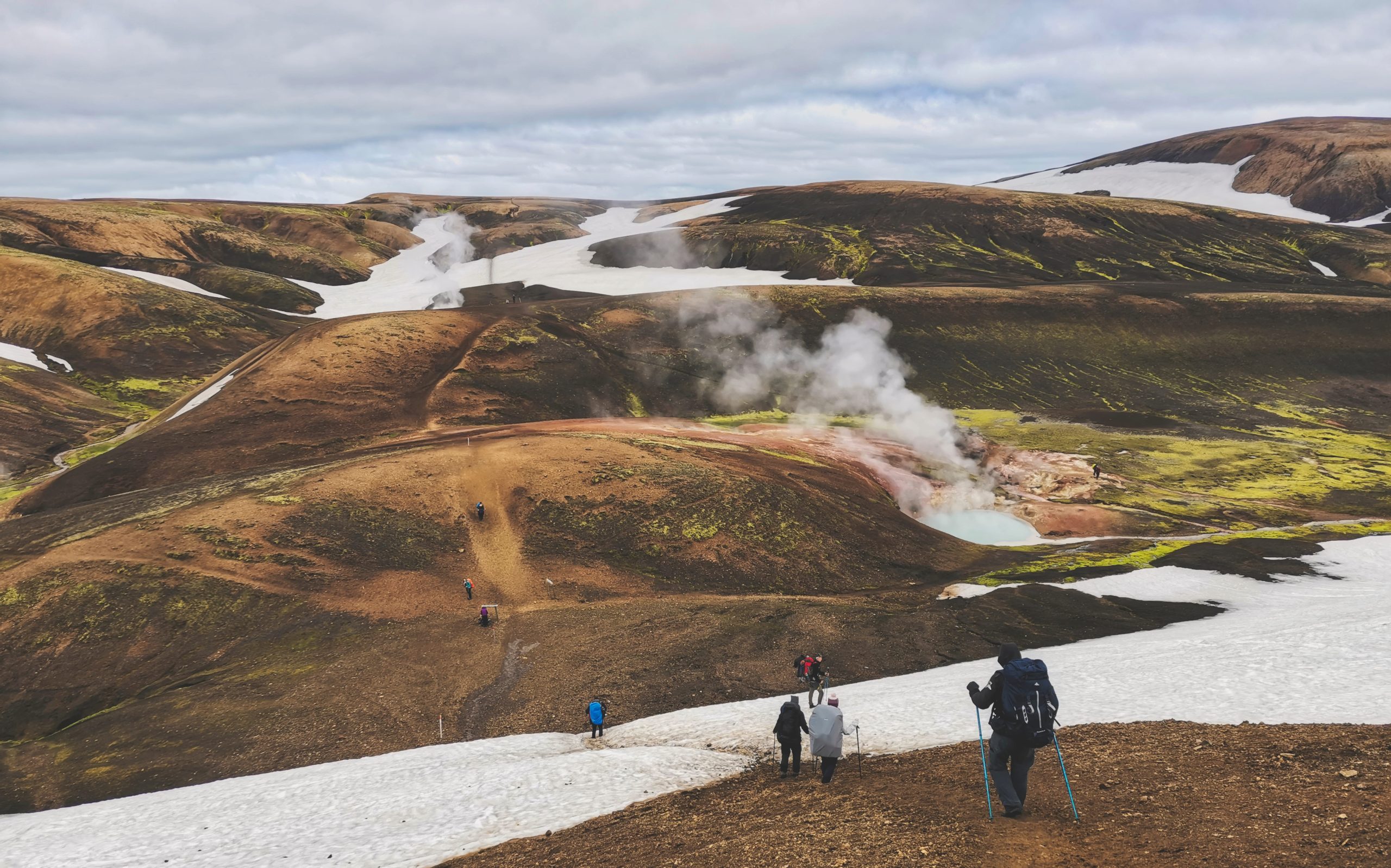 The most famous hiking trail in Landmannalaugar runs south to Thormsmork, and is known as the Laugavegur Trail. The 55km route is most often taken over 4 days, with huts and camp-grounds dotted strategically along the trail. The first leg of the trail can still be under snow even late into the summer, so it´s important to be properly dressed and equipped. There are also several river crossings that hikers will need to negotiate. The rivers are cold but not very deep or fast.
Stronger hikers can look to complete the trail in two days. Many hikers choose to add on the Fimmvorduhals trail from Thorsmork all the way to Skógafoss waterfall. So, all in all, the trail offers 3-6 days of pristine mountain scenery, with each day of the hike offering a distinct topography.
Every summer, the Laugavegur Ultra Run attracts hundreds of hardy competitors who complete the 55km trail in one day.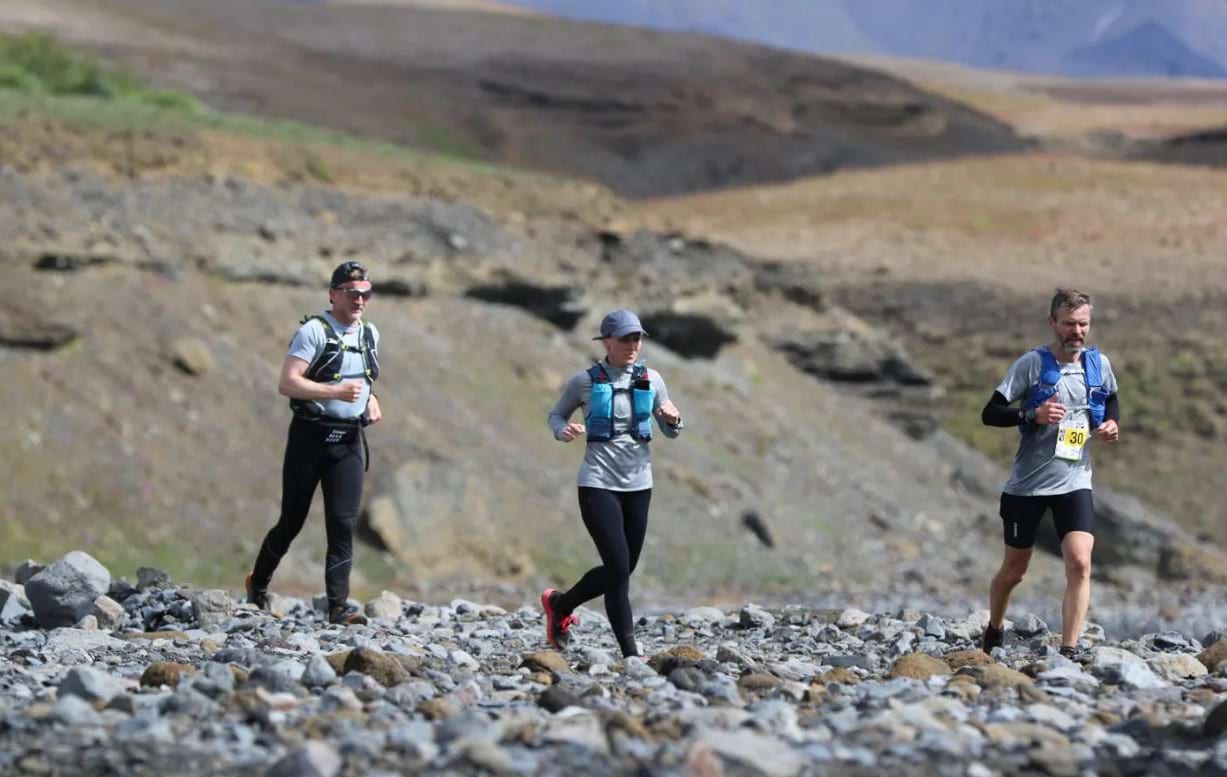 But Landmannalaugar also offers several day hike options as well. These range from the easy 9km hike to Brennisteinalda volcano; the shorter but more difficult trail to Blánúkúr and Grænagil; and the 16km Skáli circuit. The guidebook "Iceland: Nature Paradise in the Arctic Circle" by Uwe Grunewald is a great resource for intrepid and casual hikers visiting Landmannalaugar and we highly recommend it.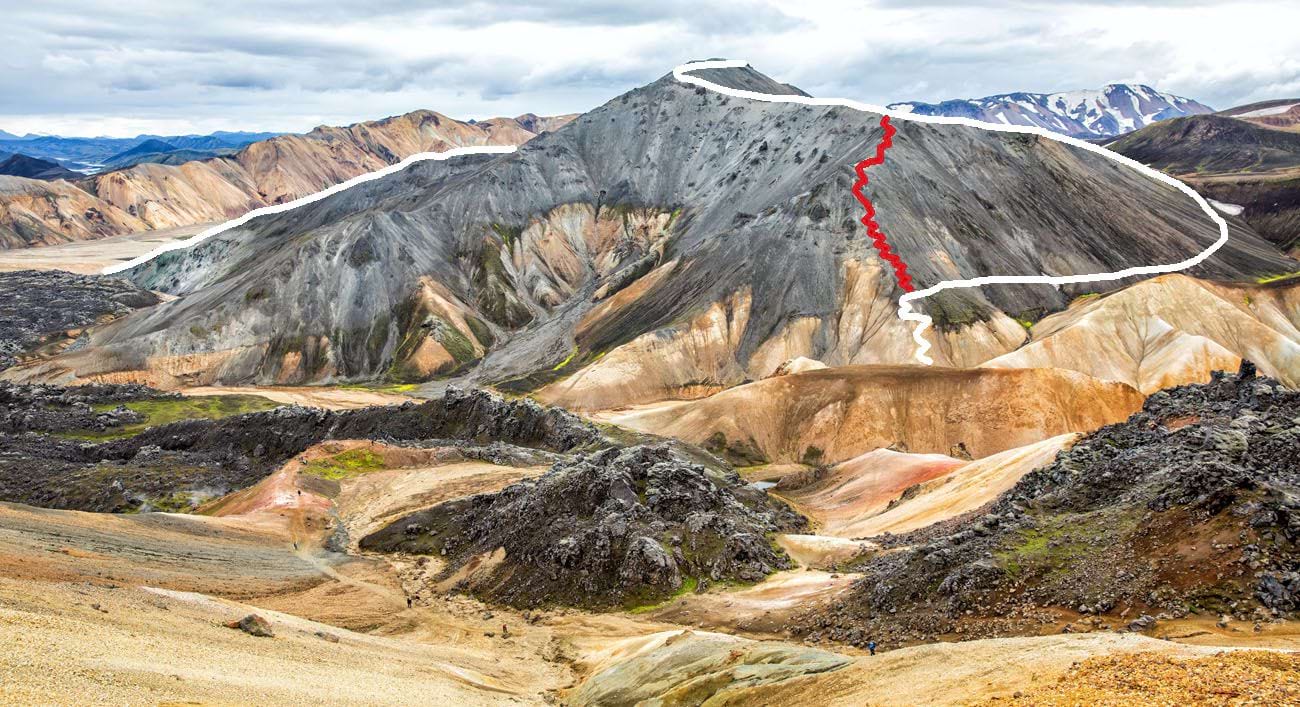 Restaurants and shopping in Landmannalaugar
Visitors to Landmannalauagr should bring their own supplies and be generally well prepared. Those staying in the campgrounds can use the grills in the cooking tent, while guests of the huts can use the indoor kitchens.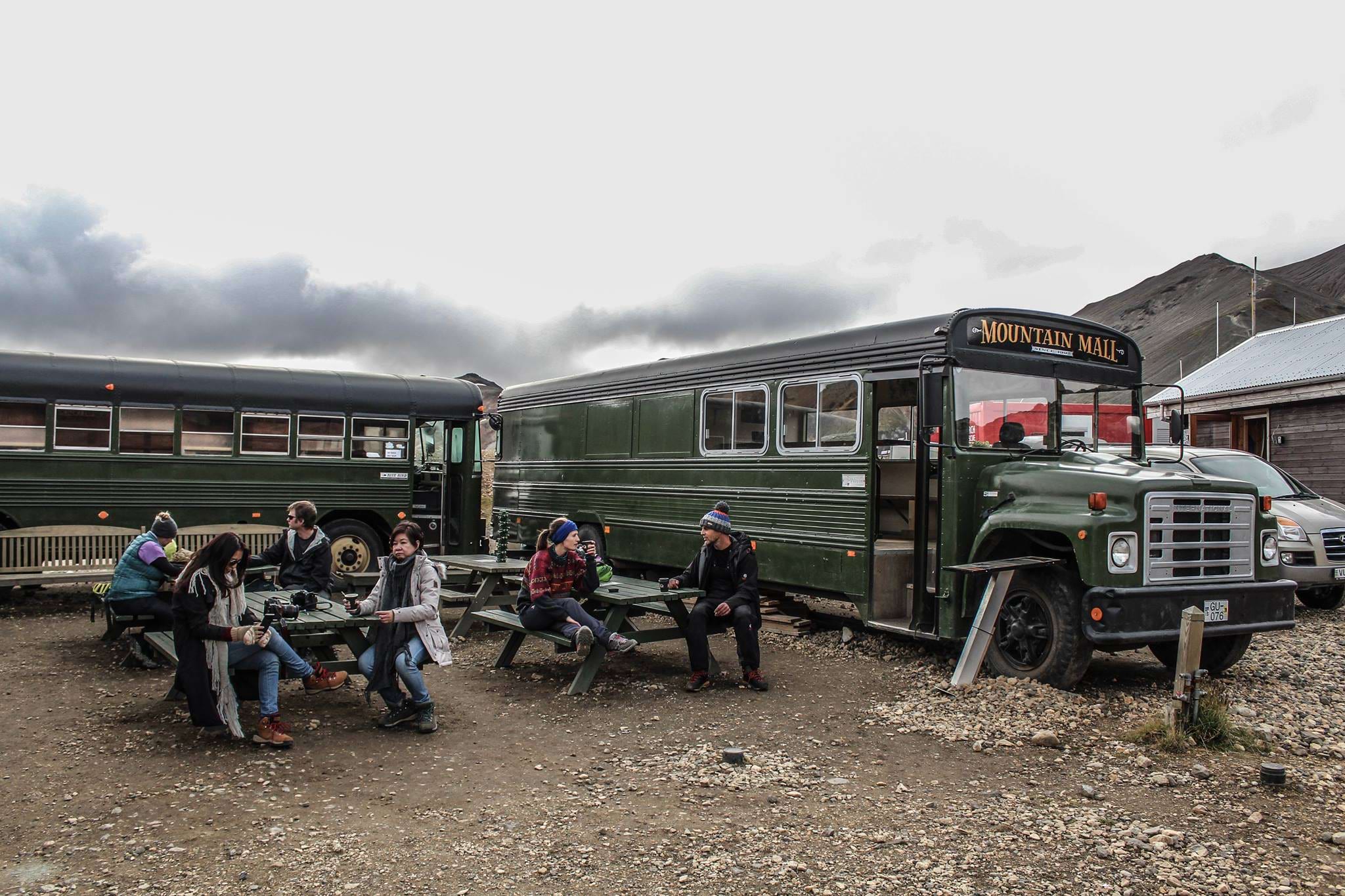 It is possible to purchase some a limited variety of foodstuffs on site though. The Mountain Mall is a shop/cafe comprised of 3 American school buses that have been retro-fitted and painted black. The cute enterprise offers some basic grocery items such as candy and freeze-dried camping meals. They also sell as camping essentials such as gas and disposable barbecues. They also sell soup and coffee/tea.
Due to the remote location of the Mountain Mall and supply issues and delays that can occur, visitors should not rely upon the Mall for all their supply/food needs. It is best to be as prepared and self-sufficient.
Recommended
Iceland tours
Explore Iceland's beauty with our tours curated just for you, showcasing the best attractions for an unforgettable adventure.