10 Best Places to Visit in Iceland
by Irena
Good to Know
16 May 2022
Are you having trouble choosing things to see in Iceland? Here are 10 Iceland's must-see destinations from a view of a local.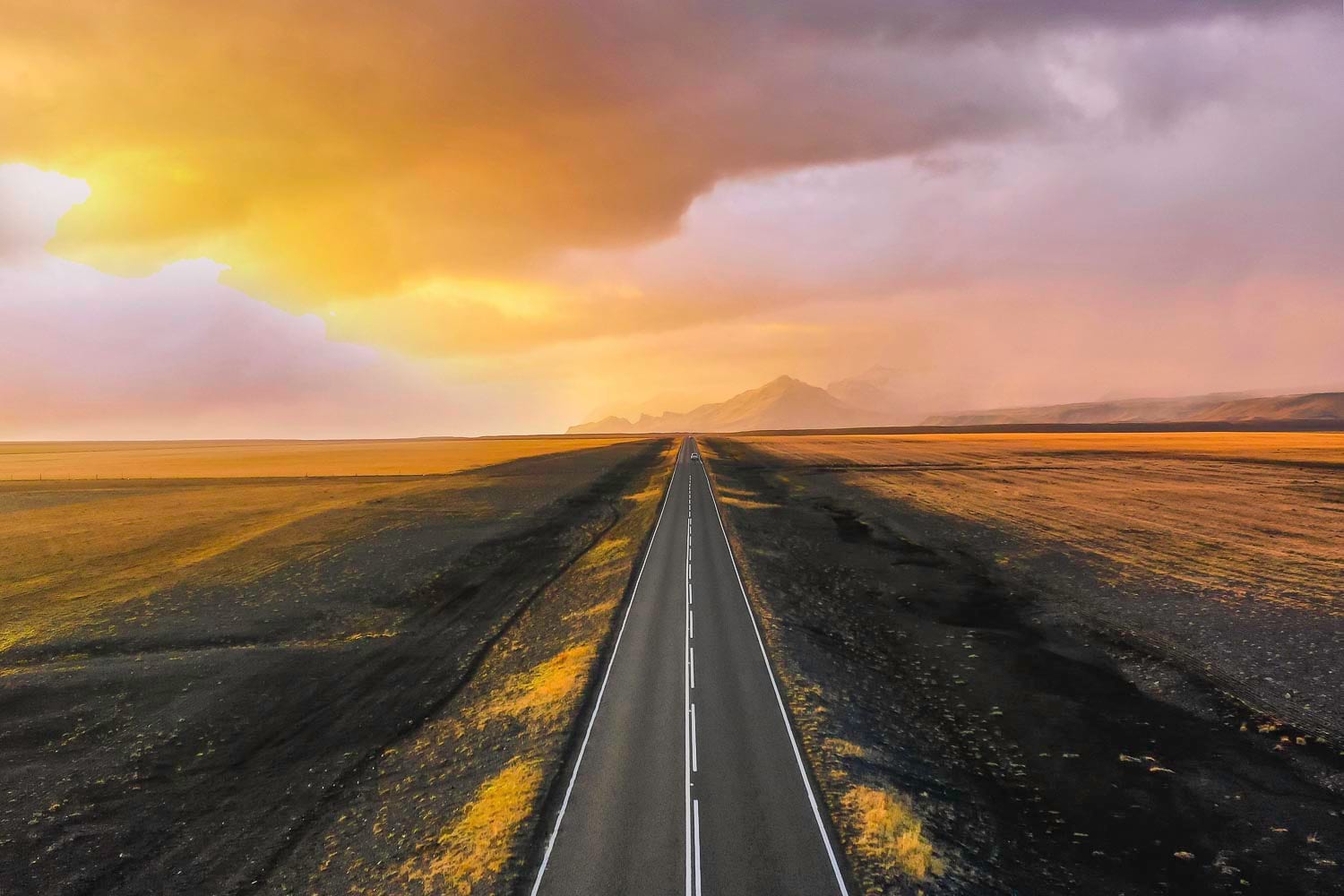 I think it's a little ignorant to say that there are several best places to visit in Iceland but there definitely are a few of Iceland's must-see attractions that every tourist should visit.
Tourism is one of Iceland's biggest industries and people are always trying to find something new to sell to tourists, so the best recommendations you can get are from a local who knows the country and its nature well. Luckily I happen to be one, and out of all places I've visited, I'd say these are the required places to visit in Iceland to get the full experience of the country.
Gullfoss Waterfall
Gullfoss is a part of the "Gullni hringur" or the Golden Circle in English and is one of, if not the most, popular tourist destinations in Iceland. Gullfoss is Iceland's most famous waterfall and is in southwest Iceland.
Locals have been going to Gullfoss for years to enjoy the beautiful nature and when the tourism industry started growing Gullfoss quickly became one of the most popular destinations in Iceland. Gullfoss, or the Golden waterfall, has often been described as the king of Icelandic waterfalls.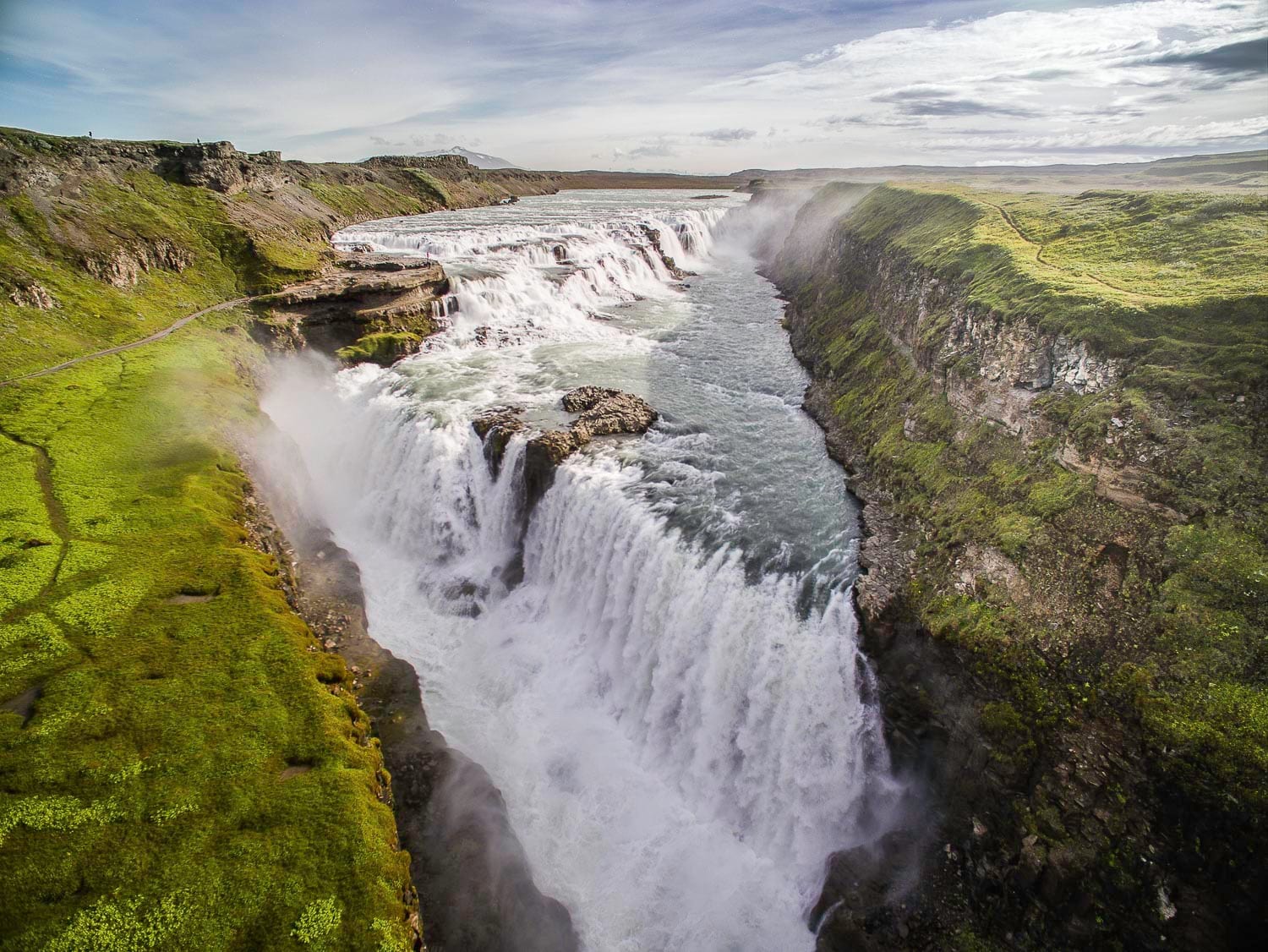 Click here to see how to get to Gullfoss
Geysir Geothermal Area
The term geyser comes from the great Icelandic Geysir in Haukadalur valley. The Geysir area is very geothermally active and has geysers named Strokkur, Smiður, Litli-strokkur, and others.
Geysir is a part of the Golden Circle route and is one of the most popular local and tourist destinations in Iceland. It never gets old to see Strokkur erupt and that's coming from an Icelander who's seen it more times than I can count.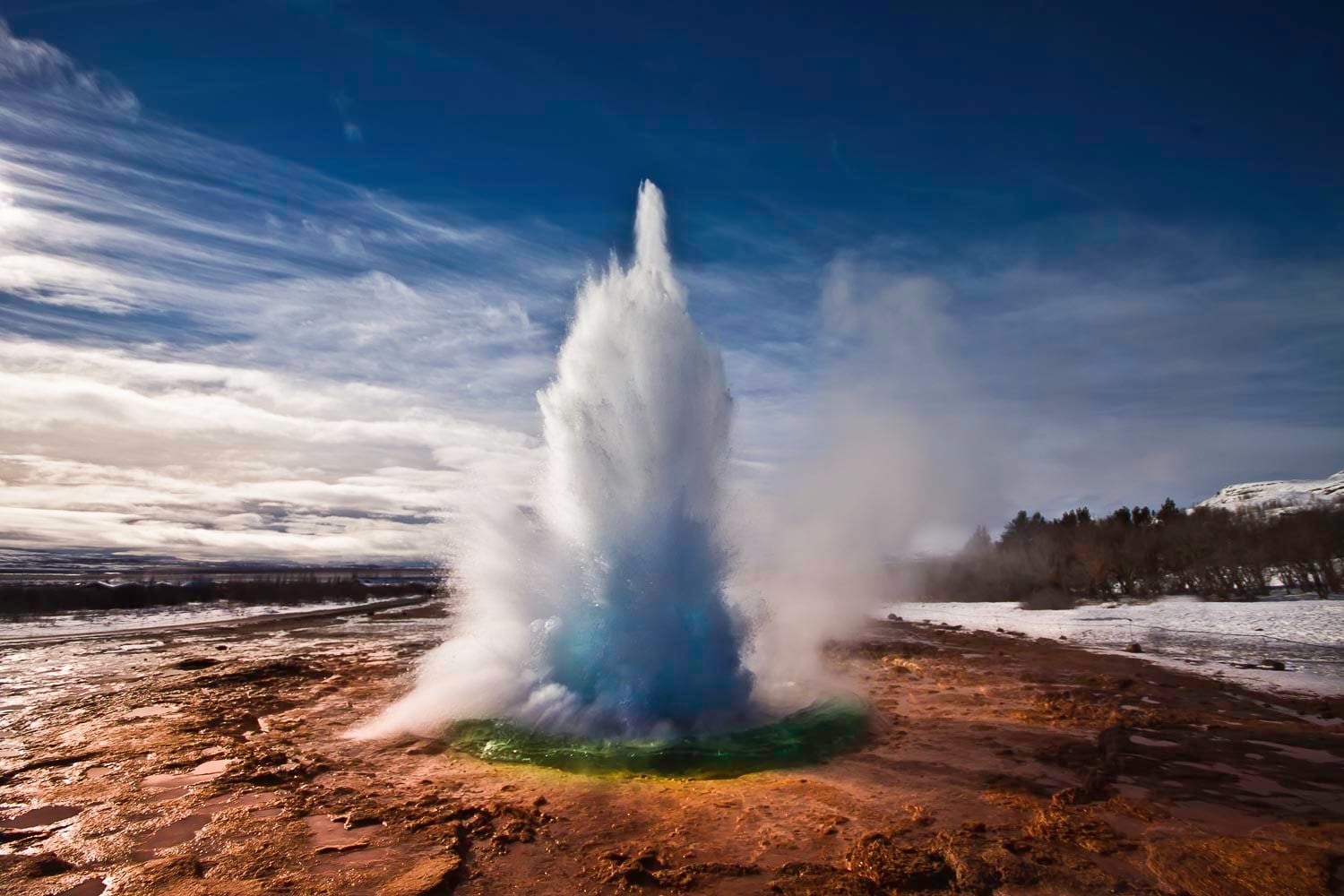 Click here to see how to get to Geysir
Thingvellir National Park
Þingvellir National Park is where Alþingi parliament was founded which is one of the oldest surviving parliaments in the world. Þingvellir is a historic location with a lot of cultural significance for Icelandic society. In the commonwealth period, thousands of people would go to Þingvellir for a few days every year and meet people from all over Iceland. Most Icelanders still try to visit at least once every year.
Þingvellir is also known for its interesting geology. It sits on both the Eurasian and North American tectonic plates and the continental drift can be seen very clearly. Þingvellir is as well a part of the famous Golden Circle.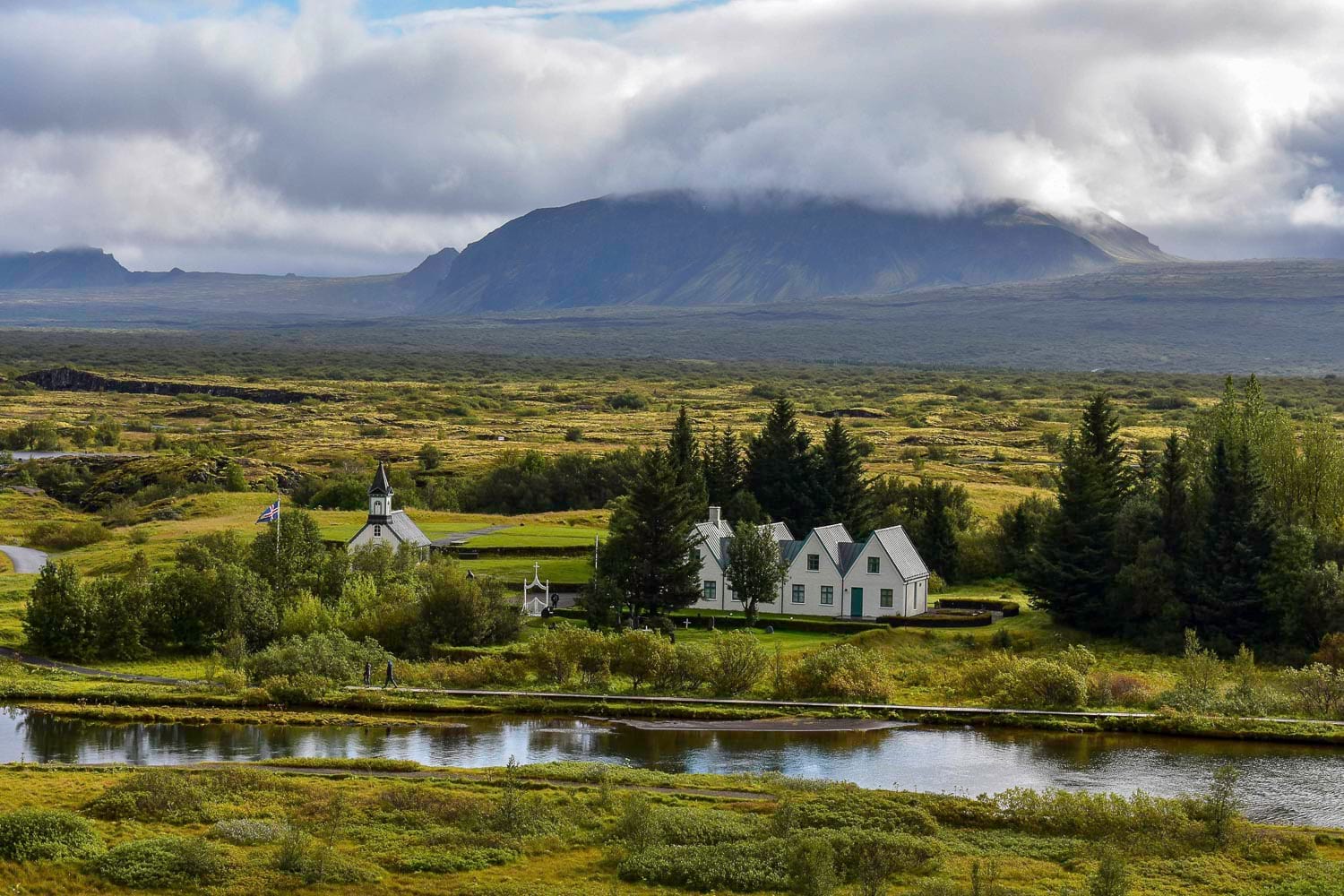 Click here to see how to get to Þingvellir
Jokulsarlon Glacier Lagoon and Diamond beach
The Glacier Lagoon, a.k.a. Jökulsárlón, is a part of Vatnajökull national park. The Glacier Lagoon is only around 60 years old and developed as a result of the melting of the Vatnajökull Glacier. The Glacier Lagoon is very unique with its bright blue color and large icebergs all around the lagoon.
The Lagoon's unique appearance has made it a popular location for photography and a few Hollywood films such as Batman Begins and two James Bond movies.
As a bonus comes the not less famous Diamond beach right near the lagoon. Its crystal icebergs of all sizes and shapes spread on the black sand are a truly unique sight.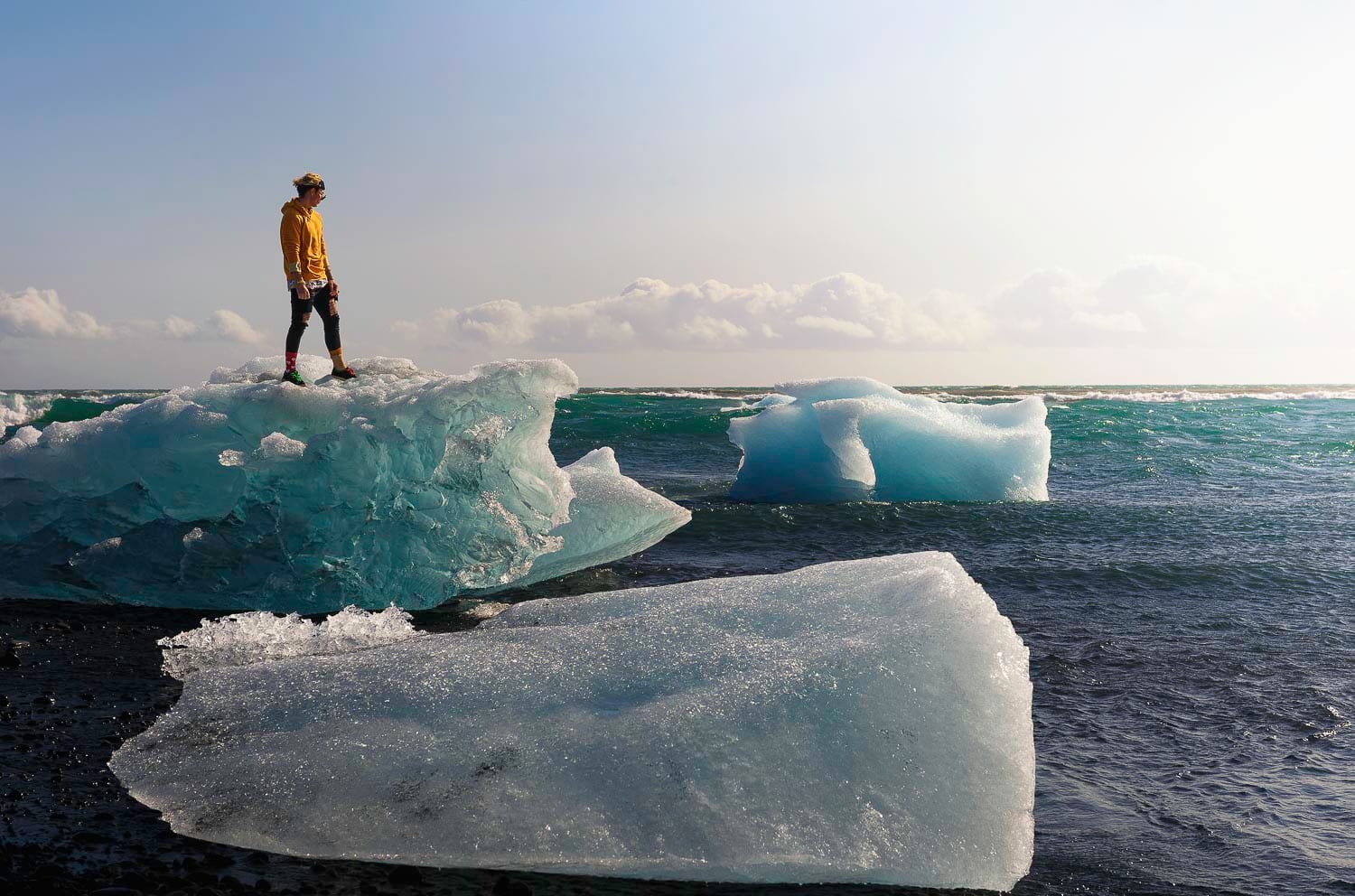 Click here to see how to get to the Glacier Lagoon
Reynisfjara Black Sand Beach
Reynisfjara is a black sand beach near Vík village in Mýrdal. Reynisfjara has often been described as one of the most beautiful beaches in the world and I do not disagree with that statement. At Reynisfjara you can see Reynisdrangar sea stacks and hexagon basalt columns which make the location even more stunning than it would already be.
Reynisfjara is not your typical relaxing beach and is actually quite daunting. The daunting beauty of Reynisfjara has made the beach a very popular filming location. Some of the most well-known things that have been filmed there are Game of Thrones, Star Trek, and Star Wars. Reynisfjara can be dangerous so it's very important that visitors follow all of the guidelines given.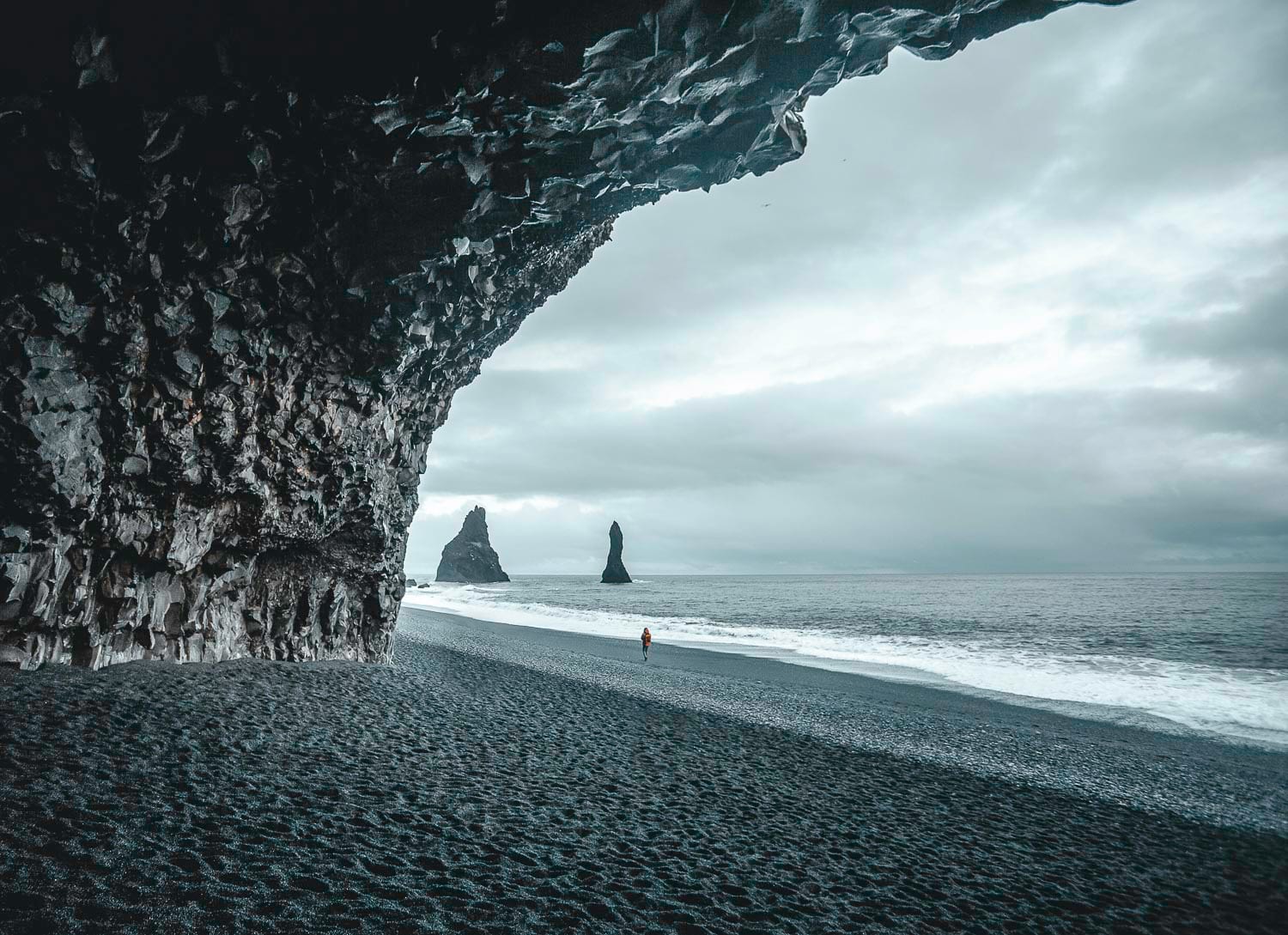 Click here to see how to get to Reynisfjara Black Sand Beach
Seljalandsfoss Waterfall
Seljalandsfoss waterfall is located in Hella in South Iceland. Visiting Seljalandsfoss is a very intimate experience compared to visiting many other waterfalls because you can walk very close to the waterfall. So close that you can feel the mist from Seljalandsfoss hit your face. You can even go around the waterfall and look at it from behind! I do recommend that you wear waterproof clothing if you plan on going behind the waterfall so you don't get soaked.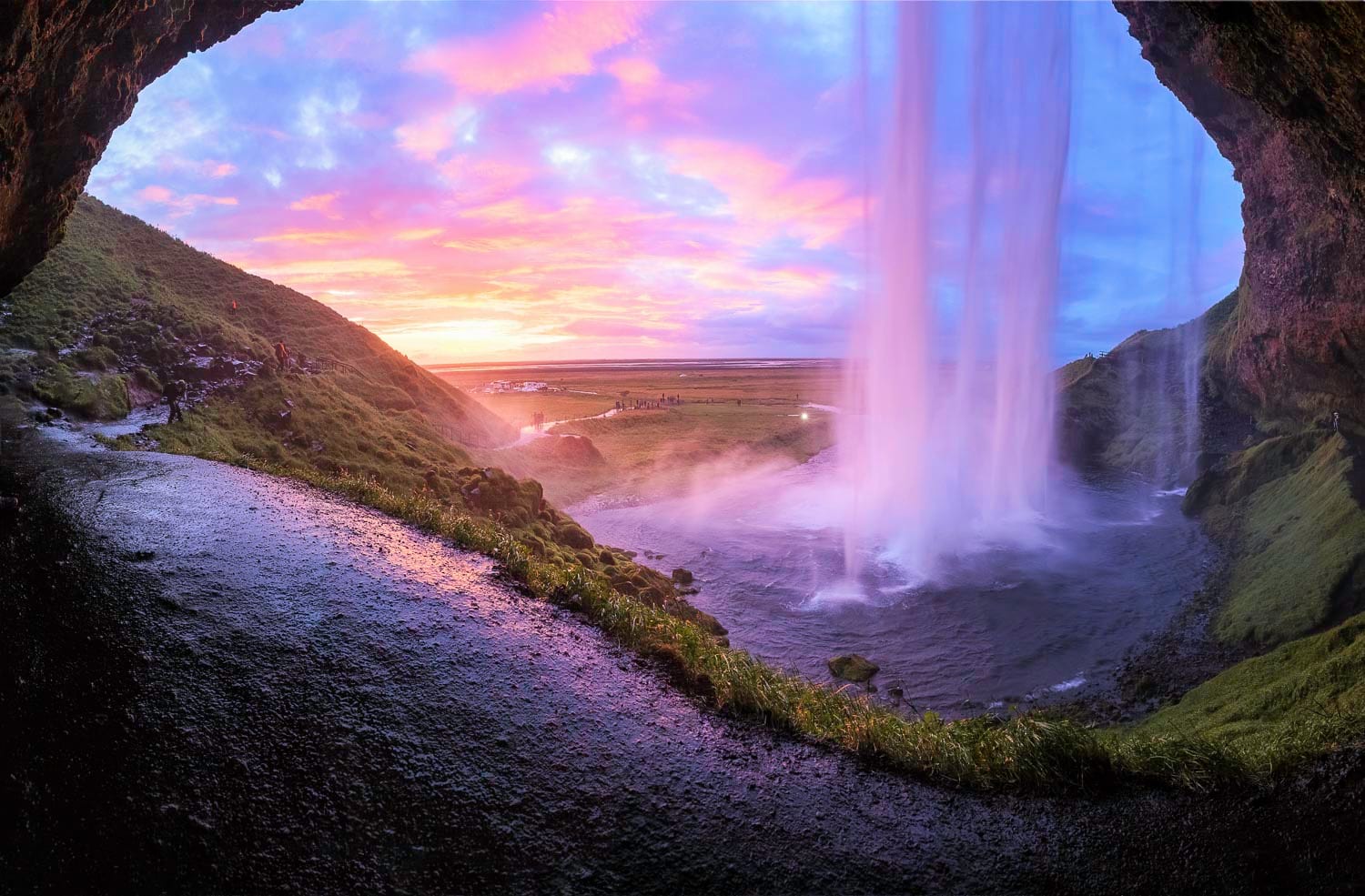 Click here to see how to get to Seljalandsfoss
Snæfellsjökull National Park and Kirkjufell Mountain
Snæfellsjökull National Park is in West Iceland and is most well known for the glacier/volcano called Snæfellsjökull. Snæfellsjökull might sound familiar to you if you have read the book or watched the movie with the same name "Journey to the Center of the Earth". In the book, a group of people fall into the center of the earth through the Snæfellsjökull volcano and go on an adventure. The magical views of Snæfellsjökull make it easy to believe that something like this could actually happen.
Kirkjufell mountain is on the Snæfellsnes Peninsula near Grundarfjörður town. Kirkjufell might look familiar to Game of Thrones fans as it was "Arrowhead Mountain" in the show. The mountain has a very cartoonish triangle shape and used to be called "Sukkertoppen" or "The Sugar-peak" by Danish fishermen. Sugar peaks are an old cone-shaped form of sugar cubes.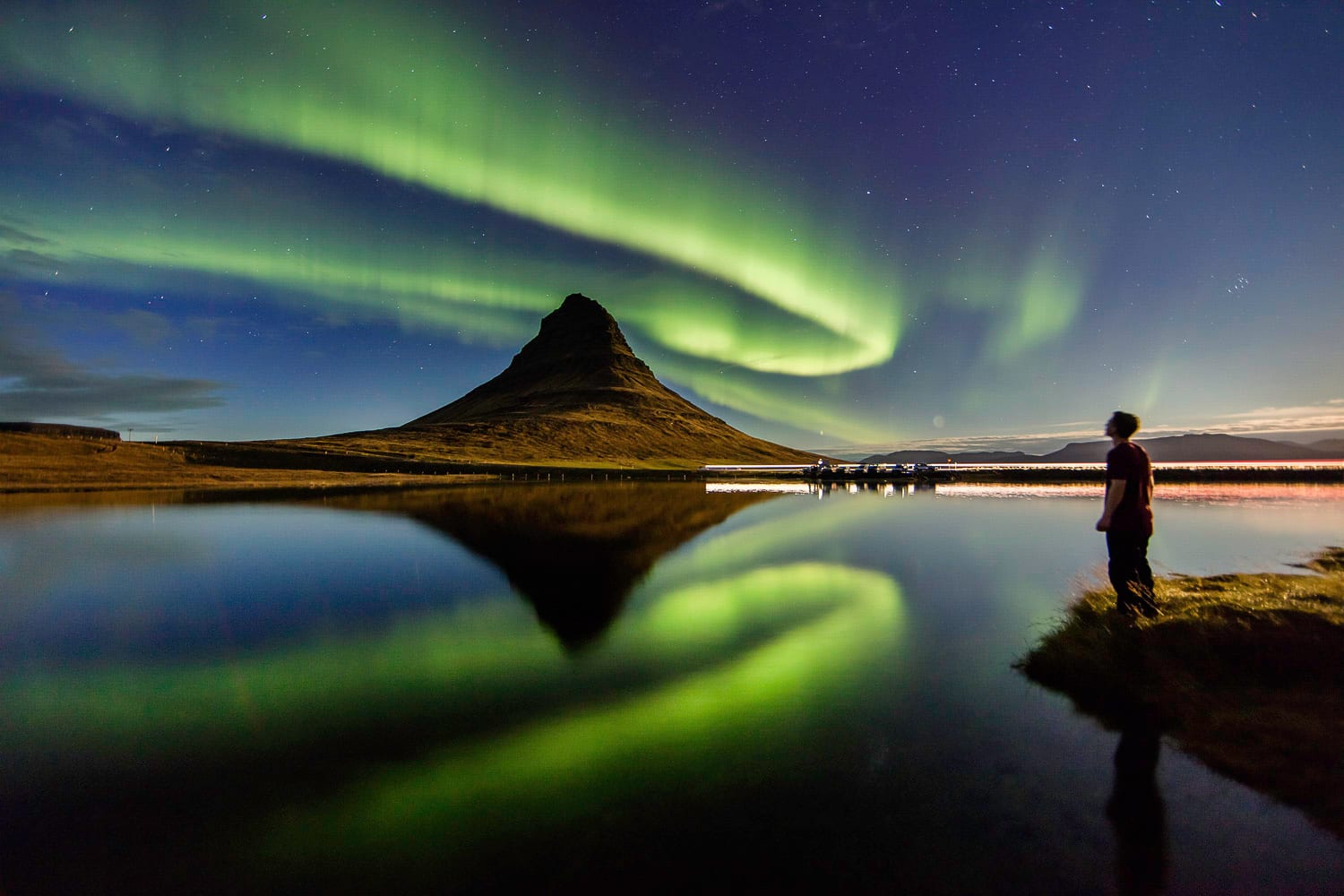 Click here to see how to get to Snæfellsjökull and Kirkjufell
Krýsuvík Geothermal Area
Krýsuvík is an absolutely beautiful area on the Reykjanes Peninsula filled with geothermal activity. The Eurasian- and North American tectonic plates are the reason why the Reykjanes Peninsula is so geothermally active. In Krýsuvík you can visit Seltún and walk around and see hot springs, colorful mineral deposits, mud pots, and steaming vents all around. Because of the ground heat in this area, you can smell sulfur in the air, which is not an uncommon smell in geothermal areas of Iceland.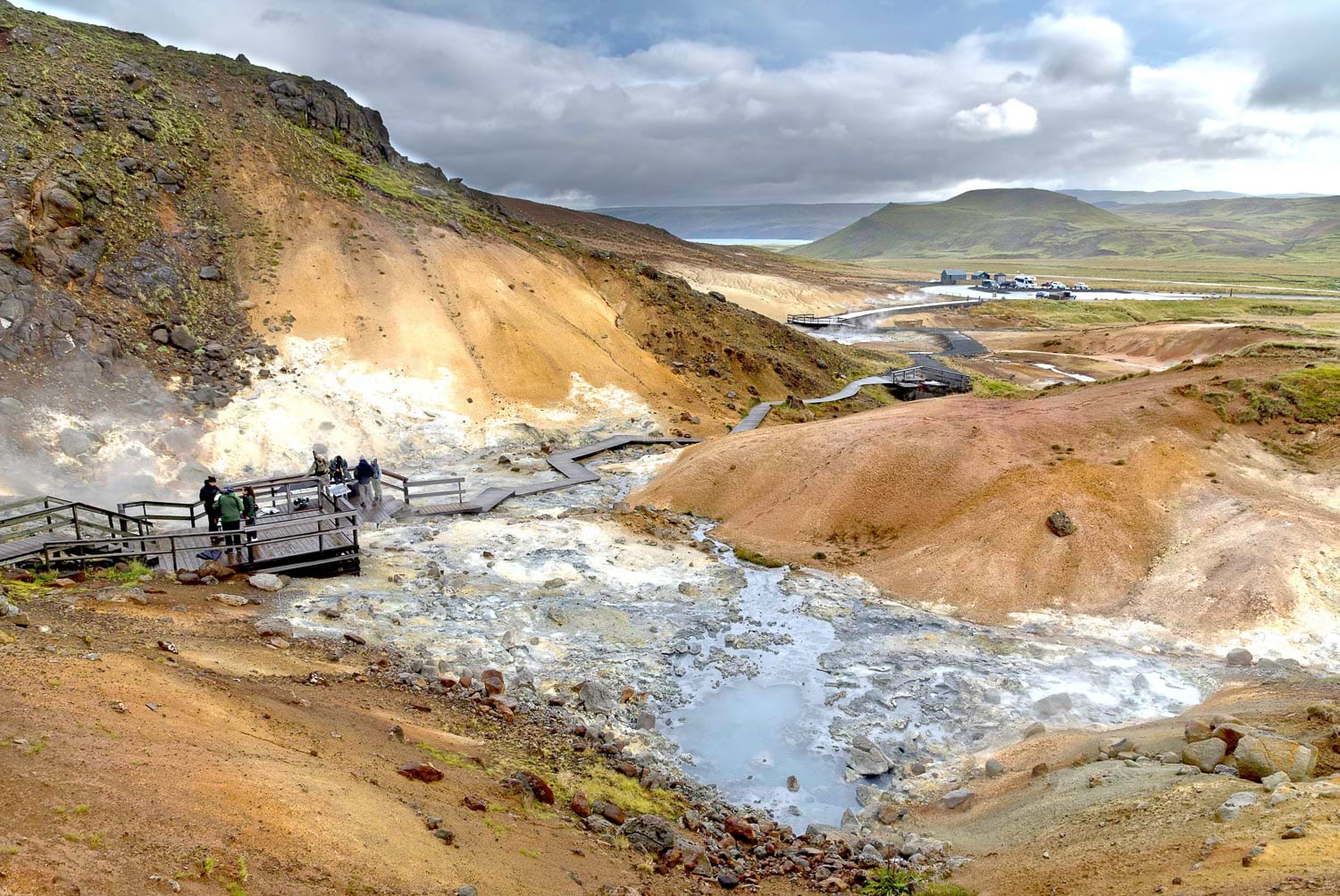 Click here to see how to get to Krýsuvík
Landmannalaugar Highlands
Landmannalaugar is situated in Icelandic highlands and forms part of the 470 sq.m Fjallabak nature reserve. Landmannalaugar is an absolutely beautiful area most known for its colorful terrain with rhyolite hills and lava fields. A hike in Landmannalaugar gives you stunning views with plenty of photography opportunities. After hiking people can relax, bathing in a large hot spring that gave the name to this area.
Landmannalaugar is a starting point for the famous Laugavegur hiking trail. Farmers in the olden days hiked to hunt birds, fish, and collect plants and occasionally stopped in Landmannalaugar to take a break, drink coffee, bathe and enjoy the beautiful scenery.
Click here to see how to get to Landmannalaugar
Geothermal Lagoons
As you have probably gathered from this article Iceland has been gifted with a lot of hot water and therefore a big part of Icelandic culture is bathing. This tradition runs deep and even Vikings were known for being "clean freaks". You can find public swimming pools all around Iceland.
Regular public swimming pools can vary in glamor and for those who want a more luxurious experience, the Blue Lagoon and the Sky Lagoon are perfect. I would also say that the lagoons are a lot more tourist-friendly as there is more privacy to shower (naked) before going into the lagoon.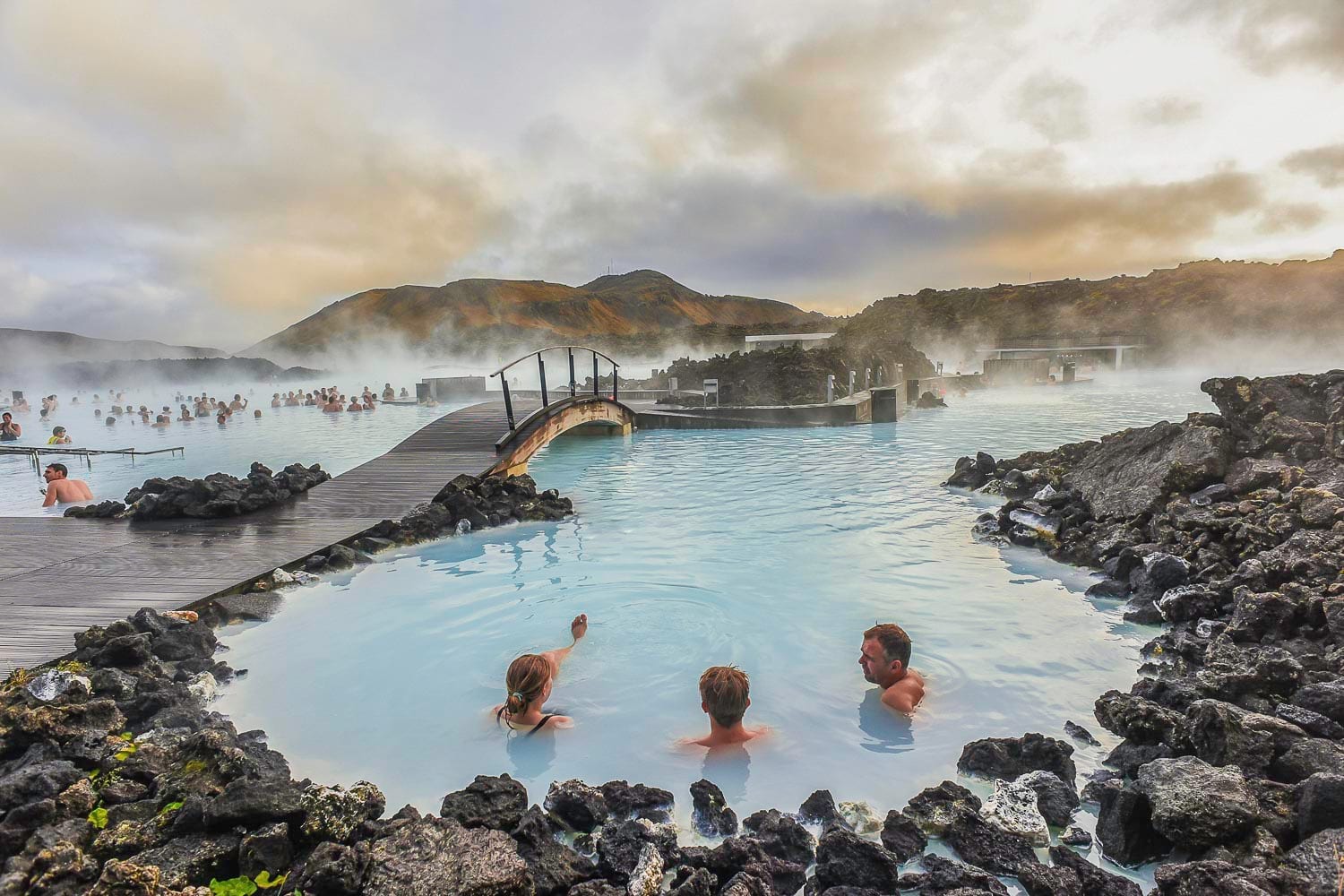 The Blue Lagoon is famous for its milky blue water that's rich in silica, algae, salt, and other minerals with great healing benefits to the skin such as preventing premature aging.
The Sky Lagoon is an immersive cross between a swimming pool and thermal spa that rests on a small cliff overlooking a bay creating an infinity pool effect.
So here we go, incredible Iceland beckons with its otherworldly landscapes and vibrant culture. From the mesmerizing Northern Lights to the stunning Golden Circle, these top 10 places offer a taste of Iceland's unique charm. Plan your adventure and embrace the wonder of this enchanting land.
Iceland awaits, ready to captivate your soul.
Recommended
Iceland tours
Explore Iceland's beauty with our tours curated just for you, showcasing the best attractions for an unforgettable adventure.