All You Need To Know About Jokulsarlon Glacier Lagoon
by Yanshu
Discover Iceland, South Iceland
6 Jul 2021
A must-visit, Jokulsarlon Glacier Lagoon is an extraordinary sight located in Southeast Iceland, within the Vatnajökull National Park, a region famous for its diverse attractions and picturesque landscapes.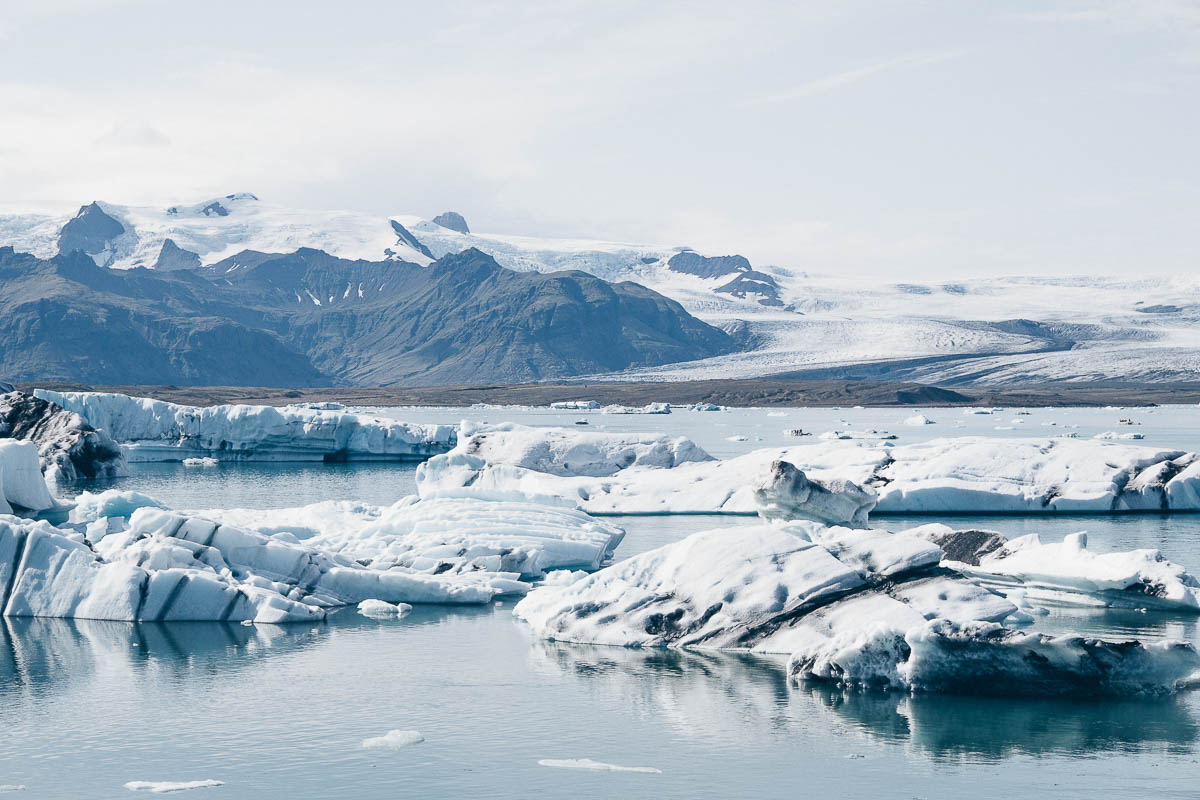 Glacier Lagoon and Vatnajökull glacier
There is a lot to know before you plan to visit the glacier lagoon: what is Jokulsarlon Glacier Lagoon? How to get to the glacier lagoon from Reykjavik? What to do and what to see in the area and where to stay near the glacier lagoon.
In this guide, we are going to cover all you need to know about visiting Jökulsárlón.
Where is Jokulsarlon Glacier Lagoon Located?
Jokulsarlon Glacier Lagoon is located in Southeast Iceland within the Vatnajokull National Park, about 380 km (236 miles) from Reykjavik via the Ring Road.
It's one of the most popular stops for travelers driving the classic South Iceland route, with many amazing attractions close by. You can find it midway between adventurers' favorite places, Skaftafell Nature Reserve, and the delightful harbor town Höfn.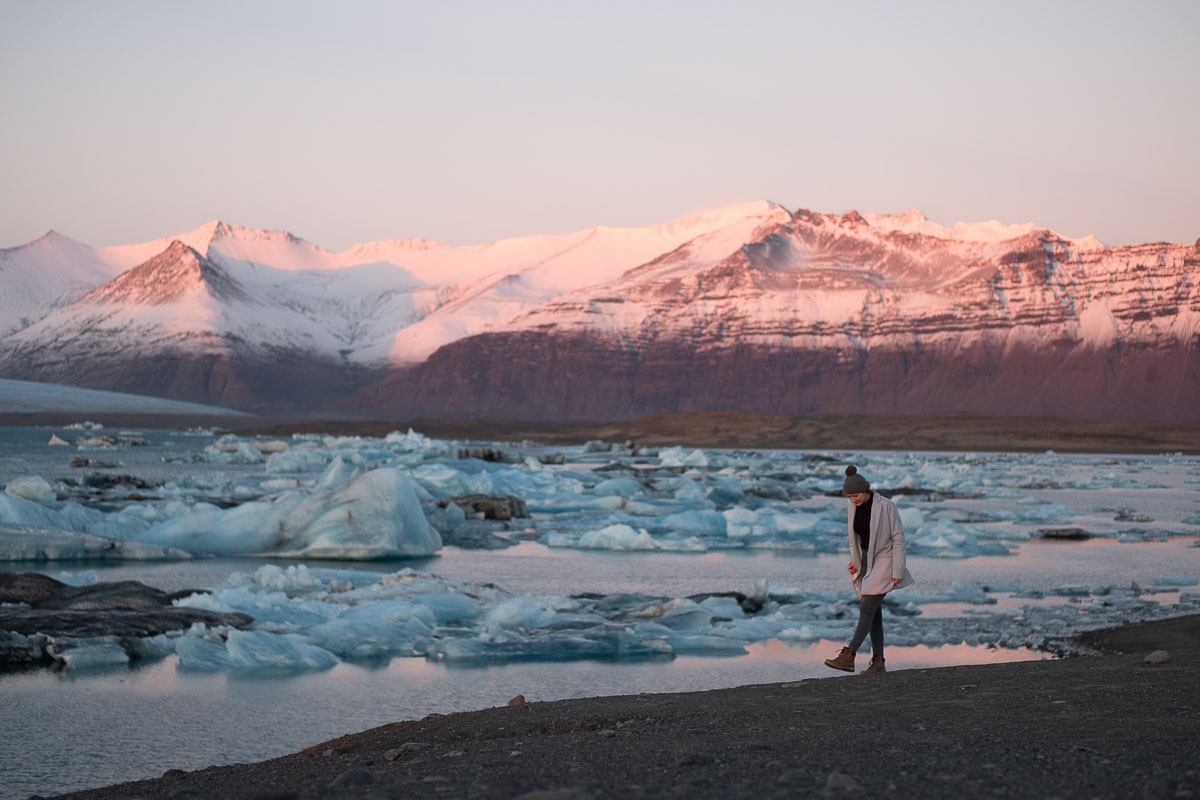 How Did Jokulsarlon Form?
In the 1930s, Breiðamerkurjökull glacier, one of the outlet glaciers stretching from Iceland's largest glacier Vatnajokull,  receded and the glacial meltwater created a small, glacial lake on the outwash plain, Breiðamerkursandur black sand beach, which borders the ocean, was also formed.
As the calving process of the glacier ice continued over many years , more glacial meltwater accumulated in the lake.  After several decades, Jokulsarlon glacier lagoon formed  the deepest natural lake in Iceland, with a  maximum depth of 285 meters (930 ft).
How to Pronounce Jökulsárlón
Like many location names in Icelandic, names are created from different words that describe the main feature(s). Jökulsárlón, for example, is made of three Icelandic words. "Jökuls" is the masculine genitive case of "Jökull," meaning glacier. "Ár" is the feminine accusative case of "river" in Icelandic, and "lón" is the neutral nominative case of "lagoon," therefore, Jökulsárlón means glacier river lagoon.
From there, it's pretty easy for us to understand the names of other lagoons as they end in "lón."
Pronouncing "Jökulsárlón" is not as difficult as many tongue-twisting names in Icelandic. According to the international pronunciation rule, ​​it's [ˈjœːkʏlsˌauːrˌlouːn].
To separate the syllables, "jœ- kul – sau – loun" is the easier way to mimic the Icelandic sound.
Diamond Beach
Diamond Beach is Jökulsárlón's unique natural phenomenon.  After a huge piece of ice calves away from the glacier, it floats  into the glacier lagoon until it eventually diminishes in the ocean. During the process, the iceberg changes its appearance in size and color, going through various shades of blue and changing from humongous icebergs to hand-sized crystal-like ice cubes.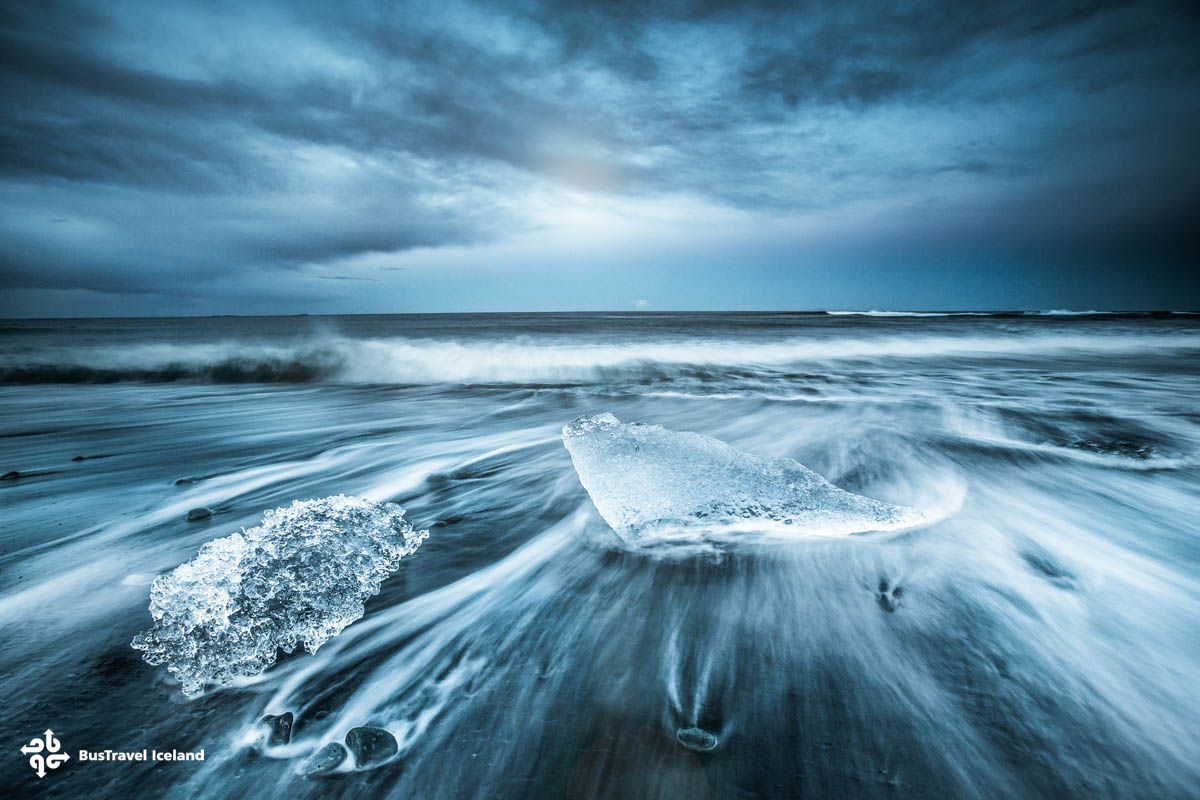 The beautiful Diamond Beach in long exposure shot.
Most of the change takes place on the black sand beach as the ocean waves take the icebergs out and wash them onto the extensive beach surrounding Jokulsarlon. These stranded chunks of ice become an iconic scene with the natural background of velvety black sands, forming a dramatic contrast in texture and color.
The name, Diamond Beach is born as the huge blue icebergs glisten as the sunlight shines through contrasting on the black sand beach like diamonds.
With the beach only five minutes away from the parking lot, a relaxing walk on the beach is highly recommended as the fresh wind coming from the North Atlantic Ocean takes all the noise away.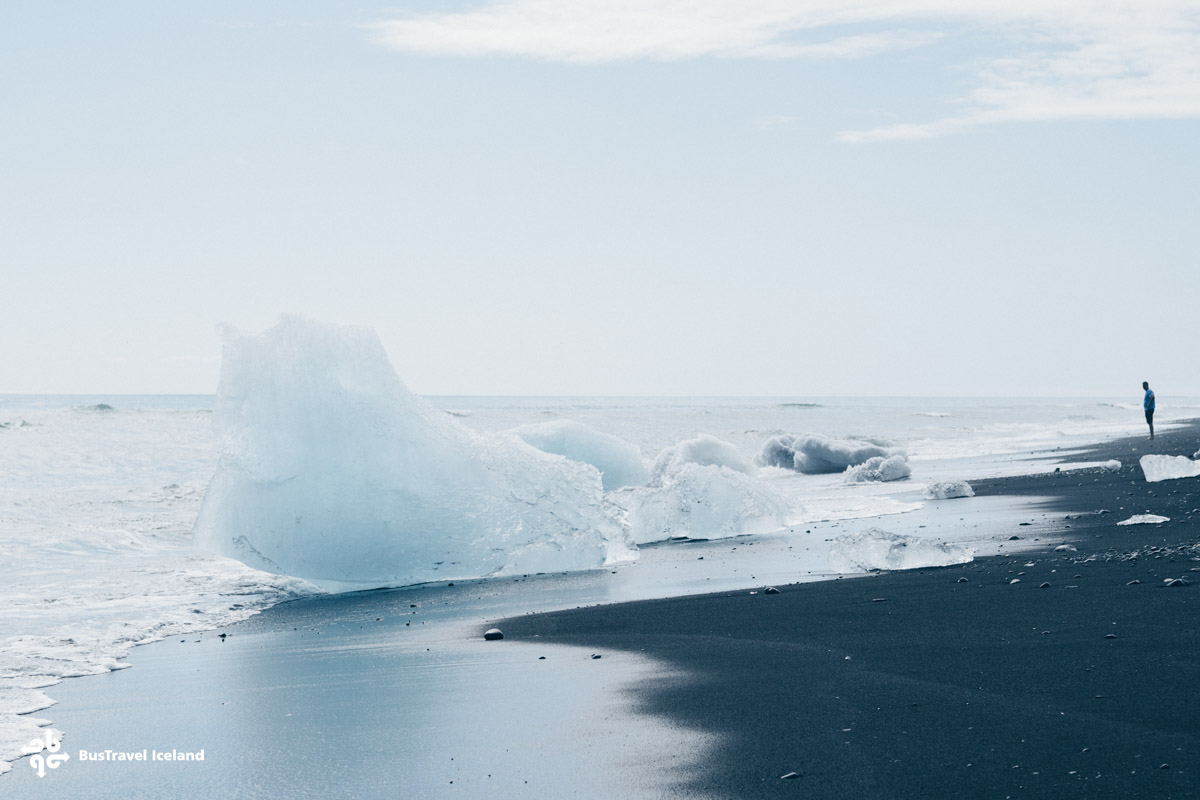 When ice cubes are everywhere on the Diamond Beach.
Movies and Commercials That Took Set at Jokulsarlon Glacier Lagoon
The extraordinary scene at Jökulsárlón presents an appealing visual opportunity for many creative workers, for both big and small screens.
Many remarkable films have filmed at Jökulsárlón. Including two James Bond films, Die Another Day and A View to a Kill; Lara Croft: Tomb Raider starring Angelina Jolie; and Batman Begins.
The most memorable commercial that has filmed at the glacier lagoon is the cosmetic brand La Mer, featuring Kate Hudson. It captures the pure and refreshing sides of the glacier lagoon using clean, dynamic cinematic shots, presenting the authenticity of the location.
How to Get to Jokulsarlon Glacier Lagoon from Reykjavik?
For locals, the best way to get to Jokulsarlon is to self-drive, as it takes about 5 hours to reach the glacier lagoon from the Capital Region of Iceland, via Route 1 aka the Ring Road.
For travelers, the best way to get to Jokulsarlon is to join a tour. There are many types of tours available for visitors to see Jokulsarlon and experience everything it has to offer.
If you have a tight schedule or budget and are planning to spend a day traveling through South Iceland to Jokulsarlon there are glacier lagoon day tours departing from Reykjavik, packed with highlights of Iceland's south coast taking about 14 hours .
The route roams through the most diverse landscapes, including spectacular waterfalls, black sand beaches, silvery glacier mountains, moss-covered dark lava fields, and charming Icelandic towns. It's billed as the most popular adventure to see the best of the land of fire and ice.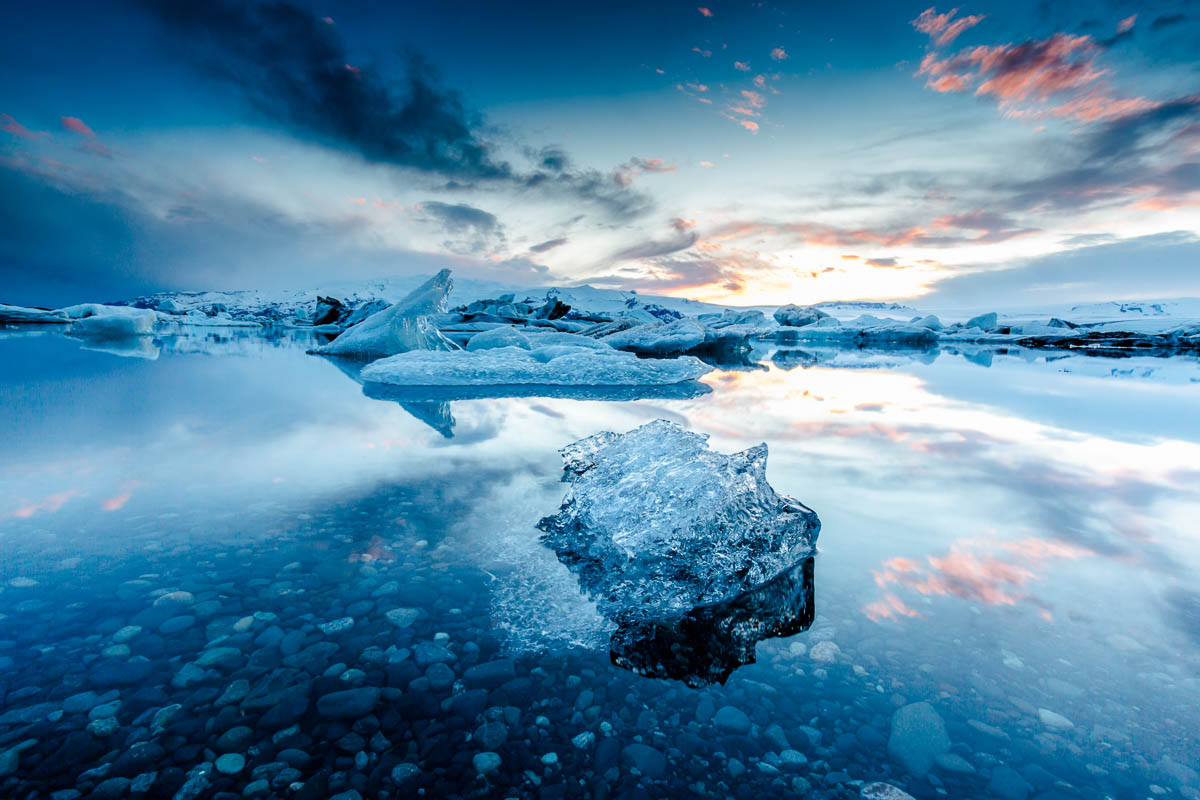 For visitors who have a relatively relaxed timetable and plan to see more of South Iceland, we recommend that you join a multi-day tour spending a couple of nights along the South Coast, during which you have more time at Jokulsarlon Glacier Lagoon and its surrounding area, including the Skaftafell Nature Reserve.
Another option for a multi-day itinerary to the glacier lagoon is to hire a car and drive yourself, but the best season to do this is in the summer, as the daylight hours are longer, and the weather conditions are generally better than in the winter months.
If you are looking for a more authentic and flexible traveling experience led by an experienced, knowledgeable local guide,  join a private tour to explore Jokulsarlon and its neighboring areas at your own pace. These tours are usually charged per vehicle, not per person, so it's not as pricey as it sounds. A private tour is ideal for people who want to travel with their family or friends, with more comfort.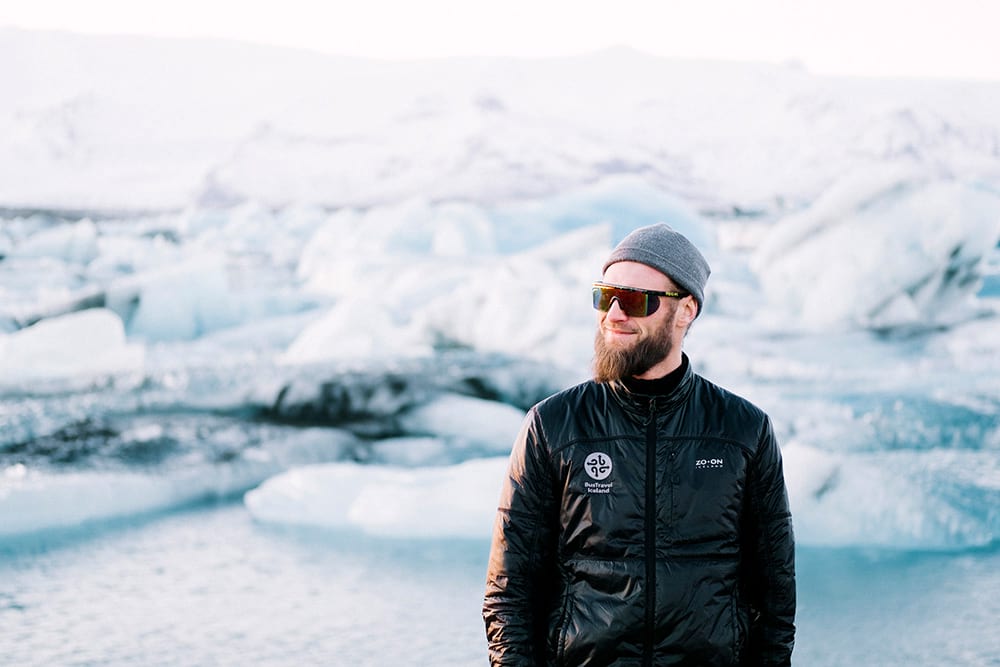 Go with a local, expert guide on a private Jokulsarlon day tour.
Another way, doable but not common, is to take a flight. The main port  for all domestic flights in Iceland is Reykjavik Airport. From Reykjavik to Hornafjörðu airport, the closest airport to Jokulsarlon, the flight duration is about one hour. From the airport you can rent a car from Hofn and drive for an hour to reach the glacier lagoon, explore the location and continue driving east till you get back to Reykjavik.
What To Do and What To See at Jokulsarlon Glacier Lagoon?
Summer
Summer is considered to be the high season when it comes to traveling in Iceland. The locals are getting ready for their summer vacation, driving around the island, taking camping trips, and enjoying the long daylight hours. And Jokulsarlon is a popular destination.
Glacier Lagoon Boat Tour
There is a lot to do and to see at Jokulsarlon Glacier Lagoon in the summertime.
From June to August, visitors have the chance to go on a boat tour, to sail among the icebergs and explore Jokulsarlon up close. Two types of boat tours are available, the amphibian boat tour, and a zodiac RIB boat tour.
Onboard the 35-minute  amphibian boat tour there is an English-speaking guide,  talking about the geology of Jokulsarlon and Vatnajokull glacier. Passengers also get the chance to hold a piece of ice that's more than 1000 years old, and even get a taste of it.
The Zodiac RIB boat tour takes about one hour with the advantage of being closer to the huge icebergs and covering larger areas of the glacier lagoon than the amphibian boat.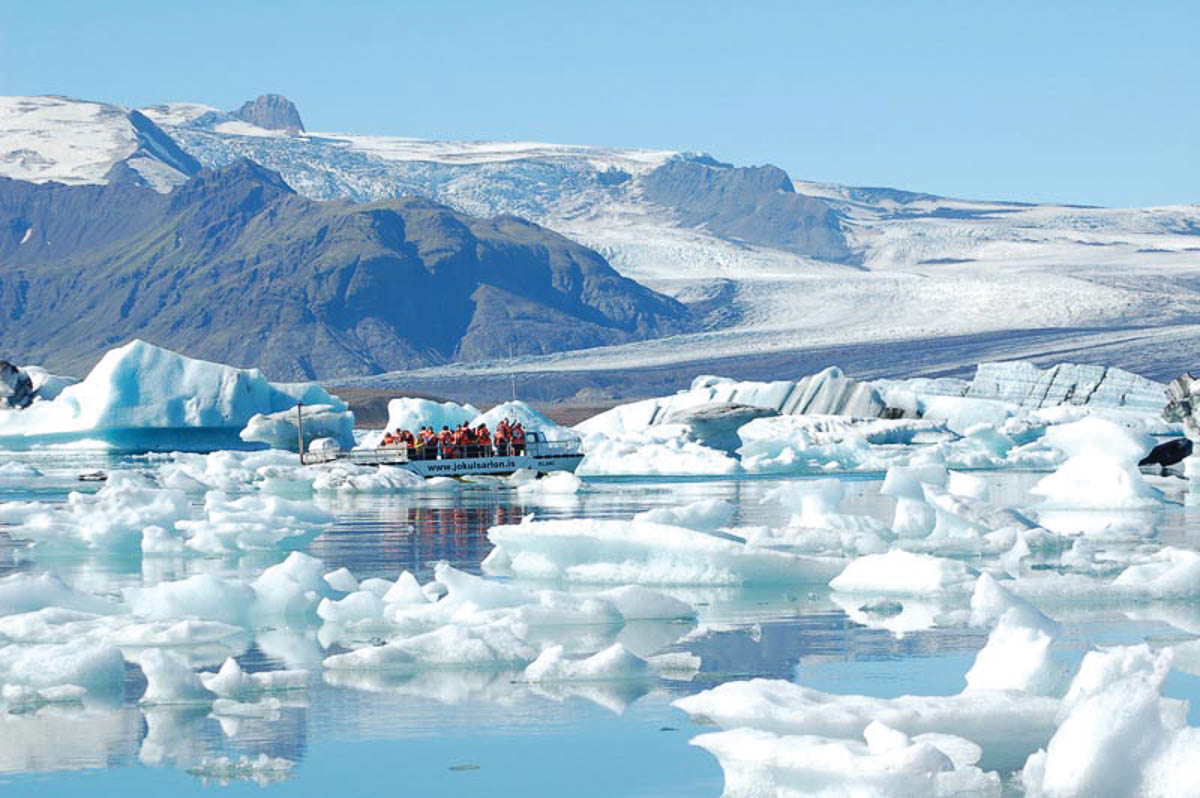 Go for a ride on an amphibian boat tour to sail among the floating icebergs in Jokulsarlon.
Vivid Wildlife at the Glacier Lagoon
Summer is the most lively time of year in Iceland, as many species of seabirds come here to nest.
The Arctic Terns (Kría in Icelandic) are usually  found near Jokulsarlon in summer. They come to Iceland every April to breed and leave in August, flying across the globe to Antarctica for the rest of the year. You will see them at Jokulsarlon with distinct sharp chirps preparing for their extra-long migration path.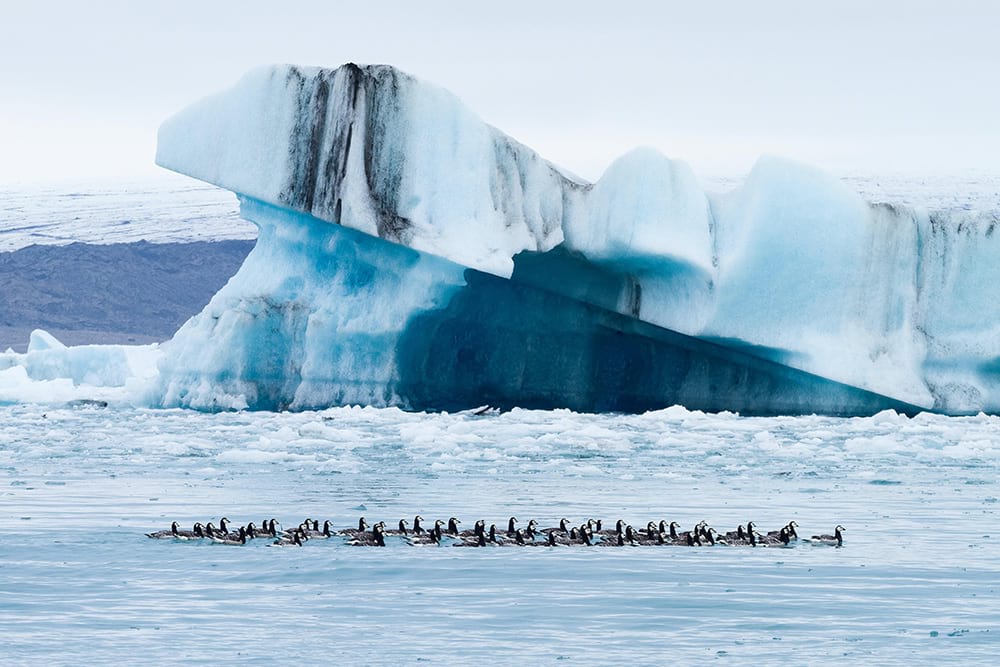 In the glacier lagoon, you might also find Seagulls, Common eider (Æðarfugl in Icelandic), and Harlequin duck (Straumönd in Icelandic).
The Icelandic seals are the cutest of all, often found laying on the icebergs or  just their heads emerging over the water, observing what's going on.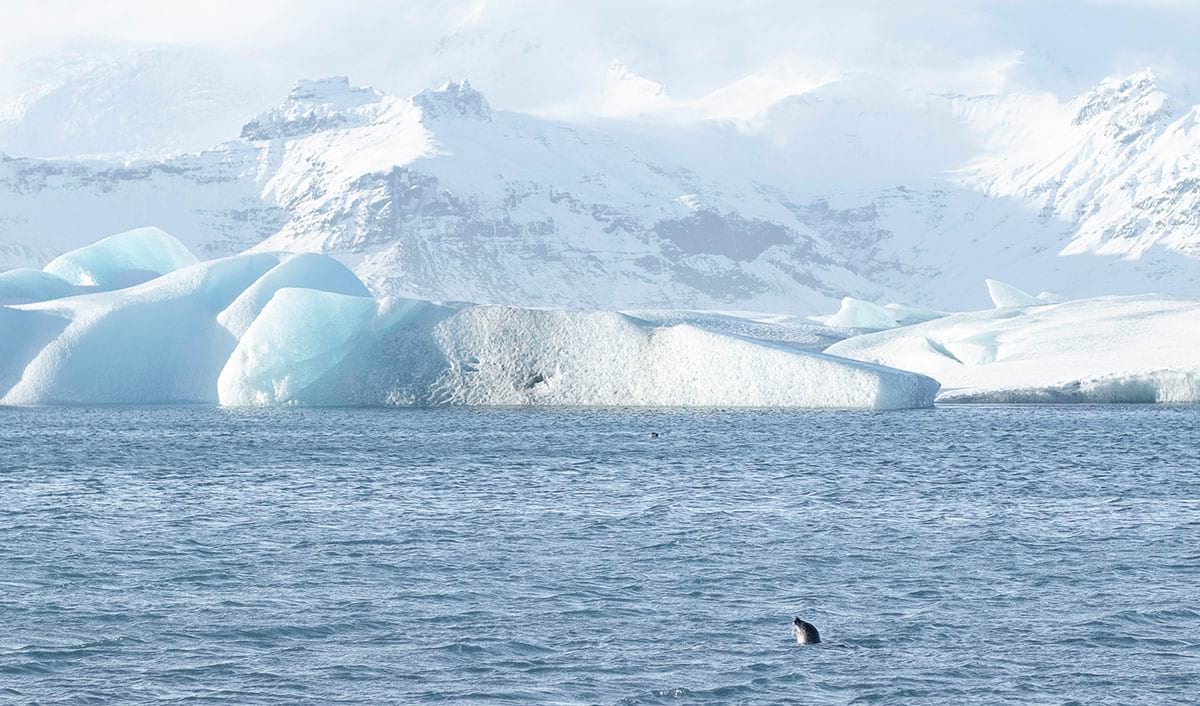 Cultural Events at Jokulsarlon
An annual fireworks show at the Jökulsárlón Glacier Lagoon takes place every August, organized by the Icelandic Search and Rescue Team volunteers based in Höfn, a harbor town famous for its lobster delicacies.
By August, a degree of darkness comes back to Iceland's nights. When the fireworks light up the sky above the icebergs and the glacier lagoon, it creates an extraordinary sight for the spectators, with breathtaking displays only found in Iceland. It's a magical show at the tail end of summer.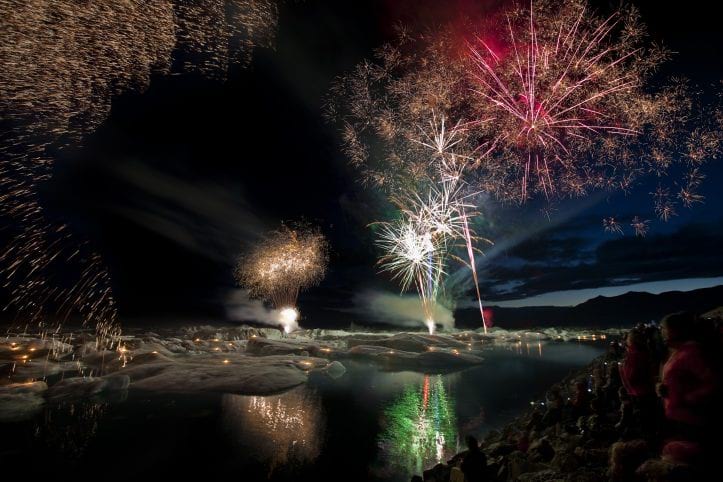 Fireworks at Jokulsarlon in August. Photo copyright © Visit Vatnajokull.
A kind reminder: this fireworks show has  an entrance fee that can be purchased before you enter the event but is free for children under 12 years old. You can check the updated information on the Visit Vatnajokull page.
The fee is going to support the rescue team and their work, which is essential for keeping visitors safe while they are in Iceland.
Winter
Iceland's winter can be tough, weather-wise, especially for travelers who want to tour the island via self-driving,  but the season's charm definitely outweighs the disadvantages, as the landscapes put on a completely different show. With Jokulsarlon's fairytale-like appeal, it's still a popular season to visit the nordic island.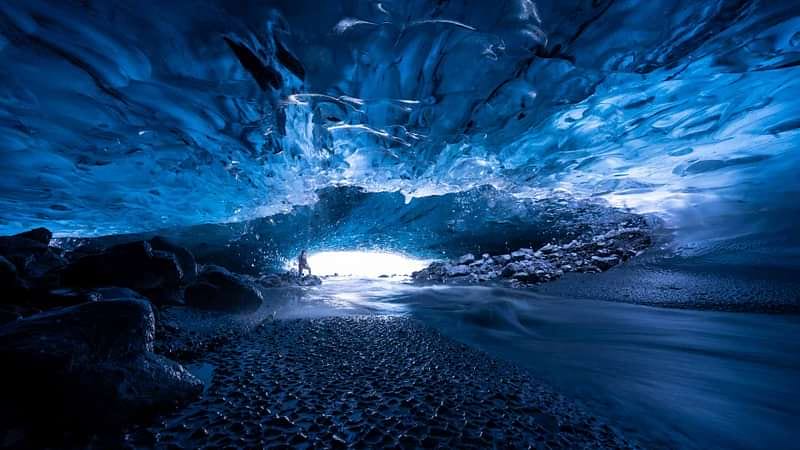 An adventure to the crystal ice cave on Vatnajokull is the highlight of visiting Iceland in winter.
Glacier Hiking and Crystal Ice Cave Adventures on Vatnajokull
Vatnajokull is Iceland's and Europe's largest glacier, in terms of volume. With its mighty power, many natural wonders are hidden inside the blue miracle and with the help of the experienced glacier guides, we can venture on it for a breathtaking glacier hiking experience or an unforgettable blue ice cave visit.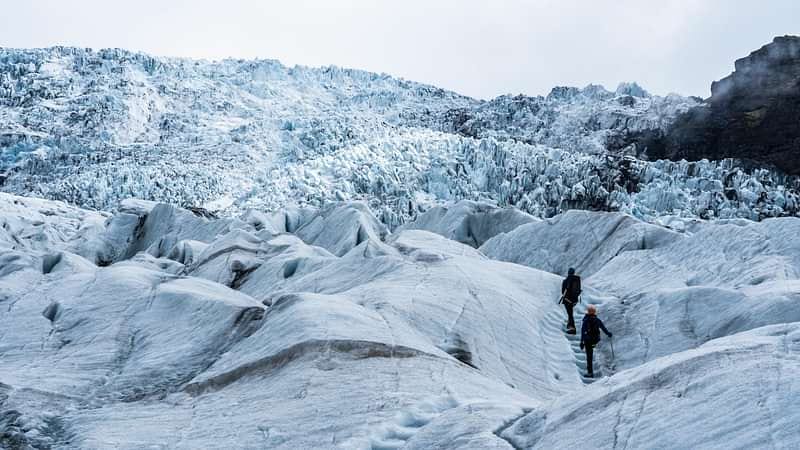 Glacier hiking tours are very popular in winter, Iceland.
Hunting for the Mysterious Northern Lights
Iceland's most amazing natural phenomenon in winter is the Northern Lights dancing in the sky. The combination of glacier lagoon and Northern Lights is simply breathtaking.
Besides Reykjavik, the most popular location for a Northern Lights tour in winter  is  South Iceland. Encountering the Northern Lights on a magical night is memorable  and a big interest for photographers. Make sure you capture the vision of the green bliss with the floating icebergs in Jokulsarlon – all of Iceland's wonderful winter elements in one frame.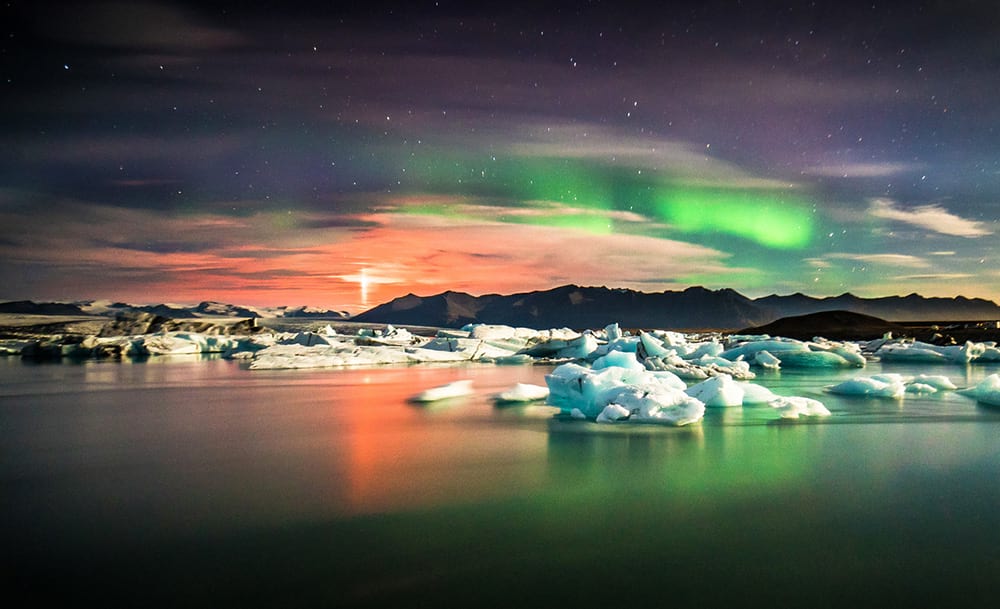 Capturing the dancing Northern Lights over Jokulsarlon Glacier Lagoon in winter.
Where to Stay near Jokulsarlon Glacier Lagoon
Jokulsarlon is located in Southeast Iceland, close to several major towns on the South Coast of Iceland, where you can find great accommodation, if you plan to stay in the area overnight. There are also camping grounds if you are on  a budget or traveling in an adventurous style.
Popular towns to stay close to Jokulsarlon
Vík í Mýrdal: 200  km (120 miles), about 2 and a half hour drive from Jokulsarlon, is a good place to stay if you plan to visit the glacier lagoon the following day.
Accommodation:
Hotel Kría
Hotel Dyrholaey
Hotel Katla by Keahotels
Hótel Vík í Mýrdal
Farmhouse Lodge
Vik Hostel
Vik Apartments
Guesthouse Carina
If you would like to explore this area before heading out to the glacier lagoon, here are the highlights of Vík í Mýrdal: Reynisfjara Black Sand Beach and Basalt Columns, Reynisdrangar Sea Stacks, Dyrhólaey promontory, Vik Church.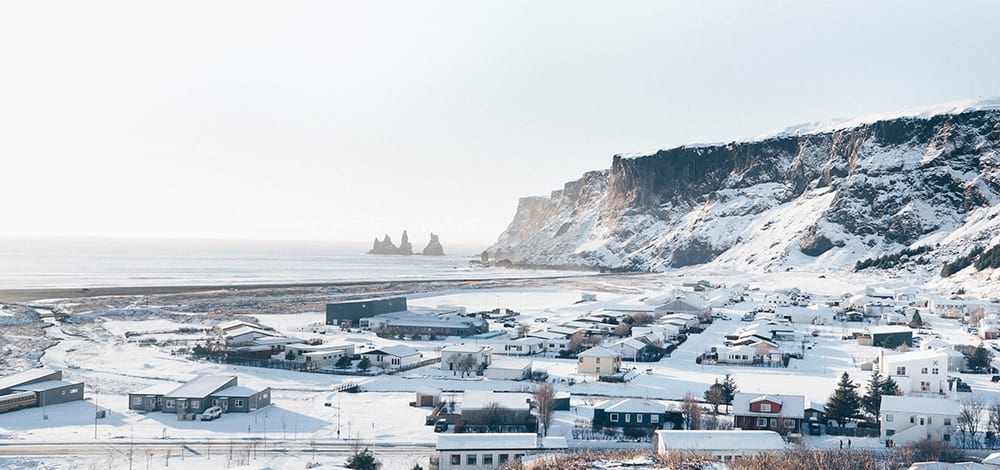 The charming town of Vik in South Iceland.
Kirkjubæjarklaustur: 125  km (75  miles), about 1 hour 30 minute  drive from Jokulsarlon, is a charming town in South Iceland close to Vatnajokull with rich culture and deep history.
Accommodation:
Hotel Laki
Klausturhof Guesthouse
Hunkubakkar Guesthouse
Hotel Klaustur
Magma Hotel
Fosshotel Nupar
Selfell Guesthouse
Highlights of Kirkjubæjarklaustur: Fjaðrárgljúfur Canyon (Feather River Canyon), Kirkjugolf (Church Floor Basalt Columns), Systrafoss Waterfall, Systrastapi Rock, Systravatn Lake, Stjórnarfoss Waterfall – these glacier lagoon tours take you to this very waterfall.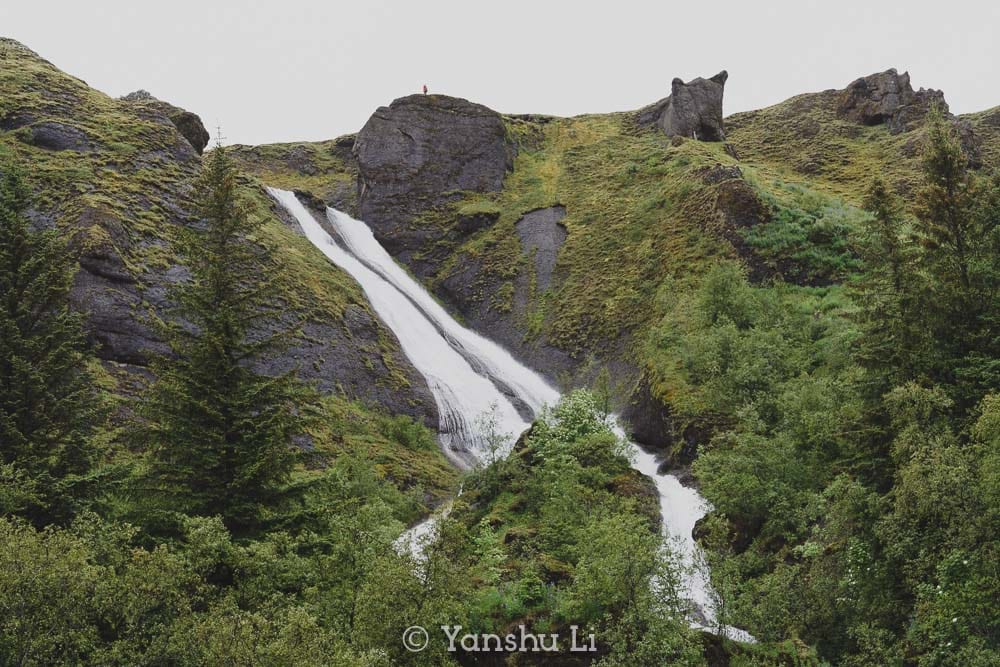 Systrafoss waterfall of Kirkjubaejarklaustur, a town in South Iceland. ©Yanshu Li
Hof: 40  km (25  miles), only 30 minutes drive from Jokulsarlon, is a small town situated at the foot of Vatnajokull glacier.
Accommodation:
Klettasel
Fosshotel Glacier Lagoon
Hotel Skaftafell
Adventure Hotel Hof
The Potato Storage
Highlights of Hof: Skaftafell Nature Reserve, Svartifoss Waterfall, Hundafoss Waterfall, Magnúsarfoss Waterfall, Fjallsárlón Glacier Lagoon, Breiðárlón Glacier Lagoon, Jökulsárlón Glacier Lagoon, and Diamond Beach.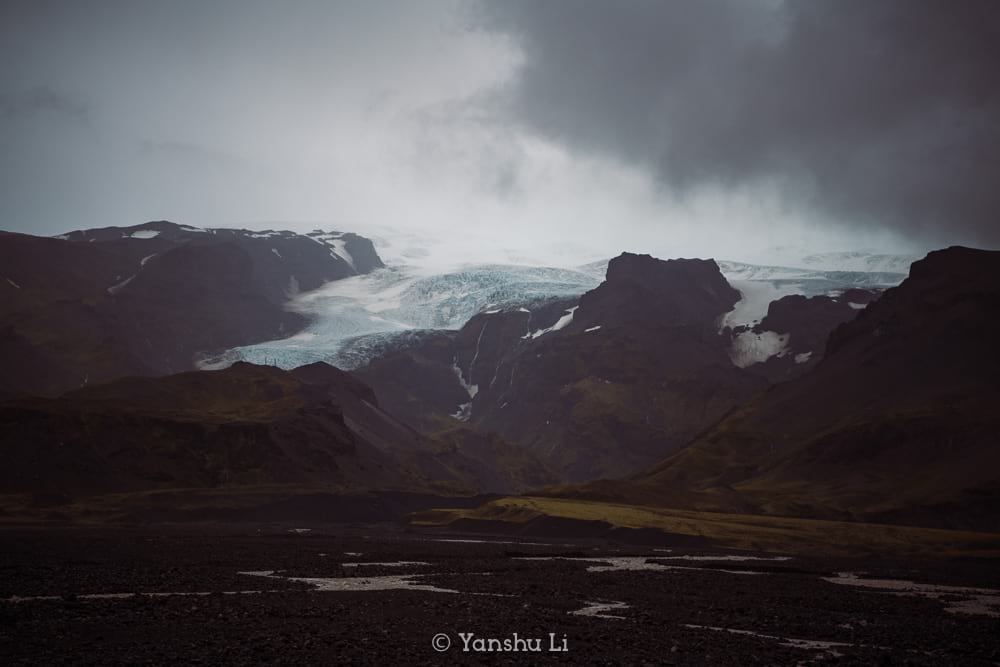 A massive outlet glacier stretching from Vatnajokull near Hof, Iceland. Photo copyright©Yanshu Li.
Höfn: 80 km (50 miles), only one hour drive from Jokulsarlon, Hofn is a wonderful harbor town with a lot to offer for travelers alike.
Accommodation:
Guesthouse Nypugardar
Hotel Edda Höfn
Lilja Guesthouse
Seljavellir Guesthouse
Hotel Jökull
Höfn Inn Guesthouse
Höfn Guesthouse
Apotek Guesthouse
Hotel Höfn
Dynjandi Farm Holidays
Fosshotel Vatnajokull
Highlights of Höfn: Stokksnes Mountains, lobster delicacy, local museums, and culture center.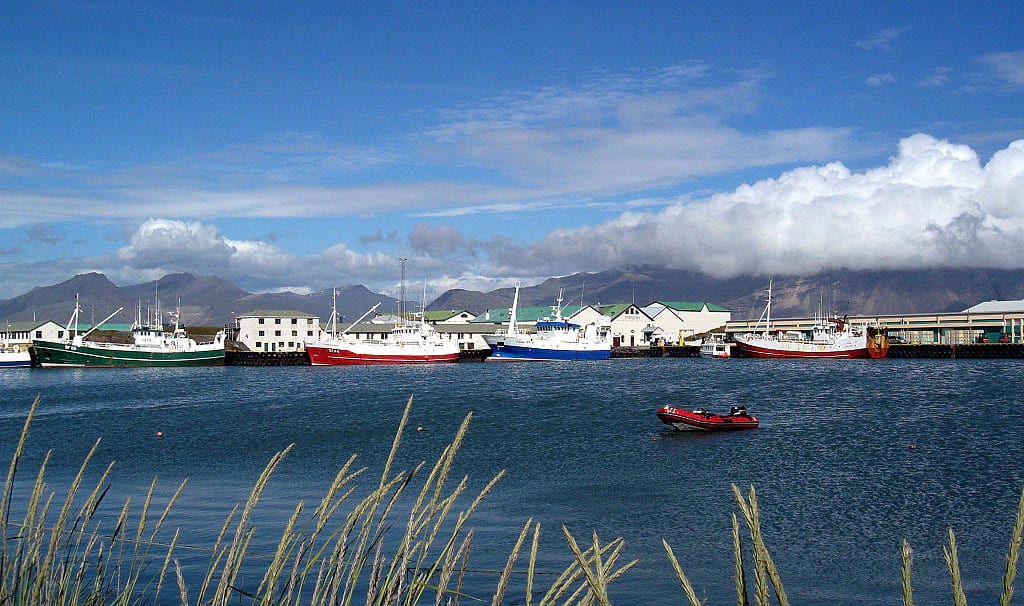 The summer harbor view of Hofn, Southeast Iceland. Photo copyright©Maryam Laura Moazedi under CC BY-SA 3.0.
What to be Aware of When You Visit Jökulsárlón
Jokulsarlon Glacier Lagoon surely is a rare beauty, but we need to be mindful that nature's creation hides certain dangers if we are not careful. Here are a few things we need to be aware of when we visit the glacier lagoon:
Don't swim in the glacier lagoon. There are hidden currents that can take you down the cold stream, which can be life-threatening.
Don't stand on icebergs. A floating iceberg appears to be solid on the surface, but can be tipped over at any time, which is dangerously risky.
Always carry a wind jacket or a waterproof shell jacket and wear a sturdy pair of hiking boots. The ground at Jokulsarlon is rather uneven, which needs the help of good gears for a steady footing.
It's good to prepare a pair of ice grips when you visit Jokulsarlon in winter as the ground can be rather slippery and uneven with small stones.
While you are walking on Diamond Beach, be careful to stay away from the waves as they can get really strong, posing a potential risk.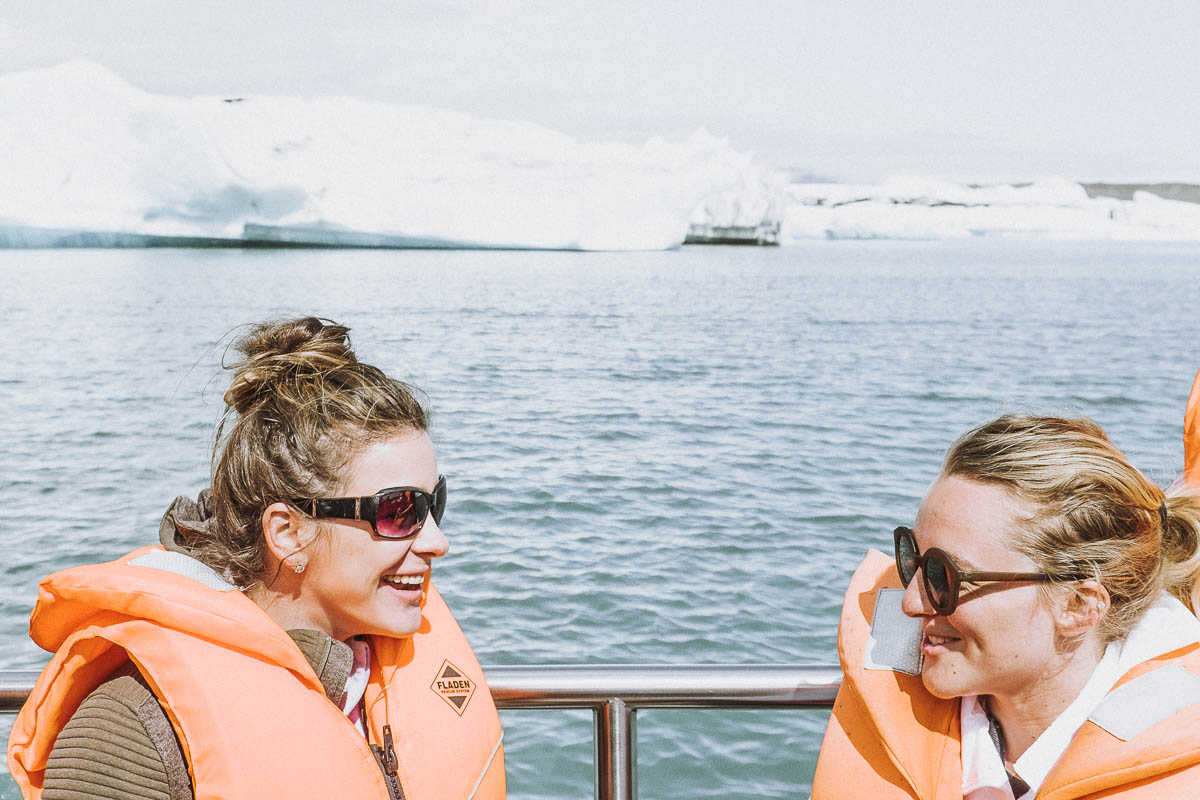 Quick Facts about Jökulsárlón Glacier Lagoon
Jokulsarlon was formed in the 1930s.
The glacier lagoon is the deepest natural lake in Iceland, with a maximum depth of 284 meters (932 ft).
The current surface area of Jokulsarlon is 18 km2 (7 sq mi).
The main water source is from Breiðamerkurjökull, an outlet glacier of Vatnajokull, which outflows to the North Atlantic Ocean.
The distance between Jokulsarlon and Reykjavik via the Ring Road is 378 km (235  miles).
For a Jokulsarlon boat ride, the amphibian boat tours operate from June to August, the Zodiac RIB boat tours operate from June to September.
A live webcam is set up for Jokulsarlon, where you can check the condition in the lagoon area.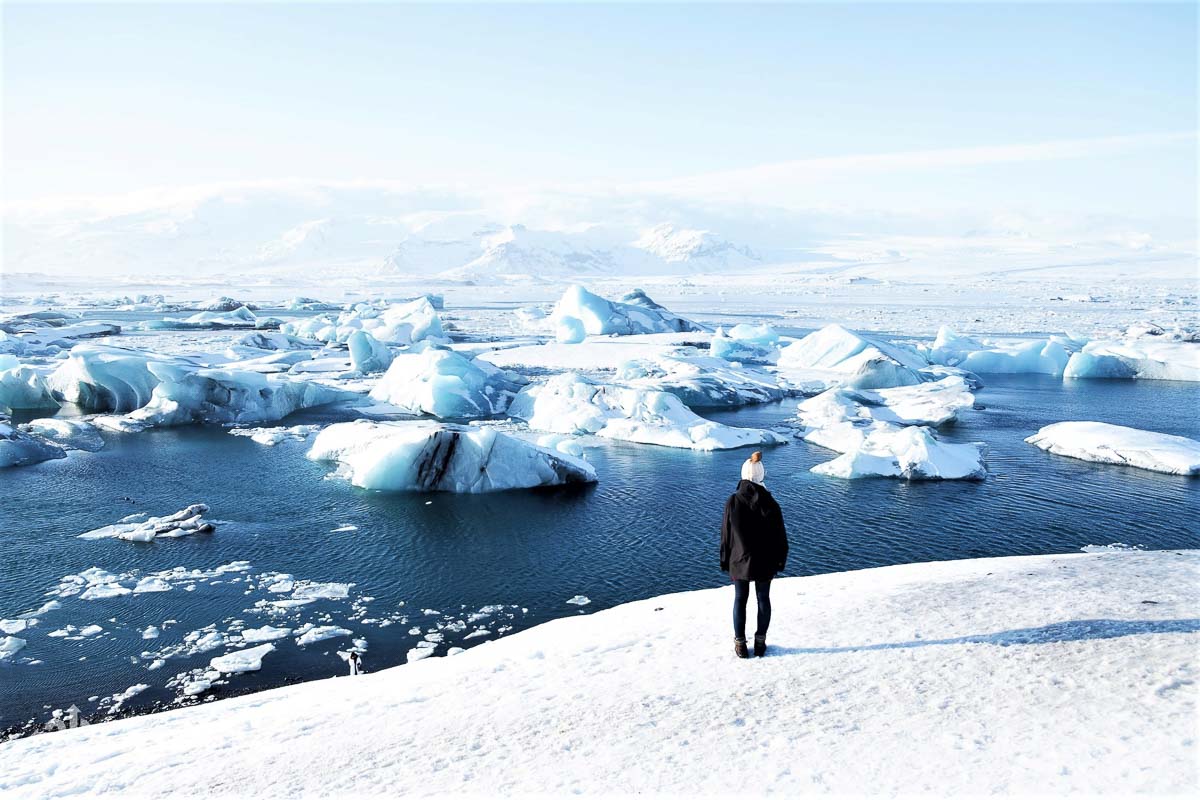 Other Amazing Sights Close to Jökulsárlón
Backdropped by the massive ice cap of Vatnajokull, the vicinity of Jokulsarlon has many amazing sights that are worth your visit. They are mostly glacier-themed, with a range of diverse landscapes and sights.
Fjallsarlon Glacier Lagoon
A glacial lake hidden off the beaten path, Fjallsarlon Glacier Lagoon is only 10 km southwest to Jökulsárlón, and they both originate from Breiðamerkurjökull outlet glacier of Vatnajokull. Visiting the lesser-known Fjallsárlón is a wonderful alternative to see the glacier's captivating features.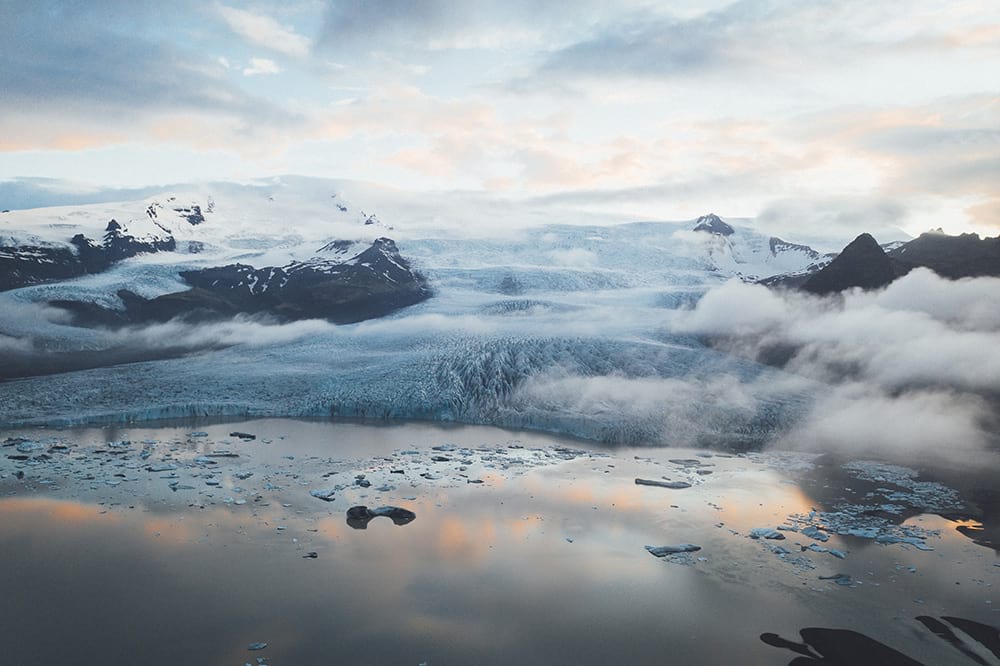 Unlike Jökulsárlón's blueish water, Fjallsárlón is more like its muddy cousin, which our expert guides like to joke about. As Fjallsárlón is a relatively small glacial lake that is not as deep as Jökulsárlón, the huge icebergs wander on the lake, their giant bodies underneath the surface stir the mud at the lake's bottom, making the lake water muddy.
Due to the smaller size, Fjallsárlón Glacier Lagoon becomes a popular adventure destination for kayaking enthusiasts, as it takes less effort to get closer to the jagged glacier tongue. Here is also a hip spot for pop stars, for example, the Icelandic rock band Kaleo once took their music video in the lake.
Breiðárlón Glacier Lagoon
The mighty Breiðamerkurjökull glacier tongue is the source of three glacial lakes, with the third one being Breiðárlón Glacier Lagoon, named after the outlet glacier. Breiðárlón is connected to Fjallsárlón by the small, silvery river Breiðá.
Breiðárlón Glacier Lagoon is also pretty muddy, with a size twice as large as Fjallsarlon. If you are planning to self-drive, Breiðárlón is worth a visit as a great alternative to the tranquil scenery.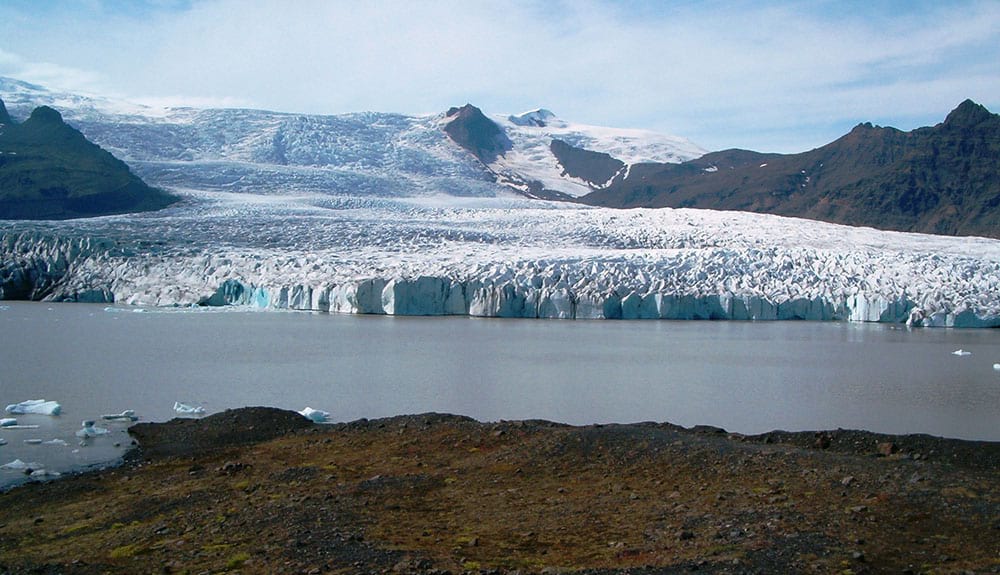 Photo copyright ©Bromr under CC BY-SA 3.0.
Skaftafell Nature Reserve
Sitting within the Vatnajokull National Park, Skaftafell is a popular destination for Icelanders' summer excursions as it is home to a great camping ground and many diverse sights, the well-known one being Svartifoss waterfall and the hiking trail leading to it.
In winter, Skaftafell is a glacier wonderland open for all kinds of adventures. Iceland's highest peak, Hvannadalshnjúkur, sits in the area, with an elevation of 2,110 meters (6,920 ft), a mark for many local outdoor enthusiasts to climb.
The Skaftafell Visitor Center is a good place to stop before you start to explore the area, you can find helpful information, nice hiking trails of different levels of difficulty, and shop for some snacks and souvenirs.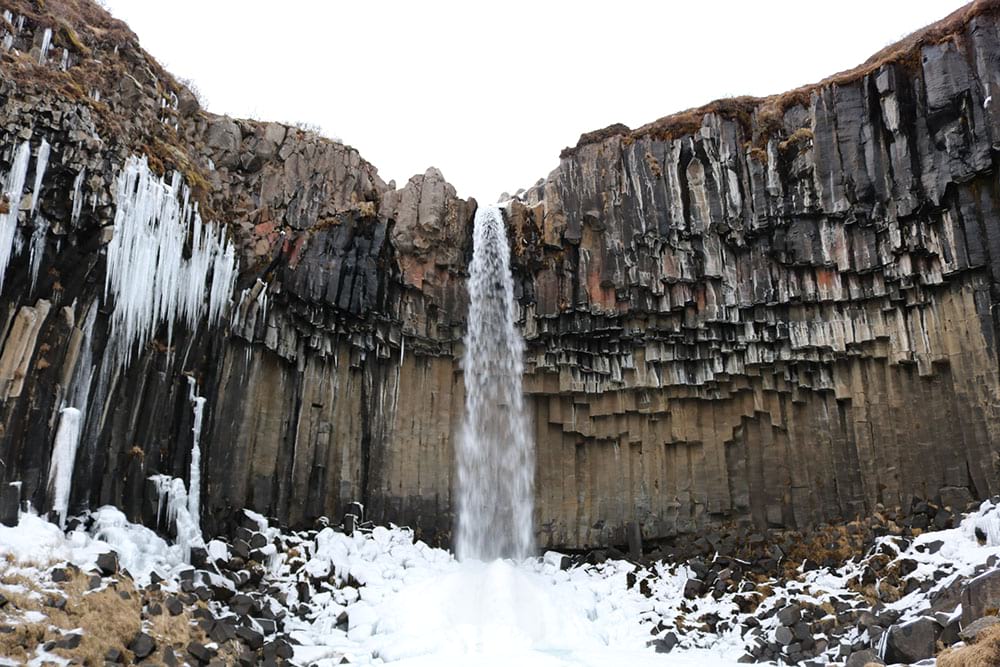 Photo credit ©Toby Elliott via Unsplash.