A Tourists Guide To Seljalandsfoss Waterfall
by Yanshu
South Iceland
15 Apr 2023
Hey, adventure seekers! If you're planning a trip to Iceland, you can't miss out on Seljalandsfoss waterfall. Tucked away in the southern region of the country, Seljalandsfoss is a stunning natural wonder that draws visitors from all over the world.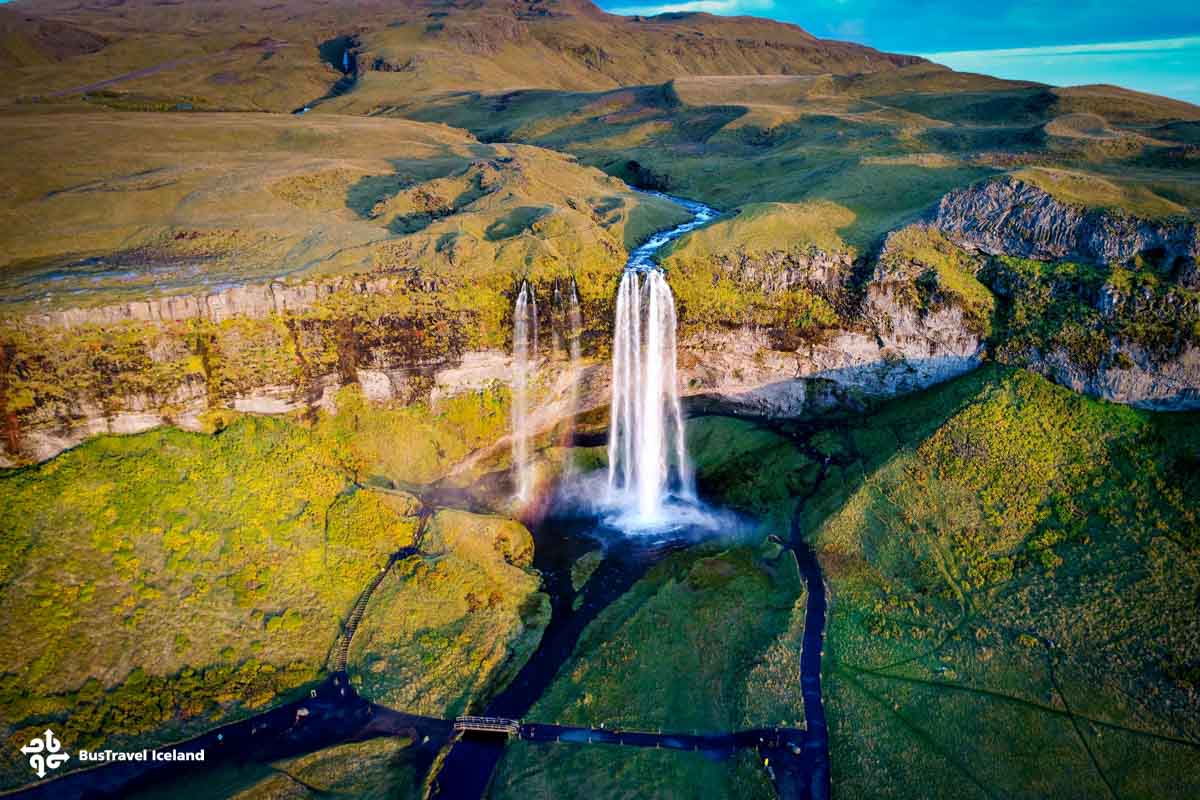 One of the coolest things about Seljalandsfoss? You can walk behind the waterfall and see the world from a whole new perspective. But be warned – you might get a little wet!
So, pack your raincoat and get ready for an epic experience.
Let's dive into everything you need to know about Seljalandsfoss, and how to make the most of your visit!
Seljalandsfoss the Waterfall You Can Walk Behind
Seljalandsfoss is a stunning natural wonder that looks like it's been plucked straight from a fairytale. This beautiful waterfall drops 60 meters (197 feet) into a shallow pool below, sending up a spray that catches the sunlight and creates a shimmering mist. But the real magic happens when you walk behind the waterfall – you'll be surrounded by a curtain of water, and the sound of the rushing falls is absolutely deafening!
You can see the layers of volcanic rock that the water has eroded over time, creating a unique texture and color to the walls surrounding the waterfall. It's truly a sight to behold, and one that you won't soon forget!
A typical Seljalandsfoss waterfall hike takes 15 minutes without stopping, although I need to remind you that the trail can get slippery and challenging in some parts, especially after rainfall. So a pair of sturdy hiking boots come highly recommended.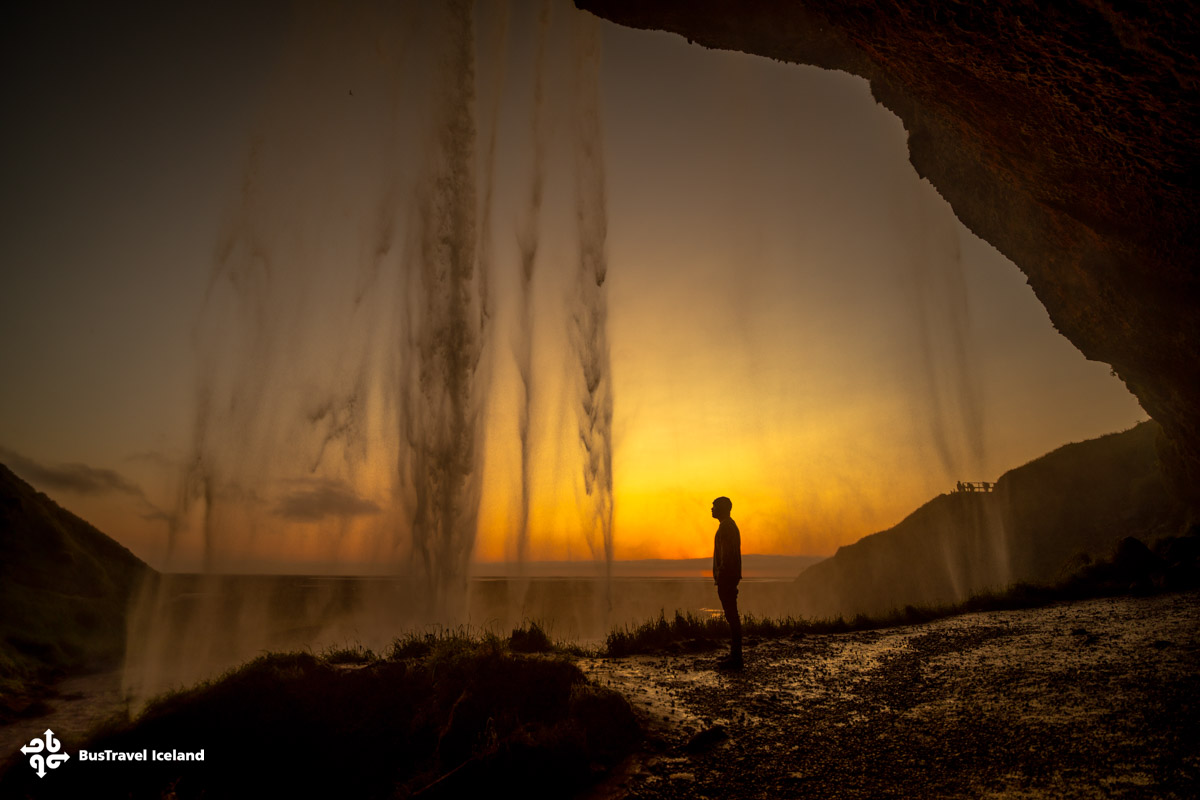 The first time I visited Seljalandsfoss waterfall, I was not well-prepared. The weather was drizzling rain paired with cloudy, grey sky. A typical gloomy summer's day in Iceland. And I wore a wind jacket and a pair of jeans, which were not suitable for traveling in Iceland in any weather as jeans don't dry well and fast enough. Of course, after taking the entire path circling the waterfall – front and back – I got quite a splash, and my pants were soaking wet. Despite this little episode, I couldn't help but feel awe-struck by the sight of the waterfall plunging into the pool below. The misty rain made the waterfall look even more powerful and majestic, but also gave it a slightly melancholic and mysterious atmosphere. It was an unforgettable experience that left me eager to come back and explore more of Iceland's natural wonders.
The Best Viewpoints for Seljalandsfoss Waterfall
The most popular viewpoint is located directly in front of the waterfall, where you can get a great view of the entire waterfall and the pool below. But it can get crowded, especially during peak tourist season.
One of the most unique viewpoints is from behind the waterfall itself. You can access it by following the path that leads behind the waterfall. Not only is this an incredible photo opportunity, but the misty spray and thundering roar of the water make for an unforgettable experience. Be prepared to get wet from the spray in the hike, but the view from behind the waterfall is truly incredible.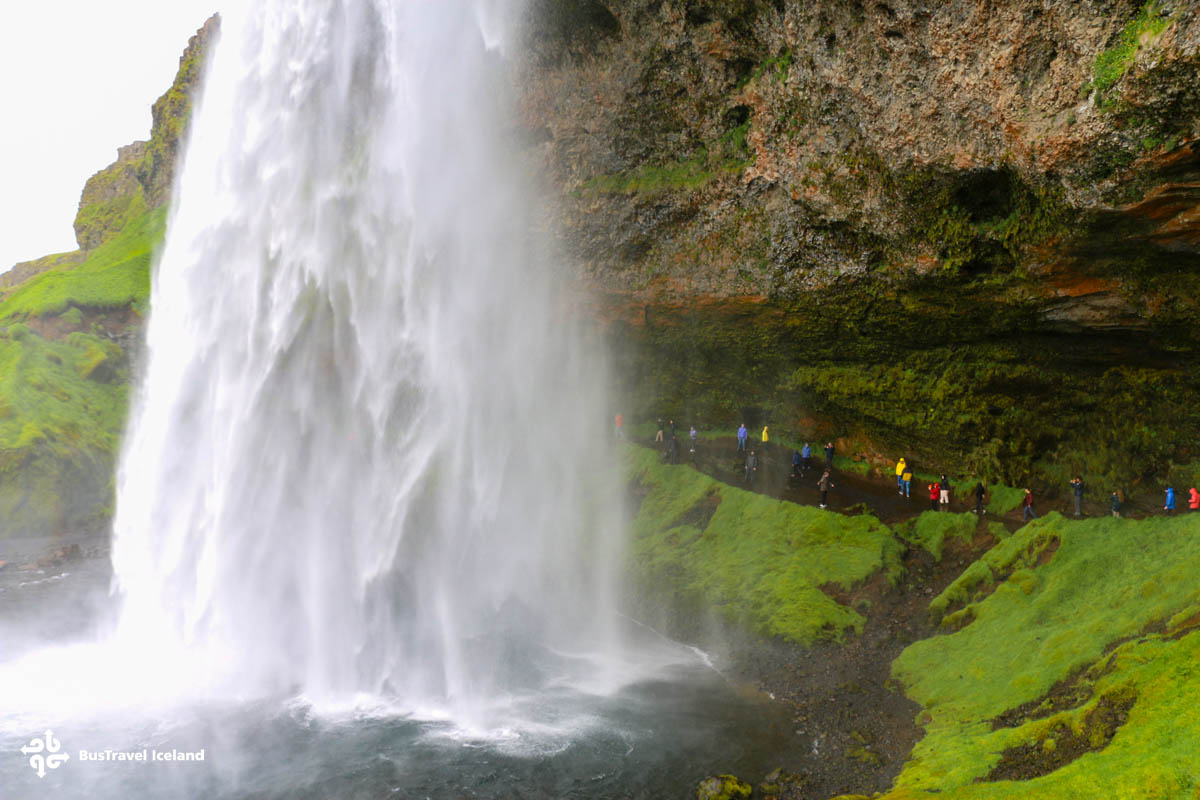 Another great viewpoint is from above the waterfall, accessible by a short hike up the hillside to the right of the waterfall. From this viewpoint, you can see the entire waterfall as well as the surrounding landscape.
The Origin of Seljalandsfoss Waterfall
The origin of Seljalandsfoss waterfall in South Iceland can be traced back to the melting of glaciers that occurred during the last Ice Age, which lasted from approximately 115,000 to 11,700 years ago. As the glaciers receded, they left behind deep valleys and narrow gorges that were carved out by the flowing water.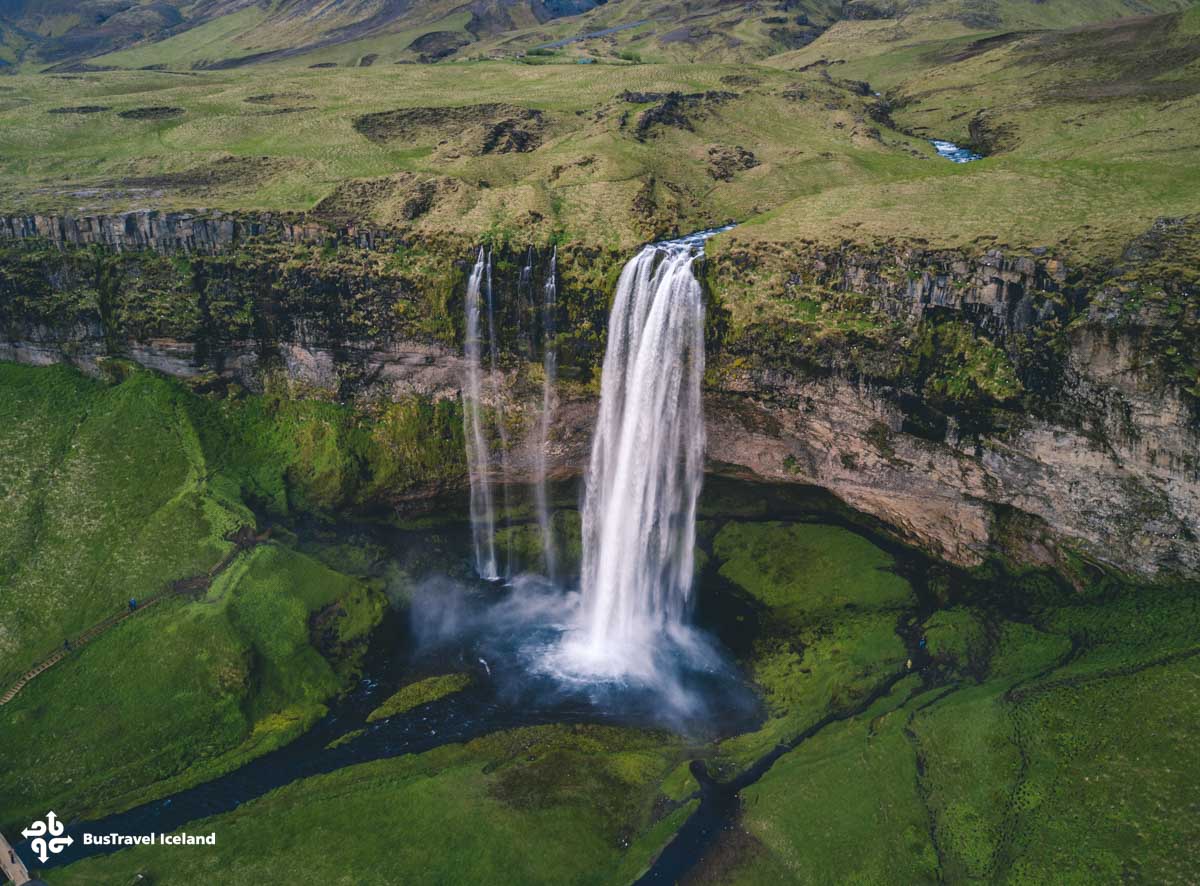 Seljalandsfoss waterfall is located on the Seljalands river (Seljalandsá), which originates from the famous Eyjafjallajökull glacier. The name "Seljalandsfoss" means "the waterfall of the river Seljalandsá," and it's believed to have been formed over thousands of years by the constant erosion of the rock by the flowing water.
Today, Seljalandsfoss waterfall is one of Iceland's most popular tourist attractions, drawing visitors from all over the world who come to marvel at its beauty and natural wonder.
Information about Visiting Seljalandsfoss Waterfall
Location and Getting to Seljalandsfoss
Seljalandsfoss waterfall is located in South Iceland, approximately 128 kilometers (79 miles) from Reykjavik, and it takes about 1 hour and 45 minutes to drive from the capital.
The waterfall is easily accessible by car via Route 1, also known as the Ring Road. Once you see the waterfall from afar and reach the three-way intersection, get on Road 249 to reach the waterfall parking lot.
There is a large parking lot near the waterfall, and the parking fee costs 800 kr that allows you to park your vehicle there for the whole day.
Opening hours and Admission Fee
Seljalandsfoss waterfall is open to visitors year-round, 24/7.
There is no admission fee to visit the waterfall.
Facilities and Amenities
There are public restrooms near the parking lot.
A small café and souvenir shop are located near the waterfall.
There are picnic tables and benches available for visitors to use.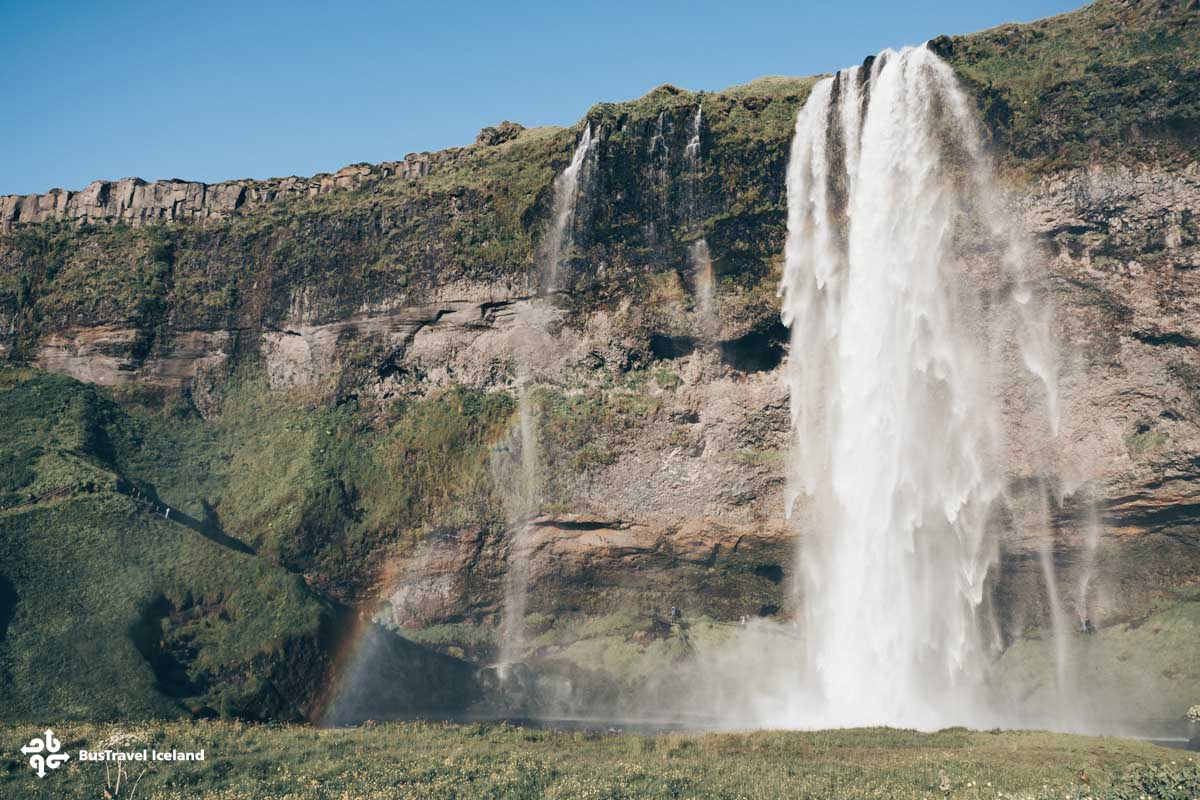 Photography Tips for Seljalandsfoss Waterfall
Seljalandsfoss in Iceland is one of the most photographed waterfalls in recent years for its grandeur and unique features. I have some photography tips for you to shoot this fabulous waterfall.
The best time to visit Seljalandsfoss for photography is during the golden hours – early morning or late evening – when the light is softer and creates a warm, golden glow. The length of golden hours in summer and winter in Iceland varies and the surrounding scenery is drastically different.
A wide-angle lens can be useful to capture the entire waterfall and surrounding landscape. This is especially useful when you want to show the scale and grandeur of Seljalandsfoss waterfall.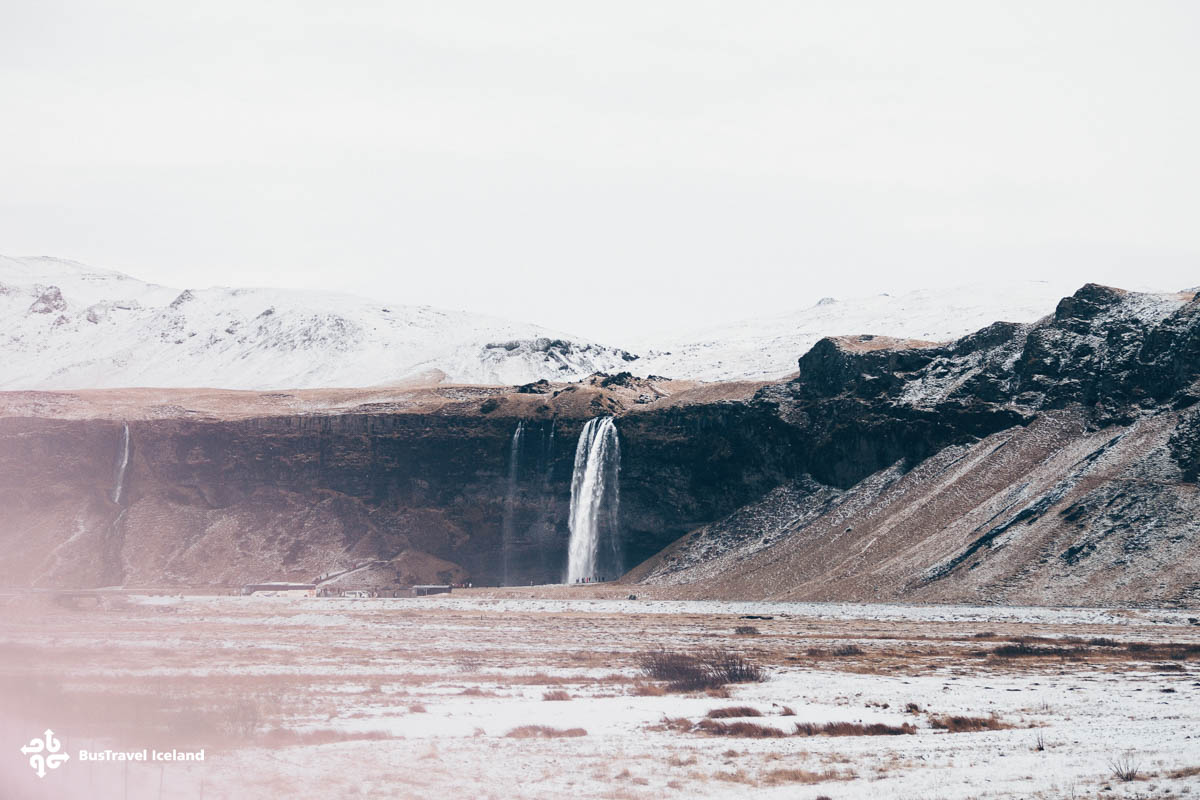 By playing around with your camera's shutter speed, you can create a variety of effects in your photos. A faster shutter speed can freeze the action of the water, while a slower shutter speed can create a dreamy, ethereal effect.
To ensure sharp, steady shots, use a tripod or a stable surface to keep your camera steady. This is especially important when using slower shutter speeds.
Don't be afraid to explore different angles and perspectives when taking photos of Seljalandsfoss waterfall. Try shooting from above or below the waterfall, or experiment with different compositions to create a unique and interesting photo.
Be prepared to get wet from the spray of the waterfall, so bring a waterproof camera or protective gear such as a rain cover. You don't want to risk damaging your equipment while trying to capture that perfect shot.
One important photography etiquette to keep in mind when visiting Seljalandsfoss waterfall is to be mindful of other visitors and avoid blocking pathways or obstructing the view while taking photos.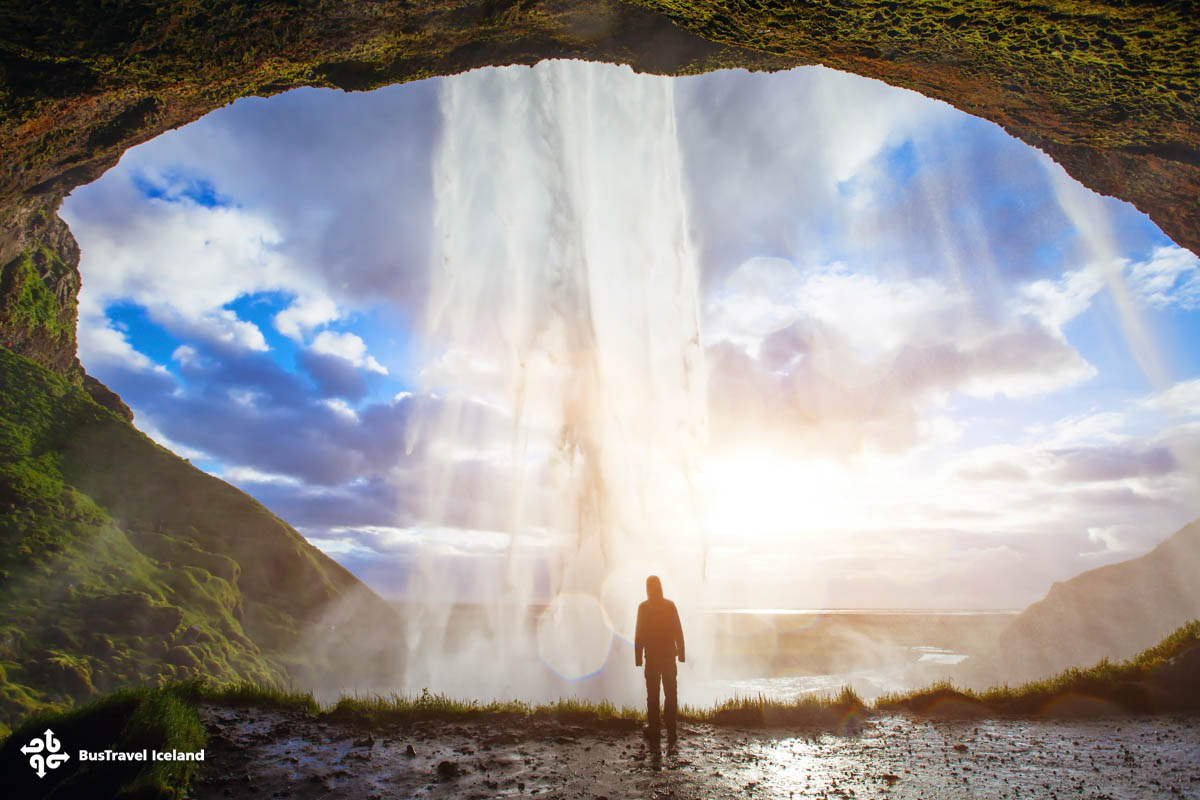 Tips for Respectful and Sustainable Visits to Seljalandsfoss
When you visit Seljalandsfoss waterfall, it's important to be mindful of a few things to help protect the local ecosystem and preserve its natural beauty.
First off, try to stay on designated paths to avoid trampling on any plants or vegetation.
Also, be sure to dispose of any trash or litter properly – let's leave this place cleaner than we found it!
Another thing to keep in mind is to be respectful of the wildlife in the area. Avoid disturbing any nests or homes and keep a safe distance from any animals you might encounter.
With just a few simple precautions, we can all do our part to protect this amazing natural wonder and keep it thriving for generations to come!
Seljalandsfoss Waterfall In Popular Culture
Did you know that Seljalandsfoss waterfall in Iceland has been in The Amazing Race, music videos, and movies?
It was a featured waypoint during the first leg of the sixth season of The Amazing Race.
Bjork, who's from Iceland, has even featured it in some of her films. Justin Bieber was spotted chillin' by the waterfall in his "I'll Show You" music video.
The waterfall is also featured in a short scene in the first episode of season three of Star Trek: Discovery "That Hope Is You, Part 1".
There are a bunch of other productions too. So yeah, Seljalandsfoss is kinda famous!
Popular Attractions Near Seljalandsfoss Waterfall
Many beautiful sights can be found in the south coast of Iceland along the road leading to Seljalandsfoss and onwards.
Gljúfrabúi Waterfall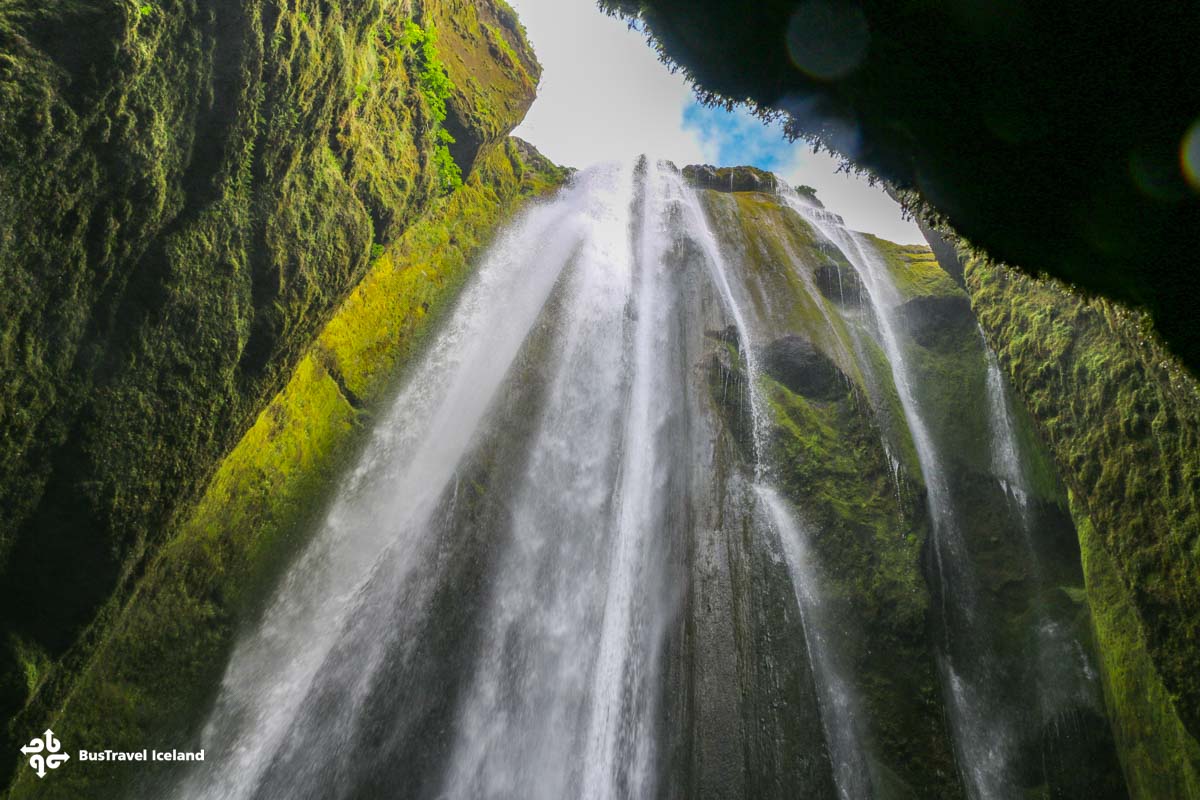 Following a small path near the cliff by a short walk from Seljalandsfoss, Gljúfrabúi waterfall is a hidden gem located close by. Visitors have to walk through a narrow opening in the rock to reach the waterfall, which drops from a height of about 40 meters (130 feet) into a small pool at the bottom. Visiting Gljúfrabúi adds to the sense of adventure and discovery on your South Iceland trip.
Skogafoss Waterfall
Located just a 30-minute drive from Seljalandsfoss via the Ring Road, Skógafoss is another stunning waterfall that is a must-see for visitors to Southern Iceland. Sat on the Skógá River, It is one of Iceland's most iconic natural wonders, with a drop of 60 meters (197 feet) and a width of 25 meters (82 feet). And its magnitude can be felt from a distance away.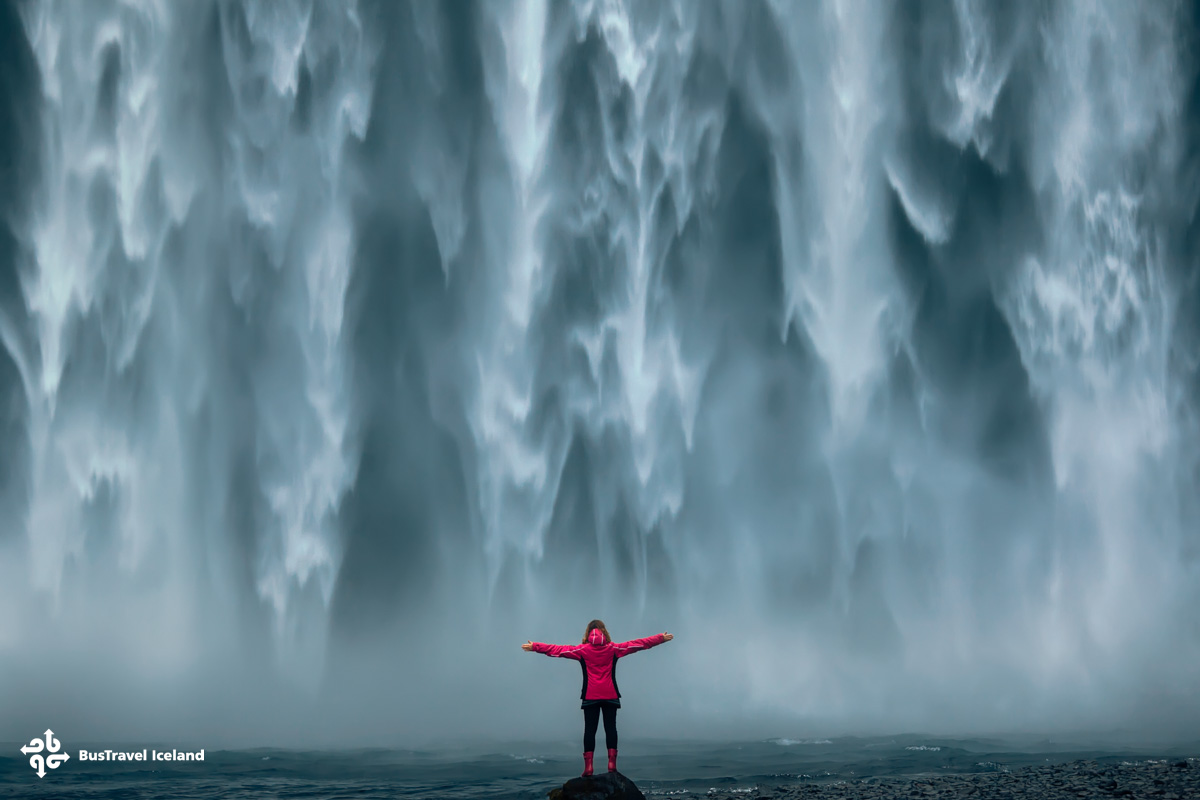 Skogar Museum is located close to the waterfall and is an interesting spot to visit for exploring Icelandic cultural heritage.
Sólheimajökull glacier
Sólheimajökull glacier is a breathtaking natural wonder located in South Iceland, only a 15-min drive from the Skógafoss waterfall, and 45-min drive from Seljalandsfoss waterfall. It's part of the larger Mýrdalsjökull glacier, which is the fourth largest glacier in Iceland. Visitors can take guided tours to explore the glacier's unique features, including exploring ice caves and crevasses, and hiking on the blue ice.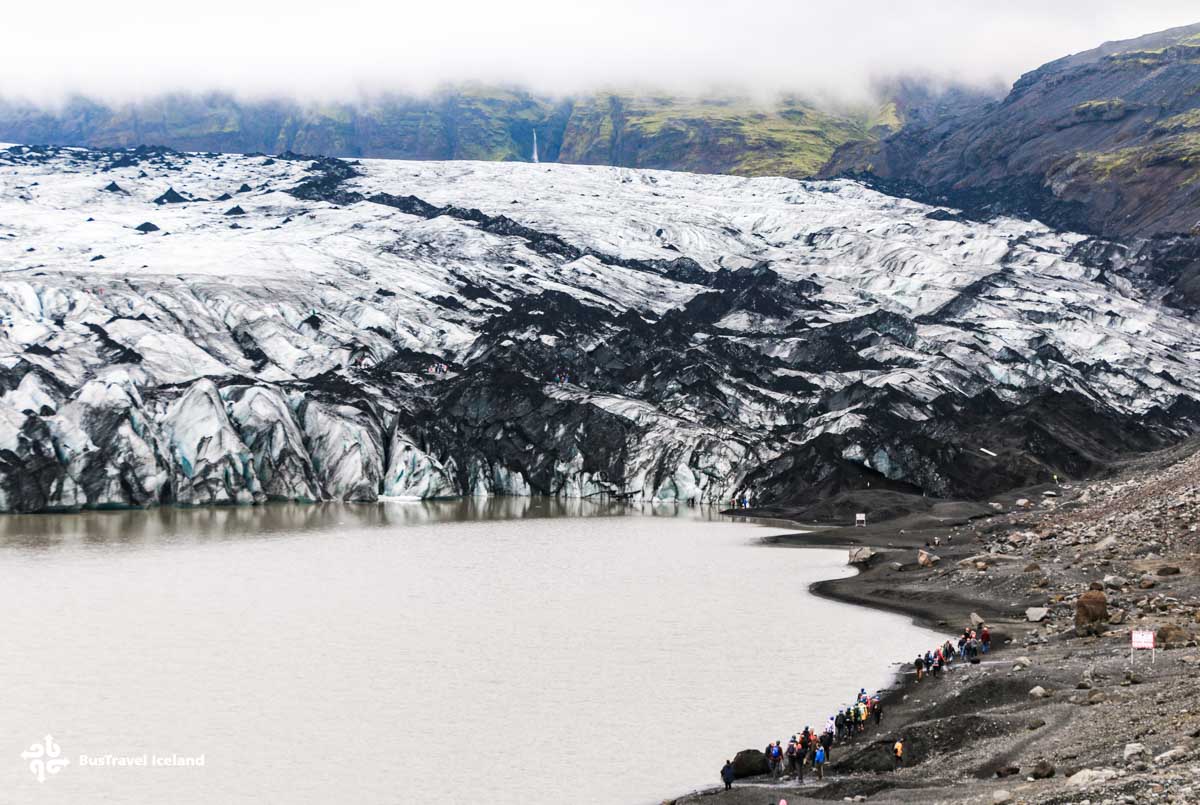 Eyjafjallajökull volcano glacier
Eyjafjallajökull gained international notoriety in 2010 when it erupted and caused widespread air travel disruptions. It's located in South Iceland, near the town of Hvolsvöllur, and visitors can take tours to see the volcano up close and learn about its history and impact on the surrounding area.
Reynisfjara Black Sand Beach
Reynisfjara beach is a unique and stunning black sand beach in South Iceland, a 50-min drive from Seljaladnsfoss waterfall, and a 12-min drive from the town of Vík. It's known for its dramatic basalt columns, towering cliffs, and crashing waves. Visitors can explore the beach, climb the cliffs, and take in the breathtaking natural beauty of the area.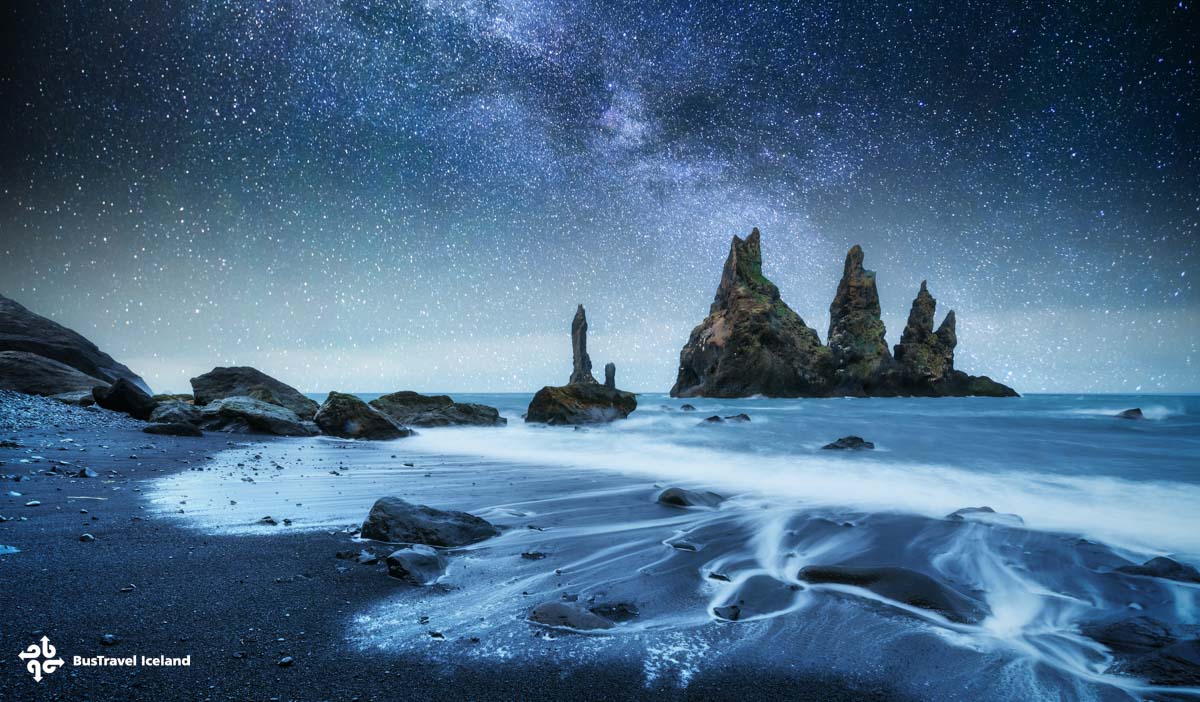 Thingvellir National Park
Þingvellir National Park is a stunning UNESCO World Heritage site located  1.5-hour drive from Seljalandsfoss waterfall. It's known for its rugged landscapes, crystal-clear waters, and unique geology, including the Mid-Atlantic Ridge. Visitors can hike, snorkel, and explore the park's fascinating history as the site of Iceland's ancient parliament. It is one of the three main attractions on the popular Golden Circle sightseeing route.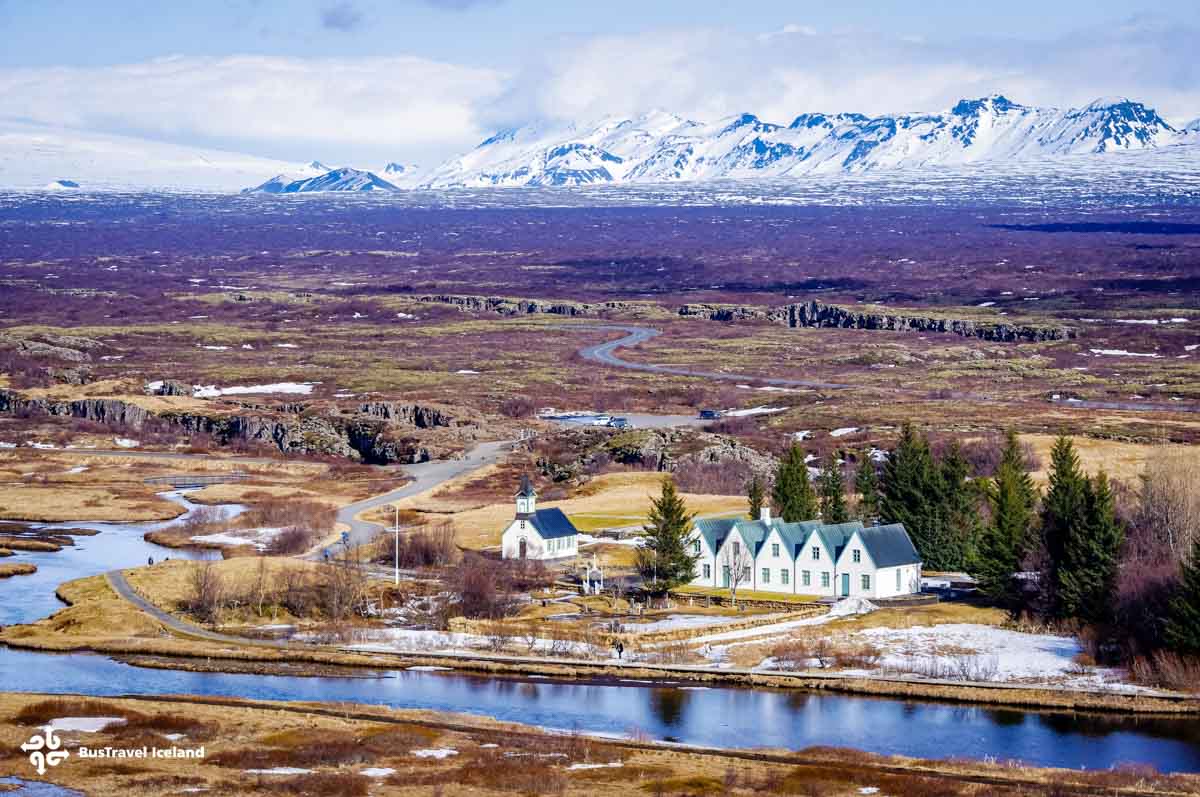 Recommended
Iceland tours
Explore Iceland's beauty with our tours curated just for you, showcasing the best attractions for an unforgettable adventure.