A Guide To Waterfalls in Iceland's South Coast
by Yanshu
South Iceland
5 Jun 2023
Embark on a journey off the beaten path, and into the wild where these stunning waterfalls are the main event in the land of fire and ice. Welcome to the South Coast of Iceland, home to the most beautiful waterfalls.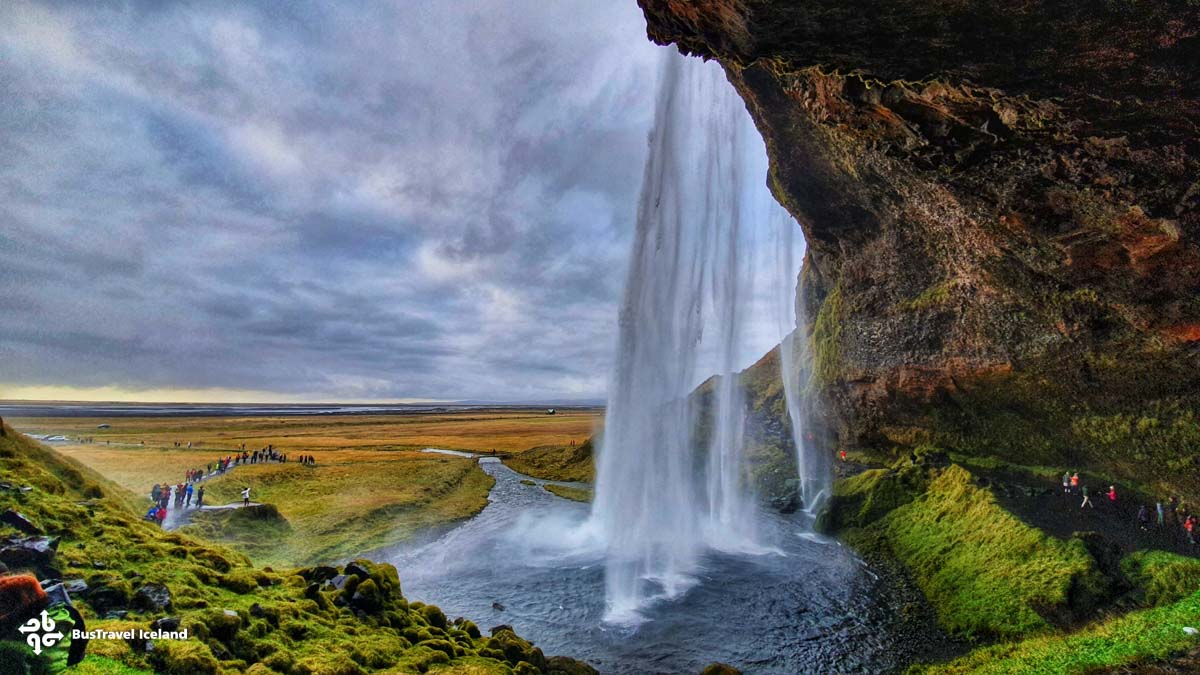 Awash in a symphony of cascading waters, South Iceland is a dreamscape for waterfall lovers. From the dramatic plunge of Skógafoss to the dreamy veil of Seljalandsfoss, each waterfall unfolds a unique spectacle. 
They tell stories of old coastlines and volcanic lands, and are important parts of Iceland's wilderness. They fill the air with the powerful sound of water hitting rock. Ready for an adventure? 
South Iceland's Waterfalls
South Iceland is renowned for its breathtaking and diverse array of waterfalls that are as popular as they are varied.
Seljalandsfoss Waterfall
Located within the rich green expanses along the Southern Shore, Seljalandsfoss is one of the most beautiful waterfalls in Iceland that draws visitors from around the globe. 
Originating from the river Seljalandsá, the waterfall dramatically descends 60 meters (196.85 feet) from the edge of the former coastline, now transformed into cliffs, making it one of the highest in Iceland.
A proof to Iceland's geologic past, the water here comes from the Eyjafjallajökull glacier, one of Iceland most well-known glaciers. On sunny days, this dynamic interplay of water and light create misty rainbows, adding to the already enchanting spectacle. 
Seljalandsfoss waterfall, South Iceland.
Seljalandsfoss is more than just a waterfall. It's an experience. A narrow path snakes behind the waterfall, allowing you to explore it from a unique angle, where the falling water creates a curtain against the world. 
This is a place where you can lose track of time, immersed in the sights and sounds of raw nature. As the water crashes to the ground, the thunderous applause echoes the raw power and beauty of Iceland. So, tie your boots tight and bring a rain jacket – you're in for a thrilling encounter with nature's majesty at Seljalandsfoss.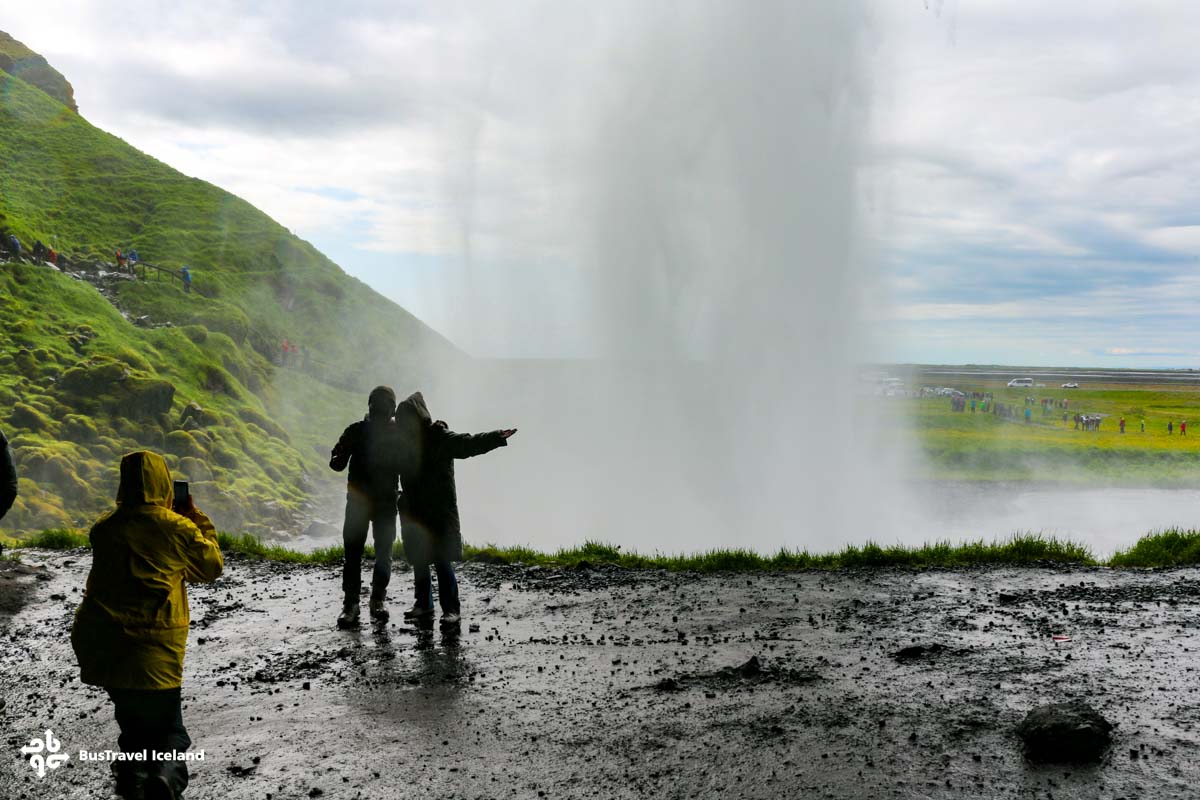 Taking a photo behid Seljalandsfoss cascade, South Iceland. Photo credit to Irena Georgsdóttir.
Skogafoss Waterfall
One of the must-see waterfalls to visit in South Iceland, Skógafoss waterfall, impresses not just with its size, but also with its breathtaking energy. With a drop of 60 meters (196.85 feet) and a width of 25 meters (82 feet), it's among the largest waterfalls in the country.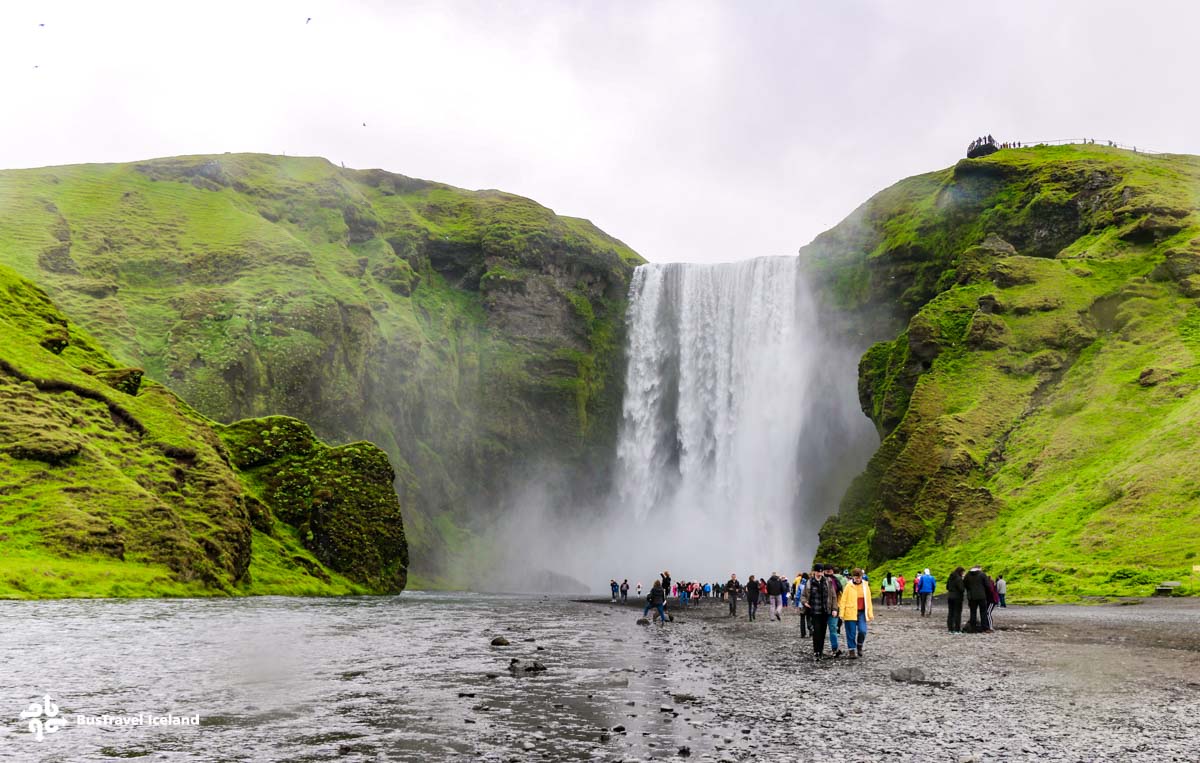 Skogafoss waterfall plunges down from a height of 60 meters, South Iceland. Photo credit to Irena Georgsdóttir.
Skógafoss stands as a testament to the raw, untouched Icelandic nature. The waterfall originates from the Skógá River, which tumbles off the cliff, creating a cascade that's an awe-inspiring sight. What's more amazing is that a single or even a double rainbow is often visible on sunny days , as the amount of spray the waterfall consistently produces.
A staircase next to Skógafoss leads to an observational platform above the waterfall, providing a bird's eye view of these cascades and the beautiful coastline. Steeped in Viking legends and surrounded by rich flora and fauna, Skógafoss promises a truly immersive Icelandic experience.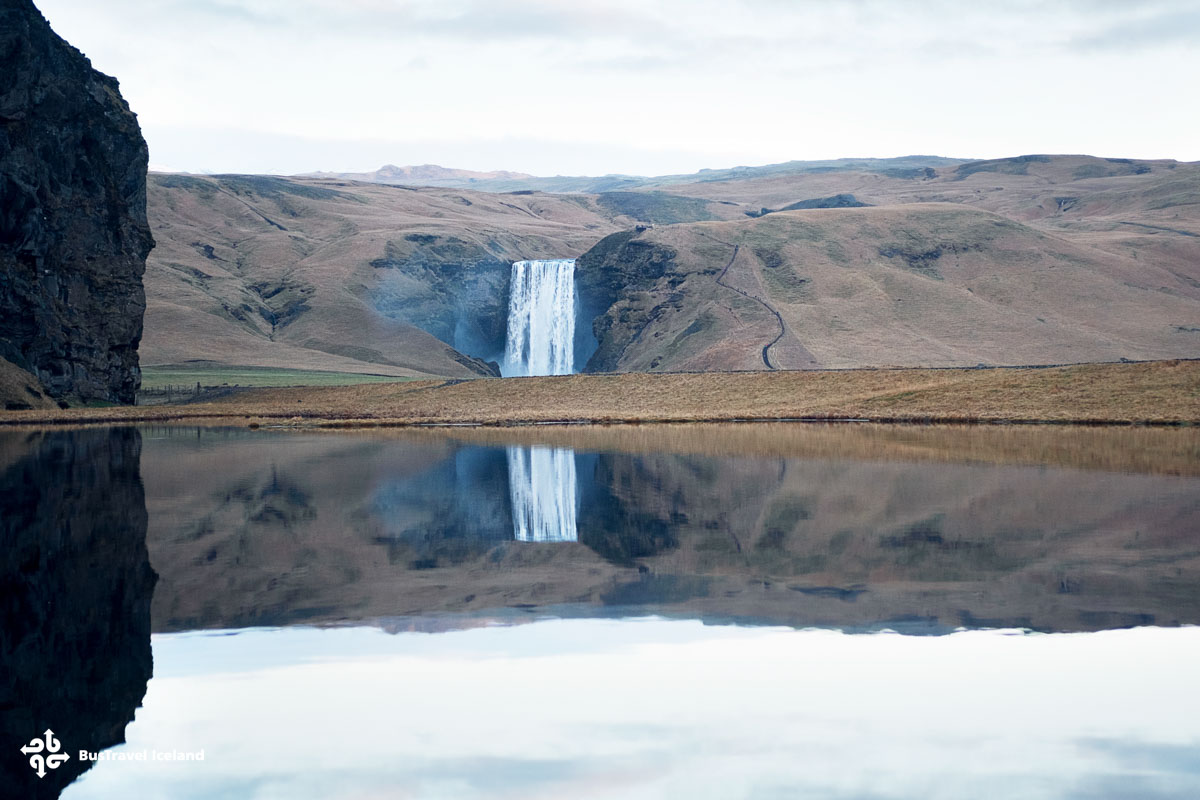 A reflect of Skogafoss waterfall from a pond in the vicinity of the area, South Iceland.
Gljúfrabúi Waterfall
Tucked away in Southern Iceland, near its famous cousin Seljalandsfoss, lies the less known but equally enchanting Gljúfrabúi. Known as the "hidden waterfall" or "canyon dweller,"  it's sheltered within a narrow canyon that's partly concealed by a large cliff.
Gljúfrabúi waterfall is unique. Unlike other waterfalls where you can see the cascade from a distance, to fully appreciate Gljúfrabúi, you must venture a little. A short hike through shallow water leads you into the cave where you're greeted by the 40-meter high waterfall. The journey may leave you a bit wet due to the spray, but the sight of the hidden falls makes it worthwhile.
This secluded waterfall, often surrounded by a mystical mist due to the water crashing down into the narrow canyon, offers a different kind of experience.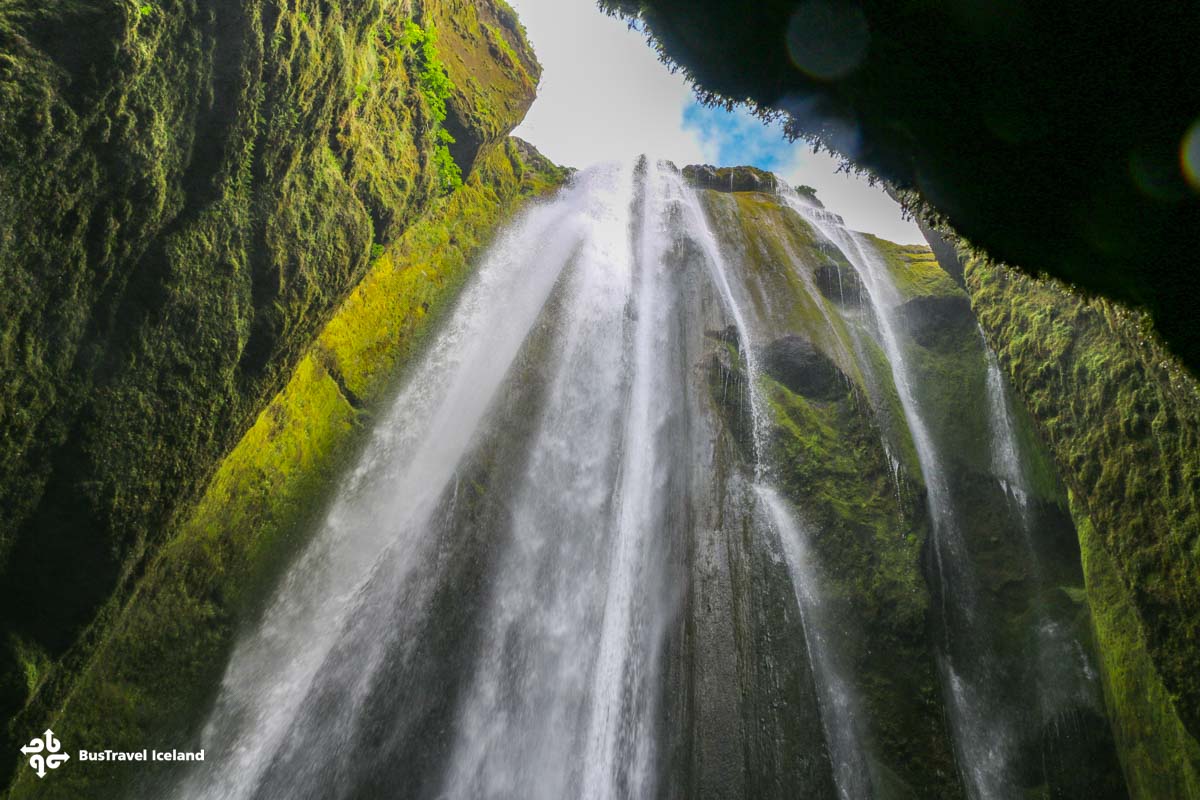 Gljúfrabúi watefall is a hidden gem close to Seljalandsfoss waterfall, South Iceland. Photo credit to Irena Georgsdóttir.
Kvernufoss Waterfall
Often overshadowed by its more celebrated neighbor Skógafoss, Kvernufoss waterfall is a hidden gem situated in the Skógar region of South Iceland. This 30-meter high waterfall, nestled in a peaceful gorge, is truly a sight to see.
Reaching Kvernufoss requires a little detour off the main path. A brief, picturesque hike through a sheep's meadow and along a narrow trail brings you to this undisturbed waterfall. Once there, you are met with the fascinating sight of water plunging into a charming, moss-covered canyon.
One of Kvernufoss' standout features is the opportunity to walk behind the waterfall, a characteristic it shares with the renowned Seljalandsfoss. The mist from the falls and the resonant sounds within the gorge create a uniquely immersive experience. Kvernufoss waterfall, with its tranquility and unspoiled charm, showcases the quieter side of Iceland's diverse landscape.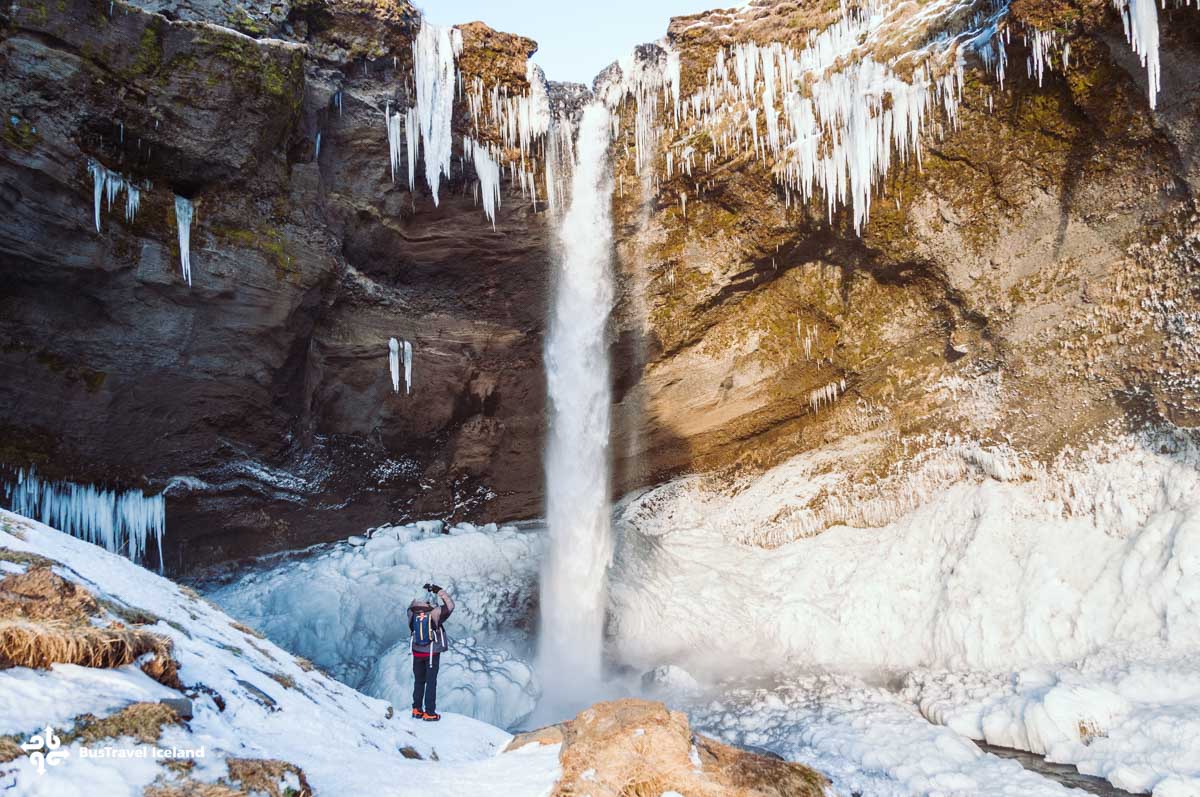 Kvernufoss waterfall in winter, South Iceland. Photo credit to Yanshu Li.
Svartifoss Waterfall
In the heart of Skaftafell Nature Reserve, part of the larger Vatnajökull National Park in South Iceland, you'll find Svartifoss waterfall, also known as the "Black Waterfall." This unique cascade is famed for its striking dark basalt columns that surround it, giving the impression of a dark, natural cathedral.
Svartifoss stands about 20 meters high and its cliff is made of hexagonal basalt columns, a result of rapid cooling of lava flows, quite a typical Icelandic scene. Over time, along with many other iconic Icelandic landmarks, the waterfall has influenced Icelandic architecture, notably the Hallgrímskirkja church and the National Theatre in Reykjavik.
A moderate hike through birch woods and along a mountain stream and small waterfalls leads to this enchanting waterfall. Despite its name, Svartifoss is anything but bleak. In fact, it's a vivid example of the geological wonders that volcanic activity can create. Undoubtedly, a visit to Svartifoss waterfall adds an impressive touch to your Icelandic adventure.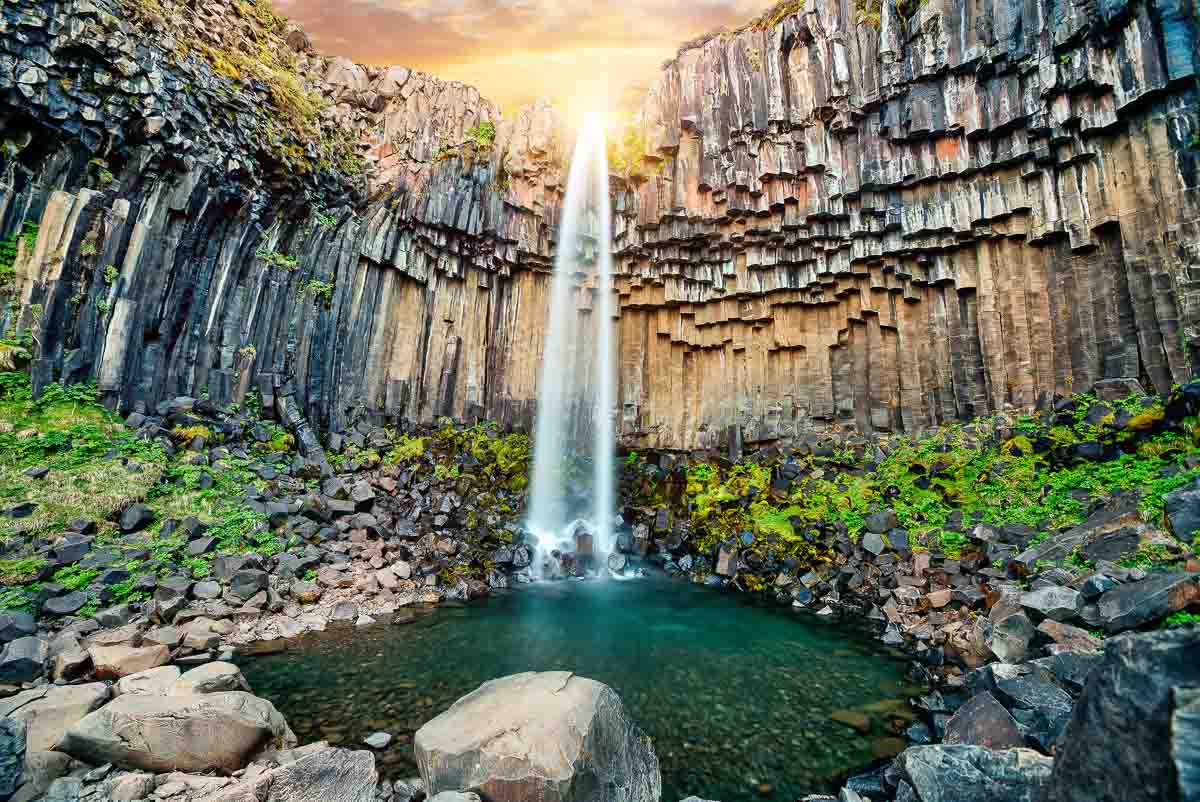 Svartifoss Waterfall in a beautiful spot in the Skaftafell Nature Reserve, South Iceland.
Interesting Features and Locations
Each waterfall is unique, displaying its own distinct features, each nestled in an exceptional location. Through these waterfalls, we witness how the geographical features of Southern Iceland have shaped these splashing sights into one-of-a-kind spectacles.
Cliffs and Basalt Columns
South Iceland is more than a region rich with cascading waterfalls; it's a geological wonderland where cliffs and basalt columns hold center stage. The dramatic cliffs, remnants of former coastlines, serve as launch pads for these falls. Both Seljalandsfoss and Skógafoss tumble off such lofty heights, revealing the country's ancient geology. 
At Svartifoss, the waterfall itself plays a supporting role to the surrounding dark basalt columns, which evoke the image of an organ's pipes. These hexagonal columns form a striking contrast with the waterfall's white cascades, setting the scene for nature's awe-inspiring performance.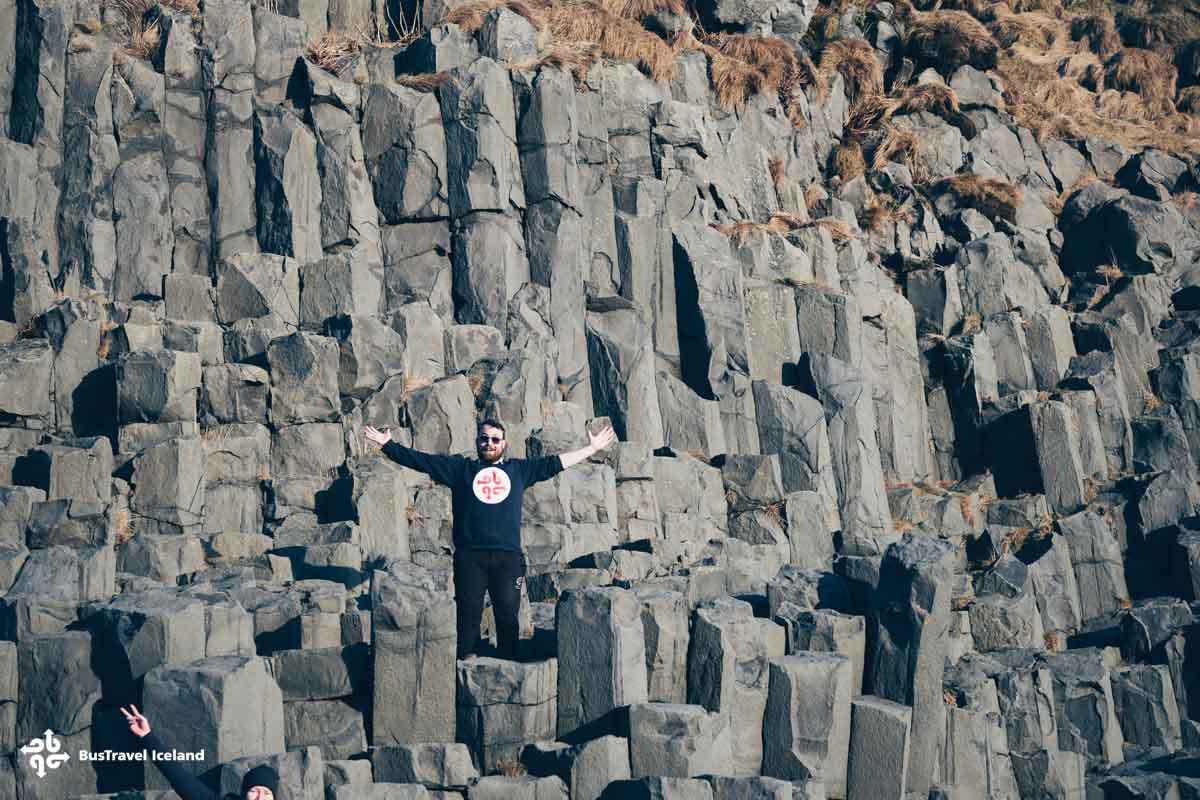 Basalt columns at Reynisfjara black sand beach, South Iceland.
Rainbows and Light Effects
South Iceland's waterfalls aren't just water spectacles; they're platforms for light's play. Sunlight refracts through the mist from falls like Skógafoss and Seljalandsfoss, creating vibrant rainbows. 
These colorful displays emerge directly from the cascades, adding a mesmerizing layer to the experience. During dawn or dusk, the falls bask in ethereal hues, as light and water perform an ever-changing dance. This interplay makes these landmarks uniquely captivating.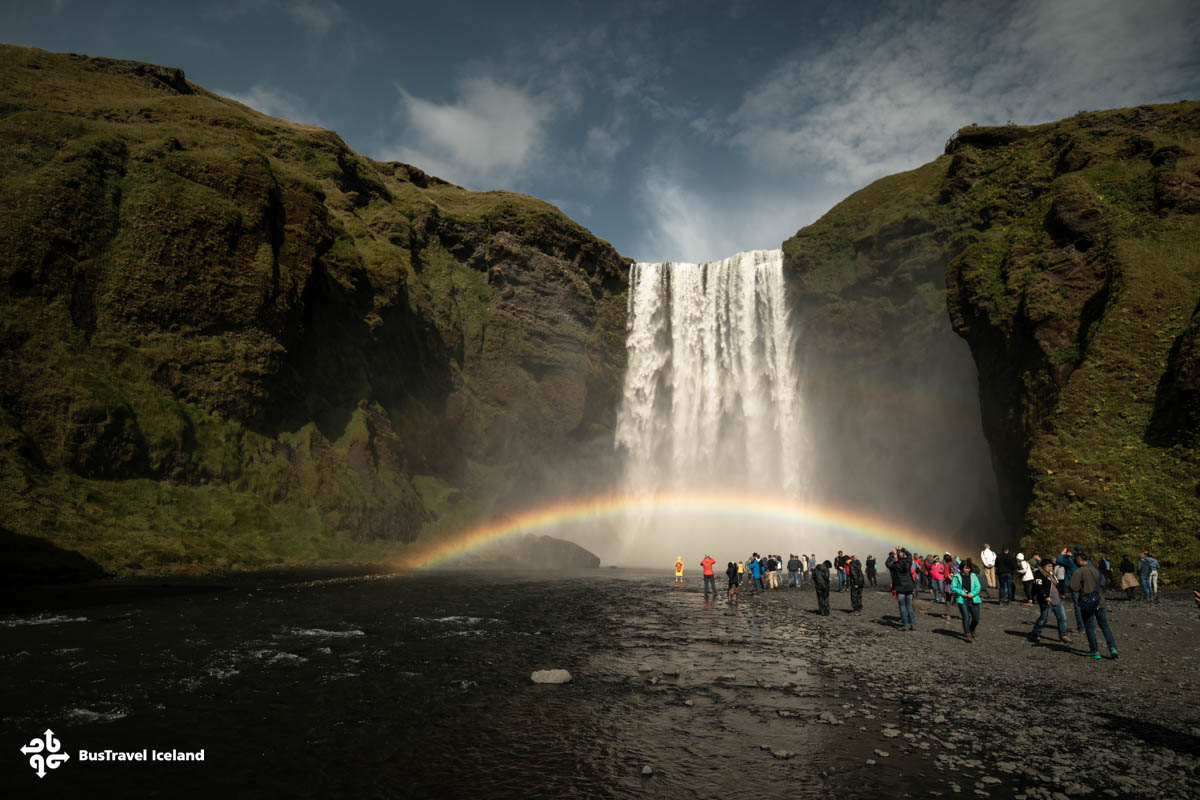 A rainbow is rising up below the Skogafoss waterfall, South Iceland.
Canyons and Gorges
The canyons and gorges of South Iceland serve as striking backdrops for waterfalls like Gljúfrabúi and Kvernufoss waterfalls. They plunge into these confined spaces, fashioned by centuries of water erosion. The result is an intimate, bowl-shaped setting that invites you into the waterfalls' dynamics. 
Walking within these gorges provides unique vantage points and a deepened appreciation of the geologic forces that water flows to shape the diverse Icelandic landscapes. The echoing roars of the falls within the narrow walls also intensify the sense of their raw, natural energy.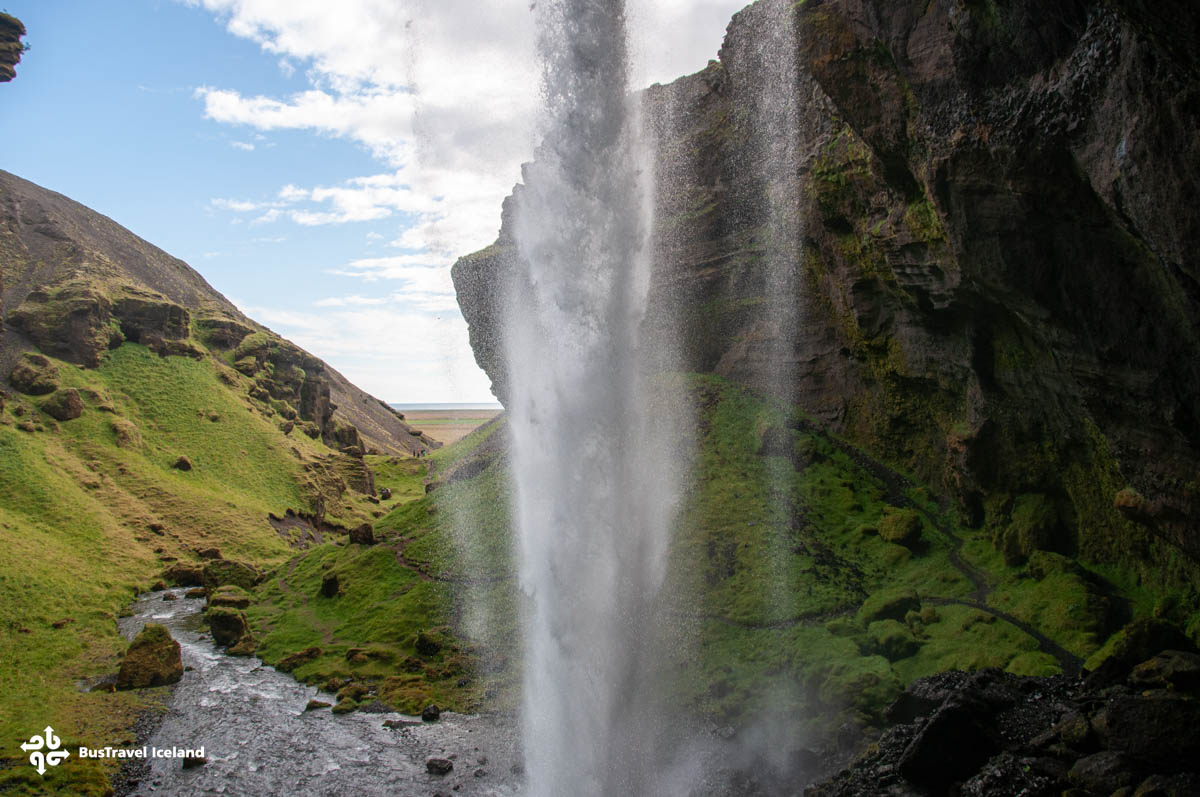 You can walk behind Kvernufoss waterfall to see the whole canyon. Photo credit to Yanshu Li.
Viewpoints and Staircases
South Iceland's waterfalls are complemented by stunning viewpoints and staircases, enhancing the visitor experience. 
Skógafoss has an expansive staircase leading to a panoramic overlook of the cascade and landscape beyond. Seljalandsfoss offers an exceptional perspective from behind the fall, a pathway that allows visitors to fully encircle it. Kvernufoss, though more secluded, provides a view from behind the waterfall, offering a serene and less-traveled vantage point. Each viewpoint presents a unique spectacle, making every visit to these waterfalls a unique experience.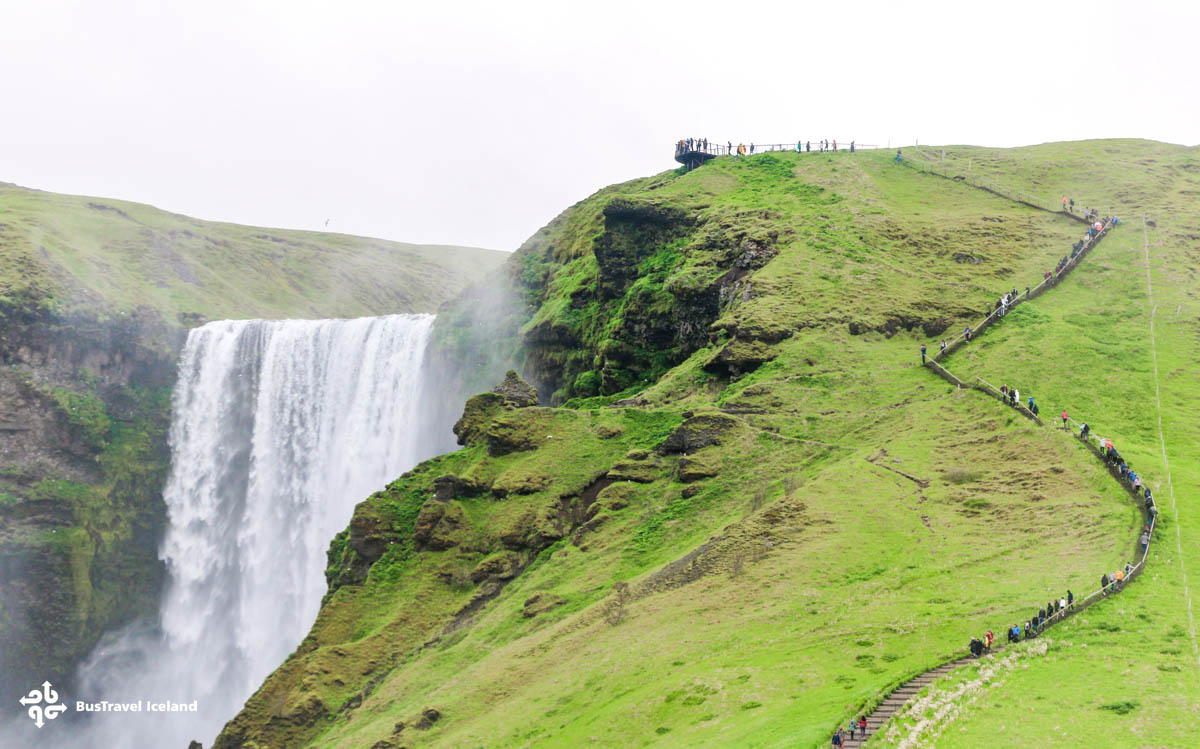 Skogafoss waterfall has a great viewpoint on top which requires climbing up the staircases. Photo credit to Irena Georgsdóttir.
Exploring South Iceland Waterfalls
South Iceland's vast wilderness and pure nature provide a perfect stage for exploring waterfalls. More than mere destinations, these waterfalls are remarkable sights that brighten your journey, turning each adventure into a wondrous exploration.
Hiking Trails and Paths
The walking path that connects Seljalandsfoss and Gljúfrabúi offers a pleasant trek within South Iceland's stunning nature. Covering just under a kilometer, this well-maintained trail meanders through lush fields, providing picturesque views of the country's unique landscape. Along the way, you'll likely be accompanied by the soothing sounds of the waterfalls. The final destination, Gljúfrabúi waterfall, is somewhat hidden behind a rock face, adding a sense of discovery to your journey.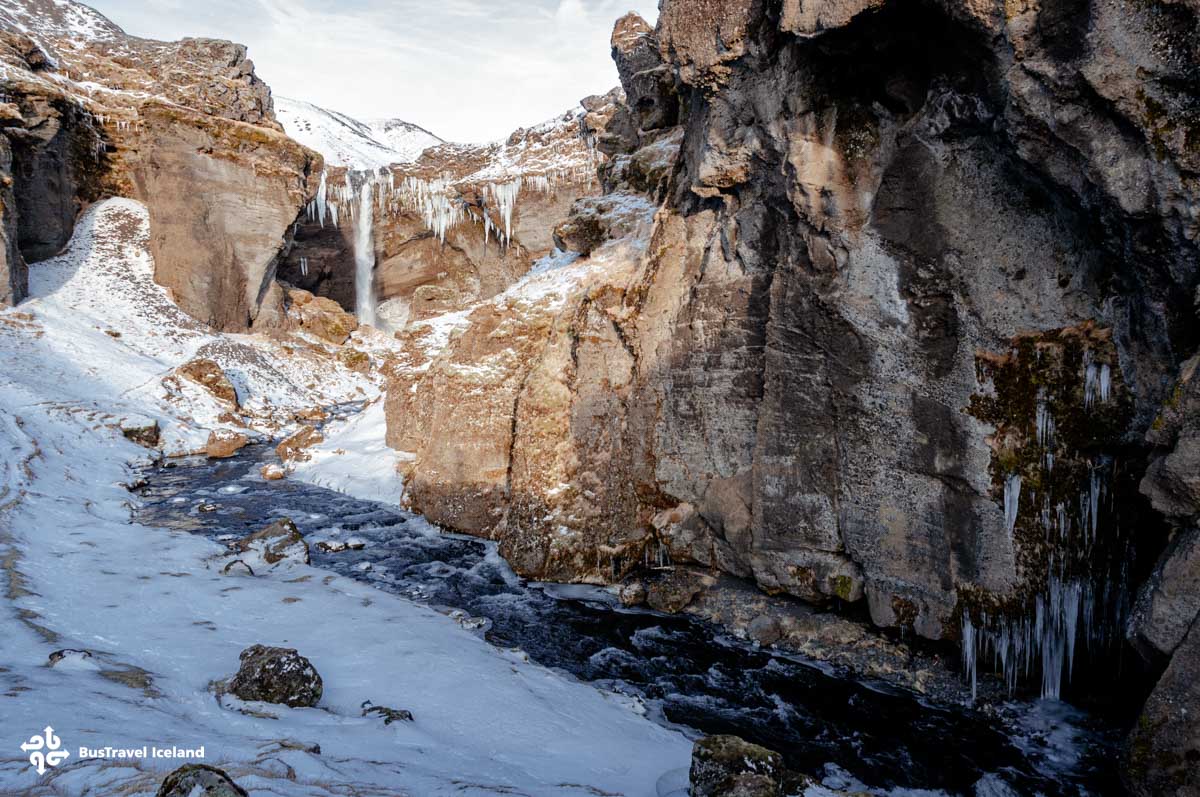 Kvernufoss waterfall is hidden in the back of a canyon that takes a walk to reach. Photo credit to Yanshu Li.
After visiting Skogafoss waterfall, if time allows, you can take a short walk to see the secluded Kvernufoss waterfall. The walking path from Skógar Museum parking lot to Kvernufoss waterfall is a relatively short but rewarding hike, as the trail covers just over a kilometer and leads you through a beautiful open field. 
The path continues alongside a tranquil stream until you reach a narrow gorge where the hidden Kvernufoss waterfall resides. This enjoyable walk away from the main tourist areas offers a more exclusive experience, during which you get to see the quieter side of Iceland.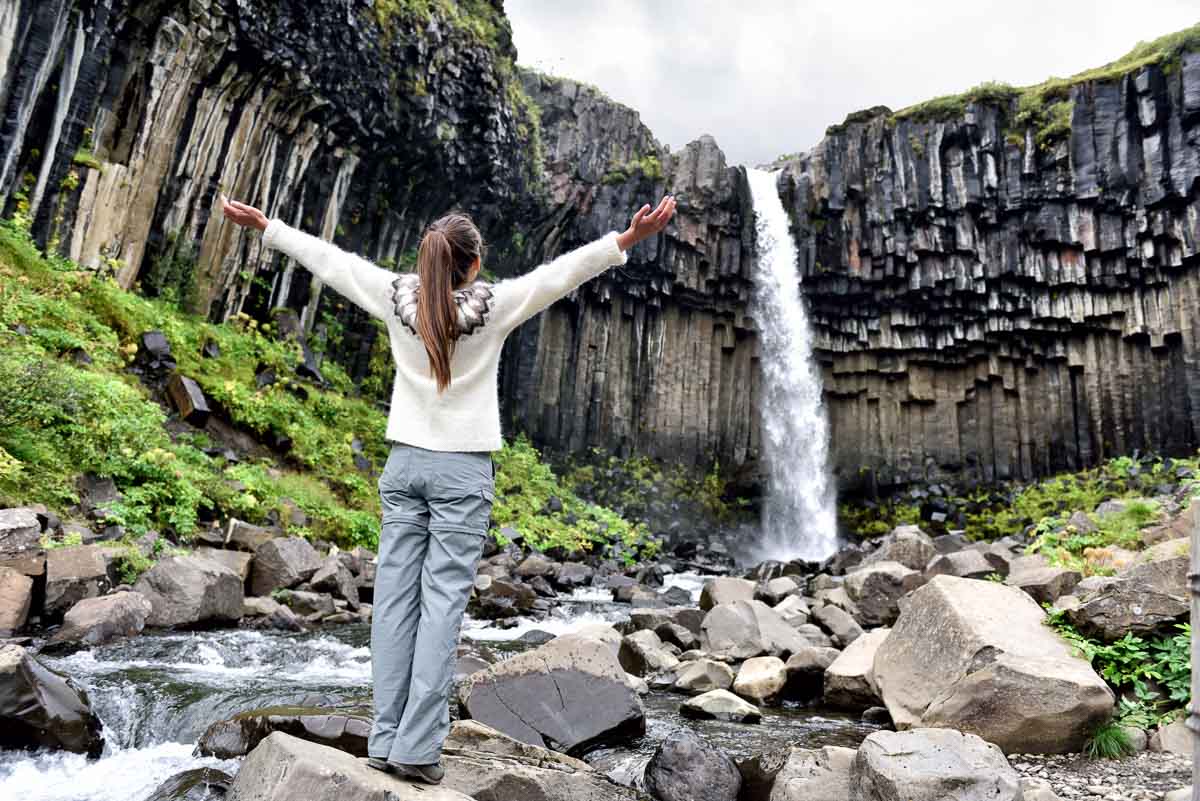 Hiking to see Svartifoss waterfall is the local's fav.
To see Svartifoss waterfall means that you will need to take a walk for approximately 1.5 kilometers or 45 minutes – one way –  from the Skaftafell Visitor Centre. The trail, fairly well-marked and maintained, takes you through birch woods and over rugged volcanic terrain, offering glimpses of other minor waterfalls along the way.
Guided Tours and Trekking
Southern Iceland's wealth of waterfalls turn every tour into an incredible show of the country's unparalleled wilderness, a key reason behind the popularity of guided tours in the region. Moreover, South Iceland enjoys celebrated recognition for its exceptional trekking paths, making it a cherished destination within global hiking circles.
The favored route along the South Coast of Iceland involves embarking on the Ring Road from Reykjavik, heading south towards Vik, and returning, a fairly leisurely itinerary suitable for both summer and winter. This journey offers opportunities to explore Seljalandsfoss, Gljúfrabúi, Skogafoss, and Kvernufoss waterfalls.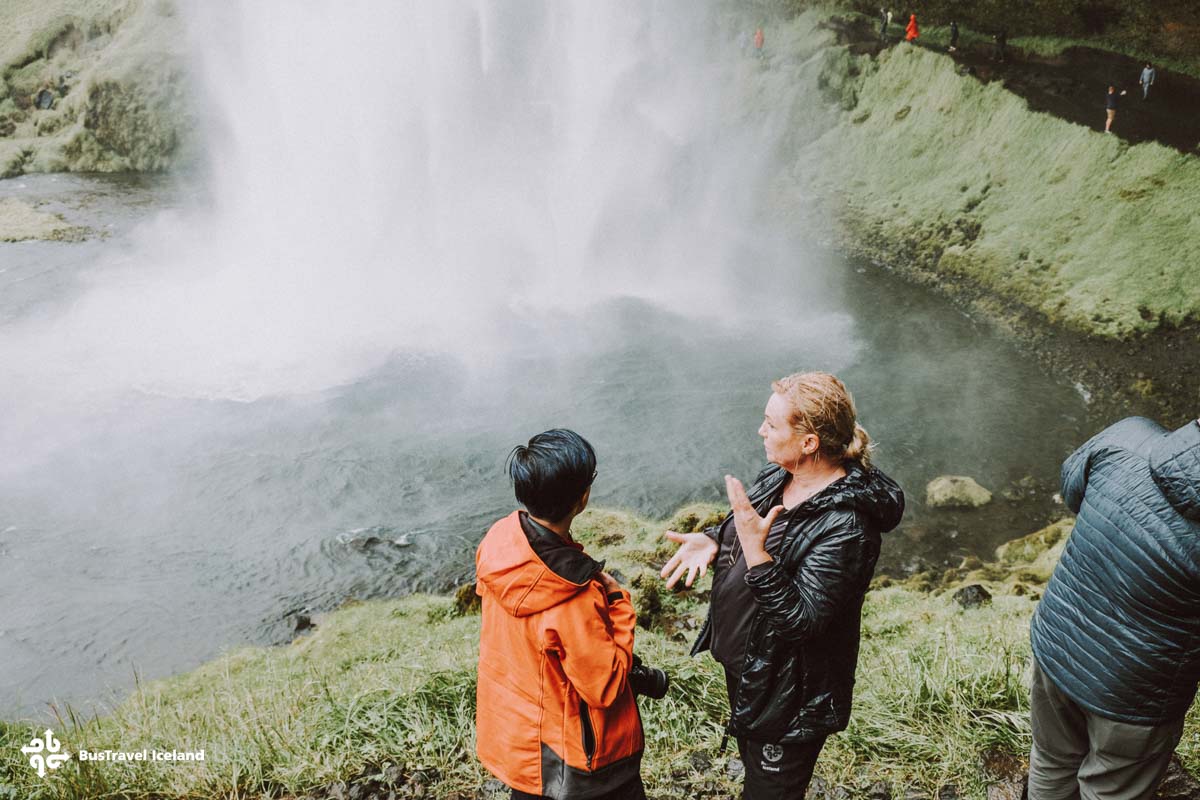 A tour guide is talking about Seljalandsfoss waterfall on a South Iceland day tour.
A major advantage of joining a guided tour is the company of an experienced, knowledgeable guide. They will share insights about local culture, nature, geology, and even fun facts, enriching your understanding of the sights and experiences.
South Iceland's trekking trails offer unique viewpoints to admire waterfalls, revealing breathtaking scenery and initiating an intimate bond with Iceland's untamed nature. A favorite among these is the Fimmvörðuháls trail, which either starts or ends at the incredible Skogafoss waterfall. This 25-kilometer (15.53 miles) trail takes you on a journey to Thorsmork, known as the Valley of Thunder, treating hikers to a variety of unforgettable sights that include many smaller waterfalls, glaciers, wetlands, mountains, and volcanoes.
Waterfalls Beyond South Iceland
In Iceland, the abundance of over 10,000 waterfalls is nothing short of a nature's gift.
Beyond South Iceland, many waterfalls continue to dot the island's landscape, each offering a unique glimpse into the rich and diverse geology of this Nordic nation. 
From the roaring Dettifoss in north Iceland, said to be the most powerful waterfall in Europe, to the iconic Gullfoss waterfall in the Golden Circle, also known as the golden falls, these natural wonders are the perfect examples of Iceland's wild and beautiful nature.
Háifoss and Granni Waterfalls, Iceland's Highlands
A jewel of the Icelandic Highlands, Háifoss, or the 'High Waterfall,' is a towering spectacle, plunging 122 meters into a dramatic canyon. Its close companion, Granni waterfall, or 'Neighbour,' cascades nearby, creating a duo of waterfalls that are as mind-blowing as they are remote.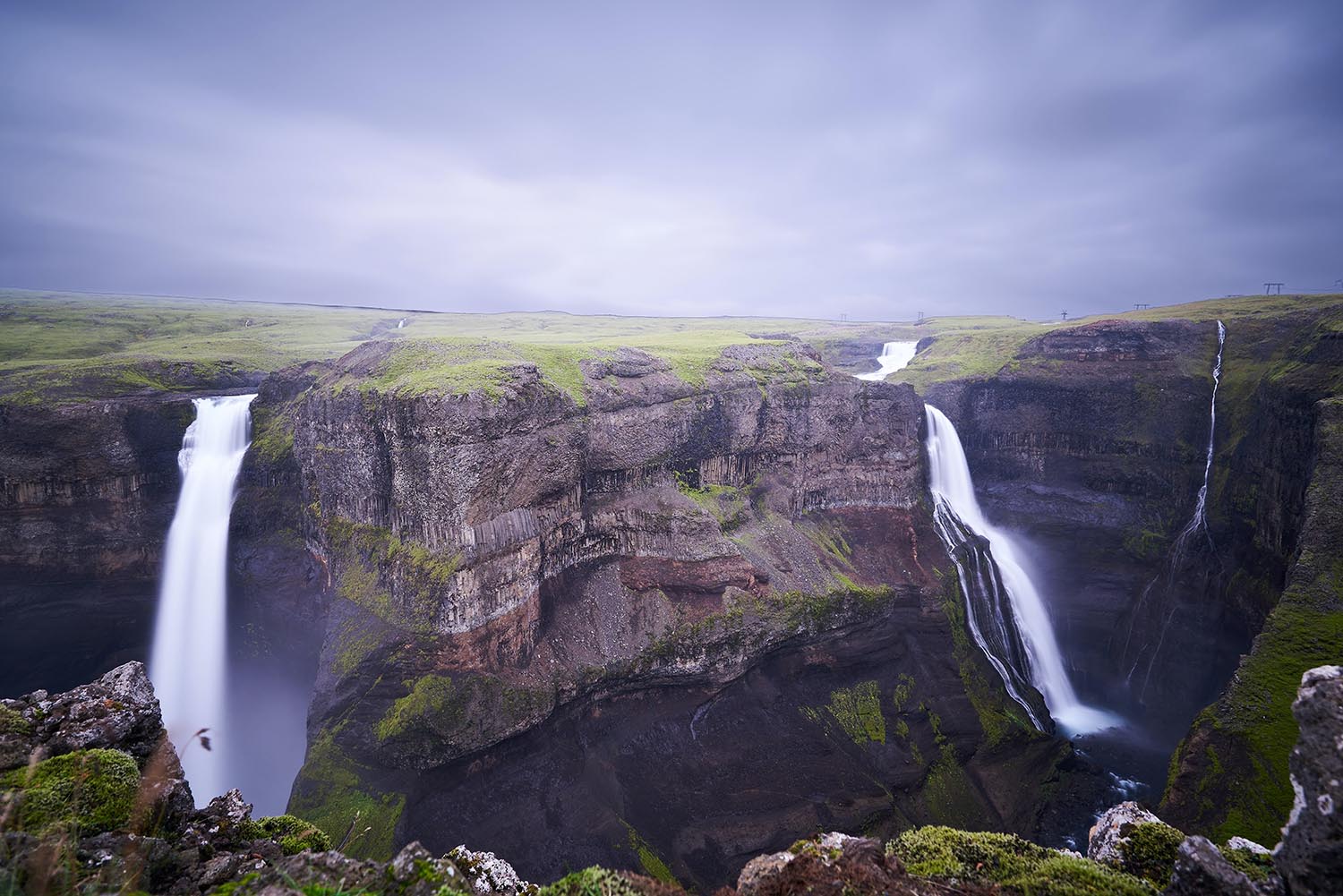 Iceland's Highlands' gems – Háifoss waterfall, and Granni waterfall.
Kirkjufellsfoss Waterfall, West Iceland
Kirkjufellsfoss waterfall in the Snaefellsnes Peninsula is a charming sight. Its gentle cascade is framed by the iconic Kirkjufell mountain, forming a picturesque panorama. The sight of the waterfall flowing with the mountain in the backdrop, especially during sunset or under the Northern Lights, is truly a fairy-tale spectacle.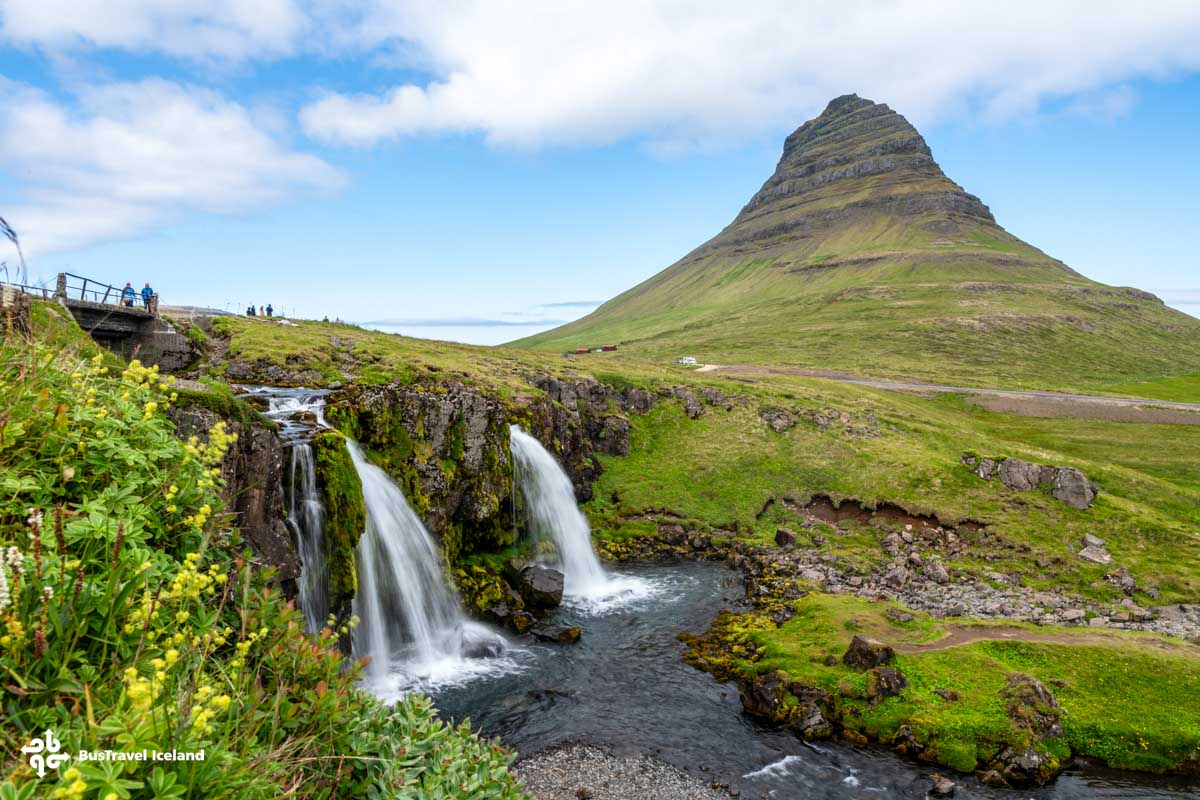 Mt. Kirkjufell and waterfall is a must-see sight in Iceland. Photo credit to Yanshu Li.
Glymur Waterfall, Hvalfjörður
Glymur Waterfall is a special place in the green Hvalfjordur fjord. It's the second tallest waterfall in Iceland, falling down an astonishing 198 meters into a winding canyon. This creates a beautiful sight, one you can see even from afar. If you hike to it, you'll get a great view of this amazing piece of nature.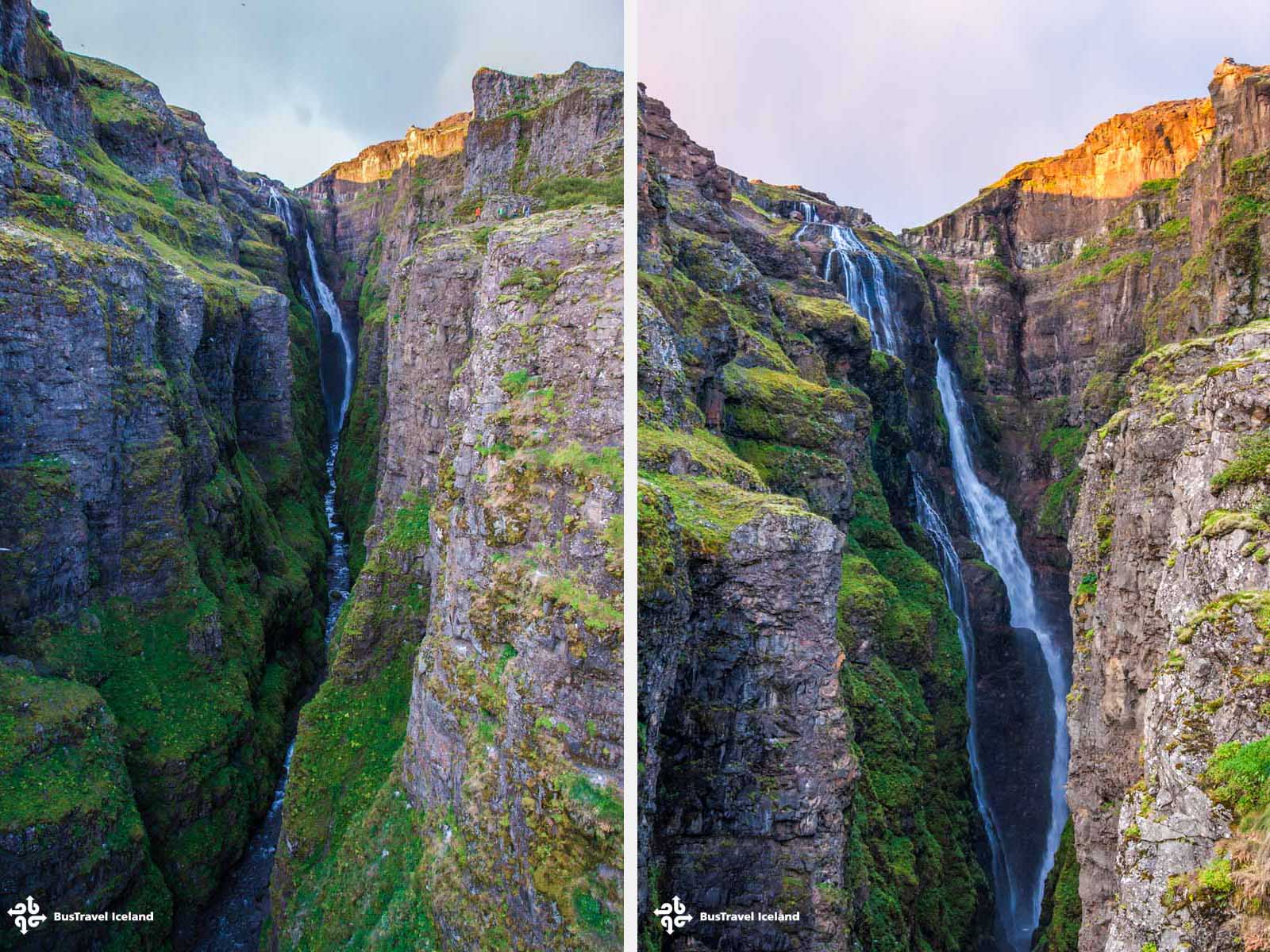 Glymur waterfall from a far and close-up, at sunset in summer. Photo credit to Yanshu Li
Dettifoss Waterfall, Northern Iceland
Dettifoss waterfall is located in North Iceland within the popular Diamond Circle Route. where volcanic energy is strong and ever present. Regarded as the most powerful waterfall in Europe, it drops a thunderous 44 meters into Jökulsárgljúfur canyon. The sheer force of its icy glacial waters creates an overwhelming cloud of mist that you can feel from far away.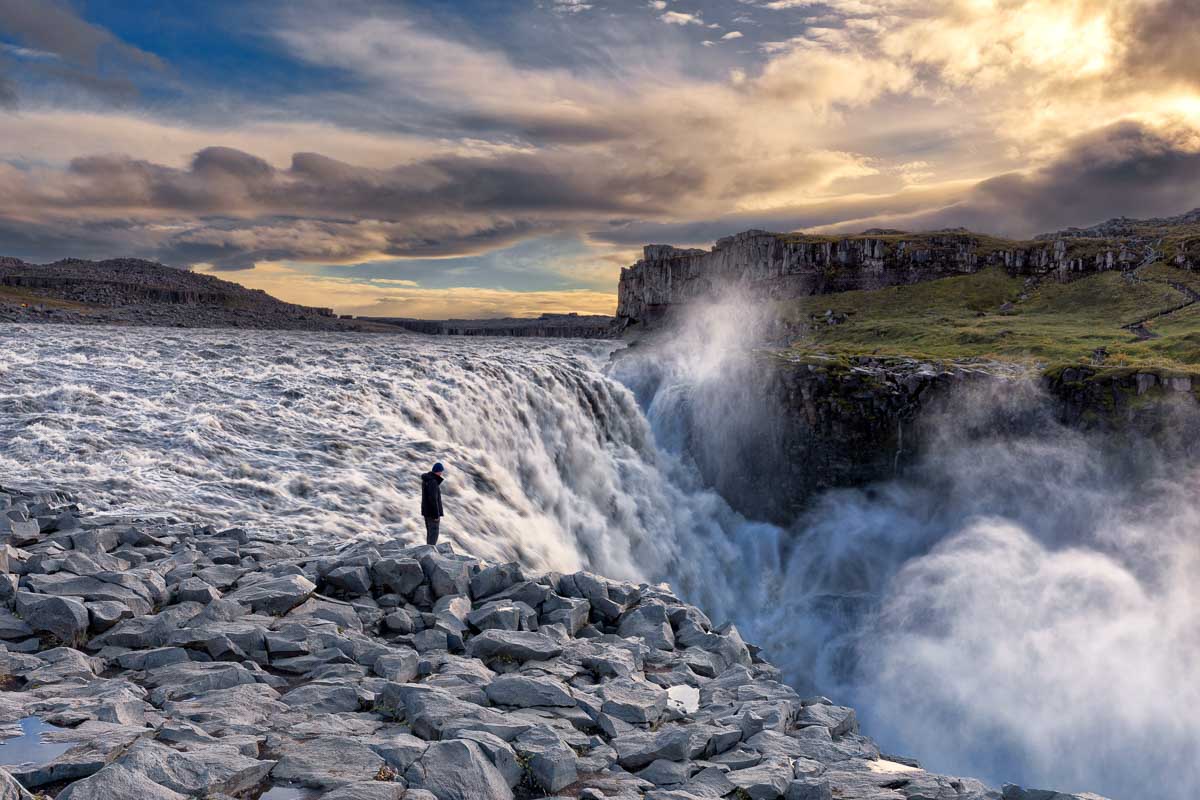 Dettifoss waterfall, North Iceland.
Best South Iceland Waterfall Tours
The most popular tour visiting South Coast Waterfalls is the classic South Iceland one-day tour from Reykjavik, taking you to waterfalls, glaciers and Black Sand Beach. You can hop on a couch tour or join a small group tour for a more intimate travel experience. 
Golden Circle and South Coast Combo: This tour combines the famous Golden Circle Route,  during which you get to see the Thingvellir National Park, the Geysir Geothermal Area, and the Gullfoss Waterfall, with highlights of the South Coast including Seljalandsfoss and Skogafoss waterfalls. It's one of the must-do trips to Iceland.
South Coast Full Day Tour: A typical tour that covers the major waterfalls of the South Coast, like Seljalandsfoss and Skogafoss, and often includes a visit to the black sand beach of Reynisfjara.
Landmannalaugar Hiking, Nature Bath, and Waterfall tour. This tour often includes stops at Hjalparfoss and other falls in the Highlands, which technically belong to the southern part of Iceland.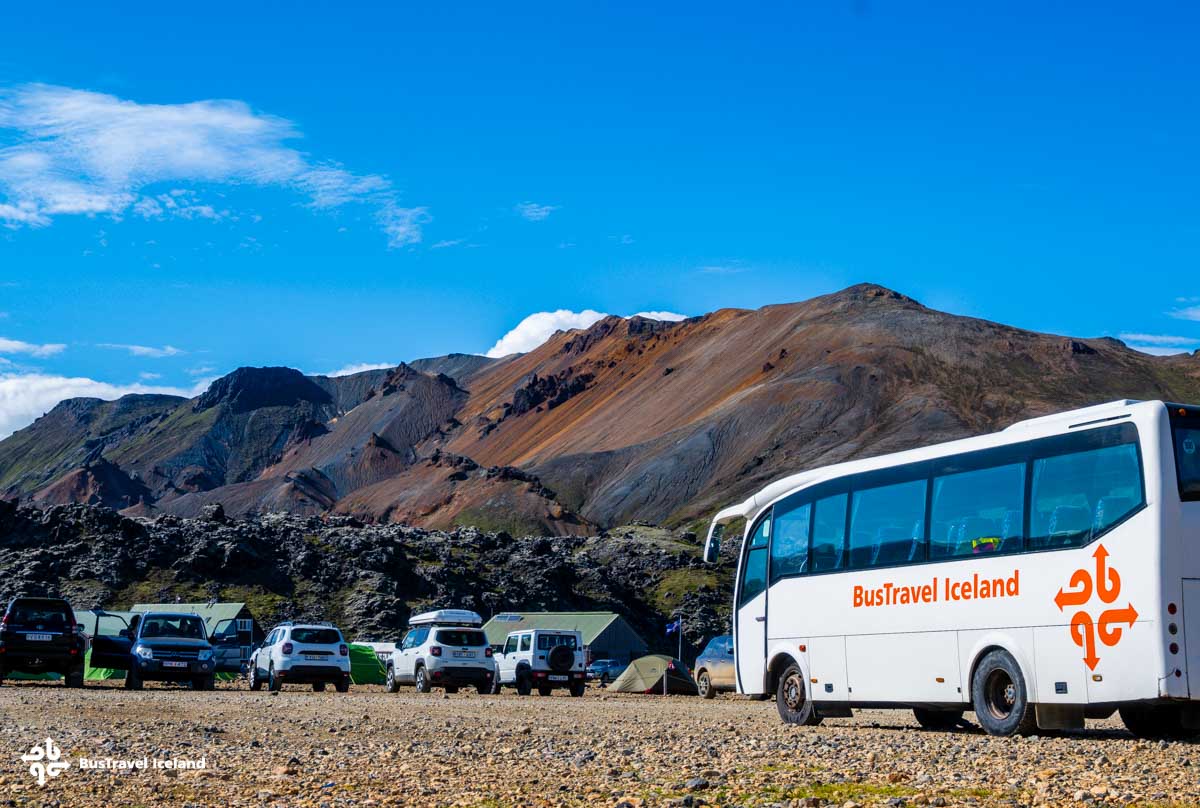 BusTravel bus visiting Iceland's Highlands. Photo credit to Neil Kelleher.
Recommended
Iceland tours
Explore Iceland's beauty with our tours curated just for you, showcasing the best attractions for an unforgettable adventure.