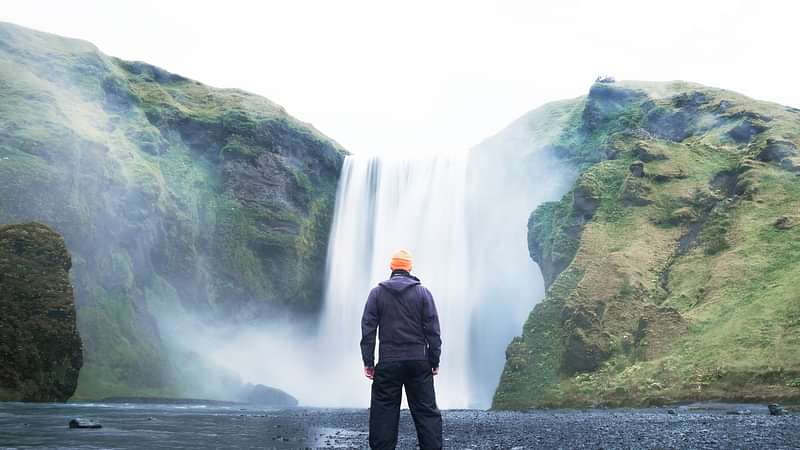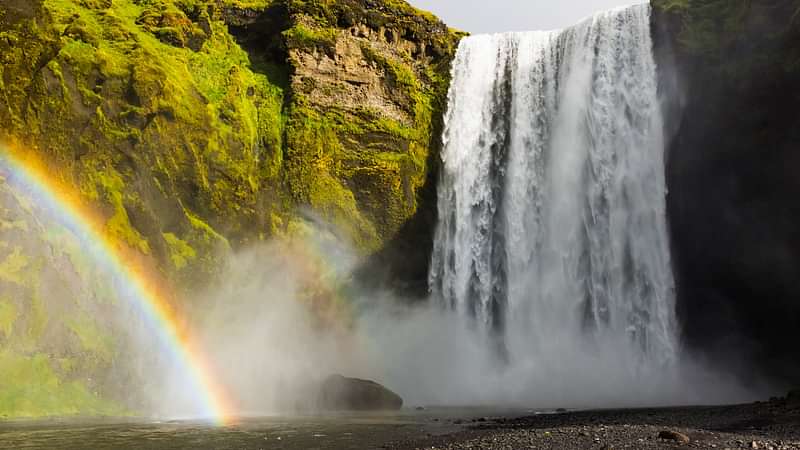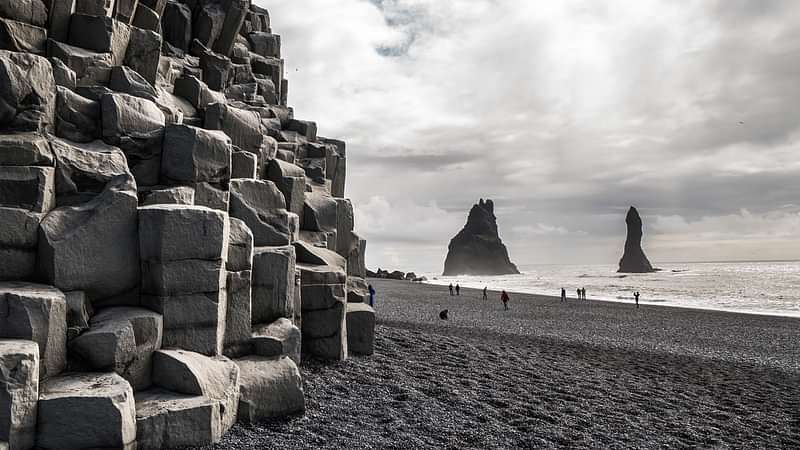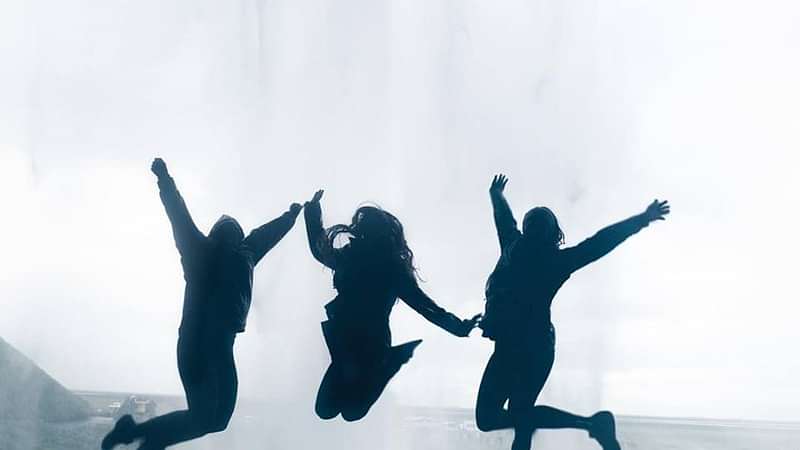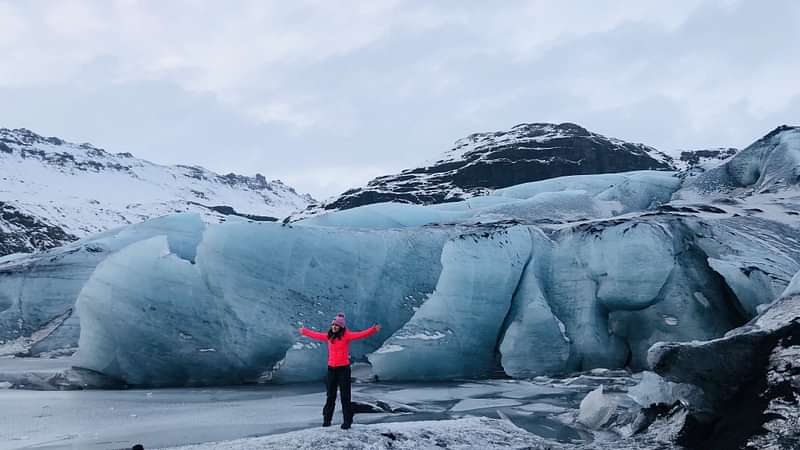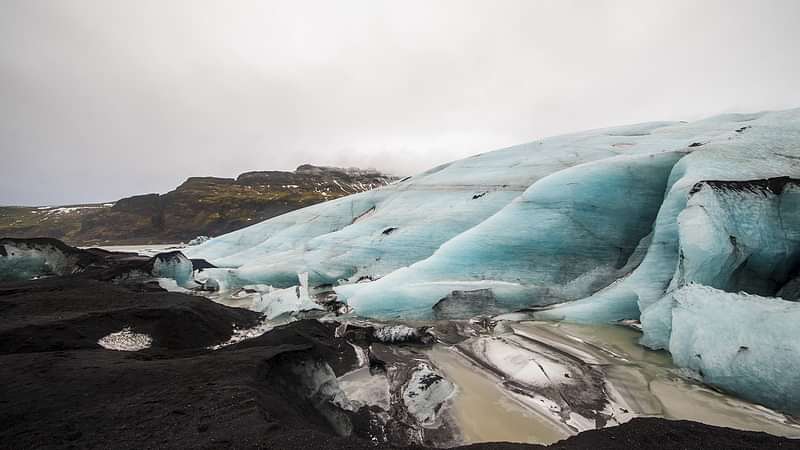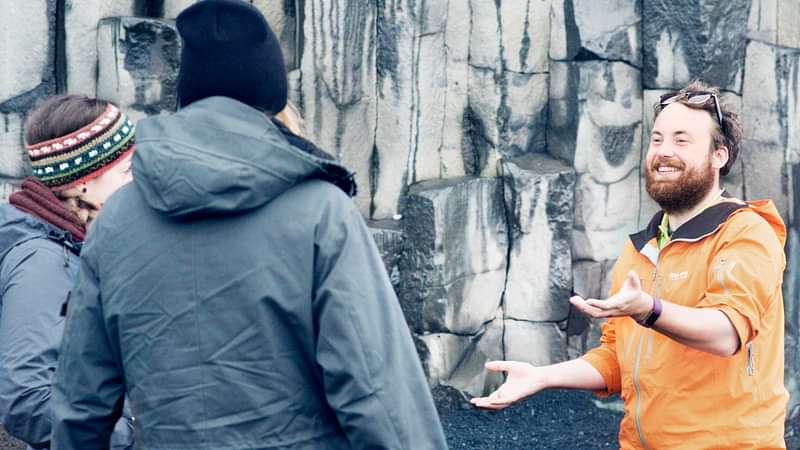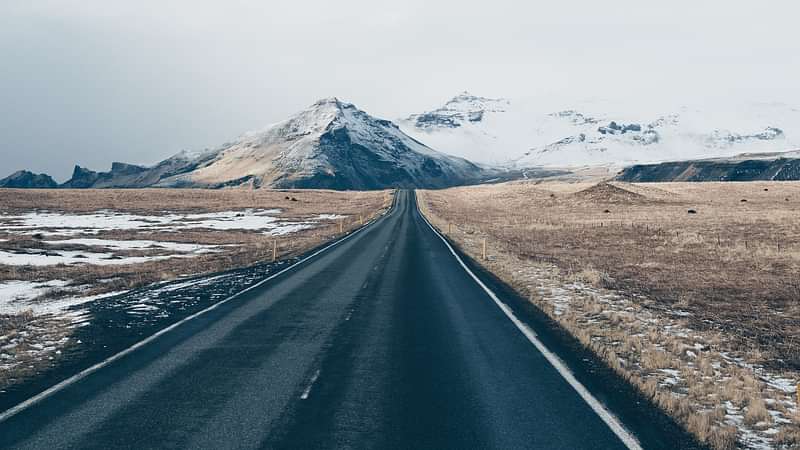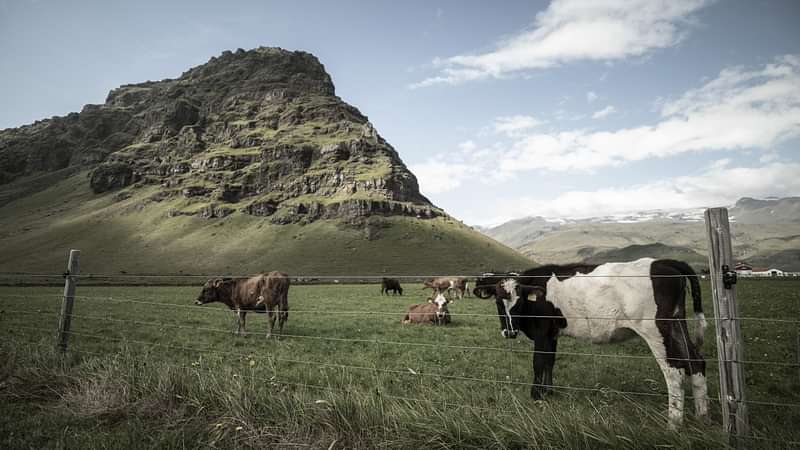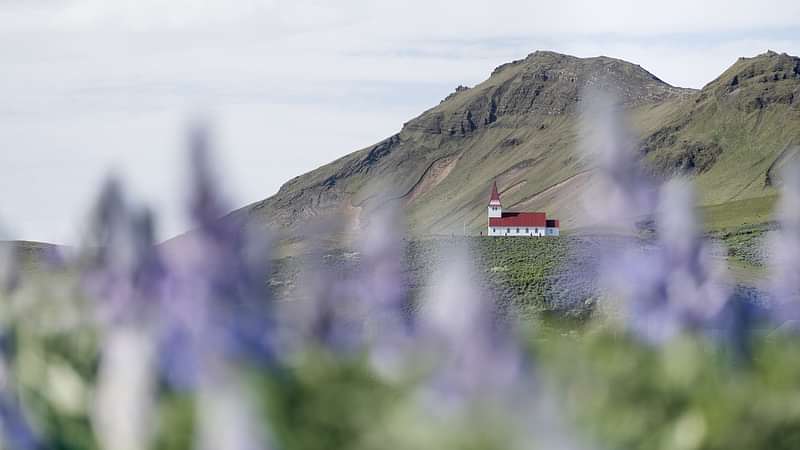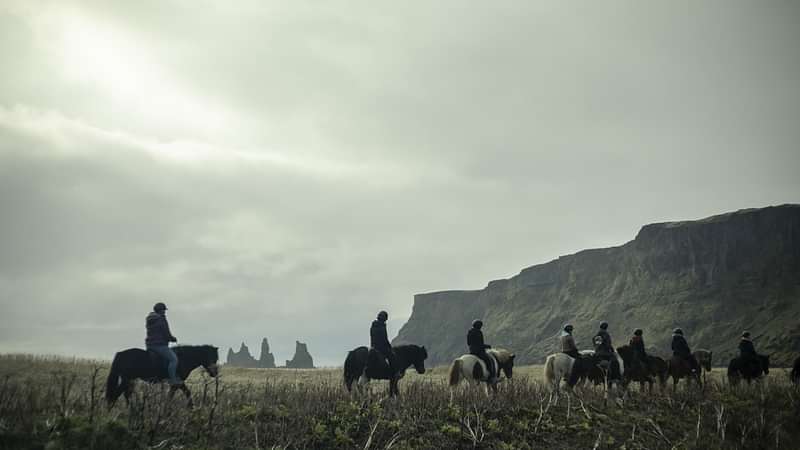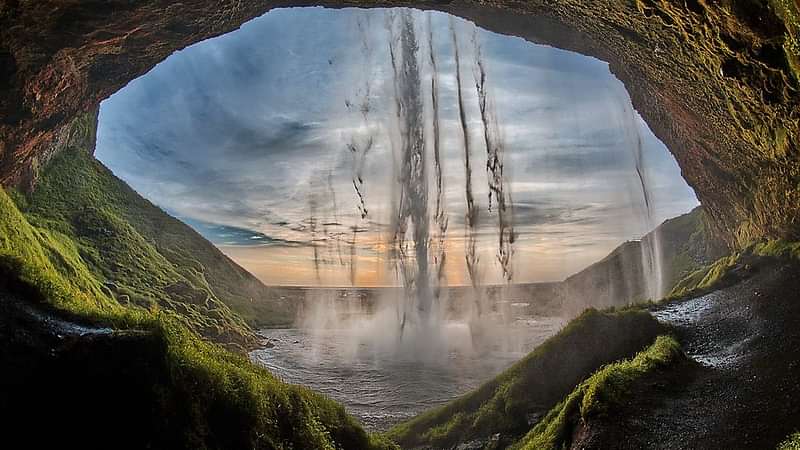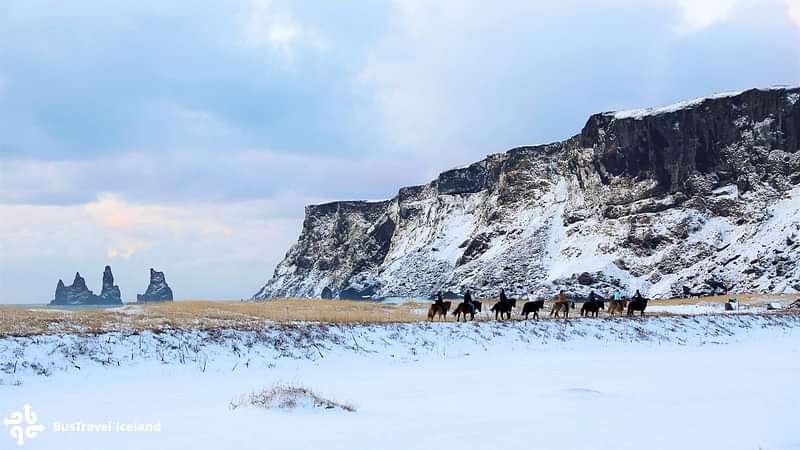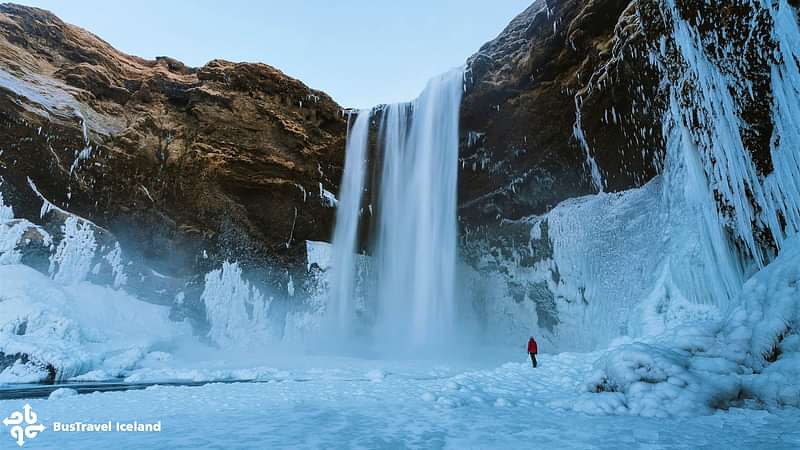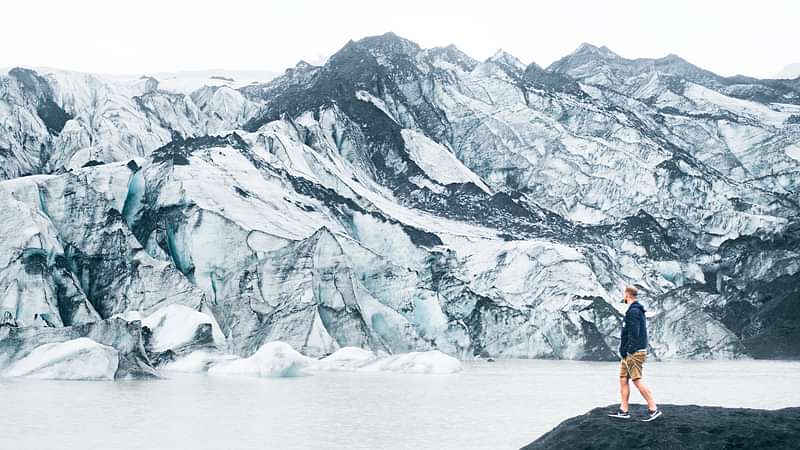 Description
The South Coast of Iceland as explored in this popular day tour has been sculpted and scarred over thousands of years by powerful forces such as volcanoes, glaciers and the sea. These forces have formed a unique and diverse landscape featuring looming mountains, countless waterfalls, otherworldly beaches and much, much more. We will take you to some of the most beautiful places in all of Iceland on this day trip from Reykjavík, including Seljalandsfoss waterfall, Sólheimajökull glacier, Reynisfjara Black Sand Beach and Skógafoss waterfall. On a clear day you can also spot the Hekla Volcano in the distance.
This often wild coastal route takes you to all the highlights to be found as far east as the small picturesque village of Vík. If you wish to explore beyond Vík, than we direct you to one of our fantastic Jökulsárlón Glacier Lagoon Tours.
Highlights
Seljalandsfoss Waterfall
Skógafoss Waterfall
Sólheimajökull Glacier
Walk and exploration in glacier landscape
Reynisfjara black basalt beach and basalt columns
Village of Vík and Reynisdrangar seastacks
Itinerary
Your day begins with our fast and efficient pick up service which collects from various approved locations across the capital area. If in doubt, reach out to our customer service team who can advise you of the closest pickup location to your accommodation. Once everyone is onboard we set off eastwards before joining Route 1 highway, more commonly known as the Ring Road.
This route hugs the coastline for much of our day, which can often lead to windy conditions, with Reynisfjara especially a renowned wind-trap. Be prepared and dress accordingly. Depending on the conditions, the order in which we visit the stops can vary from day to day.
Be sure to look out for a view of the Westman Islands to the south and Hekla Volcano to the north-east.
Skógarfoss Waterfall
Skógafoss Waterfall is a 60m high waterfall where the Skógá river terminates over what was once sea cliffs. The coastline has receded here leaving this stunning vertical waterfall behind. The intensity and power creates a permanent mist or spray around the area which can often lead to rainbows around the falls on a sunny day.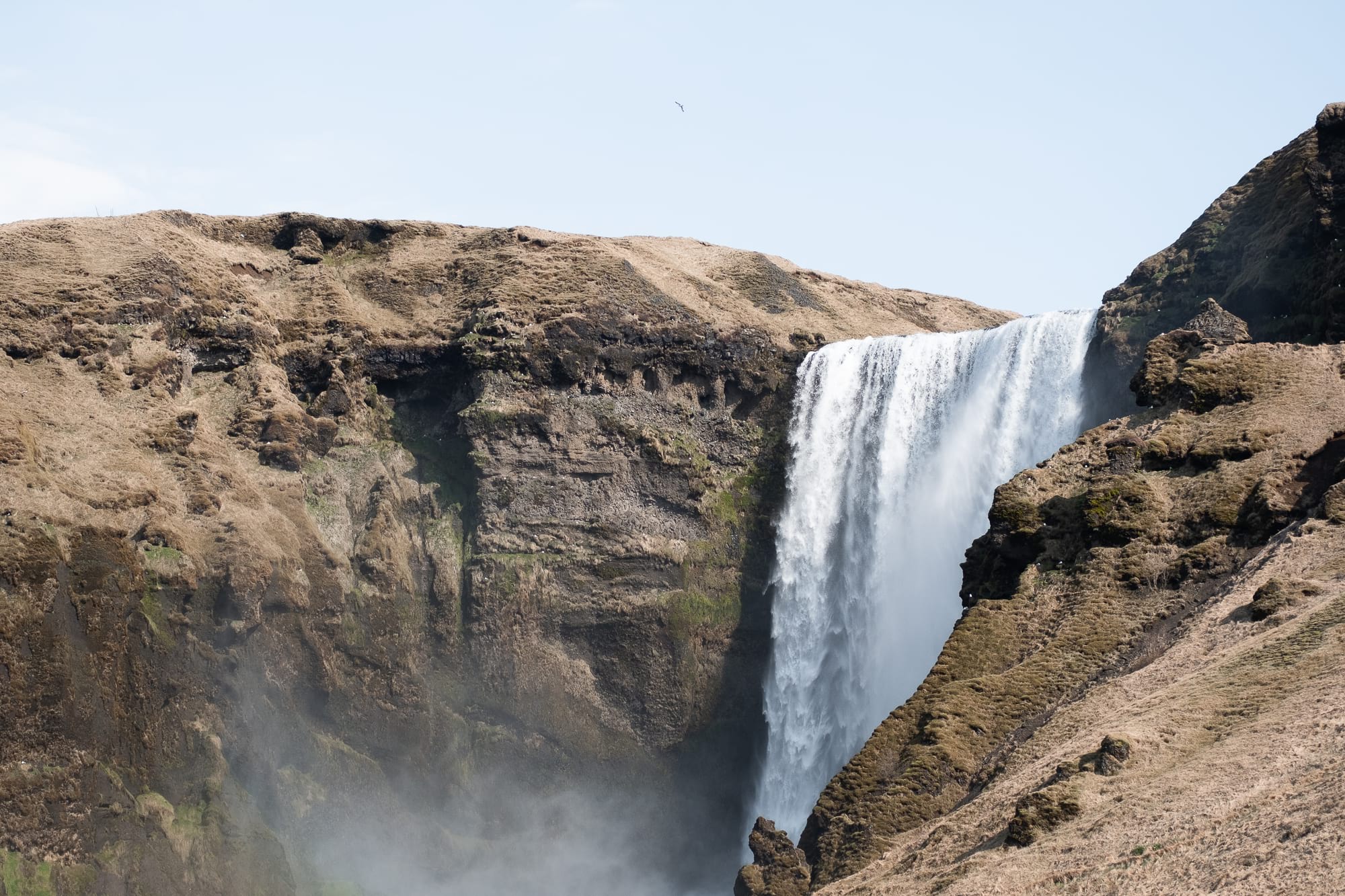 Skógafoss is actually the last in a series of waterfalls working their way down from the highlands. If you take up the challenge and climb the steep staircase of 370 steps to the top viewing platform, you are not only rewarded with a bird´s eye view, but you can follow a trail up the mountain passing countless smaller falls along the way. This is actually the starting point of the Fimmvörðuháls trail, a 22km route to the highland area, Thorsmörk. From there many hikers continue on the Laugavegur trail all the way to Landmannalaugar. In a sense then, Skógafoss is the entrance to the highlands of Iceland.
Reynisfjara Beach
One of the most visited and beloved of all Iceland attractions, there is an otherworldly, elemental quality to the landscape here. The competing forces of lava and the sea interacted here to create a cliff of basalt columns, a large domed cave and of course the famous black sand itself. Steaming lava from an eruption at the nearby Katla volcano once entered the sea here and the power of the sea in turn eroded and broke down this lava into the black sand we see today.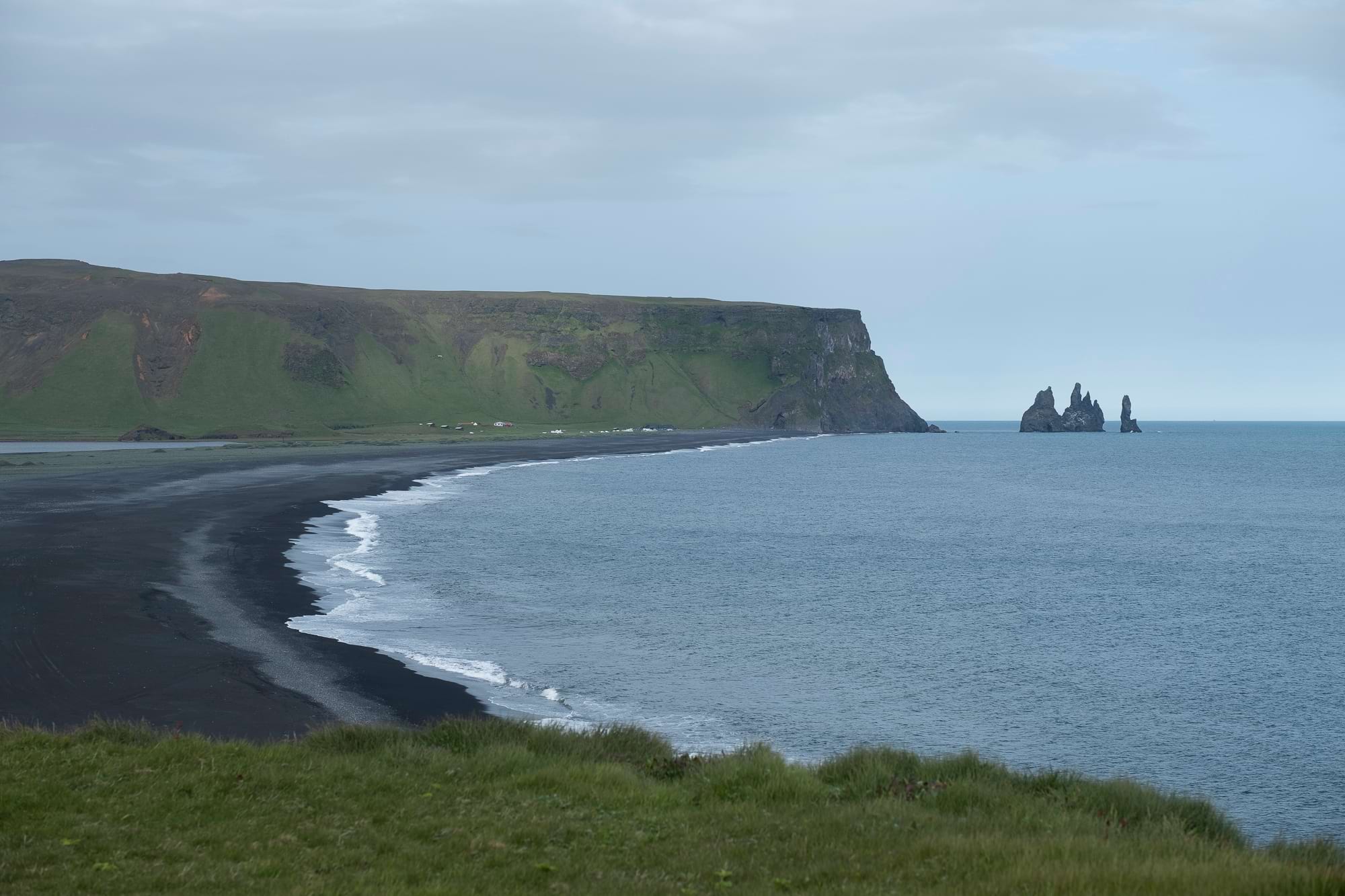 The sea can be wild here so make sure to follow your guide´s instructions and avoid the speaker waves which can be extremely dangerous.
Named in National Geographic´s Top Ten list of the world´s most beautiful non-tropical beaches.
Vík Village
Vík is a small village which is the southernmost on Iceland´s mainland. With views of Reynisdranger basalt columns to the south, a black beach and a great panoramic view from church on the hill, this is a charming little enclave.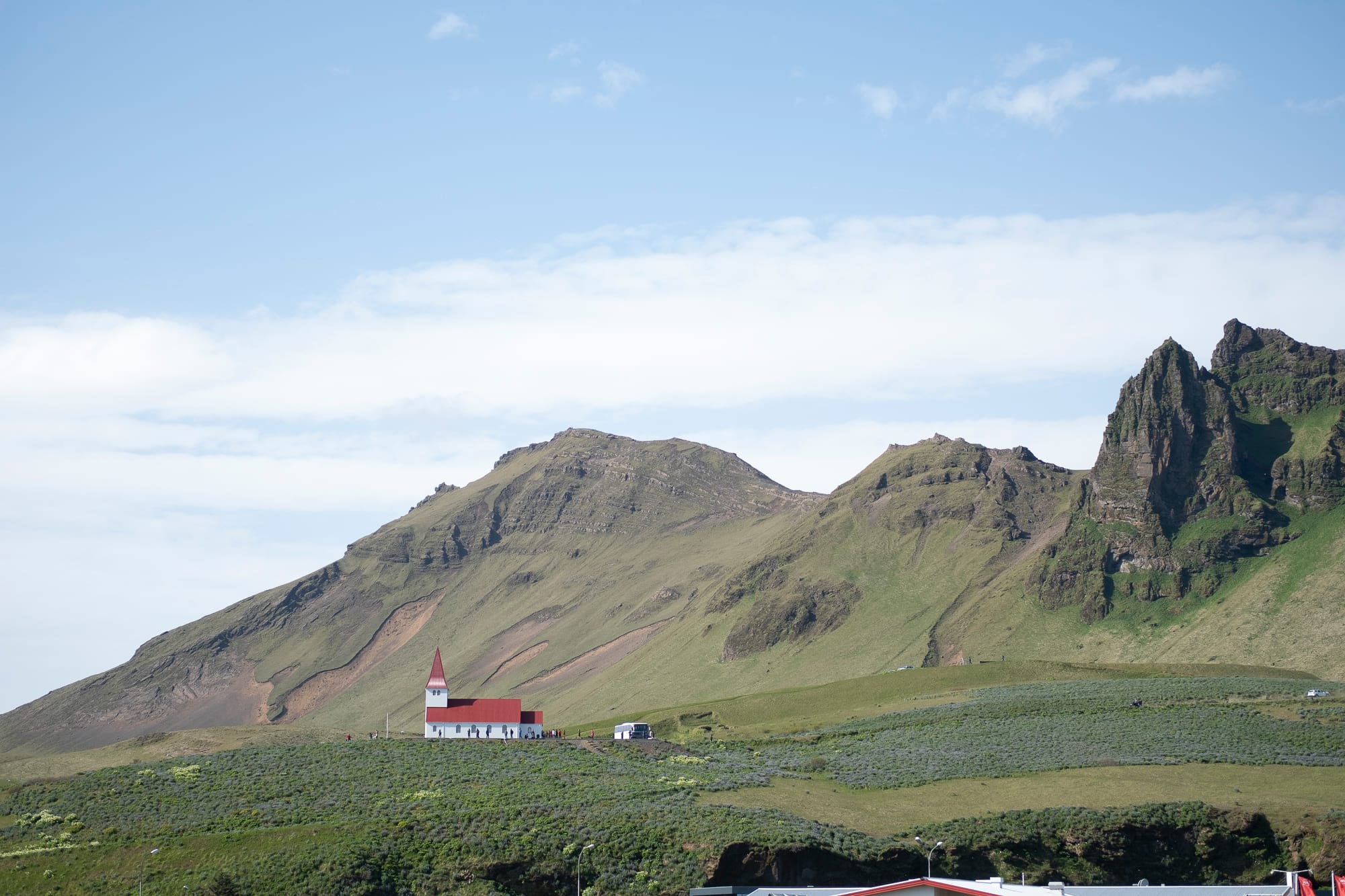 Vík is directly south of Katla Volcano, a sleeping giant beneath Mýrdalsjökull glacier. An eruption here would most likely flood the town with glacier melt-water, a threat the town takes very seriously with frequent evacuation drills.
Here we will take our lunch stop.
Sólheimajökull Glacier
Our next stop is the Sólheimajökull Glacier. This is a so-called glacier tongue radiating from the larger Mýrdalsjökull. After taking the bumpy road we arrive at the parking lot. This parking lot was once situated alongside the glacier itself. The parking lot has not moved but the glacier itself has sadly much receded in past two decades, so much so that the walk to the ice from the parking lot now takes around 15 minutes.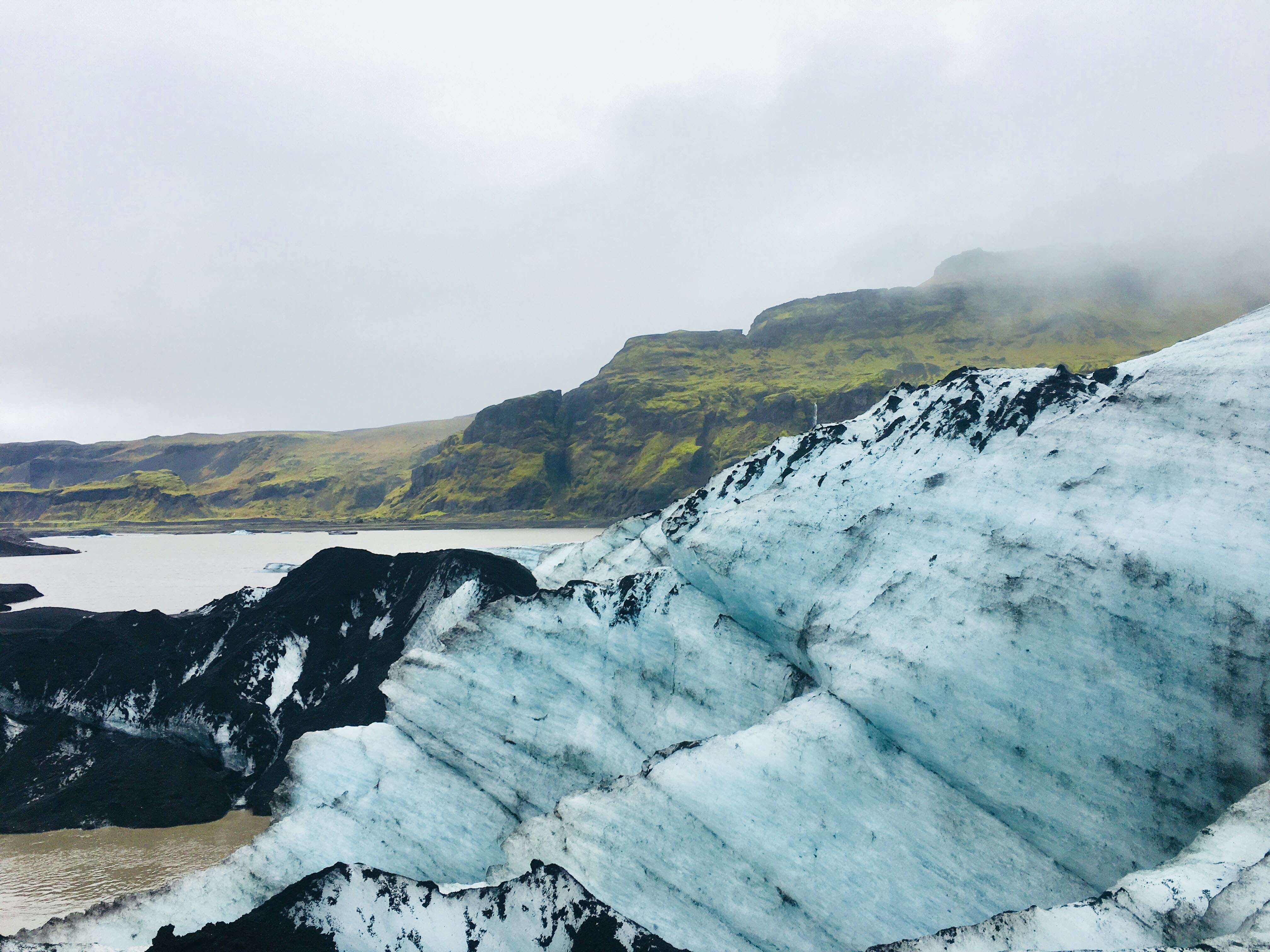 The trail to the edge of the glacier is over uneven terrain but it is not particularly hilly so is suitable for most everybody. We pass a large glacier lagoon which has formed from glacial meltwater. Large sections of the glacier have been known to break off into the lagoon, a process known as Glacier Calving. Your guide will discuss the science behind glaciers, their role in shaping the landscape and their future in the face of climate change. The glacier recedes more each year and the future is tragically most uncertain.
Seljalandsfoss Waterfall
Our last stop of the day is to Seljalandsfoss waterfall, a highly memorable experience for all guests who join us on this tour. This elegant waterfall is 60m high, just like Skógafoss, but much less powerful. It is fed by the Seljalandsá river which originates beneath the Ejyafjallajökull glacier, another example of how different forces combine to form the landscape and features of the Icelandic countryside. Famously, there is a walking trail running behind the falls here, offering a unique, though wet perspective!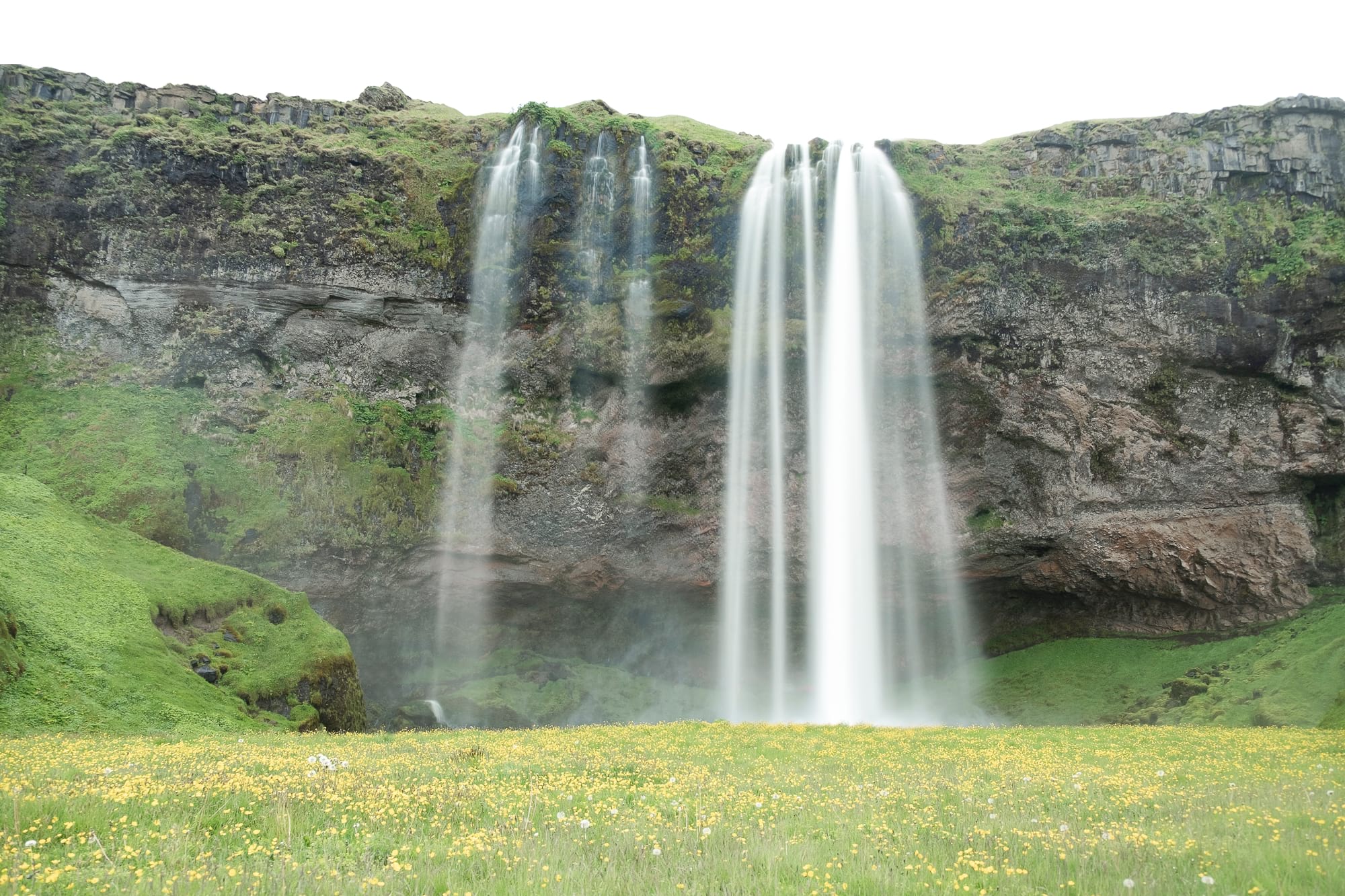 Seljalandsfoss also marks the entry to Thorsmörk nature reserve, located along a rocky road to the north of the waterfall. Close to Seljalandfoss, one can find Gljúfrabúi, a hidden waterfall and a favorite of photographers.
After Seljalandsfoss, we return west to the capital region. Our bus will drop you off to the same location from which you were picked earlier in the day.
What's included
Professional guide
Free WiFi
What's excluded
Pickup and dropoff
Food and drinks
What do I need to bring
Warm, water- and windproof clothing are always useful in Iceland. If you wish to walk behind Seljalandsfoss, it is highly recommended that you wear a waterproof out layer.
Good sturdy shoes
All tickets are e-tickets so there is no need to print them out.
Important information
The duration of the tour is 10 hours
There is no food included on this tour but there will be stops where you are able to purchase food
Sólheimajökull glacier is a 15-20 min walk from the parking. Good shoes are very important.
Reynisfjara is dangerous! It may not look like it but it is. Please study the signs carefully, don't go too close to the water and follow the instructions from your guide!
Cancellation policy
Cancellation fee of 100% charged if cancelled with less than 24 hours notice.
Guided Language
Reviews!
Thank you for submitting your review
Everything in this tour was amazing. From the easy to find bus stop, to the perfect timing of the driver, the guide, the tour itself, ecc... My guide was "Baggy" and the driver "Albert" and they both were highly qualified and super funny. Every sublime stop of the tour included a satisfing overview of the geological and cultural story of the sites, with Baggy explainig it. During the long travel form Reykjavik the guide would tell us lots of curiosities about Iceland and its people. Always in time with no problems during the tour and pretty cheap. Recommended!
This tour was far more interesting and enjoyable than I expected! Having seen an amazing waterfall the day before on a Golden Circle tour I thought it would be more of the same. it certainly wasn't! We got close to a glacier tongue which was the highlight of the tour for me but everything was awe inspiring and it was easy to take hundreds of photos. Even the landscape we passed on the coach journey was brought to life by our wonderful tour guide Alun, who although not a native Icelander, had all the enthusiasm and knowledge of a local. He made our trip extra special with his interesting stories and information. I recommend this tour highly. Despite being a long and tiring day it was well worth it. I just wish we had longer at each stop .
An amazing tour! Geri, our tour host, was friendly and professional and he gave us a lot of useful and interesting information. The driver (sorry I don't remember the name) was super professional too. I did this tour during mid December and we only had 4 hours of lights a day, so you need to kind of "rush" to beat the darkness and make the most of the daytime. Despite not having much light hours, I found the tour was perfectly balanced and on each stop you had enough time to discover, taking pitcures and enjoying the place. I am a solo and independent traveller and I'm not used to go on organised tour, but I found this was perfect for me!
We highly recommend this tour!! Our guide IGA was super funny and told us very interesting stories and recommendations. The places we saw were amazing, and Iga and the driver (Peter?) offered us some extra stops!
I wasn't sure if I would include this tour during my trip, but I ended up doing it on my last day. I am so glad that I did, all the spots were absolutely magical. I went on 12/12 so it definitely was cold but as our amazing guide said, when its colder the sights are even prettier. We were incredibly blessed to have Pertha ( Perla?) sorry not sure :) as our Guide, she made the trip 100% better with her energetic and positive attitude, all while educating us on Iceland and its history. I would 100% recommend this trip to anyone! This tour is truly for everyone, families, couples, and other solo travelers like myself.
GREATE tour to go for!! In this day we have seen so much Icelandic gems! All Iceland views are thrilling and something I definitely suggest going for. If you like ice- ou yes, we seen Glacier and I managed to lick the ice too! nice and cold :) Our tour guide: Gary -was very informative and punctual! Told so many things about his country. Also, I would like to mention traveling in buss long day could be a bit too much, but it was not as stops were broken up evenly. Our driver Stanislav was real professional driver, and I even had no moment to feel scared or nauseous. I definitely can say that as I had him for two days as my driver. 100% I suggest going for this tour and experience.
Our family of 4 had an awesome experience on this tour. Our guide Devin and bus driver Tomek were not only very dashing in their stylish turtlenecks, but were the best hosts we could have hoped for. We enjoyed Devin's stories about moss, Iceland history and even Justin Bieber (On behalf of Canada, we apologize for Biebs' behaviour in Iceland!!). Devin has an obvious passion for all things Icelandic and it rubbed off on us! Almost 2 months after our trip, we're still explaining to friends and family how to pronounce Iceland's most famous volcano by saying "Hey, I forgot my yogurt!" very fast. Devin, wish we could have heard more stories about moss. They were truly exhilarating! Thanks again for a memorable day.
Большое спасибі компани за предоставленную экскурсию по югу Исландии. Нам сильно повезло с погодой. Был тёплый, безветренный день. Красивая природа.Яркая зелень и мощь водопадов. Особенно впечатлили проход под стеной водопада!Ощутили всю энергию падающий воды. Чёрный грот базальтовой пещеры просто уникален. Такое чудо из столбов я видел только здесь. Все 10 часов протелети незаметно. Будем рады ещё посмотреть и другие туры компании.
Unfortunately, the weather during the tour was not the best, despite this tour was amazing. Breathtaking waterfalls, a glacier and a black beach. Additionally, the tour was so amazing thanks to the best guide Monika and great driver Andrus.
Geri was fantastic. He was funny but even more he was very informative. I forgot the driver's name but he was great as well. My only suggestion would be to add plugs in the seats to charge cellphones. I took so many pictures I ran the battery down.
Great, full-day tour with a fantastic guide. Chiara was an absolute delight, with a wealth of Icelandic knowledge that made the tour much more interesting. She was also pretty hilarious and made the bus ride fly by! Waterfalls and beaches were spectacular, and I would definitely recommend this tour to anyone visiting Iceland.
A great tour. Special thanks to our driver Lucas and our guide Rose. A very good guiding with many stories, legends and many information about touristic objectives, history of Iceland ...
Not only does the tour cover some amazing spots, we've also got some extra stops on the way to enjoy the beautiful surroundings. Our guide Iga was AMAZING (great knowledge and sense of humor, and her energy level is out of this world :D). We've felt taken care of, and had a great time.
Awesome tour and a awesome guide is a good combo. Got to see a lot of interesting and beautiful sights and places + lessons in everything from mythology to science.
I had the pleasure to be guided by Monika, a amazing guide (knowledgable, helpful and very great energy) This was by far my favourite Tour on my 1 Week Iceland tour. The Waterfalls we saw were incredible especially Seljalandsfoss Waterfall, if you have the chance to walk behind the it go for it! it was totally worth it being completely drenched afterwards. My second favourite stop was definitely Reynisfjara Beach, even though I was hit by the "sneaky wave" and my feet got feet, it was worth every single moment of it. Thank you Monika for this amazing experience!!
Our tour on the South Coast with Monika was absolutely wonderful. The scenes visited are marvelous, seeing the blue glacier is a unique experience, almost a "once in a lifetime" due to the rapid melting :( The black sand beach is such dramatic, majestic, beautiful but scary too, so you rather listen to your wonderful tour guide, Monika. Monika is a very energetic, well informed and funny tour guide. We really enjoyed the tour with her, she offered a lot of information, stories and all kind of references. I especially appreciateted that she played a lot of local Icelandic music, definitely new items on my list! I wholeheartedly recommend the tour and the team (Monika and Albert) to everyone who is interested in this unique area! Thank you for the experience!
The South Iceland tour with Monika was fantastic. She was very informative and we learned a lot about the history, culture, economics, traditions, music, and geology of Iceland. We very much enjoyed the whole trip and the many stops. She even offered to take pictures of us and introduced us to Icelandic music, which we listened to in the breaks between the explanations. This made the experience even more magical. We also had a fantastic driver Michal. Highly recommended tour!
We had an absolutely fantastic time with bus travel Iceland throughout our stay; they're very efficient and a really friendly tour operator. The south coast tour was very well organised with enough time at each stop, the views were breathtaking and unlike anything we'd ever seen before and our guide Monika was knowledgeable, fun and kept us entertained with both her interesting stories and her playlist! Thank you for making our trip so memorable.
An excellent trip from start to finish some great sites to see, well worth it. Our tour guide was Ziggy Anton, he was fantastic, very witty & informative a good photographer too.
Another awesome tour. Our guide was excellent and she told us some amazing Icelandic sagas which where beautiful to hear as we where driving through the countryside. The waterfalls are awesome and worthy of a few pictures just be wary you can quite easily take hundreds of pictures. Black sand beach with the sneaker waves was an experience to see. The Glacier was just wow totally lost for words.
Thanks to our guide the trip became an amazing discovery of the coast and all the points we went to. If you want to know what are you going to see and the history of that places, I would say the tour is highly recommend. Our guide proposed us some order of priority options regarding to an adequate weather to see all the beauty of the see sights we were going to visit. Thanks a lot.
The trip was very well conducted. Simon , our tour guide was both knowledgeable and entertaining. I booked two tours with Bus travel and both were excellent.