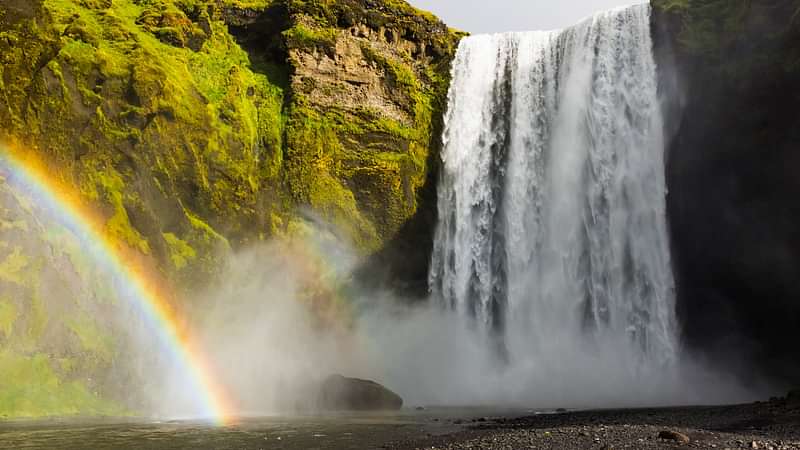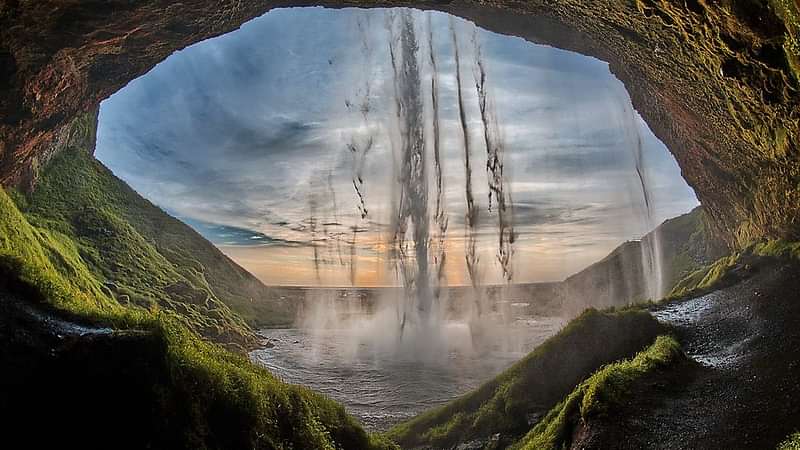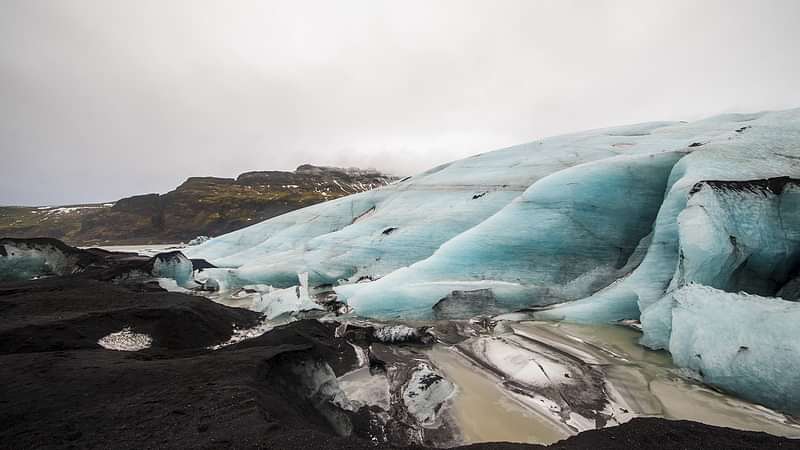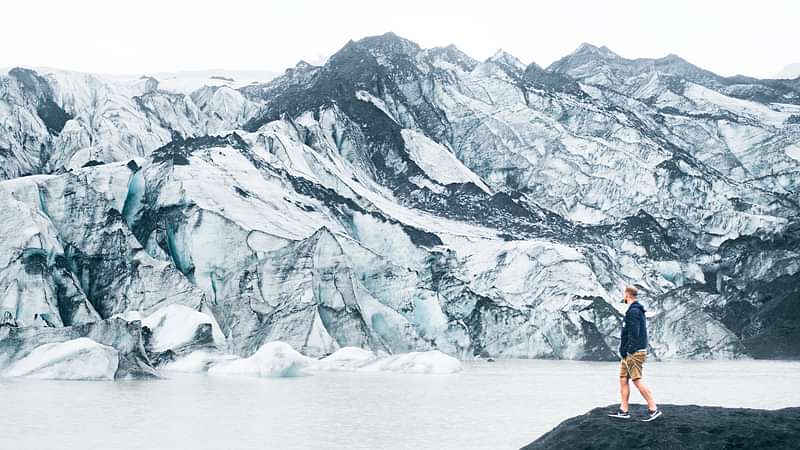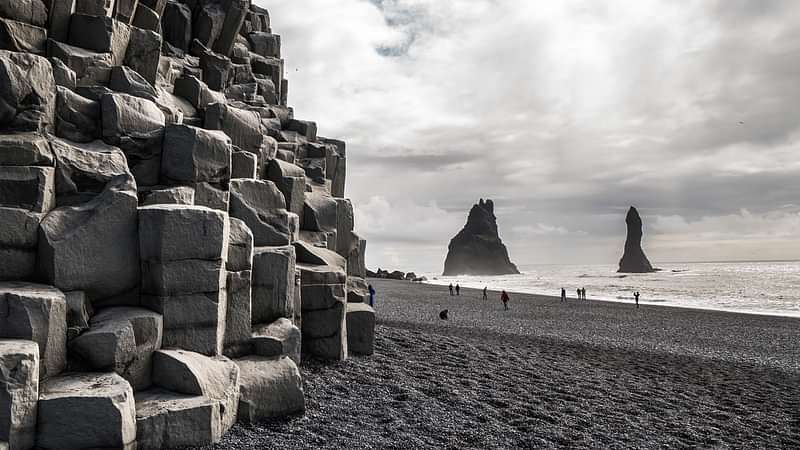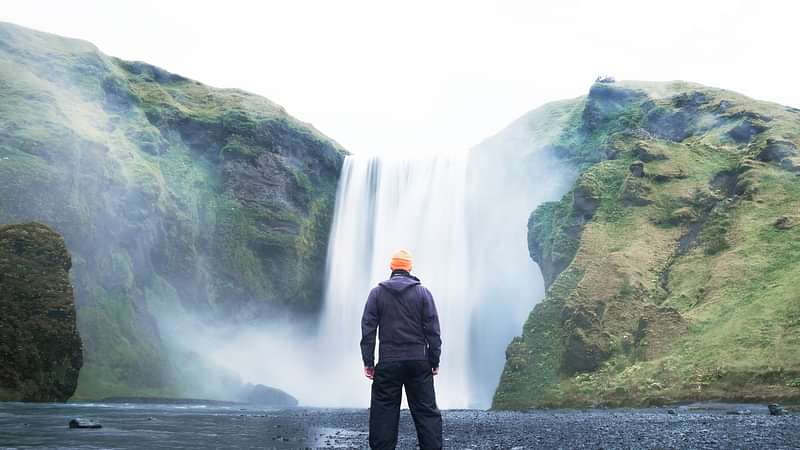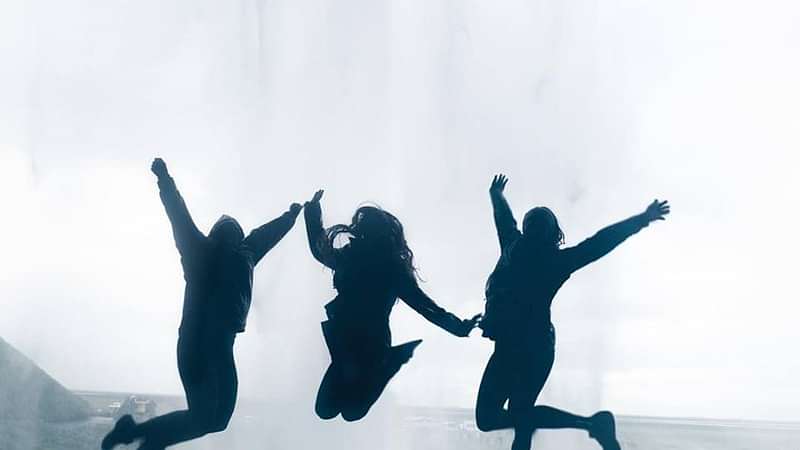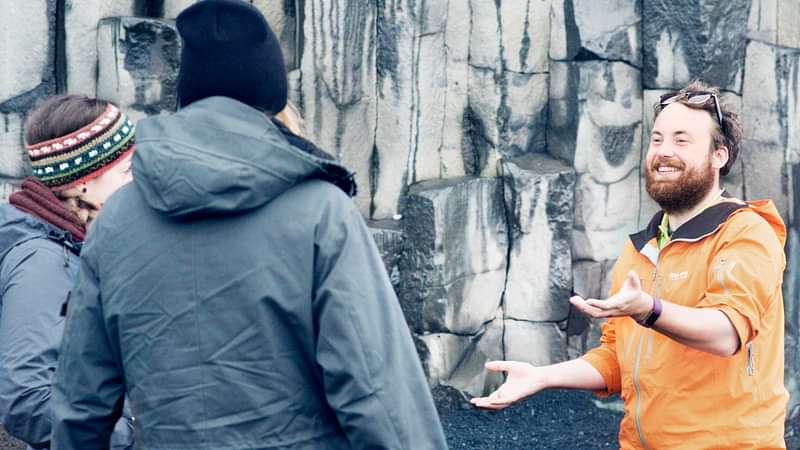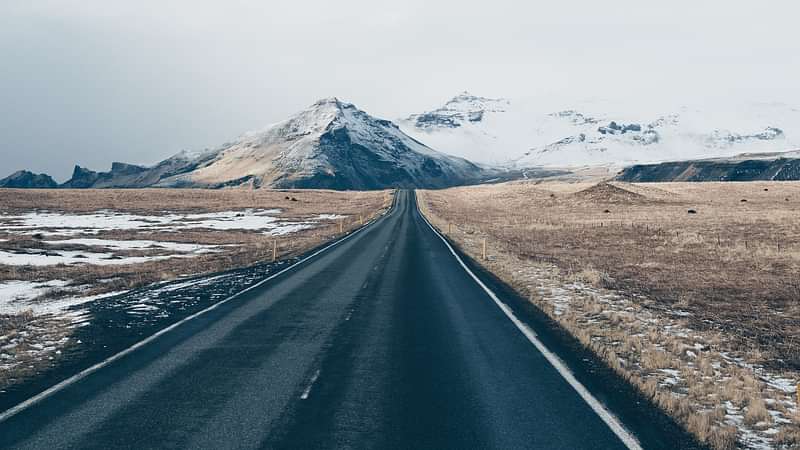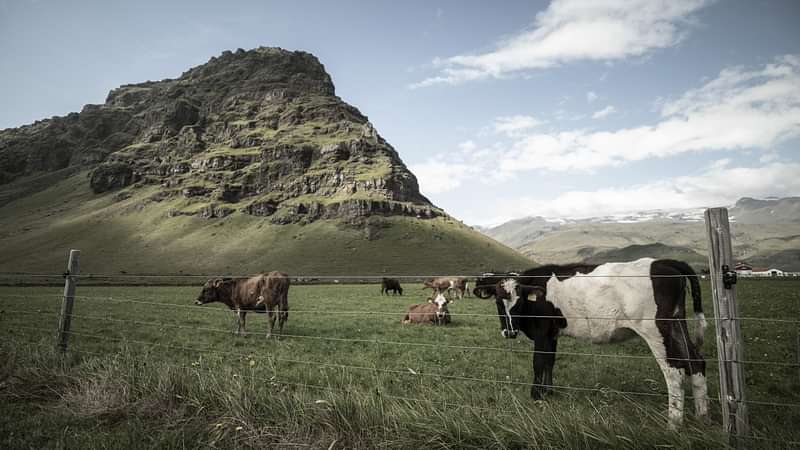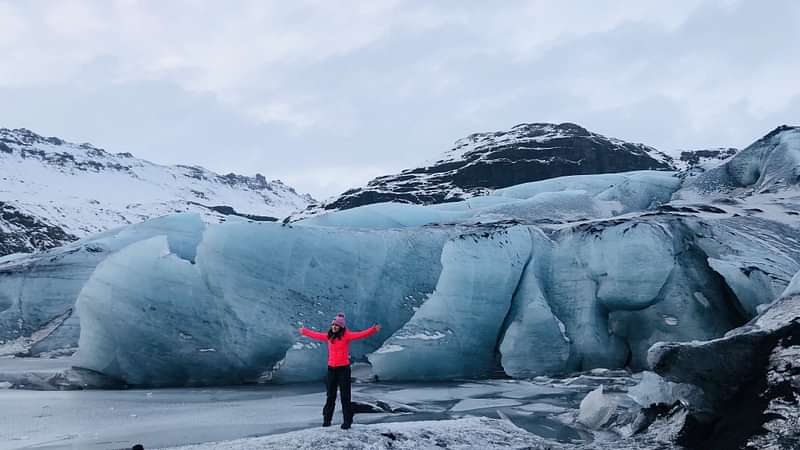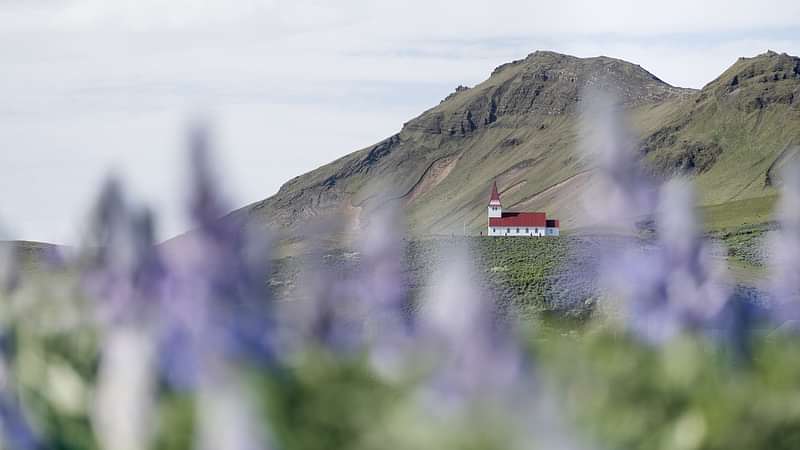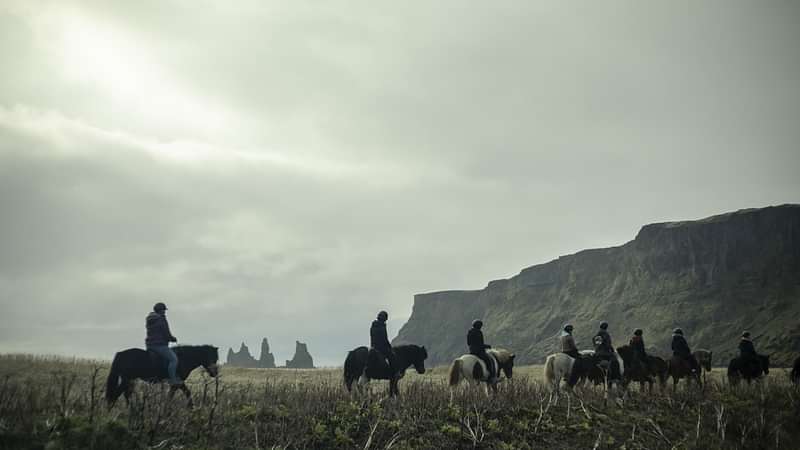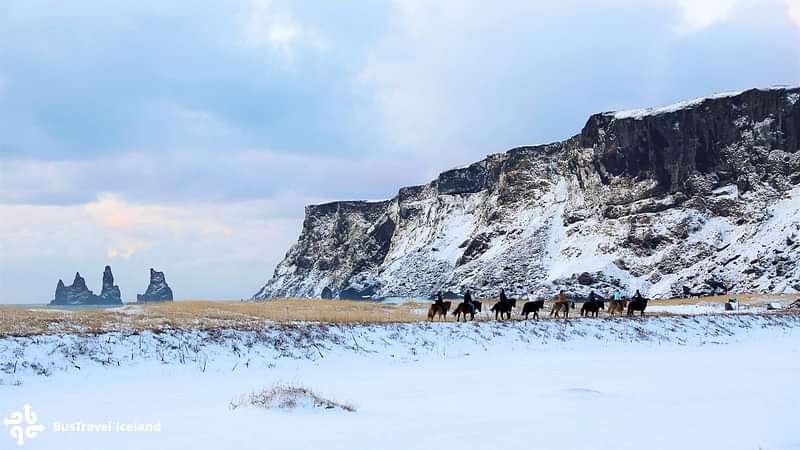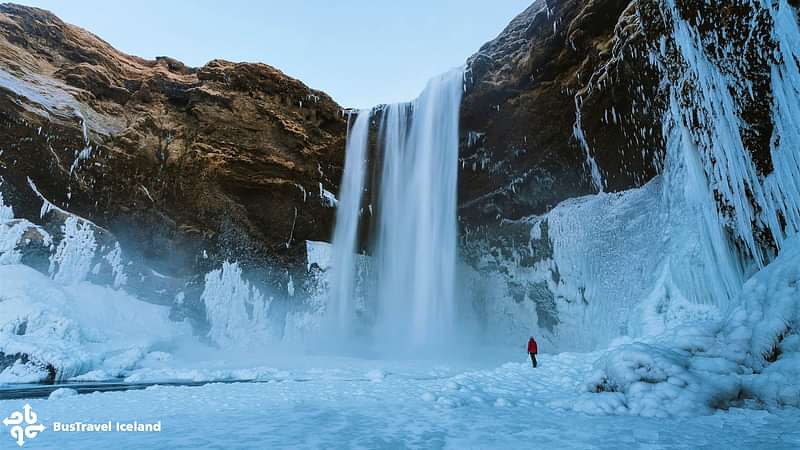 Description
It was Led Zeppelin who once sang about Iceland "We come from the land of the ice and snow from the midnight sun, where the hot springs flow" in their famous hit 'Immigrant song'. These lyrics come from the reputation Iceland has as being a country born of fire and Ice, a reputation that will become incredibly clear to you as you journey along our countries southern coast where glaciers and volcanoes await you.
On what is perhaps one of our most popular day tours you will get to see black sand beaches at Reynisfjara, glorious waterfalls (including one with a unique surprise) in the form of Skogafoss and Seljalandsfoss, Glaciers, Volcanoes and the sleepy little village of Vik.
For nature lovers, this is NOT a tour to miss!
Highlights
Seljalandsfoss Waterfall
Skógafoss Waterfall
Sólheimajökull Glacier
Walk and exploration in glacier landscape
Reynisfjara black basalt beach and basalt columns
Village of Vík and Reynisdrangar seastacks
Itinerary
Your adventures along the southern coast of Iceland will begin in the city of Reykjavik with our fast and efficient pick up service. All you need to do is tell us where you are staying or the nearest approved pick up location and we will take care of the rest. Once we have all of our guests on board we will begin the adventure that will take us away from the buzzing capital to reach the serenity of the Icelandic countryside. The South coast of Iceland faces the north Atlantic ocean and as a result this area often faces the most extreme weather conditions in the country. Therefor we decide the order of places we visits, day to day, according to ever-changing Icelandic weather elements and micro climates.
Skógarfoss Waterfall
Our first stop on this magnificent road is Skógafoss waterfall, standing right at the foot of Eyjafjallajökull volcano. This waterfall is one of the tallest of its kind in Iceland, dropping an awe-inspiring 60 meters down from old sea cliffs. The waterfall itself is incredibly gorgeous and for those who are willing, you can even climb a set of stairs and stand at the top of the waterfall to get a whole new perspective on the landscapes that you have just been travelling through. Be sure to take plenty of pictures of the waterfall but don't get too close as the front rows will get wet!
Reynisfjara Beach
From mountain foots and waterfalls to the North Atlantic Ocean. The black sand beaches of Reynisfjara are next up. This strip of black volcanic sand is regarded as one of the most beautiful of it's kind in the whole world with National Geographic going so far as to name it as one of their top 10 non-tropical beaches. The beauty of the beach does not only come from the black sands but also the striking formations of basalt columns that are found here in abundance and majestic sea-stacks, that could possibly be the petrified body of a troll that got caught in the sunlight!
Vík Village
On the other side of Mt Reynisfjall stands quirky village, Vík í Mýrdal. Vík is surrounded by beautiful features; bright green mountain peaks, black basalt sand, magnificent sea-stacks and a romantic country side church overlooking the town. Vík is the southernmost town on the whole island and a perfect spot to break for lunch. This old fishing town may only have a residency of 300 people but you will find more than enough here to suit your needs and help you recharge your batteries for the rest of the day ahead. There is also a lot of places here where you can buy handcrafted gifts that will be perfect reminders of your time in Iceland. Even with its small size, Vik is the only inhabited area for around 70 Km and with its close proximity to the Katla Icecap has a constant threat looming over it. It is believed that an eruption of the volcano under the ice cap would melt enough ice to flash flood the entire town but thankfully they practice regular evacuation drills to a nearby church whose elevation is believed to be high enough to keep everyone safe.
Sólheimajökull Glacier
Refueled after lunch break we had to the stunning glacier worlds of, Sólheimajökull (The Glacier of the Sunny worlds). Sólheimajökull is a glacier tongue crawling down from Mýrdalsjökull ice cap which covers the beforementioned Katla volcano. A rough path takes you through sand, gravel and moraines until you reach the glacier landscape of Sólheimajökull outlet-glacier and it's glacier lagoon. Your guide will help you explore this icy worlds and take you as close to the ice as your endurance, conditions and safety allows each day.
Please note: The exploration of the glacial landscape requires a walk on uneven terrain. Please keep in mind to wear good sturdy water-resistant shoes that preferably support your angle.
zcenter>
Seljalandsfoss Waterfall
The last stop of the day is a waterfall with a unique surprise!
Seljalandsfoss (Sell-ya-lands-foss) droops down from the foot of Eyjafjallajökull volcano which is old sea cliffs formed after last ice age. The sea has formed a depression in the rock enabling us to walk behind the waterfall and enjoy the scenery from the other side, when conditions are safe enough. Please don't forget to wear your waterproofs when you scoop behind the scenes. The spraying from the powerful water has no manners! Bring a few extra memory cards on this tour because you are likely to fill up several with pictures at this stop. Your camera will thank you!
After Seljalandsfoss we will once again hit the ring road (road 1) as we travel back through the Icelandic countryside to deliver you safely back to Reykjavik with a lifetime of memories to share with the people back at home.
What's included
Professional guide
Free WiFi
What's excluded
Pickup and dropoff
Food and drinks
What do I need to bring
Warm, water- and windproof clothing are always useful in Iceland.
Good sturdy shoes
All tickets are e-tickets so there is no need to print them out.
Important information
Cancellation policy
Guided Language
The duration of the tour is 10 hours
There is no food included on this tour but there will be stops where you are able to purchase food
Sólheimajökull glacier is a 20 min walk from the parking. Good shoes are very important.
Reynisfjara is dangerous! It may not look like it but it is. Please study the signs carefully, don't go too close to the water and follow the instructions from your guide!

Cancellation fee of 100% if cancelled 1 day or less before departure
Reviews!
Thank you for submitting your review
Unfortunately, the weather during the tour was not the best, despite this tour was amazing. Breathtaking waterfalls, a glacier and a black beach. Additionally, the tour was so amazing thanks to the best guide Monika and great driver Andrus.
Geri was fantastic. He was funny but even more he was very informative. I forgot the driver's name but he was great as well. My only suggestion would be to add plugs in the seats to charge cellphones. I took so many pictures I ran the battery down.
Great, full-day tour with a fantastic guide. Chiara was an absolute delight, with a wealth of Icelandic knowledge that made the tour much more interesting. She was also pretty hilarious and made the bus ride fly by! Waterfalls and beaches were spectacular, and I would definitely recommend this tour to anyone visiting Iceland.
A great tour. Special thanks to our driver Lucas and our guide Rose. A very good guiding with many stories, legends and many information about touristic objectives, history of Iceland ...
Not only does the tour cover some amazing spots, we've also got some extra stops on the way to enjoy the beautiful surroundings. Our guide Iga was AMAZING (great knowledge and sense of humor, and her energy level is out of this world :D). We've felt taken care of, and had a great time.
Awesome tour and a awesome guide is a good combo. Got to see a lot of interesting and beautiful sights and places + lessons in everything from mythology to science.
I had the pleasure to be guided by Monika, a amazing guide (knowledgable, helpful and very great energy) This was by far my favourite Tour on my 1 Week Iceland tour. The Waterfalls we saw were incredible especially Seljalandsfoss Waterfall, if you have the chance to walk behind the it go for it! it was totally worth it being completely drenched afterwards. My second favourite stop was definitely Reynisfjara Beach, even though I was hit by the "sneaky wave" and my feet got feet, it was worth every single moment of it. Thank you Monika for this amazing experience!!
Our tour on the South Coast with Monika was absolutely wonderful. The scenes visited are marvelous, seeing the blue glacier is a unique experience, almost a "once in a lifetime" due to the rapid melting :( The black sand beach is such dramatic, majestic, beautiful but scary too, so you rather listen to your wonderful tour guide, Monika. Monika is a very energetic, well informed and funny tour guide. We really enjoyed the tour with her, she offered a lot of information, stories and all kind of references. I especially appreciateted that she played a lot of local Icelandic music, definitely new items on my list! I wholeheartedly recommend the tour and the team (Monika and Albert) to everyone who is interested in this unique area! Thank you for the experience!
The South Iceland tour with Monika was fantastic. She was very informative and we learned a lot about the history, culture, economics, traditions, music, and geology of Iceland. We very much enjoyed the whole trip and the many stops. She even offered to take pictures of us and introduced us to Icelandic music, which we listened to in the breaks between the explanations. This made the experience even more magical. We also had a fantastic driver Michal. Highly recommended tour!
We had an absolutely fantastic time with bus travel Iceland throughout our stay; they're very efficient and a really friendly tour operator. The south coast tour was very well organised with enough time at each stop, the views were breathtaking and unlike anything we'd ever seen before and our guide Monika was knowledgeable, fun and kept us entertained with both her interesting stories and her playlist! Thank you for making our trip so memorable.
An excellent trip from start to finish some great sites to see, well worth it. Our tour guide was Ziggy Anton, he was fantastic, very witty & informative a good photographer too.
Another awesome tour. Our guide was excellent and she told us some amazing Icelandic sagas which where beautiful to hear as we where driving through the countryside. The waterfalls are awesome and worthy of a few pictures just be wary you can quite easily take hundreds of pictures. Black sand beach with the sneaker waves was an experience to see. The Glacier was just wow totally lost for words.
Thanks to our guide the trip became an amazing discovery of the coast and all the points we went to. If you want to know what are you going to see and the history of that places, I would say the tour is highly recommend. Our guide proposed us some order of priority options regarding to an adequate weather to see all the beauty of the see sights we were going to visit. Thanks a lot.
The trip was very well conducted. Simon , our tour guide was both knowledgeable and entertaining. I booked two tours with Bus travel and both were excellent.