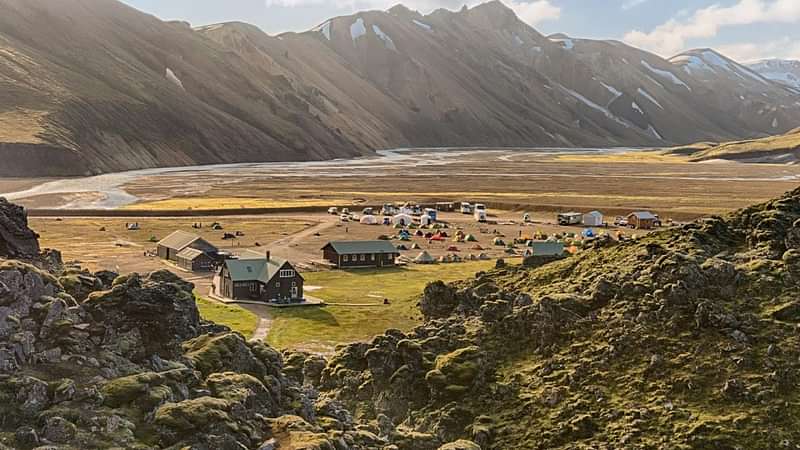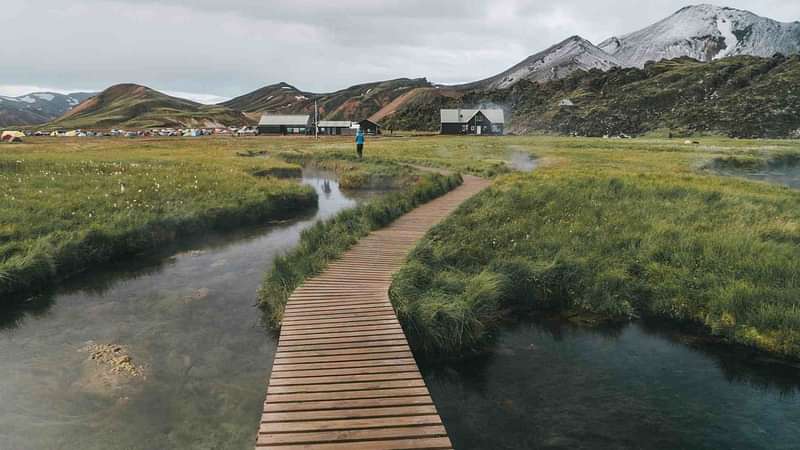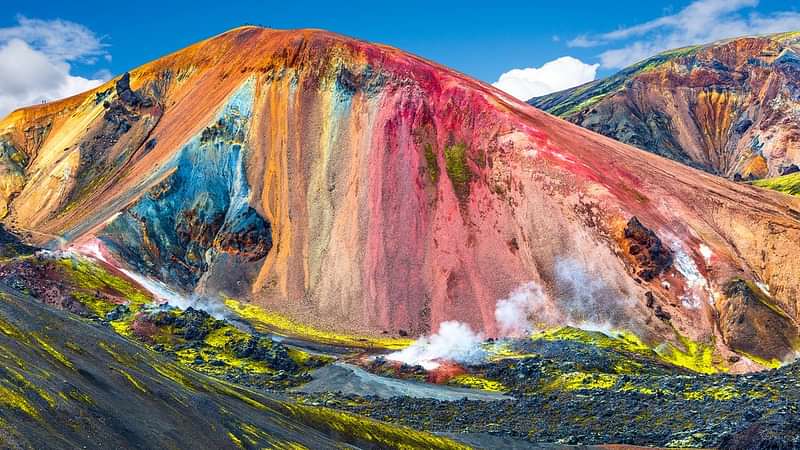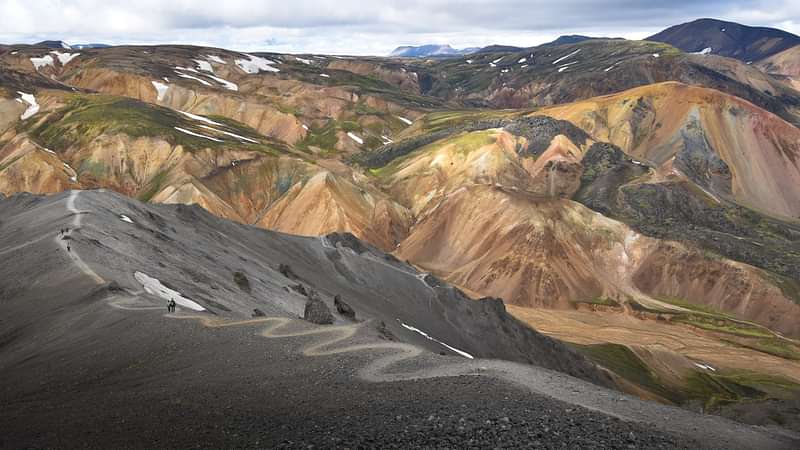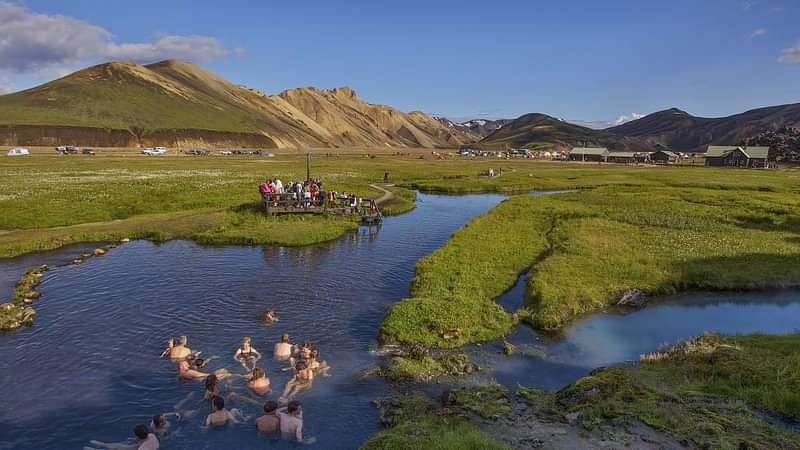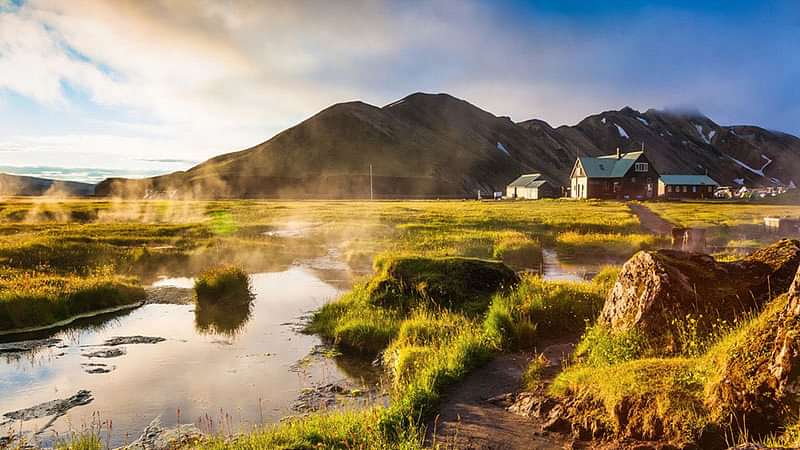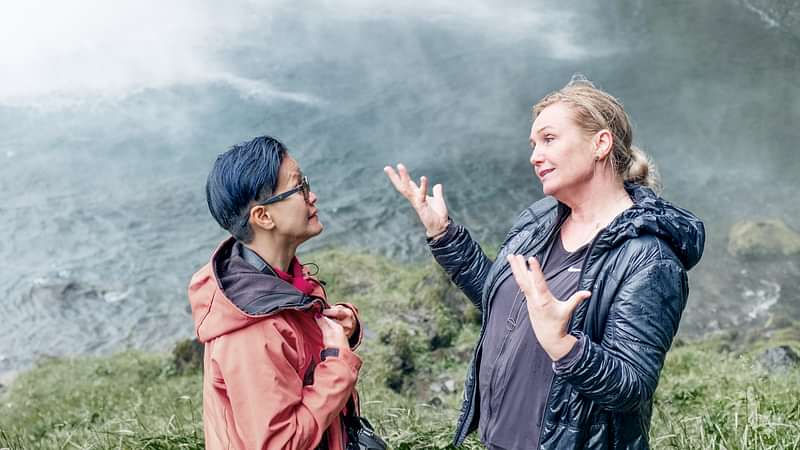 Use the PROMO code SPRING10 at checkout to avail of our offer
Description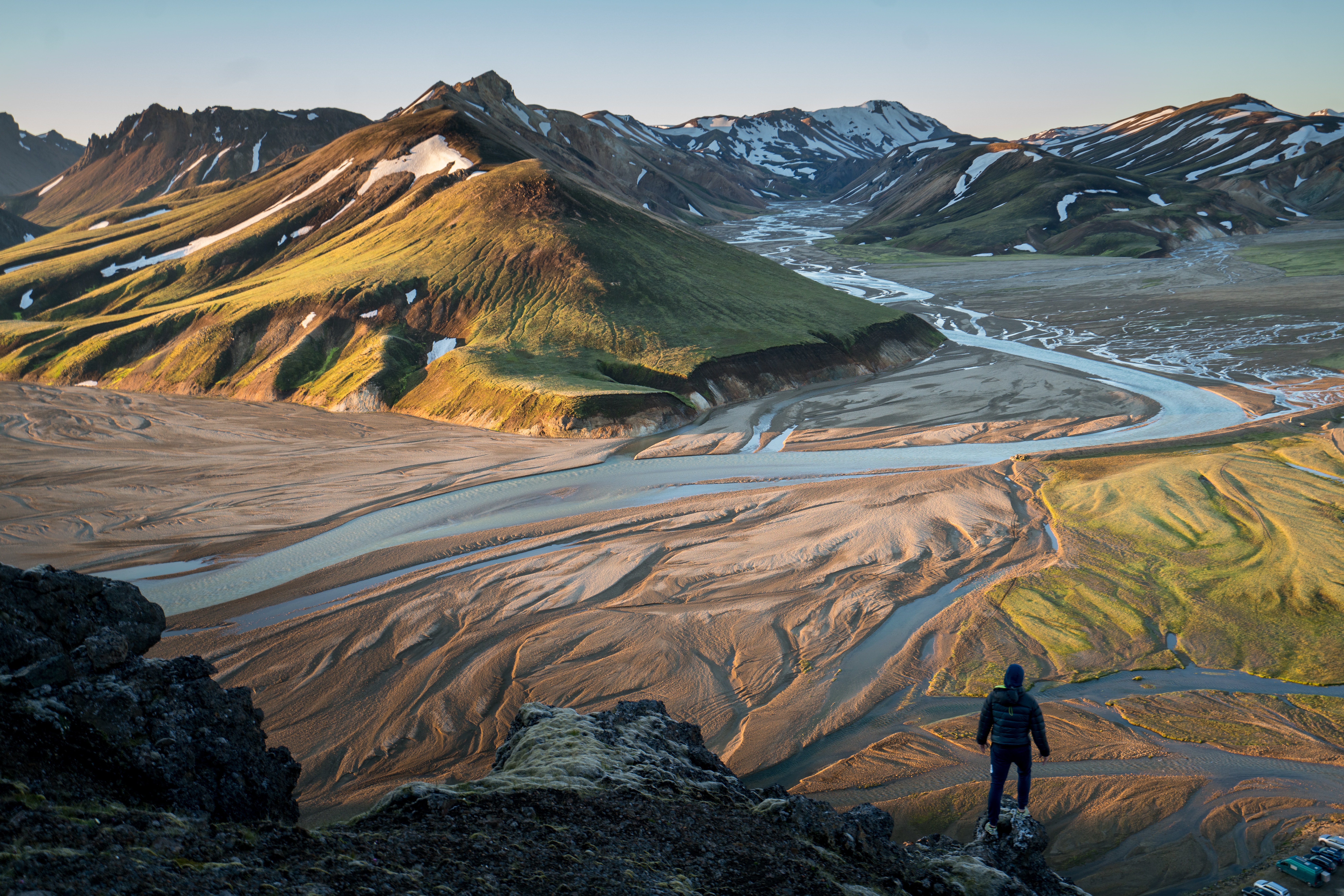 Landmannalaugar is one of the hidden gems of Iceland. Most visitors to our shores stick to more easily accessible regions such as the Golden Circle or the southern coastline. Landmannalaugar on the other hand requires special 4x4 vehicles to access. This extra effort is well worth it for the astounding and unique landscapes that await you.
From hiking trails through ancient lava fields and rolling rhyolite hills, bathing in hot-springs to beautiful sites such as Hjálparfoss waterfall and Hnausapollur volcanic crater lake, there is something for everyone on our Landmannalaugar tour. Join us then on our highland bus and visit the beautiful Landmannalaugar.
Highlights
Hjálparfoss waterfall
Hnausapollur crater lake
Landmannalaugar
Hiking trails
Lava fields
Geothermal hot-spring pool
Itinerary
The day begins with our smooth and efficient pickup service in central Reykjavík. Our departure point is from Bus Stop # 12 but we offer pickup from various hotels and pickup points throughout the city for an additional fee. These may be more convenient in relation to your accommodation.
After everyone is on board, we head east out of the city. We can also offer pickup along our route to Landmannalaugar from Selfoss. Simply park your car and we will collect you from there.
Hjálparfoss waterfall
Our first stop is on the way to Landmannalaugar is Hjálparfoss. Located in Þjórsárdalur valley, Hjálparfoss is a double pronged waterfall framed by stunning basalt formations, remnants of an eruption at the nearby Hekla volcano. The falls are actually the culmination and meeting point of two rivers, the Þjórsá (Iceland´s longest river) and the Fossá. The pool which forms at the base of the falls in olden times offered relief and water to weary travelers from the north, which led to its name, which translates to Help Falls in English.
Hnausapollur Volcanic Crater Lake
This crater lake is an underappreciated gem. Naturally places that are easy to reach attract more eyes and hype but Iceland is dotted with many hidden gems like this crater. Though less famous than the similar Kerið, Hnausapollur is well worth a visit. This crater was formed during the massive simultaneous eruption of Barðabunga and Torfajökull volcanoes, over 1200 years ago.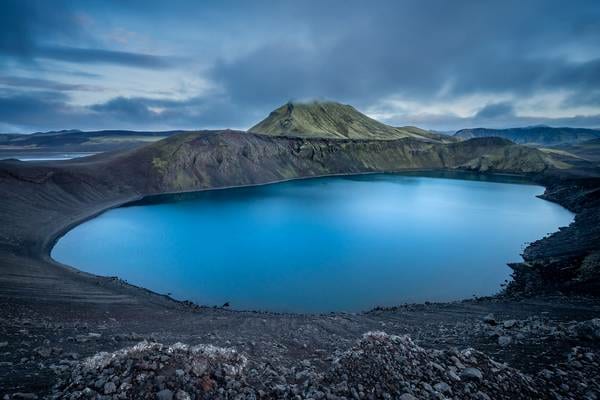 Also known as Bláhlynur, a reference to the turquoise blue hue of the water.
Landmannalaugar
Landmannalaugar is a highland region which forms part of the 470m2 Fjallabak nature reserve.
The area usually becomes accessible for day tours in June, depending on the degree of havoc caused to the roads by the spring meltwaters. This rough F-road is one to avoid in anything but 4x4 vehicles. Luckily for you, our sturdy highland bus is up to the challenge.
Famous for its colorful unique terrain with rhyolite hills and lava fields, this is a hiker´s paradise. Your guide will take you on the trail for a short easy hike and you will be rewarded with wonderful views, photo opportunities, and a well-earned sense of accomplishment. And what better way to end a hike than to soak your weary feet in a hot-spring. Just remember to bring your swimsuit!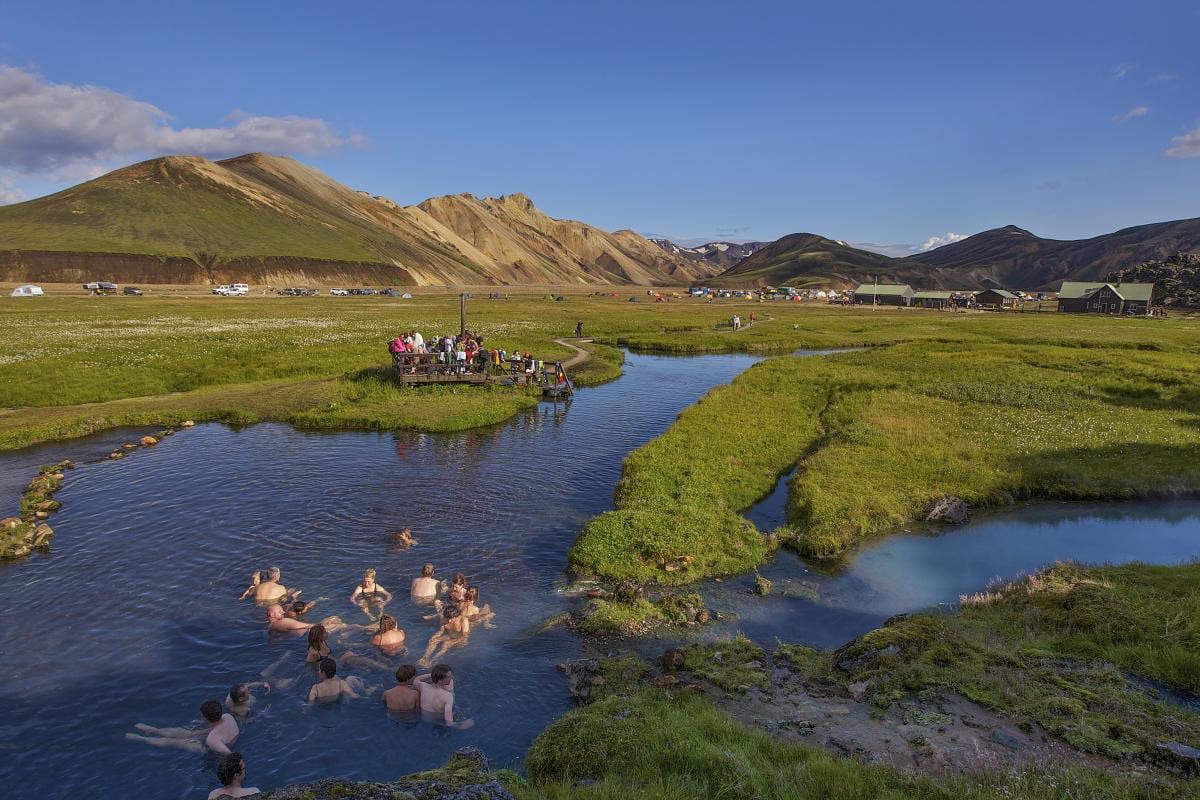 Landmannalaugar also serves as the start and end point for Iceland´s most popular trek, the 55km Laugarvegur trail to Thorsmörk.
After our time together in Landmannalaugar, we embark on the journey back west, arriving to the city in time for you to catch a late dinner.
What´s included
Transportion and Professional Guide
Guided hiking tour
Facilties fee at Landmannalaugar
Free WiFi
What´s excluded
What do I need to bring?
Packed lunch. There is no restaurant in Landmannalaugar though there is a small shop for snacks
Water bottle
Bathing suit and towel
Good walking shoes
Suitable hiking clothes with rain jacket. Jeans are not recommended
Important Information
The tour takes around 13 hours in total
All tickets are e-tickets so no need to print off your ticket
Cancellation Policy
Cancellation fee of 100% if cancelled 1 day or less before departure
Guided language
Reviews!
Thank you for submitting your review