Duration: 8 hours

Easy

Electronic Voucher

Meet on location
Got Questions? Contact our agents
Overview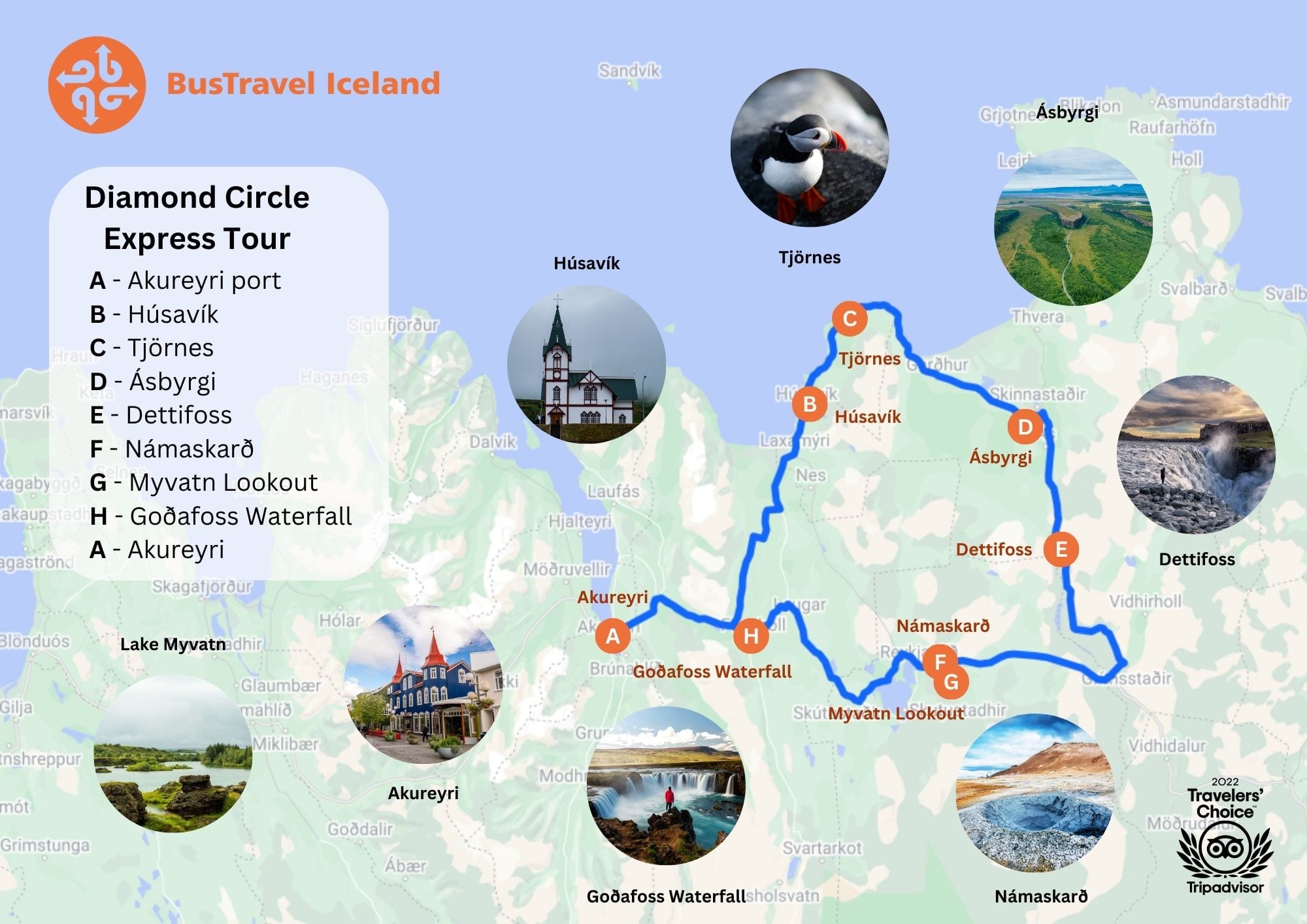 The Diamond Circle Iceland is a driving route in North Iceland encompassing the best natural attraction that this unique region has to offer. Join our Diamond Circle Tour from Akureyri and visit the absolute highlights of North Iceland. Akureyri, Iceland´s northern capital is the perfect starting point for this sightseeing loop consisting of raging waterfalls, charming fishing villages, strange geological features, cliffs, and geothermal hot springs. Visit the overwhelmingly powerful waterfall at Dettifoss, the otherworldly landscapes at Lake Mývatn, the sheer cliffs at Ásbýrgi Canyon, and the charming seaside village of Húsavík. Your expert local guide will enlighten you on local folklore, geology, and much more. This is the best sightseeing tour north Iceland has to offer.
Highlights
Godafoss waterfall
Ásbyrgi Canyon
Dettifoss waterfall
Húsavík fishing village
Tjörnes viewpoint with possible sightings of Puffins
Námaskarð
Lake Mývatn view
Itinerary
Your day begins with the pickup from the cruise ship terminal in Akureyri. Once everyone is onboard, we begin our exciting exploration of the highlights of North Iceland and the Diamond Circle.
Góðafoss waterfall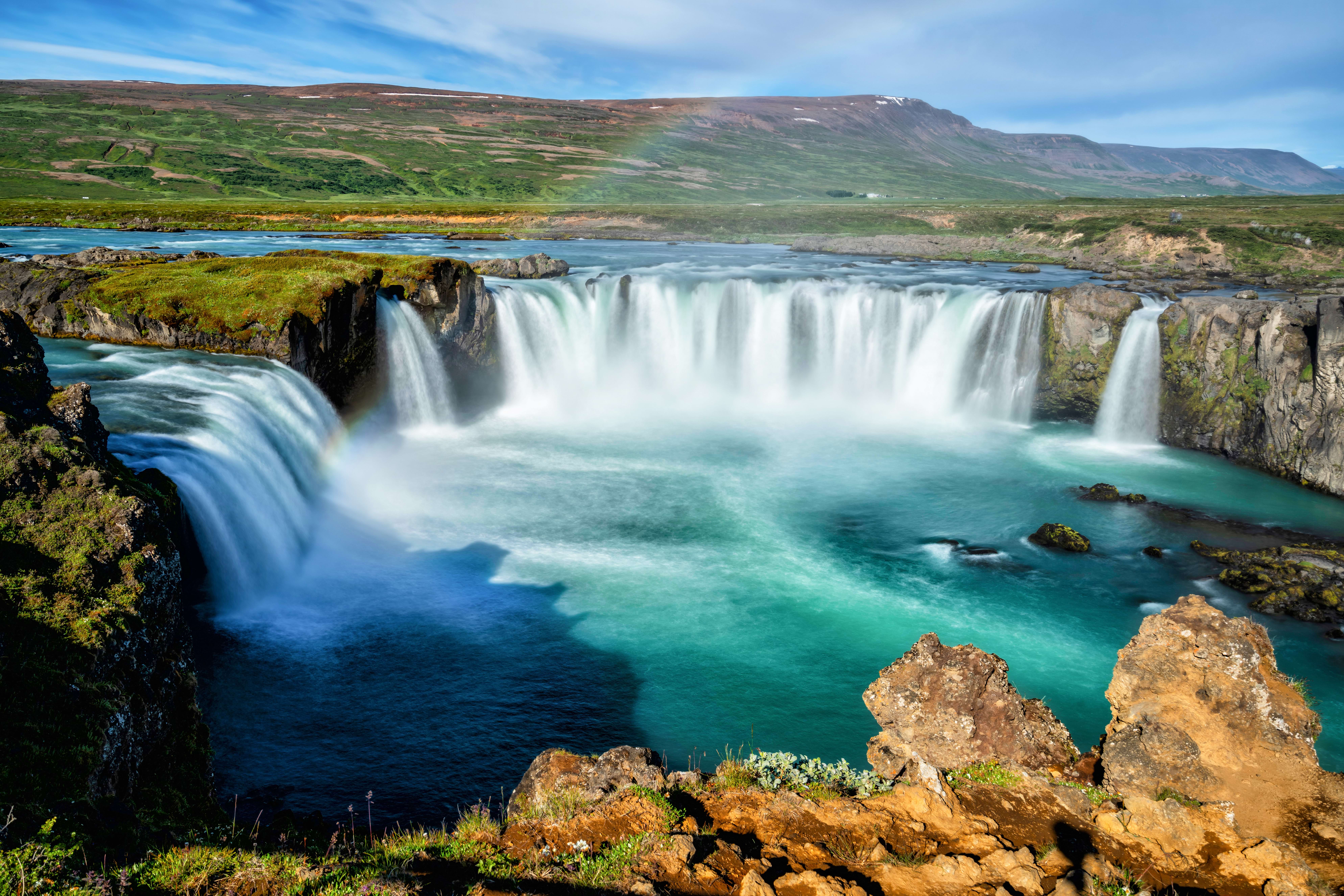 Our first stop is at Goðafoss waterfall, beautiful falls that are 12 meters high and 30 wide. Few falls in Iceland match Góðafoss in beauty and you can soak in this elemental beauty from several vantage points along the walking trails here.
Góðafoss means ´Waterfall of the Gods´in Icelandic, and has great symbolic value in Icelandic culture and history. The story goes that over 1000 years ago an influential chieftain, upon deciding that his people should forfeit the old gods and adopt Christianity instead, cast his pagan idols into the water here. Góðafoss thereby represents the Christianisation of the country.
Ásbyrgi Canyon
Ásbyrgi Canyon is a stunning horse-shoe-shaped valley and our next stop on our Diamond Circle tour. The depression here is 1km in width and 4km in length and is surrounded by sheer vertical cliffs which envelop a small forest and idyllic pond. It really is hard to overstate the scale here and how imposing and impressive these cliffs are, standing as they do at up to 100 meters high. Many bird species nest in the nooks and crannies of these rocky cliffs.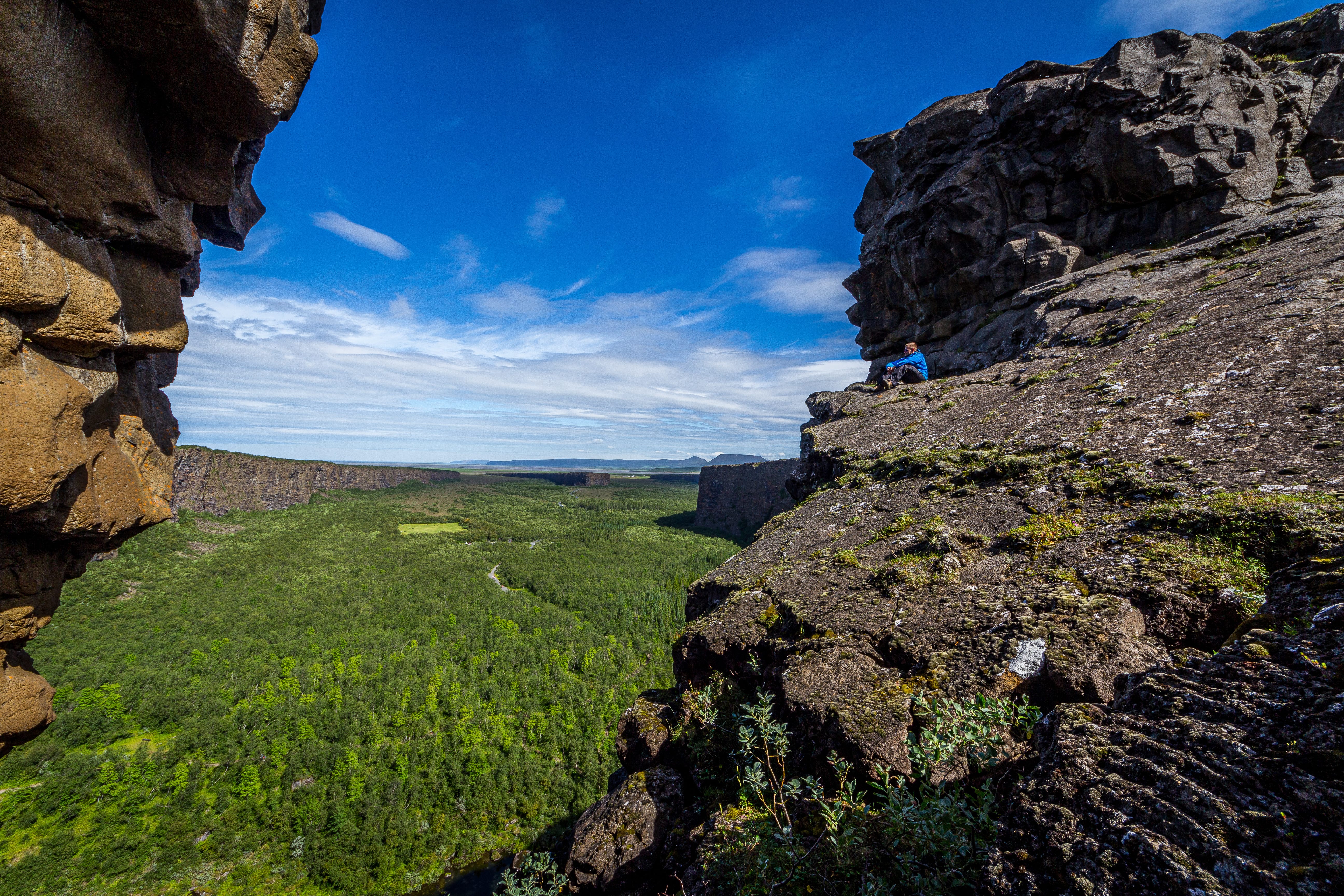 In folklore, the distinct shape of the canyon here was explained as being the result of Sleipnir, the giant 8-legged horse of the Norse god Odin, stamping one of his hooves in the landscape here.
Geologists of course have other theories and posit that it is the result of massive glacier flooding from the river Jökulsá á fjöllum, the very same river on which Dettifoss waterfall stands.
Dettifoss waterfall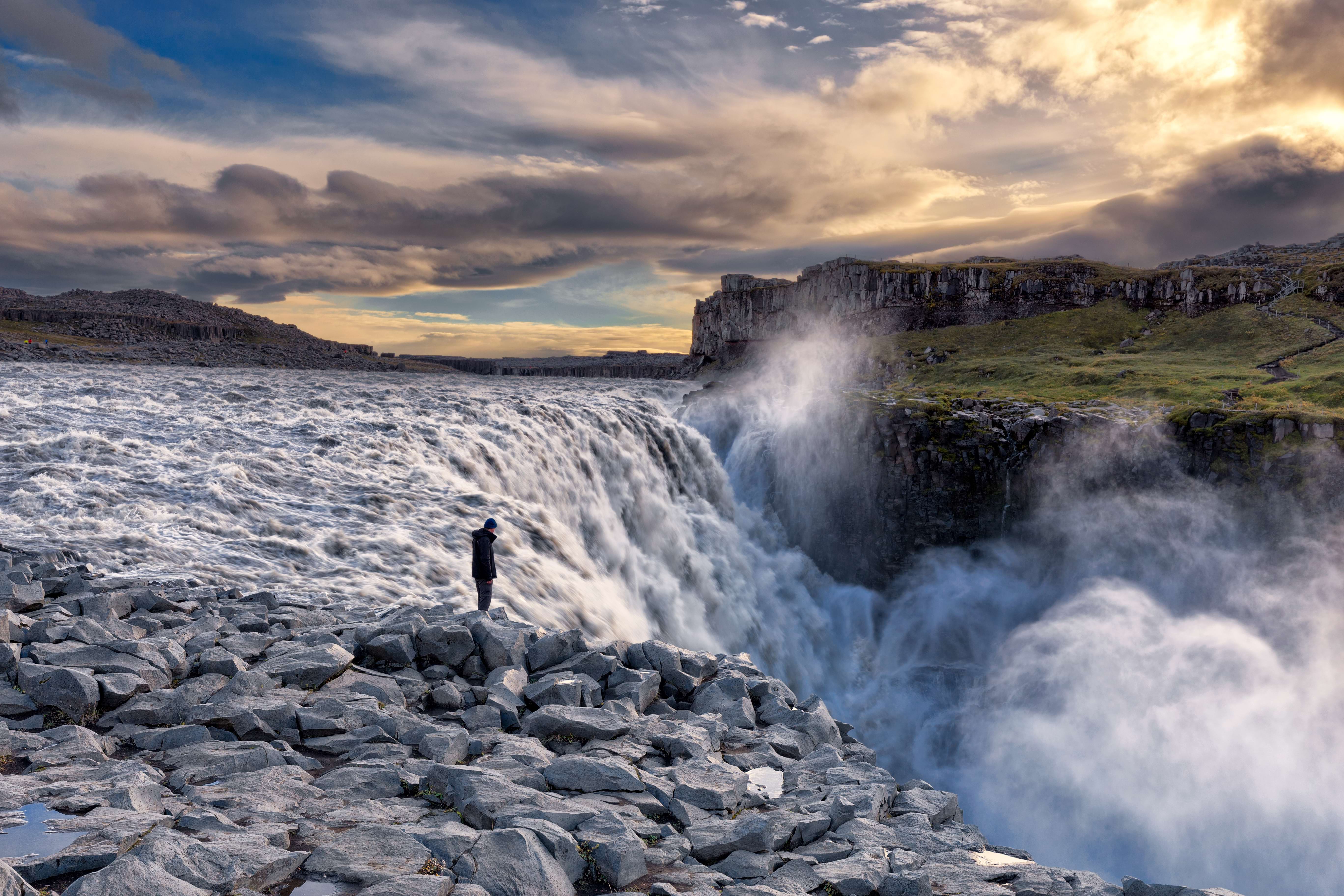 Dettifoss waterfall is the second largest waterfall in Iceland in terms of volume, with an average of 193 cubic meters of water per second crashing down a 44-meter drop into a vast canyon in a cacophony of force. The volume of water combined with this sheer drop has led to the belief that Dettifoss is the most powerful waterfall in all of Europe.
Dettifoss is part of the Jökulsá á fjöllum river which is fed by multiple rivers in north Iceland as well as meltwater from the Vatnajökull glacier. This sheer volume of water comes to a climax here at Dettifoss in a humbling display of the elemental power of nature.
Dettifoss has grown in popularity in recent years, perhaps linked to it being featured prominently in Ridley Scott's Alien movie, Prometheus, which was released in 2012.
Húsavík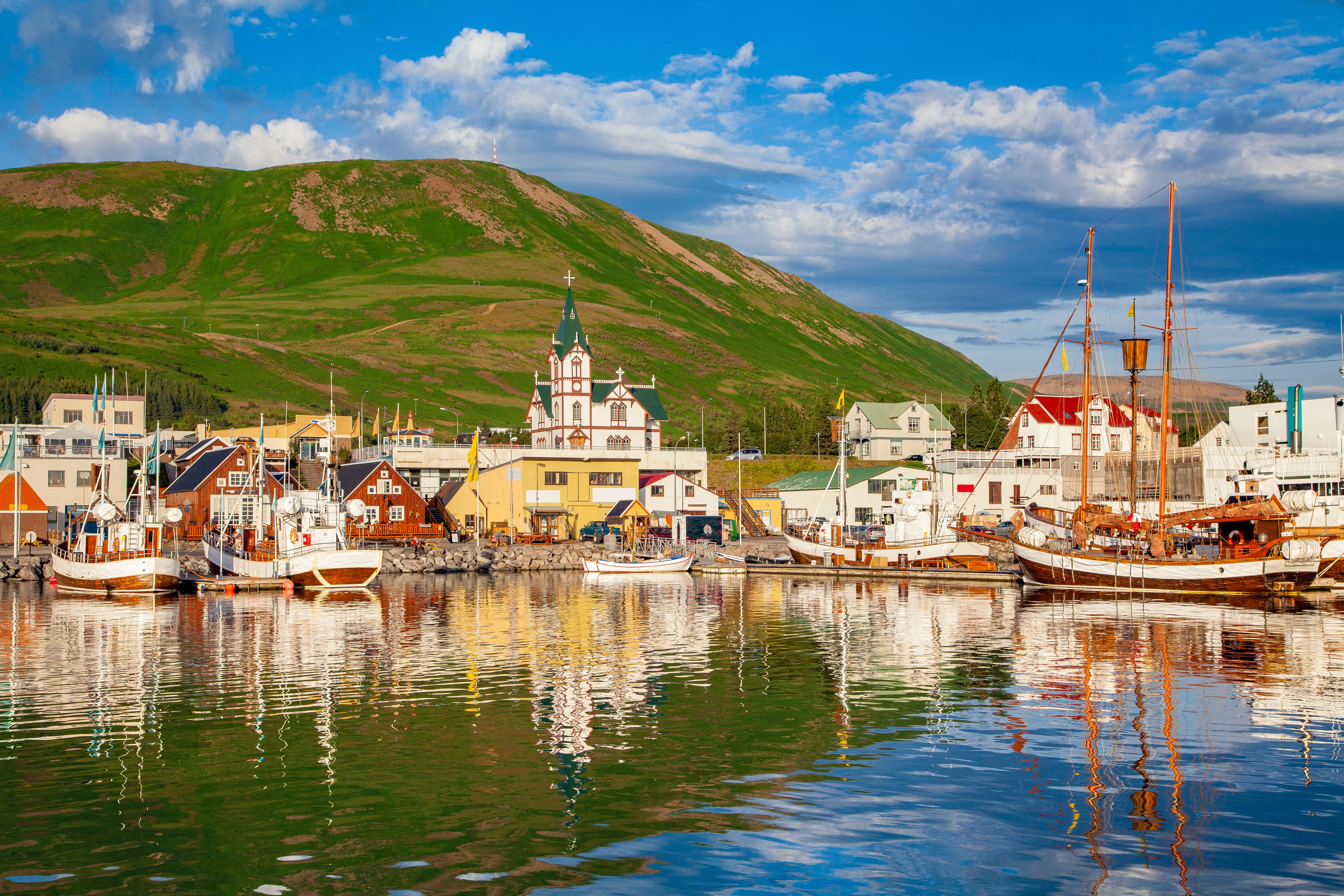 Húsavík is a charming village in North Iceland where life and business revolve around the harbor. Fishing is of course important here, but Húsavík is also renowned as the best place in Iceland from which to take whale-watching boat tours.
The church in Húsavík stands in the center of the town and is generally agreed to be one of the most beautiful in Iceland.
Húsavík has attracted lots of attention in recent years through the Netflix movie "Eurovision Song Contest: The Story of Fire Saga starring Will Ferrell. The film also features an oscar nominated song, also called Húsavík".
Tjörnes cliff viewpoint
Hringsbjarg is a 60m tall cliff that sits on the Tjörnes peninsula, just north of Húsavík. The Tjörnes viewing platform sits atop this cliff and offers fantastic panoramic views of the sea and Öxarfjörður fjörd. If you are lucky, you might spot nesting pairs of puffins, the annual summer visitors to our shores. Puffins have become an iconic symbol of Iceland internationally.
Námaskarð hot-spring area
If it wasn´t obvious enough by this point, the captivating landscapes around Mývatn can largely be credited to ancient volcanic eruptions. But at Namaskard, also known as Hverir, one can see the impact and effects of ongoing geothermal activity.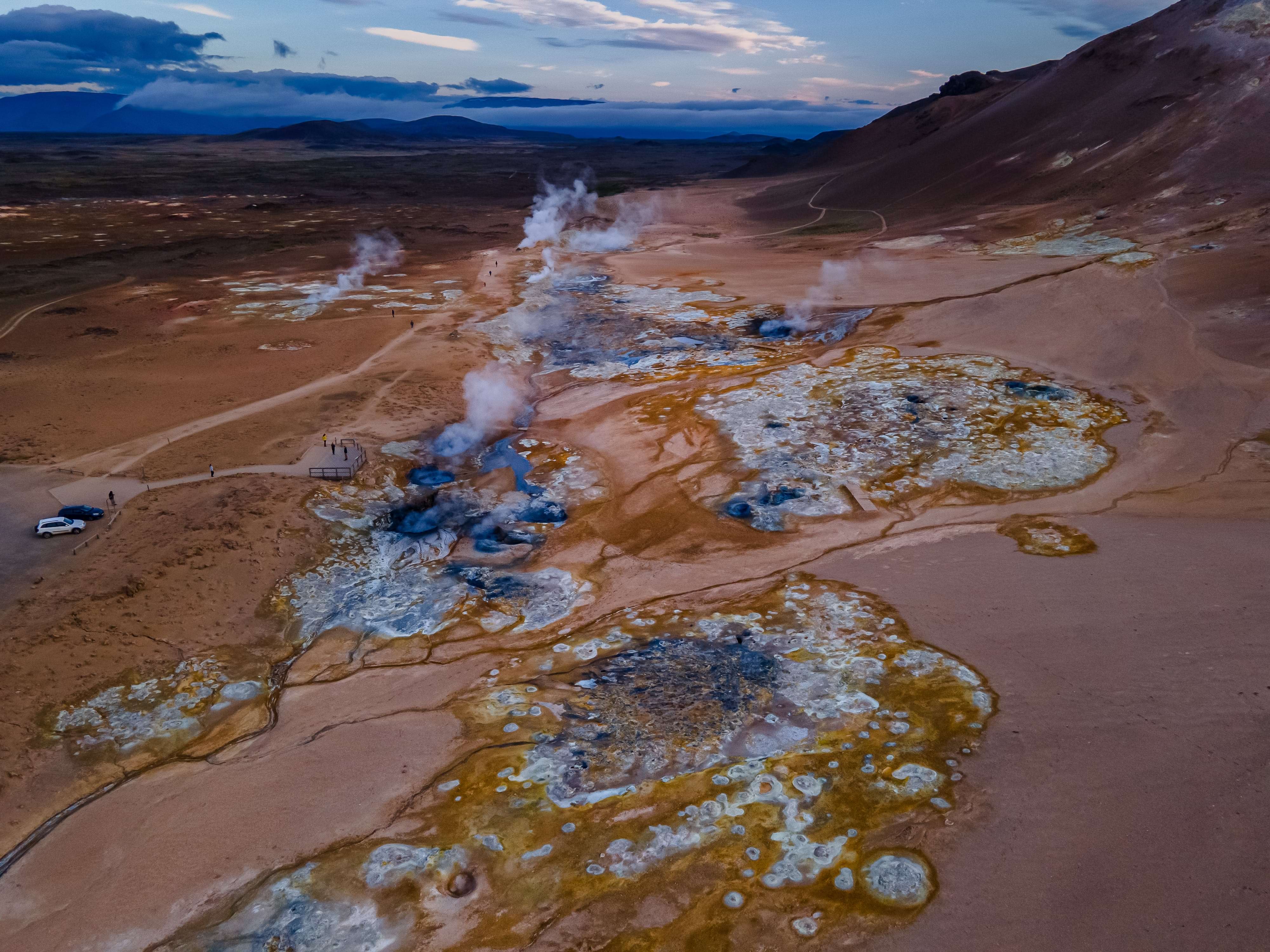 Namaskard is renowned for the eye-catching color of the rocks and ground, caused by the rich minerals which emanate from the underground seismic activity in the area. Enjoy the smells and sights of the area, with boiling mud pots, hot springs and the odor of the sulphuric steam lingers in the air.
Lake Mývatn view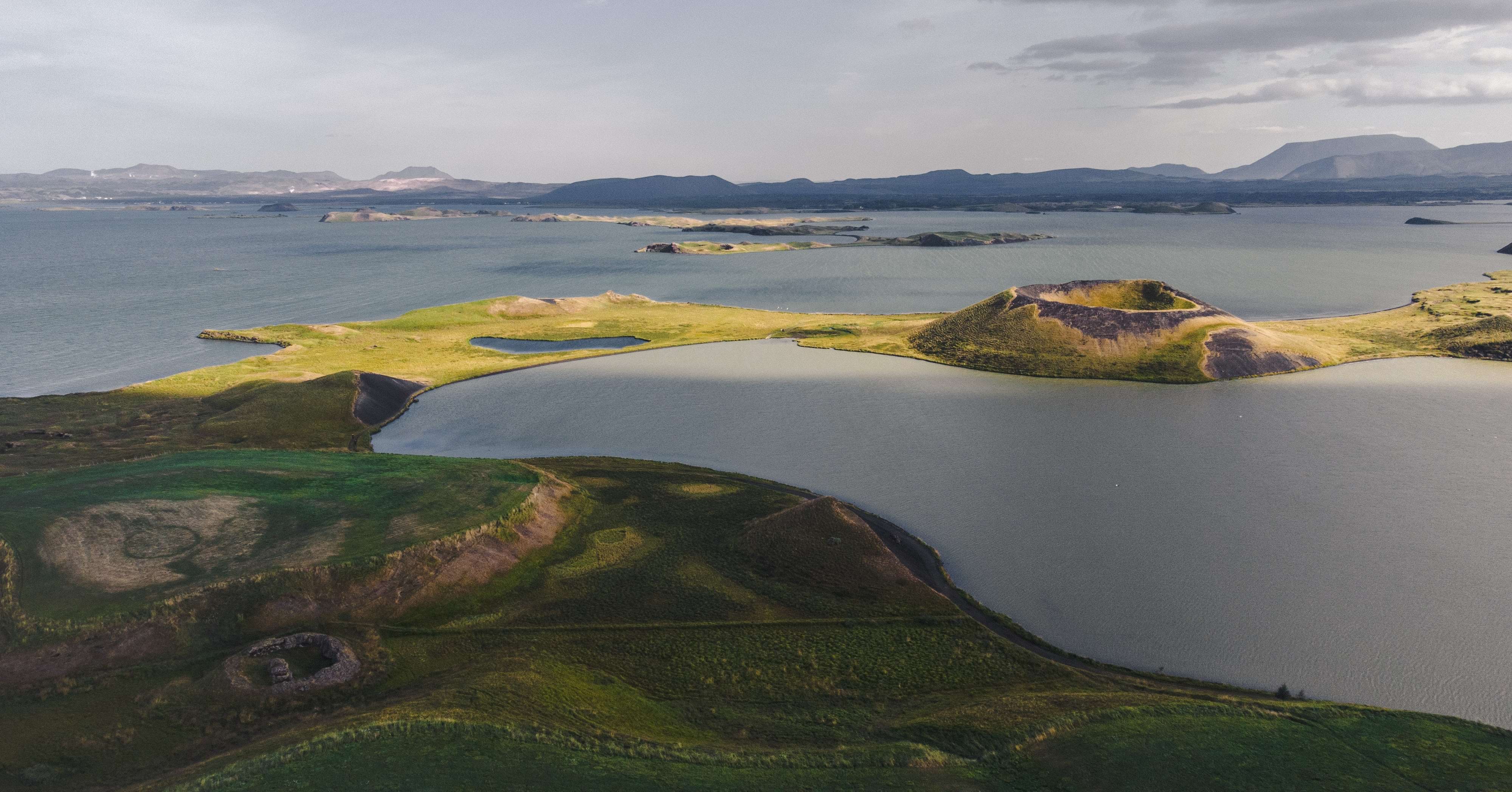 We drive past the iconic Lake Mývatn, famed for its beauty and strange surrounding landscape. We stop at a great viewpoint high above the lake and take in the splendour of the view. We see the Skútusstaðir craters in the distance, sitting by the lake shore and on a small island in the lake itself.
Optional drop-off at Forest Lagoon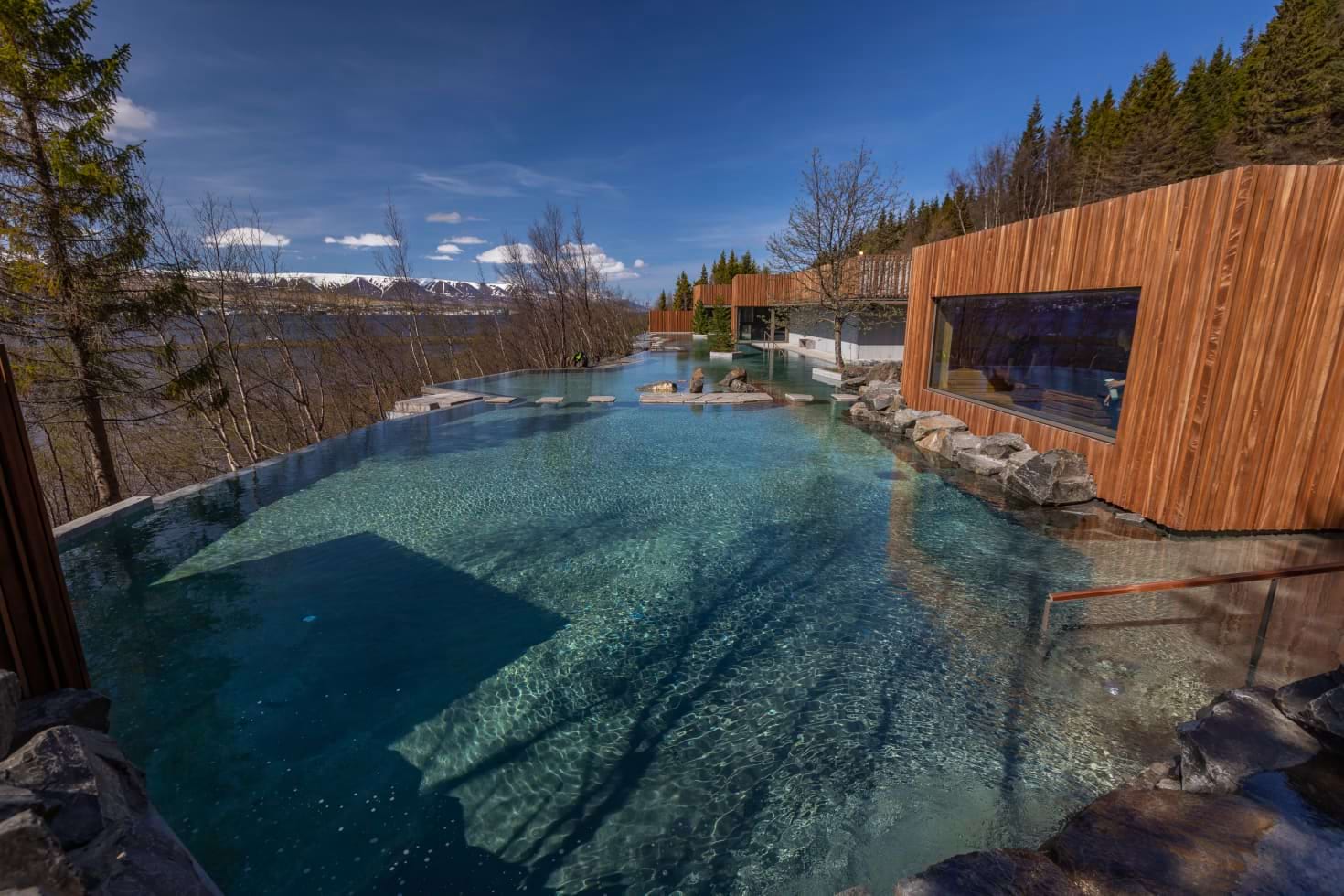 Forest Lagoon is the newest addition to Iceland´s burgeoning luxury thermal spa scene. Set amidst the trees in one of the few forests to be found in North Iceland, this idyllic retreat and its healing geothermal waters leave you feeling revitalized and rejuvenated. With spectacular views of the fjord and the town of Akureyri, this is the perfect place to end your day´s journey through North Iceland.
If you wish to add to go to the lagoon, you should book your entrance ticket for 8 hours after the tour start time. You can book your entrance tickets HERE. Don´t worry if you haven´t packed a towel or swimsuit as these can be rented on location.
If you choose to add this stop to your day, drop-off will be at the Forest Lagoon. Akureyri and the cruise terminal is a short taxi ride, which the staff at the lagoon will be happy to book for you.
What´s included
Pickup and drop off at Akureyri cruise terminal (transfer from Forest Lagoon back to Akureyri is not included)
Free Wifi
Expert local guidance
Lunch packs with Chicken/Vegan sandwich, chocolate bar, and juice
Important information
The tour start time and duration have been tailored to your cruise ship times
If you want to be dropped off at Forest Lagoon, just let your guide know during the day. You will have to make your own way into Akureyri afterward if you decide to do this.
What should I bring
We advise you to wear gloves, a hat, a waterproof coat, and comfortable walking shoes.
Swimsuit and towel if you want Forest Lagoon drop-off. They can be rented at the lagoon as well.
Snacks and water
Guided language
Cancellation policy
The tour can be cancelled for a full refund up to 24 hours in advance. No refunds are available after that.
Reviews!
Thank you for submitting your review
It was cold on our trip but Runner was informative and helpful. Showed how Iceland was sooooo different. Bus was clean and comfortable.