A Guide to the Waterfalls In Iceland's Golden Circle
by Yanshu
Golden Circle Iceland
15 Aug 2023
Imagine a land where cascades crash down, their echoes resonating through the valleys, and silvery mists dance in the gentle embrace of the Arctic light. In Iceland's iconic Golden Circle, each waterfall, with its unique cadence and rhythm, narrates a tale of timelessness. Along your journey to the Thingvellir National Park and Geysir Geothermal Area, your Golden Circle tour will unveil hidden tales and secret melodies of these charming waterfalls.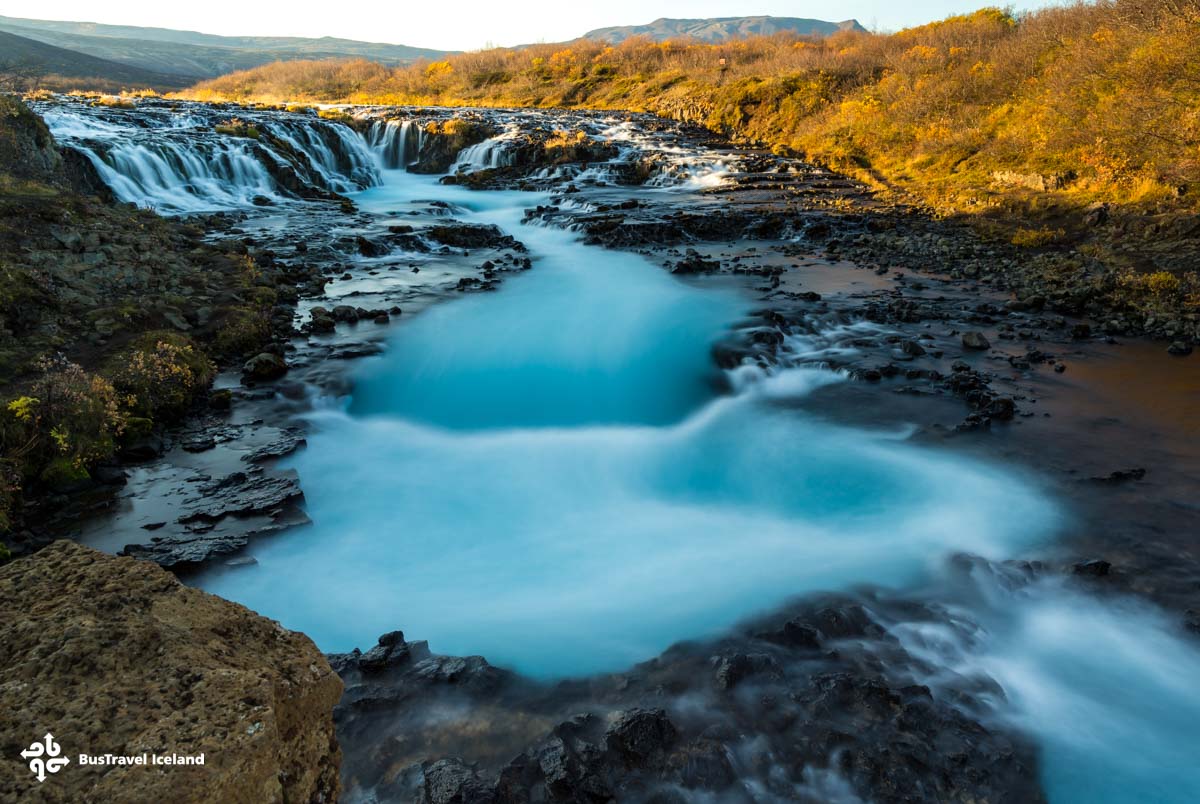 Come with me on a journey through this lyrical landscape as we delve into the mesmerizing world of the Golden Circle's waterfalls. It's going to be a vivid journey to the heart of Iceland.
Iceland's Waterfalls in the Golden Circle
Your visit to the Golden Circle unveils captivating cultural and geological tales, set against a backdrop of iconic countryside vistas and varied terrains. The waterfalls alone offer a wealth of exploration.
Gullfoss Waterfall
Gullfoss, centrally located in Iceland, stands as a prime example of the nation's majestic natural wonders. As you near it, the sound of water amplifies, hinting at its grandeur. Known as "Golden Falls," the waterfall's glacial water descends with a unique golden tint, dropping over two tiers, first 11 meters (36 feet) and then 21 meters (69 feet).
Historically, Gullfoss owes its preservation to Sigríður Tómasdóttir, an environmentalist who worked tirelessly to keep it safe from hydroelectric exploitation. Her efforts ensure today's visitors can appreciate the waterfall's undisturbed beauty.
Gullfoss offers varied experiences: from the misty rainbows and blooming wildflowers in summer to its frozen splendor in winter. Regardless of the season, Gullfoss remains an unforgettable sight to the awe-inspiring beauty of Icelandic nature.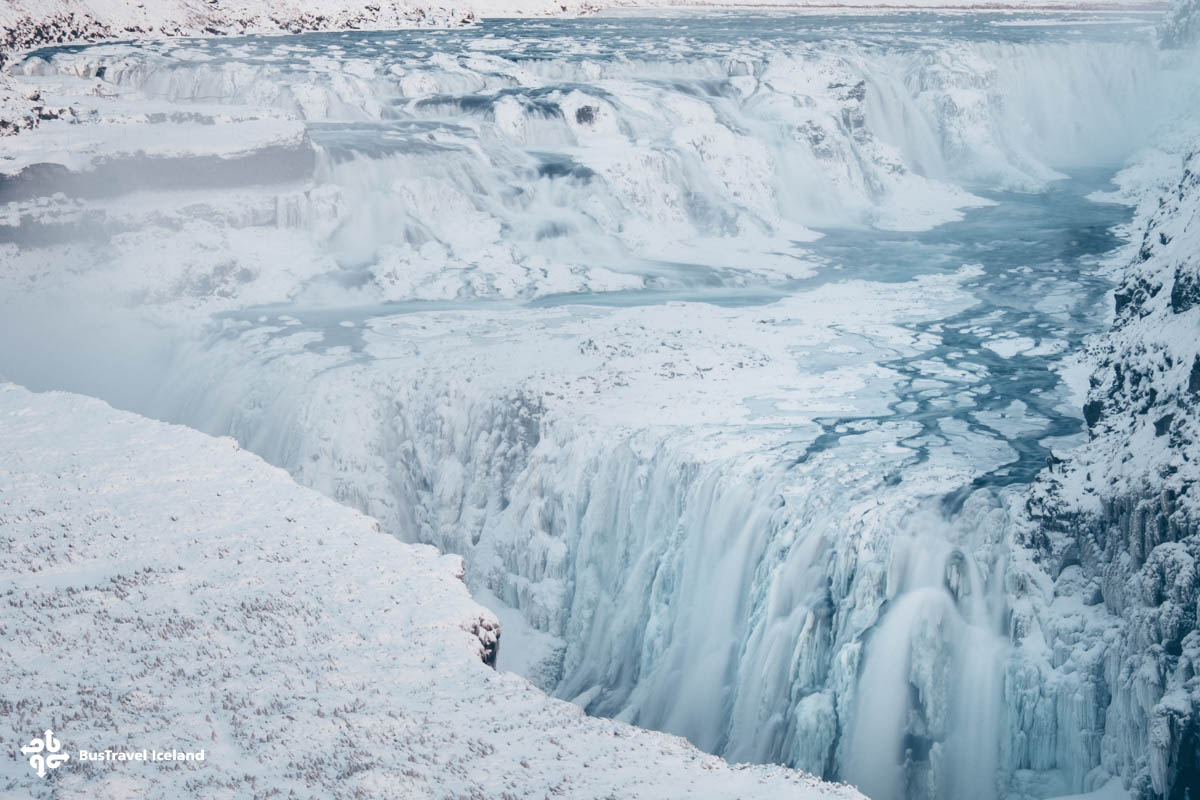 Gullfoss waterfall's stunning beauty in winter, Golden Circle, Iceland.
Hvítá River
The Hvítá River, a gleaming ribbon of pure Icelandic wilderness, weaves its way through the rugged heart of the land. Born from the icy wonder of Langjökull glacier, Iceland's second-largest ice-cap, Hvítá courses through breathtaking valleys and ancient lava fields. As sunlight shines on its glacial blue waters, it paints the charming stories of millennia gone by. The river's strength carves deep into the Hvítárgljúfur canyon, where its streams eventually culminate in the spectacular descent of Gullfoss waterfall.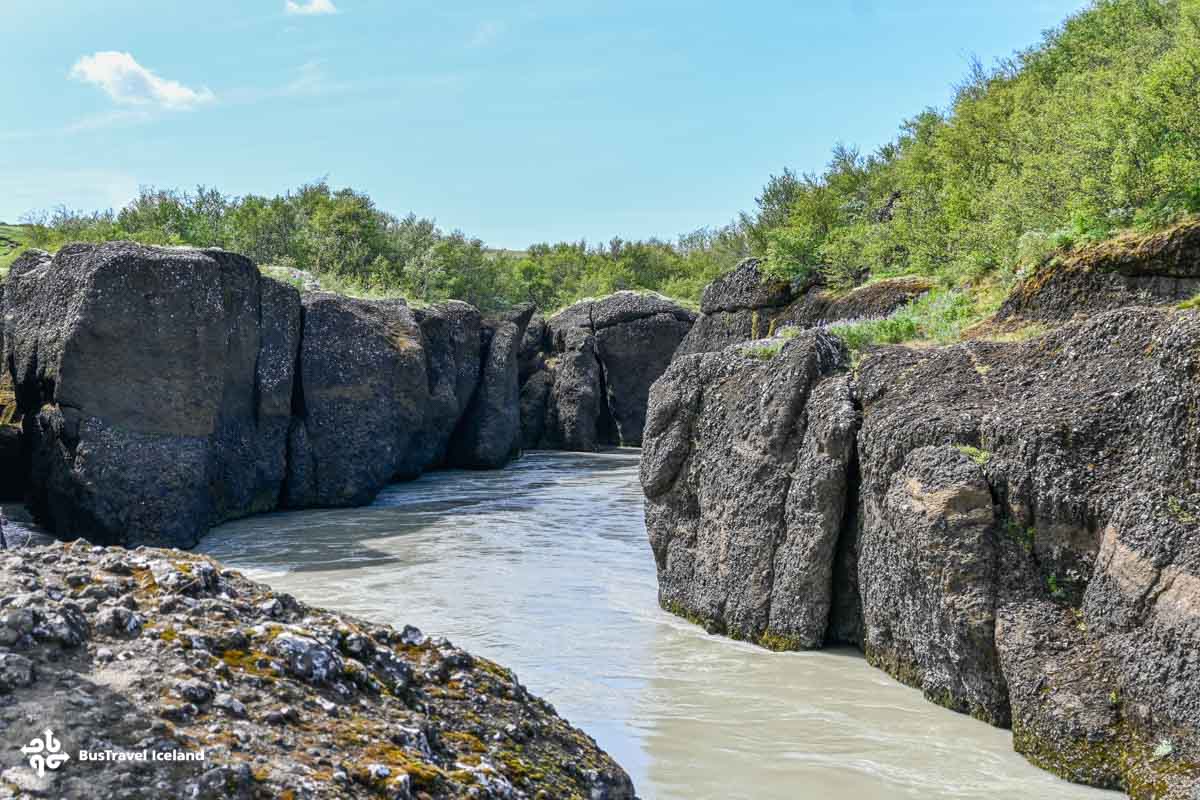 Hvitar river runns through the canyon close to Gullfoss waterfall.
Beyond the renowned Gullfoss waterfall, Iceland's Golden Circle route boasts many other falls that are equally deserving of a visit.
Brúarfoss Waterfall
Bruarfoss Waterfall, often referred to as the 'Blue Waterfall', is notable for its distinct blue color. This unique hue is a result of glacial meltwater passing through nearby lava fields, lending it a clear, azure appearance.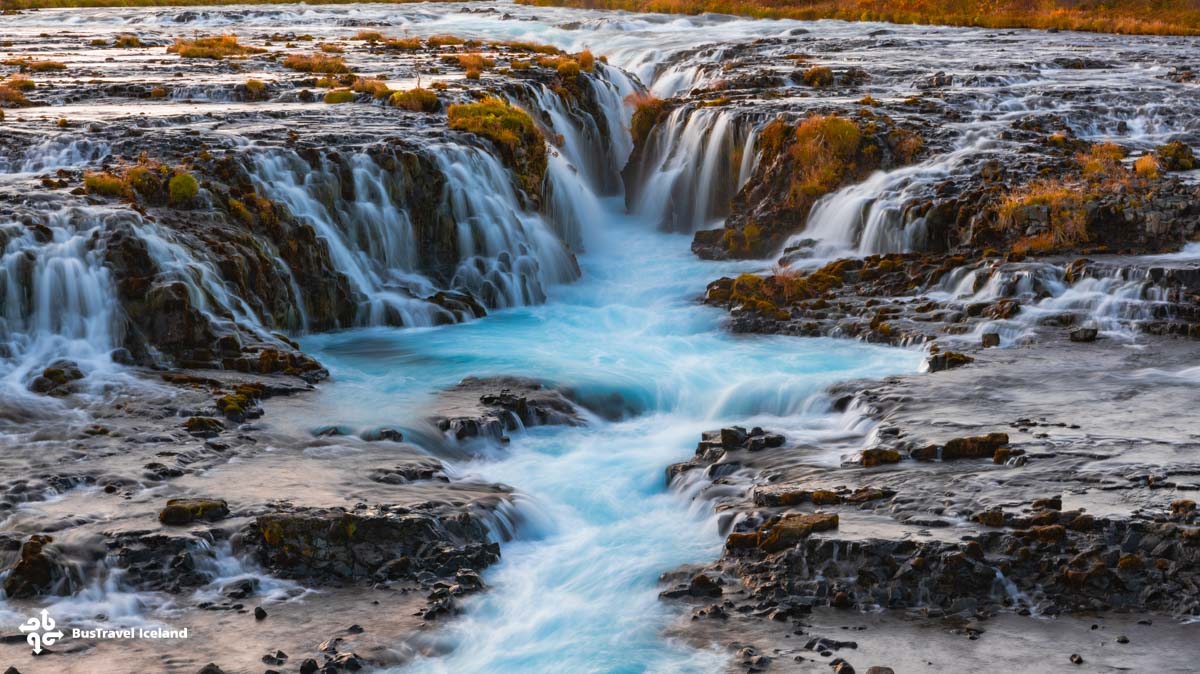 Bruarfoss Waterfall in its glorious fall colors, Golden Circle, Iceland. [Photo credit to Yanshu Li]
While it lies slightly off the main path of the Golden Circle Route, it's a favored spot for those navigating their own way. To reach Bruarfoss, visitors undertake a moderate trek through varied terrain, including crossing a few wooden bridges. Its location, away from the main tourist hubs, means that Bruarfoss typically offers a quieter experience, making it a prime spot for those looking to appreciate Iceland's natural beauty in peace.
On a private or custom Golden Circle day tour, you can visit Bruarfoss waterfall. For those who self-drive from Reykjavik, drive east on Route 1, then south on Route 35. Turn onto Route 37 towards Geysir. Follow signs for Bruarfoss and hike the marked trail to view its cerulean cascades.
Faxi Waterfall – Faxafoss
In Iceland's varied landscape, the Faxi waterfall stands out as a tranquil oasis. Spanning the Tungufljót river, it contrasts with the country's more dramatic cascades. Surrounding meadows, dotted with grazing sheep, enhance its pastoral setting. 
A notable feature is its fish ladder, facilitating the annual salmon migration. While other Icelandic landmarks might overshadow it, discerning travelers often find Faxi's understated beauty its true charm.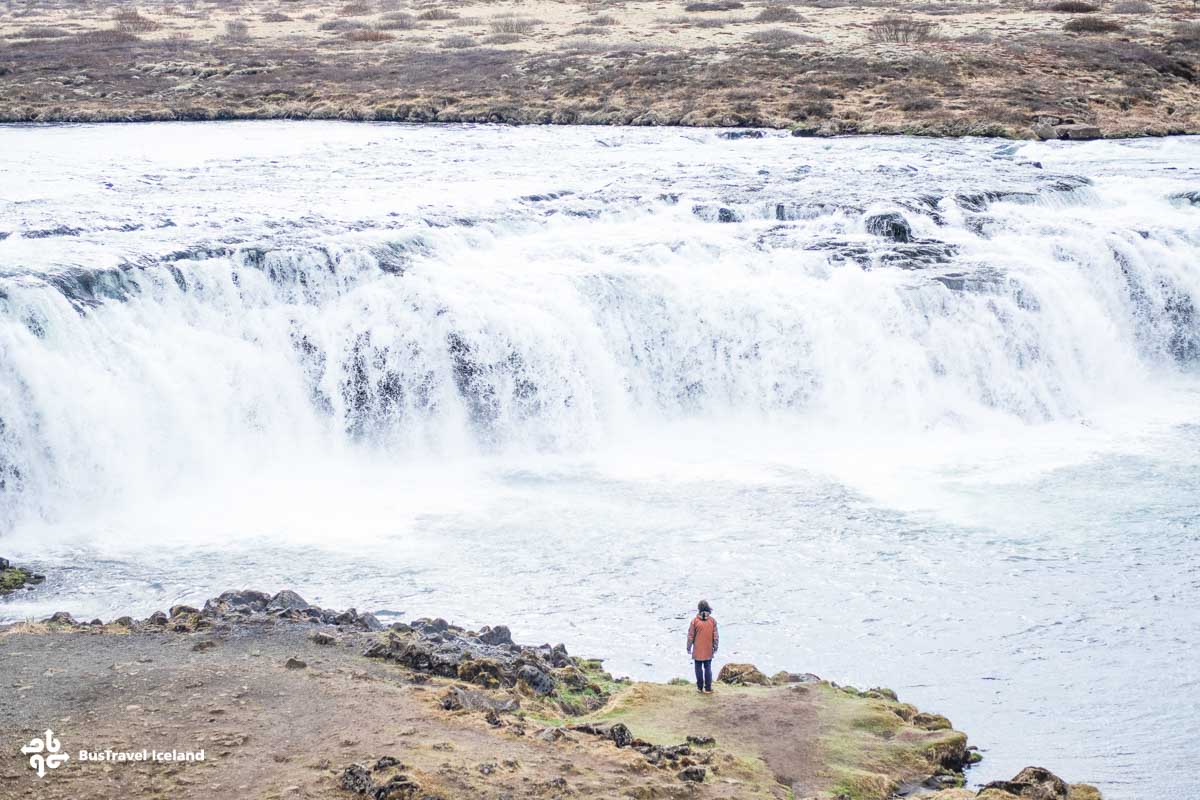 Faxi waterfall, aka, Faxifoss waterfall, is a hidden gem in the Golden Circle of Iceland/
To reach Faxafoss, two options are the most popular. Join a guided Golden Circle day tour from Reykjavik, and rent a car to drive yourself. Many day tours take passengers to see this peaceful waterfall to experience the very essence of Iceland's countryside life, when condition allows. 
For self-drive travelers, drive east from Reykjavik on Route 1 (Ring Road) and then take Route 35 south. After passing Laugarvatn and before reaching Geysir, you can take a turn onto Route 37, where you'll soon find signs directing you to Faxi waterfall. The drive usually takes a little over an hour.
Helgufoss Waterfall
Just beyond the edges of Iceland's bustling Capital Region lies Helgufoss waterfall, a concealed gem nestled within the heart of Mosfellsdalur valley. 
This hidden waterfall offers a delightful detour for those journeying to the Golden Circle, balancing mystery with easy access. A brief 600-meter hike will guide you to an elevated viewpoint, from where the beauty of Helgufoss unfolds.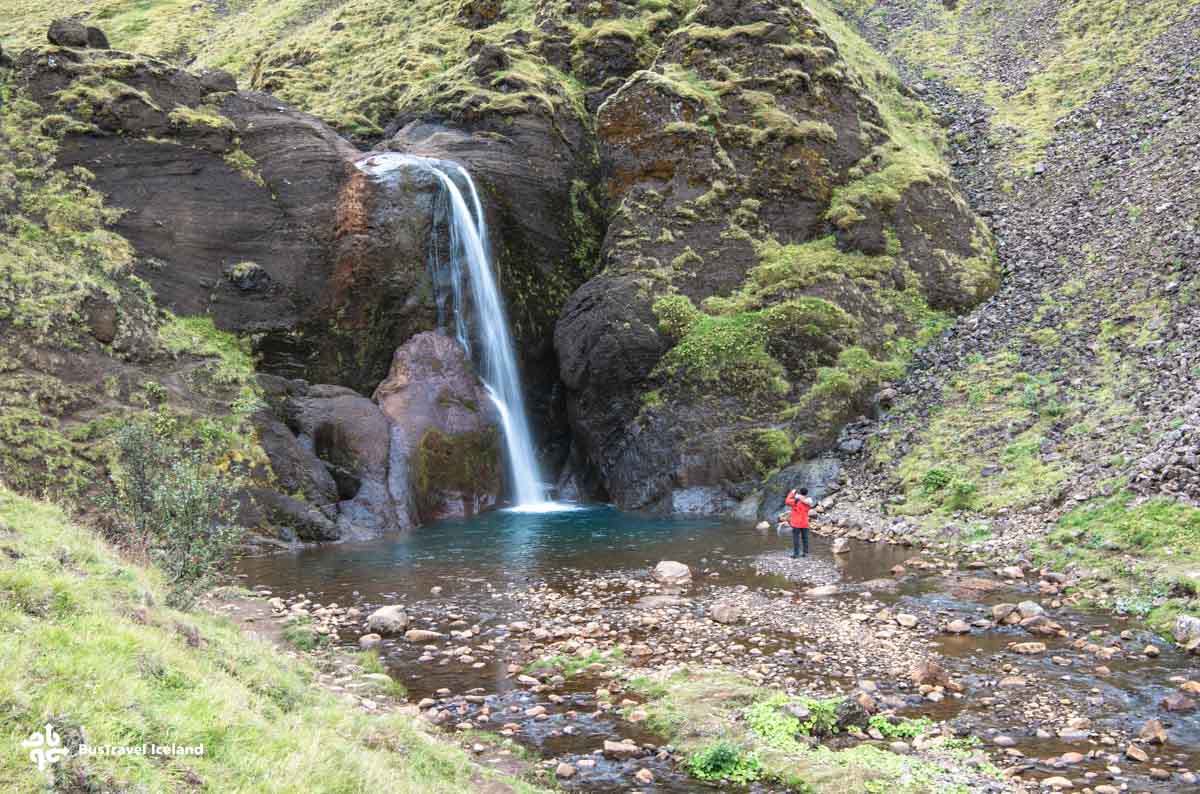 Helgufoss waterfall is located right outside of Reykjavik, en route to the Golden Circle. [Photo credit to Yanshu Li]
During the high flow season, the waters dance over rugged cliffs, fashioning a pyramid-shaped cascade that descends in two tiers, settling gracefully into a serene pond below. In the low flow season, Helgufoss reveals another side of its beauty. The cascade narrows, unveiling the stones once covered by the water, each uniquely shaped by the passage of time.
Amidst the timeless backdrop of the Icelandic countryside, Helgufoss offers a tranquil retreat, allowing one to savor the whispers of nature in undisturbed solitude.
Photography and Unforgettable Experiences
Iceland, with its vast landscapes and striking seasonal contrasts, is a photographer's dream. Particularly for capturing waterfalls, it provides an unmatched scenic backdrop. The Golden Circle and the South Coast, both easily accessible from Reykjavik, offer diverse scenes and landscapes.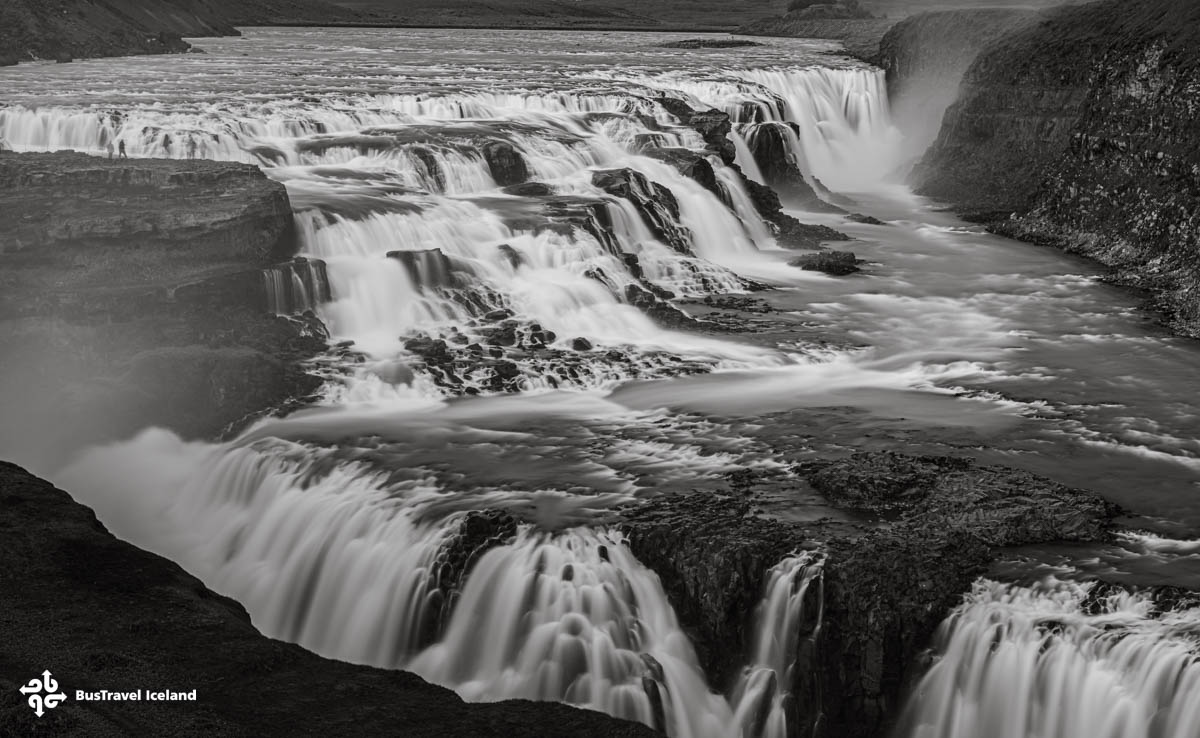 Gullfoss waterfall in B/W. [Photo credit to Yanshu Li]
With its dual cascades, Gullfoss waterfall transforms into a delicate, expansive torrent that dives deep into the canyon's embrace. From the side viewpoint, one can capture the waterfall's powerful descent, with mists rising to shroud the rugged cliffs, crafting a scene both mysterious and majestic.
Bruarfoss waterfall presents a distinct beauty through the lens as it's characterized by its unique braided appearance. Multiple small streams of blue glacial meltwater diverge and then converge, creating a series of intricate rivulets that fan out before collectively plunging into a single gorge below. This gives the waterfall a delicate, lace-like appearance from certain vantage points. Its milky blue cascade showcases purity in both color and its unique form.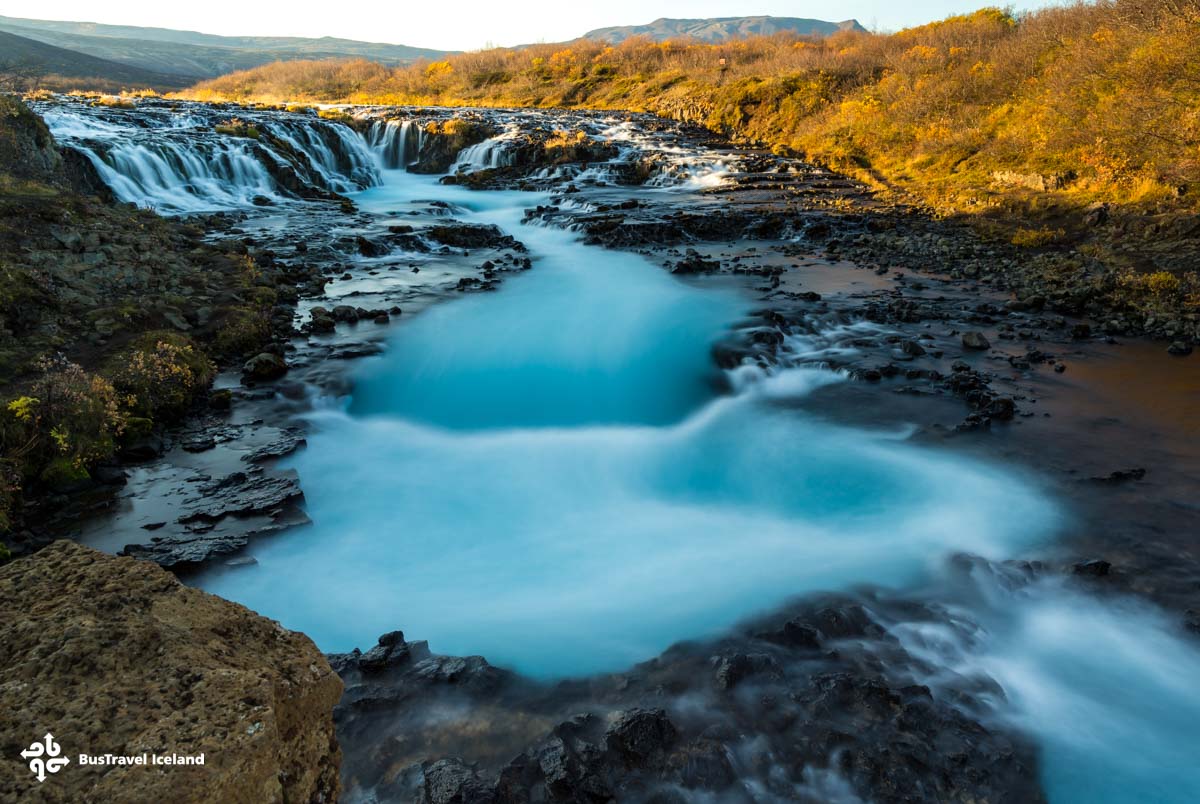 Bruarfoss waterfall, famous for its iconic milky blue cascade in long exposure shot. [Photo credit to Yanshu Li]
Traveling the Golden Circle route is more than just touristic sightseeing; it's a journey into the heart of the Icelandic countryside. It offers a glimpse into the authentic life of the locals, showcasing a remarkable balance between tradition and modernity on this Nordic island. Every time I venture into Iceland's core, I'm struck by the preserved lifestyle of the countryside, where tranquility and contentment exist in perfect harmony.
Final Tips and Logistics
Iceland is celebrated for its pristine, untamed landscapes—a legacy fiercely guarded by locals. Consequently, when venturing to lesser-known attractions, parking often lies a distance from the destination, ensuring nature remains undisturbed. 
The challenge of these hikes varies, influenced by weather, terrain, elevation, and one's fitness. It's advisable to wear sturdy hiking boots for these treks. In the often misty climes near Icelandic waterfalls, a water-repellent jacket is indispensable. Opt for quick-drying outdoor pants and, for inner layers, choose insulating materials like fleece or wool for warmth.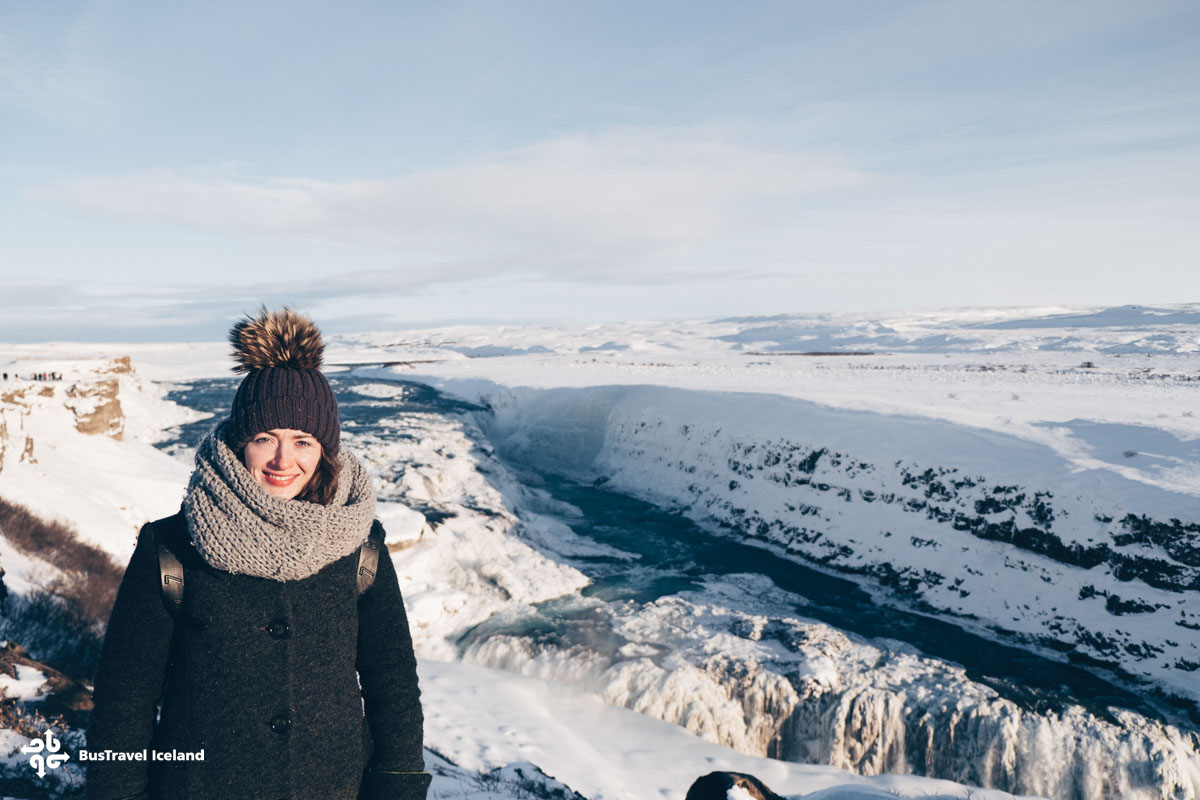 A visitor at Gullfoss waterfall in winter.
Most Golden Circle day tours feature Gullfoss waterfall, with some including Faxafoss. If you're keen on exploring additional waterfalls, consider renting a car and using navigation for your road trip. Importantly, remember that off-road driving is strictly prohibited in Iceland, and violators can face hefty fines.
Best Tours to the Golden Circle
Iceland's Golden Circle has a lot to offer. Besides the famous UNESCO World Heritage Site Þingvellir National Park, there are more to explore. The Laugarvatn Fontana spa, and the Secret Lagoon are perfect spots to experience Iceland's geothermal wonder. Many also like to end the day with a soak in the Blue Lagoon, or a hunt for the Northern Lights in winter.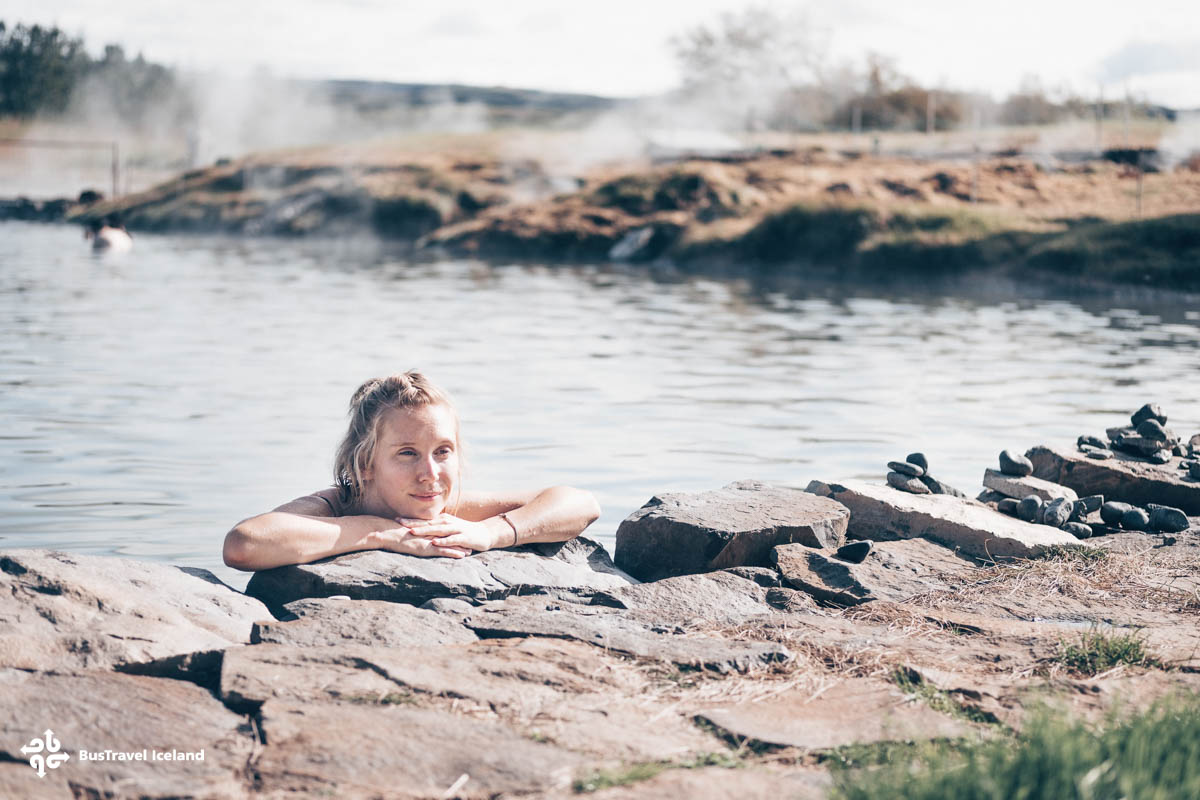 Secret Lagoon is a hidden gem within the Golden Circle Route.
Recommended
Iceland tours
Explore Iceland's beauty with our tours curated just for you, showcasing the best attractions for an unforgettable adventure.