The Best Thermal Pools in Iceland
by Irena
Iceland Culture
20 Dec 2021
Thermal pools and spas are synonymous with Iceland. Our country is blessed with cheap and plentiful warm geothermal water and Icelanders have harnessed this energy in many ingenious ways. These waters warm over 90% of the homes in the country and are used to generate over 20% of its electricity.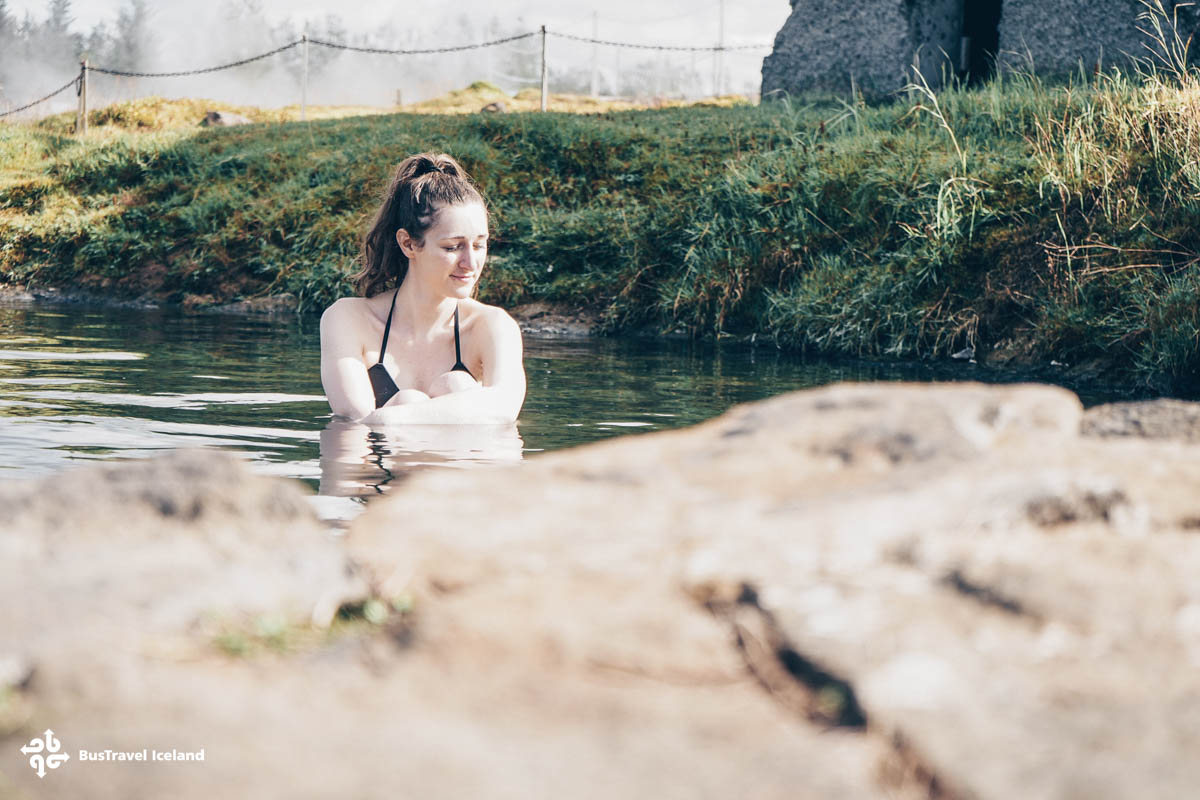 Our guide to the Best Thermal Pools in Iceland
Thermal Pools in Iceland
Thermal pools and spas are synonymous with Iceland. Our country is blessed with cheap and plentiful warm geothermal water and Icelanders have harnessed this energy in many ingenious ways. These waters warm over 90% of the homes in the country and are used to generate over 20% of its electricity.
Icelanders have also bathed in hot-springs pools fed by this geothermal water since the time of the sagas. The Icelandic countryside is dotted with small, natural hot-spring pools, particularly in the west of the country. In the south-east and east, the selection is noticeably sparser. The fantastic guidebook, "Thermal Pools in Iceland" by Jón G. Snæland and Þóra Sigurbjörnsdóttir lists these natural pools by region. Generally these thermal water pools are free to visit though some are on private land and the owners request a donation towards their upkeep. Almost all of them are rustic with either very basic or no changing or showering facilities. Most of these pools are tiny and can only cater to a handful of bathers at a time.
Local entrepreneurs have therefore sought to cater to the increasing numbers of travelers to Iceland by building commercial pools along with the facilities required. Here we countdown what are, in our opinion, the best Thermal Pools in Iceland.
The Blue Lagoon
The biggest of them all, The Blue Lagoon is Iceland´s, and perhaps the world´s most famous, thermal bath. Iceland's most visited tourist attraction, the lagoon has been welcoming guests for over 30 years.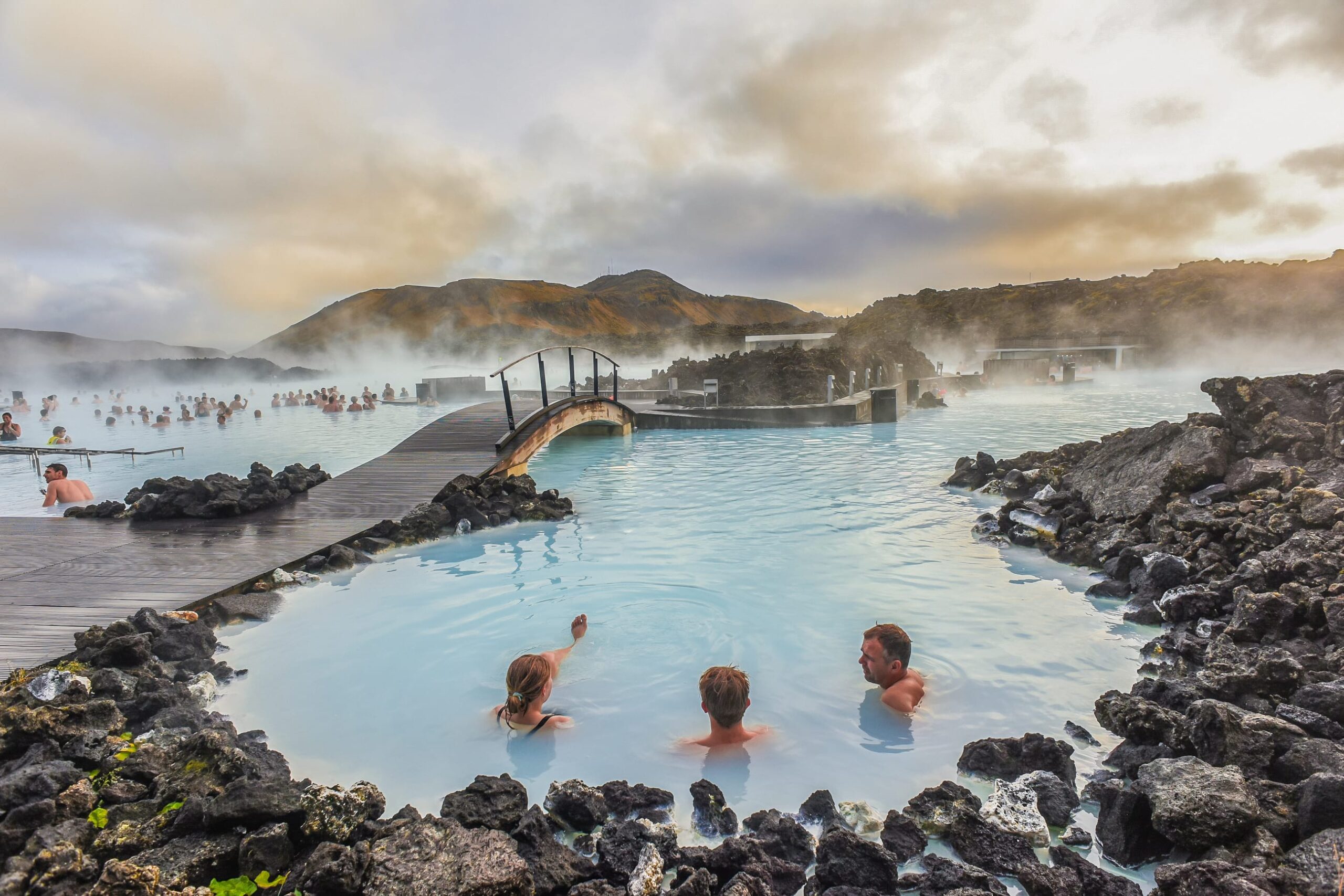 The geothermally heated water at the lagoon is said to have healing properties with the silica in the water offering relief for various skin conditions such as psoriasis.
Offering a wide range of ticket options from the basic comfort package which includes a towel and free drink right up to the exclusive private lagoon and changing rooms of the Blue Lagoon Retreat Spa. With face mask and spa treatments optional extras, dining and shopping, there is something for everyone at the Blue Lagoon
Age limit: 2 years
Price: Starting from ISK 5990
Dining?: Yes, with Cafe, Moss Restaurant and Lava Restaurant. Swim up bar in the lagoon itself.
Private Shower stalls?: Yes
Where is the Blue Lagoon located?: Near the town of Grindavík in the South-west, 20km from Keflavík airport and 45 minutes drive from downtown Reykavík.
BusTravel Iceland offers several tours that feature the Blue Lagoon. Enjoy sightseeing in our unique landscapes and end your day with a relaxing bathe.
Sky Lagoon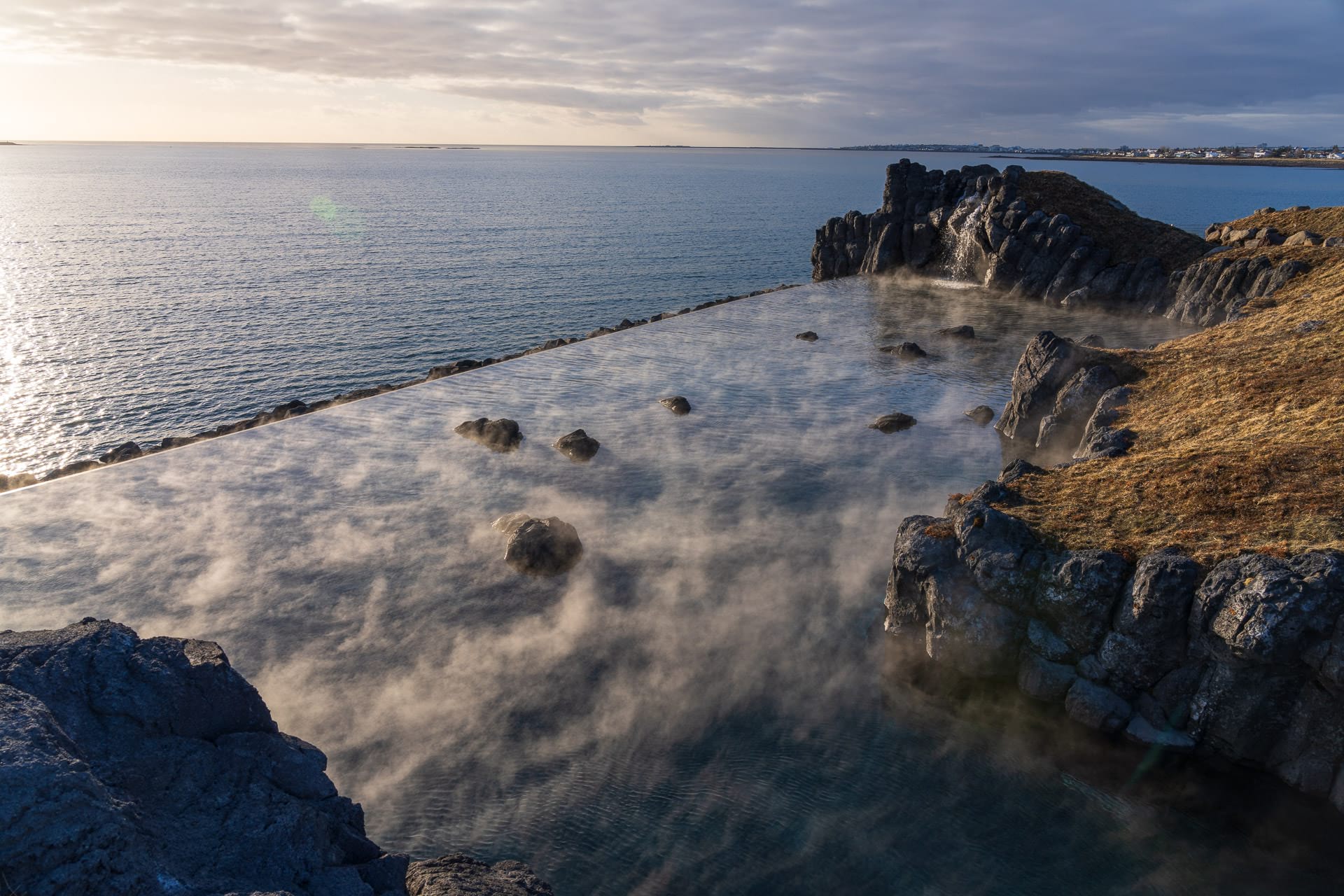 The Sky Lagoon is the newest kid on the block and has really captured the imagination of the local market. Icelanders are not renowned for planning in advance and the surge in popularity of the Blue Lagoon has made pre-booking essential. For this reason locals have to a certain extent turned their backs on the Blue Lagoon in recent years and are enjoying this new rival immensely. And it has the added benefit of being only 5 minutes drive from downtown Reykjavík. The Sky Lagoon features an infinity pool and great view over the bay towards the city. The highlight however is the 7 step Ritual program. Take in all the lagoon has to offer in order, ranging from cold therapy paths, to the sauna, cleansing scrub and steam baths. The Sky Lagoon garnered international attention recently by featuring prominently in the 26th season of tv show ´The Bachelor´ with Clayton and Susie enjoying a date at the newly opened Lagoon.
Age Limit: 12 years
Price: From ISK 5990
Dining?: Yes – Sky Cafe, Lagoon Bar and Smakk Bar
Private Shower stalls?: Only for Sky Pass ticket holders
Where is the Sky Lagoon located?: Just 5 minutes drive from downtown in the suburb of Kópavogur.
BusTravel Iceland offer a sightseeing tour to Iceland´s rugged southern coast which ends at the Sky Lagoon. You can also purchase your Sky Lagoon tickets with us if you plan to visit on your own.
The Secret Lagoon
The Secret Lagoon is the perfect place to stop for a warm water dip while exploring Iceland´s most popular day tour route, the Golden Circle. Known locally as Gamla Laugin (The Old Pool), Iceland´s oldest swimming pool dates from the late 19th century.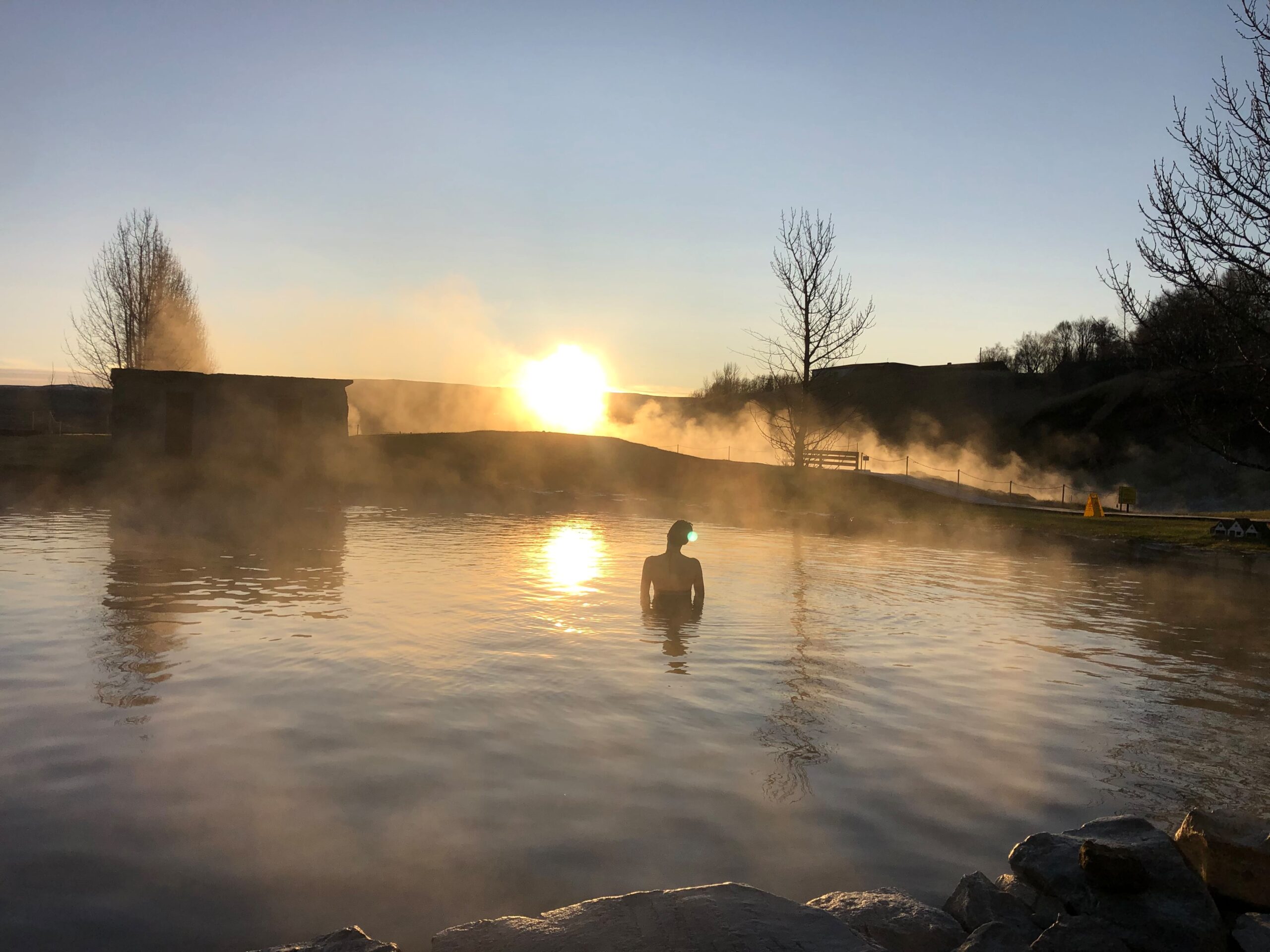 The Secret Lagoon offers great value relative to the premium ticket prices of the lagoons Blue and Sky! In terms of facilities, this is a more simplified experience with one large pool with temperatures ranging from 100-104 degrees fahrenheit.
Age Limit: No
Price: ISK 3000
Dining?: Cafe/Bistro
Private Shower stalls?: No
Where is the Secret Lagoon located?: The Secret Lagoon is located in the town of Flúðir, 100kms east of Reykjavík or 25km south of Geysir.
You can visit the Secret Lagoon on one of these fantastic Golden Circle tours.
Mývatn Nature Baths
Located in the other-wordly landscape of Mývatn in Northern Iceland, Mývatn Nature Baths resembles an earlier, less developed version of the Blue Lagoon. It shares the famous blue waters of its famous southern counterpart but is a quieter and less glitzy affair.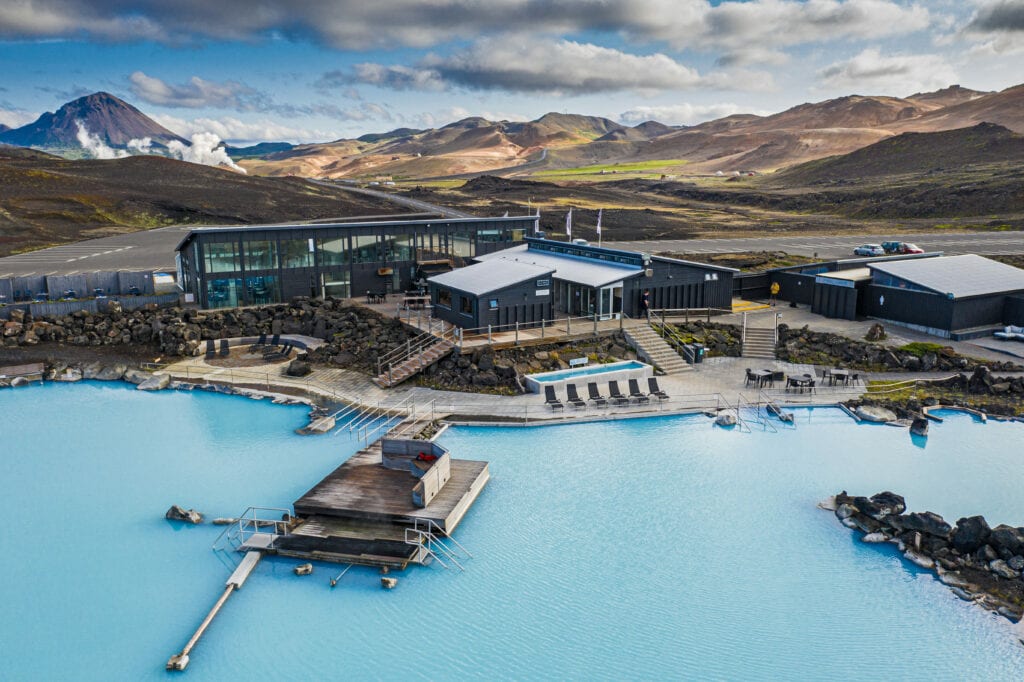 Overlooking the moonscape of the surrounding landscape while bathing here can be a surreal experience. The Baths comprise of the large open lagoon, steam baths and a cosy cafe.
Age Limit: No
Price: From ISK 5700
Dining?: Yes, at Cafe Kvika a well appointed bistro overlooking the lagoon itself. With a drinks bracelet, staff will bring your drinks to you while you bathe.
Private Shower stall?: Yes, 2-3 private stalls in each changing room
Where are Mývatn Nature Baths located?: In the town of Mývatn, 1 hour east of Akureyri, our northern capital.
Geosea Geothermal Baths
The picturesque fishing village of Húsavík was, until a few years ago, best known as the whale watching capital of Iceland. All that changed when the hit Netflix movie, "Eurovision: The Story of Fire Saga" was released to audiences worldwide. Further immortalized in the hit, oscar nominated theme song named after it, Húsavík has more to offer than just whales and eurovision. Geosea Geothermal Nature Baths stand out from competitors here you bathe in warm geothermal sea water. These hot sea-waters have been enjoyed by locals for decades, with the water found to alleviate the symptoms of many skins conditions.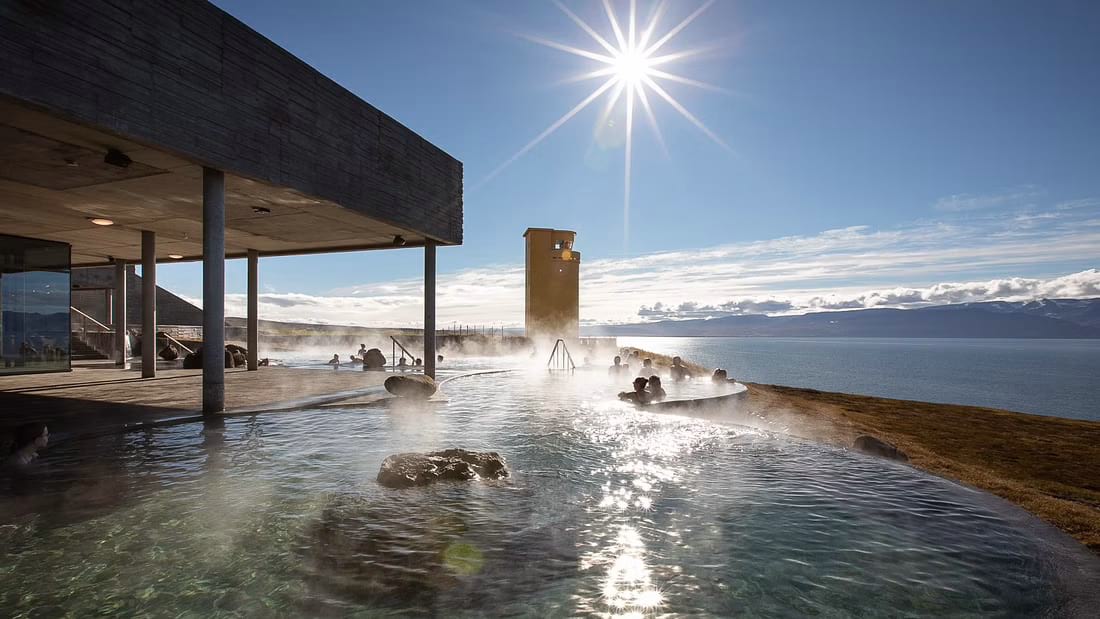 Enjoy fantastic sea views from this amazing location, with the lagoon perched on the cliff tops by an old lighthouse.
Age limit: No
Price: ISK 5400
Dining? No. Cafe/Bar and bar snack only.
Private Shower stalls?: Yes
Where are Geosea Geothermal Baths located?: In the port town of Húsavík, 1 hour to the north-east of Akureyri
Húsafell Canyon Baths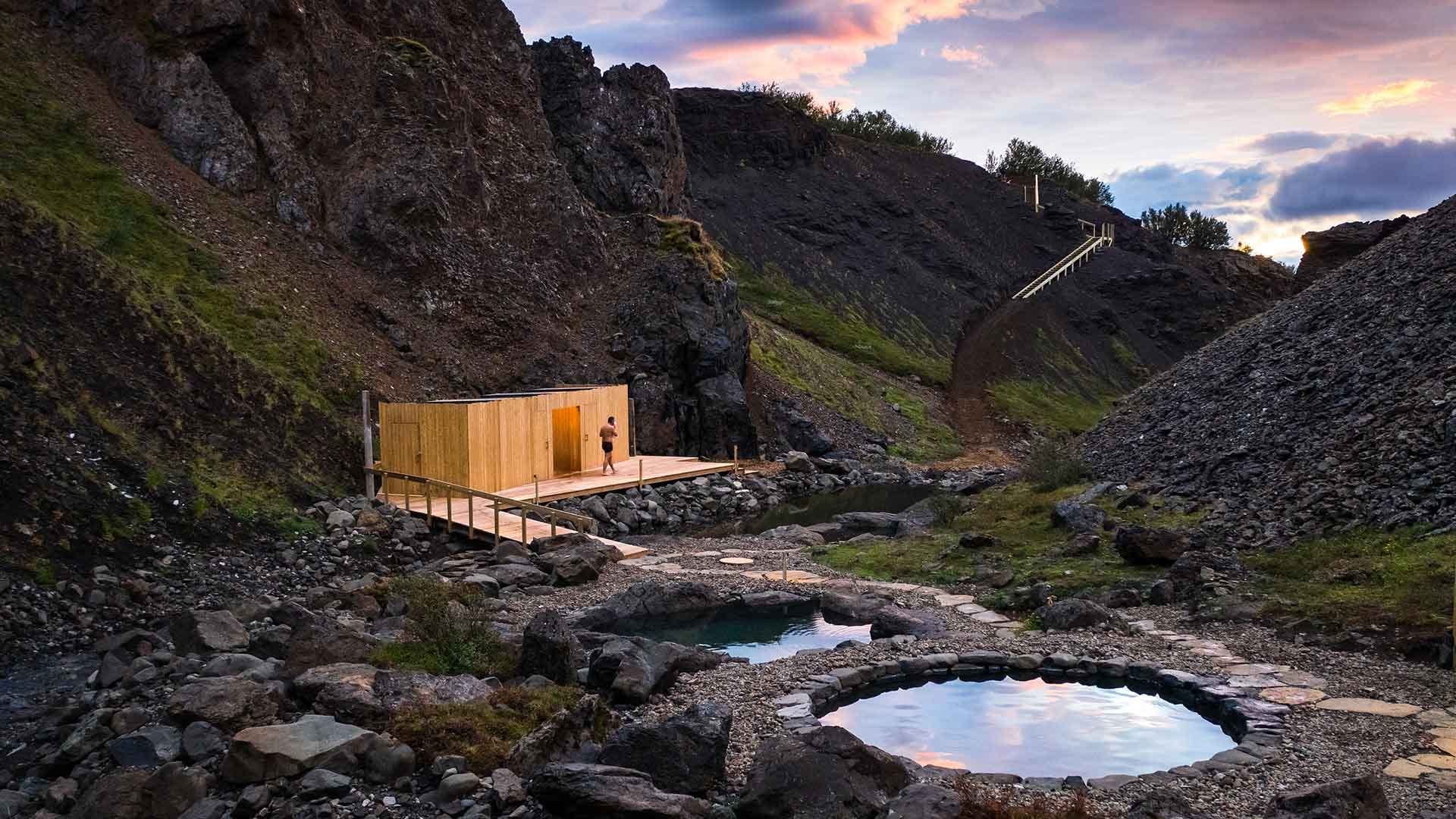 Another relative newcomer to the scene, these geothermal baths can be visited as part of a nature walking tour. The walk is easy but scenic and you are rewarded with an intimate experience surrounded by the canyons. There are two warm pools to choose from, with temperatures varying between 30-41 degress celcius. If you are feeling especially brave, there is also a cold pot. Places are strictly limited to 16 people, a world away from the often crowded mainstream nature springs.
Age Limit:5 years
Price:ISK 9900
Dining?:No, but there are dining options at the meeting point of the tour, at Hotel Húsafell and Húsafell Bistro.
Private Shower stall?:No
Where are Húsafell Canyon Baths located?: Húsafell is located about 2 hours from Reykjavík. Turn before Bórgarnes onto Road 50.
Krauma
Located at Europe´s most powerful hot-spring, Deildartunguhver, Krauma offer 6 different pools, a steam room, an infra-red sauna and relaxation room. Enjoy the view of the steams plumes from Deildartunguhver while enjoying champagne in central pool.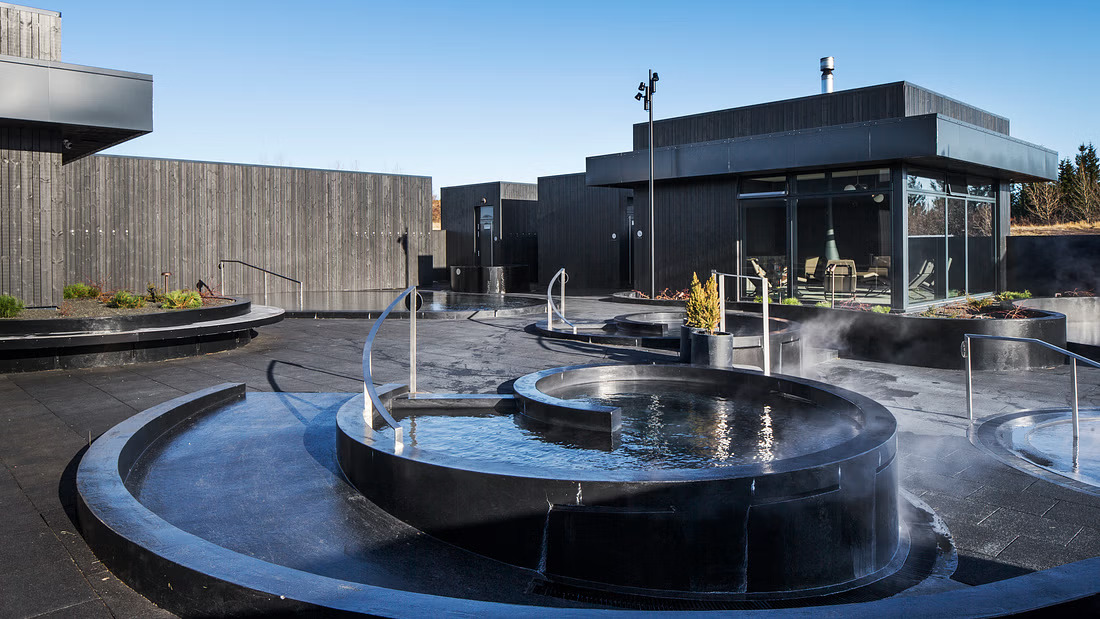 While Krauma might like some of the rustic charm of the nearby Húsafell Canyon Baths, if it´s sleek luxury you are after, the decision to book Krauma is a no-brainer.
Age Limit:No
Price:ISK 4900
Dining?:Yes, there is a very nice restaurant on location. You can also order drinks to the spa..
Private Shower stall?:No
Where is Krauma located?: Krauma is located at Deildartunguhver just off the road to Húsafell, about 90 minutes from Reykjavík.
And this is not even a full list. You can find many more geothermal pools all over Iceland, such as Forest Lagoon in the north, Vök baths in the east. And less known hidden gems like Hrunalaug Hot Springs.
Recommended
Iceland tours
Explore Iceland's beauty with our tours curated just for you, showcasing the best attractions for an unforgettable adventure.