Sunrise and Sunset Times in Iceland
by Irena
Good to Know
20 Aug 2022
Get to know the daylight hours by month in Iceland.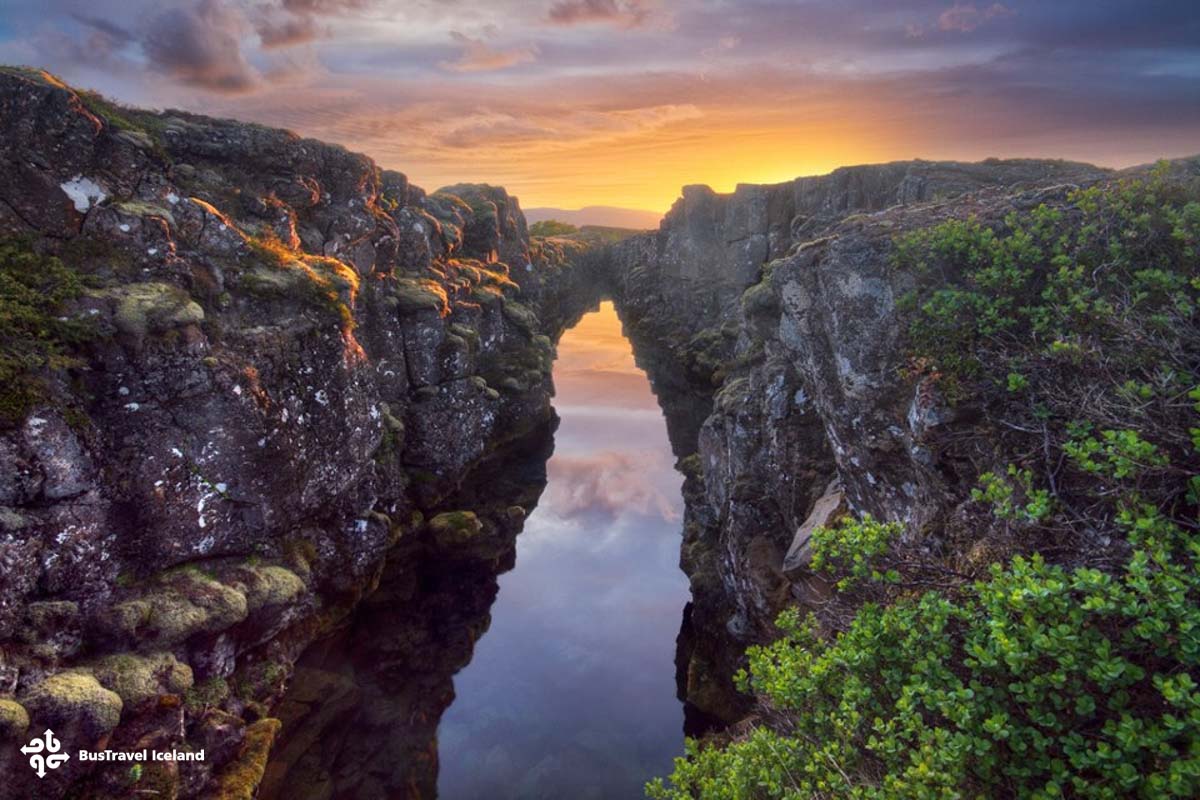 When planning a trip to Iceland, it's crucial to keep daylight hours in mind. If you haven't picked a date yet, but have something special on your bucket list – read on. Here we've put together useful information and tips.
Sunrise and sunset times in Iceland
You probably heard that in Iceland sunrise can be as early as right after midnight and as late as just before noon. Well, it is in fact true! Actually, in the northernmost part of the country – Grimsey island – the sun doesn't set around the summer solstice and doesn't rise around the winter solstice. Located behind the arctic circle, Grimsey experiences actual polar nights and midnight sun phenomena.
In the capital area, the difference is not as dramatic, but still considerable. Here you can see the exact times of sunrise and sunset in Reykjavik for each month as well as the total amount of daylight hours.
Table: Sunrise and sunset times in Iceland, Reykjavik. Source: Time and Date
Iceland's daylight hours by month
Now that you understand how fast these changes take place, let's visualize what it actually means in terms of night and daylight hours. How much time do you get each month for daytime activities and how much for the Northern Lights?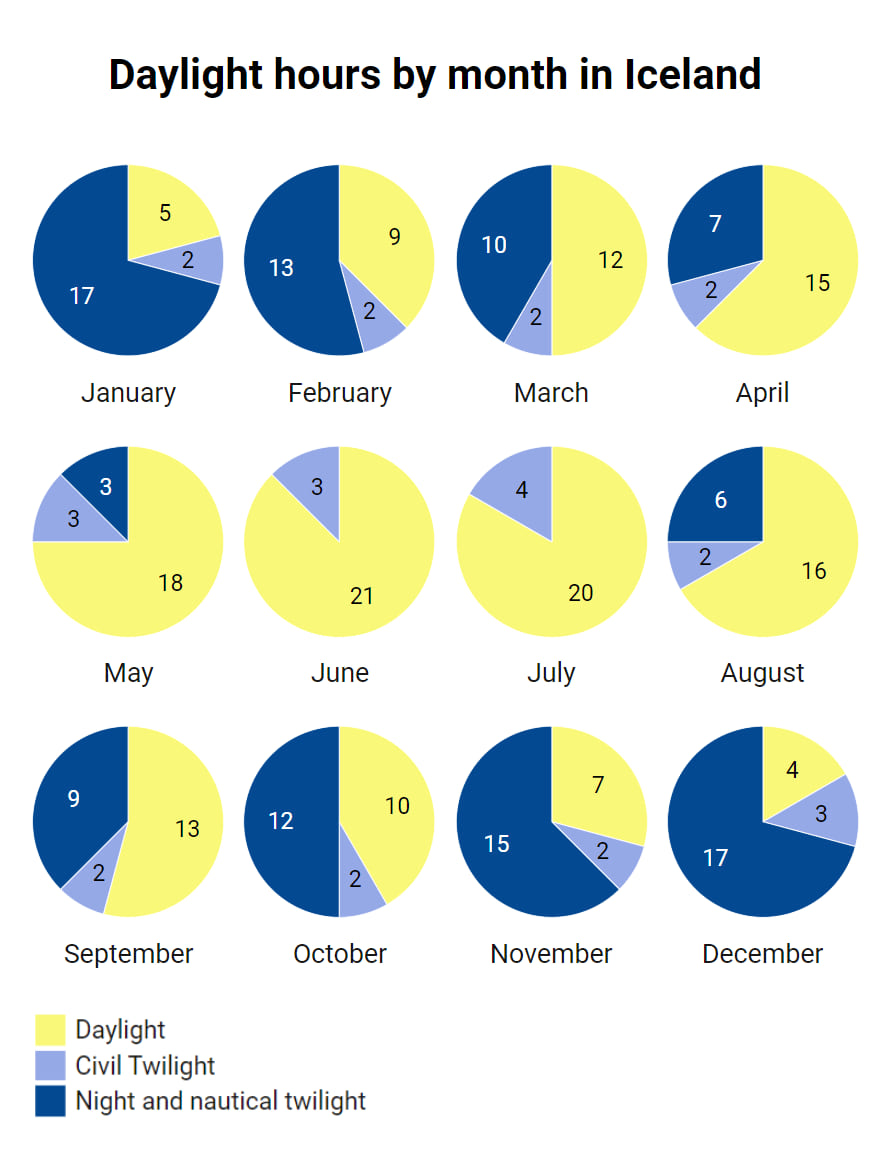 As you can see, even in the darkest months of December and January, Iceland still gets a few hours of light. And for traveling purposes, you shouldn't dismiss those 2-3 hours of civil twilight a day. It is a perfect time for driving between places and is great for sightseeing too. Icelandic winter has a special charm with its long golden hours and twilight days.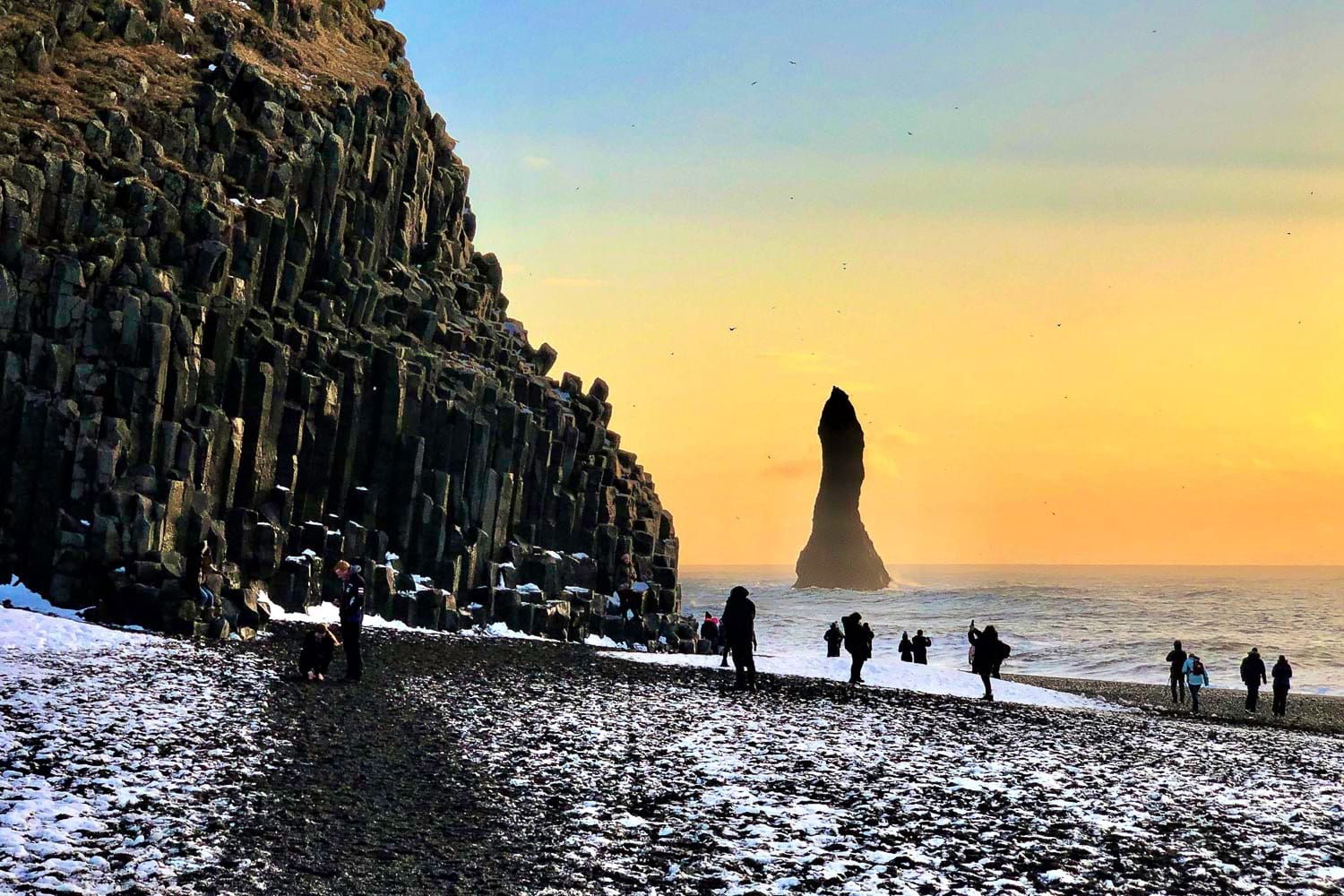 On the other hand, you don't get much darkness in summer here – in June and July, it doesn't get dark at all. This natural phenomenon is called Midnight Sun and plays a big role in Icelandic culture and life.
When is the best time to visit Iceland? Activities by Season
Ice caves and glacier hiking
Usually, ice caves in Iceland are accessible from the middle of October and through March. The reason is winter's low temperature. Even though Icelandic summer is not very hot, it gets warm enough for the caves to change considerably due to ice melting. The good news is that glacier hiking (snowmobiling, etc.) is an all-year-round activity. The tours' conditions and itineraries may vary from one season to another, but there is always an opportunity to enjoy the frozen paradise.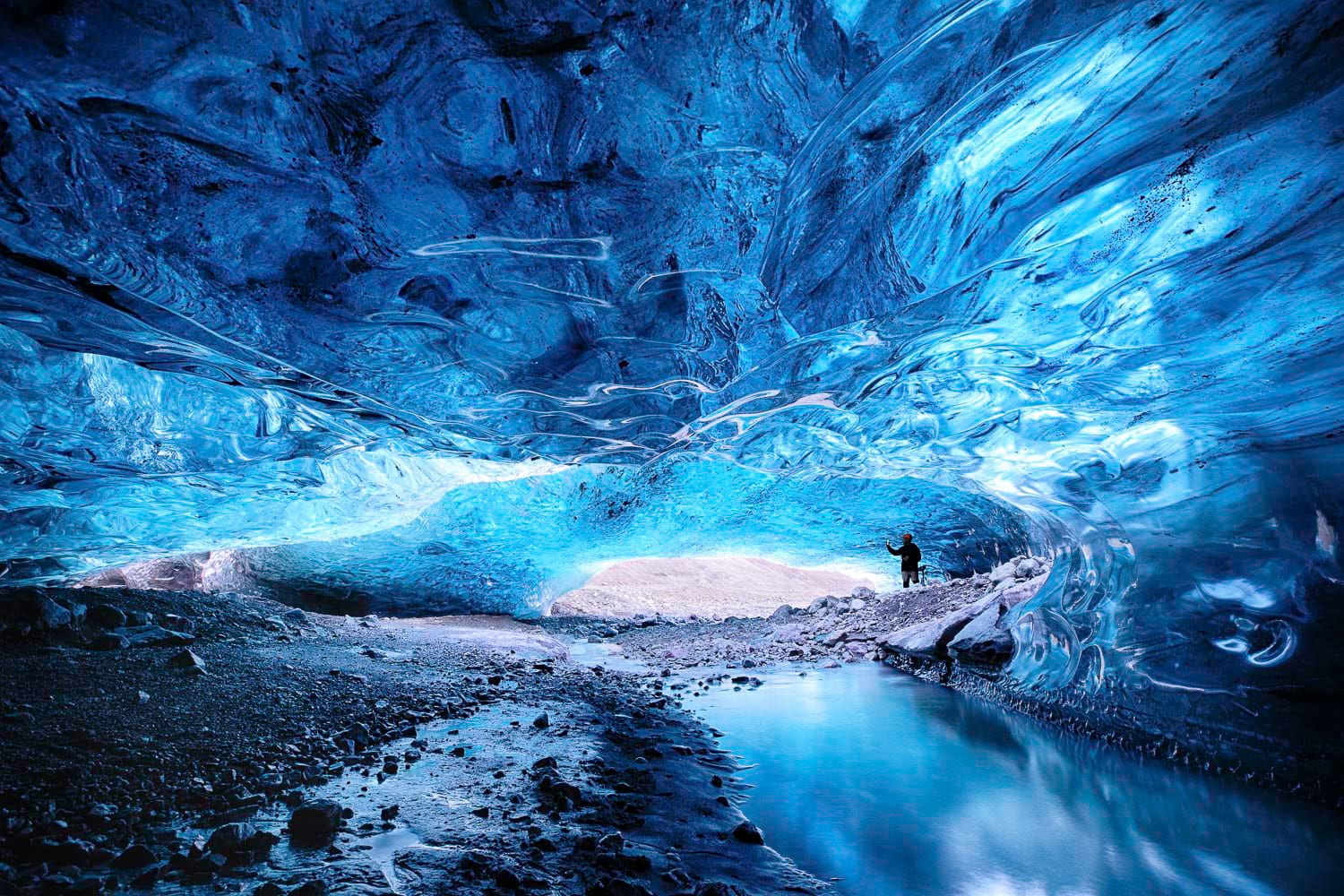 Hunting the Northern lights
For this activity darkness is your friend, so look for the largest dark blue slices of the pie chart above.
December and January are the darkest months when you can see Northern lights before dinner. But basically, October through March is a good time for enjoying Auroras, with 10+ hours of darkness daily. However, you do have a chance to see them from the second half of August till the second half of April. That is usually the time span for running the Northern lights tours.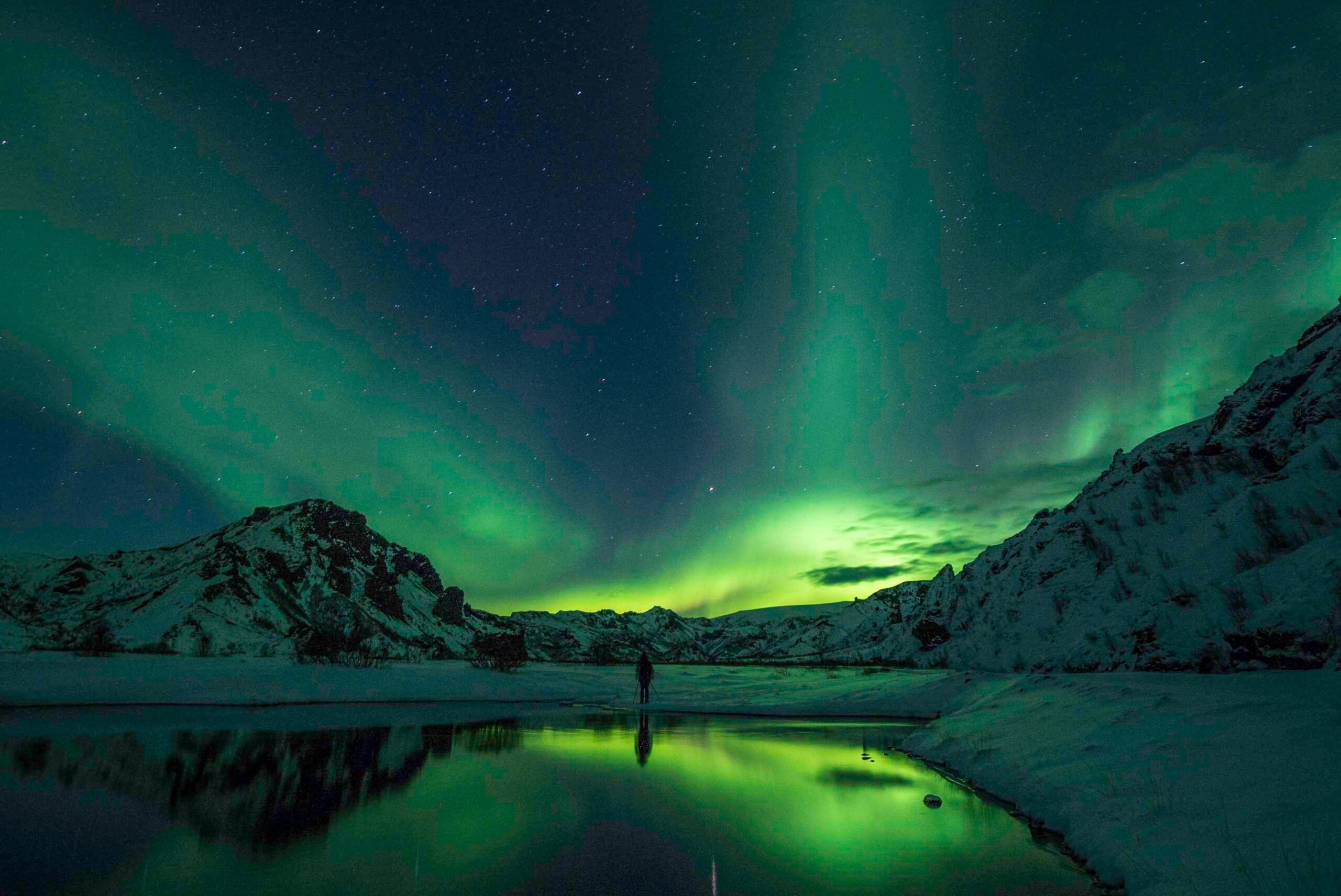 Experiencing Midnight Sun.
Here applies exactly the opposite from the previous item (obviously!). If you'd like to enjoy sunlight at midnight – take a walk, make a picnic, or use the opportunity for a long mountain hike – June and July would be the best.
Traveling on mountain roads and hiking trails.
The F-roads are generally open during high summer in Iceland – in July and August. The exact dates can differ each year due to weather conditions, but if you plan to take a trip (a hike) to Icelandic highlands – these are the best two months for it. And as mentioned before, you can take the benefit of long daylight hours during this time.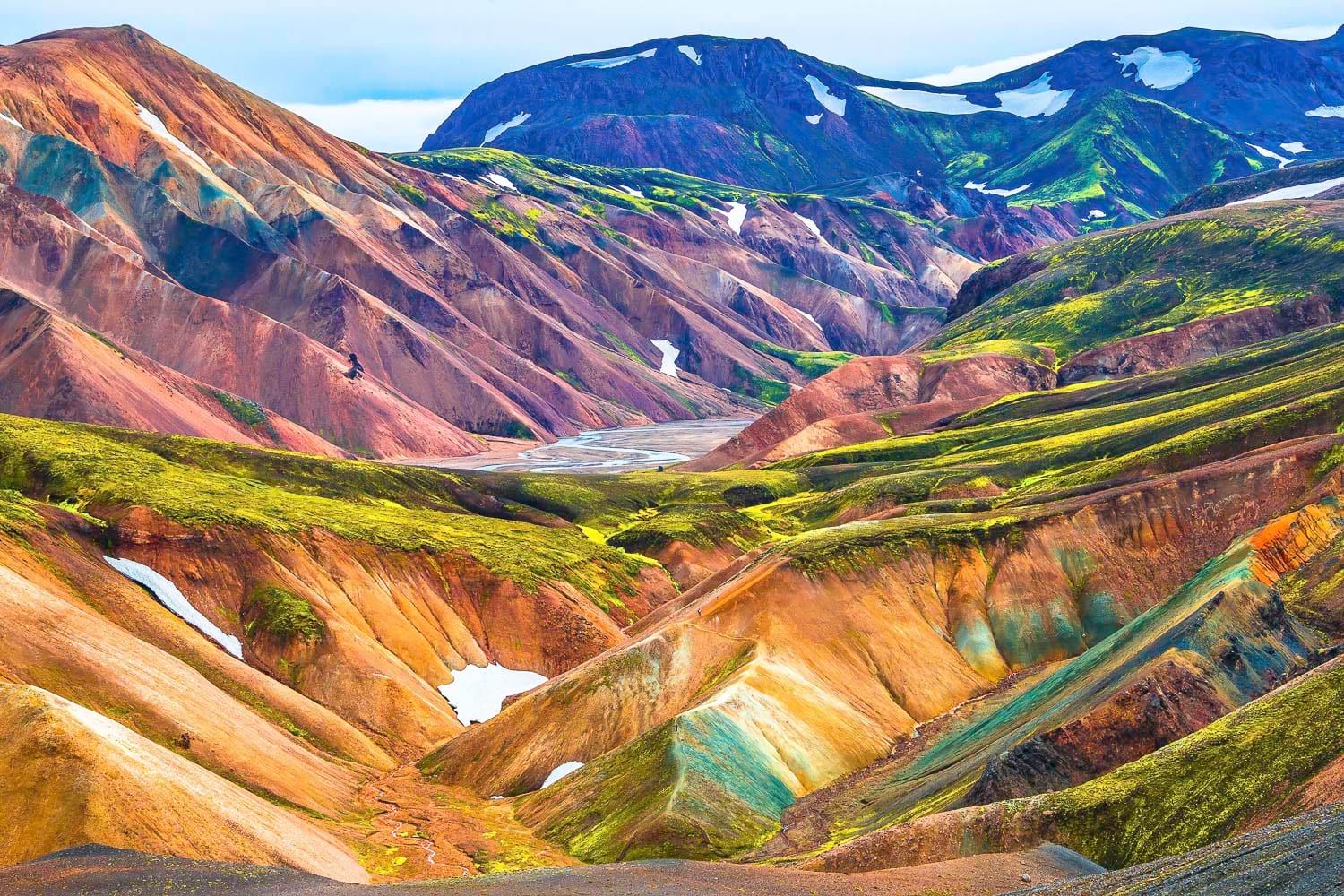 Here are a few activities that you can enjoy any time through the year, but the experience will be very different each season
Day tours by coach/car
Day tours are run in Iceland all year round, even the longest ones like the Glacier Lagoon tour which takes approximately 14 hours. Certainly, if you come in winter – you will see fewer places in daylight than you would in summer, and the experience will be totally different. But it will have its own special charm and atmosphere. Actually, it's not a bad idea to visit Iceland more than once – in different seasons.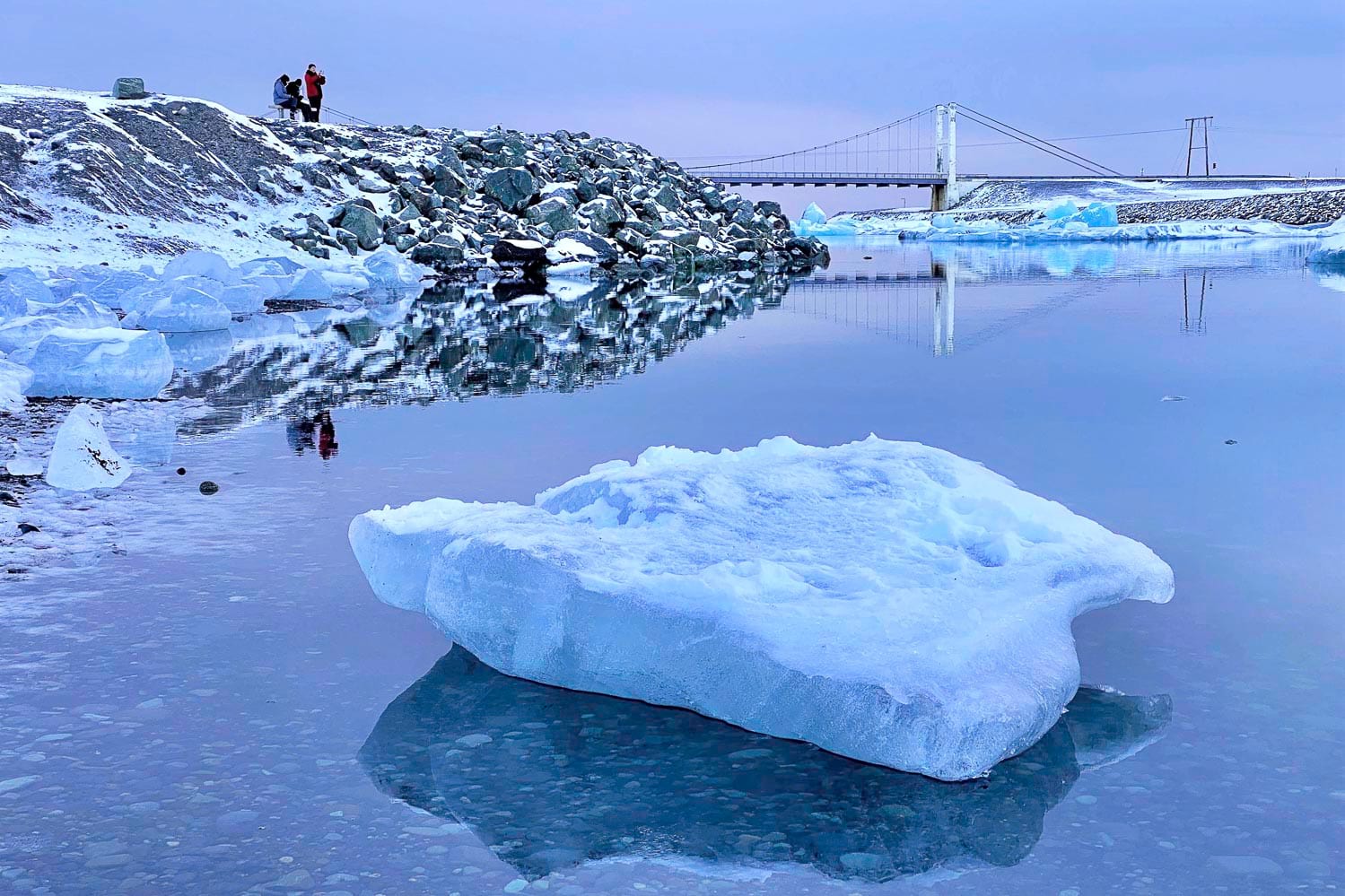 Photography
If your plan is to capture the unique beauty of Iceland on camera – any time will work. But there are a few things good to remember. Since even apart from Aurora borealis, light conditions are always a crucial point in photography, we suggest that you take a look at the sunrise and sunset times every month. For example, the beautiful golden hour takes place around mid-day in high winter and around midnight in high summer. Also, the length of civil twilight changes a lot through the year.
Geothermal pools and spas
Hot springs and lagoons are always a hit in the land of ice (and fire). Icelanders simply love to use them all the time. While relaxing in cozy warm water – do you find snow on your head annoying, or refreshing and exotic? That's up to you! The only point in favor of summer in this respect – is that some of these springs you can't reach in wintertime.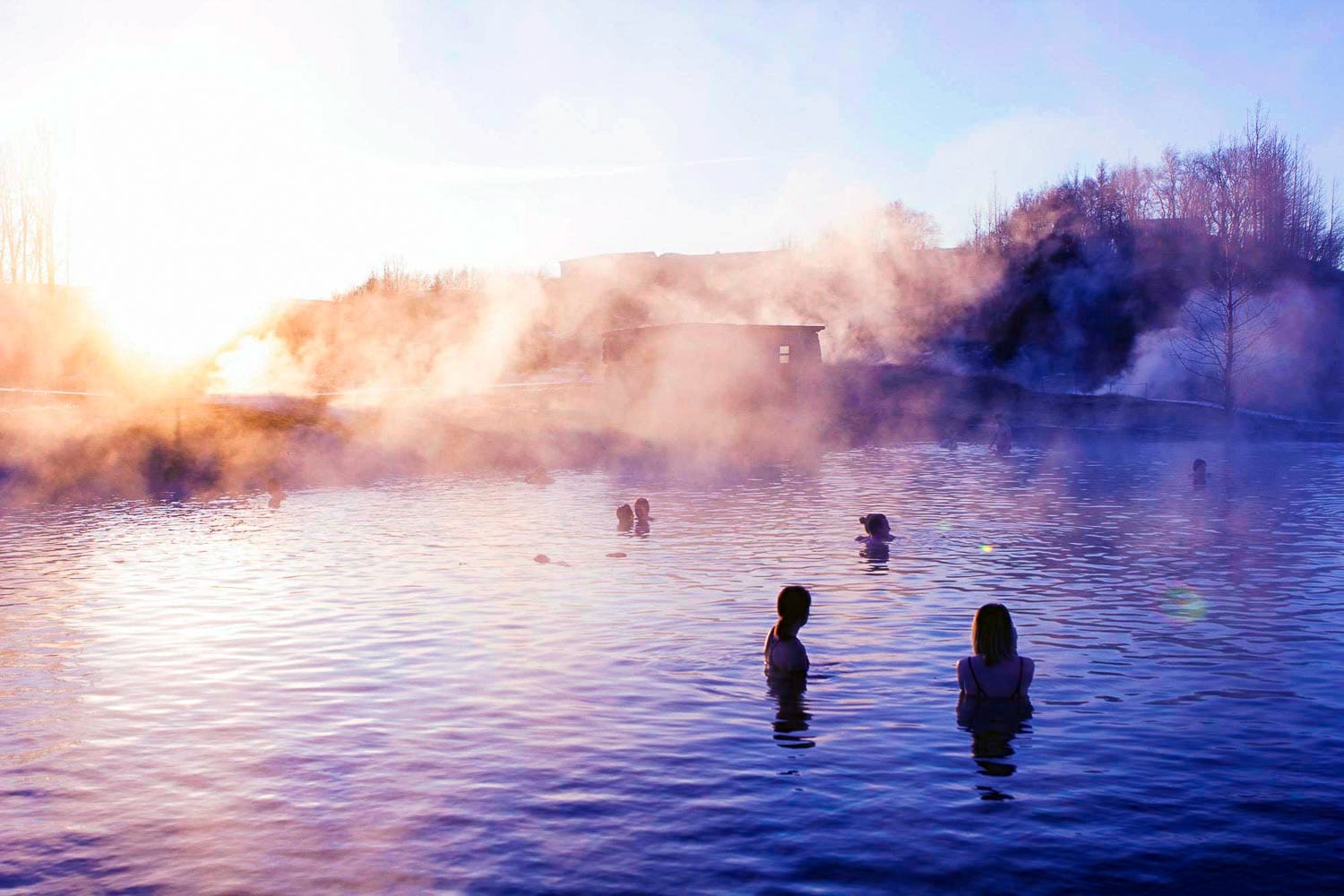 Weekend/holiday break
Iceland is a great destination for a short break, considering your trip here is not too long of course. During long summer days, you can pack really a lot in a short time – the only limit is the amount of sleep you need. And during the winter you get a chance to do the sightseeing and to hunt for the Northern lights after dark. Plus, Iceland looks magical around Christmas time.
Recommended
Iceland tours
Explore Iceland's beauty with our tours curated just for you, showcasing the best attractions for an unforgettable adventure.