Lesser Known Hot Springs in Iceland
by Neil
Good to Know
24 Apr 2019
A list of some of our favourite unusual places to bathe in Iceland, get to know these hidden gems here.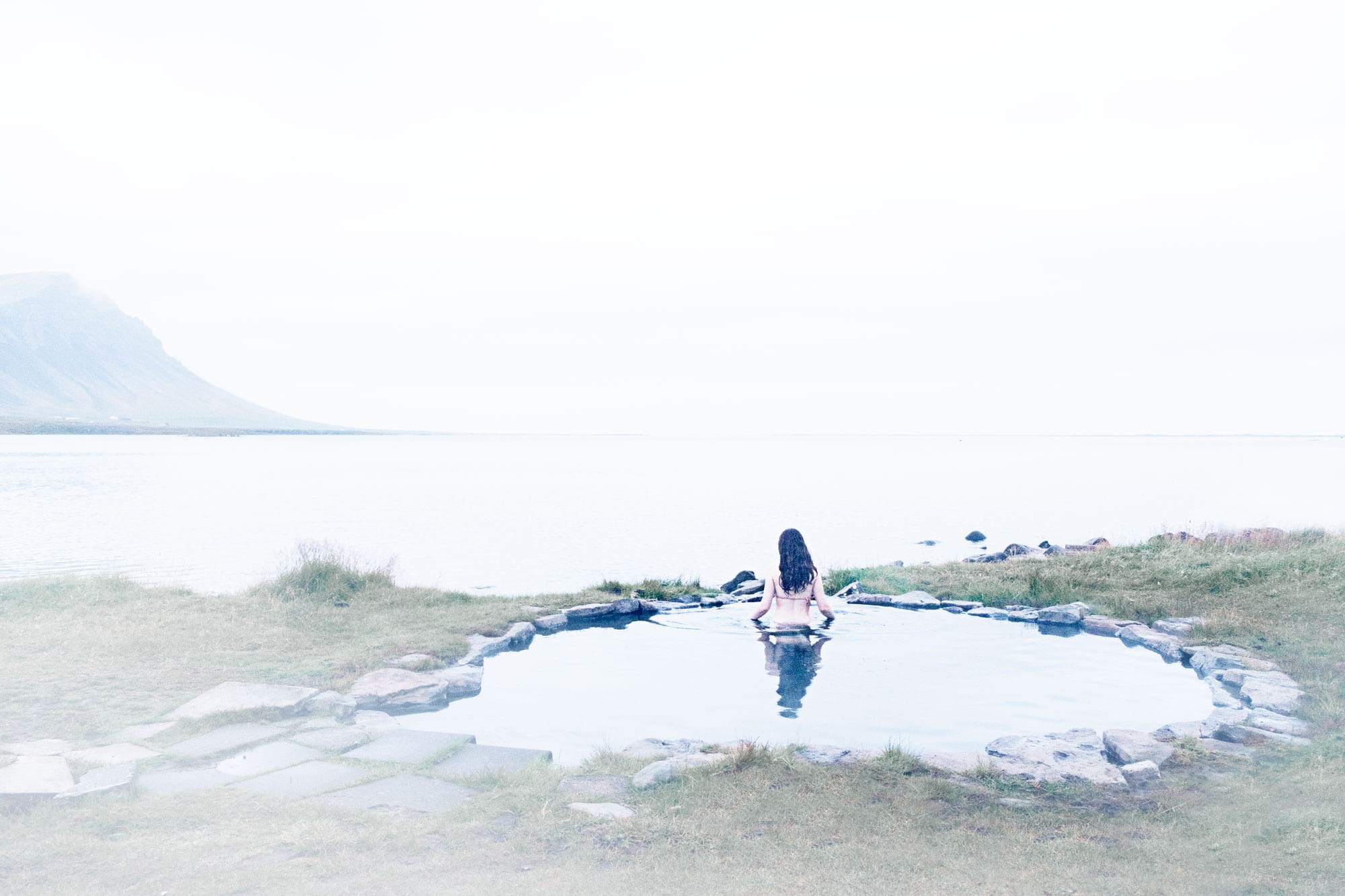 Imagine walking in nature surrounded by mountains, moss and interesting rock formations. As you turn a corner, you see some steam rising up from a pool of water, inviting you to take a dip and warm your bones. While you sit in the cosy heated pool and slowly breathe in the fresh air, you gaze at the ancient landscape around you that's been created by violent volcanic eruptions, carved by glaciers, worn down by the wind.
Iceland sits on a 'hot spot' on the earth – a place where tectonic plates meet and magma rises up to the earth's crust in volcanic eruptions, crust movements and convection currents.
We've compiled a list of some of our favourite unusual places to bathe in Iceland, get to know these hidden gems here:
Djúpivogur, Southeast Iceland

This one can be hard to find – you have to be on the lookout for some steam rising from the ground near the side of the road! When you see it, pull over and wander towards the steam until you see a man-made pool with stunning views of the countryside. It's a long drive to the east of Iceland along the south coast and there are so many wonderful places to see along the way. Taking a dip in this pool is the perfect break from driving and sightseeing.
Landmannalaugar, Highlands

In the heart of the highlands lies the enchanting world of Landmannalaugar. Only accessible by 4WD vehicles for a few months in summer (and only super jeeps in the winter), when you make it to this area you know you're in a truly special place. Surrounded by colourful mountains and geothermal areas, it's a popular place to camp and hike. The hot springs here are a welcome relief after a long journey and the pools are big enough to swim around in as well as sit and relax.
Seljavallalaug, Southern Iceland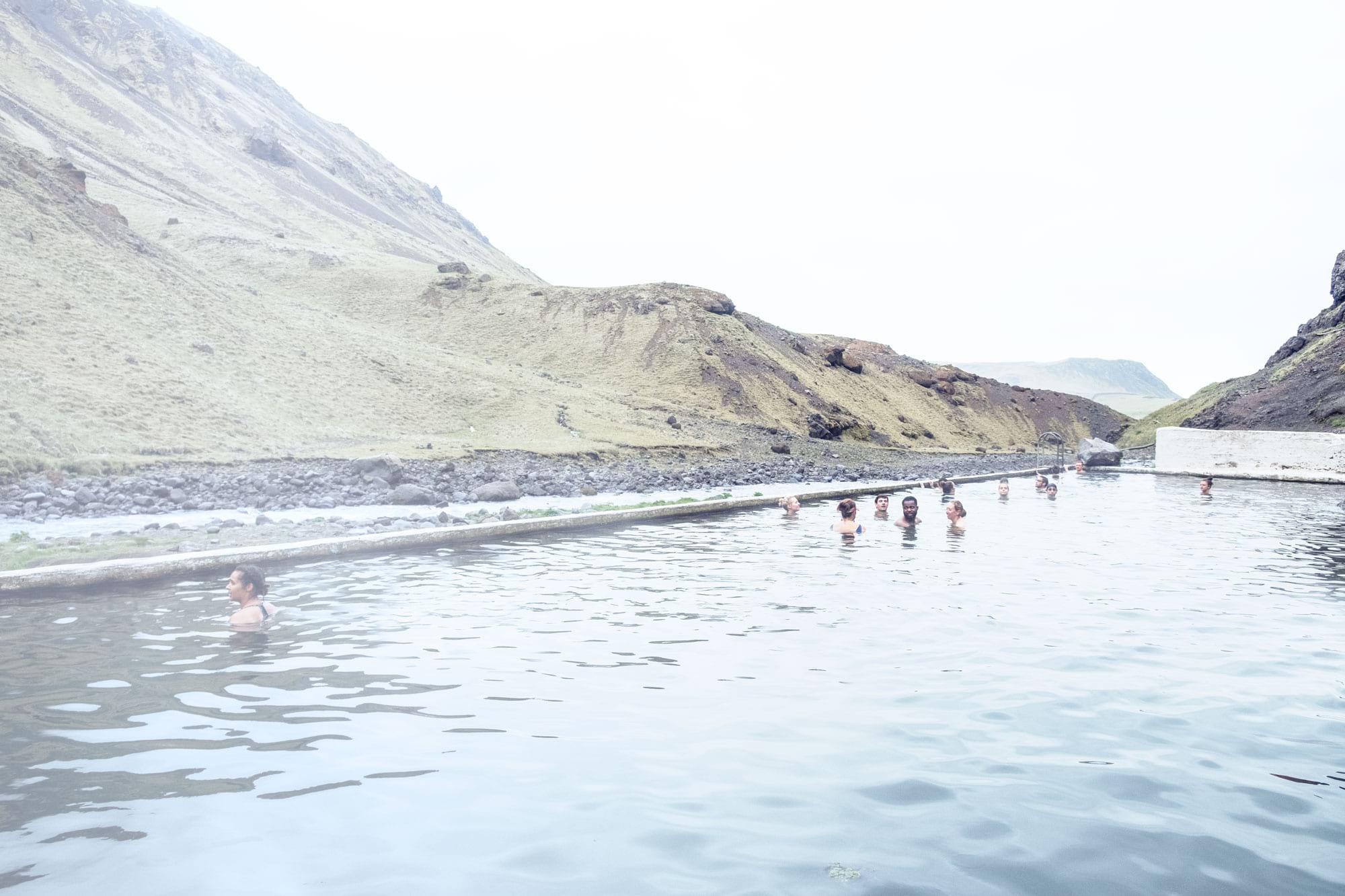 This pool was built in 1922 and is unmanned so over time has developed a charmingly abandoned look. After a 15 minute stroll through a valley enveloped by intimidatingly tall mountains, you reach a large pool that lies at the foot of Eyjafjallajökull. After the 2010 eruption, the pool was buried in ash until volunteers cleaned it out a few months later, letting us enjoy the soothingly warm water once again.
Birkimelur, Westfjords

When you ask locals what their favourite part of Iceland is, many of them say the Westfjords and when you drive along the quiet winding roads with energetic ocean on one side of you and dramatic mountains on the other, it's easy to see why. Only about 10% of visitors to Iceland end up in the Westfjords and not many people live there either, so it feels like an incredibly tranquil area and when you visit, it feels like you've found a secret part of the land of ice and fire.
Birkimelur swimming pool is located in the middle of nowhere on the south of the Westfjords, all there is in the area is a few houses and a whole load of mountains. The place is incredibly peaceful with a hot pool that has a stunning view over the bay. At high tide, the pool is right by the sea and at low tide, a long beach stretches in front of you. There's also a swimming pool here where you can do a few laps before relaxing in the hot pot!
Hofsós, North Iceland

This pool, unlike the others in this list, is a municipality pool – there are pools like this in most small towns of Iceland. The pool looks out across a fjord with breathtaking views, it has an infinity pool effect. There's also a hot tub right beside the pool. If you're driving up to the adorable town of Siglufjörður, it's well worth stopping to take a swim at this pool along the way.
The hot pools of Iceland are much loved by visitors and locals; pools are a common place for friends to get together for a catch up and the heat helps us through the harsh winters. When visiting one of these pools, make sure not to leave any trash there and to leave it the same as you found it, so others can enjoy the pools too. There are hundreds of hot springs and pools around this geothermally active country, so we hope you enjoy taking a dip!
Recommended
Iceland tours
Explore Iceland's beauty with our tours curated just for you, showcasing the best attractions for an unforgettable adventure.