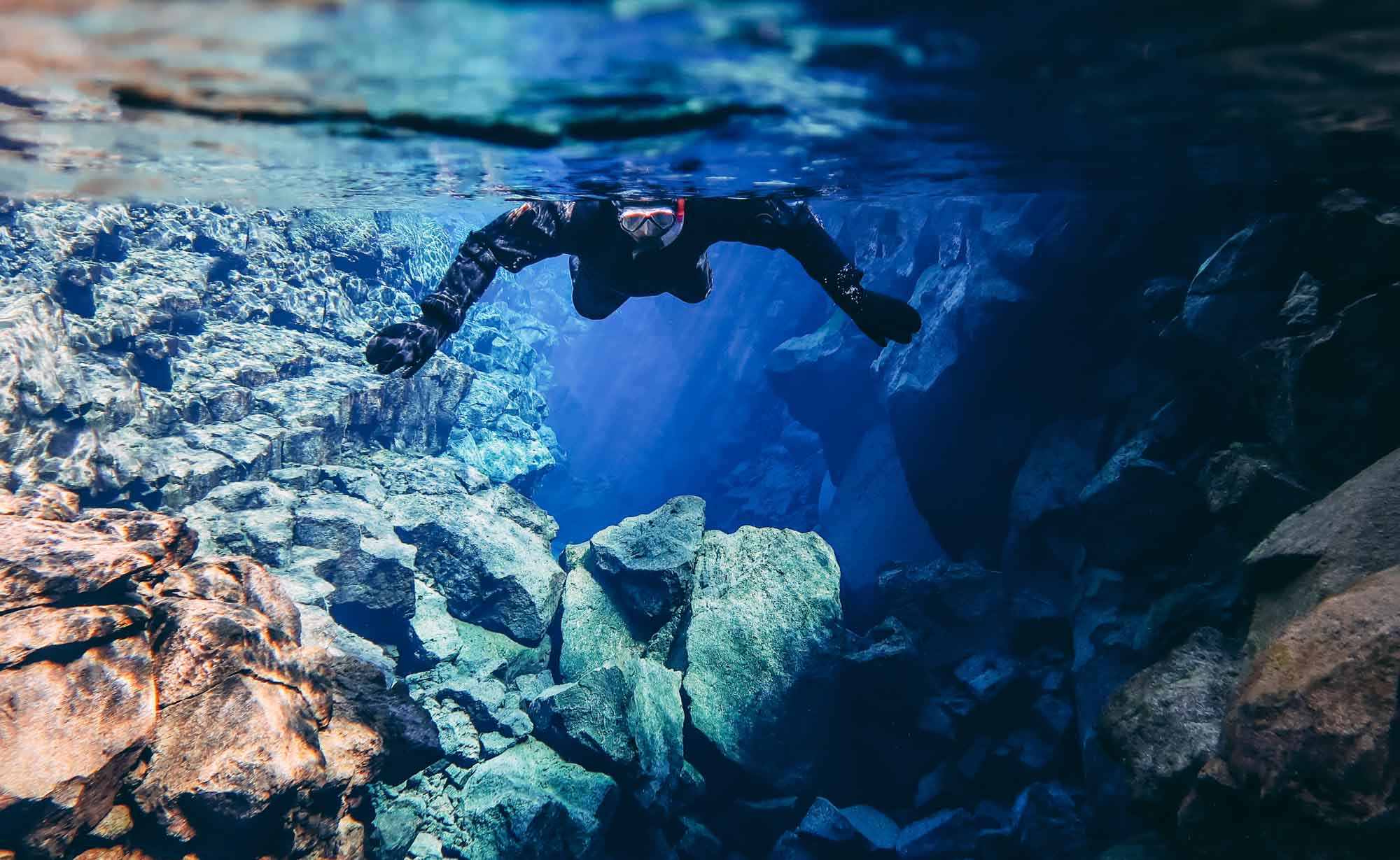 Discover the Enchanting Underwater World – Diving and Snorkeling in Iceland
Immerse yourself in Iceland's purest waters: dive and snorkel through glacier water between tectonic plates
Experience snorkeling and diving in Iceland in the purest waters with outstanding visibility
Diving and snorkeling in Iceland often catch travelers by surprise. Many tourists are amazed by the country's diverse and popular underwater attractions.
Despite Iceland's non-tropical location, its distinctive geology offers unique and ideal diving and snorkeling spots that continue to delight enthusiasts.
Explore Iceland's purest waters and discover its hidden underwater gems for a remarkable adventure you won't find anywhere else.
Diving and Snorkeling Tours at Silfra Fissure in Thingvellir
Get on the dry suit and prepare to be amazed
Enhance your Iceland experience with an exciting combo adventure
When you're in Iceland, get ready for a variety of exciting activities amidst stunning scenery. In addition to the captivating diving and snorkeling tours, there are many other adventures to discover and fully experience Iceland's beauty.
That's why we've put together a selection of combo tours that combine diving and snorkeling to make your stay even more enjoyable and thrilling.
Combo Tours with Snorkeling and Diving in Iceland
Explore and immerse yourself in Iceland
Diving and Snorkeling in Iceland
In the world of adventures in Iceland, diving and snorkeling might not be the first things that come to mind. Many visitors to Iceland find themselves utterly astonished upon discovering plenty of diving and snorkeling opportunities that await within this captivating land. Both diving enthusiasts and tourists have grown to love these underwater adventures.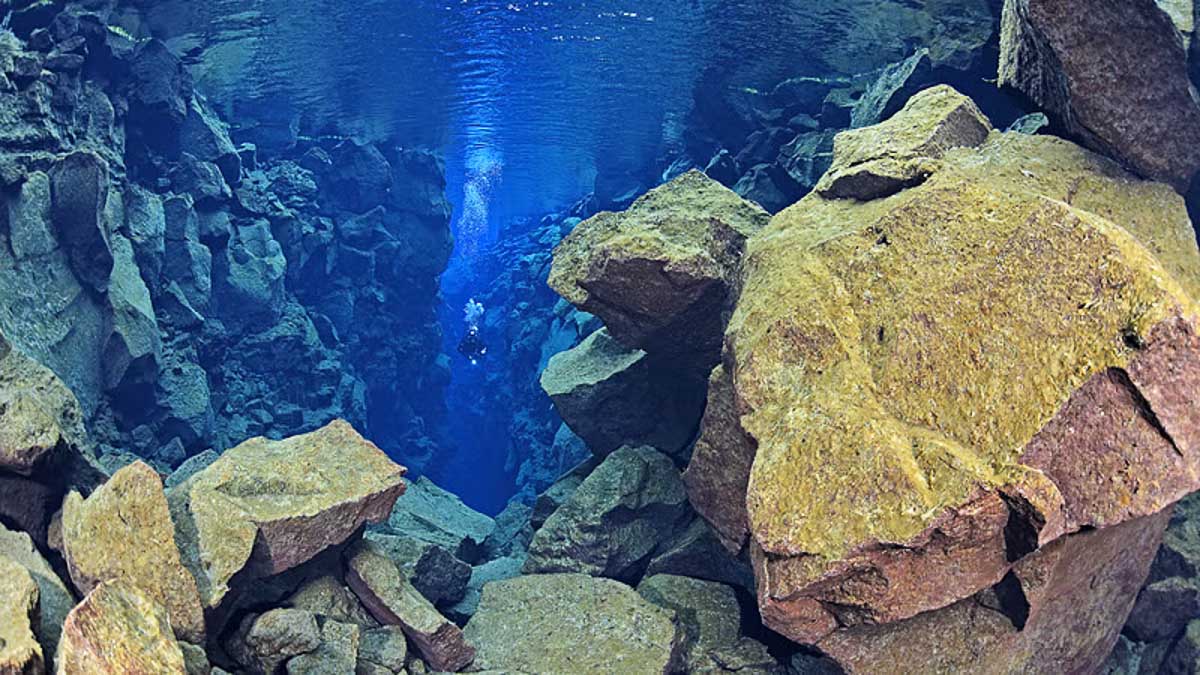 Diving between two tectonic plates at Silfra Fissure, Thingvellir National Park, Iceland.
Why You Need to Experience Diving or Snorkeling in Iceland
Iceland's unique geological marvels outshine its status as a non-tropical diving destination. The country spans the gap between the North American and Eurasian tectonic plates, a geological rift largely submerged beneath the ocean's surface, with only a fraction emerging within Iceland's Thingvellir National Park. 
Fed by the country's abundant glaciers and natural filtration through volcanic rocks, the crystal-clear waters of this rift, known as Silfra Fissure, boast astonishing underwater visibility extending to 100 meters (328 feet). This exceptional opportunity to dive and snorkel between Iceland's tectonic plates, located just a 40-minute drive from Reykjavik, beckons adventurous souls to fulfill their Icelandic diving and snorkeling dreams.
Experiencing diving and snorkeling in Iceland is indeed unique and very cool. It's an adventure that water sports enthusiasts shouldn't miss!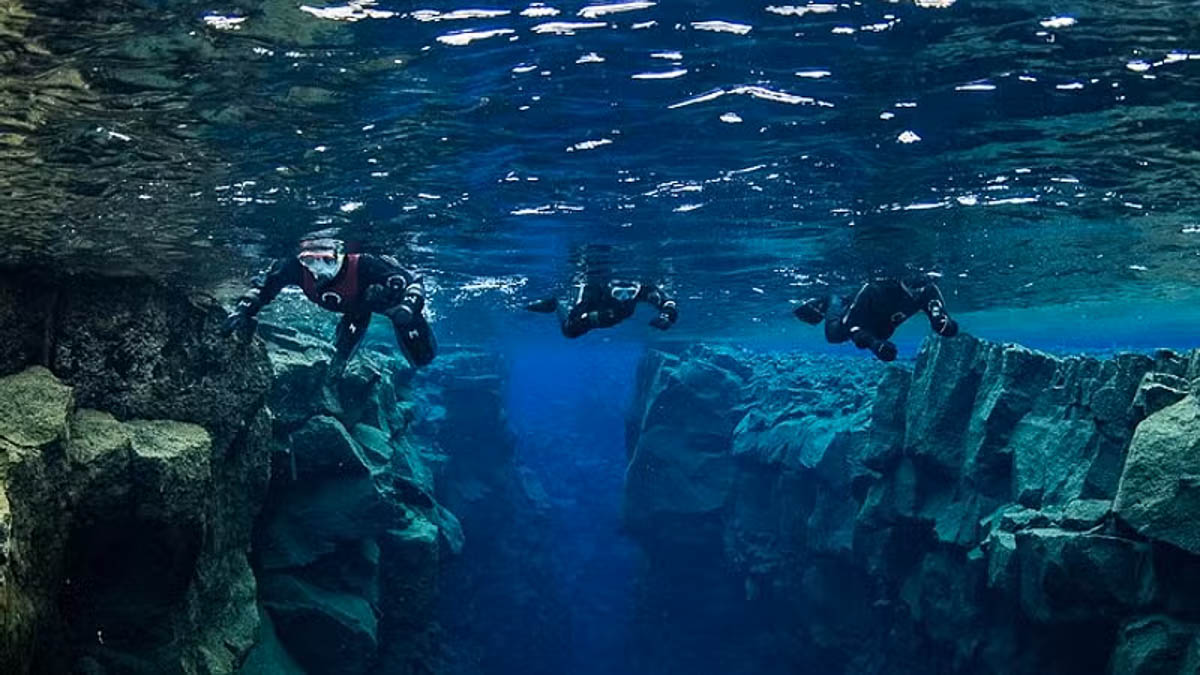 Snorkeling at Silfra Fissure feels like flying in crystal clear waters in Iceland.
Silfra Fissure in Thingvellir National Park
Located in Iceland's stunning Þingvellir National Park, Silfra Fissure is a one-of-a-kind underwater wonder that attracts adventurers from all corners of the globe. It's not just another diving spot; it's a unique underwater paradise.
What makes Silfra Fissure so special is its unbelievably clear water. The water comes from melting glaciers from Iceland's second largest ice-cap, Langjökull glacier. It  gradually filters through porous lava fields over decades, resulting in water of unparalleled transparency. The factors together make Silfa Fissure's stream incredibly pure. When you dive or snorkel there, you can see as far as 100 meters (328 feet) underwater. It's nothing short of breathtaking!
But the real magic of Silfra comes from where it's located. It's right between two massive pieces of the Earth's crust—the North American and Eurasian tectonic plates. This means you can swim between two big parts of the Earth! It's the only place in the world where you can do this. This geological significance adds an extra layer of awe to the diving and snorkeling experience.
Silfra offers lots of amazing things to see underwater. Silfra Hall has tall, rocky walls that make you feel like you're in a cathedral. Silfra Lagoon has colorful plants and cool rocks. The Silfra Cathedral is a long, dark lava tube that's perfect for experienced divers.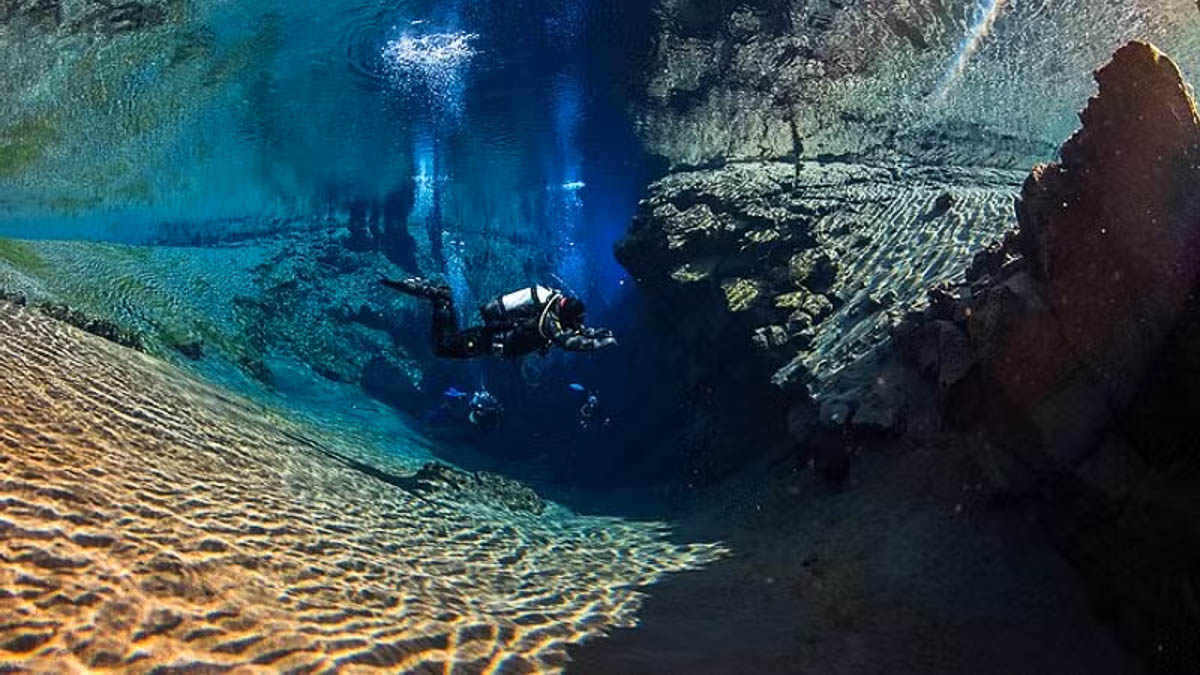 The enchanting underwater world of Silfra Fissure, Iceland.
Snorkeling and Diving Tours at Silfra Fissure
The underwater temperature in Silfra Fissure hovers around 2 to 4 degrees Celsius (35.6-39.2 Fahrenheit) year-round due to glacier meltwater. Unlike tropical destinations, the water in Iceland can be cold water in comparison. That's why it's good to know that drysuit scuba diving and snorkeling usually keeps you warm and dry, allowing you to comfortably explore the crystal-clear waters without feeling the cold. It's a unique and invigorating experience.
Snorkeling or diving or in Silfra Fissure isn't just about swimming; it's a journey into Iceland's incredible natural world. The super clear water and the unique geology make Silfra an adventure you'll always remember, whether you're a pro diver or trying snorkeling for the first time.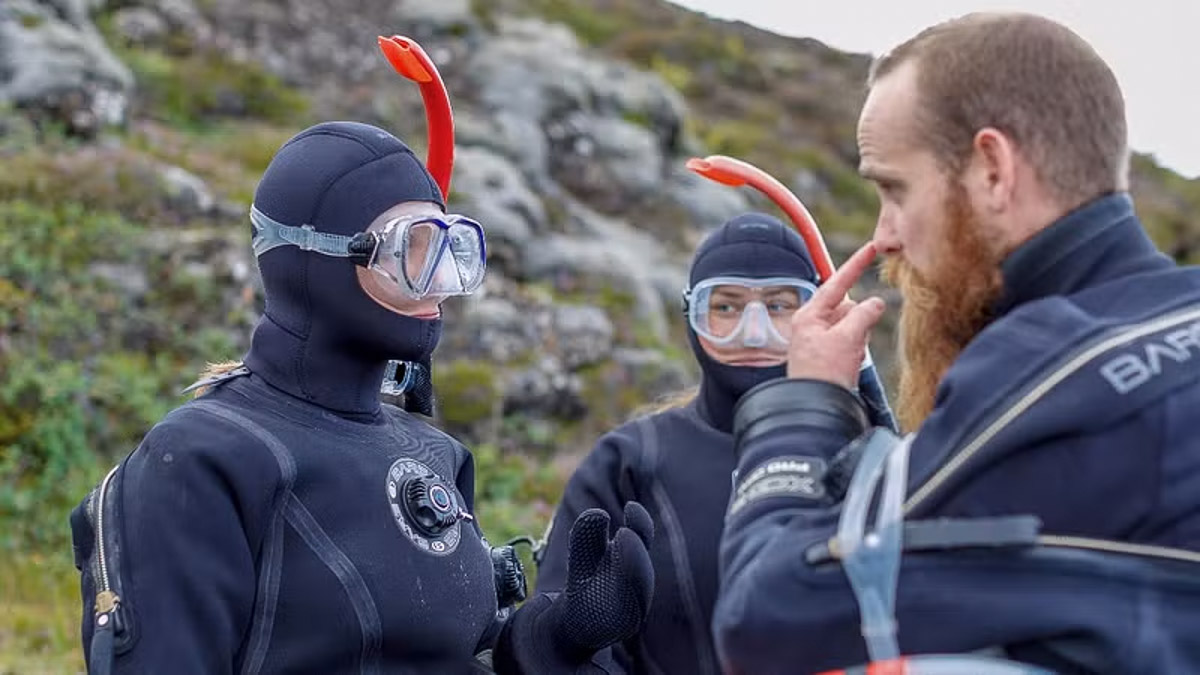 Your guide will talk through important points before going into the water at Silfra Fissure.
The geological Significance of Thingvellir
Thingvellir, a UNESCO World Heritage Site in Iceland, sits at the meeting point of the Eurasian and North American tectonic plates, making it one of the few places on Earth where you can witness these colossal plates slowly drifting apart. It's mostly known as one of the three major highlights of Iceland's Golden Circle Route. And it's the only place on Earth where you can see the Mid-Atlantic Ridge above water, as most of it remains submerged beneath the ocean's surface.
The result is the dramatic Silfra Fissure, where crystal-clear glacial waters fill a gap between the plates, offering a unique diving and snorkeling experience. Thingvellir's dramatic rift valley showcases the raw power of geological forces, with visible cracks and cliffs.
Moreover, the site is historically vital, hosting the world's first parliamentary assembly in 930 AD, making it a cultural and geological gem in Iceland's landscape. 
When embarking on a journey to fully experience the Golden Circle, make sure to embrace these thrilling adventures!
Diving & Snorkeling Tours in Iceland
Join us and experience the best that Iceland has to offer