The Essential Guide to Akureyri, the Capital of the North
by Yanshu
Akureyri
3 Jun 2023
Nestled in the heart of northern Iceland, Akureyri is a picturesque and lively town, surrounded by breathtaking natural scenery. It is home to numerous museums, galleries, and cultural institutions that showcase Icelandic art and heritage.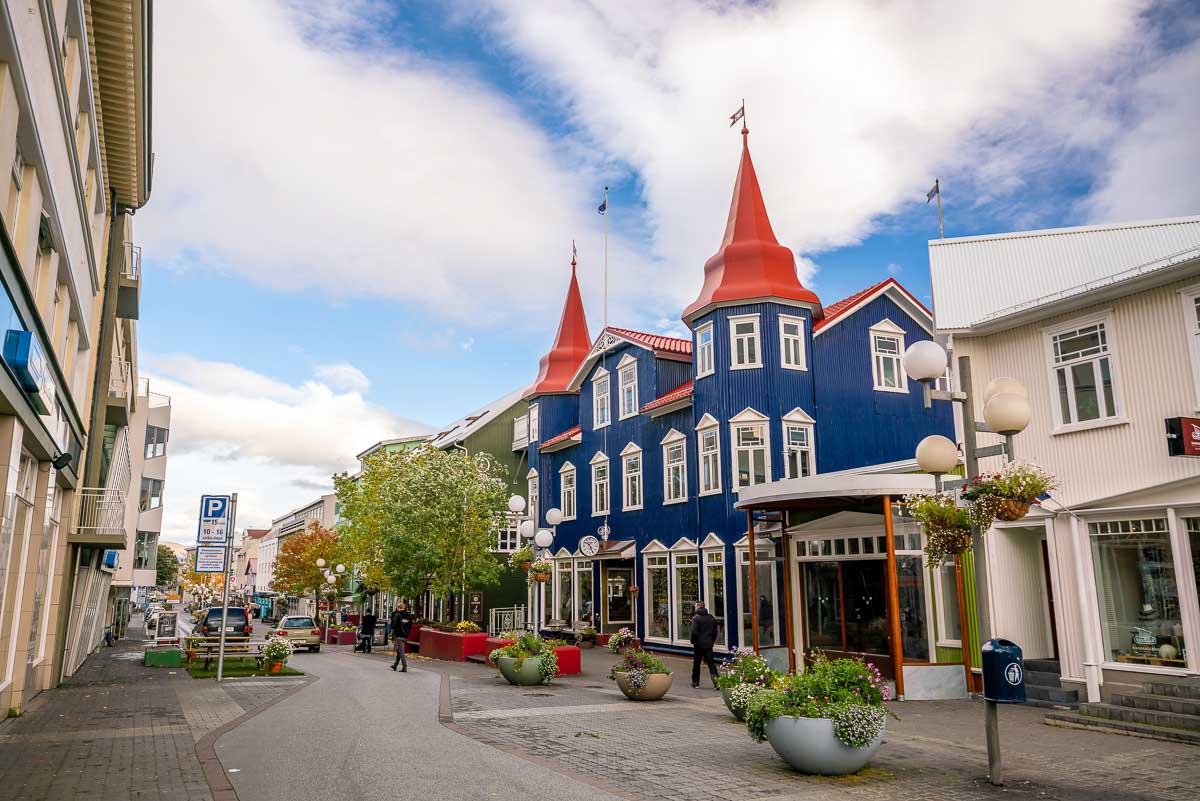 Akureyri, Iceland - Beautiful vintage buildings in downtown Akureyri city, Iceland
With stunning natural landscapes, including mountains, fjords, and hot springs, Akureyri is also a prime destination for outdoor enthusiasts. Visitors can enjoy skiing, hiking, fishing, and other  activities, all within easy reach of the town. In this guide, we are going to cover all essential travel information about Akureyri.
Akureyri, the Capital of the North
Akureyri is sometimes referred to as the "Capital of the North" due to its significant size, economic importance, and cultural influence within the northern region of Iceland.
As the largest town in North Iceland, Akureyri has a population of around 20,000 people and is known for its vibrant arts scene, outdoor activities, and high quality of life. It is home to many important institutions, such as hospitals, universities, and government offices, that serve the entire region. The town is also a hub for transportation, with an airport and major highway connections to other parts of Iceland.
Akureyri's city center is small and walkable, with colorful buildings, quaint shops, and cozy cafés. The town is also home to several museums, galleries, and cultural institutions that showcase Icelandic art and culture. In the winter months, Akureyri is a popular destination for skiing, snowboarding, and other winter sports.
---
Where is Akureyri located?
Akureyri is located in northern Iceland, on the western shore of the Eyjafjörður fjord, the longest fjord in Iceland. The town is surrounded by a stunning landscape of mountains, valleys, and coastal waters. To the north lies the Skjálfandi Bay, and to the west, the town overlooks the Greenland Sea. It's approximately 380 kilometers (236 miles) driving distance from Reykjavik, the Capital of Iceland.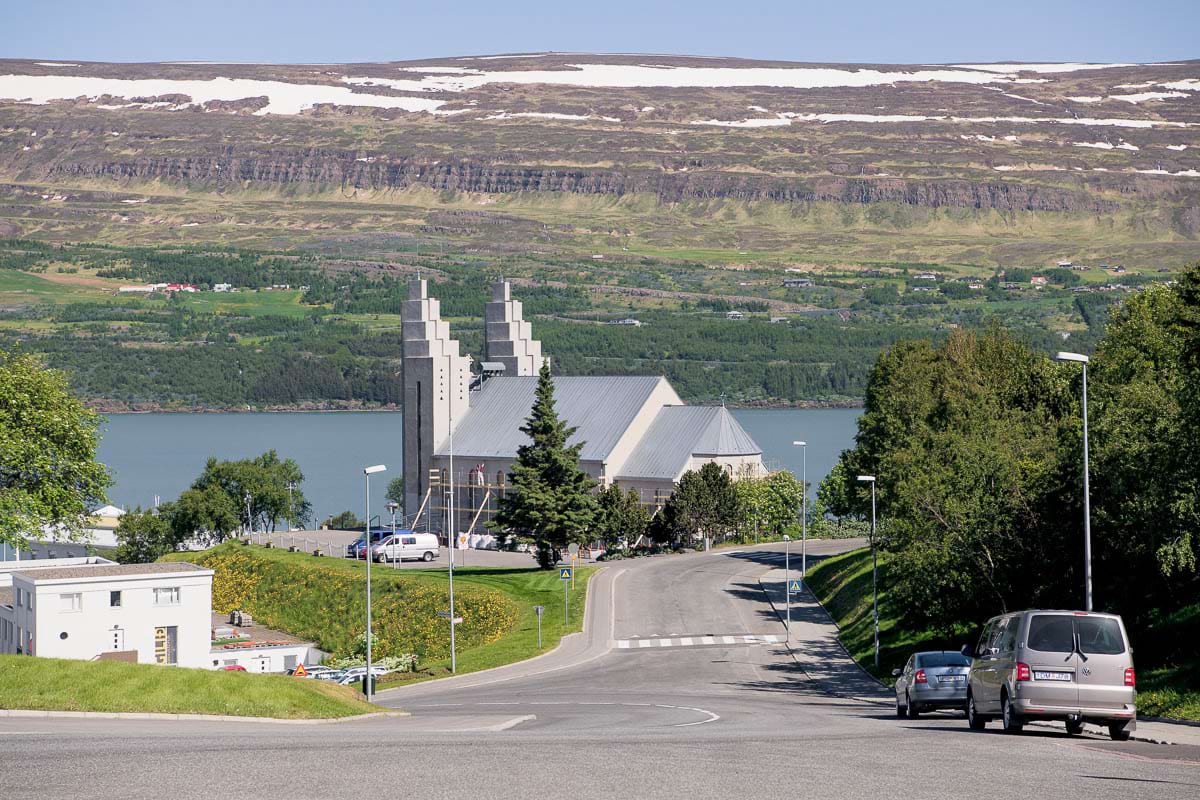 Located in a subarctic region, Akureyri is at a latitude of approximately 65.7 degrees North and a longitude of approximately 18.1 degrees West. The town is situated about 100 kilometers (62 miles) south of the Arctic Circle. It is not technically located within the Arctic Circle. However, during the winter months, the town experiences long periods of darkness and cold temperatures due to its high latitude.
---
The Weather in Akureyri
Akureyri has a subarctic climate with cool summers and cold winters. Its seasonal changes are not that dramatic but each of them still has a hint of unique charm. The weather in Akureyri is quite variable throughout the year, and visitors should be prepared for cold temperatures, snow, and rain, even in the summer months. It's always a good idea to check the weather forecast and pack accordingly, especially if you plan to participate in outdoor activities.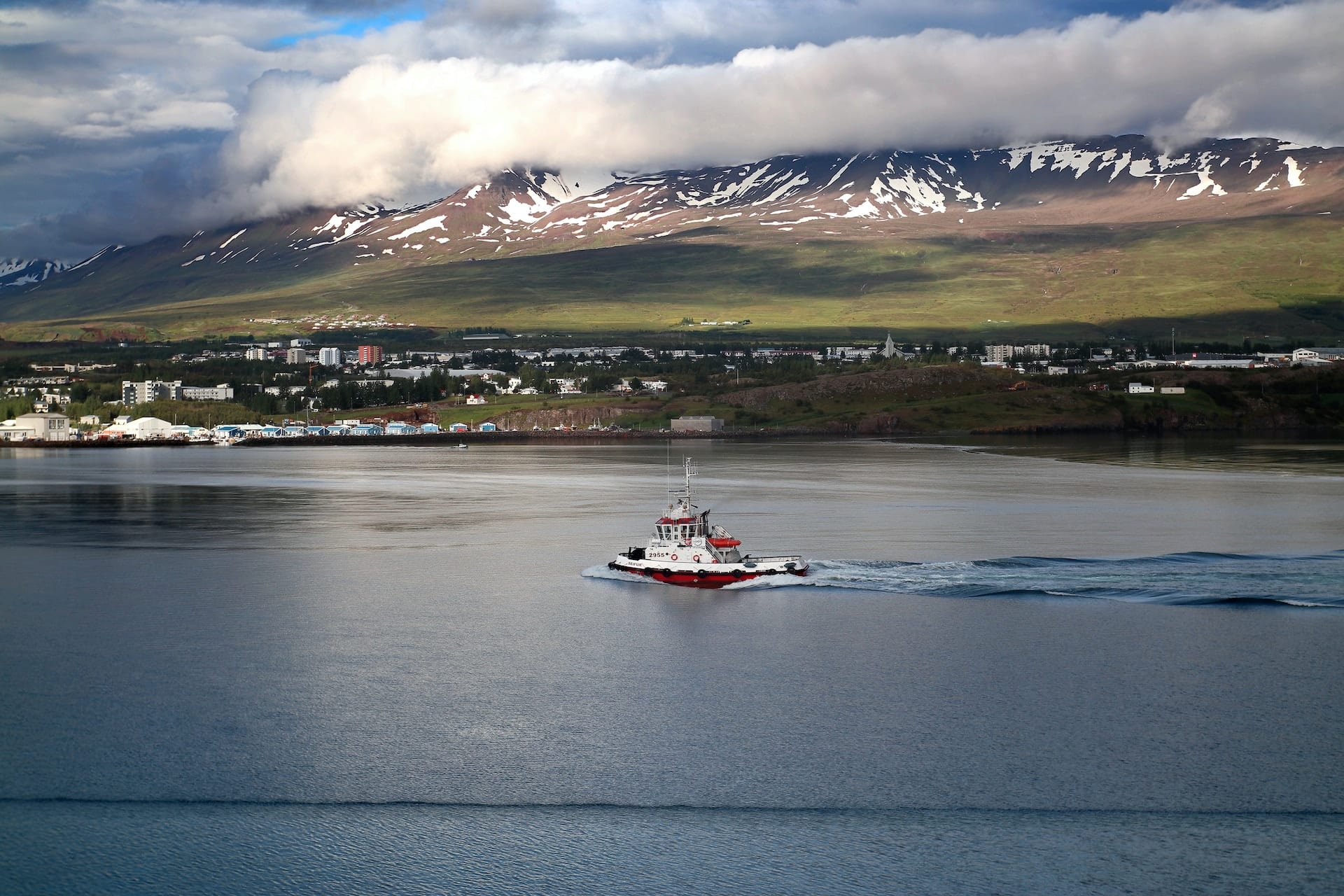 Here's an overview of the weather in Akureyri throughout the year:
Winter – December-February – Winter is the coldest season in Akureyri, with temperatures averaging around -2°C (28°F). Snow is common during this time, and the town experiences only a few hours of daylight each day.
Spring – March-May – Spring in Akureyri is chilly, with temperatures ranging from -1°C to 6°C (30°F to 43°F). Snow and ice can linger well into April, but by May, the days are starting to get longer and milder.
Summer – June-August – Summer is the mildest season in Akureyri, with temperatures averaging around 11°C (52°F) in July. The town experiences long daylight hours, with the sun setting for only a few hours each night.
Fall – September-November – Fall in Akureyri is cool and wet, with temperatures ranging from 0°C to 7°C (32°F to 45°F). The days start to get shorter and darker, and snow can start falling as early as October.
---
What is the best time of year to visit Akureyri?
The best time to visit Akureyri depends on your interests and what you want to experience during your trip. Different seasons in Akureyri offer different experiences and the sights and their surroundings can be of completely different feelings. So plan well ahead and know what you expect.
The weather in Akureyri is typically colder than in other parts of Iceland, with temperatures ranging from -5°C to 15°C (23°F to 59°F) throughout the year. The warmest months are June through August, while the winter months can be quite cold and snowy.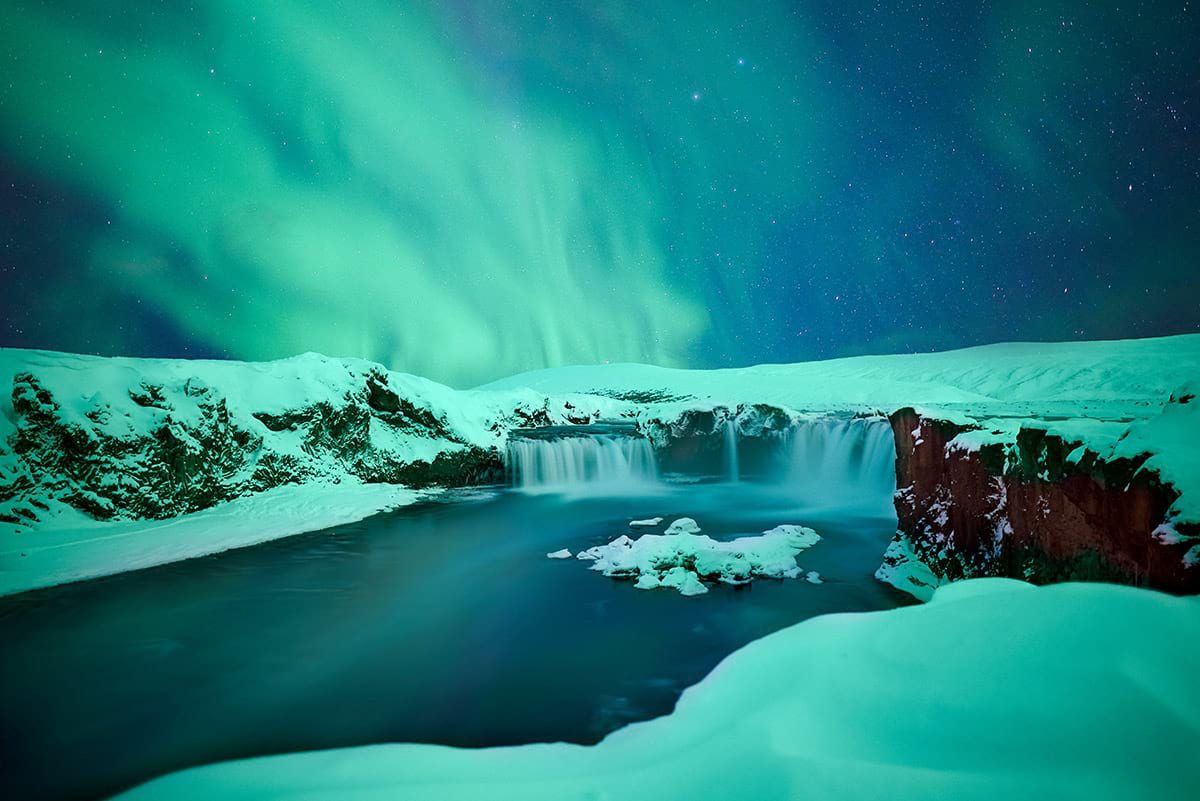 If you want to see the Northern Lights, the best time to visit is between September and April, when the nights are longest and the skies are darkest. However, the weather can be unpredictable, and there is no guarantee that you will see the lights. It's best to keep a close eye on the weather report and Northern Lights' KP index on the day so you are informed when the highest possibility is available.
From November and April, when there is typically enough snow on the ground, it's the best time to do skiing, snowboarding, or other winter sports.
The peak tourist season in Iceland is during the summer months (June through August), so if you want to avoid crowds, consider visiting during the shoulder seasons of May or September.
---
How do you get to Akureyri?
There are several ways to get to Akureyri, depending on where you are coming from and your preferred mode of transportation.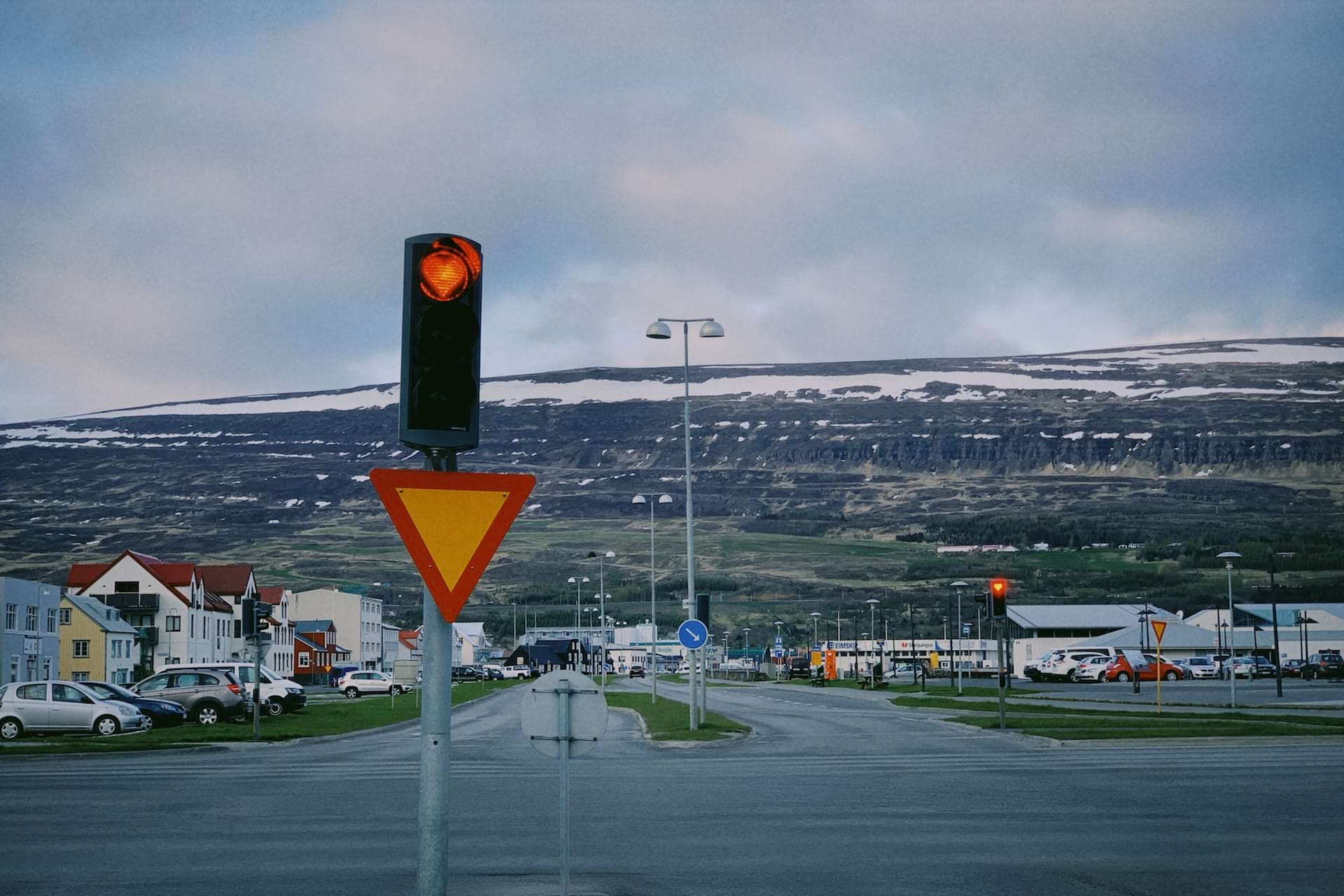 Here are some options:
Car
Renting a car to self-drive is very popular. The journey from Reykjavik to Akureyri takes around 4-5 hours, taking the most direct route via Route 1 and Route 83. There are several car rental companies available in Reykjavik and at Akureyri Airport.
Flight
The easiest and fastest way to get to Akureyri is by flying into Akureyri Airport (AEY). There are several domestic flights from Reykjavik and other locations in Iceland, as well as seasonal flights from other countries such as Denmark and Norway. Icelandair and Air Iceland Connect are the two airlines that offer flights to Akureyri.
Cruise ship
Akureyri is a popular port of call for many cruise ships that visit Iceland. The town's location on the Eyjafjörður fjord makes it accessible to larger ships, and many cruise lines include Akureyri on their itineraries of Iceland.
Bus
There are several bus companies that offer daily bus service to Akureyri from Reykjavik and other major towns in Iceland. Buses are comfortable and affordable, and the journey from Reykjavik takes around 5-6 hours.
Private Transfer
Private transfers are available from Reykjavik to Akureyri and can be arranged through local tour operators. This is a convenient option for those who prefer a more personalized service.
Please keep in mind that some transportation options may not be available year-round, and it's always best to check schedules and prices in advance.
---
Akureyri as a cruise port
A picturesque and welcoming cruise port, Akureyri is a popular stop for cruise ships visiting Iceland. Cruise ships typically dock at the Akureyri harbor, which is located in the city center.
The harbor has two main piers: the North Pier and the South Pier. The North Pier is the main cruise ship dock and can accommodate large ships up to 250 meters in length. The South Pier is used for smaller vessels and fishing boats.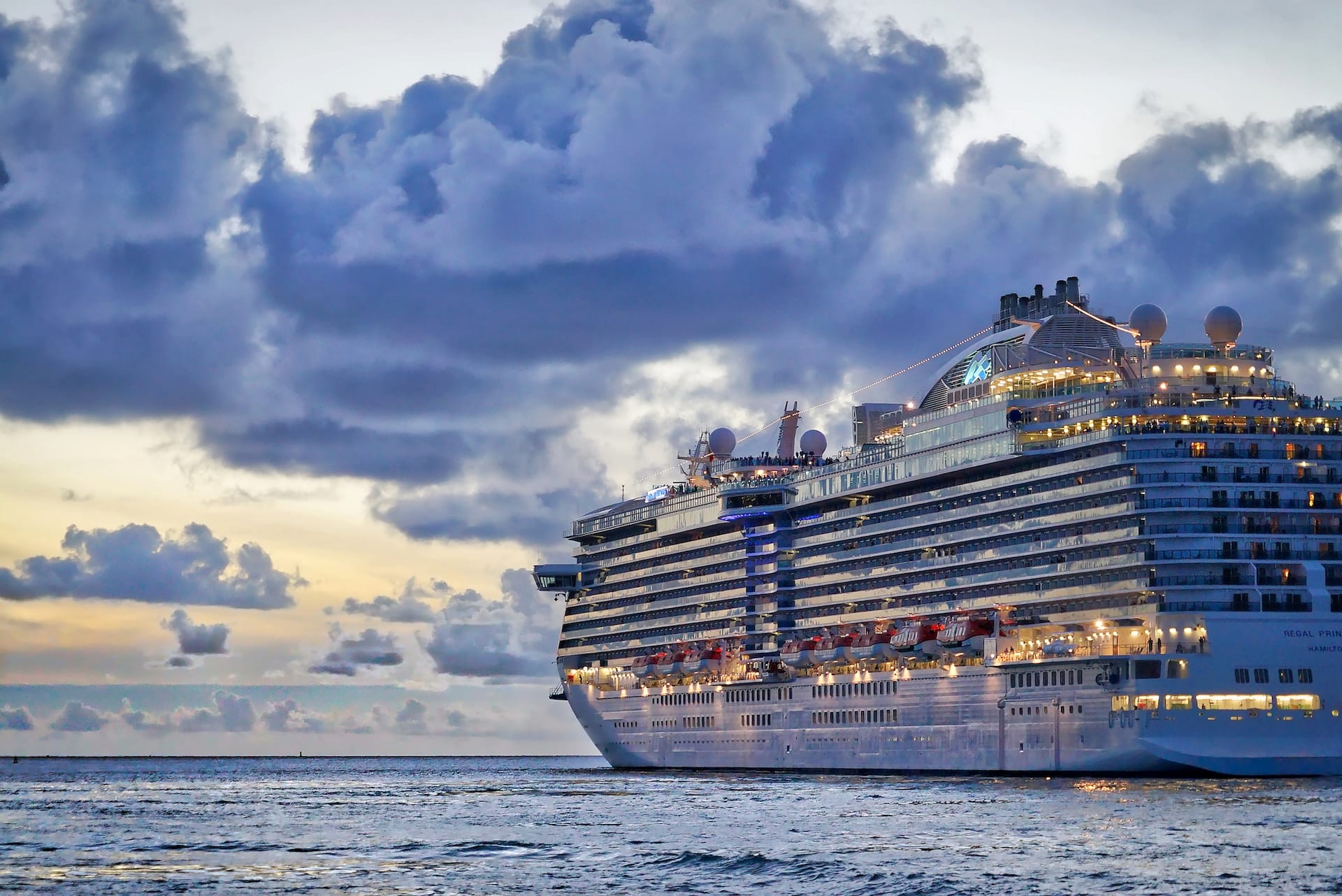 The cruise passengers can enjoy the sweeping views of the surrounding mountains and coastline, and the Akureyri harbor is within walking distance of the town center, and there are several attractions and amenities nearby, including restaurants, shops, and museums. Many tour operators and excursion companies also have offices or meeting points near the harbor, making it easy for cruise ship passengers to book tours and activities during their visit, including whale watching, Akureyri City Tour, sightseeing tours in the region, and many more.
With its friendly locals, rich history and culture, and stunning natural surroundings, Akureyri is a unique and memorable destination for cruise passengers visiting Iceland.
*Please keep in mind that some attractions may require transportation or advance booking, so it's best to plan ahead to make the most of your time in the region.
---
Top attractions in Akureyri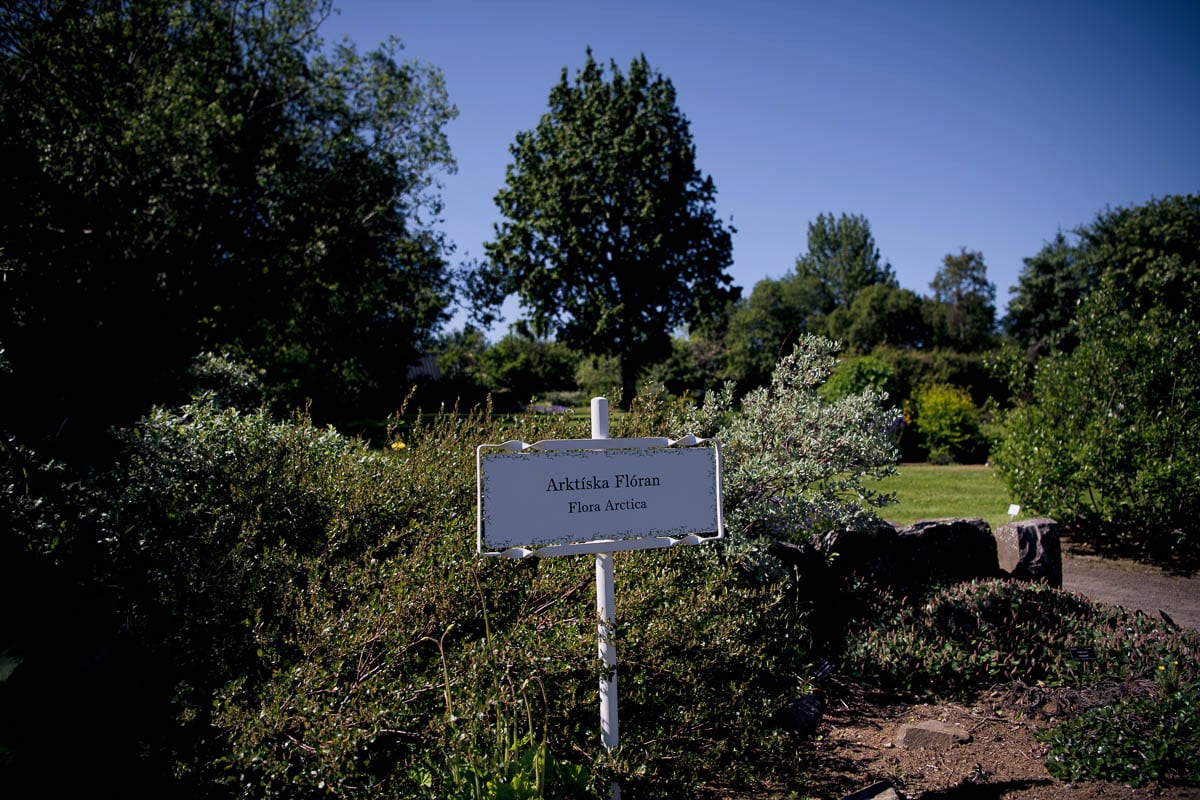 Akureyri is known for its beautiful natural scenery and interesting cultural attractions. Some of the top tourist attractions in Akureyri include:
Akureyrarkirkja Church: This iconic church is a symbol of the city and is located on a hill overlooking the town.
Akureyri Botanical Garden and its Café: The northernmost botanical garden in the world features a variety of plant species from around the world. The café at the Akureyri Botanic Garden is a hidden gem that offers delicious cakes, coffee, and light meals. The café has a cozy atmosphere and a beautiful view of the surrounding gardens.
Akureyri Christmas House: This festive attraction showcases Christmas traditions and decorations from around the world.
Hof Cultural and Conference Center: This modern building hosts a variety of events and exhibitions throughout the year.
Hof Cultural and Conference Center Terrace: The terrace at the Hof Cultural and Conference Center offers stunning views of the city and the surrounding fjords. Visitors can enjoy a coffee or snack from the café while taking in the view.
Akureyri Art Museum: This museum features contemporary and modern art from Iceland and around the world.
Akureyri Aviation Museum: is a small museum located in the town's airport, offering a unique insight into Iceland's aviation history, and it features a range of vintage aircraft, engines, and other artifacts.
Nonni Museum: This museum tells the story of the popular Icelandic children's book character Nonni.
The Akureyri Public Library: This modern building is located in the city center and offers a peaceful oasis for reading and studying. The library has a cozy atmosphere, and visitors can enjoy free Wi-Fi and coffee.
Arctic Botanical Gardens: The Arctic Botanical Gardens are located on the outskirts of Akureyri and feature a variety of plants that thrive in cold climates. The gardens are a peaceful retreat and offer stunning views of the surrounding mountains.
Akureyri Art Alley: The Akureyri Art Alley is a vibrant and colorful street that features murals and street art by local and international artists. The alley is a fun and unique spot to explore and take photos.
Akureyri City Museum: The Akureyri City Museum is a small museum that offers a glimpse into the history and culture of the city. The museum is located in a beautiful historic building and is free to enter.
Mount Súlur: This nearby mountain offers hiking opportunities and panoramic views of the surrounding area.
Hlíðarfjall Mountain: While Hlíðarfjall is a popular ski resort in the winter, it's also a great place to visit in the summer months. The mountain offers hiking trails, panoramic views of the entire area, and a café at the summit.
---
Popular sights in the Akureyri region
There are many top attractions located outside of Akureyri in the surrounding region, with the Diamond Circle Route being the most spectacular. Here are some popular destinations and activities:
Lake Mývatn: A stunning volcanic lake surrounded by unique geological formations, hot springs, and lava fields. Lake Myvatn is a must-visit when you plan to visit that region.
Mývatn Nature Baths: A relaxing geothermal spa located on the shores of Lake Mývatn, offering a unique and rejuvenating experience.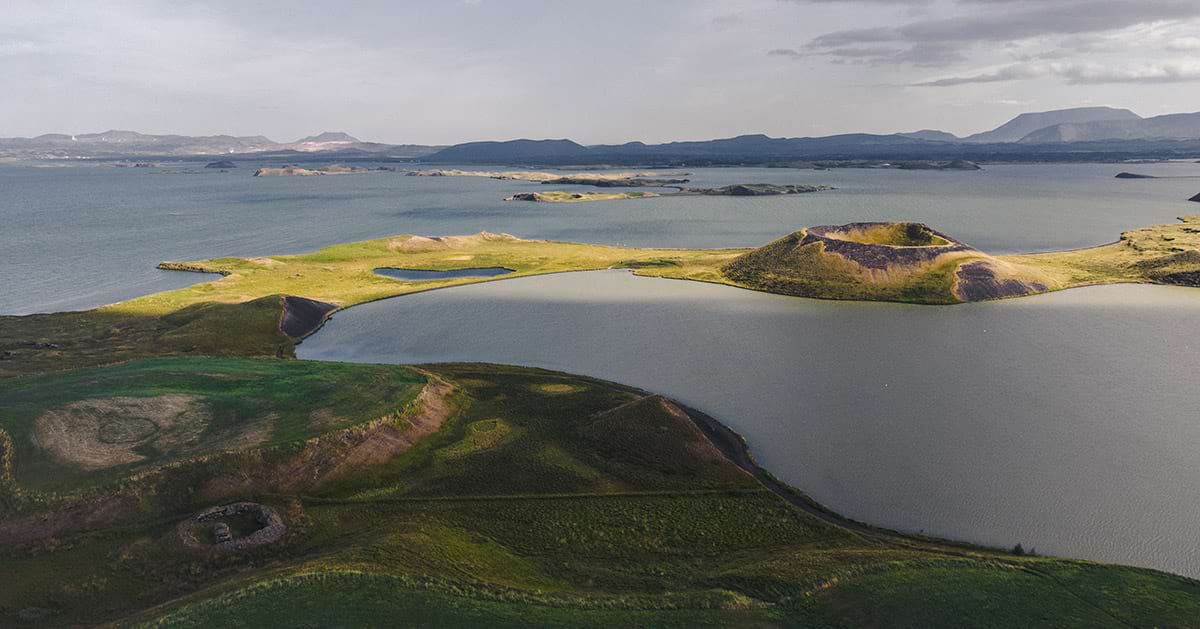 Dimmuborgir: a surreal, otherworldly lava field near Lake Mývatn, featuring towering rock formations and unique volcanic landscapes where visitors can appreciate the miraculous lava formations that were created around 2,300 to 2,600 years ago."
Dettifoss Waterfall: located in Vatnajökull National Park and is one of the most powerful waterfalls in Europe. Its majestic water cascades over a width of 100 meters and plunges 44 meters into a narrow canyon, creating a rugged and breathtakingly beautiful sight that is considered one of Iceland's most spectacular waterfalls.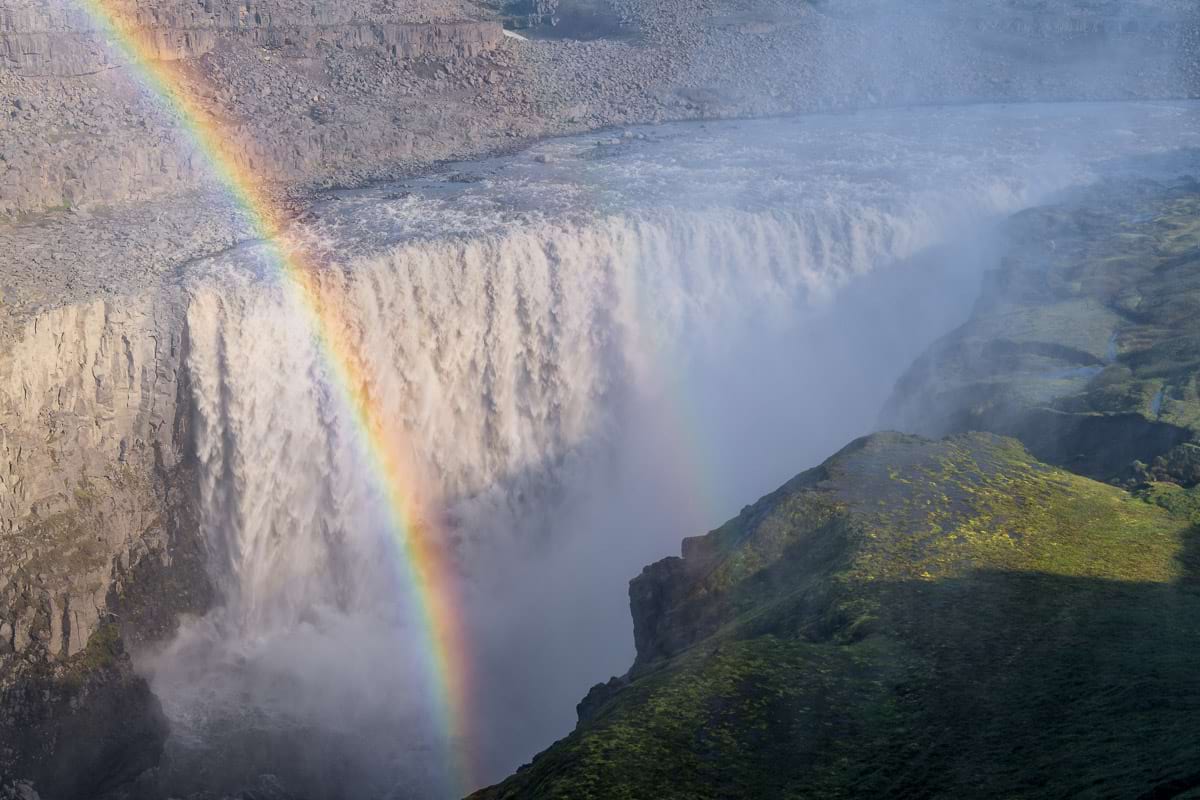 Goðafoss Waterfall: A beautiful and iconic waterfall located just a short drive from Akureyri, known for its picturesque setting and fascinating history. Godafoss waterfall also has a beautiful folklore as its name means the waterfall of the gods.
Húsavík: A charming coastal town known as the whale watching capital of Iceland, with many tour operators offering excursions to see whales in their natural habitat. Make sure to go on a whale watching tour to see these majestic creatures in the sea.
Jökulsárgljúfur National Park: A stunning wilderness area featuring dramatic canyons, waterfalls, and cliffs.
Námafjall Geothermal Area: also known as "Hverir", a unique geothermal area featuring bubbling mud pools, steam vents, and colorful mineral deposits. Its mind-blowing landscape is what attracts visitors in every season.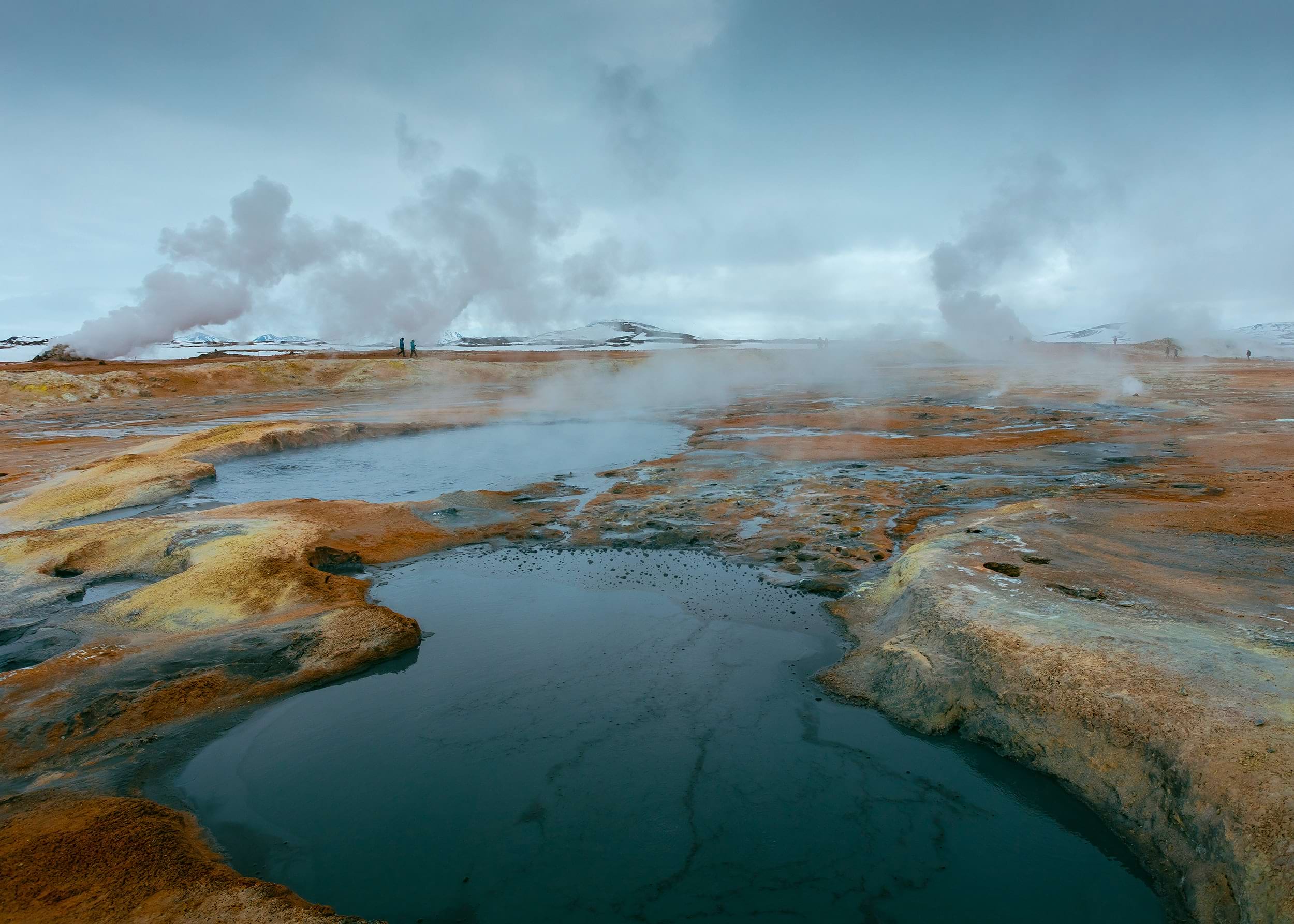 The region surrounding Akureyri offers a wealth of natural beauty, history, and culture, making it a prime destination for travelers looking to explore the best of northern Iceland.
---
Things To Do in Akureyri
Akureyri and the surrounding region offer a variety of outdoor activities that take advantage of the area's stunning natural scenery. Some popular outdoor activities in Akureyri include:
The Beer Spa in Akureyri: a unique and relaxing experience that combines the benefits of hot tubs with the therapeutic properties of beer. Visitors can soak in tubs filled with warm beer-infused water, which is said to have numerous health benefits for the skin and body. The spa also features a bar where guests can sample a variety of local craft beers, further enhancing the overall experience. The cozy and rustic atmosphere of the beer spa, combined with its rejuvenating treatments, makes it a must-visit destination for beer enthusiasts and relaxation seekers alike.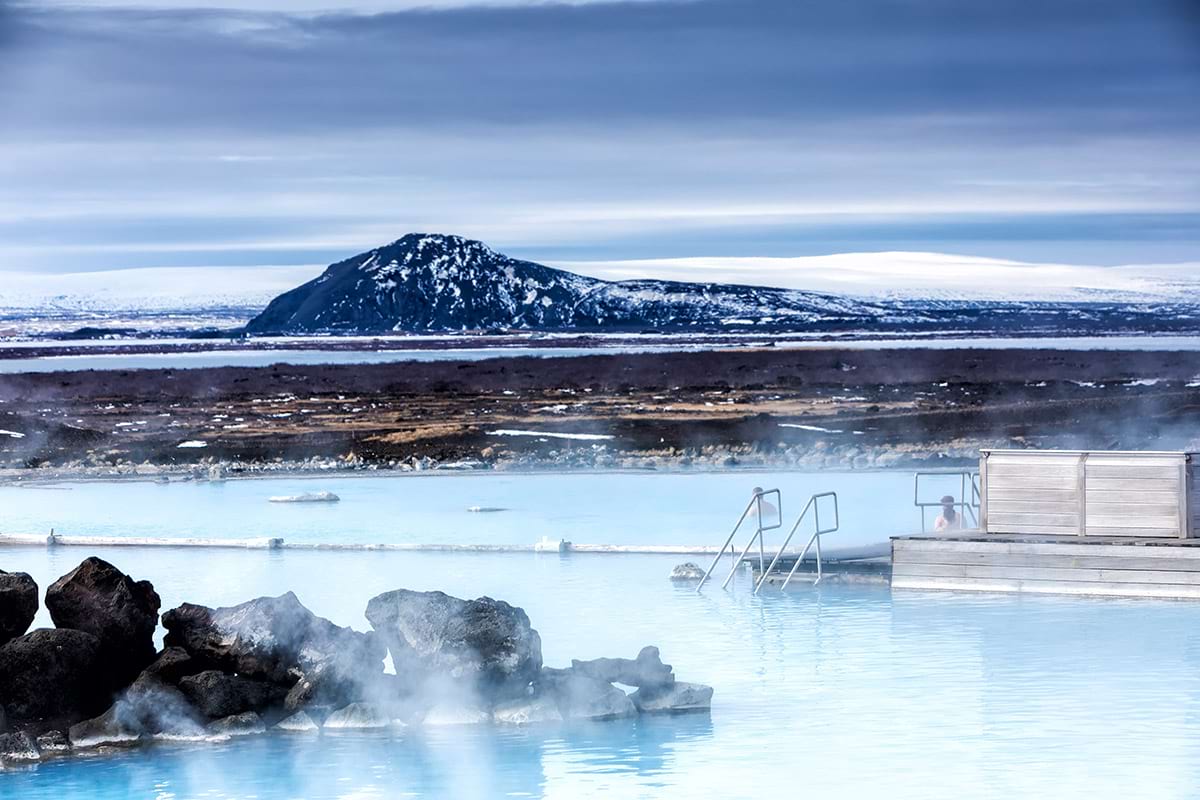 Hiking: There are many hiking trails in the area that offer breathtaking views of the surrounding mountains, fjords, and valleys.
Skiing and Snowboarding: During the winter months, visitors can enjoy skiing and snowboarding at nearby resorts, such as Hlíðarfjall and Mt. Eyjafjörður.
Whale Watching: Several companies offer boat tours for visitors to see whales and other marine wildlife in the nearby fjords.
River Rafting: The nearby Jökulsá á Fjöllum river offers opportunities for river rafting and kayaking.
Golfing: The Akureyri Golf Course is an 18-hole course with stunning views of the surrounding mountains.
Horseback Riding: Visitors can take guided horseback tours of the area, including scenic rides through the countryside and up into the mountains.
Fishing: The nearby rivers and lakes are known for their salmon and trout fishing.
Snowmobiling: During the winter months, visitors can take guided snowmobile tours of the surrounding mountains and glaciers.
Biking: There are several biking trails in the area that offer scenic rides through the countryside and along the coastline.
Swimming: The Akureyri Swimming Pool is an outdoor heated pool that is open year-round, and visitors can also take a dip in the nearby hot springs.
---
The Accommodation in Akureyri
Akureyri offers a range of accommodation options to suit different budgets and preferences.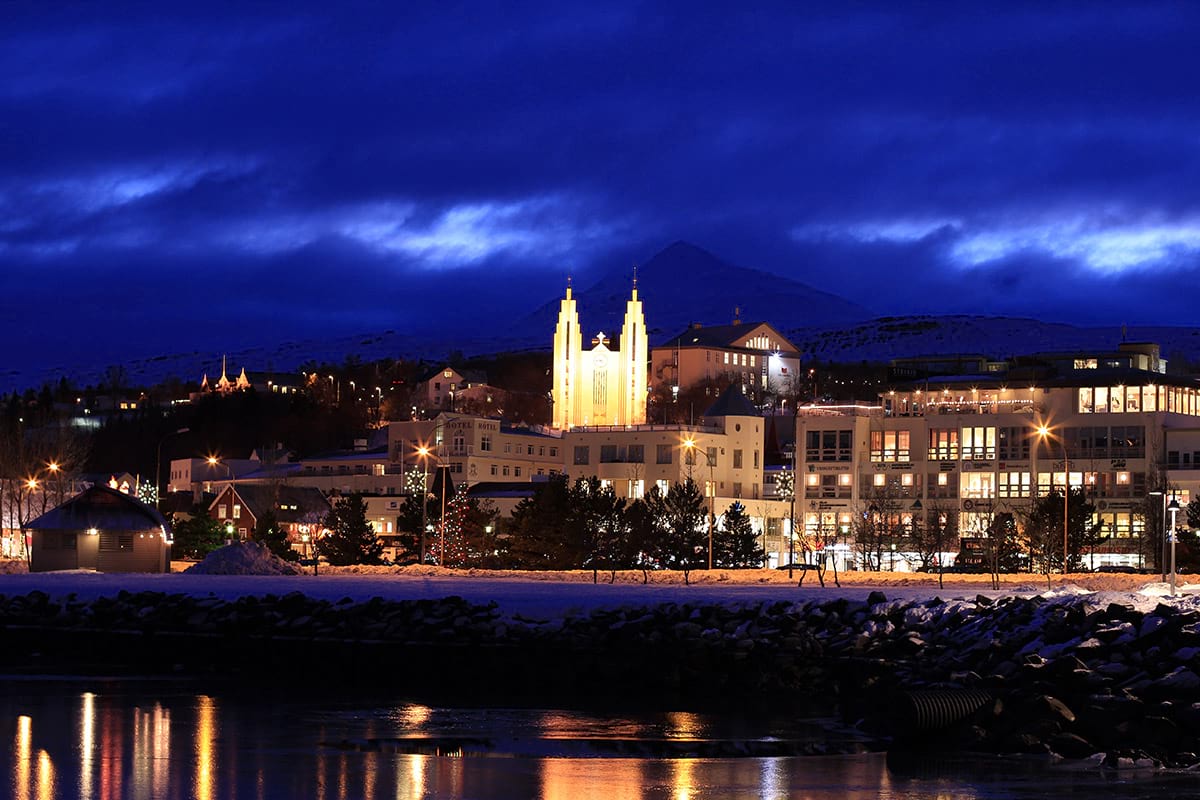 Hotels
There are several hotels in Akureyri, ranging from budget-friendly options to luxury properties. Some popular hotels in the city include the Icelandair Hotel Akureyri, Hotel Kea by Keahotels, and Hótel Edda Akureyri.
Guesthouses
Guesthouses are a more affordable alternative to hotels and offer a more local, homely atmosphere. Some popular guesthouses in Akureyri include Guesthouse Brekka, Akureyri Backpackers, and Lava Apartments & Rooms.
Hostels
Hostels are a great option for budget travelers or those looking for a more social atmosphere. Akureyri Backpackers and Akureyri Hostel are both popular options.
Vacation Rentals
There are several vacation rental options in Akureyri, including apartments, cottages, and cabins. These can be a great option for families or groups of friends traveling together. Some popular vacation rental websites to check out include Airbnb, Vrbo, and Booking.com.
Camping
There are several campsites in and around Akureyri, offering a more affordable and rustic accommodation option. Some popular campsites include Hamrar and Kjarnaskógur.
These are just some of the accommodation options available in Akureyri, and there are many other unique and interesting places to stay in the surrounding area as well.
---
Best Restaurants In Akureyri
Akureyri offers a range of dining options that showcase local Icelandic ingredients and flavors.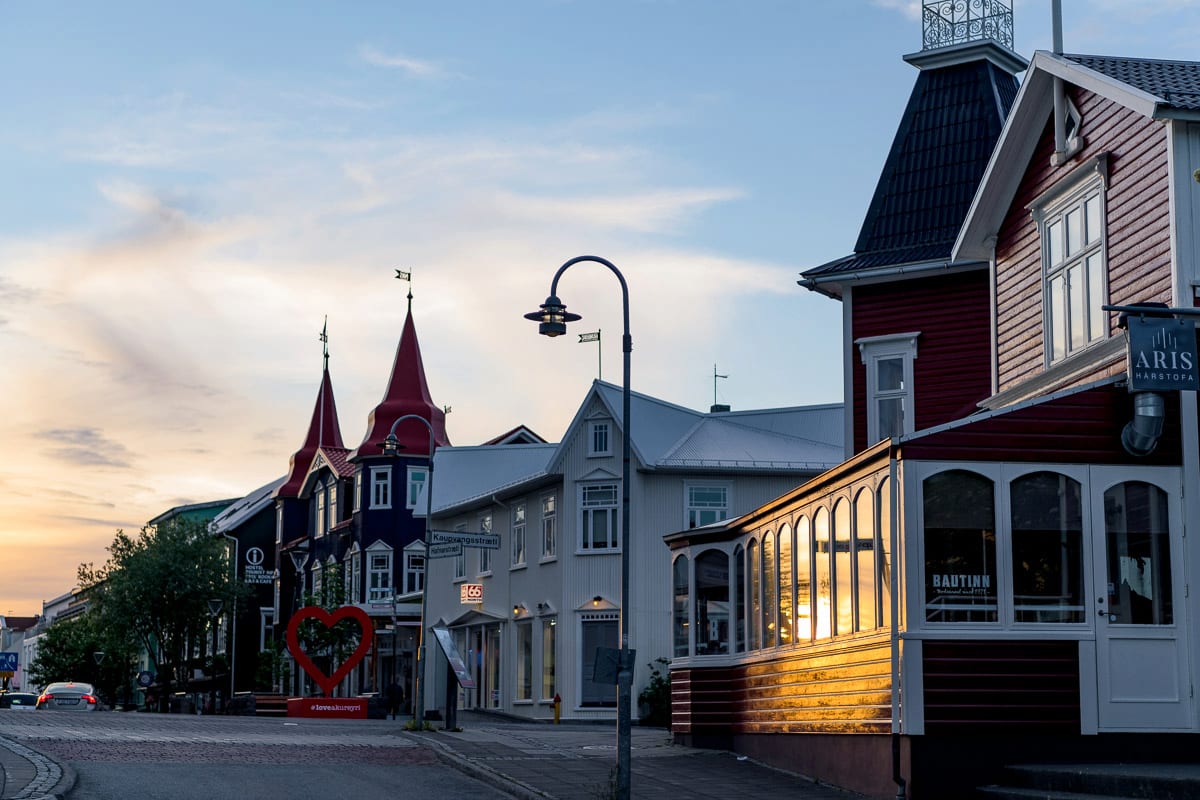 The most popular restaurants in Akureyri are:
There are many other dining options to explore in and around the city, and the town's charming ambiance with its sweet alleys and cozy streets will immediately enchant you. You may even stumble upon some unexpected and delightful eateries or even ice cream shops.
---
How Do You Pronounce Akureyri?
In Icelandic, the proper pronunciation of Akureyri is [ah-koo-rey-ree].
To break it down phonetically: "ah" sounds like the "a" in "father", "koo" rhymes with "blue", "rey" is pronounced like "ray", "ree" sounds like "ree" in "free". And the stress is on the second syllable.
The name "Akureyri" is believed to come from the Icelandic word "akur," which means "field" or "meadow," and "eyri," which means "bank" or "slope." So, "Akureyri" roughly translates to "field slope" or "meadow bank," likely referring to the town's location on a slope overlooking the Eyjafjörður fjord.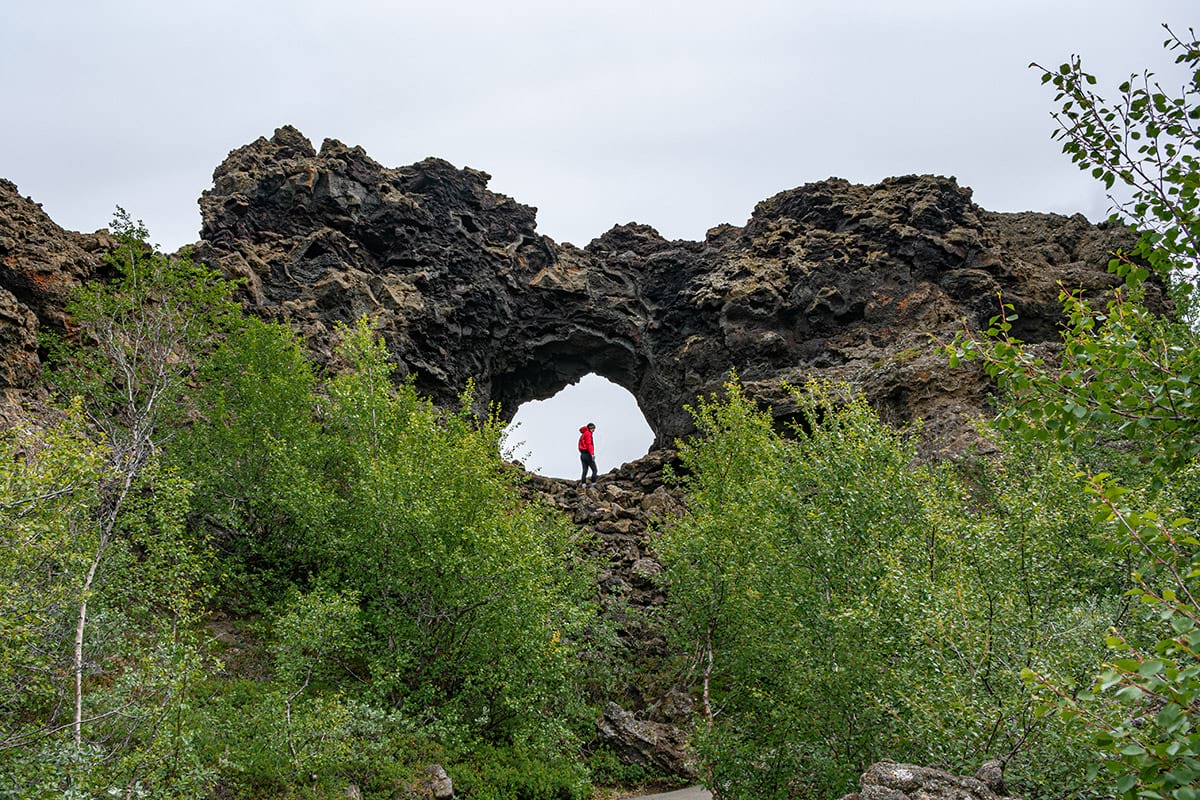 Recommended
Iceland tours
Explore Iceland's beauty with our tours curated just for you, showcasing the best attractions for an unforgettable adventure.