The Ultimate Guide to Isafjordur, Westfjords of Iceland
by Yanshu
Westfjords
27 Sep 2023
Isafjordur, a picturesque town located in Iceland's remote Westfjords region, is gaining recognition as a must-visit destination for travelers seeking breathtaking landscapes and rich cultural experiences.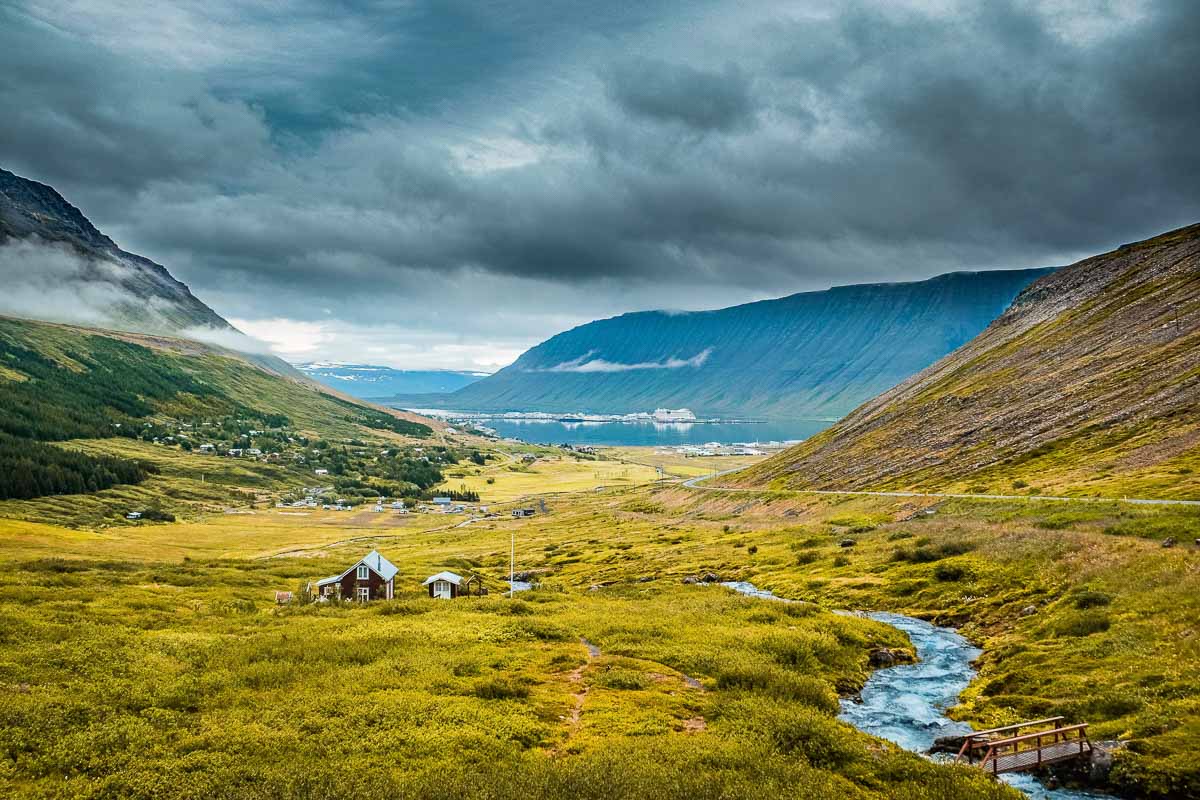 Visitors to Isafjordur will delight in its lively cultural scene and abundant outdoor activities. In this guide, you will go through everything you need to know about Isafjordur and the highlights of Westfjords of Iceland.
Isafjordur, the Gem in the Heart of Westfjords, Iceland
Isafjordur, a tranquil gem in Iceland's Westfjords, is surrounded by steep mountains and steeped in history, evident in its preserved wooden architecture. 
The town's serene atmosphere, highlighted by the fjord's gentle waters, enchants visitors. Sunlight illuminates Isafjordur's timeless beauty, revealing a rich cultural tapestry rooted in maritime traditions and artistry. The awe-inspiring Dynjandi waterfall and Latrabjarg cliffs, teeming with seabirds, contribute to the region's splendor. Isafjordur offers solace, rejuvenating travelers with its peaceful charm and captivating landscapes.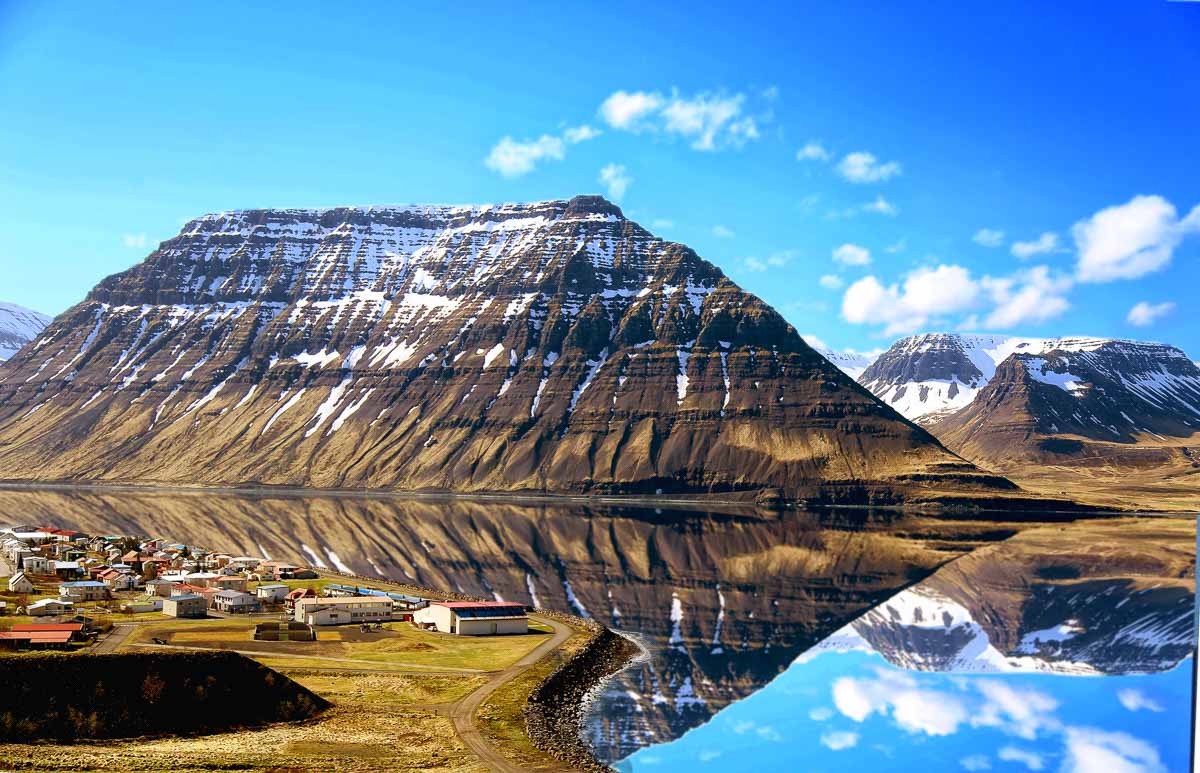 Where is Isafjordur?
Isafjordur is located in the Westfjords region of northwest Iceland. The town lies on the eastern shore of the Ísafjarðardjúp fjord, a large inlet of the Atlantic Ocean. The nearest settlements to Isafjordur are the villages of Bolungarvík to the north and Suðureyri to the south, both situated along the coastline. The Westfjords region is characterized by its dramatic fjords, rugged cliffs, and remote valleys, which contribute to the captivating beauty of the area surrounding Isafjordur.
Isafjordur's approximate GPS coordinates are 66.0714° N latitude and 23.1274° W longitude.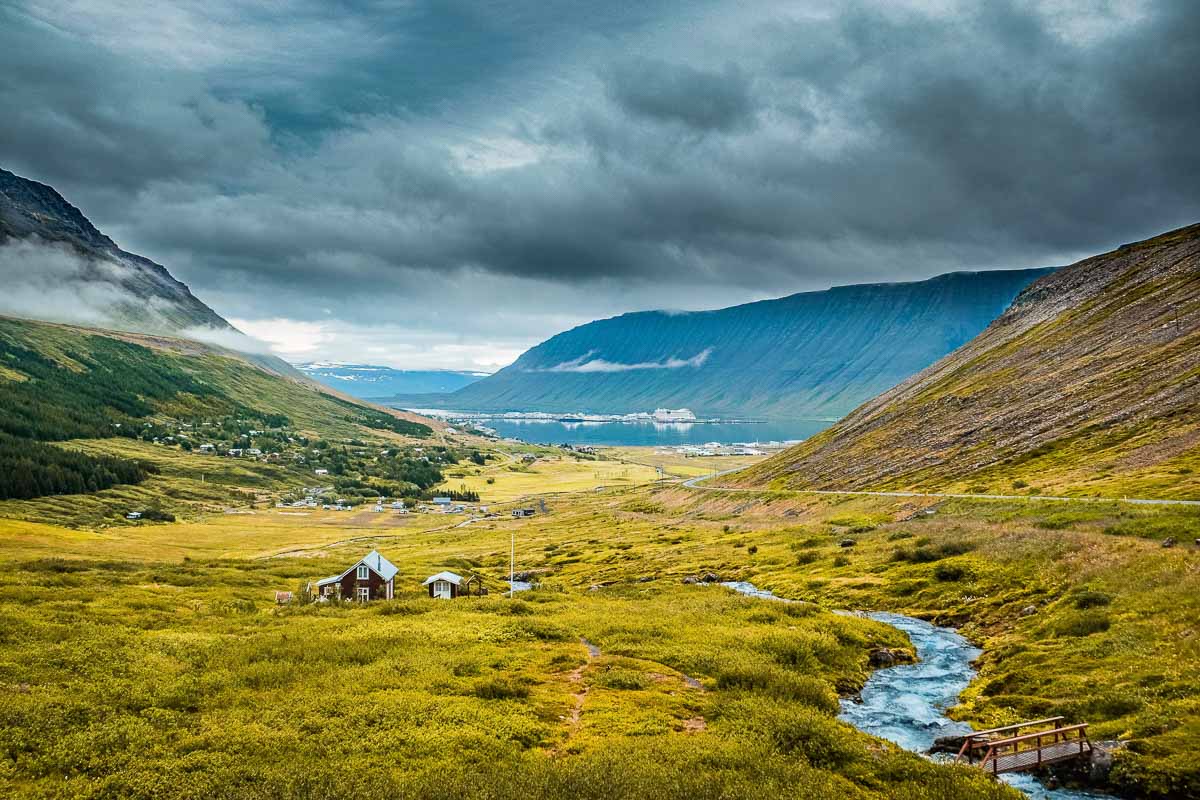 The Weather in Isafjordur
The weather in Isafjordur, like the rest of Iceland, is characterized by its variability and can change quickly. It experiences a subpolar oceanic climate, with cool temperatures and frequent precipitation throughout the year. 
Here's a general overview of the weather by seasons:
Winter – December – February – Winters in Isafjordur are cold, with average temperatures ranging from -2°C (28°F) to 3°C (37°F). Snow is common, and the town can experience heavy snowfall, making some roads difficult to navigate. The days are short, with only a few hours of daylight, but this is also the season to witness the enchanting Northern Lights.
Spring – March – May – Spring in Isafjordur is characterized by gradually increasing daylight hours and temperatures. Average temperatures during this season range from 0°C (32°F) to 7°C (45°F). While the weather can still be unpredictable, with a mix of rain, snow, and sunshine, the landscape begins to come to life, with melting snow revealing beautiful scenery.
Summer – June – August – Summers in Isafjordur are cool and mild, with average temperatures ranging from 7°C (45°F) to 14°C (57°F). This is the warmest and brightest time of the year, with long days of nearly 24 hours of daylight in June, known as the Midnight Sun. The weather can still be unpredictable, with occasional rain showers, but this is generally the best season for outdoor activities and exploring the Westfjords.
Autumn – September – November – Autumn in Isafjordur sees a drop in temperatures and daylight hours, with averages ranging from 2°C (36°F) to 10°C (50°F). The weather can be quite changeable, with a mix of rain, wind, and occasional snow as winter approaches. The fall colors make for a stunning backdrop, but be prepared for rapidly changing conditions and cooler temperatures.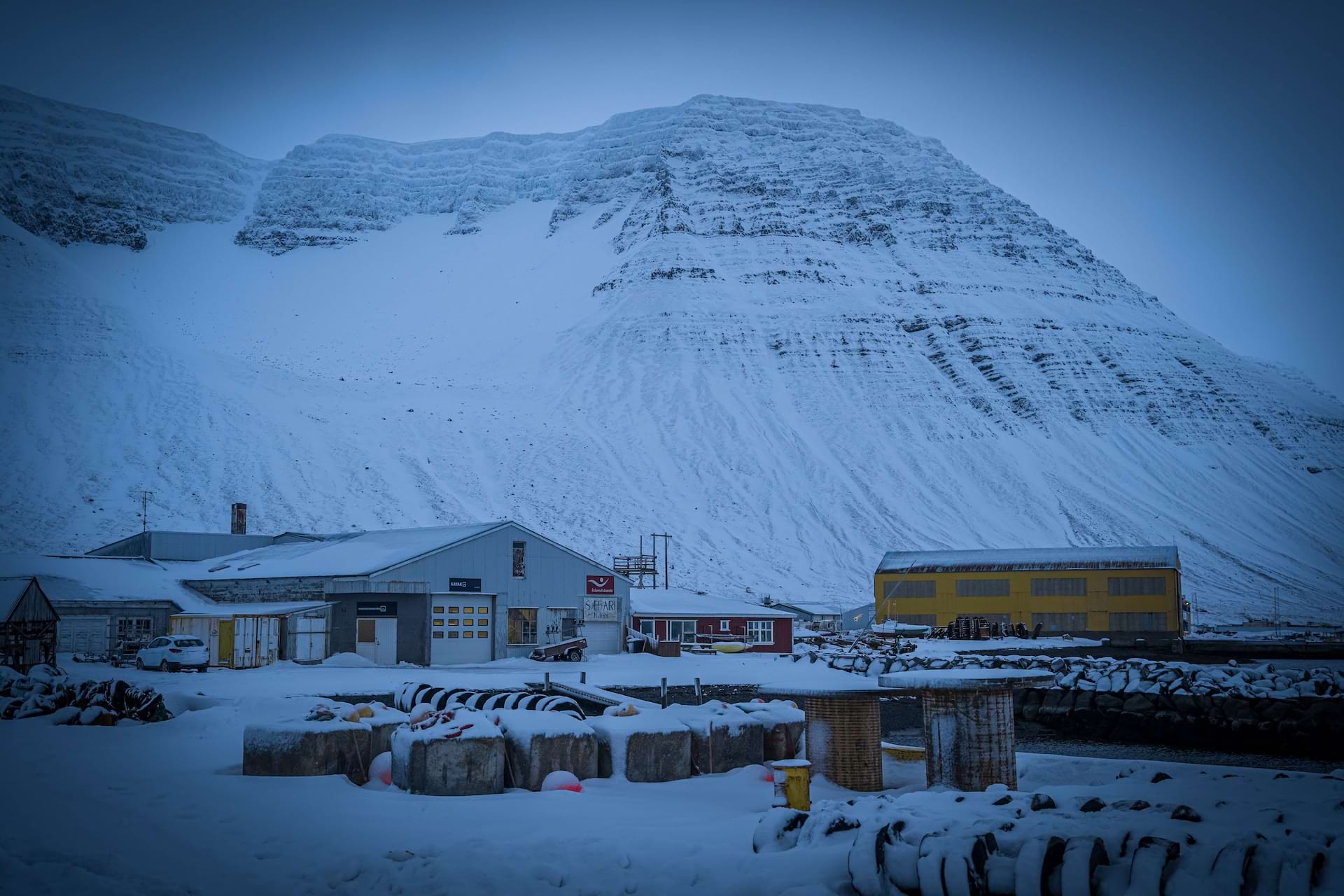 Snowy mountain backdrops a part of Isafjordur town.
What is the best time to Visit Isafjordur, Westfjords of Iceland?
The best time to visit Isafjordur largely depends on your preferences and the activities you wish to engage in. Generally, the summer months (June to August) are considered the best time to visit, as the weather is milder and the days are longer. 
During this period, you can enjoy outdoor activities such as hiking, birdwatching, and kayaking, as well as the Midnight Sun phenomenon.
However, if you're interested in winter sports like skiing or snowboarding, or if you want to experience the Northern Lights, visiting Isafjordur between December and February might be more suitable. Keep in mind that winter weather can be more challenging, with colder temperatures, snow, and shorter daylight hours.
No matter when you choose to visit Isafjordur Iceland, always be prepared for changing weather conditions, as the weather in Iceland can be quite unpredictable. Dress in layers and bring waterproof and windproof clothing to ensure a comfortable and safe experience.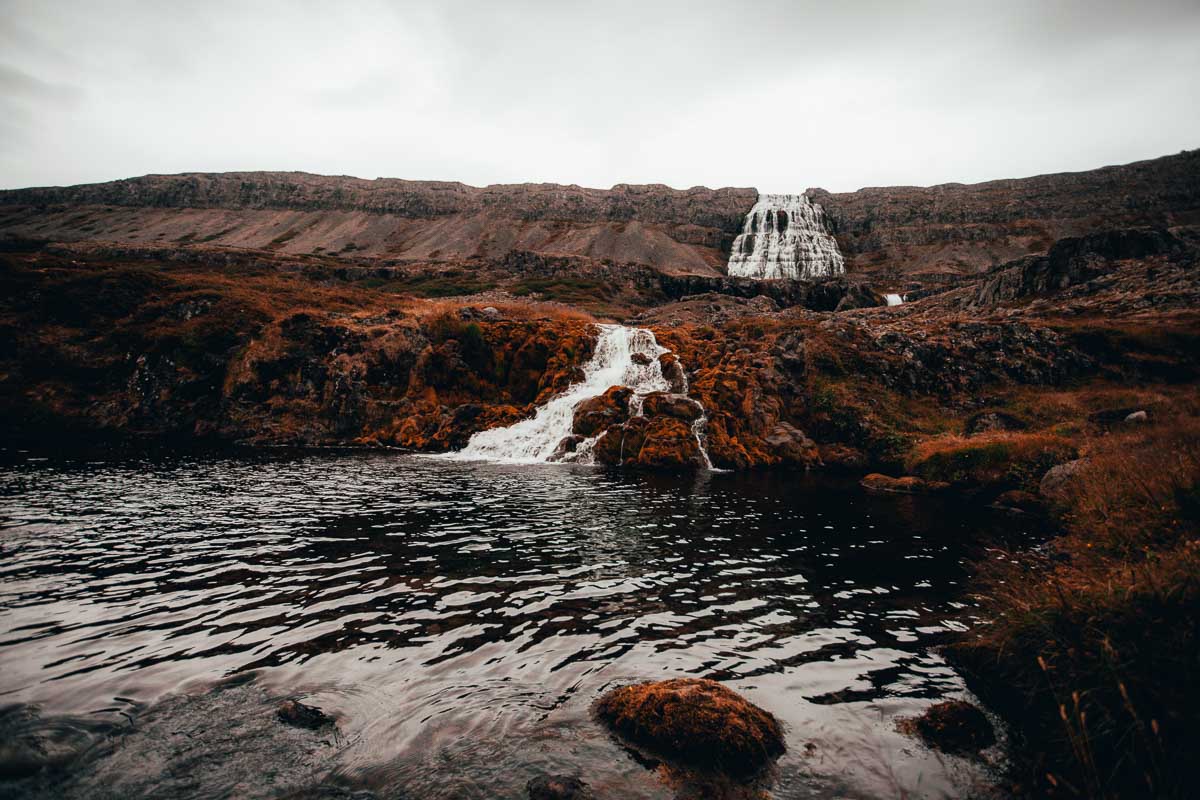 How Do You Get to Isafjordur?
Domestically, there are several ways to travel from Reykjavik and other parts of Iceland to Isafjordur, including by air, car, and bus. Each mode of transportation offers different experiences and durations.
By air
The quickest and most convenient way to get to Isafjordur from Reykjavik is by flying. Air Iceland Connect operates regular flights between Reykjavik Domestic Airport (RKV) and Isafjordur Airport (IFJ). The flight duration is approximately 40-45 minutes. This option allows you to save time and enjoy stunning aerial views of the Icelandic landscape.
By car 
If you prefer a road trip, you can rent a car and drive to Isafjordur from Reykjavik. The journey is around 455 km (283 miles) and takes approximately 6-7 hours, depending on weather and road conditions. The route takes you along the Ring Road (Route 1) and then onto Route 60 through the Westfjords. This scenic drive offers a chance to explore the beautiful landscapes of the Westfjords at your own pace, but keep in mind that some roads might be closed or difficult to navigate in winter.
Self-driving along the coast of Westfjords allows visitors to see the beautiful cliffs. [Photo credit to Yanshu Li]
By bus
Public transportation is also an option for reaching Isafjordur from Reykjavik and other parts of Iceland. The bus service is operated by Strætó and other regional bus companies. The journey requires a combination of buses and typically involves at least one transfer, usually in the town of Holmavik or Brjanslaekur. The bus trip from Reykjavik to Isafjordur takes around 8-9 hours, depending on the route and waiting time for connections.
*Please note that schedules and availability may vary depending on the season, and it's essential to check the latest information before planning your trip. Also, be prepared for possible delays or cancellations due to weather conditions, especially during the winter months.
In recent years, Isafjordur has also emerged as an increasingly popular destination for leisure and tourism via cruise ships taking international visitors to explore the breathtaking landscapes and rich cultural heritage of Isafjordur and the surrounding Westfjords region, and Iceland.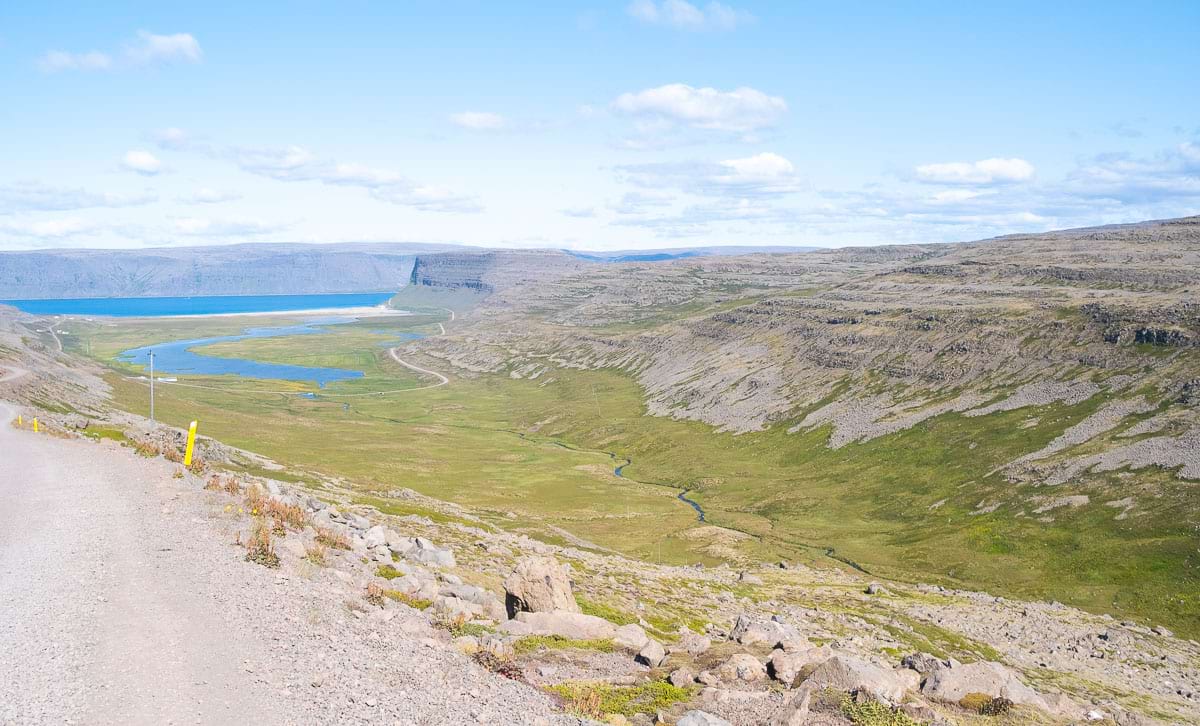 Driving on the unpaved road in Westfjords. [Photo credit to Yanshu Li]
Isafjordur as a Cruise Port
Isafjordur serves as a popular cruise port in the Westfjords region of Iceland. The town's picturesque setting, surrounded by dramatic fjords and rugged mountains, makes it an attractive destination for cruise passengers seeking a taste of Iceland's natural beauty and charming coastal life.
Simply referred as Isafjordur Cruise Port of Isafjordur Harbor, the port is located close to the town center, providing convenient access to the town's main attractions, restaurants, and shops. Passengers can easily explore the area on foot or arrange for guided tours and excursions to experience the region's highlights. 
Isafjordur attracts international visitors for its obvious advantages, as it has some most amazing, scenic surroundings, and the town's compact size makes it easily accessible. On top of these, visitors can also enjoy its rich cultural heritage and various natural experiences, and explore the authentic Icelandic charm.
If you are coming off a cruise ship that docks at Isafjordur harbor, typically you will have limited time to explore the area, so try to focus on activities and attractions that can be experienced within a day or a few hours. Here are a few suggestions for your reference.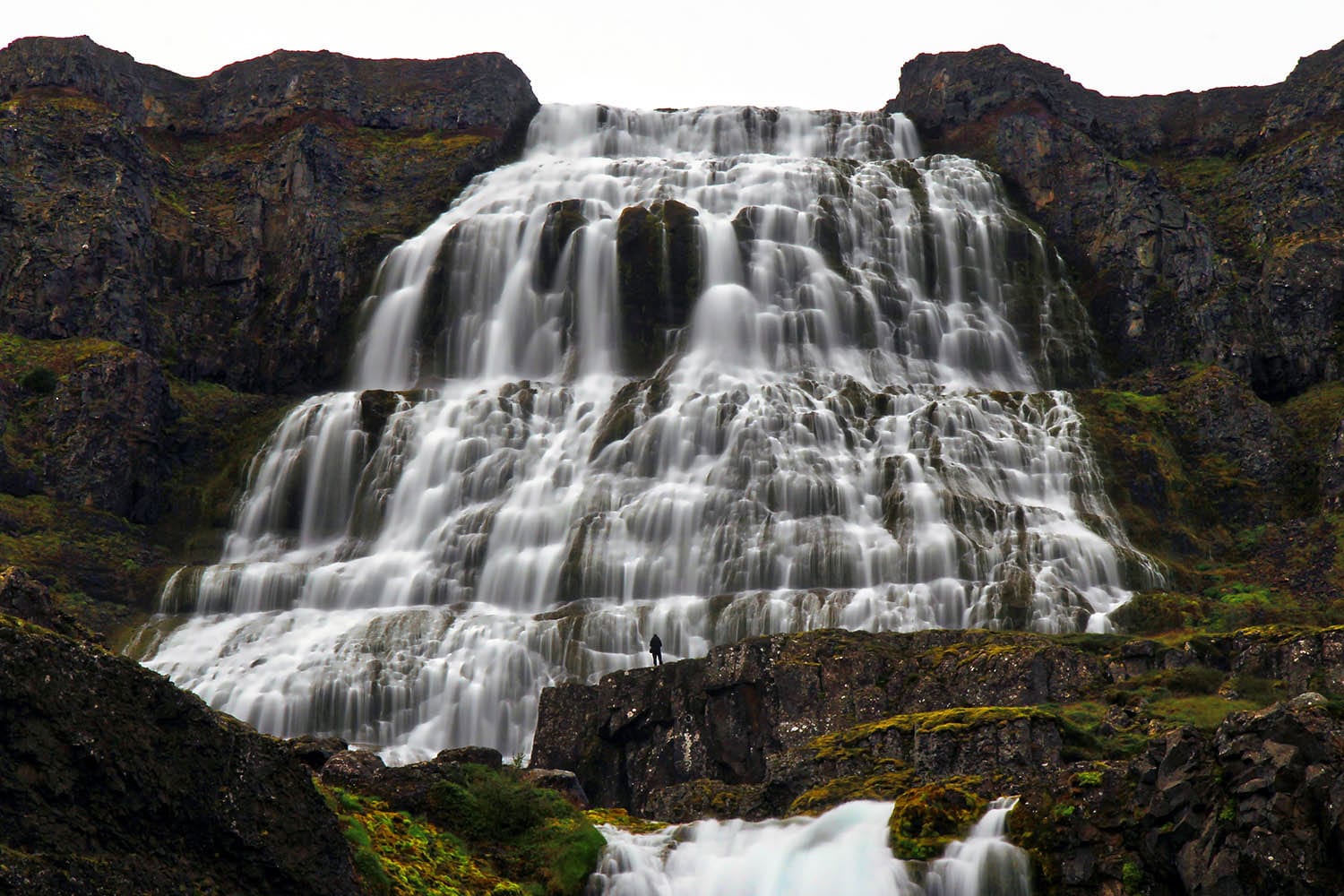 Guided tours: Many cruise ship passengers opt for guided tours to make the most of their limited time in Isafjordur. These tours may include visits to nearby attractions, such as the Dynjandi waterfall, the village of Bolungarvik, or the Hornstrandir Nature Reserve.

Short hikes and nature walks: Passengers often seek short hikes or nature walks that showcase the scenic beauty of the Westfjords region without requiring too much time or strenuous activity.

Cultural attractions: Visitors with limited time may be interested in exploring Isafjordur's cultural heritage, such as the Westfjords Heritage Museum, the Old Hospital, or simply strolling through the town's historic center and admiring the well-preserved wooden buildings.

Local cuisine: Cruise ship passengers often enjoy sampling traditional Icelandic dishes at local restaurants and cafés during their stopover in Isafjordur.

Shopping: Visitors may be interested in purchasing souvenirs, local handicrafts, or Icelandic design items to take back home. Popular items include woolen goods (such as sweaters, hats, and gloves), volcanic rock jewelry, and Icelandic music.

Wildlife watching: Depending on the time of year, passengers might be interested in taking boat tours or short trips to nearby locations for birdwatching (particularly puffins) or seal spotting.

Photography: With its stunning landscapes, Isafjordur and the surrounding area offer numerous opportunities for photography enthusiasts to capture the beauty of the region.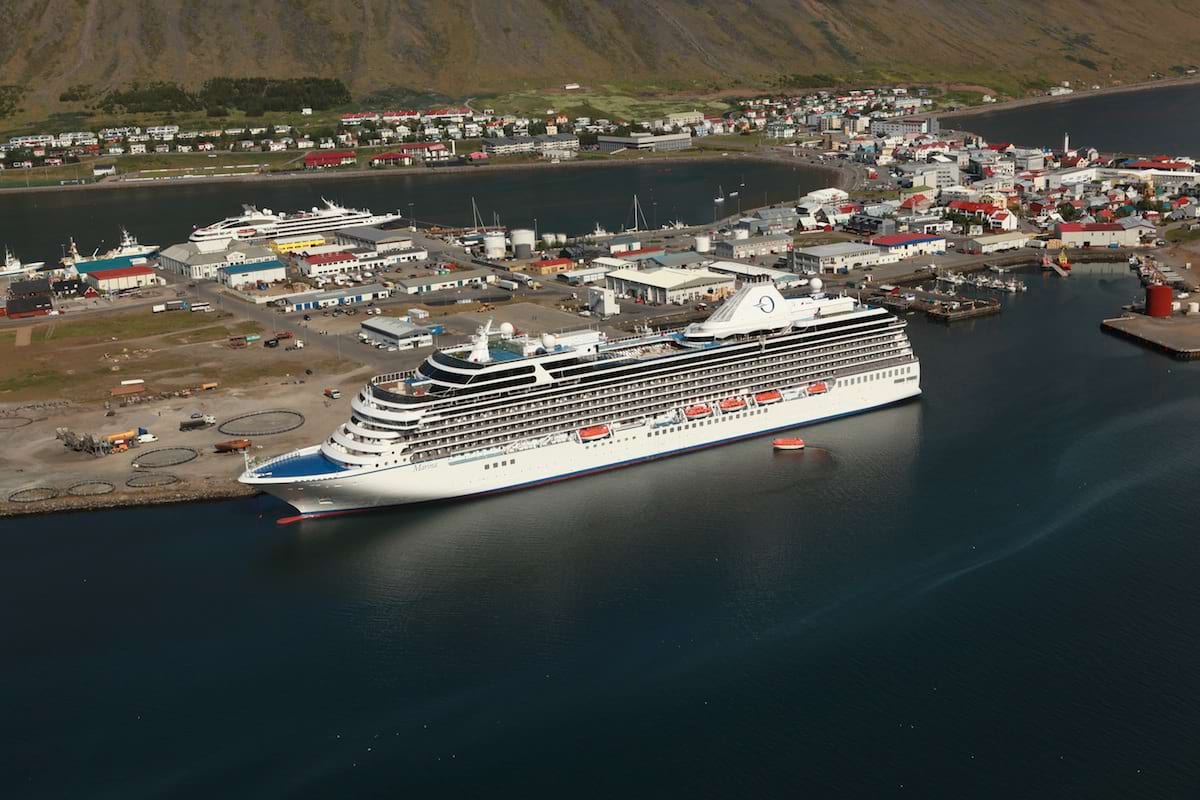 Several international cruise lines dock at Isafjordur port during the cruise season, which typically runs from May to September. The exact cruise lines may vary each year and are subject to change. Some of the popular cruise lines that have previously docked at Isafjordur port include:
Holland America Line

Princess Cruises

Royal Caribbean International

Celebrity Cruises

Norwegian Cruise Line

Silversea Cruises

Viking Ocean Cruises
It's essential to check with the individual cruise line for their specific itineraries and schedules, as routes and docking destinations may change. Additionally, smaller expedition cruise lines and luxury cruise lines may also include Isafjordur as a port of call on their Iceland itineraries.
Top Attractions in Isafjordur
Isafjordur offers a variety of attractions and activities for visitors. Some of the top attractions in and around the town include:
Westfjords Heritage Museum: also referred to as the Isafjordur Maritime Museum, or Byggðasafn Vestfjarða in Icelandic – is dedicated to the maritime history and heritage of the Westfjords region. It focuses on the area's fishing industry, which has been an essential part of local livelihoods for centuries. The museum features exhibits on fishing techniques, maritime technology, and the daily lives of fishermen and their families. Visitors can learn about the region's seafaring traditions and the vital role they played in the development of Isafjordur and the Westfjords.

Ísafjörður Culture House – Gamla sjúkrahúsið in Icelandic: Housed in the Old Hospital, this institution primarily serves as a center for arts and culture in Isafjordur. It hosts various events, exhibitions, and performances related to visual arts, music, and other artistic expressions. The Culture House aims to promote local artists and cultural activities, showcasing the creativity and talent present in the region.  

Old Town: Isafjordur possesses a rich history and cultural heritage, evident in its well-preserved wooden buildings. The historic center of Isafjordur features charming, well-preserved timber frame houses from the 18th and 19th centuries. A leisurely walk through the old town offers a glimpse of the town's rich history.

Tjoruhusid: This renowned seafood restaurant offers traditional Icelandic dishes, focusing on locally-sourced fish. It's a great place to experience authentic Icelandic cuisine.

Edinborg Cultural Center: This venue hosts various events and exhibitions, including art shows, concerts, and theater performances, providing visitors with a taste of Isafjordur's cultural scene.

The Museum of Everyday Life in Isafjordur offers a fascinating glimpse into the daily routines and lives of local residents in the past. Through various exhibits, visitors can explore the region's cultural heritage, traditions, and history in a relatable and engaging manner.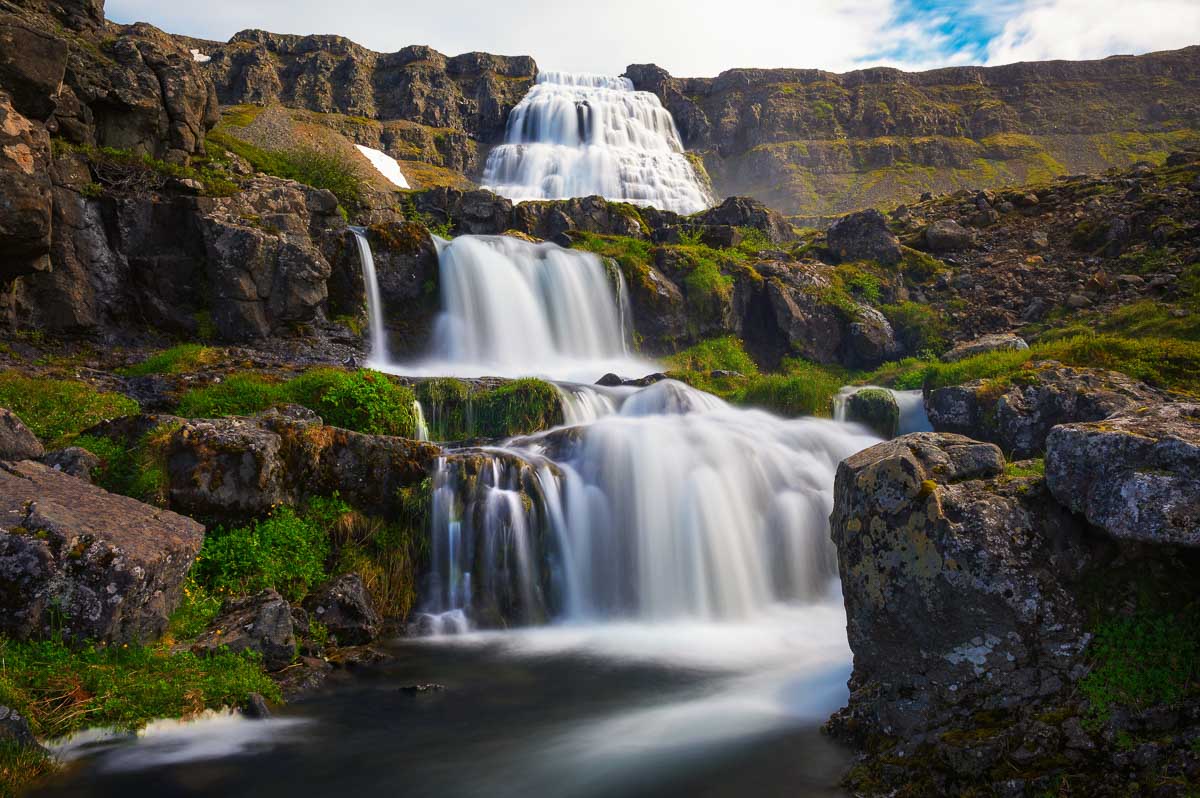 Popular Sights in the Westfjords of Iceland
While Isafjordur itself is a charming town, the top natural attractions in the area lie in the surrounding Westfjords region. These natural wonders showcase the breathtaking beauty and unique landscapes of the area:
Dynjandi Waterfall: Often considered the most impressive waterfall in the Westfjords, it is a series of cascading waterfalls that culminate in a majestic, 100-meter (328 ft) main fall.
Hornstrandir Nature Reserve: This remote and uninhabited reserve is known for its rugged cliffs, rich birdlife (including puffins), and arctic foxes. Accessible only by boat, it offers incredible hiking and wildlife-watching opportunities.
Latrabjarg Cliffs: These massive sea cliffs are among the largest bird cliffs in Europe and are home to millions of seabirds, including puffins, guillemots, and razorbills. The cliffs offer breathtaking views and excellent bird watching opportunities.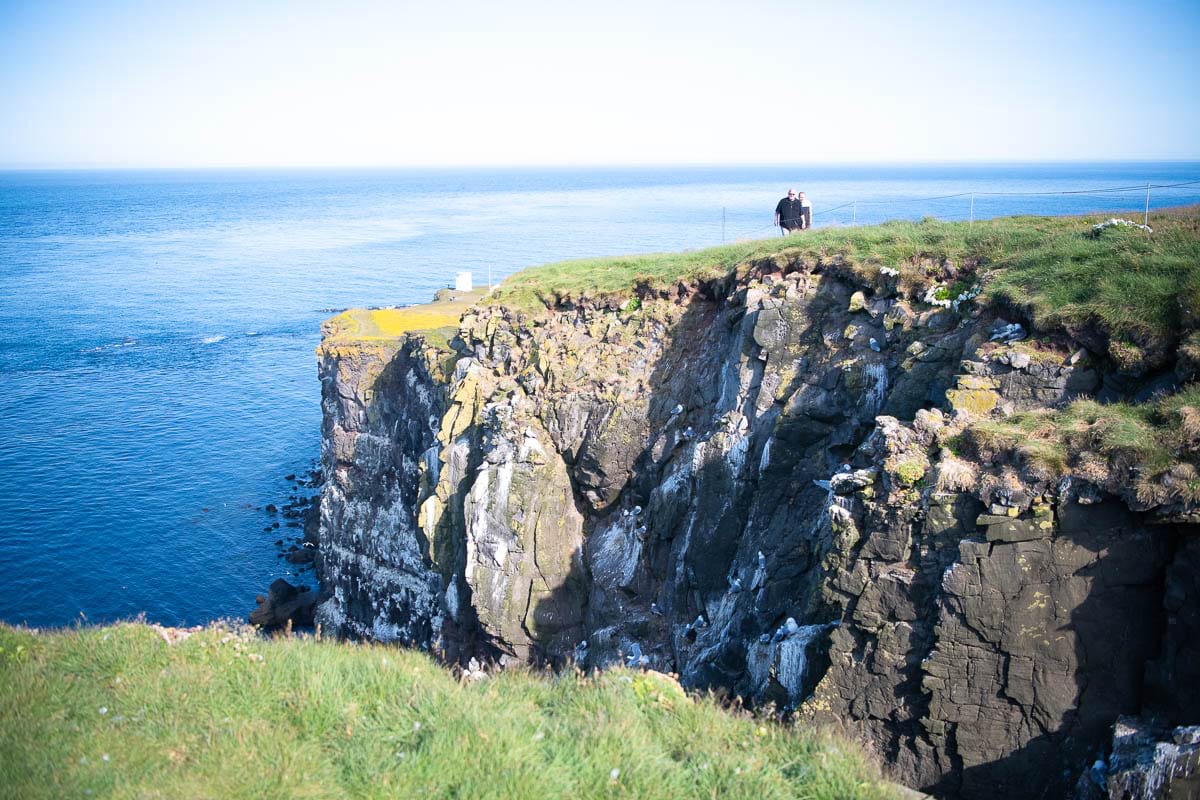 Latrabjarg Cliffs is the edge of Europe and Iceland, famous for its diverse birdlife. [Photo credit to Yanshu Li]
Raudasandur Beach: This unique red sand beach stretches for several kilometers along the coast and is a beautiful place to relax, stroll, or watch for seals and seabirds.
Súðavík Cliffs: Close to Isafjordur, the Súðavík Cliffs offer scenic hiking trails with panoramic views of the fjords and opportunities to spot various bird species.
Jokulfirdir: This scenic fjord area boasts stunning landscapes, including glaciers, waterfalls, and wildlife. Visitors can explore the fjords through hiking, kayaking, or boat tours.
Drangajokull Glacier: The only glacier in the Westfjords, Drangajokull, is located in the region's northern part. Visitors can participate in guided glacier hikes to experience the unique beauty of this icy landscape.
Vigur Island: A short boat trip from Isafjordur, this small island is home to a large population of eider ducks, puffins, and other seabirds. Visitors can also explore the island's historic buildings and witness traditional Icelandic farming practices.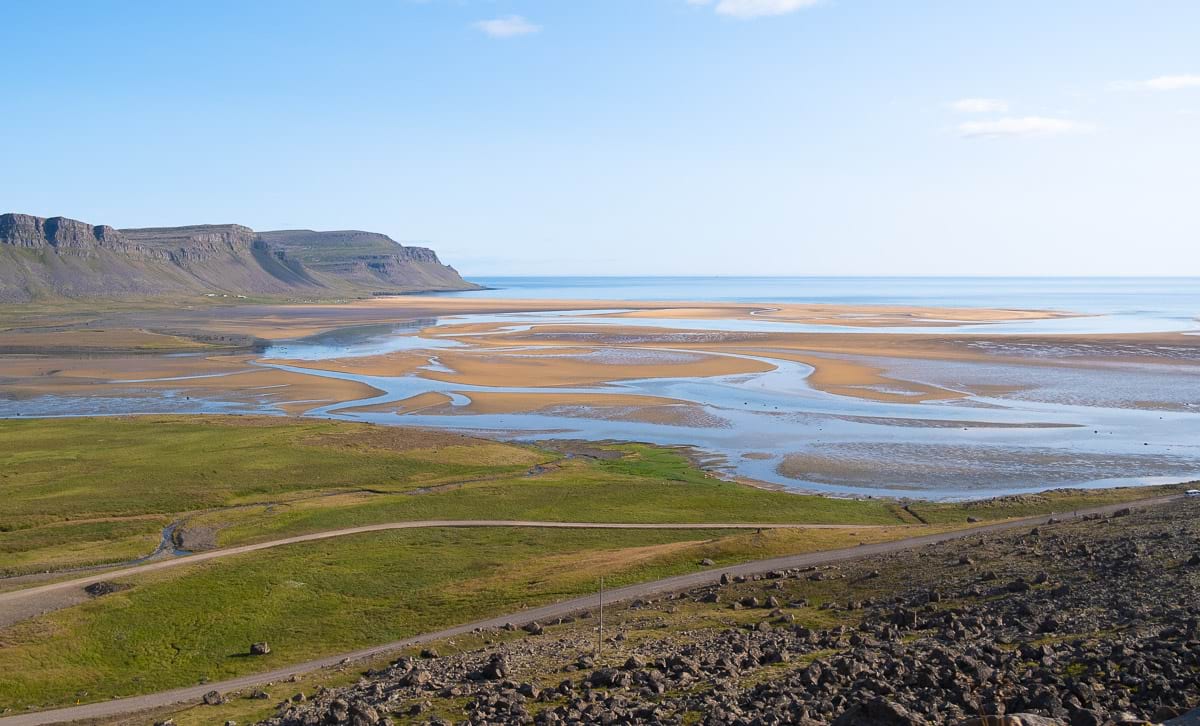 Raudasandur red sand beach is one of the unique kinds in Iceland. [Photo credit to Yanshu Li]
Things to do in Isafjordur
Isafjordur and the Westfjords region is truly a paradise for outdoor lovers, providing a plethora of opportunities for outdoor enthusiasts to revel in the area's natural beauty. The town serves as an ideal base for those seeking adventure amidst breathtaking landscapes, with a range of popular activities that cater to different interests and skill levels.
Hiking is a beloved pastime in Isafjordur, with numerous trails weaving through the majestic fjords, rugged mountains, and verdant valleys. Whether you prefer leisurely strolls or more challenging treks, the region offers diverse options, such as the hike to the picturesque waterfall Dynjandi or the rewarding ascent to the summit of Sandafell Mountain.
For water lovers, kayaking allows you to explore the serene fjords and the rugged coastline up close. Paddle through the calm waters, taking in the dramatic cliffs and abundant marine wildlife. Local tour operators provide guided trips and equipment rentals for a safe and memorable experience.
Wildlife watching is another highlight in exploring Isafjordur. Isafjordur has a rich birdwatching and marine life observation culture. Nearby Látrabjarg cliffs provide the perfect setting for spotting various bird species, such as puffins, guillemots, and kittiwakes., while the region's coastlines are frequented by seals and whales. Additionally, the elusive Arctic fox can be seen in remote areas and nature reserves like Hornstrandir, north of Isafjordur.
Horseback riding is also a popular activity in Isafjordur and the surrounding Westfjords region, allowing visitors to explore the area's stunning landscapes in a unique and immersive way. Icelandic horses, renowned for their strength, friendly nature, and smooth gait, provide an exceptional riding experience for both novice and experienced riders. Local tour operators offer a variety of horseback riding tours and this activity offers a memorable way to appreciate the natural beauty and serenity of the Westfjords while connecting with Iceland's proud equestrian heritage.
During the winter season, Isafjordur offers excellent opportunities for skiing and snowboarding at its local ski resort, just a short drive from the town center. The resort caters to all skill levels and provides a unique setting to enjoy winter sports surrounded by the captivating beauty of the Westfjords.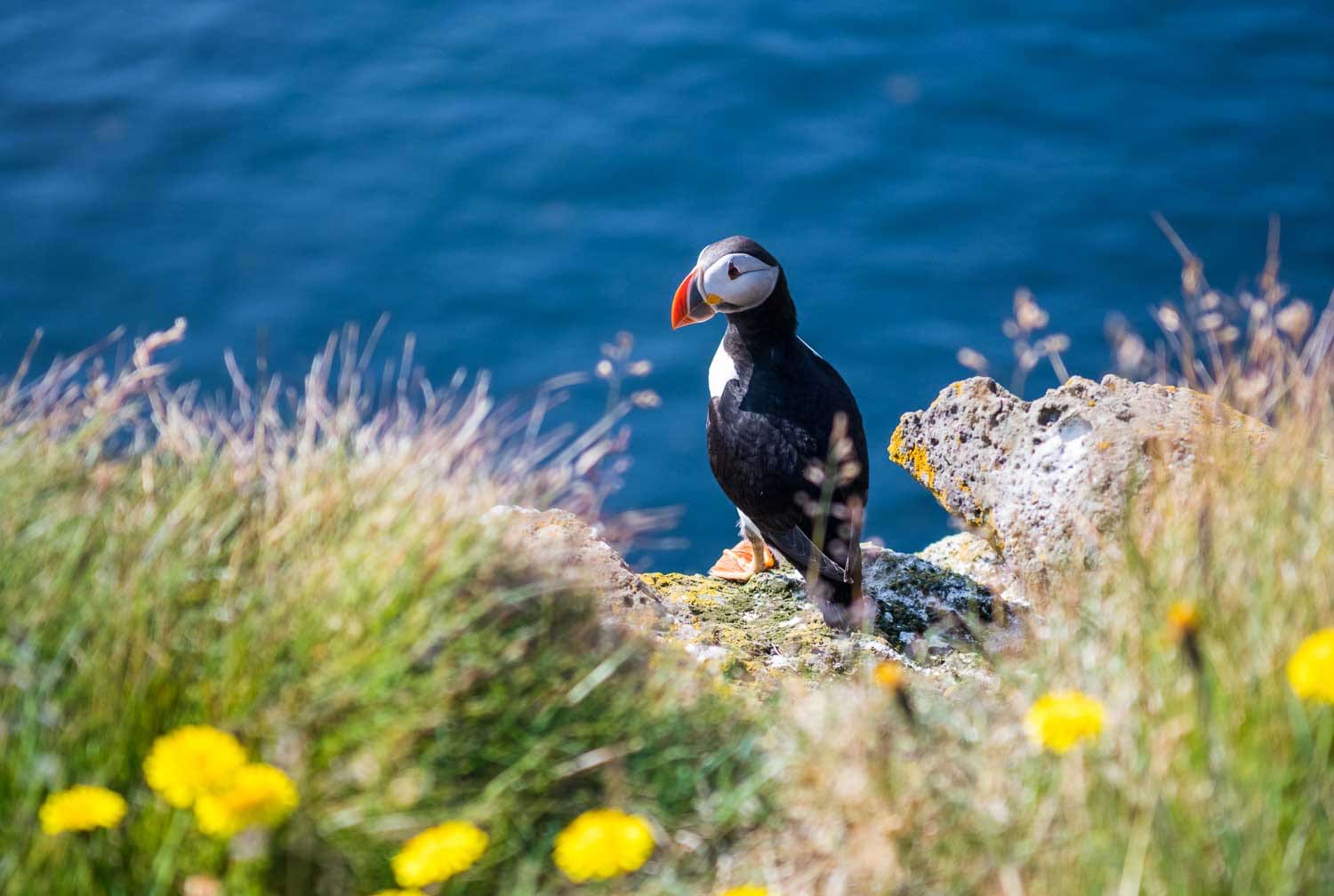 A puffin bird gazing back on a cliff in Westfjords. [Photo credit to Yanshu Li]
The Accommodation in Isafjordur
Isafjordur offers a variety of accommodation options to suit different preferences and budgets. Visitors can choose from hotels, guesthouses, hostels, and more. Here are some options to consider:
Hotels
There are several hotels in Isafjordur, ranging from budget-friendly to more upscale options. Some popular choices include Hotel Isafjordur, Hotel Horn, and Hotel Edda Isafjordur. These hotels typically offer private rooms, en-suite bathrooms, and amenities such as Wi-Fi and breakfast.
Guesthouses and B&Bs
For a more personalized experience, guesthouses and bed & breakfasts provide comfortable rooms and a cozy atmosphere. Some well-known options are Gamla Guesthouse, and Fisherman Hotel Isafjordur. These establishments usually offer a mix of private and shared rooms with varying amenities.
Hostels
Budget-conscious travelers can opt for hostels, which provide affordable accommodation in dorm-style rooms or private rooms with shared facilities. The Isafjordur Hostel is a popular choice among backpackers and offers a communal kitchen, shared bathrooms, and a common area.
Apartments and cottages
For those seeking more privacy or self-catering facilities, renting an apartment or cottage can be an excellent option. Companies like Booking.com or Airbnb offer a range of choices in Isafjordur and the surrounding areas, from compact studio apartments to spacious family-sized cottages.
Camping
During the summer months, camping can be an adventurous and budget-friendly option. The Isafjordur campsite, located close to the town center, offers basic facilities such as restrooms, showers, and cooking facilities for campers.
When choosing accommodation in Isafjordur, it's essential to book in advance, especially during the high tourist season (June to August), as options may be limited due to the town's remote location and increasing popularity among visitors.
---
The Food Scene in Isafjordur
The food scene in Isafjordur is a blend of traditional Icelandic cuisine and international flavors. Although the town is relatively small, visitors can still find a range of dining options to suit their tastes. Here are ten popular restaurants and eateries in Isafjordur:
Tjoruhusid: This renowned seafood restaurant offers delicious traditional Icelandic dishes focusing on locally-sourced fish. It is considered one of the best places to enjoy fresh seafood in a cozy, rustic atmosphere.
Husid: A popular spot with locals and tourists alike, Husid offers a diverse menu featuring Icelandic classics, international dishes, and a selection of vegetarian options.
Thai Koon: For those craving Asian cuisine, Thai Koon serves up a variety of Thai dishes, including curries, noodles, and stir-fries.
Edinborg Bistró: Located within the Edinborg Cultural Center, this cafe offers light meals, sandwiches, soups, and a variety of cakes and pastries. It's a great spot for a relaxing lunch or coffee break.
Bakarinn: A local bakery, Bakarinn offers a selection of freshly baked bread, pastries, and sweet treats, perfect for breakfast or a midday snack.
Gamla Bakaríið: Another local bakery, Gamla Bakaríið offers a range of baked goods, including traditional Icelandic pastries and bread.
Pizza 67: For those in the mood for pizza, Pizza 67 offers a variety of toppings and options, including vegan and gluten-free choices.
Sjávarborg Restaurant: Located within the Hotel Isafjordur, Sjávarborg Restaurant offers a seasonal menu featuring Icelandic and international dishes, often using locally-sourced ingredients.
While the food scene in Isafjordur may not be as extensive as in larger cities, it offers a pleasant mix of traditional Icelandic cuisine and international flavors, giving visitors a taste of the region's culinary heritage.
---
Music and festivals in Isafjordur
Isafjordur is home to a vibrant music scene and hosts several festivals throughout the year. The town's intimate atmosphere lends itself to a close-knit community of musicians and artists, who contribute to the rich cultural tapestry that Isafjordur offers.
One of the most notable events is the Aldrei fór ég suður Music Festival, held annually during the Easter weekend. This eclectic festival features an array of local and international musicians, spanning various genres and styles. With free admission, the event is a testament to the town's commitment to fostering a thriving creative environment and making music accessible to all.
Another popular event is the Við Djúpið Music Festival, which takes place every summer. This week-long celebration showcases an array of classical, contemporary, and experimental music, featuring both Icelandic and international artists. Workshops, masterclasses, and seminars complement the performances, providing an immersive and enriching experience for music enthusiasts.
In addition to these festivals, Isafjordur boasts a lively local music scene, with regular performances in bars, cafes, and cultural centers. These intimate venues provide the perfect setting to experience the talent and creativity of Isafjordur's musicians while soaking in the town's enchanting atmosphere.
---
Is Isafjordur Worth Visiting?
If you appreciate breathtaking landscapes, outdoor activities, and a charming small-town atmosphere, Isafjordur could be a worthwhile destination for your visit to Iceland.
Isafjordur, known for its stunning fjords, mountains, and valleys, offers outdoor activities like hiking, kayaking, birdwatching, and skiing. Rich in cultural heritage, the town features a well-preserved old town, a maritime museum, and hosts music festivals, providing a vibrant cultural experience.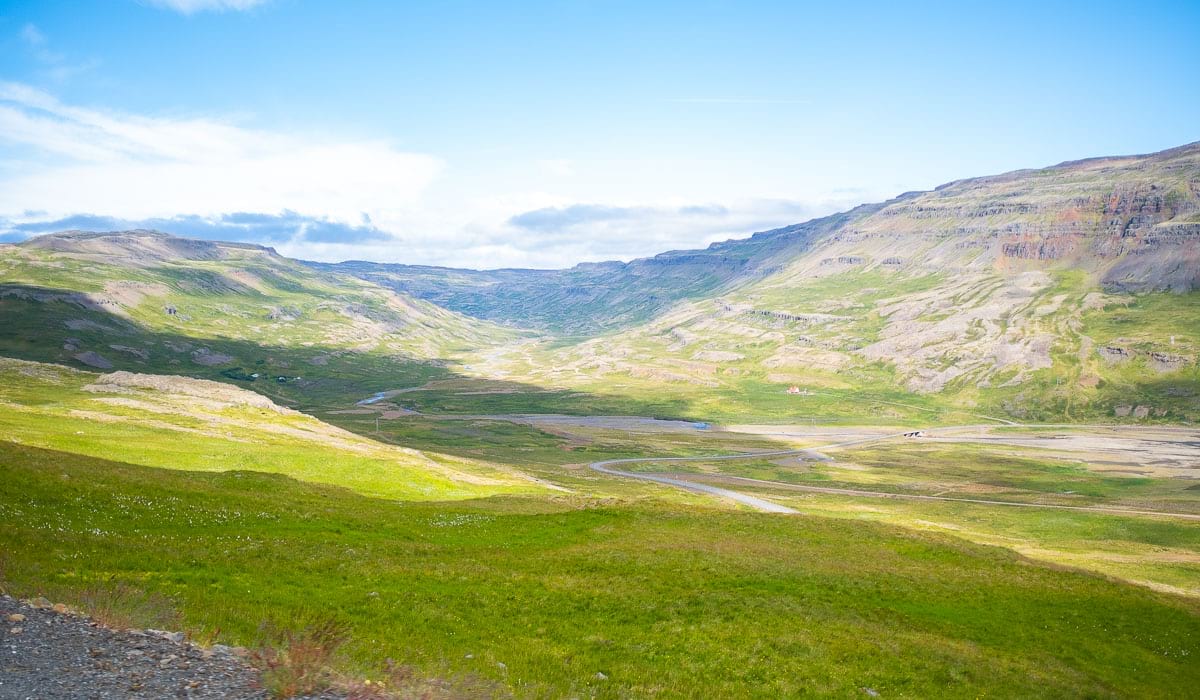 Its pristine nature, less frequented than other parts of Iceland, offers travelers a chance to revel in the region's unspoiled beauty with relative solitude. When planning your trip to Iceland, be sure to include Isafjordur on your itinerary if time allows. Whether embarking on a day trip or a multi-day excursion to the Westfjords, the experience promises to create memories that will last a lifetime.
---
How to Pronounce Isafjordur and What it means?
Isafjordur is pronounced as "ee-sah-fyor-dur" in English phonetics.
The word "Isafjordur" is composed of two parts in the Icelandic language. "Ís" translates to "ice" and "fjörður" means "fjord" or "inlet." Thus, Isafjordur can be translated to "ice fjord", "fjord of ices," or "icy inlet," which is an appropriate description of the town's location, as it's surrounded by the scenic Westfjords and the icy waters of the Atlantic Ocean.
---
Isafjordur's Now and Then
Isafjordur's history dates back to the 9th century when the first settlers, mainly Norsemen, arrived in Iceland. The first settler's name was Helgi Magri Hrólfsson. The natural harbor and abundant resources made it an ideal location for maritime activities. In the 16th century, Isafjordur became a trading post, and by the 18th century, it flourished as a fishing village.
The well-preserved wooden buildings from this era reflect the town's rich heritage. Over time, Isafjordur has evolved into a vibrant cultural center and a popular destination in the Westfjords region.
Now, Isafjordur has a population of around 2,600 residents, making it the largest town in the area. Despite its modest size, Isafjordur serves as the administrative, cultural, and economic center of the Westfjords, supporting the surrounding smaller communities.
The majority of Isafjordur's population is of Icelandic descent, with the primary language spoken being Icelandic. However, due to increased tourism and a growing number of foreign residents, English is widely spoken and understood in the town. The population of Isafjordur is relatively homogenous, with a small percentage of immigrants from other countries.
Recommended
Iceland tours
Explore Iceland's beauty with our tours curated just for you, showcasing the best attractions for an unforgettable adventure.