Duration: 3,5 hours

Easy

Electronic Voucher

Meet on location
Got Questions? Contact our agents
Overview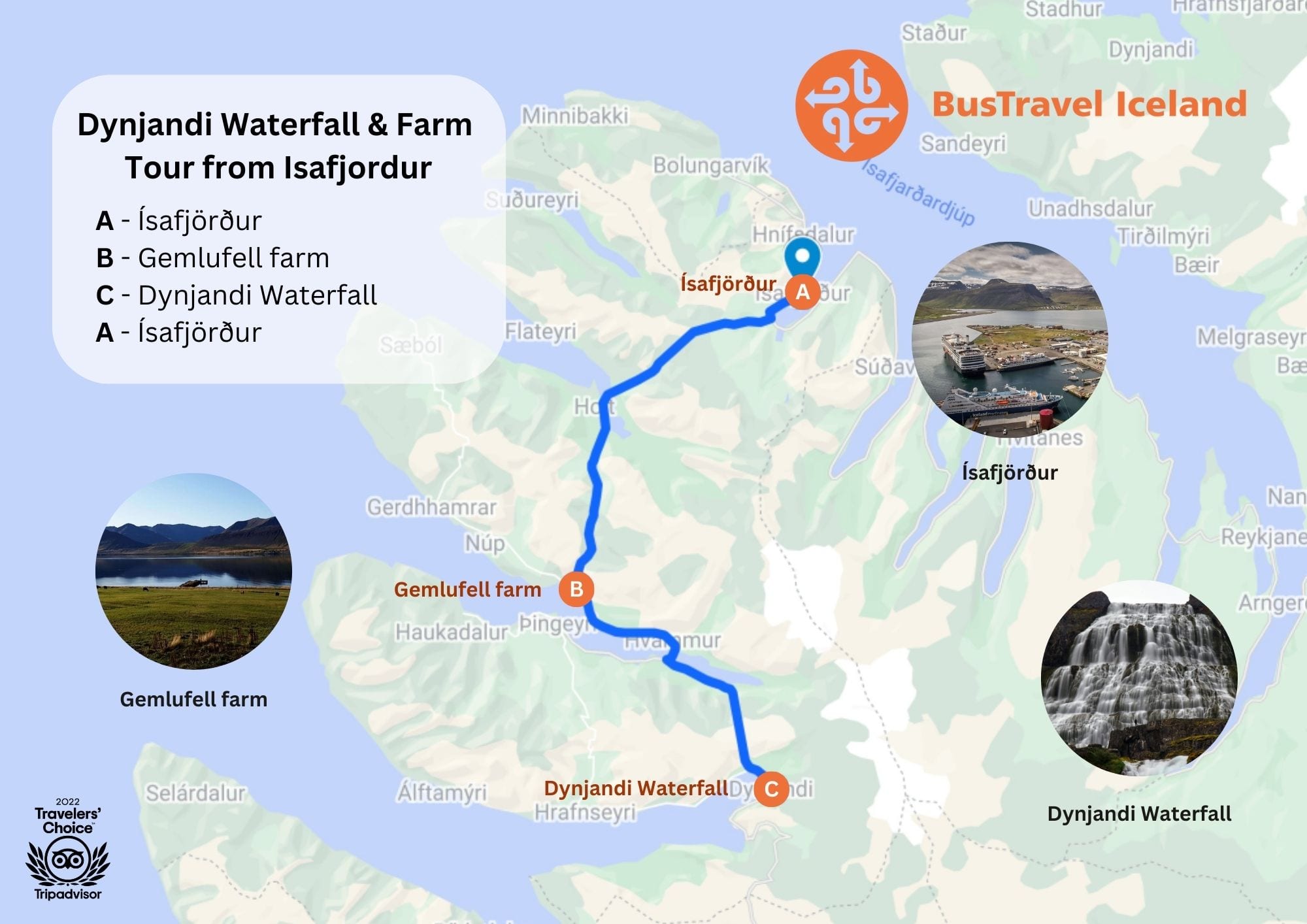 One of the most stunning natural wonders in Iceland, Dynjandi waterfall is the perfect choice for a half-day shore excursion for summer visitors to Ísafjörður, the capital of the Westfjörðs. Generally held to be one of the most beautiful in Iceland, Dynjandi Waterfall can be ticked off the bucket-list coupled with a stop at a traditional Icelandic farm including coffee and happy marriage cake makes for a wonderful half-day tour.
Most visitors to Iceland don´t make it as far as the western fjörds meaning that Dynjandi receives much fewer visitors each year than its southern rivals such as Gullfoss. If you do have one day in Isafjordur, you must grasp the opportunity to visit on our half-day tour. The scenic drive along coastal roads and mountain tunnels through the Westfjörðs is stunning and an experience in and of itself.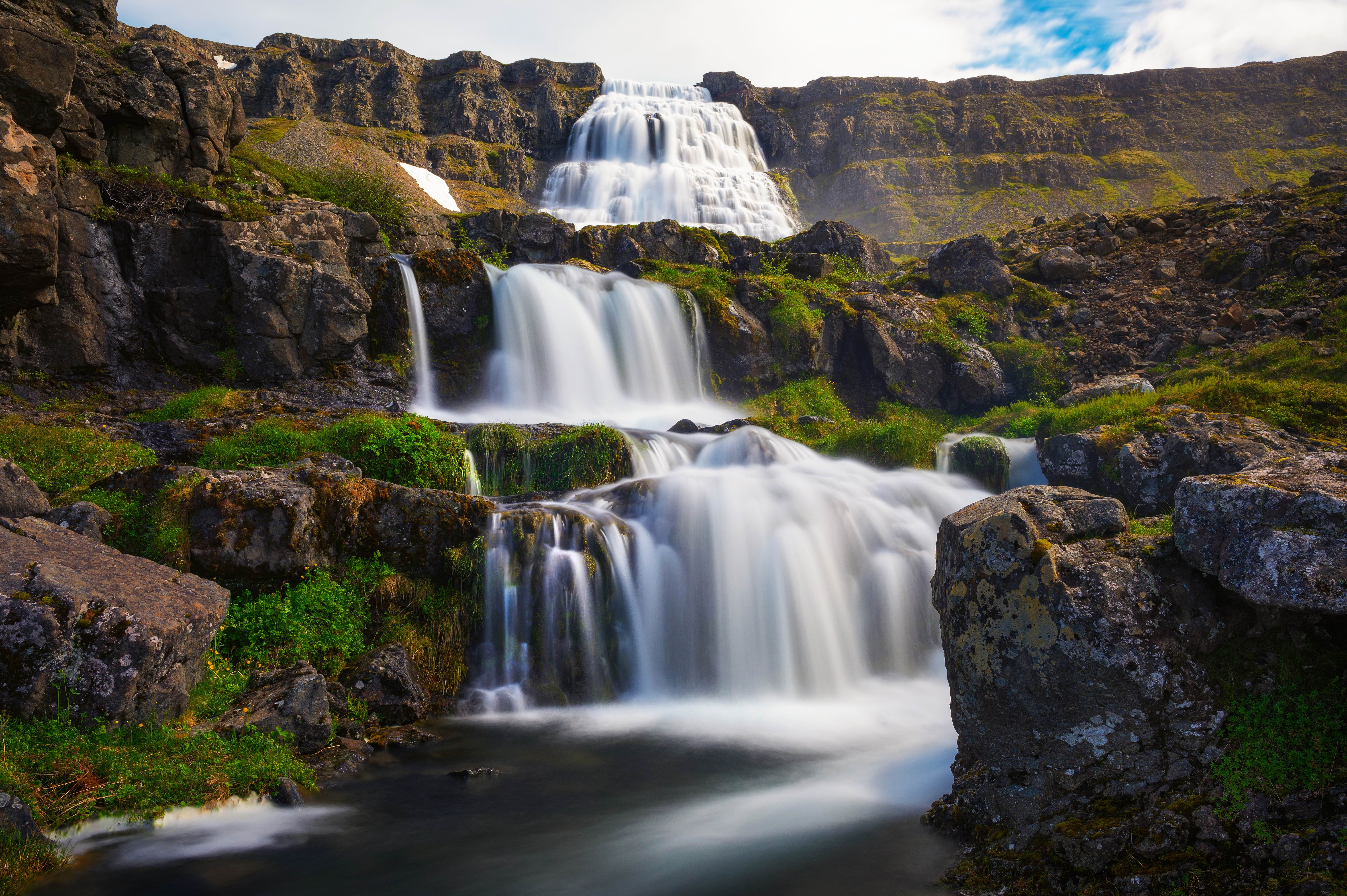 Dynjandi, at 100 meters high, is the tallest waterfall in the westfjords, and cascades down over multiple parallel levels. It has captured the imagination of visitors to our shores in recent years, going viral on social media as a result.
Our Dynjandi waterfall tour from Ísafjörður has two departures daily and is perfect for passengers aboard the many cruise ships that visit this northern outpost. Our departure times are tailored to fit the Isafjordur cruise ship schedule.
Highlights
Dynjandi Waterfall
Scenic drive through unique westfjords landscape
Gemlufall traditional Icelandic farm
Coffee/tea and traditional Icelandic Happy Marriage Cake
Itinerary
The meeting point for this tour is the cruise ship dock in Ísafjörður. Ísafjörður is becoming increasingly more popular as a cruise ship port of call. Once everyone is onboard, we head out of town and take the mountain tunnel of Vestfjarðagöng. On emerging from the tunnel on the other side of the mountain, we venture onwards through a series of small villages, stunning fjords and sheer faced mountains, before we reach Dynjandi.
Dynjandi Waterfall
Nestled at the innermost point of the Arnar Fjörð, the surrounding area around the Dynjandi waterfall is quite breathtaking, even before we take Dynjandi into consideration.
From the parking area, it is a leisurely 15 walk over the trails towards the falls, which dominate the landscape here. You will pass several smaller falls along the way towards the main attraction. Even if you don´t make it all the way to the falls, the view from afar is still mesmeric.
The word dynjandi in Icelandic means thunderous, pouring or resounding. One can see at once why the falls here were named so, as several smaller waterfalls merge here to form the larger Dynjandi falls.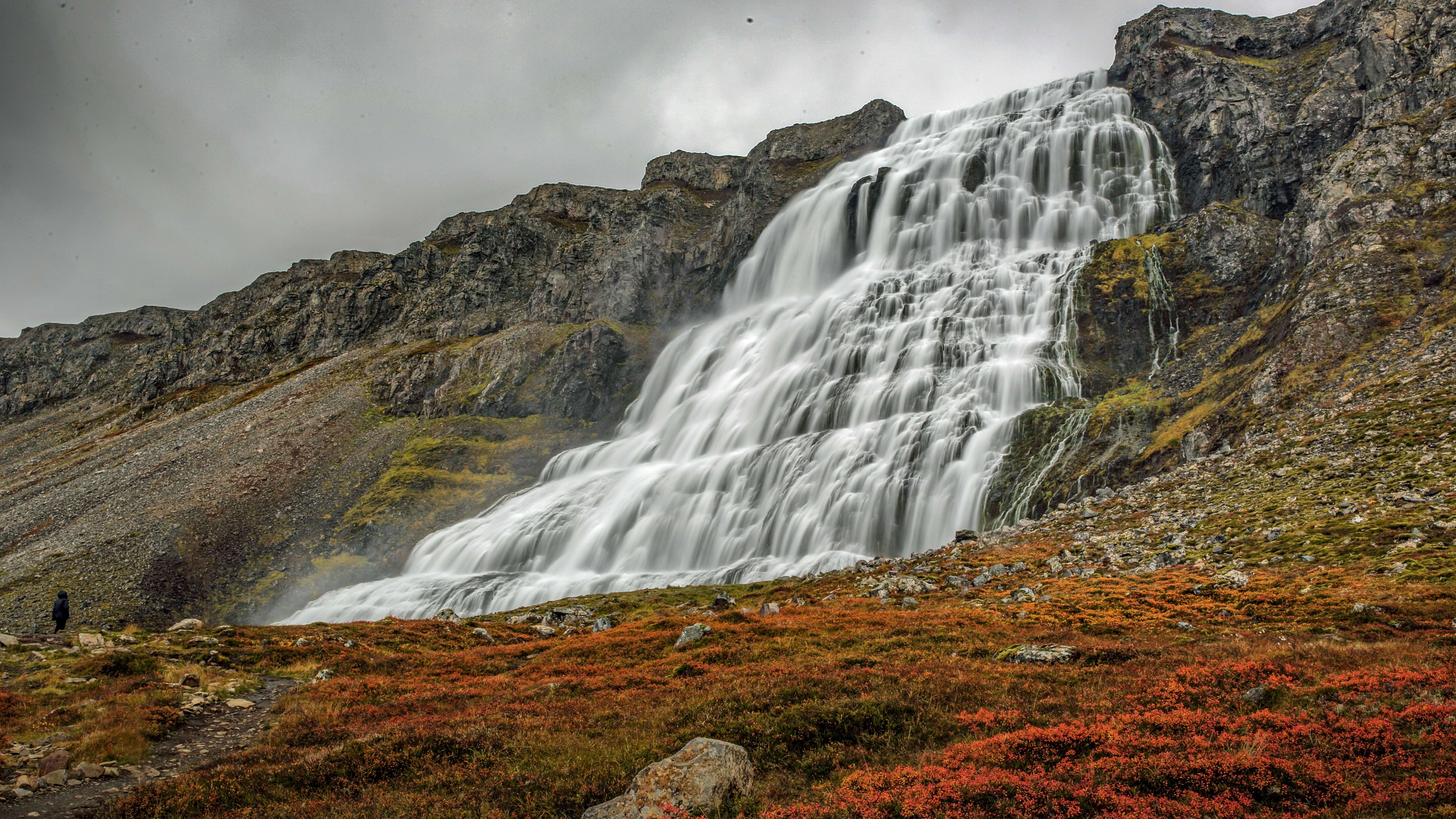 It has a distinctive appearance, a narrow 30 meters wide at the top and tapers to its full length of 60 meters at the bottom. It therefore, when viewed from afar, somewhat resembles a white bridal veil. Up close, one can´t help but be impressed by the scale of this magnificent series of waterfalls.
Gemlufell Traditional Icelandic Farm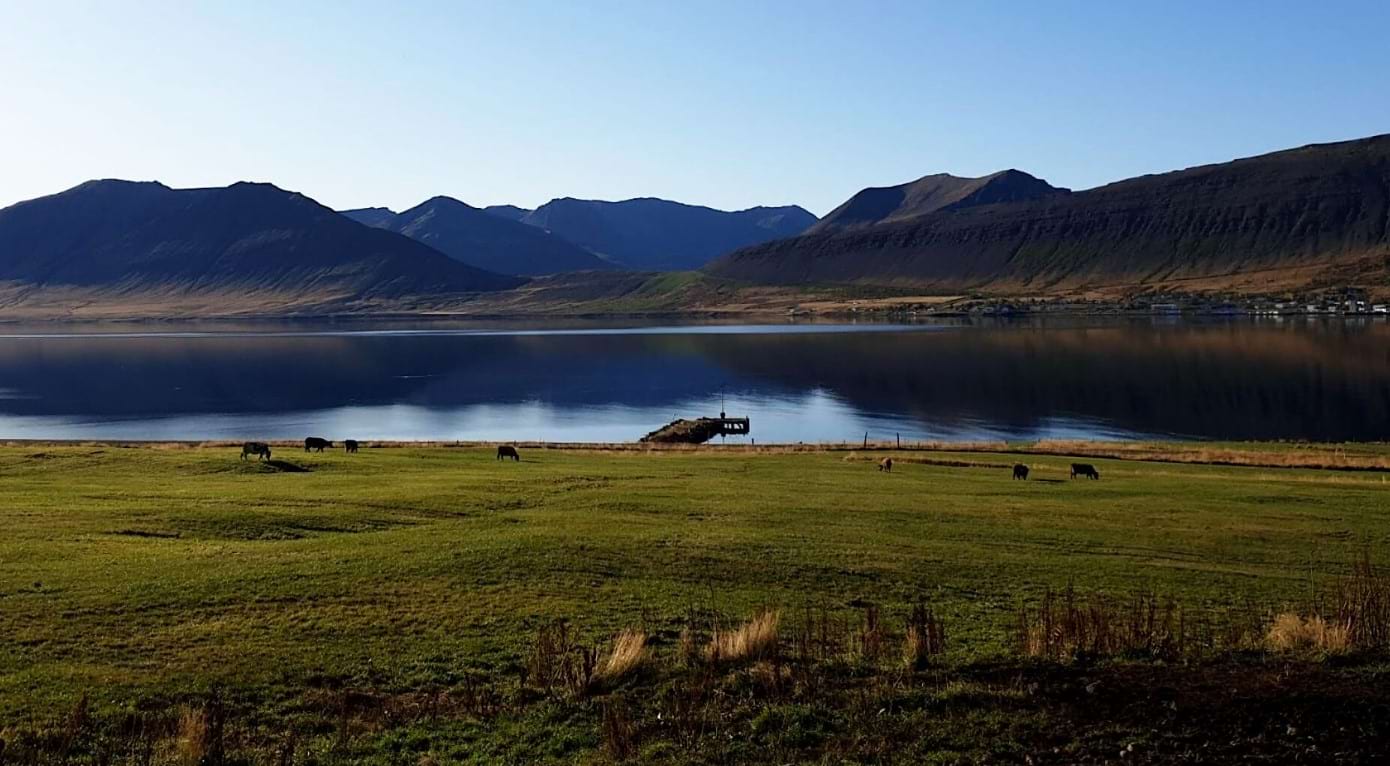 After the jaw-dropping sites at Dynjandi, we make our way back towards Ísafjörður, but not before one extra stop. We visit the charming Gemlufell Farm, a typical Icelandic working farm situated in idyllic surroundings on the coastline of Dýrar fjord. Daily life in this remote homestead is so peaceful, and you can take in these surroundings while enjoying complimentary tea, coffee and a traditional Icelandic cake called Hjónabandssæla. This oat and rhubarb jam cake loosely translates as Happy Marriage cake!
After this stop we return you to your ship in Ísafjörður as you get ready to sail to your next destination.
What´s Included
Enthusiastic and knowledgeable guides
Pickup and drop off in Ísafjörður
Tea/coffee & cake
Free WiFi
What´s Excluded
Food or drink other than mentioned above.
What do I need to bring
Snacks and water
Good walking shoes and rain jacket are recommended
Important Information
The tour takes around 3.5 hours. We tailor our departure times to fit the Isafjordur cruise ship schedule but do please make sure that the tour fits your ship´s port times
Guided Language
Cancellation Policy
Free cancellation upto 24 hours in advance. No refund if cancelled less than 24 hours before the tour time
Reviews!
Thank you for submitting your review