Skogafoss: The Stunning Waterfall of South Iceland
by Yanshu
South Iceland
24 May 2023
Discover the enchanting Skógafoss waterfall in Iceland. This majestic waterfall captures the imagination with its powerful cascade. The misty air, vibrant rainbows, and dramatic cliffs create a breathtaking setting.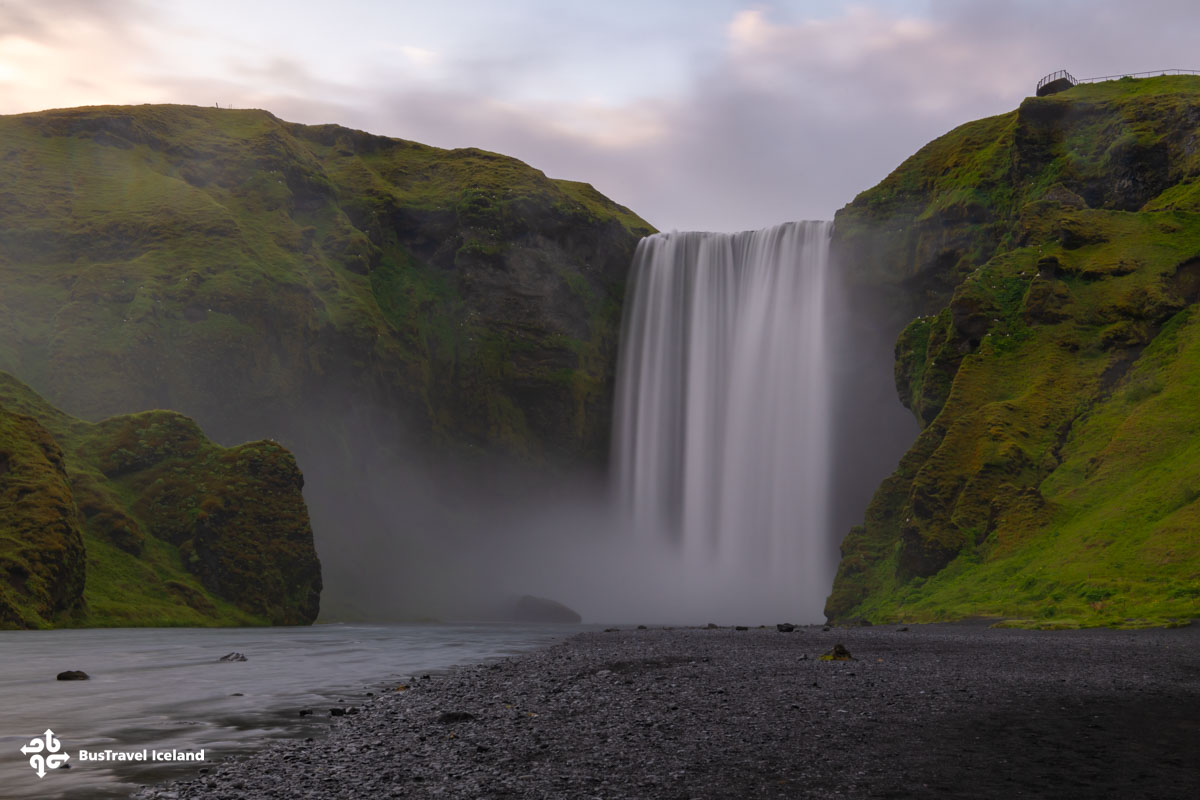 A must-visit along Iceland's south coast, Skógafoss showcases the country's remarkable landscapes, captivating visitors who are drawn to its impressive beauty. 
Now, let's dive into all the essential information for visiting Skogafoss waterfall in Iceland.
Where is Skógafoss Waterfall Located?
Skogafoss is conveniently situated along Iceland's south shore, making it easily accessible to visitors. Positioned along the Ring Road, Iceland's main highway, Skogafoss waterfall is a popular stop for those exploring Iceland's breathtaking landscapes. 
Located approximately a 2-hour drive from Reykjavik, and a mere 1 hour and 15 minutes drive from the town of Selfoss, Skogafoss stands as a fascinating destination amidst the wealth of natural beauty found in Iceland's southern region.
Whether you're embarking on a self-guided adventure or joining a guided tour, reaching Skogafoss is hassle-free. Well-maintained paths and a nearby parking area ensure a smooth approach to the waterfall, allowing you to fully immerse yourself in its awe-inspiring beauty. 
Get ready to be mesmerized by the thunderous cascade and misty atmosphere of Skogafoss. Please note that Parking at Skogafoss waterfall is free.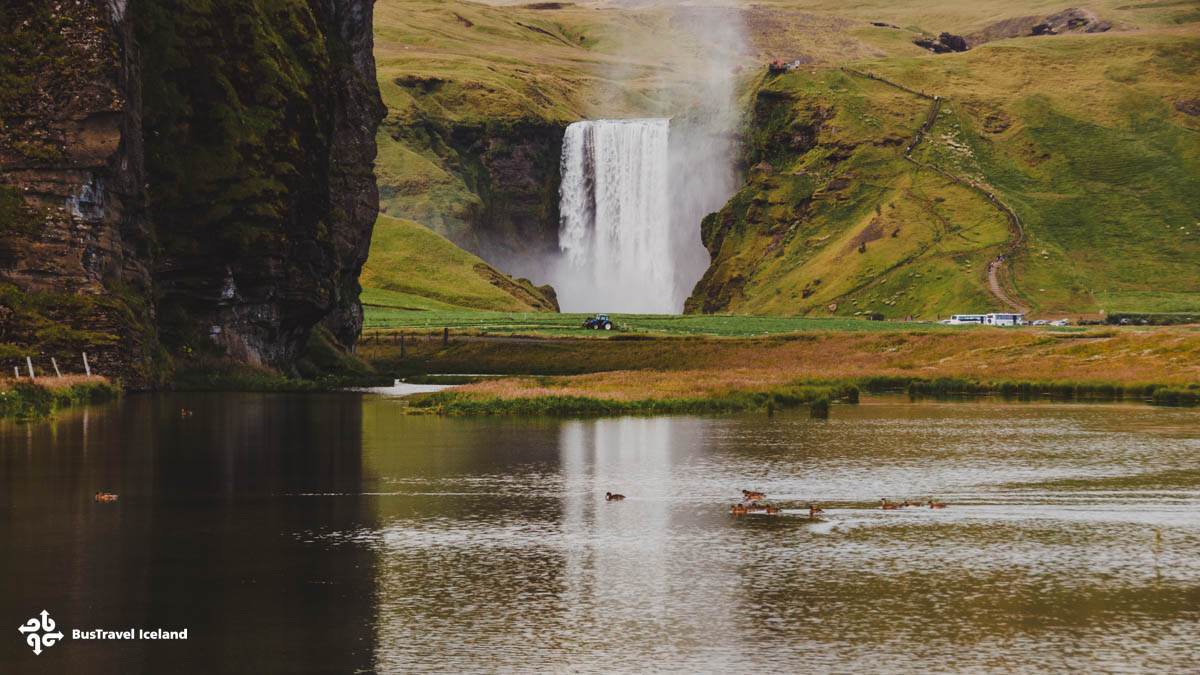 Looking at Skogafoss waterfall from a distance, South Iceland. [Photo credit to Yanshu Li]
Skógafoss Waterfall's Untamed Beauty
Skogafoss is a breathtaking sight, with its powerful waterfall gracefully tumbling from great heights, creating a truly enchanting experience.
Majestic Cascades
Skogafoss waterfall boasts majestic cascades that capture the imagination. As one of Iceland's biggest waterfalls, Skogafoss's drop has a width of 25 meters (82 feet) and approximately 60 meters (197 feet) in height. Its astonishing cascading waters create a mesmerizing spectacle. 
With tremendous force, Skogafoss waterfall creates a thunderous roar, immersing in a symphony of natural power and beauty.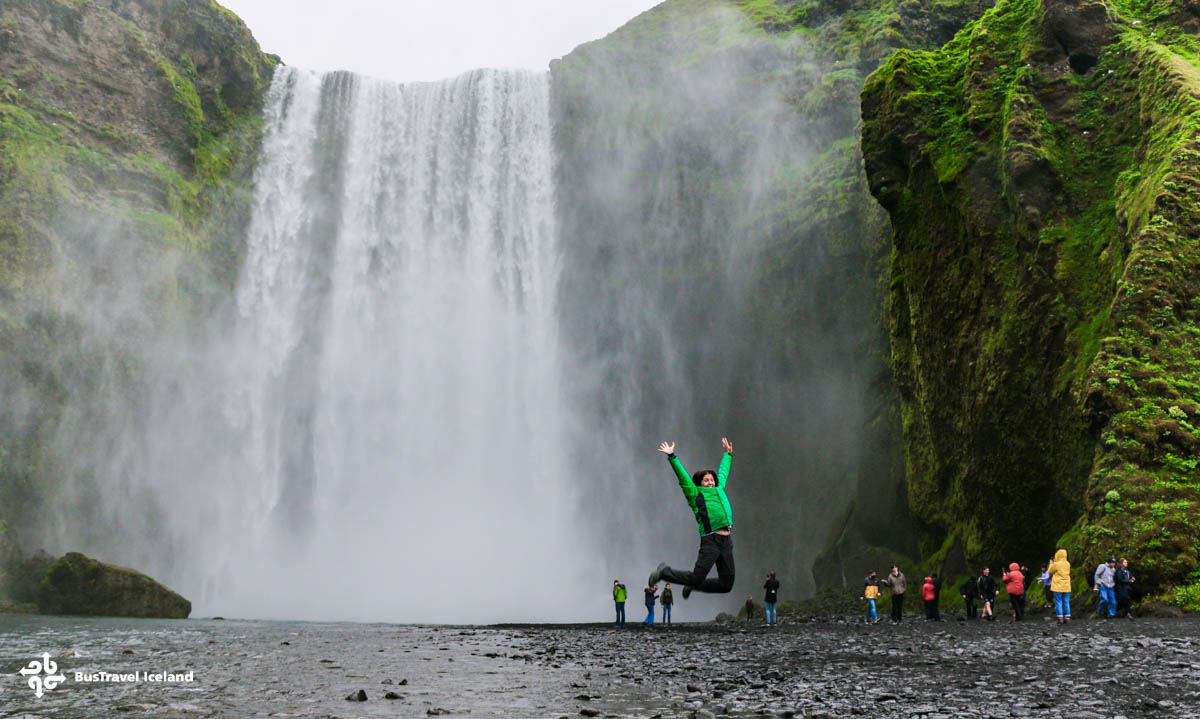 Skogafoss waterfall's energy is felt from a distance away, South Iceland. [Photo credit to Irena]
Ethereal Mist and Rainbows
As the waters of Skogafoss crash into the plunge pool below, a veil of mist rises, creating an ethereal atmosphere. The mist intermingles with the sunlight, forming beautiful rainbows that dance in the air. This enchanting display of nature's palette adds a touch of magic to the already breathtaking surroundings, leaving you in awe of the natural spectacle before them.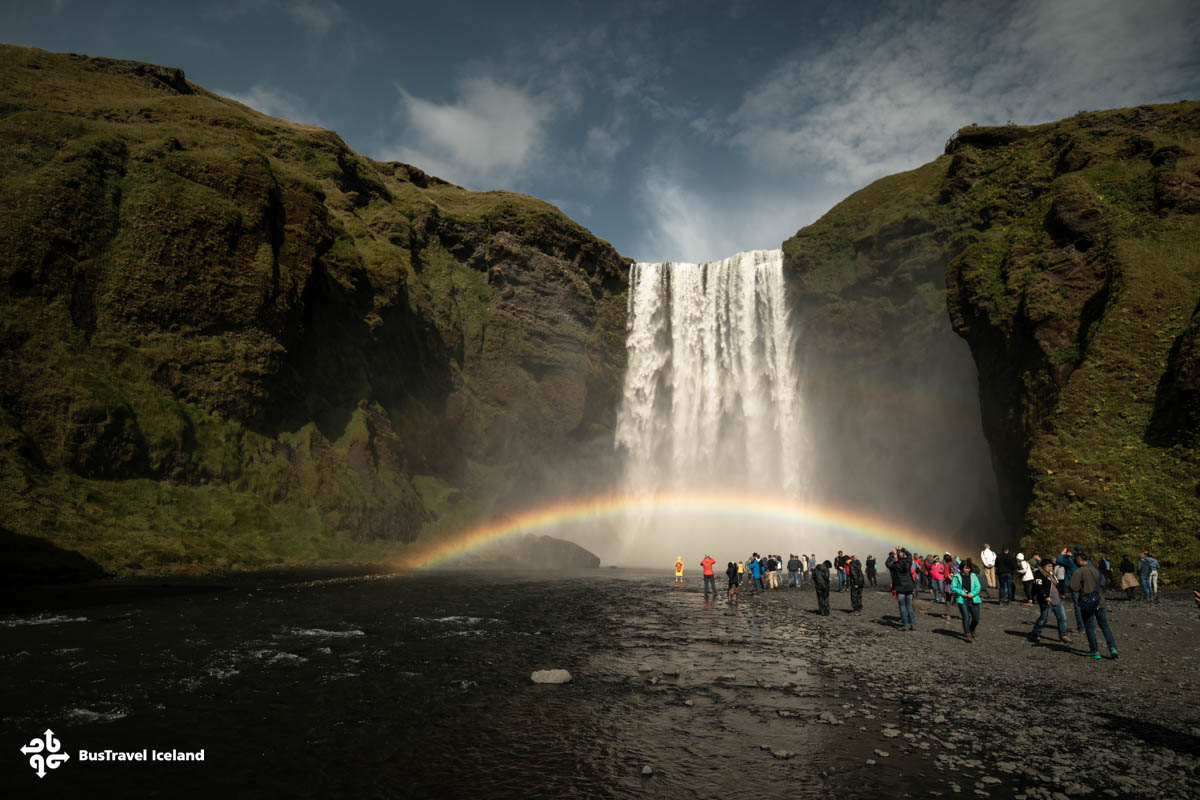 A rainbow is shining at the foot of Skogafoss waterfall, South Iceland.
Dramatic Surroundings
Surrounding Skogafoss, the picturesque landscape offers a wealth of natural wonders to explore. As you approach the waterfall, expansive vistas of rolling hills, meandering rivers, and rugged cliffs greet them, providing a stunning backdrop. Scenic hiking trails invite adventurers to traverse the breathtaking terrain on foot, while the nearby Skógá River carves its way through the landscape, offering tranquil moments and fishing opportunities along its banks. 
The area also holds cultural treasures, including the Skogar Folk Museum and the iconic Skogar Church, which provide insights into Iceland's rich heritage. Whether immersing oneself in nature, delving into history, or simply soaking in the awe-inspiring surroundings, the area surrounding Skogafoss promises a memorable visit.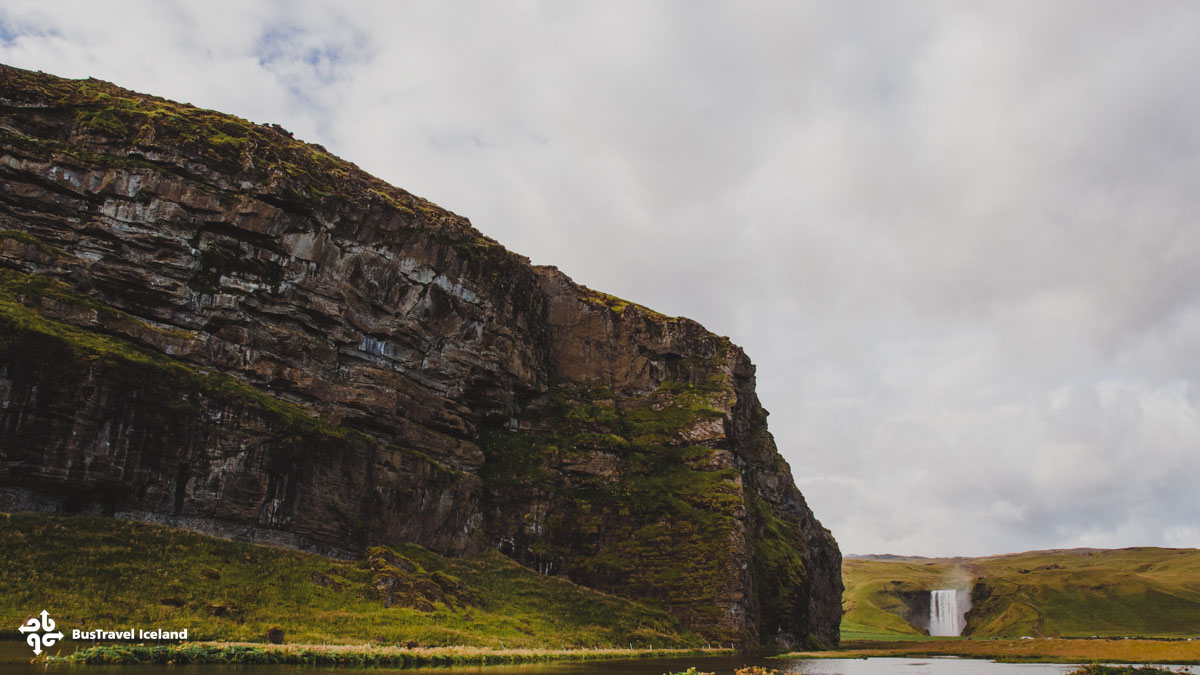 The dramatic landscape surrounds Skogafoss waterfall, South Iceland. [Photo credit to Yanshu Li]
Best Activities to Experience Skógafoss Waterfall
Visiting Skogafoss is not just standing there gazing at the powerful waterfall, there's much more to that! The location itself is rich in Icelandic history and heritage, which is presented wonderfully in the Skógar Museum nearby. I have a list of great activities for you to choose from so you can experience Skogafoss to its fullest.
Skogafoss Waterfall as a Popular Hiking Destination
Skogafoss waterfall has earned its reputation as a popular hiking destination in Iceland, attracting outdoor enthusiasts from far and wide. 
The trail to the top of the waterfall offers a rewarding challenge, leading to a bird's-eye view of the powerful descent. This trail begins near the base, just following the staircase that leads to the upper viewpoint, which offers an up-close encounter with the cascading waters and the mist that fills the air. Ascending the well-marked path through lush greenery and rocky outcrops, hikers are treated to a picturesque backdrop.
Skogafoss is also the starting point (or end point) of the famous 55 km Laugavegur trail (35 miles). This trek leads to the breathtaking Fimmvörðuháls pass, showcasing diverse landscapes from volcanic terrain to lush valleys and snow-capped peaks. Hikers encounter stunning waterfalls, expansive vistas, and the iconic Eyjafjallajökull volcano along the way, creating an incredible experience.
Sturdy footwear is essential due to uneven and slippery terrain, especially near the waterfall. Safety precautions should be taken, considering changing weather conditions.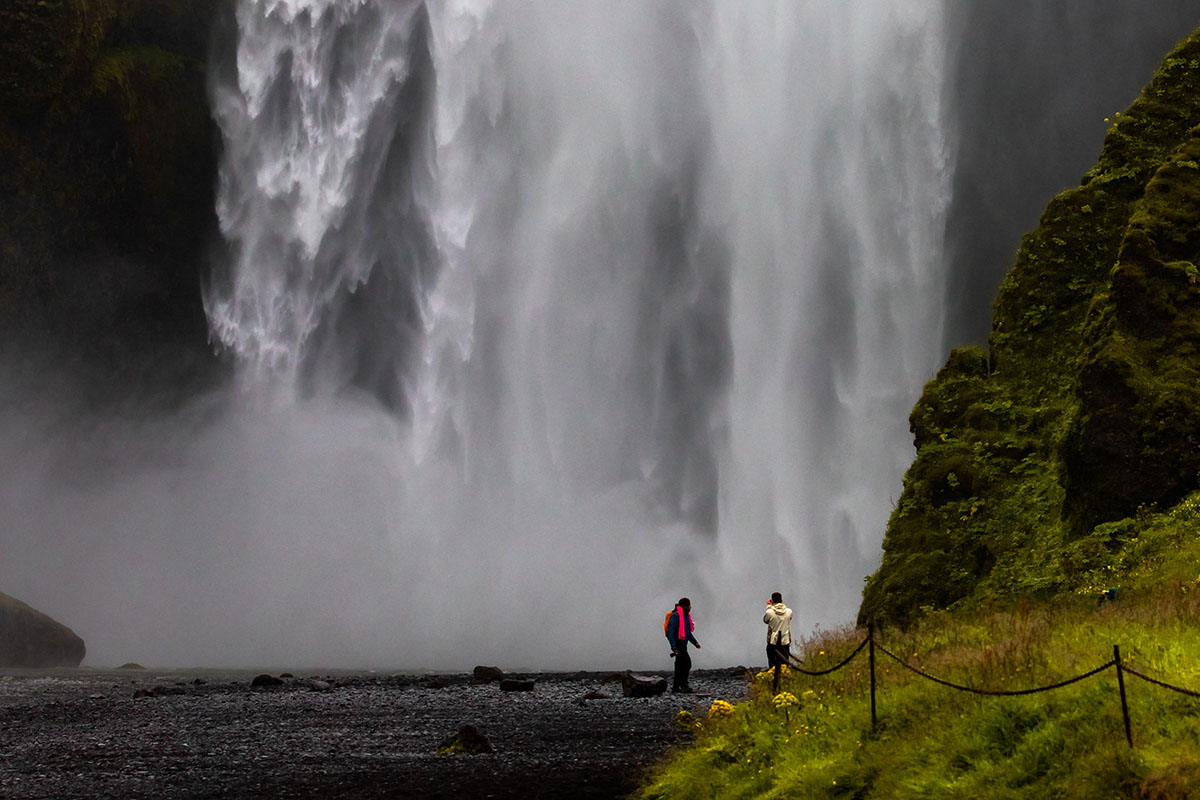 Hikers at Skogafoss waterfall in South Iceland. [Photo credit to Saikrishna Saketh Yellapragada]
Photography at Skogafoss in Iceland
Iceland is a paradise for photographers. Diverse landscapes and vast untouched nature are the best settings for capturing nature at its best. As a serious hobbyist, I want to share my personal experience taking photos of Skogafoss waterfall.
Capturing the Powerful Fall
The waterfall itself is a mesmerizing subject. With its thundering power, immense height, and impressive width, Skogafoss creates a dramatic scene that sparks our creativity as photographers. There are countless possibilities to explore, from experimenting with different angles, compositions, and shutter speeds. Whether capturing the splashing water in a single moment or creating a dreamy, long-exposure shot to freeze its motion, Skogafoss offers wonderful opportunities for artistic expression.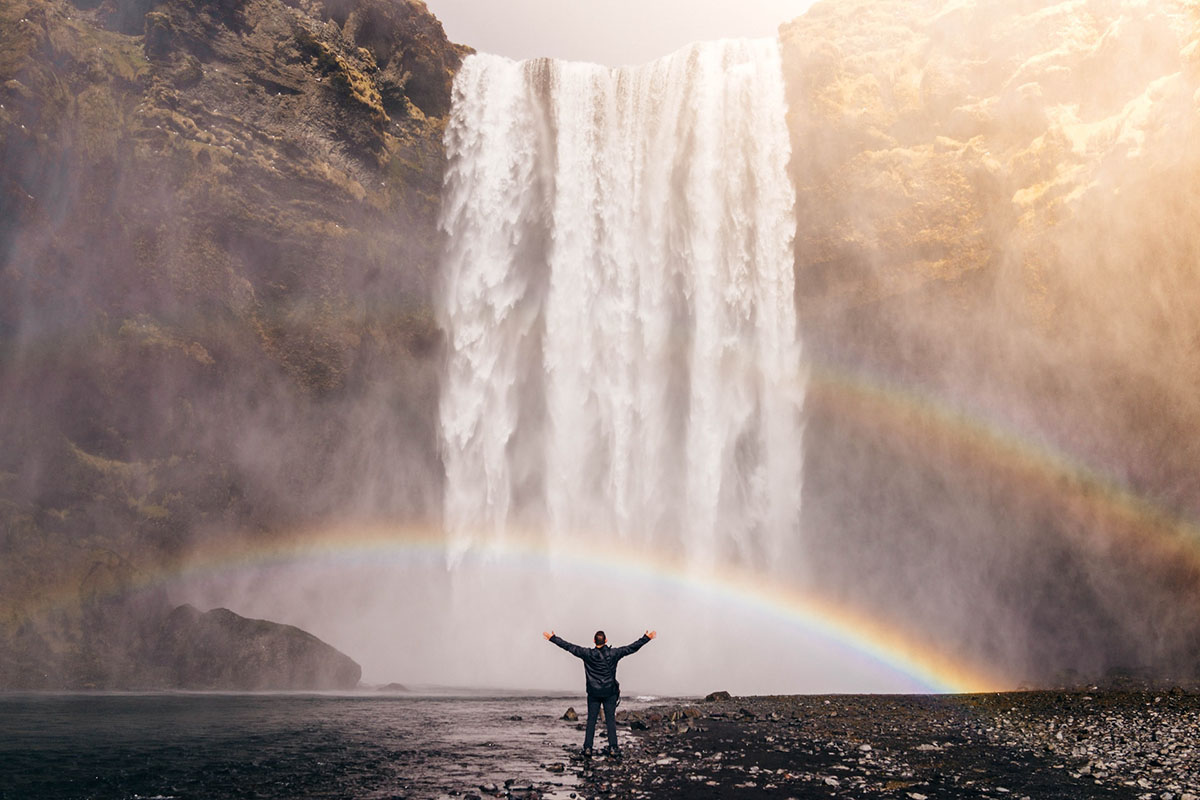 Skogafoss waterfall's stunning fall is wide and powerful, South Iceland. [Photo credit to Jared Erondu]
Playing with Light and Mist
The mist generated by Skogafoss adds an ethereal touch to photography. On sunny days, as sunlight filters through the mist, rainbows often appear –  sometimes even double rainbows –  adding a magical element to the images. We can use this interplay of light and mist to create captivating and atmospheric shots.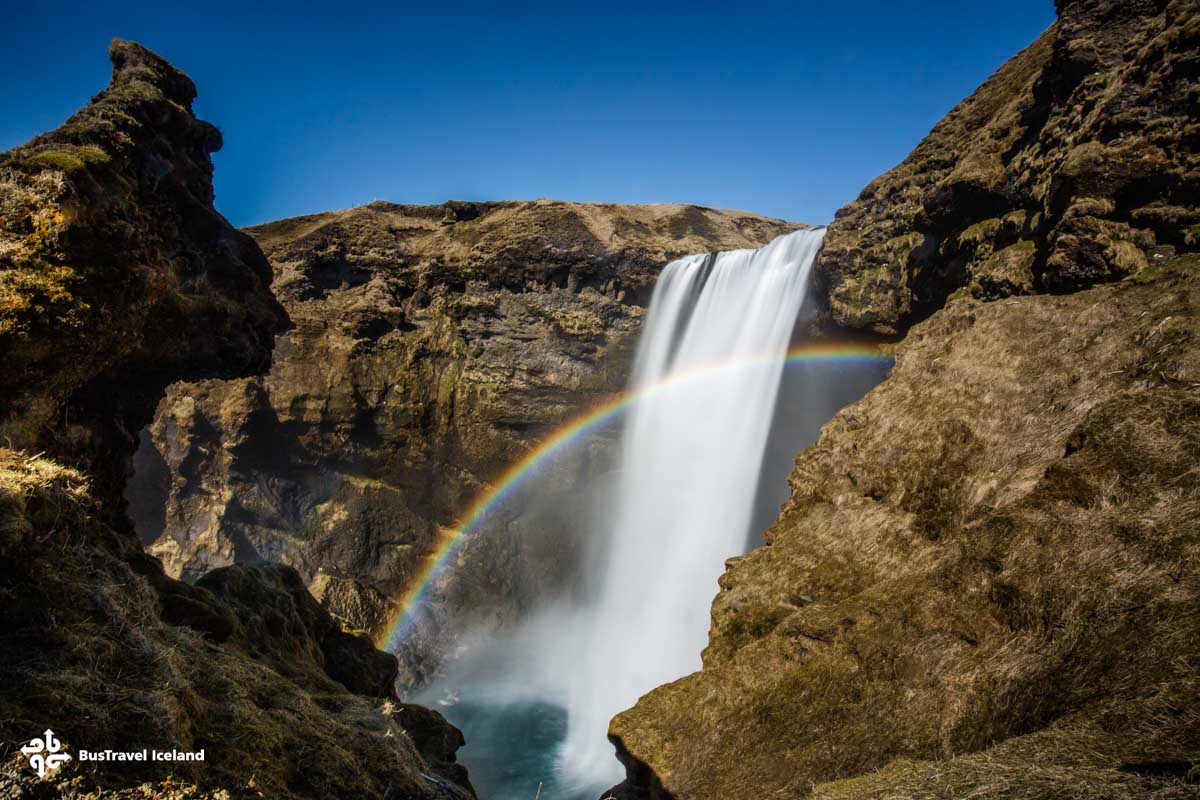 A rainbow displays a grand show backdropped by Skogafoss waterfall, South Iceland.
Exploring Different Perspectives
Skogafoss offers various vantage points for us to explore. From the base of the waterfall, we can capture the immense scale and power of the cascades. Venturing to higher viewpoints, such as hiking to the top where you will find an observing deck, or exploring nearby hills that allow you to showcase the waterfall within its surrounding landscapes, adding depth and context to our shots.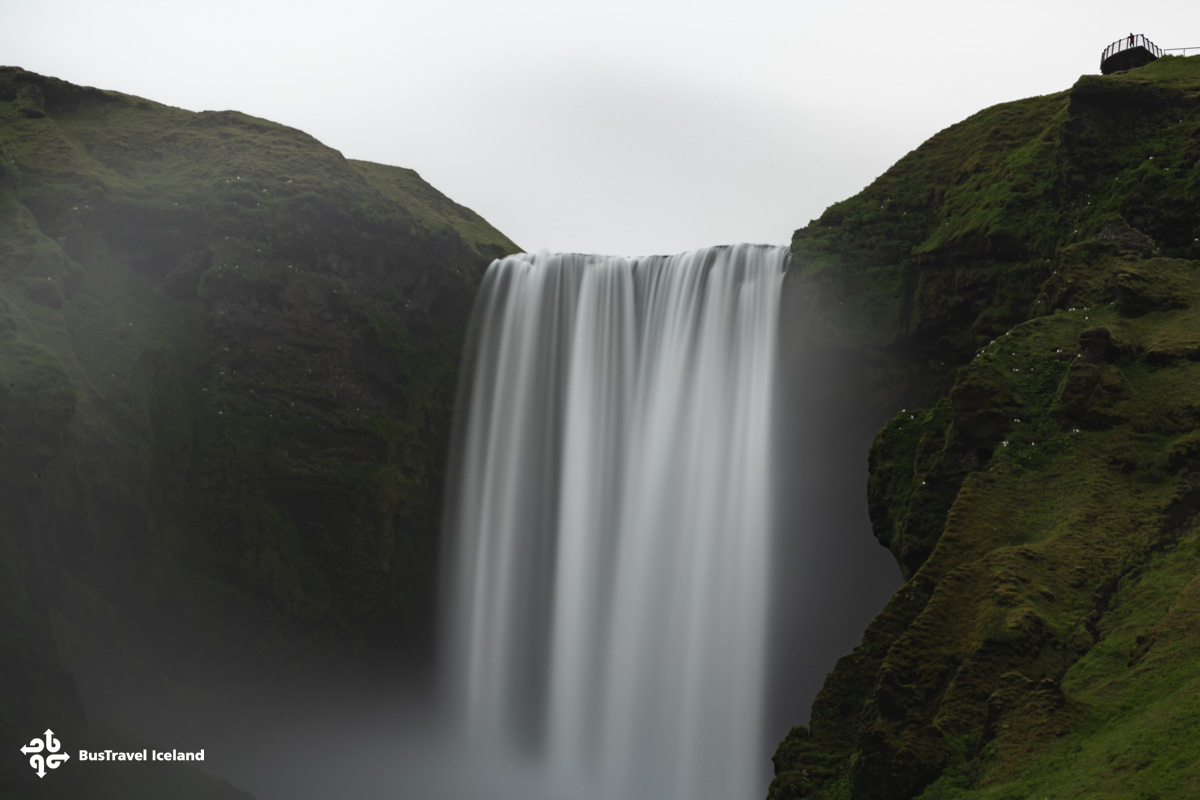 Long exposure of Skogafoss waterfall's cascade, South Iceland. [Photo credit to Yanshu Li]
Timing is Key
Besides the technical aspects of photography, Iceland's ever-changing weather adds a special atmosphere to our work. Taking photos of Skogafoss at different times of the day can give us different results. 
During sunrise and sunset, beautiful golden light casts a warm glow on the waterfall and its surroundings, creating magical scenes. On cloudy or misty days, the images have a moody and mysterious feeling. Skogafoss offers us a range of emotions to capture, like a stage for our visual storytelling.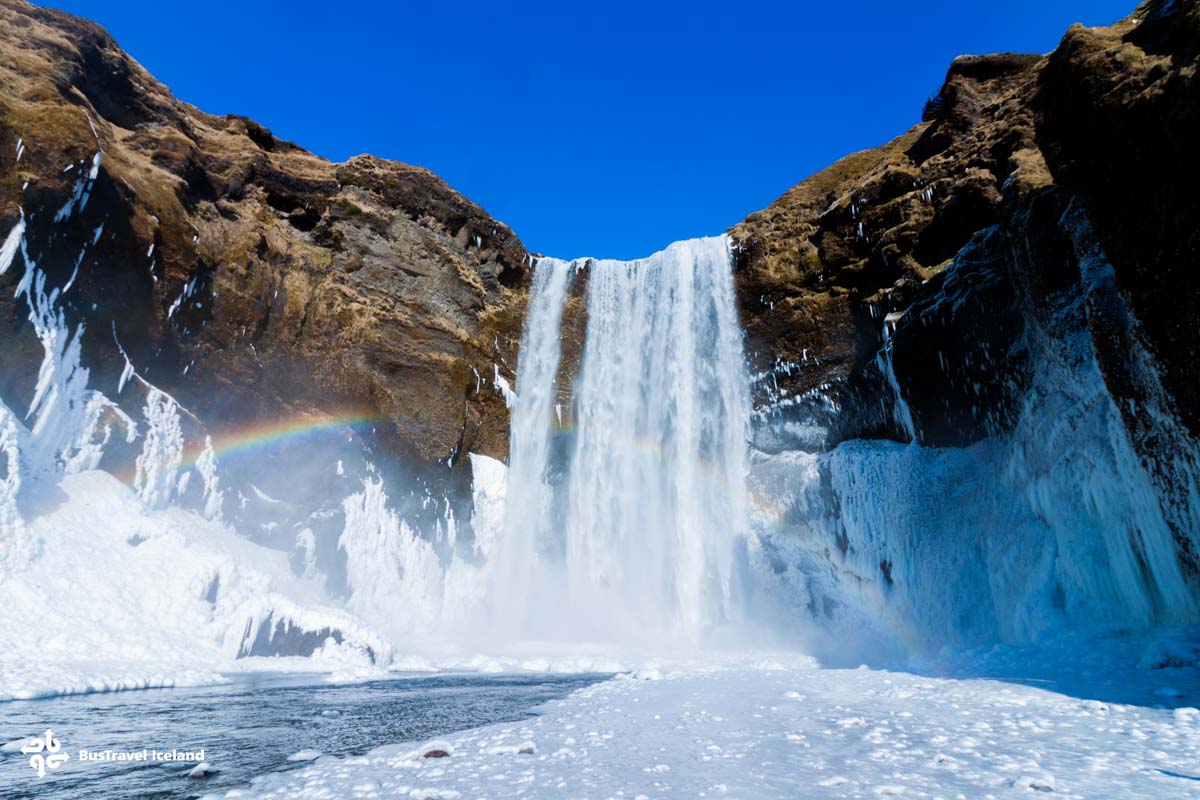 Winter's Skogafoss waterfall shows a different feeling for photographers.
Adapting to Weather and Conditions
Iceland's unpredictable weather adds a unique aspect to our work as photographers, but it can also impact the performance of our gear if we aren't prepared. So, it's essential to be ready for changing weather conditions when capturing photos at Skogafoss waterfall. 
Strong winds and the mist from the waterfall can affect equipment, so I highly recommend bringing protective gear such as lens cloths and covers. 
Additionally, wearing sturdy footwear and exercising caution on slippery surfaces is crucial for navigating the area safely. And for achieving excellent sharpness in your work, don't forget to bring a tripod along.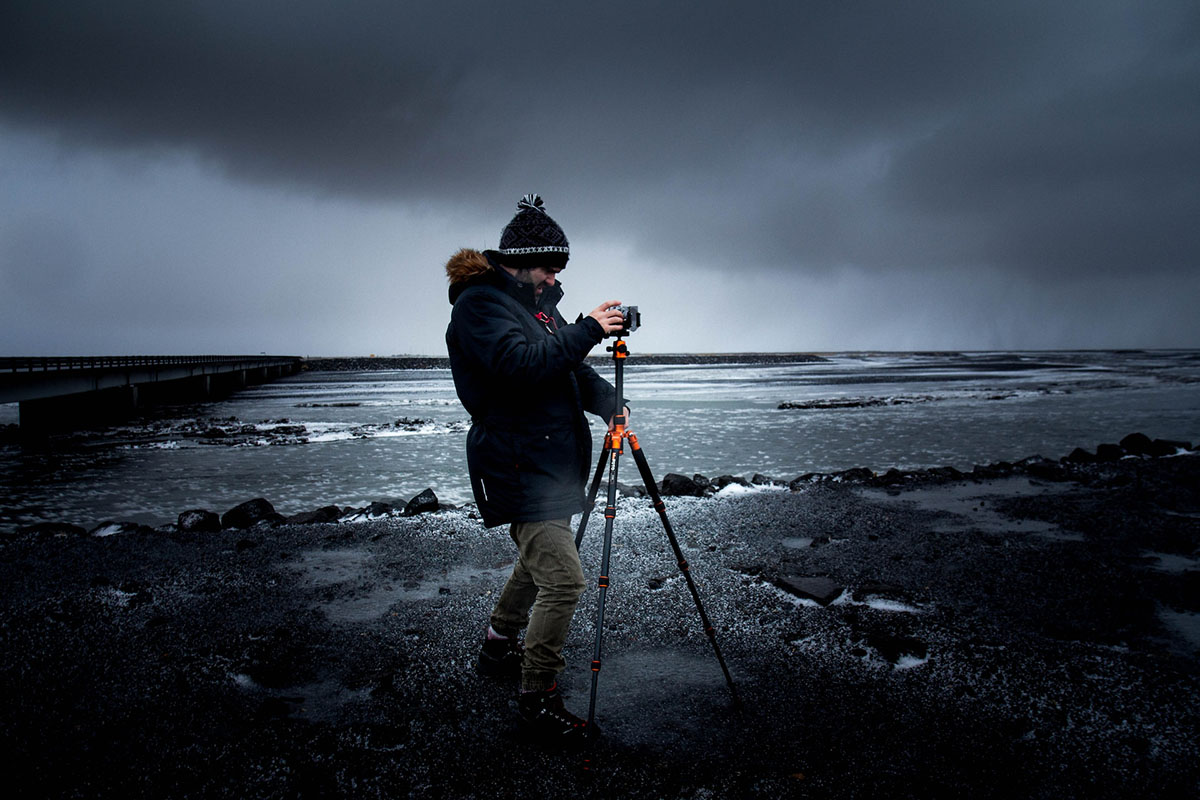 Put on layers and stay warm when you shoot waterfalls in Iceland.
Fishing along the streams from Skogafoss Waterfall
Fishing is a popular activity at Skogafoss waterfall. The nearby Skógá River is a great place for people who enjoy fishing. The river is home to salmon, char, and trout. Whether you're experienced or just starting out, fishing in the clear waters of the Skógá River can be a rewarding experience.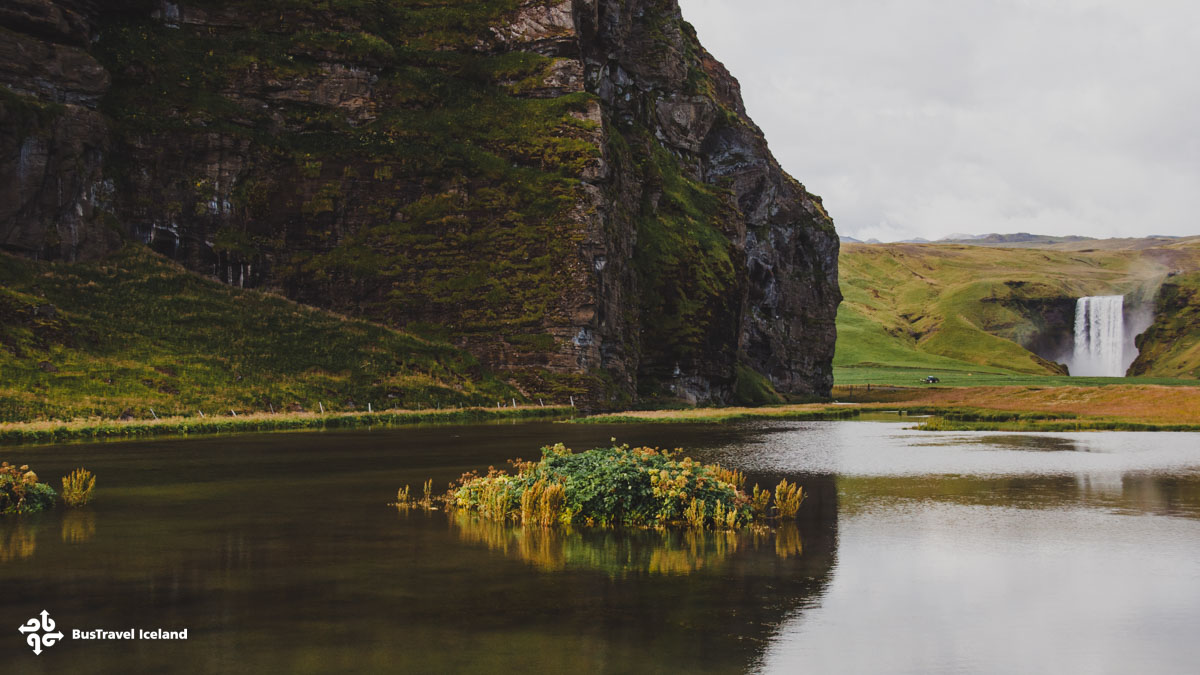 The streams coming from Skogafoss waterfall in South Iceland. [Photo credit to Yanshu Li]
Nearby Attractions of Skogafoss Waterfall
Skogafoss is one of the most popular and beautiful waterfalls in Iceland. Its nearby region is home to many other attractions that are worth a visit.
Sólheimajökull Glacier:
Adventure seekers can explore the nearby Sólheimajökull Glacier, where guided glacier hikes and ice climbing tours are available. The glacier's blue ice formations and dramatic landscapes make for a truly unforgettable experience.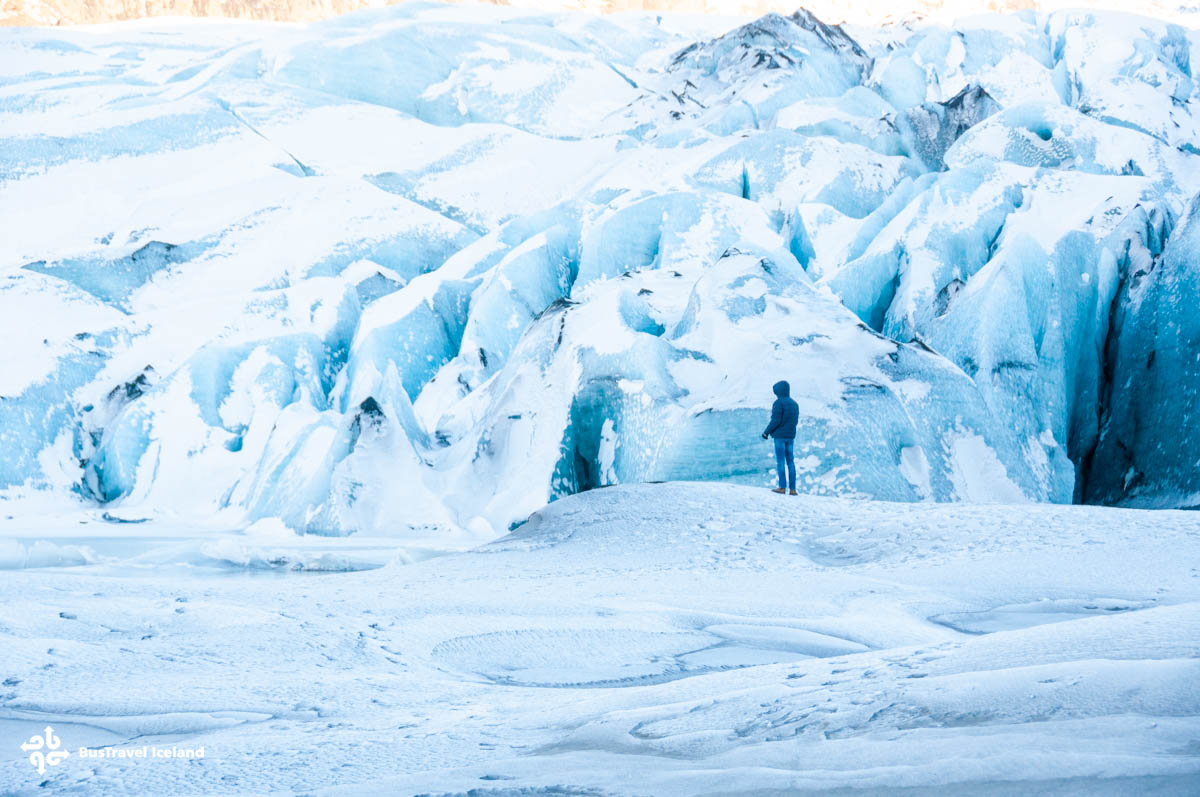 At the foot of Solheimajokull glacier tongue in South Iceland. [Photo credit to Yanshu Li]
Seljalandsfoss Waterfall
Just a 25-min drive from Skogafoss, Seljalandsfoss is another stunning waterfall known for its unique feature — an accessible path that allows you to walk behind the cascading water, providing a one-of-a-kind perspective.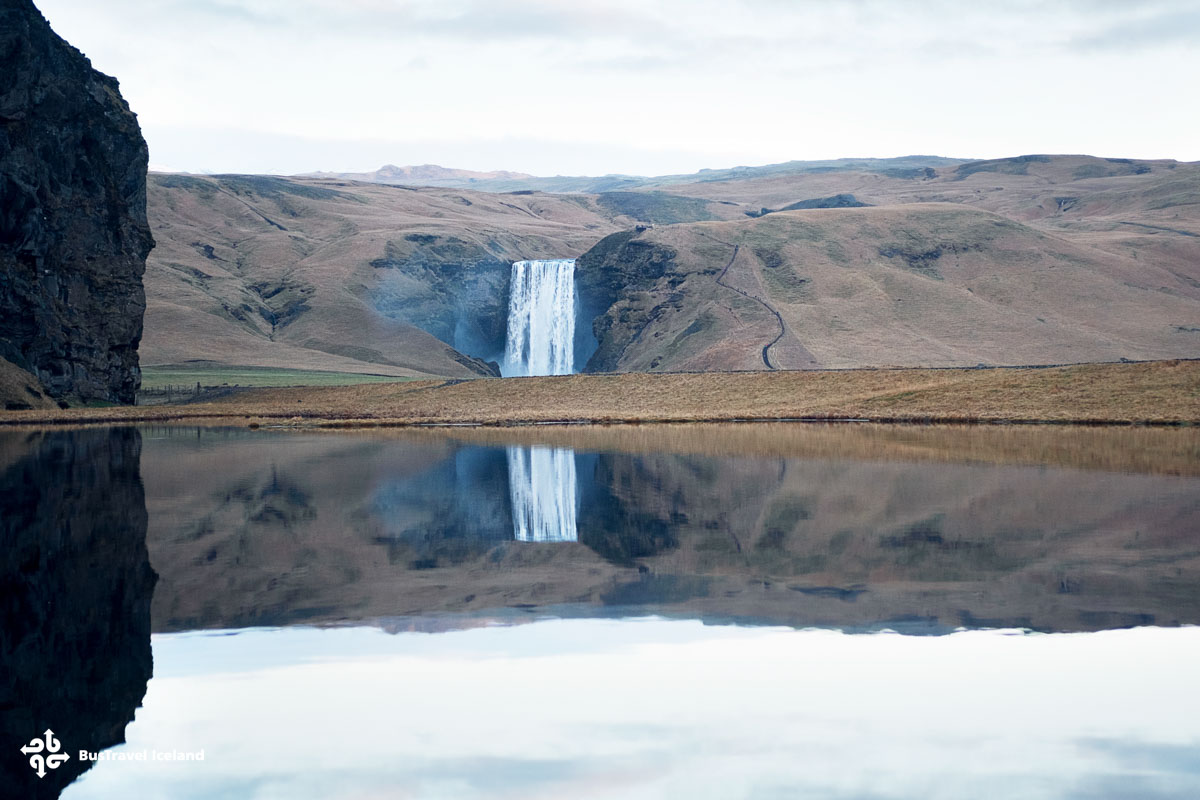 Skogafoss waterfall and its reflection, South Iceland.
Reynisfjara Black Sand Beach
Located near the village of Vík, Reynisfjara is a black sand beach renowned for its dramatic basalt columns, towering sea stacks, and powerful waves. It's a popular spot for photography and taking in the awe-inspiring coastal scenery.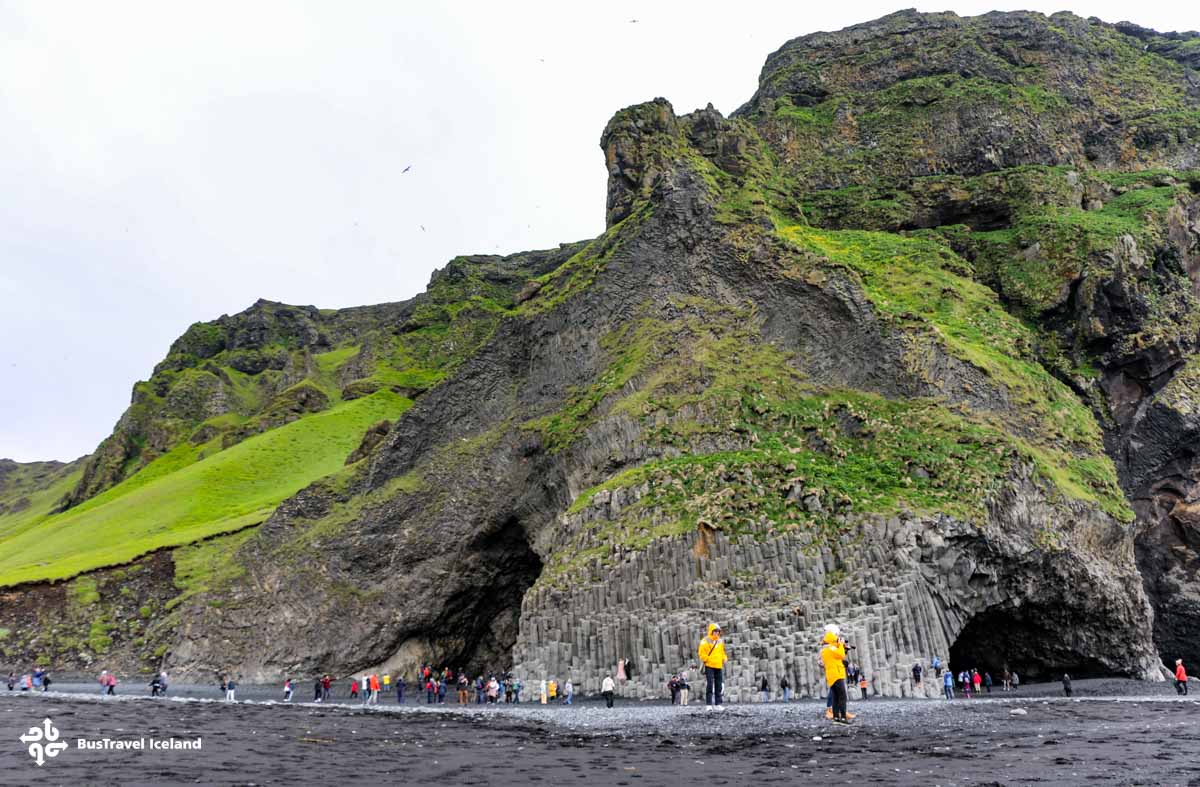 Reynisfjara black sand beach in South Iceland. [Photo credit to Irena]
Dyrhólaey Promontory and Cliffs
This striking headland offers breathtaking views of the surrounding cliffs, rock formations, and a picturesque lighthouse. It's also a nesting site for seabirds, including puffins, making it a fantastic spot for birdwatching.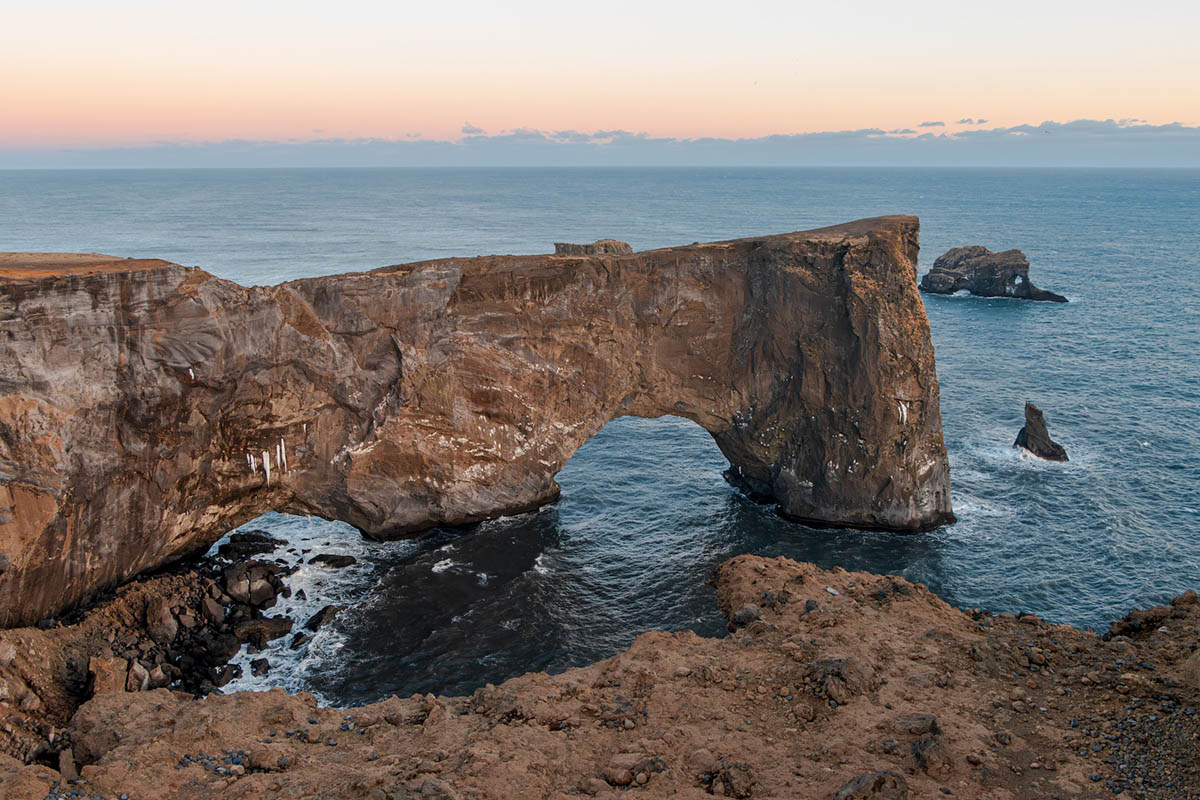 Dyrholaey Promontory and cliffs in South Icleand.
Skogafoss Waterfall Tours
As one of the most popular attractions in South Iceland, many day tours visiting that region will stop at Skogafoss waterfall. 
The wonderful South Coast waterfall tour stops at Skogafoss along with other popular sites such as black sand beach and glacer. And if you prefer joining a small group tour for a more personal experience, the premium South Coast tour is highly recommended. In winter, a combination of a South Coast day tour and a Northern Lights Hunt is a fabulous option for you.
If you like to explore Iceland's south shore to its fullest within a day, I recommend joining the glacier lagoon full-day tour during which you can take a glimpse of Skogafoss as you pass by.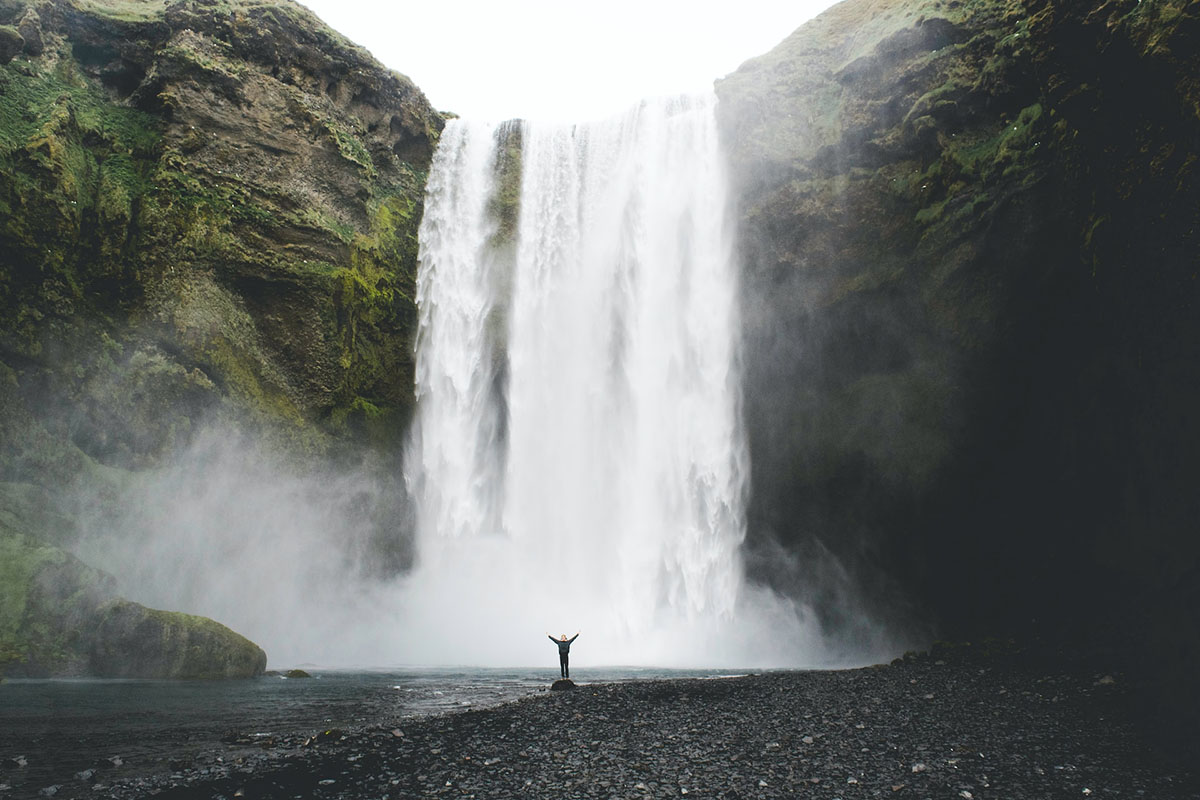 The majestic Skogafoss waterfall in South Iceland. [Photo credit to Rio Hodges]
Folklore about Skogafoss Waterfall
According to Icelandic folklore, Skogafoss waterfall holds a captivating tale of hidden treasure once belonging to þrasi þórólfsson. It is believed that the Viking settler buried a chest filled with valuable treasures behind the cascading water. Over the centuries, many have attempted to claim the treasure, but none have succeeded. 
The most famous account tells of a local farmer who managed to grasp the ring on the side of the chest before it vanished, leaving only the ring behind. The ring was later entrusted to the Skogafoss Folk Museum, where it serves as a reminder of the mysterious folklore surrounding this enchanting waterfall.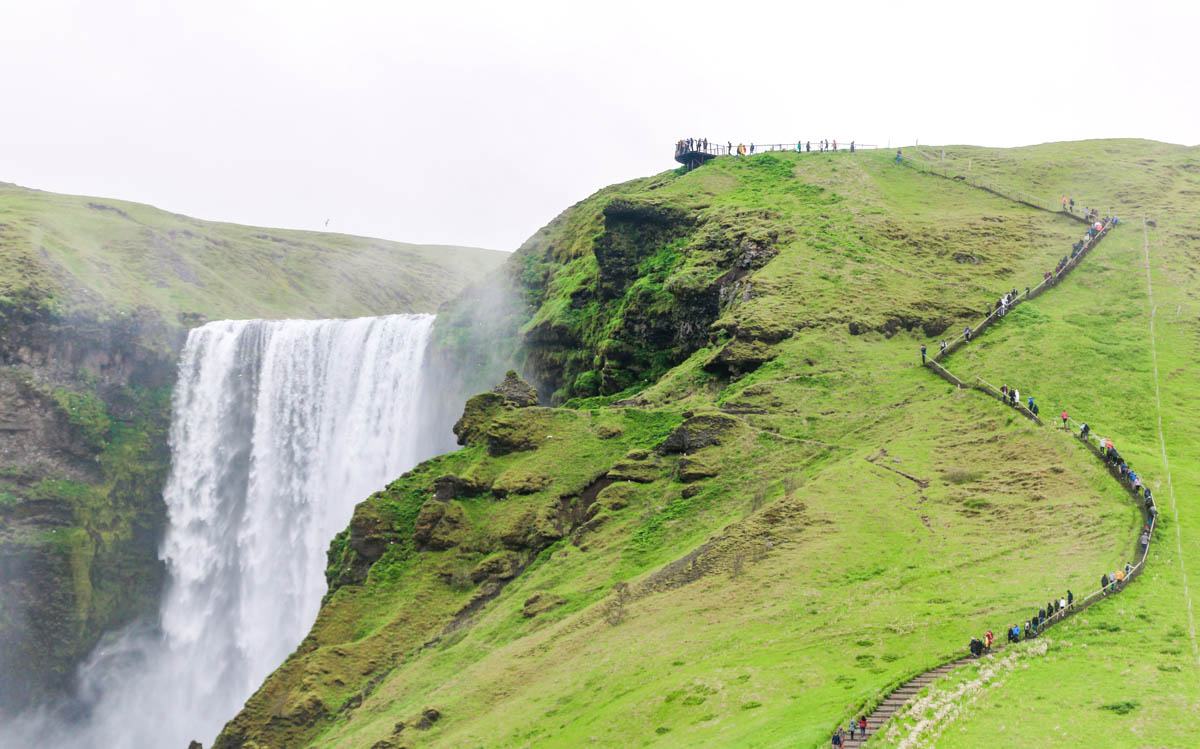 Skogafoss watefall's view point from the top of the hill. [Photo credit to Irena]
Recommended
Iceland tours
Explore Iceland's beauty with our tours curated just for you, showcasing the best attractions for an unforgettable adventure.