Iceland's Natural Beauty: A Look at Gljufrabui Waterfall
by Yanshu
South Iceland
6 Jun 2023
Today, I'll introduce you to an Icelandic wonder that's stolen my heart - Gljufrabui Waterfall. As a photographer, I've been privileged to capture many of Iceland's famous cascades. But Gljufrabui? It's something different.
This waterfall is like a secret treasure, hidden within a quiet canyon, with its mystery highlighted by the rugged crevice it tumbles through, only partially visible when you reach. You need to walk through a small stream to see it up close, and when you do, it's like stepping into another world. Amid the hushed whispers of water and light, I've found a connection that's hard to put into words.
Now let's take a closer look at this hidden waterfall of Iceland, Gljúfrabúi waterfall.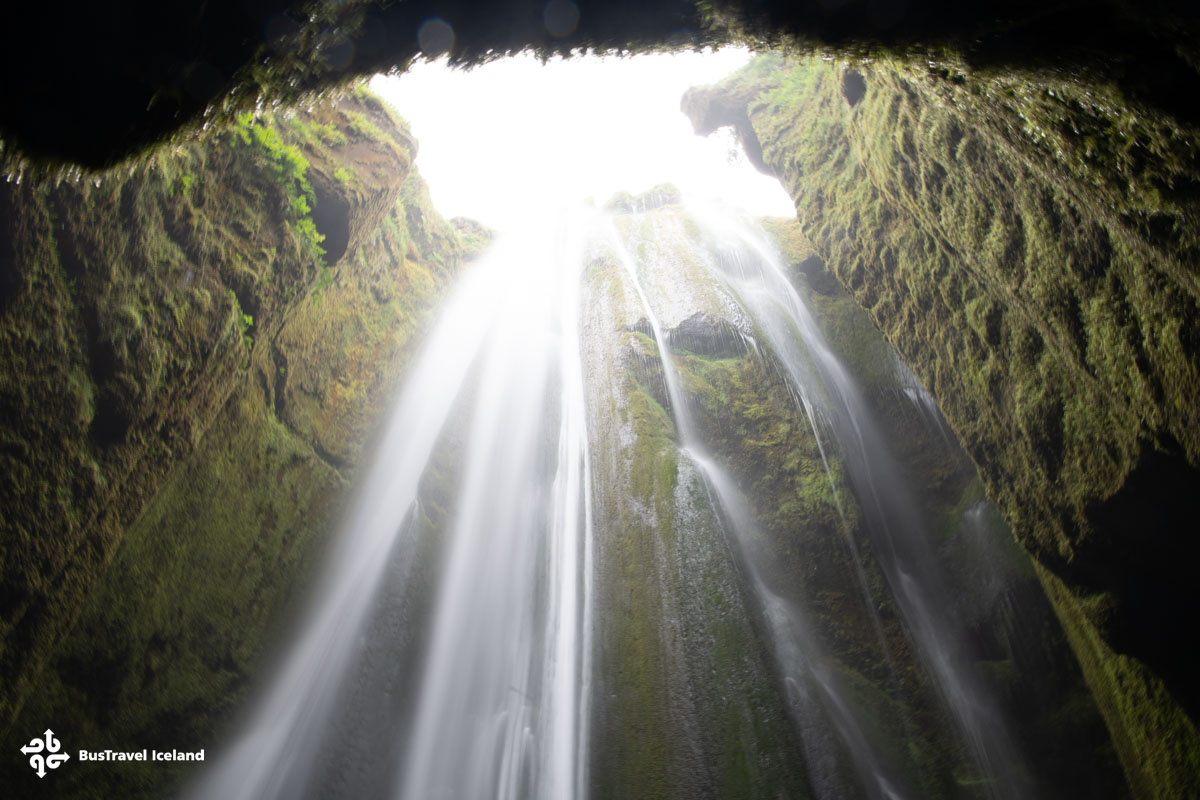 Gljufrabui Waterfall, South Iceland. Photo credit to Yanshu Li.
Gljúfrafoss and Its Surroundings
Gljufrabui has another name, Gljufrafoss, and its name means "canyon dweller" or "the inhabitant of a gorge" in Icelandic. As it vividly depicts, Gljufrabui waterfall exists inside a semi-closed canyon, seemingly disappearing from the outside world. All the splash, mist, sound, and beautiful cascade are only for those who are willing to venture and explore.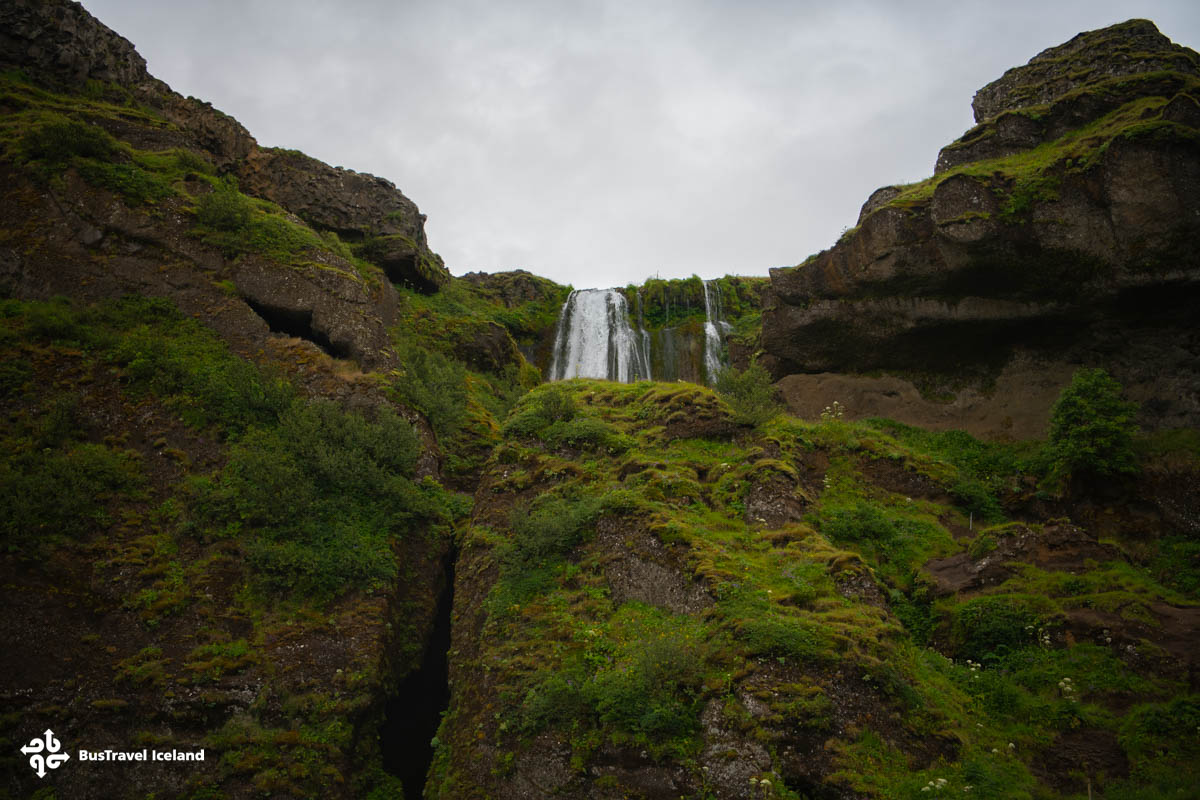 Just as its name, Gljufrabui is hidden inside a canyon behind cliffs, South Iceland. Photo credit to Yanshu Li.
Canyon and River
Hidden inside the rocky Hamragarðar canyon in southern Iceland, Gljufrabui Waterfall is a sight full of mystery and charm. Behind mossy cliffs, the waterfall, standing tall at 40 meters, is only partly seen from a distance. Its gentle sounds are made louder by the surrounding canyon. To truly enjoy Gljufrabui, you must come closer, unveiling the waterfall's secret beauty.
The Gljufrabui Waterfall comes from the steady flow of the Seljalandsá River, the same river that created the famous Seljalandsfoss waterfall. The roar of the water as it crashes onto the rocks, transforming into a misty spray, breathes life into the otherwise quiet canyon. This fascinating interplay of the river's flow is a sight to behold, as it paints a dynamic picture of Gljufrabui in a chamber made of mossy cliffs.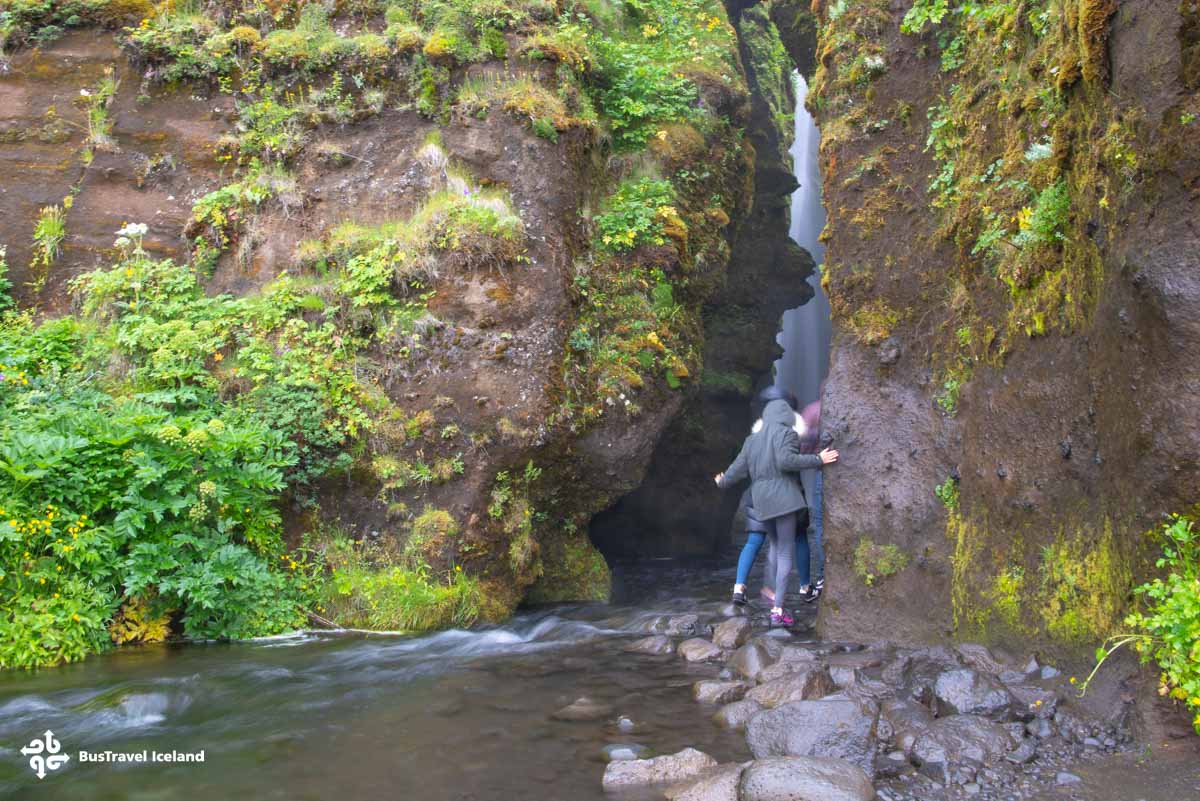 Visitors going in the Gljufrabui's Canyon to see the hidden waterfall, South Iceland. Photo credit to Yanshu Li.
Gljufrabui Surroundings – the Icelandic Nature
Residing within the picturesque Hamragarðar valley, Gljufrabui Waterfall stands amid moss-covered rocks and cliffs, a setting filled with Iceland's unique countryside scenery. This green haven serves as home to diverse bird species and plant life.
A short distance away, Seljalandsfoss waterfall, one of Iceland's tallest, displays its spectacle, readily accessible to visitors. These natural treasures are located within the expansive Katla Geopark, spanning over 9,000 square kilometers. The park offers a window into South Iceland's diverse geology and cultural heritage, with Katla Volcano as its namesake, lying beneath the Mýrdalsjökull glacier.
Handy facilities are provided for adventurers: a parking area near the waterfall and nearby campsites named Hamragarðar for both day visitors and overnight campers. This blend of captivating nature, biodiversity, and cultural richness establishes Gljufrabui's surroundings as a popular destination, adding a special taste in your journey to Iceland's most popular South Coast travel route.
The surrounding area of Gljufrabui waterfall, South Iceland. Photo credit to Yanshu Li.
Visiting and Exploring of Gljufrabui Waterfall
Kickstarting your journey at the renowned Seljalandsfoss waterfall sets the stage for Iceland's Southern Shore. But the adventure doesn't stop there. Next on your itinerary is the hidden gem of South Iceland – Gljufrabui Waterfall. 
We might as well call it the hidden waterfall close to the most famous waterfall in Iceland. And here is what you need to know to uncover this beautiful waterfall.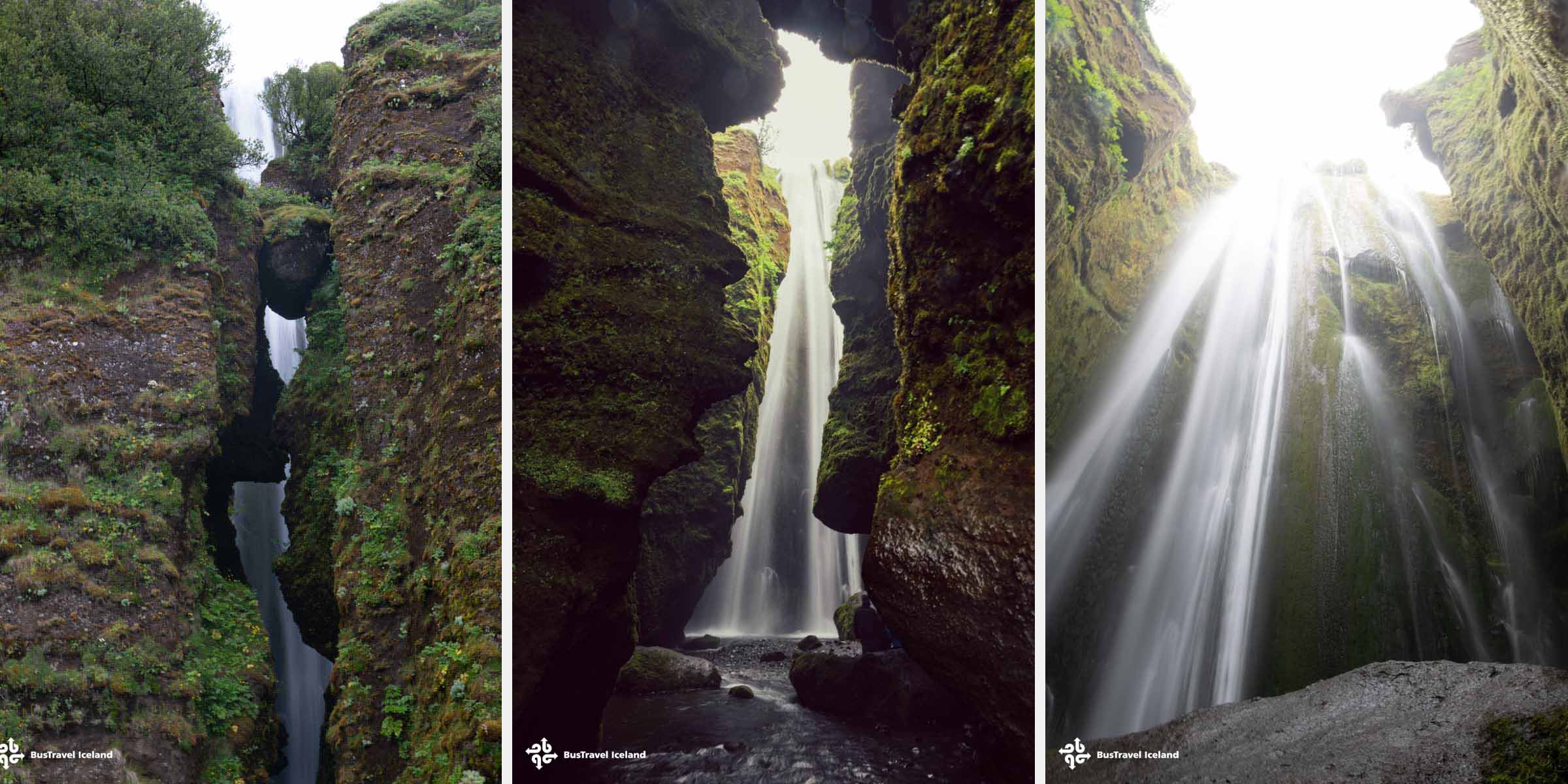 Gljufrabui Waterfall revealed as you go inside the canyon, South Iceland. Photo credit to Yanshu Li.
Preparation and Caution
Before visiting Gljufrabui Waterfall, visitors should equip themselves with waterproof clothing and sturdy footwear. As you venture into the narrow crevice, be prepared to navigate over stones in the middle of a small stream. 
Given the conditions can be wet and slippery, waterproof footwear is highly recommended for safety and your comfort during our travel.
Also, consider bringing a waterproof case for your camera or phone to protect it from spray. As the waterfall is partially hidden in a cave, careful exploration and navigation are required. Always respect nature, don't climb on precarious rocks or cliffs, and adhere to marked paths to ensure your safety.
After reaching the bottom of the waterfall, you'll notice a large stone adjacent to the pond where the fall plunges in. Many visitors opt to stand on this stone for a picturesque composition with the waterfall. If you decide to do the same, prioritize safety above all and take caution with each step you take.
If you're not joining a guided tour and prefer to drive yourself, you can park your car at the Seljalandsfoss parking lot and take a 10-15 minute walk to reach the entrance of Gljufrabui waterfall.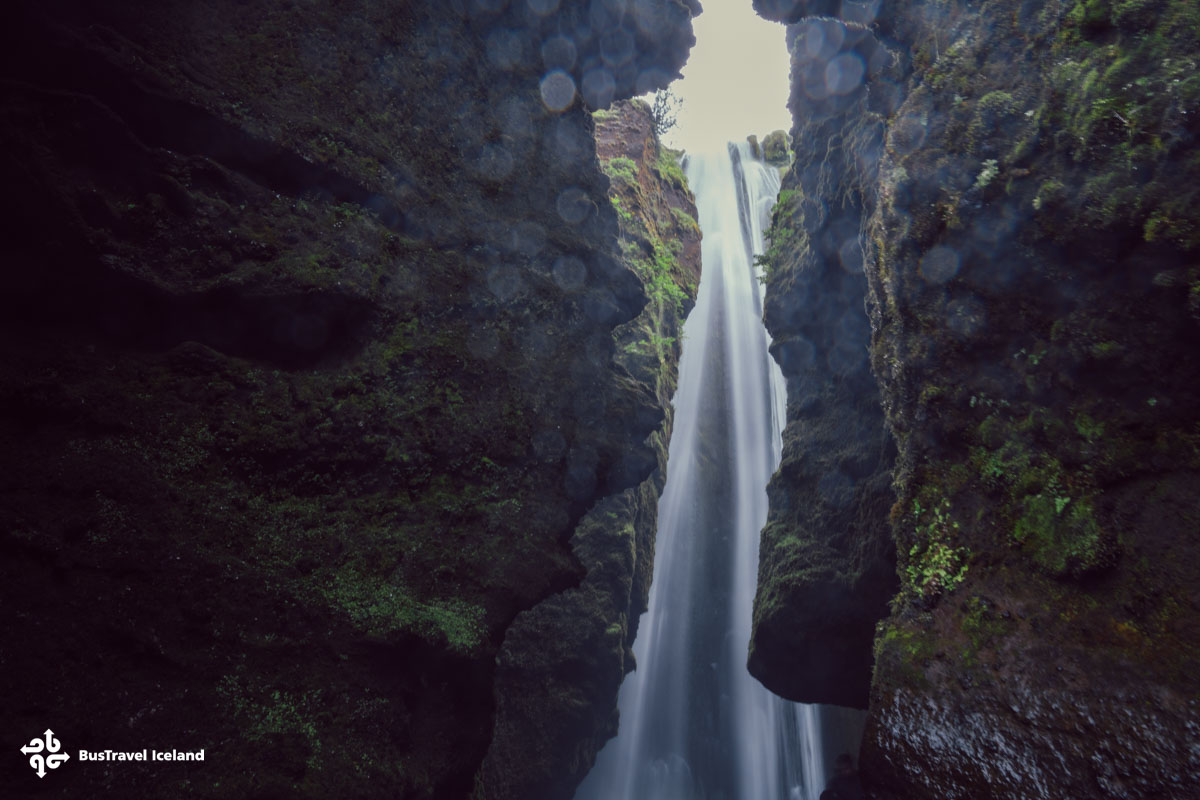 The splashing mist coming from Gljufrabui waterfall as visitors going in the canyon, South Iceland. Photo credit to Yanshu Li.
Ideal Time for Visits
The ideal time to visit Gljufrabui Waterfall is during the summer months, from June to August, or as we call it the "high season." 
During this period, the weather tends to be milder, with longer days offering ample daylight for exploration. The higher water levels during summer magnify the waterfall's beauty, making it an even more impressive sight. 
However, it's crucial to be extra cautious when stepping on the stones near the crevice, as increased water volume requires attentiveness. 
Keep in mind that weather conditions in Iceland can be unpredictable, so it's wise to check the local forecast before planning your visit.
If you happen to be in Iceland during winter time and want to visit the waterfall, here are a few things I want to remind you about.
The trail leading to the waterfall might be icy and slippery, so wear good traction shoes and take careful steps.

Winter days in Iceland are short, with only a few hours of daylight, so plan your visit accordingly for better visibility.

Watch out for icy spots near the waterfall and its surrounding areas and be cautious when walking on frozen surfaces. 

Consider bringing ice cleats or crampons for better grip and a flashlight in case it gets dark. Stay safe and enjoy your adventure!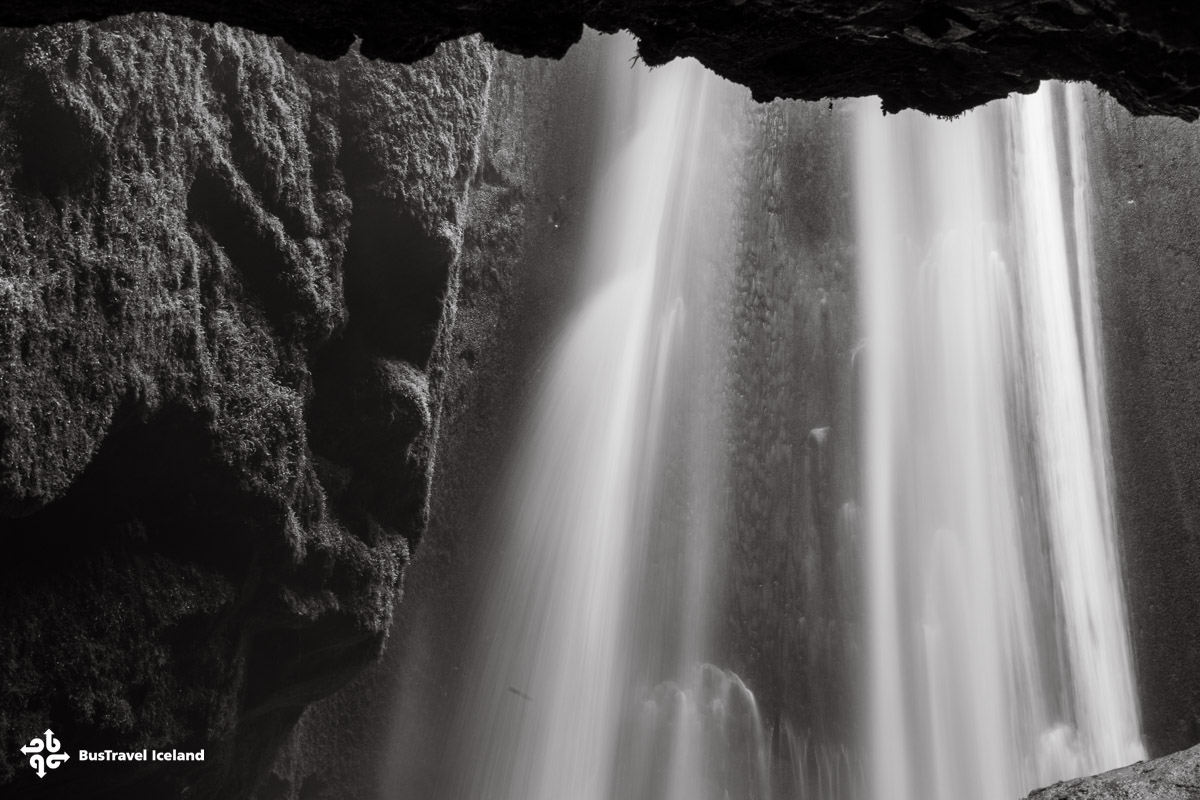 Gljufrabui waterfall has its unique beauty, South Iceland. Photo credit to Yanshu Li.
Popular Tours Visiting Gljufrabui Waterfall
With numerous renowned attractions along the South Coast of Iceland, it's no wonder that Gljufrabui waterfall, a beautiful hidden gem, often goes unnoticed by many tours heading south. Nevertheless, there are a few tours that occasionally include an extra stop at Gljufrabui waterfall, and our passengers simply love it.
The small group tour to South Iceland, which includes visits to Seljalandsfoss and Skogafoss waterfalls, Reynisfjara black sand beach, and Solheimajokull glacier, often includes a stop at Gljufrabui waterfall. With the flexibility of a small group tour, you can enjoy a personalized travel experience and explore as much of Iceland as possible within your scheduled time.
When weather and conditions permit, certain glacier lagoon tours and even South Iceland coach tours sometimes make a stop at Gljufrabui after visiting Seljalandsfoss waterfall. The walking distance is approximately 750 meters (0.46 mile), reachable within 15 minutes.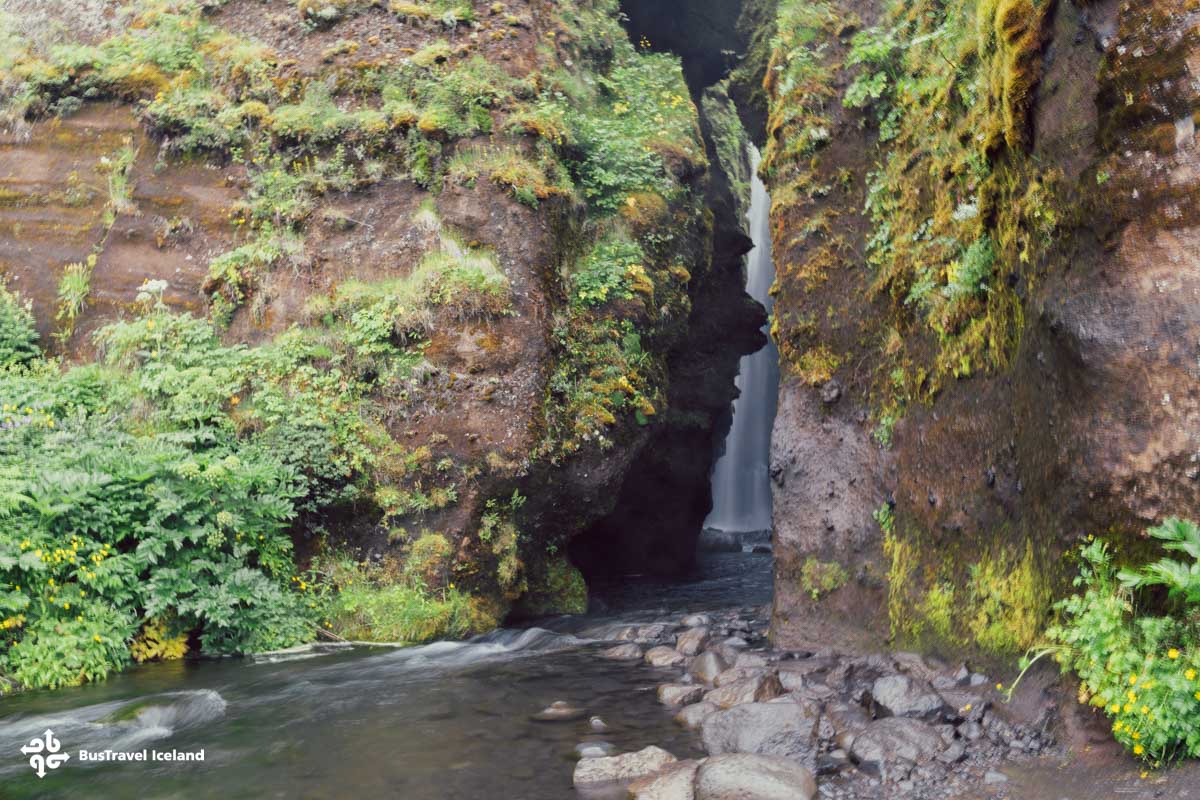 The entrance to the canyon to see the hidden Gljufrabui waterfall, South Iceland. Photo credit to Yanshu Li.
Gljufrabui Waterfall's Nearby Attractions
The beautiful South Coast of Iceland is famous for its diverse sights and pure landscapes. Many of these are found close to Gljufrabui waterfall.
Seljalandsfoss Waterfall
Praised as one of the most beautiful waterfalls in Iceland, Seljalandsfoss offers a unique 360-degree viewing experience, allowing you to walk behind the cascade and admire the entire landscape. That's why it welcomes a large number of visitors every year.
 It's conveniently located just a short walk from Gljufrabui waterfall, both fed by the Seljalandsá River flowing from Eyjafjallajökull glacier. Seljalandsfoss is often the first stop on the south shore route, which showcases a number of waterfalls along the Ring Road.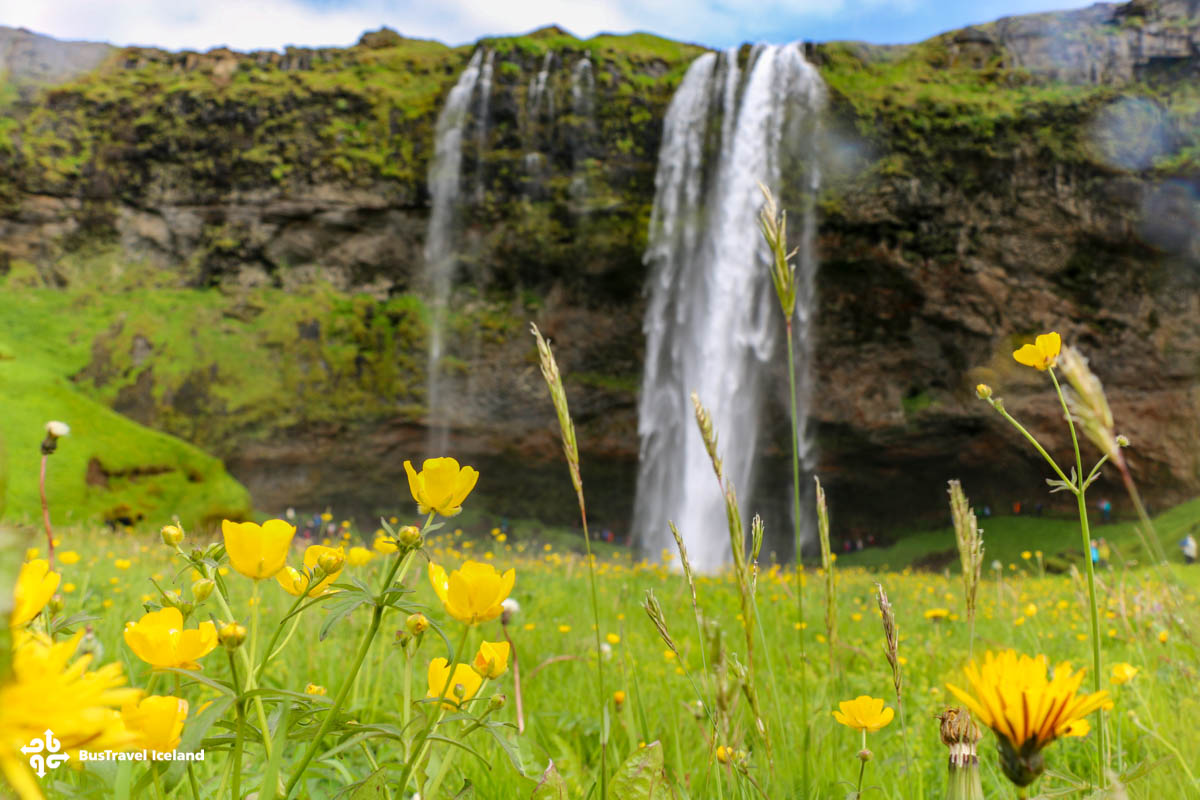 Seljalandsfoss waterfall, South Iceland. Photo credit to Irena Georgsdóttir.
Skogafoss Waterfall
If Gljufrabui is considered a secret waterfall, then Skogafoss waterfall is nothing but. With its thunderous roar, Skogafoss plunges down from a 60-meter cliff, creating a mesmerizing display of mist that astonishes viewers with its sheer power.
Located right on the side of the Ring Road, Skogafoss is merely 30 kilometers away from Gljufrabui, about 25 minutes drive from the parking lot of Seljalandsfoss.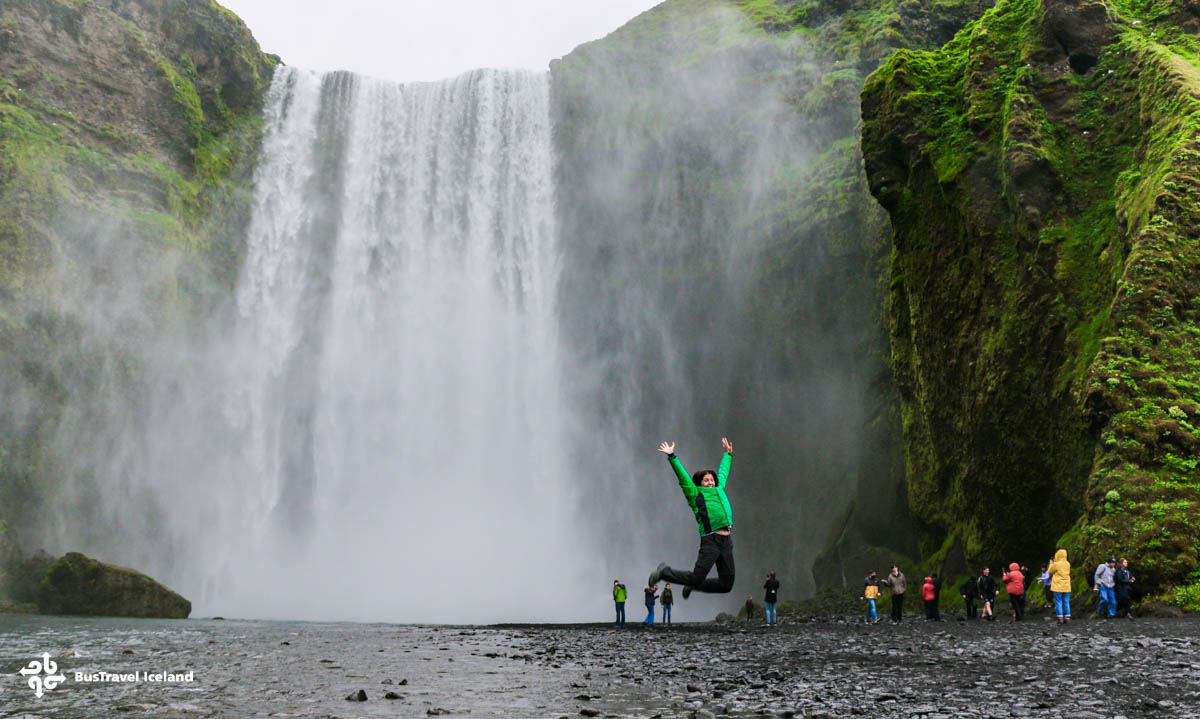 Skogafoss waterfall, South Iceland. Photo credit to Irena Georgsdóttir.
Dyrhólaey Promontory and Cliffs
After experiencing Gljufrabui waterfall, continue your journey approximately 53 kilometers west to reach the remarkable Dyrhólaey Promontory and Cliffs. This coastal landmark offers sweeping ocean views, towering cliffs, and a magnificent rock arch formation. Explore the well-marked paths, spot nesting puffins in the cliffs during summer, and soak in the awe-inspiring Iceland's nature.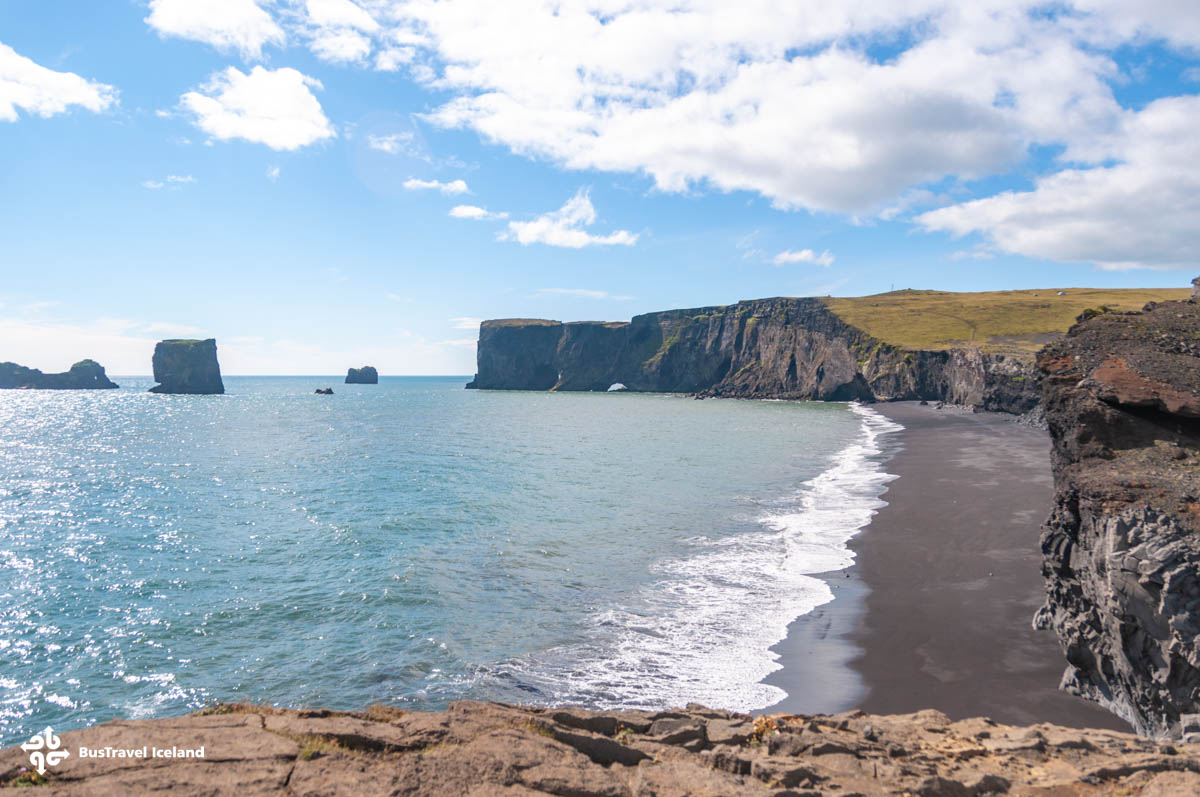 Dyrhólaey Promontory, South Iceland. Photo credit to Yanshu Li.
Recommended
Iceland tours
Explore Iceland's beauty with our tours curated just for you, showcasing the best attractions for an unforgettable adventure.