2 ATV Safari tour to Plane Wreck on Sólheimasandur Black Sand Beach
Join this ATV adventure and cross rivers, traverse black sand beach & visit the DC-3 Plane Crash Site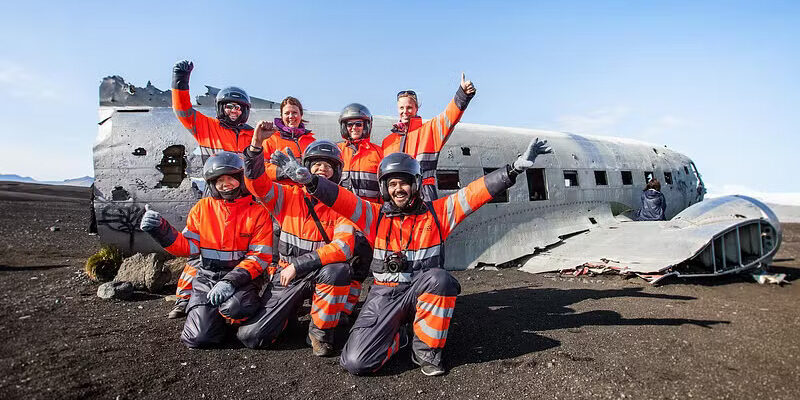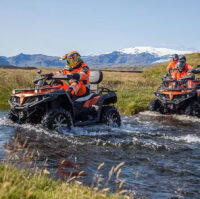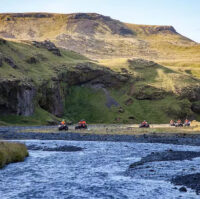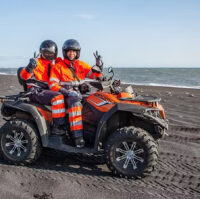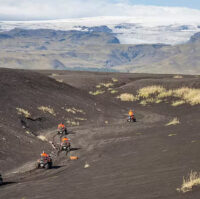 Embark on an adventure by ATV as you traverse the desolate black sandy shores of the south coast of Iceland to the iconic DC-3 plane crash site.
In 1973, a US Navy plane ran out of fuel while flying over south Iceland. It´s pilot looking for flat terrain on which to land, spied the black sand beach of Sólheimasandur in the distance. He managed to land the plane without harming anyone on board. The plane, on the other hand, was wrecked. Rather than retrieve the plane, the US Navy simply abandoned it to nature.
Here on the volcanic black sands of Iceland, it has remained for the past 50 years.
Still in remarkably good condition all these years later, the DC-3  plane wreck has become an iconic symbol of Iceland. Join our fantastic ATV tour as we journey across the desolate expanses of the region towards the beach.
Following a thrilling ride on this unique shoreline, we pause at the iconic DC3 plane wreckage, marveling at the spectacular panorama of Mýrdalsjökull glacier and the vast black coastline extending to Dyrhólaey, Iceland's southernmost tip. After soaking in these breathtaking views, we proceed towards the Jökulsá river and ascend to the base of Mt. Heiðarhorn. The journey then winds along the mountain range, leading us back to our starting point.
This tour is operated by Arcanum Adventure Tours
Accomodation
Not included



Qualified, energetic and fun guides for the best adventure!
We take immense pride in our exceptional team of local guides who are professionals, experts, and friendly. Their goal is to make your tour unforgettable.