Duration: 6 hours

Easy

Electronic Voucher

Meet on location
Got Questions? Contact our agents
Overview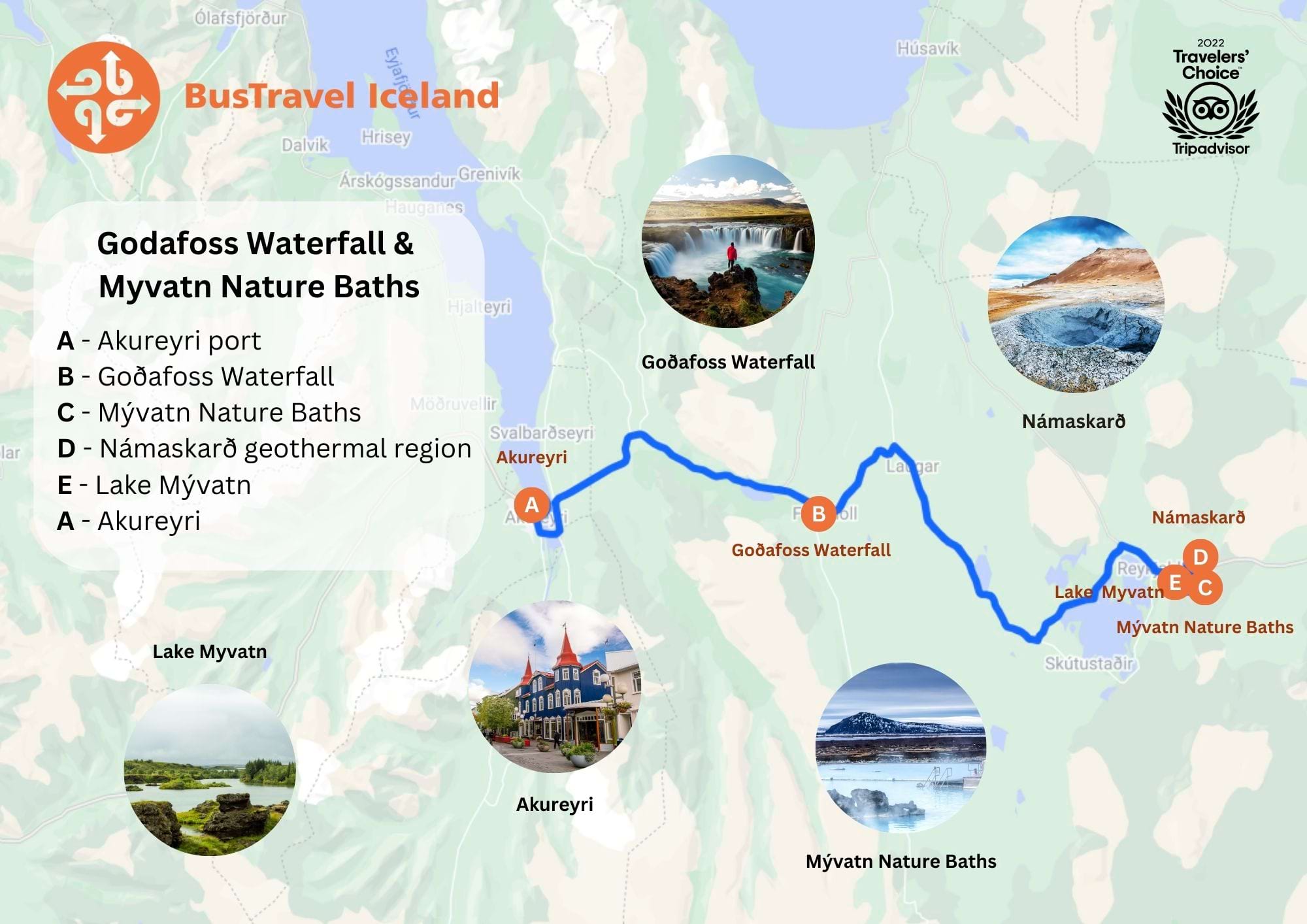 Tour the stunning landscapes of North Iceland and cap your day with a relaxing soak in geothermal hot-springs. Our Mývatn Nature Baths & Godafoss Waterfall Tour from Akureyri is the perfect tour for those visiting Akureyri for just a short stop. Our tour will take you to some of the most spectacular sights in the area, including Goðafoss Waterfall, Lake Mývatn, Námaskarð geothermal region, and Myvatn Nature Baths.
Highlights
Góðafoss waterfall
Lake Mývatn
Mývatn Nature Baths
Námaskarð geothermal area
Itinerary
The meeting point for our tour is at the cruise terminal in Akureyri. Once everyone is on board, we head east along Eyjafjörður towards our first stop. Our expert local guides will explain, entertain and educate along the way.
Góðafoss Waterfall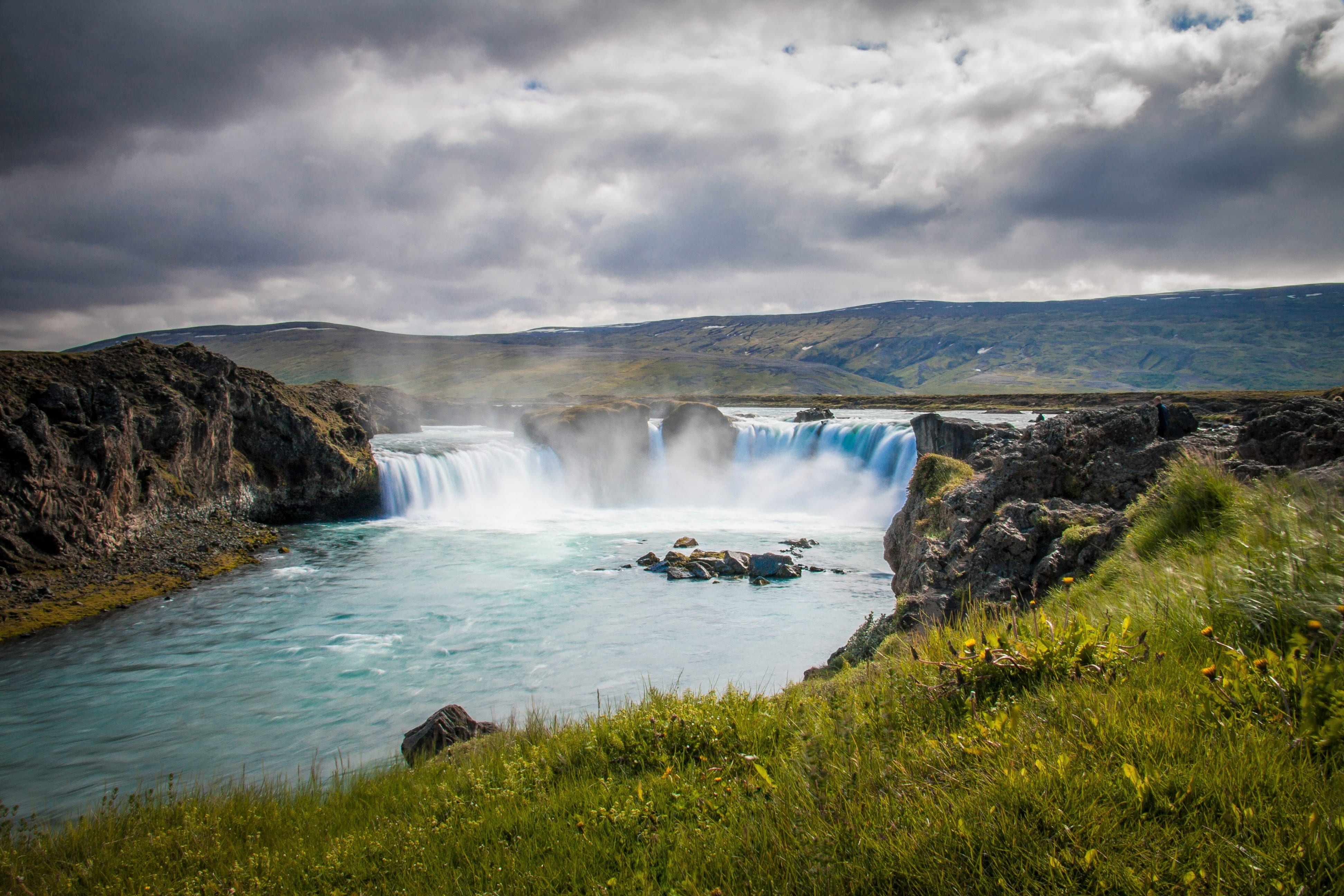 Our first stop will be at Goðafoss Waterfall, one of the most impressive waterfalls in Iceland. As we approach, you will hear the roar of the water as it cascades down into the river below. The waterfall is situated in a wide river, and the water falls from a height of about 12 meters. Legend has it that in the year 1000 AD, Iceland's Lawspeaker, Þorgeir Ljósvetningagoði, threw his pagan idols into the waterfall after converting to Christianity, hence the name "waterfall of the gods".
Lake Mývatn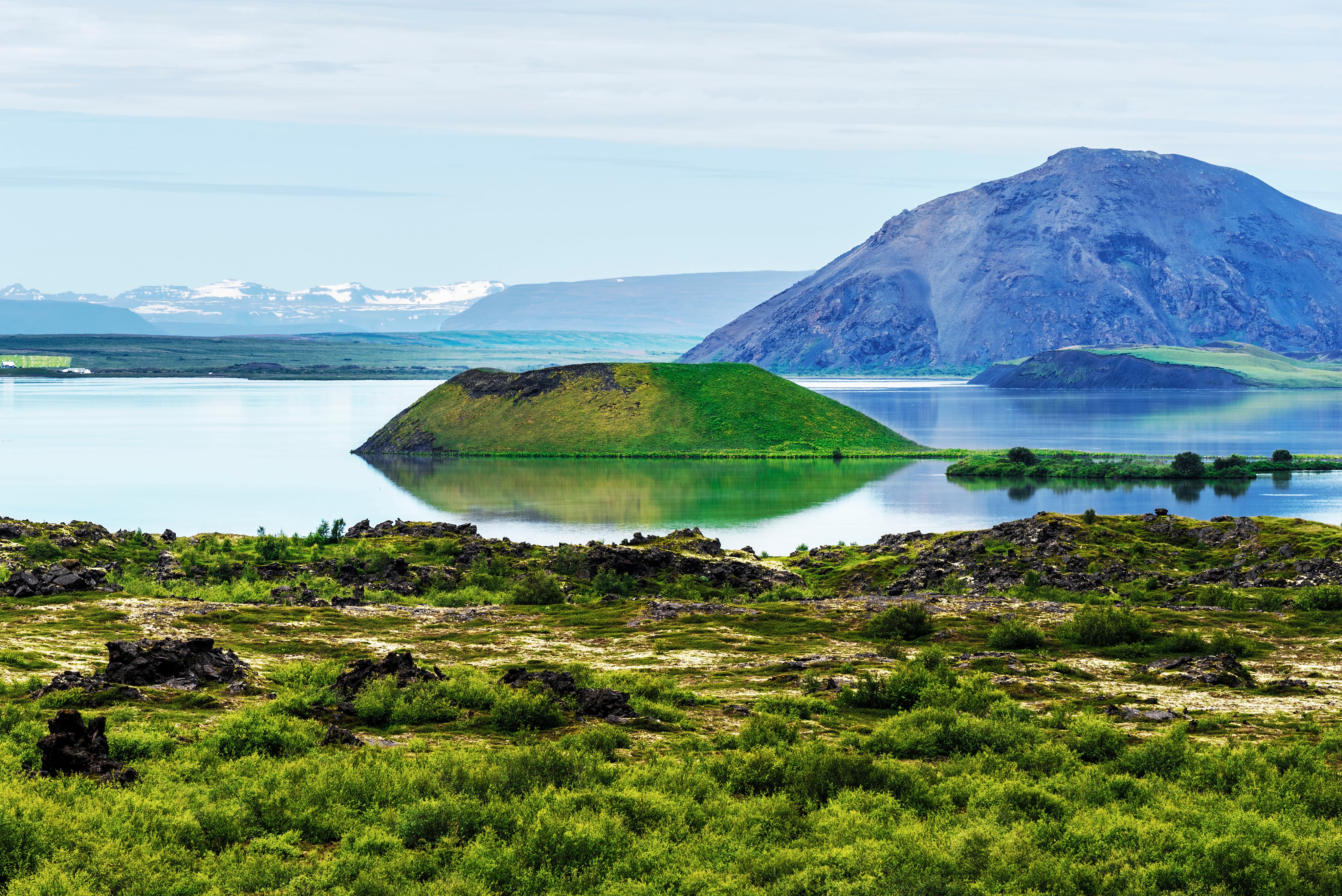 The next attraction on our agenda is the wonderours and strange beauty of Lake Mývatn. The lake that is surrounded by stunning scenery, including the famed pseudo craters of Skútustaðagígar. The lake, like these craters, was formed by a volcanic eruption about 2,300 years ago, and it is renowned for its rich birdlife, including various species of ducks and geese. Here, you will have a chance to take a walk along the shore and enjoy the tranquil beauty of this unique natural environment.
Námaskarð hot-spring area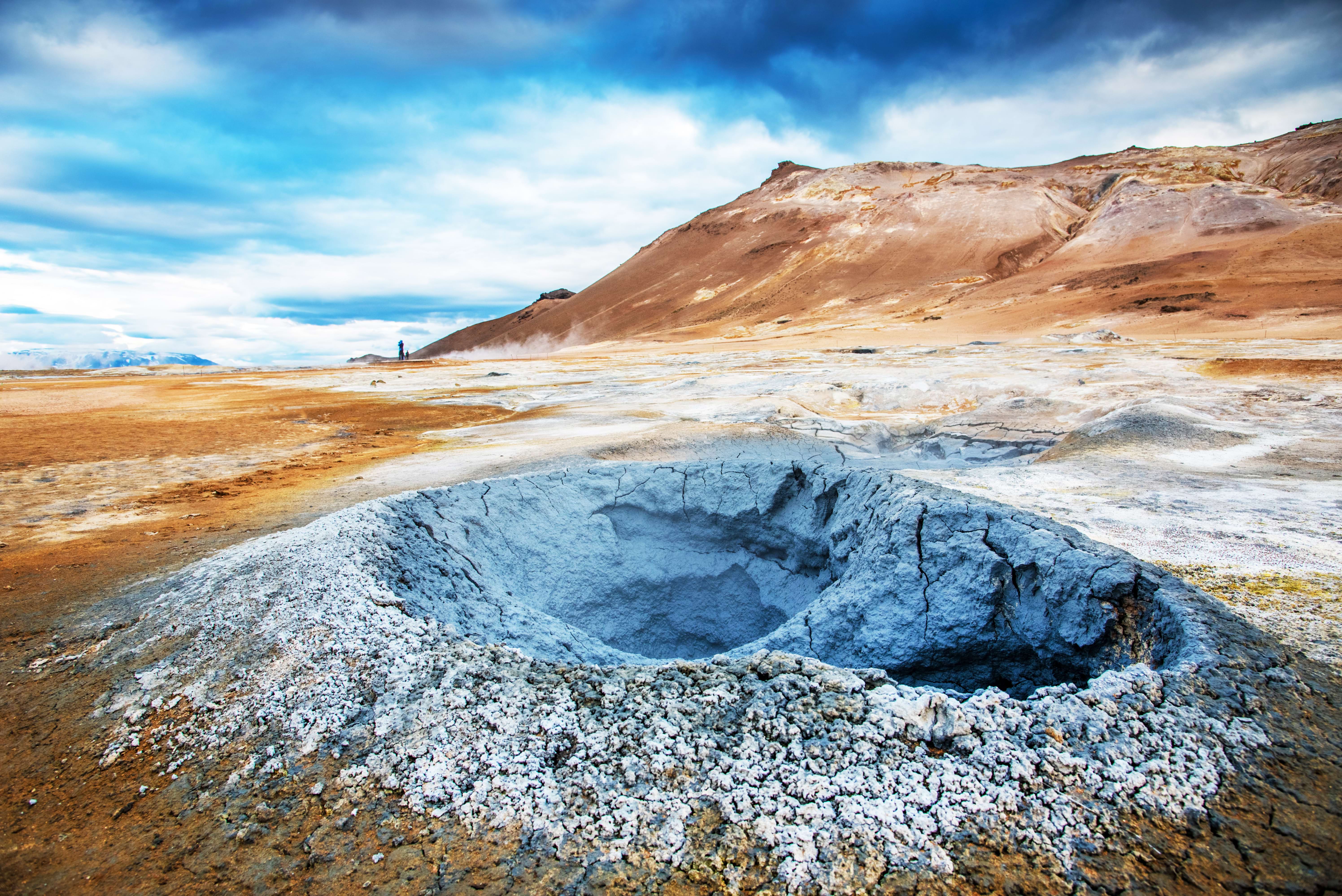 After that, we will visit the Námaskarð geothermal region, a truly unique place where you will be able to witness the power of geothermal activity up close. You will see steam vents, mud pots, and hot springs that are constantly bubbling and spitting out boiling water and mud. The landscape here is otherworldly, with a combination of vibrant colors and unique geothermal features.
Mývatn Nature Baths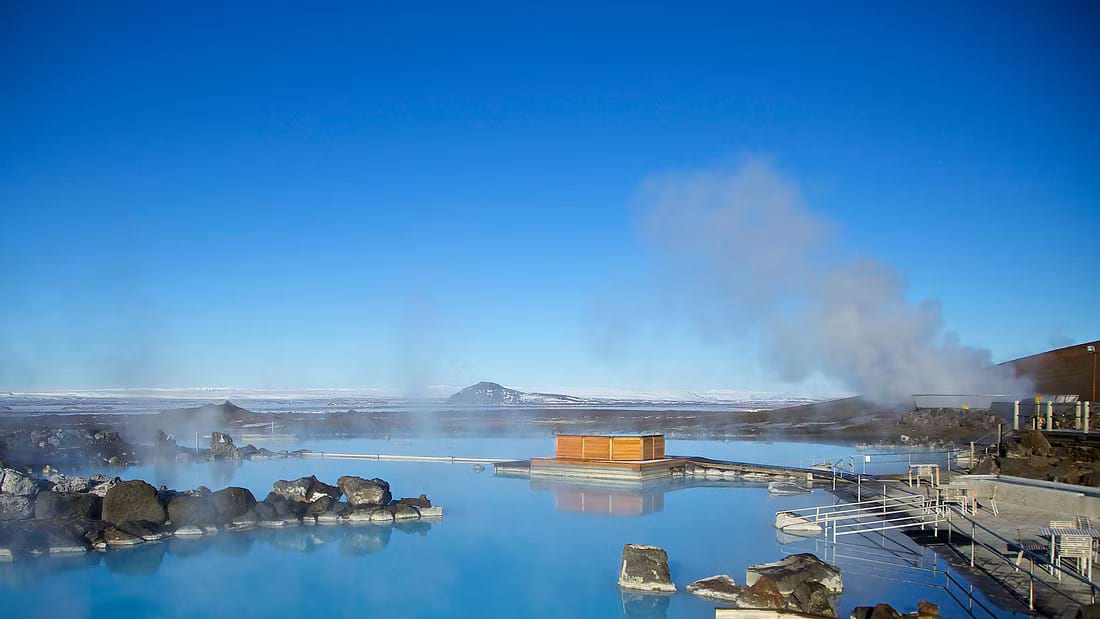 Finally, we will finish our tour at Myvatn Nature Baths, a series of natural hot springs that are a popular spot for relaxation and rejuvenation. The warm, mineral-rich waters are said to have healing properties, and you will have the opportunity to soak in the warm water while enjoying the stunning views of the surrounding landscape.
Overall, our tour of Mývatn will provide you with an unforgettable experience of Iceland's natural beauty and geothermal activity, and you'll have memories that will last a lifetime.
What´s included
Pickup and drop off at Akureyri cruise terminal
Free Wifi
Expert local guidance
Entrance ticket to Mývatn Nature Baths
Important information
The tour start time and duration have been tailored to your cruise ship times
Towels are not included in your Mývatn Nature Baths ticket but can be rented on location
What should I bring
We advise you to wear gloves, a hat, a waterproof coat, and comfortable walking shoes.
Swimsuit and towel. They can be rented at the lagoon as well
Snacks and water
Guided language
Cancellation policy
The tour can be cancelled for a full refund up to 24 hours in advance. No refunds are available after that.
Reviews!
Thank you for submitting your review