Snowmobiling & Ice Cave at Langjokull Glacier from Skjól
Begin your Icelandic glacier expedition at Skjöl in the Geysir Area, where you'll venture to Langjökull Glacier for an exciting snowmobiling experience and an enchanting discovery inside a crystal-clear blue ice cave.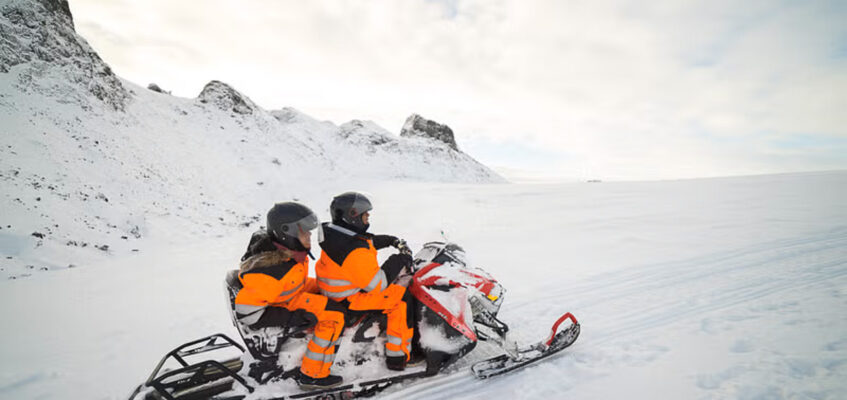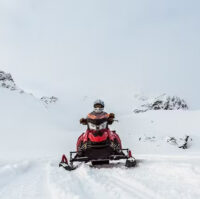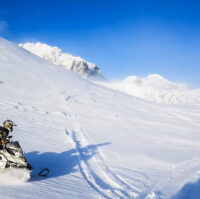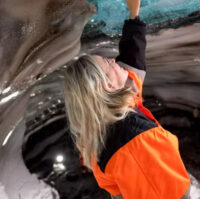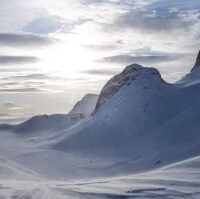 Your adventure kicks off at our Skjól basecamp, conveniently located on the road connecting the Geysir Geothermal Area and Gullfoss Waterfall. From there, you'll embark on an exhilarating journey to Iceland's second-largest glacier, Langjökull, riding aboard our super truck. Along the way, you'll be treated to awe-inspiring vistas of Eiríksjökull Glacier, Hofsjökull Glacier, and the Kerlingafjöll Mountains.
Once at Langjökull Glacier, a certified glacier guide will outfit you with the necessary gear, provide safety instructions, and offer fundamental snowmobile driving tips. Then, get ready for a heart-pounding one-hour snowmobile ride across Langjökull Glacier, ascending to heights of 1450 meters above sea level.
As you speed across the brilliantly white expanse of Langjökull, often referred to as 'The White Glacier,' the excitement builds as you approach a natural ice cave, an experience that never fails to impress. Inside the cave, you'll be greeted by a mesmerizing blue ice ceiling, resembling a flowing river, set against a backdrop of uniquely striped white ice layers, formed by volcanic ash deposits. You'll have approximately 15 minutes to explore and capture the beauty of this remarkable natural wonder.
Upon leaving the ice cave, your trusty snowmobile will be ready to transport you back to our Snowmobile Base Camp. From there, we'll return you to Skjól, marking the conclusion of a day filled with the thrills of glacier snowmobiling and the rare splendor of an ice cave. This adventure offers you a comprehensive immersion in the magnificent glaciers of Iceland.
This tour is operated by Amazing Tours.
Starting point
Amazing Basecamp Skjól
Accomodation
Not included



Qualified, energetic and fun guides for the best adventure!
We take immense pride in our exceptional team of local guides who are professionals, experts, and friendly. Their goal is to make your tour unforgettable.