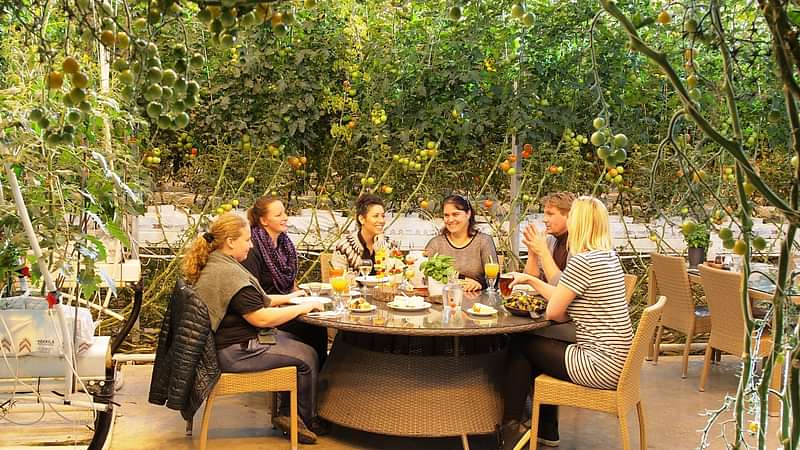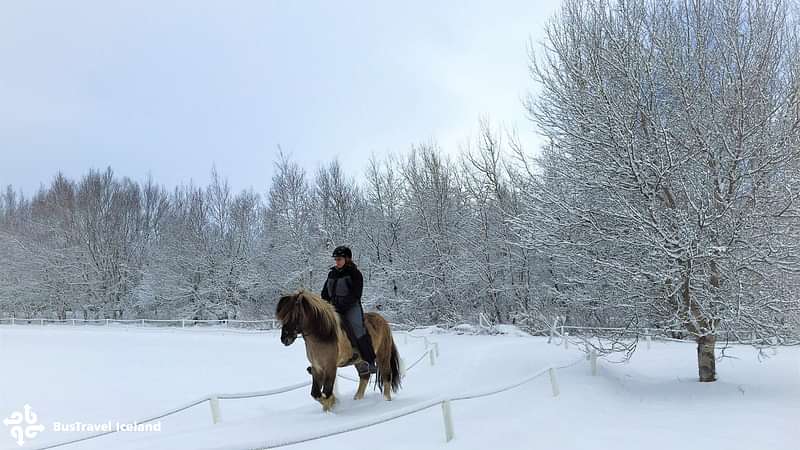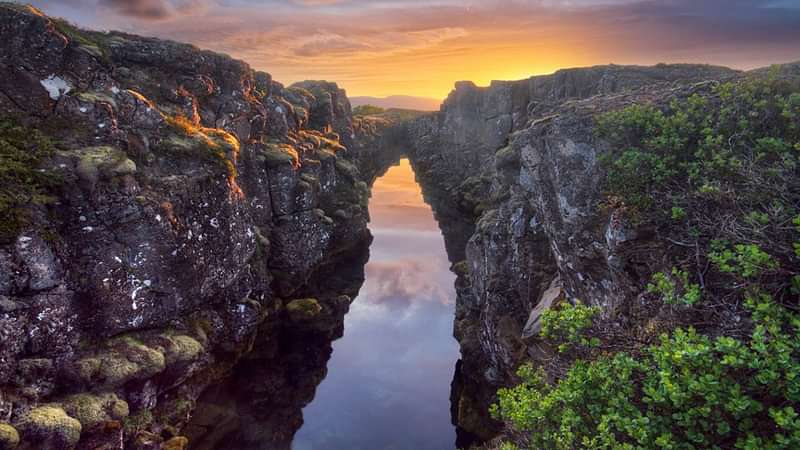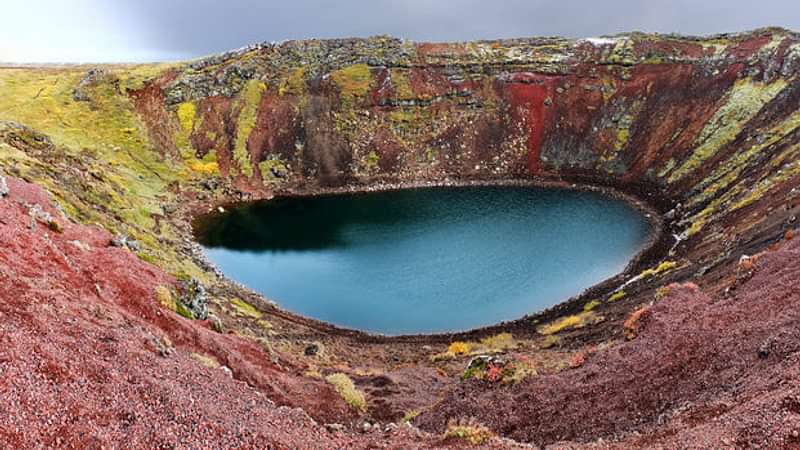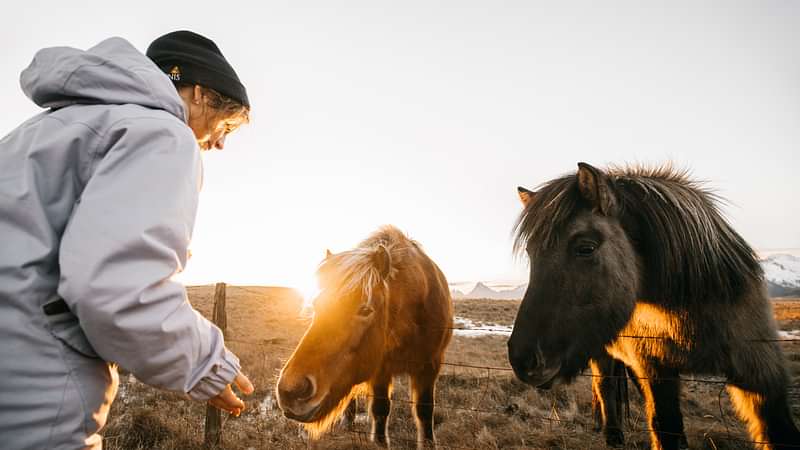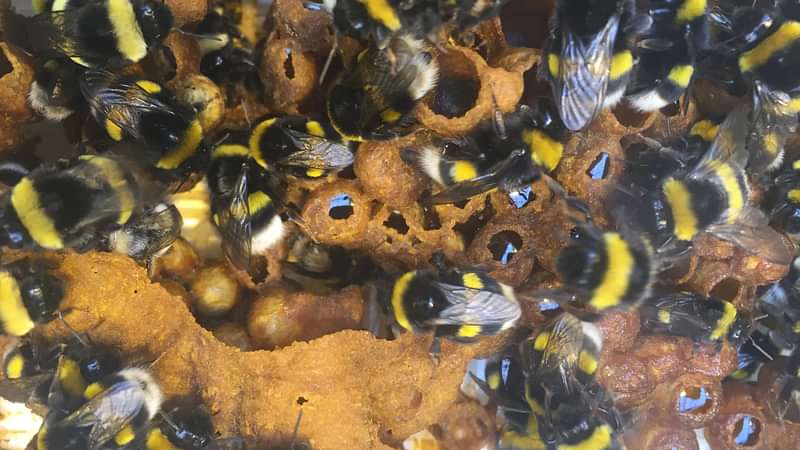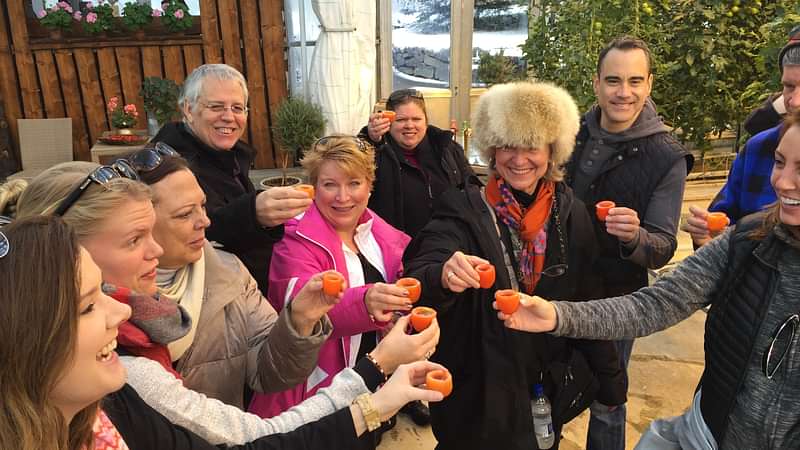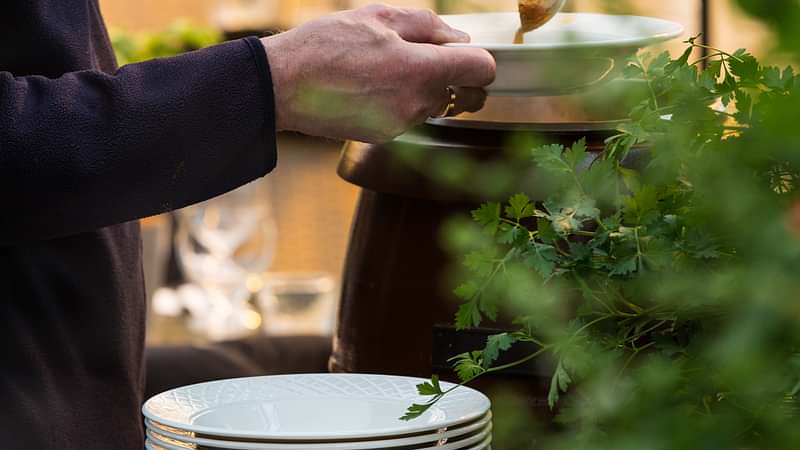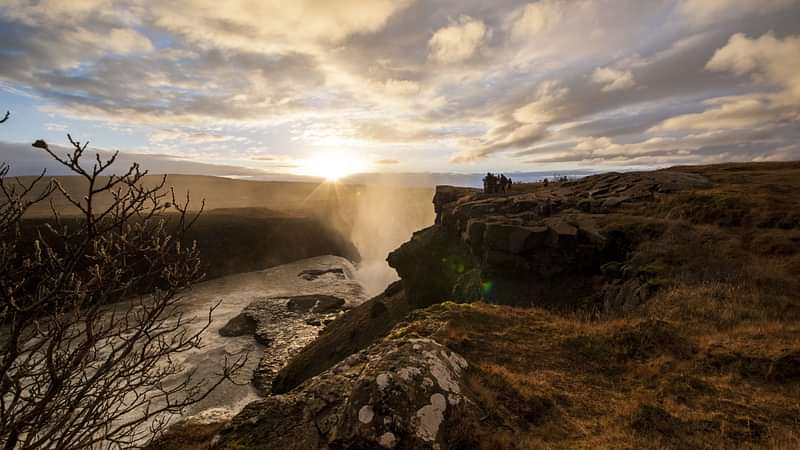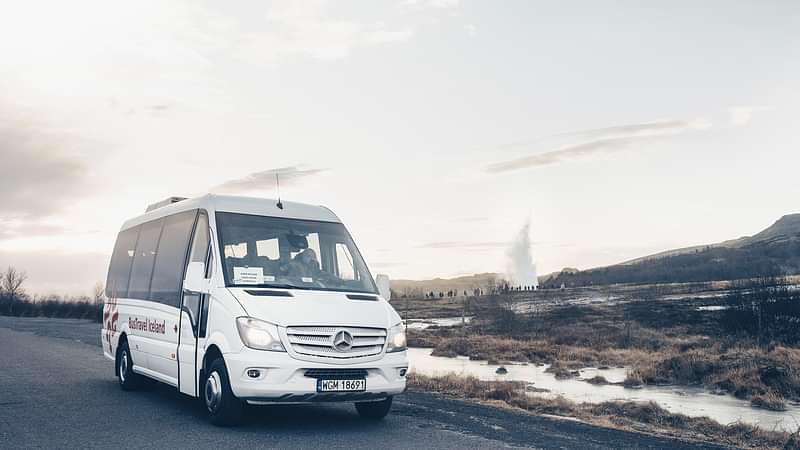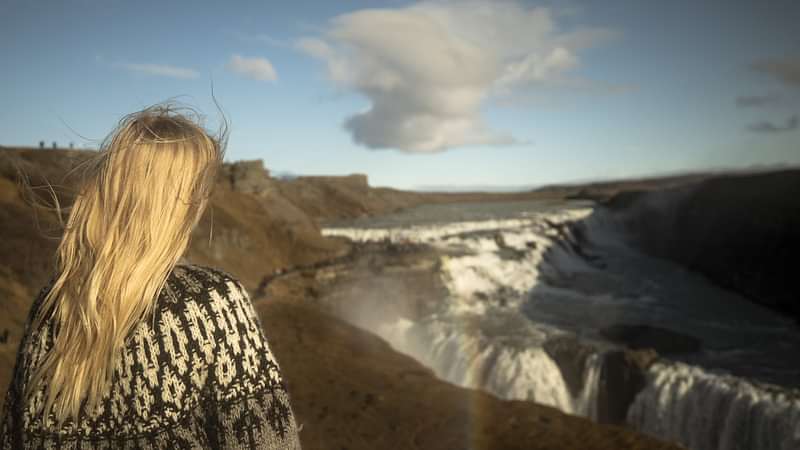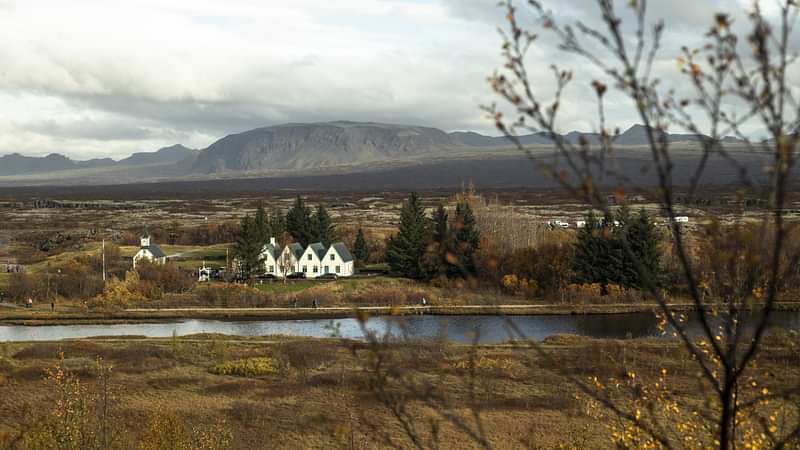 Description

The Golden Circle is the most iconic and popular of all the day tours in Iceland. The attractions included in this route are unmissable to all visitors. The Golden Circle is a route comprising 3 main natural wonders; Thingvellir National park, Geysir Geothermal Area, and Gullfoss waterfall, striking and unique stops that demonstrate how tectonic activity and glacial erosion has shaped the landscape of the region.

On our small group tour of the Golden Circle, we add stops at Friðheimar Farm with its Icelandic horse show at the stables, tour the greenhouse, tomato tasting, as well as visitng Kerið Volcanic Crater (entrance fee included in your ticket). All stops on the tour are easily accessible to all.
The tour is in a minibus which provides a more comfortable and personal experience. Join us and enjoy all that this magnificent route has to offer.
Highlights
Kerið Volcanic Crater
Friðheimar Farm
Icelandic Horse Show
Gullfoss Waterfall
Geysir Geothermal Area
Thingvellir National Park
Itinerary
Your tour begins with our fast and efficient pickup service. We provide direct pickup from a long list of designated locations dotted around the capital region. We aim to finish pickup promptly in order to devote the rest of our time together getting to know the sites and wonders of the Golden Circle.
Kerið Volcanic Crater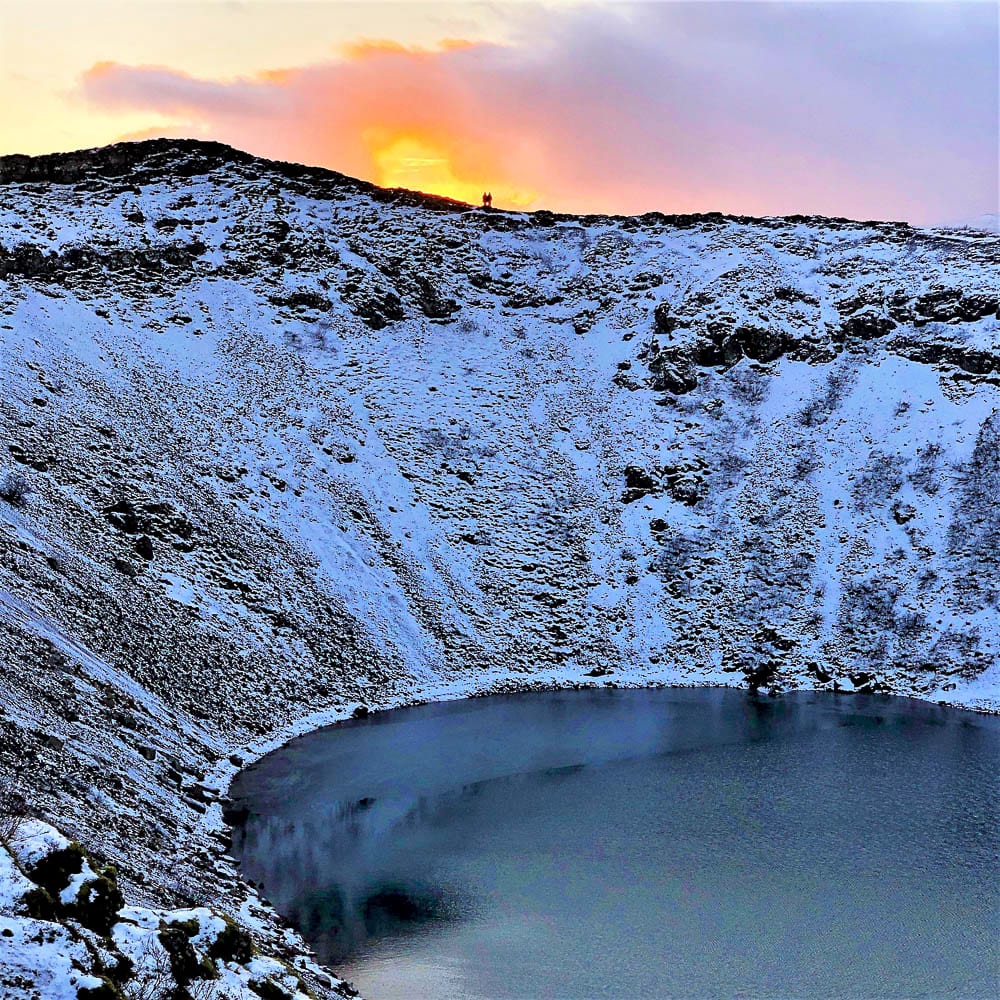 Estimated to be around 3000 years old, the Kerið volcanic crater is an impressive sight to behold. The remarkably intact caldera measures 170 meters in diameter and is 55m deep. At the base of the crater is an aquamarine blue lake.
Visitors to Kerið can study this natural phenomenon from the rim or else descend towards water level via a wooden staircase. Either way, one can´t help but be impressed by the grand scale of Kerið.
In recent years a small entrance fee has been introduced in order to maintain and protect the site. This entrance fee is included in your tour price.
Friðheimar Farm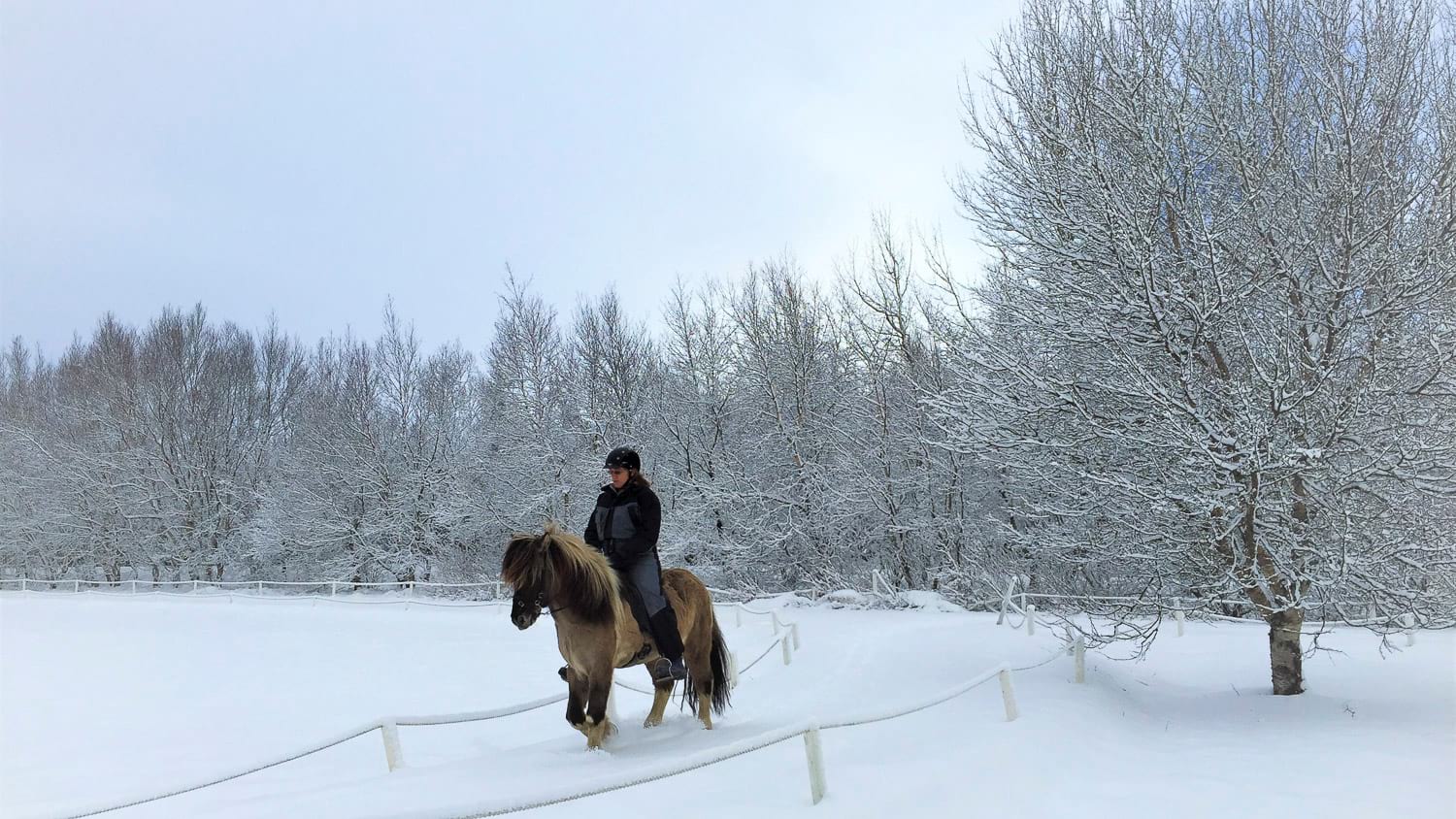 Friðheimar farm is known for both its greenhouse and horse stables.
Firstly you will visit the farm´s famous stables and meet the unique Icelandic horse. Known for their small stature, strength, and good spirits, your hosts will demonstrate the five unique gaits for which this horse breed is renowned.
Iceland is famous for its hot springs and geothermal energy and a visit to Friðheimar farm highlights how Icelanders have put this green energy to use in horticulture. Powerful sun lamps in the greenhouse help a variety of tomatoes grow which otherwise would not prosper in the harsh conditions for which Iceland is also famous.
You will have a guided tour of the greenhouse where this process is outlined in an engaging and informative way. Afterward, you will sample the fruits of these labors before you enjoy a leisurely lunch at your reserved table. Please note that lunch is not covered in your tour price.
Gullfoss waterfall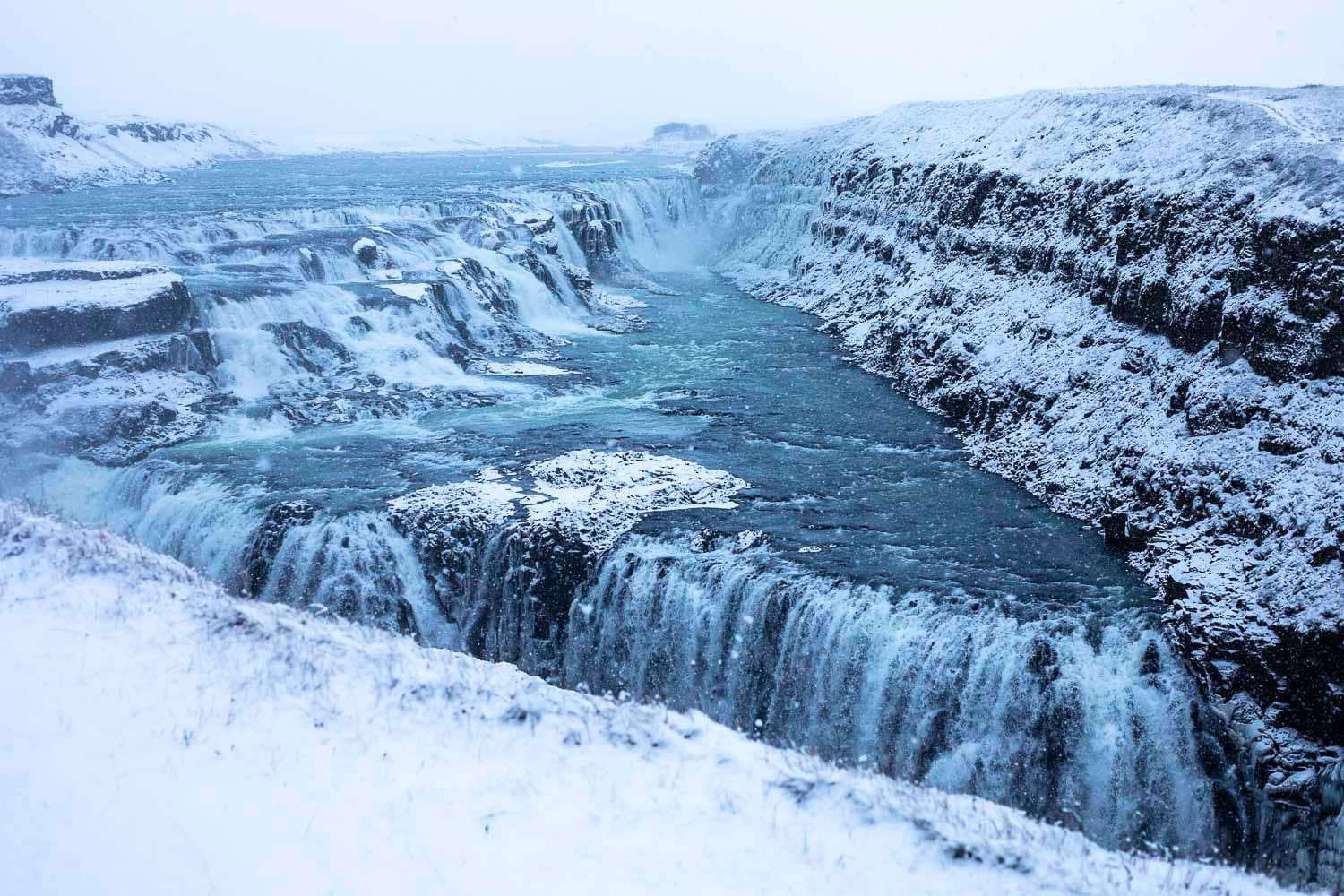 Gullfoss translates to English as the Golden Falls and is one of the most powerful and impressive waterfalls in Iceland. The falls are part of Hvítá, a glacier river fed by meltwater from the enormous Langjökull glacier to the north. In winter when meltwater is low or non-existent, 80 cubic meters flow down per second. In summer, this increases to a massive 140 cubic meters per second.
Spray from the waterfall can hit you several hundred meters before you see it, a small price to pay to witness the power of nature.
Geysir geothermal area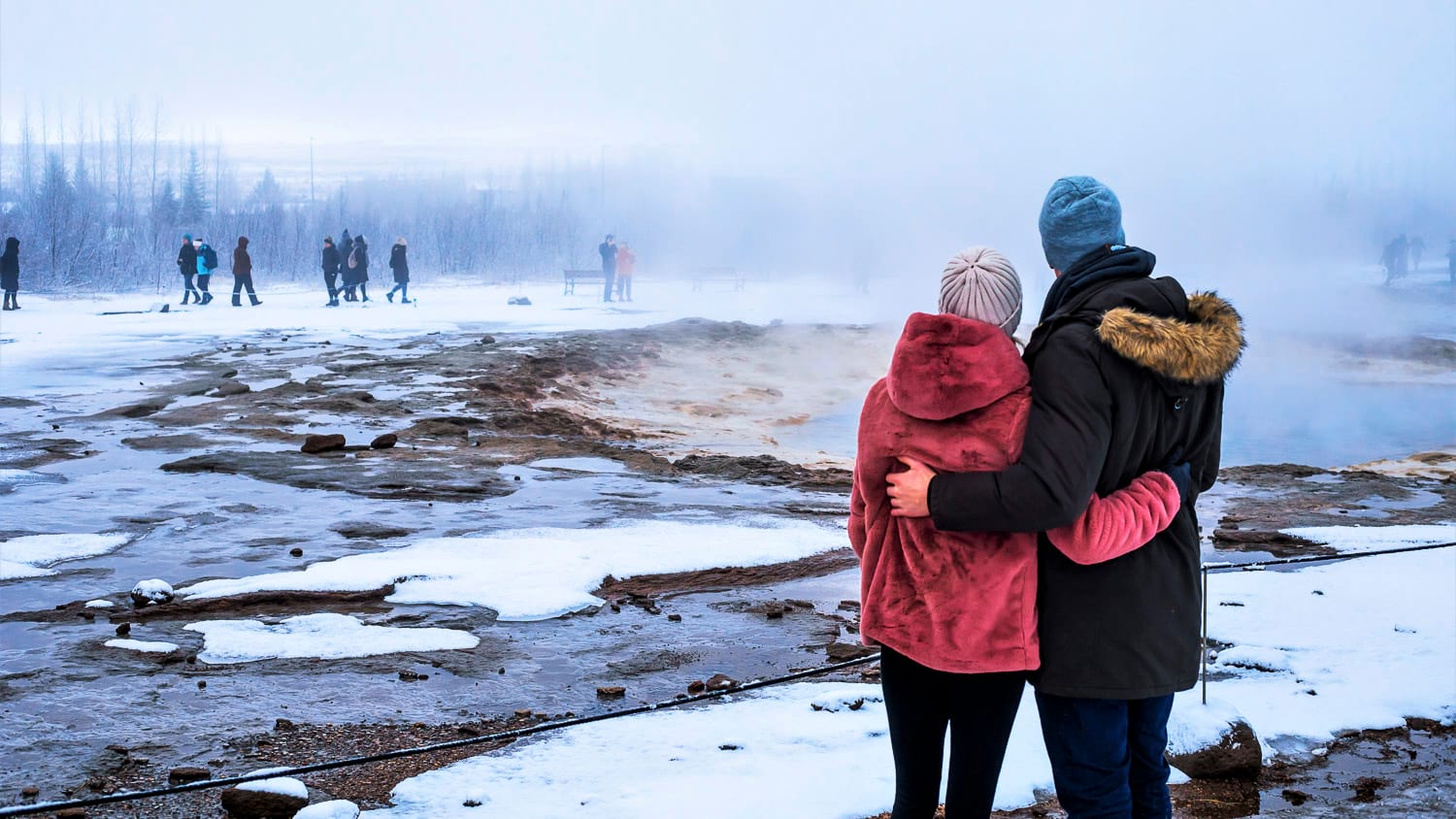 Geyser is perhaps the only English word that directly derives from Icelandic and its usage can be traced back to our next attraction, the Geysir geothermal area.
Located in Haukadalur valley, Geysir itself no longer erupts without human assistance but its younger brother Strokkur can be relied upon to put on a show. Strokkur erupts every 5 to 10 minutes. Strokkur bubbles for several minutes, amping up the anticipation of visitors before erupting in boiling water and steam up to 20 meters in the area.
Beyond Strokkur, visitors can take several walking paths and view the boiling waters of the hot springs and steam vents the park is also famous for.
Thingvellir National Park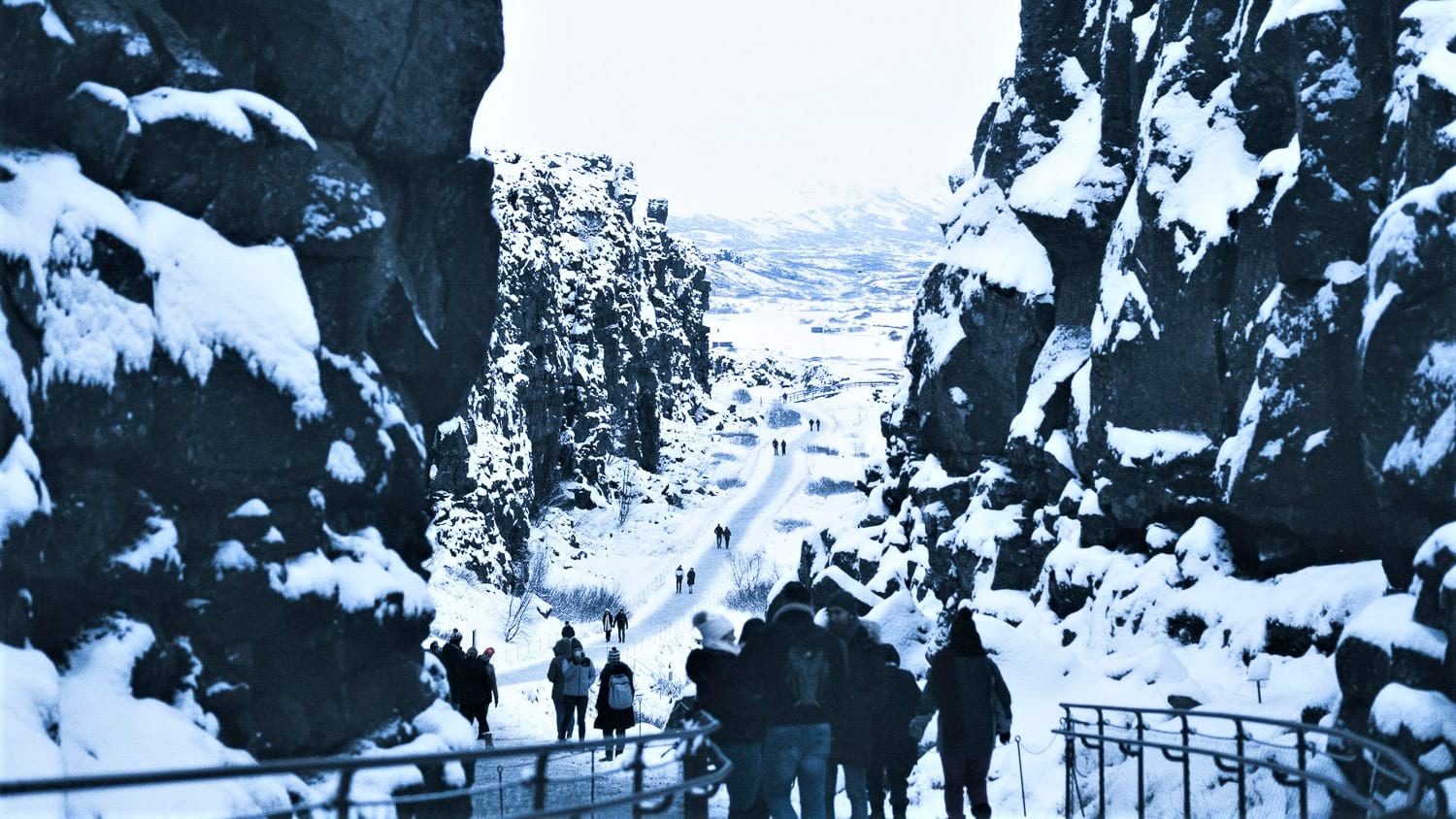 Our final stop of the day is to Thingvellir National park, a UNESCO world heritage site. This designation is well earned as it is a site of both geological and historical importance.
Thingvellir sits in the rift valley that marks the boundary between the North-American and Eurasian tectonic plates. The effect of continental drift is clearly visible here with the plates drifting apart by up to 2cm every year, resulting in a dramatic and unique landscape. A canyon called Almannagjá sits between the plates, allowing visitors to stroll leisurely back and forth between the two continents.
The Thingvellir was also the first site of the Icelandic Althingi or parliament, the oldest continuous parliament in the world. It was here that the descendants of the first settlers formed a general assembly that met yearly to settle disputes. Chieftains would travel for many days or weeks to represent their regions of tribes. The assembly took place here from 930ad until 1798 at which point the Althingi was relocated to Reykjavík.
After walking through the park, we return to Reykjavík where guests are dropped off at designated hotels and bus stops.
What´s included
Professional guide
Pickup and drop off in Reykjavík
Entrance fees to Kerid
Guided tour at Friðheimar farm
Tomato tasting at the greenhouse
Horse Show at the farm
Coffee/tea at stables
Reserved table at Fridheimar for optional lunch
Free WiFi
What´s excluded
What do I need to bring
Warm, water, and windproof clothing are always useful in Iceland.
Good sturdy shoes
All tickets are e-tickets so there is no need to print them out.
Important information
The duration of the tour is approx. 9 hours. Please be aware that the tour could run long if affected by bad weather or other delays.
Timings and locations may be subject to change due to weather and conditions.
Cancellation policy
Full refund if canceled more than 24 hours before departure.
No refund if canceled less than 24 hours before departure.

Guided Language
Reviews!
Thank you for submitting your review
We experienced Iceland's natural beauty on the Golden Circle Small Group tour. Traveling by small van instead of a large coach made for a much more personal experience with the guide and fellow passengers. The weather was fantastic! Blue sky and warm temperatures. Although some of the sites were crowded, we were able to navigate easily and never felt crowded or rushed. The tomato farm visit in particular was informative, pleasant and absolutely delicious in a beautiful setting with horses to boot! We were allowed to get up close and personal with Icelandic horses. Alexander our guide was friendly and informative. He knew Icelands history, geography, legends and people. He discussed both explorers and trolls, and even sang to us. Alexander was truly one of the most entertaining and exceptional guides we have experienced. Overall, this was a great tour that we thoroughly enjoyed and highly recommend!
Our family had a wonderful day on this tour with Roman. The sights were spectacular and we didn't feel rushed at any of the places visited. We loved the tomato greenhouse and Icelandic horses! We really enjoyed the tour. Thanks BusTravel Iceland!
We've just spent an enthralling day with our tour guide Dennis on the Premium Small Group Golden Circle tour. The journey was smooth, the sites were stupendous and the commentary was scintillating. Thank you!!!
Houser our guide, felt more like a host welcoming, warm, knowledgeable. Proud of his homeland, he shared his connection and passion with his group. I was thrilled to have a Viking guide. His linage goes back to the first settlers. He knew history, geography, unique individuals stories, how often the geysers erupt. Our day was great. Better than expected.
Howser, our tour guide was probably the best and most knowledgable tour guide I have ever had and was a very friendly and funny guy. He went the extra mile to make, what it seemed like unscheduled stops to tell us more about the island, which he knew so much about. I would highly recommend as we had an amazing day travelling to all the locations on this tour with one of the highlights being the tomato farm and the view at the end of the Thingvellir National Park trail. Thanks again!
What an incredible day. The sites were certainly beautiful but what made it so special was our guide, Howser. Such personalized service, wonderful stories, his pride for his country - he made the day very special. Thank you!
We had Golden Circle Tour with Kerid Crater and Fridheimar Farm with Horse Show with our tour guide/driver/photographer Siggi. He was so cool and even sang the Iceland national anthem for us. I was amazed by what the Golden Circle has to offer, definitely must-see in Iceland. I learned something about Icelandic Horses and witnessed the 5 gaits (only in Iceland). Tomato soup in Friedheimar Farm is pricey.
I highly recommend this tour and this company. Our tour guide, Petur, was wonderful. He was very knowledgeable and entertaining. The bus was very comfortable and they picked us up right on time. We ended up having to wait later because of some folks who were late, but that wasn't the company's fault at all.
Our family choose BusTravel Iceland. We read that the tour guides of this company were really good and informative. We lucked out! HBO (for short) was our tour guide for both the Golden Circle with Kerid Crater and Fridheimar Farm and the Snaefellsnes Peninsula Tour. We highly recommend the tours (absolutely beautiful landscapes) and especially the tour guide. HBO's logistical instructions on important basics like bathroom, food, amount of time between stops, and bus location were clear and important. HBO had a unique quality of sharing information (not being lectured at) which allowed people's questions to be welcomed and encouraged. He brought the past and present history of Iceland in a cohesive way for any tourist to understand and deepened of our experience by threading the details of the who, when, what, where of Iceland's past and present and it's nature. One couldn't have a better guide the HBO giving insight to the wonder of Iceland's nature, history and culture. A professional and gifted tour guide. HBO - one of the best!
We enjoyed our farm visit so much! Glad we chose this Golden Circle tour. The only downside was new bus didn't have WiFi yet. Our guide was really interesting with facts about every day Icelanders.