Hmmmm….Icelandic Soup Recipes
Kjötsúpa – Icelandic Meat Soup Recipe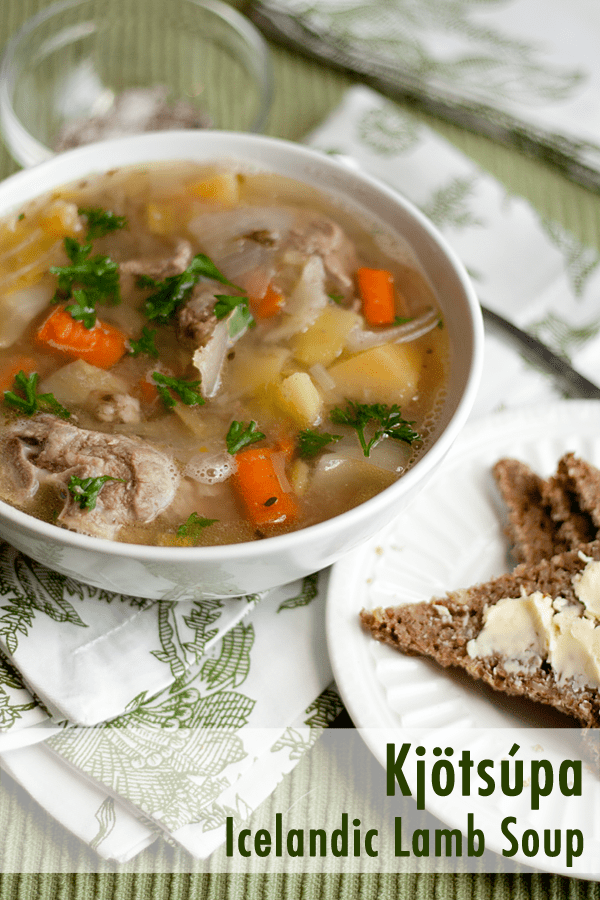 INGREDIENTS
2 pounds Icelandic lamb shank, on or off the bone (If off the bone, cut into 1 inch chunks)
8 -10 Icelandic lamb neck bones (about 2 inches)
5- 6 carrots, chopped
1 white onion, chopped
4 – 5 yellow potatoes, cubed
1 large rutabega (aka Swede), cubed
Arctic herbs, such as wild thyme and Anjelica root, to taste (I used an Arctic herb salt that I purchased in Reykjavik)
1 bunch curly parsley, plus extra for garnish
salt and pepper, to taste
INSTRUCTIONS
In a large stock pot, just cover the lamb with water. Simmer for a few minutes and pour off the water. Place everything in the pot, cover with water with an extra couple of inches and simmer, covered, for an hour. Taste and adjust for seasoning. Remove the parsley, and refrigerate overnight. You will likely need to add more salt after re-heating.
Fiskisúpa– Icelandic Fish Soup Recipe
INGREDIENTS
500g of Arctic Char (or Salmon)
500g of Haddock (or Cod or Plaice)
1 Large Yellow Onion
1 Large Leek
1 Celeriac (Celery Root)
5 Tomatos
500 ml of 18% Cream
1 Can of Tomato Puree
2 Handfuls of fresh Chives
3 Tablespoons of Red Wine Vinegar
2 Tablespoons of Port or Sherry (I used Pear Cognac)
3 Tablespoons of Dry Red Wine
3 Tablespoons of Butter and enough Vegetable Bouillon to handle three litres of water.
Heavy Cream for garnish
INSTRUCTIONS
Finely dice the onion and leek. In a large pot, lightly sauté onion and leek in butter until soft. Add the sherry and red wine. Reduce for 4 minutes.
Peel and julienne your celeriac. Add the celeriac and tomato puree to the pot and sauté for 4 minutes until soft.
Add 3 litres of water with vegetable bouillon and toss in the red wine vinegar. Boil for 15 minutes. Thinly dice up the tomatoes.
Skin the arctic char and set the skin off to the side. Cube all the fish (arctic char and haddock)
Add the tomatoes and fish. Let simmer for 5 minutes. Add the 18% cream and season well. Let simmer for 5 minutes. Don't boil. Serve in a big bowl with a drizzle of cream and sprinkle on some fresh chives. Goes great with sour dough bread and crispy fish skin (fry the skin you saved earlier in a pan with oil and sprinkle with salt).
Fiskisúpa– Icelandic Fish Soup Recipe

INGREDIENTS
1 tablespoon butter3 to 4 lobster tail shellsShrimp shells from 1 pound large (16/20 count) shrimp1⁄4 cup dry sherry1⁄2 cup white wineBouquet garni: 5 each sprigs thyme and parsley, 1 bay leaf and 5 whole peppercorns

1 large shallot, peeled

1 leek, roughly chopped

2 large carrots, roughly chopped

2 stalks celery, roughly chopped

pinch white pepper

pinch salt

6 to 7 cups water

For the soup:

2 tablespoons butter

1 shallot, minced

⅓ cup dry sherry

1 heaping tablespoon tomato paste

1 small can plum tomatoes and the juice

4 cups shrimp and lobster stock

3 sprigs of thyme

1⁄2 teaspoon sweet paprika

1⁄2 cup heavy cream

3 to 4 lobster tails, chopped

1 pound shelled large shrimp, chopped

White pepper and salt, to taste
INSTRUCTIONS
In a stockpot over medium-high heat, sauté the shrimp and lobster shells until pink.
Add the sherry and white wine, and simmer until reduced, about 5 minutes.
Add the rest of the ingredients and enough water to cover, about 6 to 7 cups.
Simmer (do not boil) uncovered, for an hour, or until reduced to about 4 cups of liquid.
Strain through a fine mesh cloth. Discard solids.
For the soup:
In a large saucepan over medium heat, sauté the shallot in butter until translucent.
Add the sherry and simmer until reduced by half.
Add the tomato paste, tomatoes, stock and thyme. Simmer gently, covered for 20 minutes. Remove the thyme and puree with an immersion blender. Pass soup through a fine mesh cloth or sieve.
Return to low heat and temper the cream with some of the hot soup, and slowly add to the soup.
Add salt and pepper to taste.
Add the lobster and shrimp to the gently simmering soup.
Simmer for 3 minutes, turn off the heat and cover for 2 to 3 minutes more.
Serve immediately, garnished with a drizzle of chili oil, and a sprig of thyme.
---