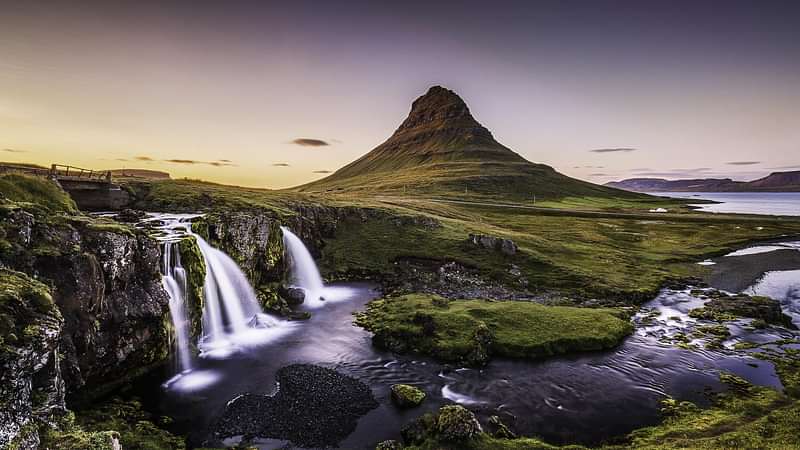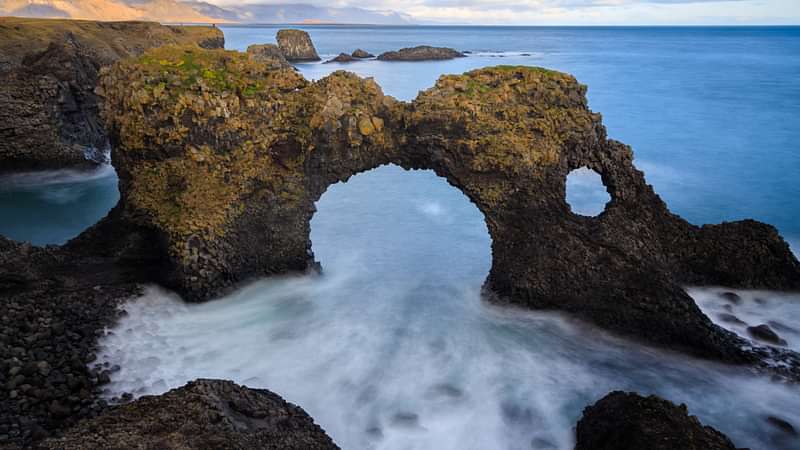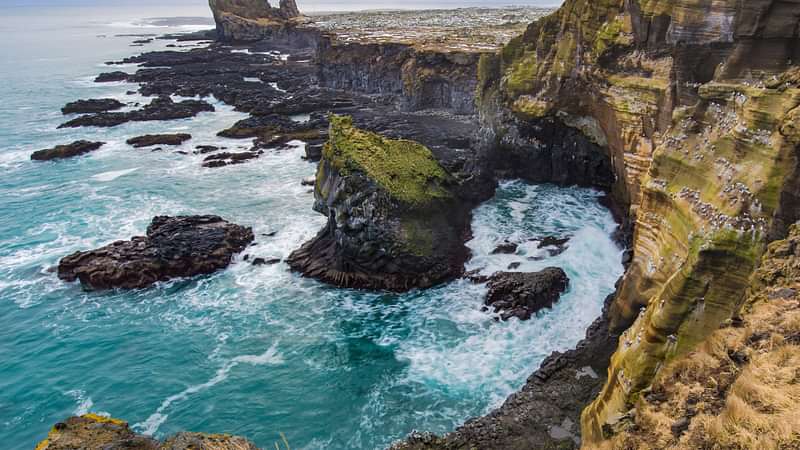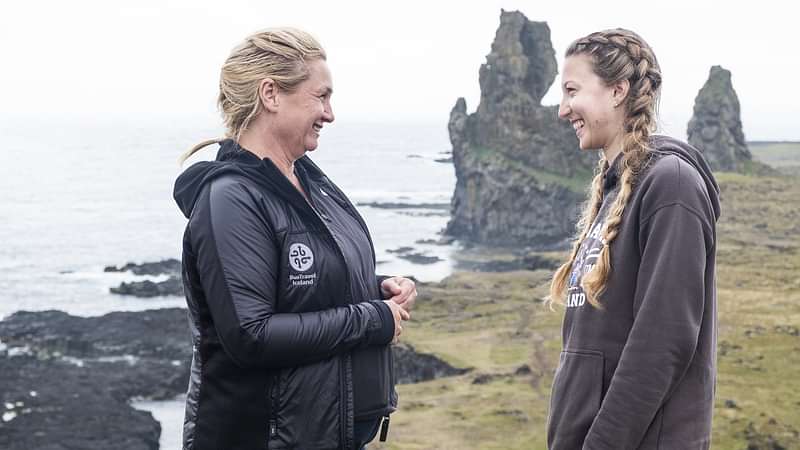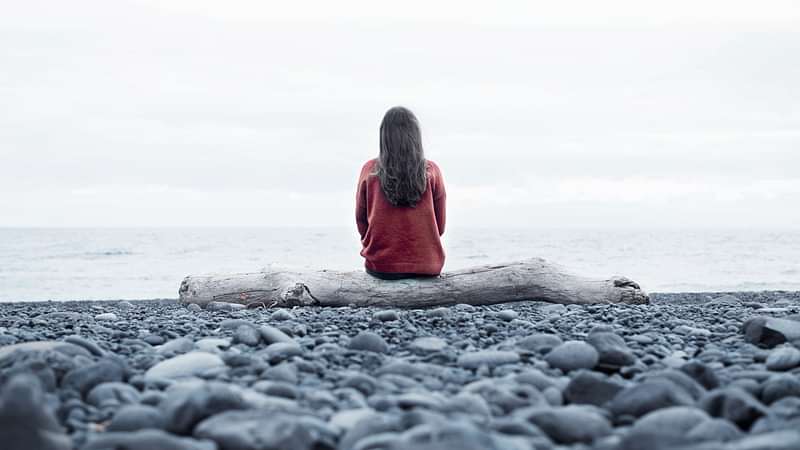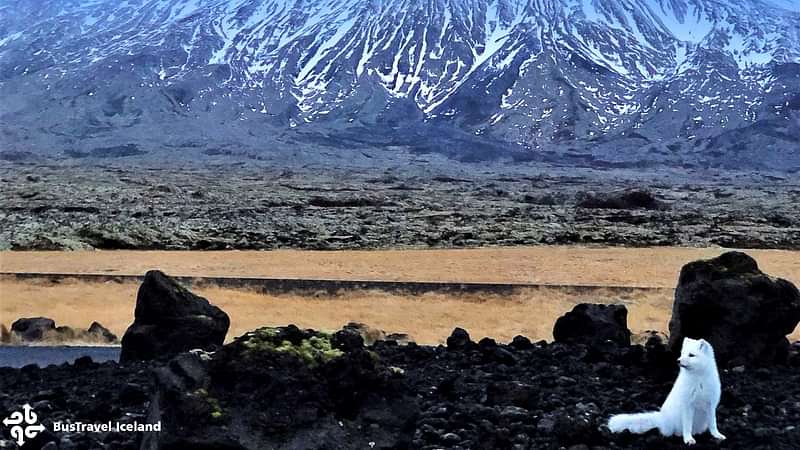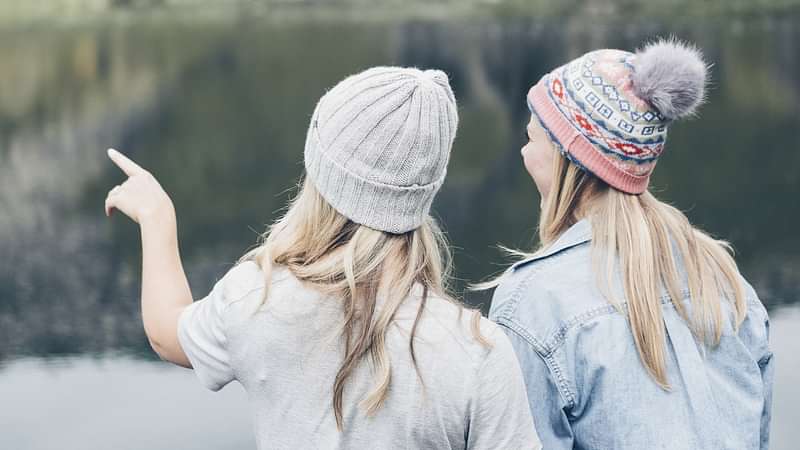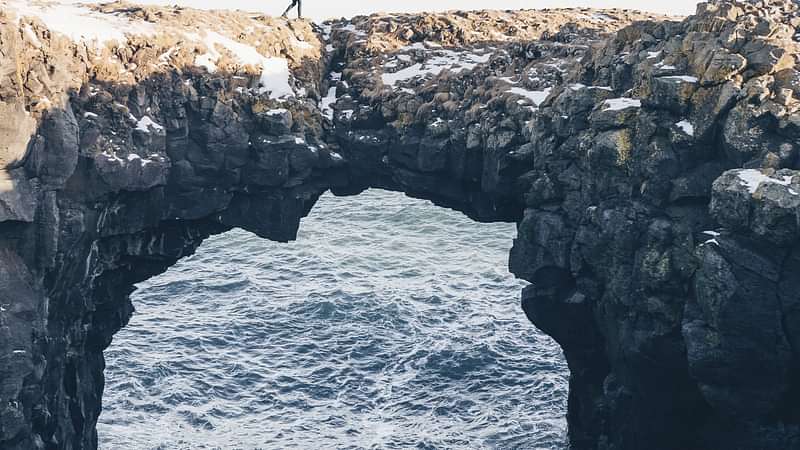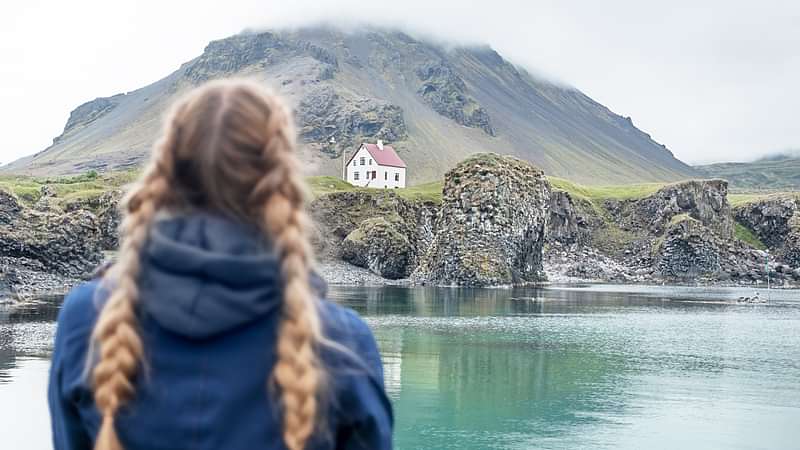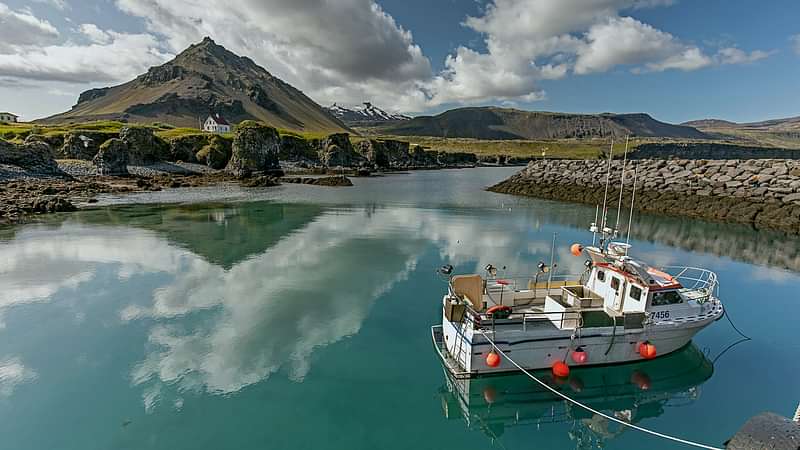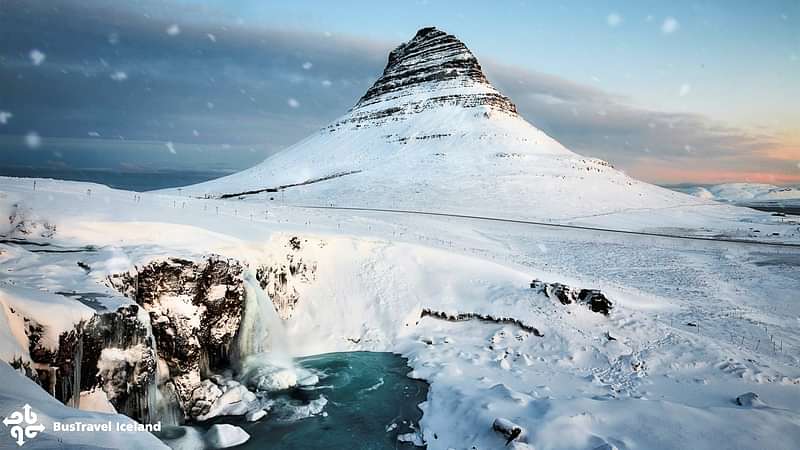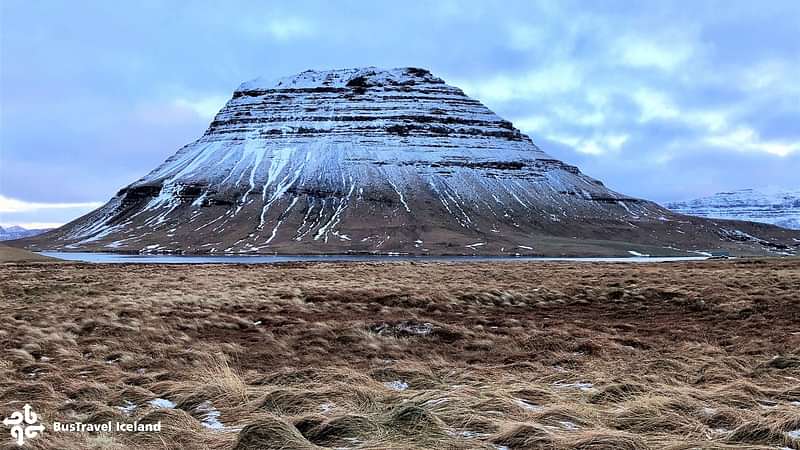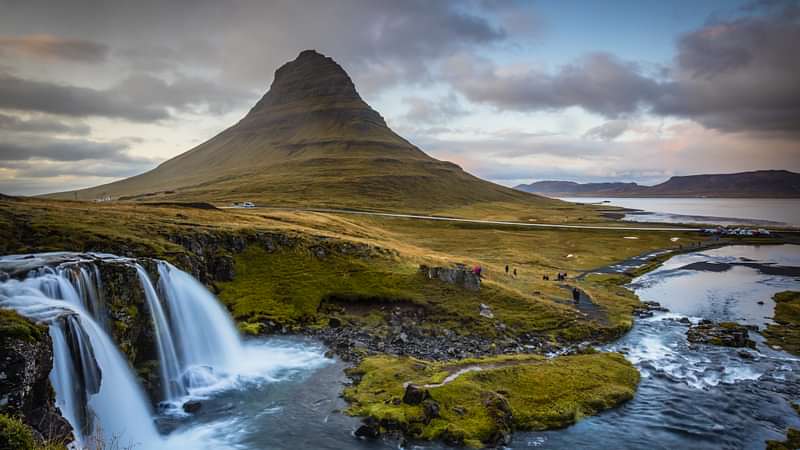 Use the Promo Code FALL10 at check out to avail of this offer
Description
If we at BusTravel Iceland were to bring out a "Greatest hits of Iceland" album we would probably call it the Snæfellsnes Peninsula and it would be a blend of smooth jazz and upbeat dance hits.
This beautiful part of our island sits on the other side of the Faxaflói bay, to the North West of the city of Reykjavik and is a location that any diehard fan of Iceland should be adding to their list of things to see. Not only does this location have black sand beaches to rival the southern coast, a national park that could give Þingvellir a run for its money and of course it's very own glacier but it also has a lot of charm that will be sure to win your heart. No matter what your tastes are as a traveller, Snæfellsnes is guaranteed to have something for you.
Literary fans will recognise many locations from the Jules Verne novel "Journey to the centre of the earth" based here. Alongside the film, it was inspired in 2008 also called "Journey to the Center of the Earth" starring Brendan Fraser which actually used the real Snæfellsjökull volcano in the film.
Highlights
Berskerkjahraun lavafields
Kirkjufellsfoss waterfall
Mt. Kirkjufell
Snæfellsjökull National Park
Djúpalónssandur beach
Lónsdrangar rock pinnacles
Arnarstapi harbor and coast
Itinerary
Before we can get to the adventuring part of our day we first need to get you out of the city. This is where our fast and efficient pick up service comes in. Just tell us where you are staying or the location of the nearest pick up point to your accommodation and our busses will come and get you. When everyone is aboard we will immediately begin our northward journey, passing by the famous Mt. Esja and around the Faxaflói Bay onwards to volcanic Snæfellsnes Peninsula.
Berskerkjahraun Lavafields
Our first stop is a viewing point overlooking the region well marked by a rough and wild lava field called Berserkjahraun. The lava field dates back to a volcanic eruption that took place 4000 years ago and has a brutal story to tell, well preserved in one of the Icelandic Sagas.
Mt. Kirkjufell
When getting close to the charming fishing village of Grundarfjörður we spot its landmark and the prominent mountain called Kirkjufell (Church Mountain). It would be an understatement to say that Kirkjufell is one of the most popular mountains in Iceland, as the image of this tall mountain reflected in the nearby water has become an image almost synonymous with the country itself. It stands at a height of approximately 463 meters and also has had its 15 minutes of fame on the silver screen playing the part of the 'Arrowhead Mountain' in the hit show 'Game of Thrones'.
Kirkjufellsfoss Waterfalls
Our next stop is by the Kirkjufellsfoss waterfalls where we can admire the falls with Church Mountain in the background. The old bridge over the falls used to be part of the old main road before it was moved to where it is now. A well-maintained path takes you around the area and allows for the perfect pictures.
Snæfellsjökull National Park
The name of the Peninsula has it from the 1500 m high glacier capped volcano, the landmark of the region at the far end of the peninsula. The volcano is one of the most famous sites in Iceland due to the Jules Verne's novel, Journey to the Center of the Earth. In the novel, the protagonists find an opening to a passage on top of the volcano, leading the the centre of earth. The icy covered volcano is a true natural gem and very rich in legends. Many believe the volcano to be one of the seven main energy centres of the earth and its mystique and special energy is felt by many.
Djúpilónssandur Beach
Following on from the mountain and getting around Snæfellsjökull subglacial volcano, we aim for the black sand beaches of Djúpalónssandur. This area was once home to anywhere up to 60 fishing boats and also housed one of the most profitable fishing villages in the area but all of that has now gone leaving behind a beautiful and serene bay. As a reminder of the history of the area, the bay is still home to four lifting stones that were once used by fishermen to test their strength. The minimum a man would have to lift was a 54 kg stone to hip height otherwise he would not be considered fit for service. There is also a stone weighing 23 kg called Amlóði (Useless), 100 kg called Hálfsterkur (half strength) and 154 kg called Fullsterkur (full strength). Once everyone has lifted a stone and proven themselves worthy we will be able to move on to our next stop at Lóndrangar.
Lóndrangar Pinnacles
Lóndrangar is a beautiful rock formation, rising some 75 and 61 meters above the surrounding landscape. They are volcanic plugs of basalt, remnants from a bigger crater that has mostly been eroded away. A good hiking path allows for exploration in the area and takes you to great viewing points where you can also observe seabirds that nest in the sea cliffs during the summer months.
Arnarstapi Harbor and Sea-cliffs
Only a 10 minutes drive is to our next destination, Arnarstapi harbor. Arnarstapi is a tiny fishing village that sits on the southern edge of the peninsula that stands a monument to rich history Iceland has with the fishing industry as well as its rich history with stories and sagas. With its incredibly accessible location, Arnarstapi quickly became an ideal location to serve as a hub for fishing activities in the area. Very quickly the small town grew into a large shipping port that supplied much of the west coast of Iceland and brought in a tremendous amount of trade to the whole island.
Today the town sees much less use as a fishing port but the docks here have been very well maintained and now see a lot of use from tourists and during the summer months the docks come alive with boats! When it comes to breathtaking nature though, Arnarstapi may just win the day as you look over the cliffs that this area has in abundance. Striking basalt columns and curiously cubic rock formations are interlaced with thin walkways caused by years of erosion as the land fights against a sea that wants to reclaim it. Bring some extra memory cards for your camera and thank us later.
From Arnarstapi we start our return back to Reykjavik including some extra stops added by your guide.
What's included
Professional guide
Free WiFi
What's excluded
Pickup and dropoff
Food and drinks
What do I need to bring
Warm, water- and windproof clothing are always useful in Iceland.
All tickets are e-tickets so there is no need to print them out.
Important information
The duration of the tour is 11 hours
There is no food included on this tour but there will be stops where you are able to purchase food
Cancellation policy
Cancellation fee of 100% if cancelled 1 day or less before departure
Guided Language
Reviews!
Thank you for submitting your review
A very different landscape. Despite the mixture of weather (don't come if you want to stay dry and warm!), Howser kept us enthralled with tales from years gone by, detailed explanations of the countryside flora and fauna, taking us up volcanic craters and down to black sand beaches, passing by Mount Kirkjufell (or the church mountain) renamed Arrowhead mountain in "Game of Thrones. Lunch was taken in at the superb restaurant, Sker, in the heart of Olafsvik serving delicious fresh fish. Last stop before the return drive to our hotel was for hot chocolate and chocolate cake. One of the best kept secrets in Iceland. Brilliant job Howser and driver Albert. Exceptional value for money and customer care
My friends and I enjoyed the tour pretty much. Big shout out to our guide - Oskar (I hope I wrote his name right) . That was nice to see a guide who cared for the whole group and for each of us individually. Thank you for the great time, I'm lost for words to describe the beauty of Icelandic nature. It doesn't seem to stop getting me stunned every time I see a new place.
It was a great tour. Got to see various sights and natural features of Iceland in one trip. Our tour guide Iga was wonderful! Very knowledgeable and entertaining. Made us all feel safe and taken care of. Bus captain, Tomic, is a very experienced and careful driver. Codfish lunch at the fishing village restaurant was so good - go for the Fish of the Day. Fresh and succulent.
Anna did an incredible (multilingual) job showing us the beauty of the peninsula. We had a wonderful time and felt comfortable, entertained and inspired by everything we saw. Anna clearly loves her job and gave us a memorable experience, thank you!
The tour covers some of the most beautiful places we've ever seen. Our guide Hjortur had such an amazing knowledge of the history of Iceland, it was a true pleasure to listen to him (Hjortur, please, start a podcast!), and showed us so many less-known but very interesting spots. We couldn't have asked for a better experience. Would STRONGLY recommend!
It is a very complete tour. The landscapes are incredible and our guide Atli was very nice! He is so funny you won't get bored with him! We were really satisfied with the experience:)
The tour itself was amazing, the views were incredible and unfortegable! Atli was our tour guide on the Seafessnelss Tour. From the start he was helpful and friendly. Atli knew anything and everything about iceland. Very knowledgeable about the country and gave us a real insight into life here. He was funny and ensured everyone has a great time whilst also ensuring safety of all of us. Atli often spoke to us like a very caring father which was super nice to see. Thank you so much and we would really recommend this tour and definitely Atli as your tour guide.
Great tour especially for the complete experience of Islandic landscape: lava fields, waterfalls, volcanos, the glacier, mountains, lakes, fiords, beaches, villages. There are some iconic famous places included and many more others that you can discover along the way. Even if day was shorter, I think we covered a lot of spots. Our guide was Simon - great guy, very good assistance along the way, interesting stories and facts about each place and many more. At the end of tour, on our way to Reykjavik, he told us a lot of other useful information, tips about what to see/do/buy/eat while in Iceland. Highly recommend!
Efficient pick ups and drop offs, comfy transport and excellent service. HBO is a very knowledgeable and friendly tour guide. Great tours - truly a one in a lifetime experience and would thoroughly recommend!
Simon was our guide and he was amazing. I did all the tours with this company and they were all terrific but this one was my favorite. Perhaps it was the several Game of thrones locations we visited by Simon was a terrific guide. He told stories of the land, made sure to point out every big location and was very knowledgeable about everything we went to see in Iceland. He truly cared and wanted you to have an amazing experience. Definitely do this tour. Not too many people do it and idk why, but you truly get the Iceland experience with this tour through the weather and the locations. 10/10 recommend.
Het was een mooie ' rondreis' met een vriendelijke en goede geïnformeerde gids, Simon. Heel erg veel gezien en 1 van de mooiste excursies die we deze week hebben gezien.
Siggi was approachable and cared about the comfort and safety of all the guests. He walked with us to destinations and told us better places to go for pictures and to spend time taking in the beauty of the sites. The cafe and lunch specials he recommended were amazing as well. The weather was perfect and he was an expert at getting us back to the city in high wind.
The landscape was absolutely stunning. The weather was a bit rainy and windy but that didn't hamper anything... I just went with the flow and enjoyed every minute!
Very Interesting Tour with a Passionate Guide. Adorabke Landschaften, don't Miss it!
The trip was excellent and Simon our tour guide did a very good job. The only downside was the weather which turned rainy towards the end.
Excellent tour by "Iceman", who takes on the role with a real passion for Iceland and its landscapes, culture and people. Amazing landscapes and a full itinerary whilst allowing time to enjoy the stops along the way.
Excellent tour. Very good guide, who was also our driver. Very recommendable.
Our driver - guide was very knowledgeable so he provided with a lot of interesting info and facts. We also had very good weather so the only limitation affected us was COVID rules
Great guide, very informative and attentive. Beautiful scenery. Highly recommended.
The guide was very attentive and careful on the way, not risking at the stops that there was any risk for passengers.