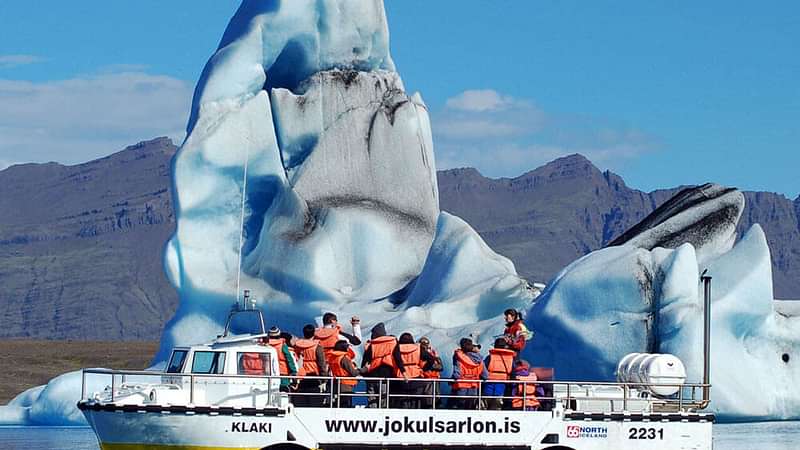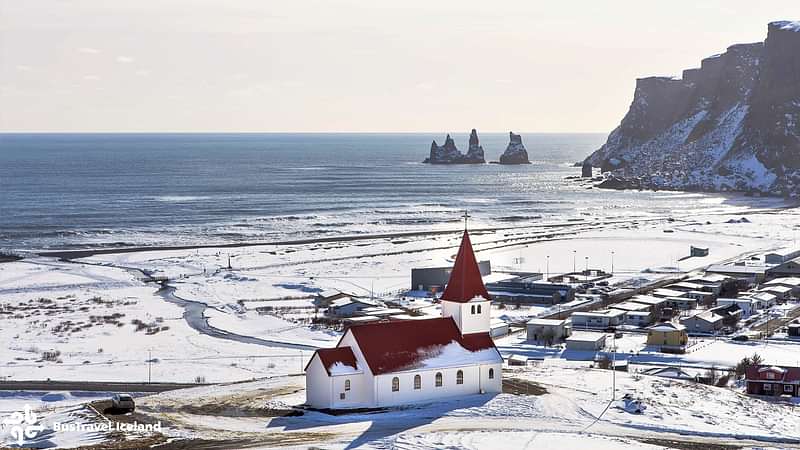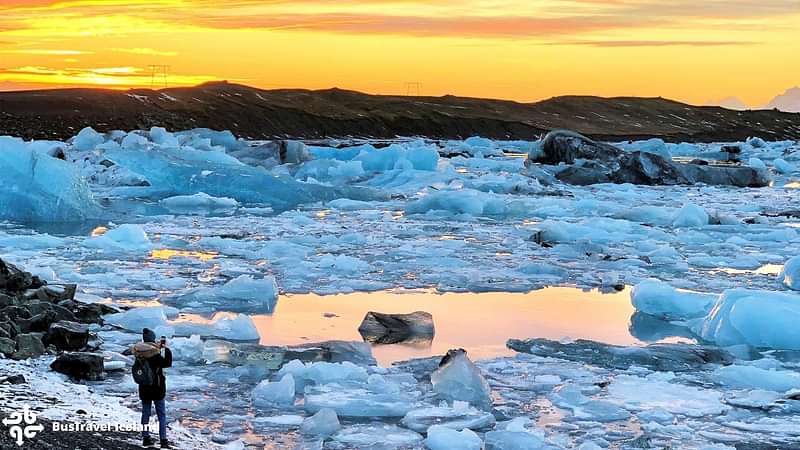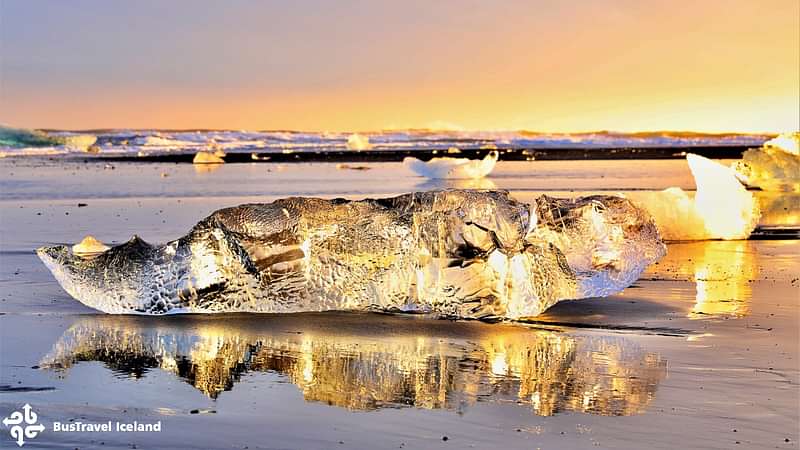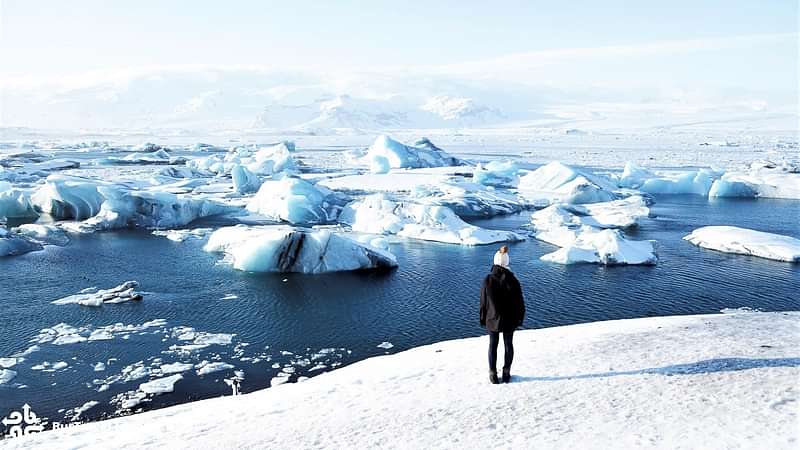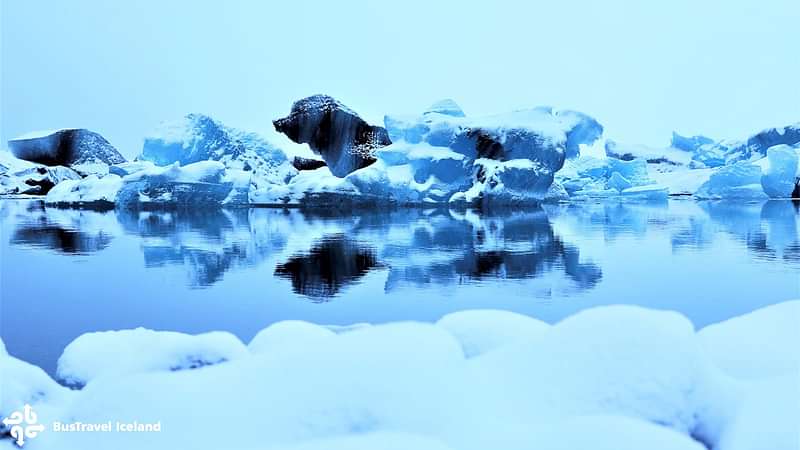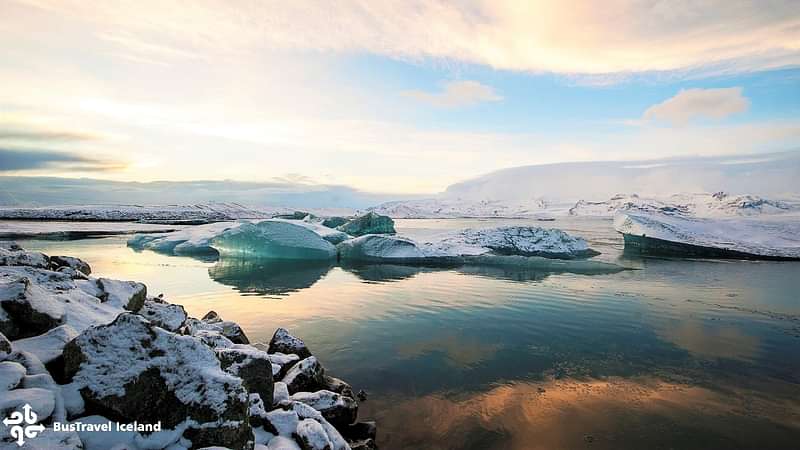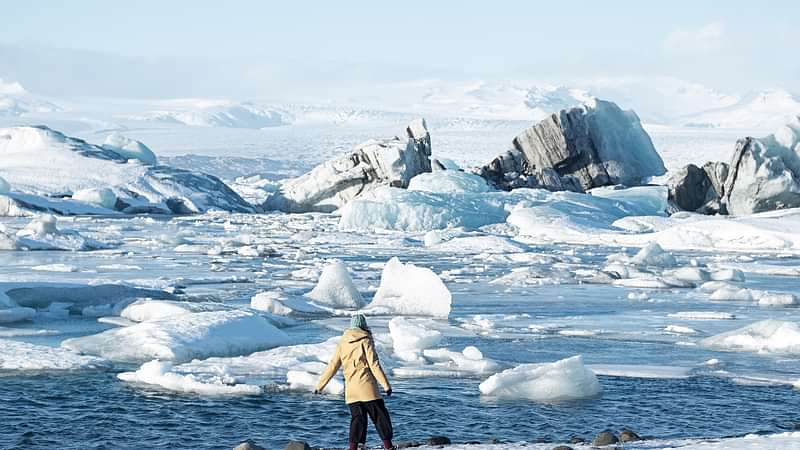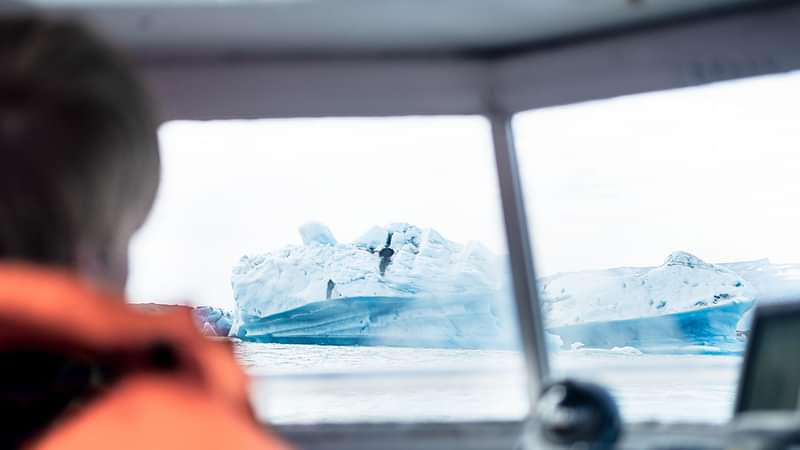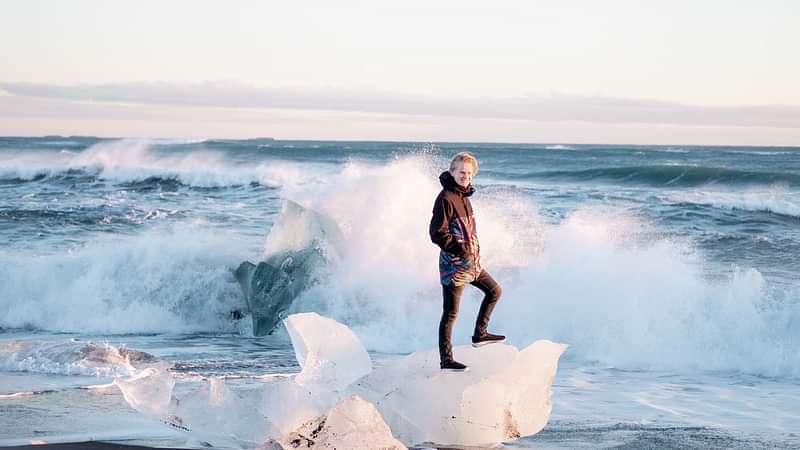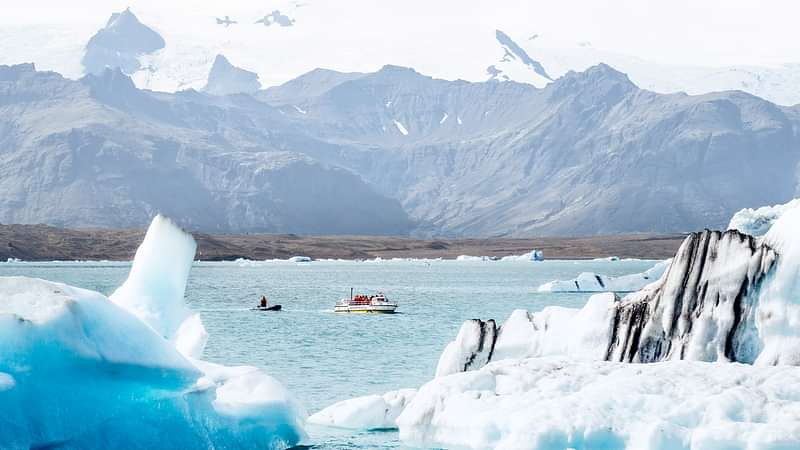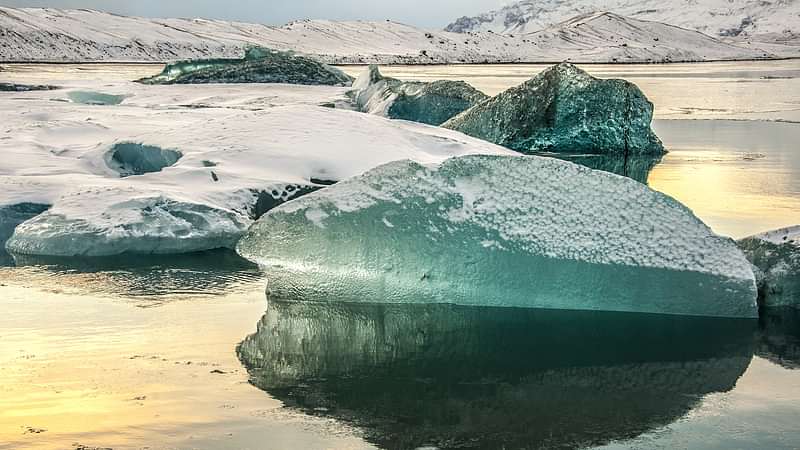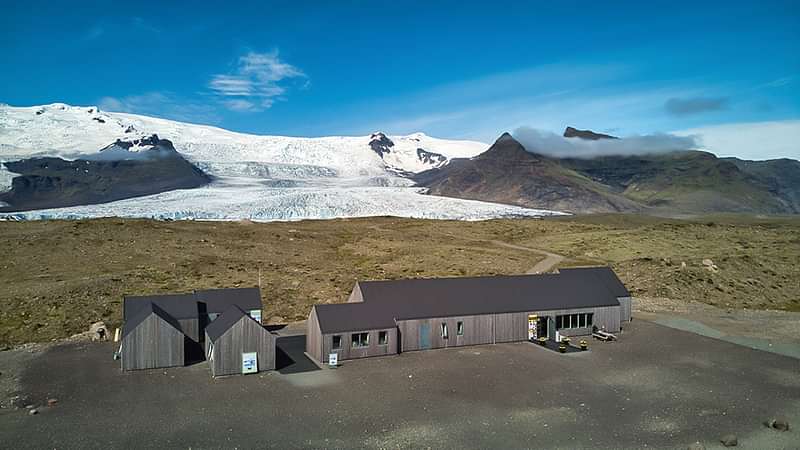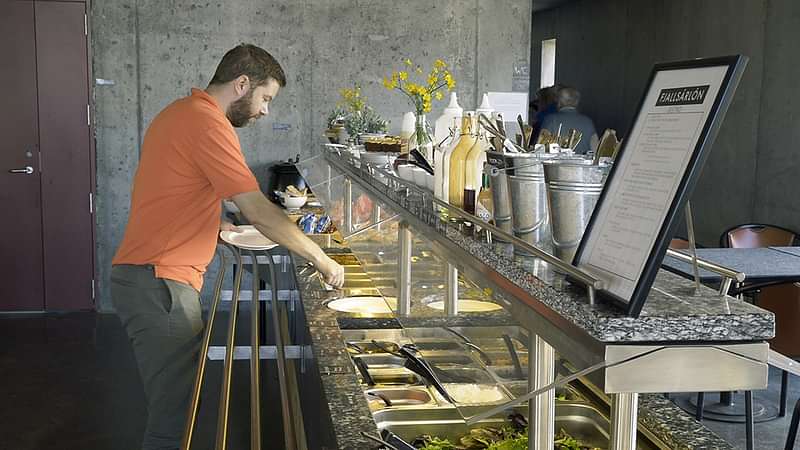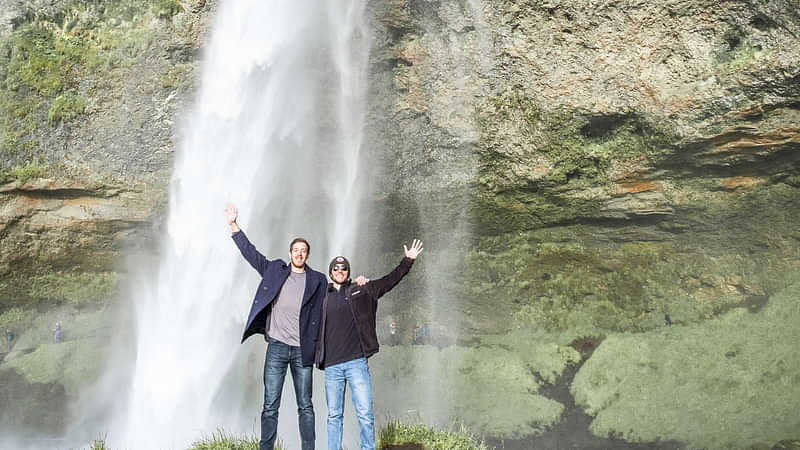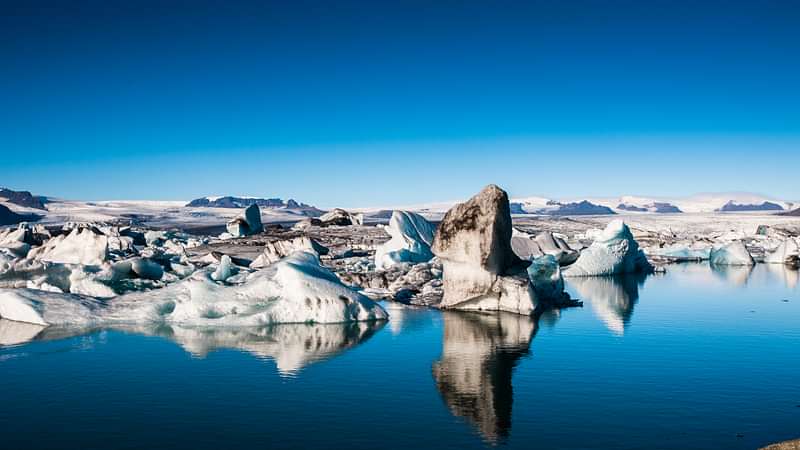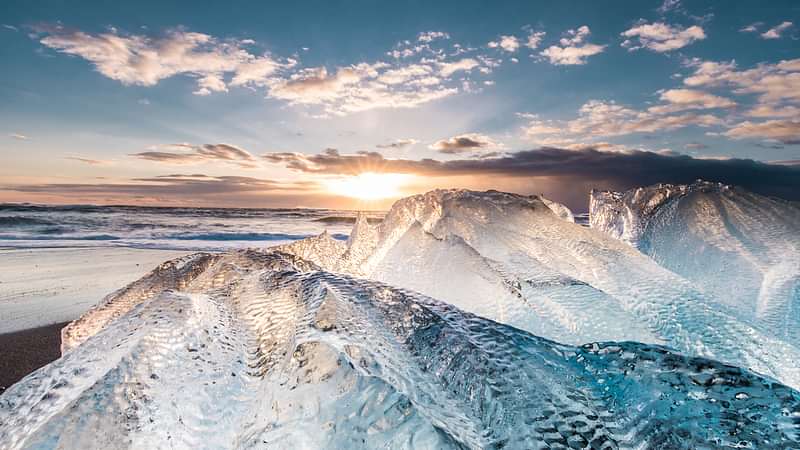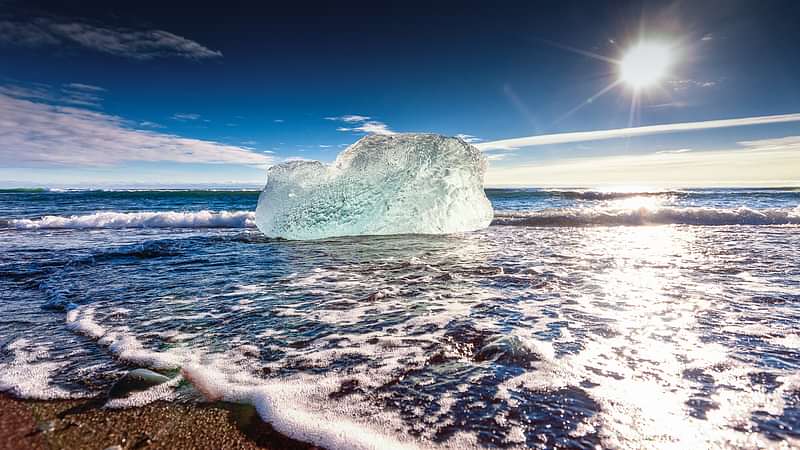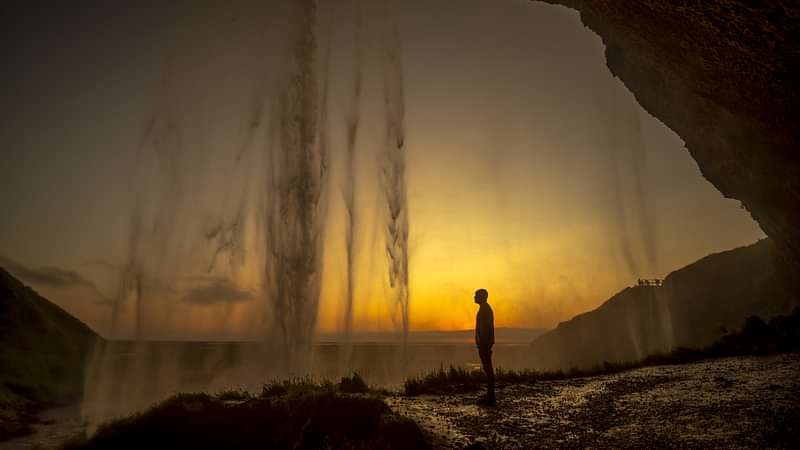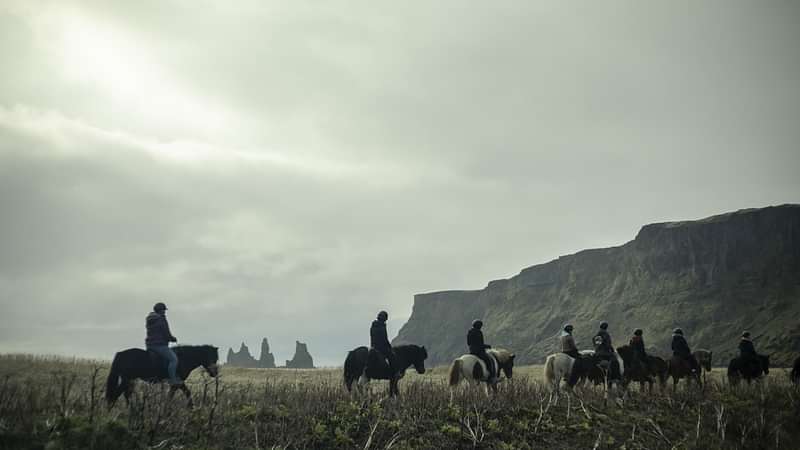 Description
Join us on the classic Jokulsarlon Glacier Lagoon day tour from Reykjavik, traveling along South Iceland to see many landmarks and highlights, and roam in-between the icebergs in the glacier lagoon.
This day tour to Jokulsarlon, Iceland's most beautiful natural attraction, takes 14 hours, guiding you along the south shore of Iceland via the Ring Road, a region that hosts a diverse range of landscapes, colors, and forms leading all the way to Iceland's crown jewel.
One of the highlights is to take a boat trip in the Jokulsarlon Glacier Lagoon, sailing by the amazing icebergs, seeing their brilliance, and appreciating nature's purest form and untouched beauty, next to the breathtaking glacial wonder of the black volcanic ash, and crystal ice-speckled, Diamond Beach.
We stop at several destinations during the scenic ride along the south coast. Visiting the beautiful hidden gem Stjórnarfoss waterfall. At the charming seafront village Vík í Mýrdal, we have the option to stop for dinner, and take in the view of the Reynisdrangar sea stacks, standing formidably just off the shore. Next up is Seljalandsfoss waterfall, one of the most photographed waterfalls in Iceland, famous for the cave behind the cascade, which you can walk through to enjoy the scene from a different perspective. Then we will head back to the capital.
---
Highlights
Jökulsárlón Glacier Lagoon
Glacier lagoon boat ride
Diamond Beach
Fjallsárlón Lagoon
Stjórnarfoss waterfall
Vík í Mýrdal
Reynisdrangar sea stacks
Seljalandsfoss waterfall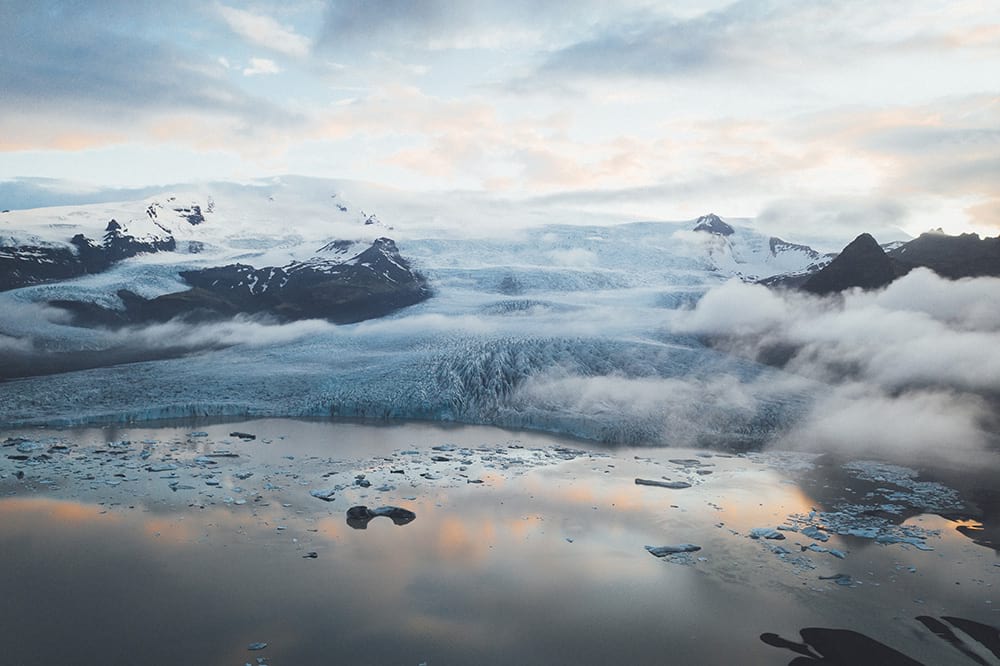 Photo by Harshad Kale on Unsplash.
Fjallsárlón Lagoon
The first stop of the day is at Fjállsárlón, a stunning lagoon with the immense Fjalljökull and Vatnajökull glaciers reaching all the way to the lagoon's surface. Indeed it is these glaciers that supply the lagoon with the icebergs that float and bob all over.
Though smaller and less famous than the more heralded Jökulsárlón, this location has the benefit of much fewer visitors, allowing you to enjoy the magnificent views in relative tranquility.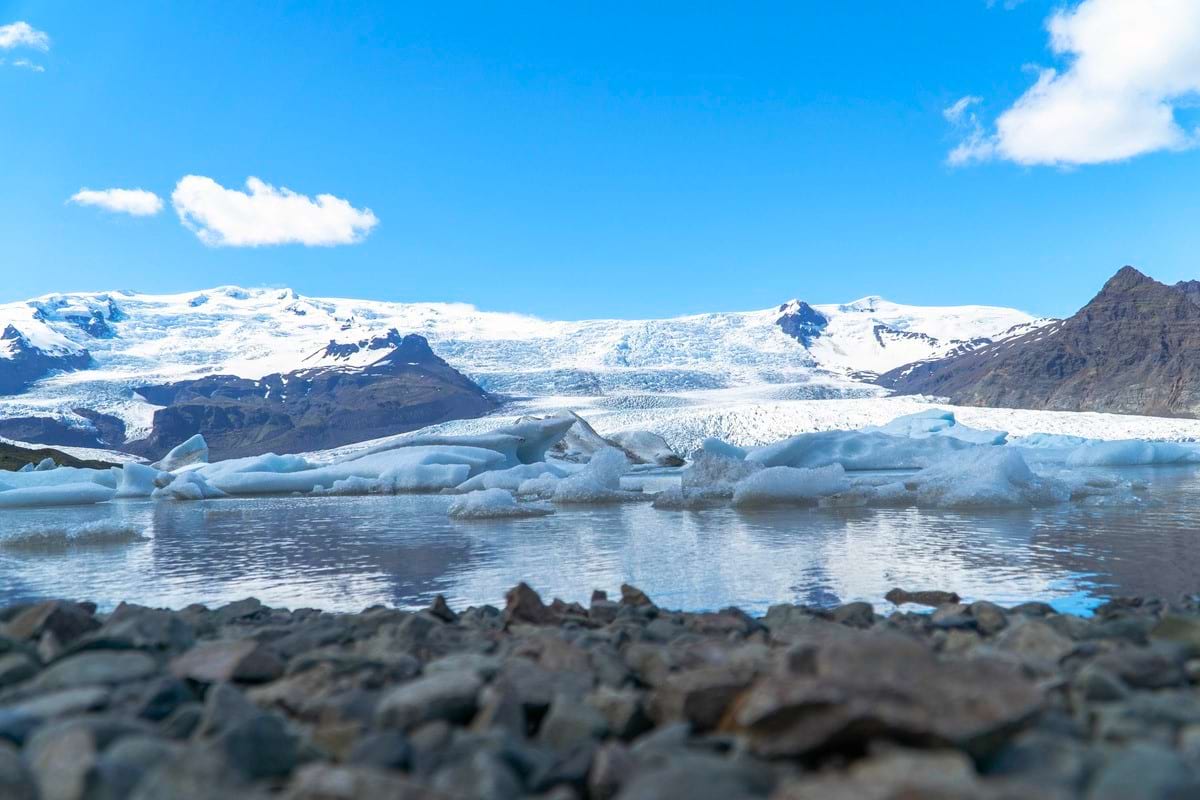 Photo by Maarten Wijnants on Unsplash.
Jokulsarlon Glacier Lagoon
Iceland's largest glacier, as well as Europe's most voluminous one, the Vatnajokull ice cap, has created many glacial wonders, and the most famous of all being the Jokulsarlon Glacier Lagoon. When the edge of Breidamerkurjökull, one of its mighty glacier tongues, breaks away, the glacial meltwater feeds the lake at its foot. Huge blocks of ice wander in the cerulean lagoon and then drift towards the ocean. The natural phenomenon contributed to Jokulsarlon Glacier Lagoon's ever-changing appearance.
The glacier lagoon is also a natural habitat for wildlife in summer, if you are lucky, you may spot some seals swimming or lying on icebergs, and Arctic Terns chirping near and far.
This area is within the Vatnajökull National Park, a natural wonderland. In winter, blue ice caves are the most popular attractions and Jokulsarlon is the highlight all year round. The unique beauty also inspired many moviemakers, including the creators of two James Bond movies.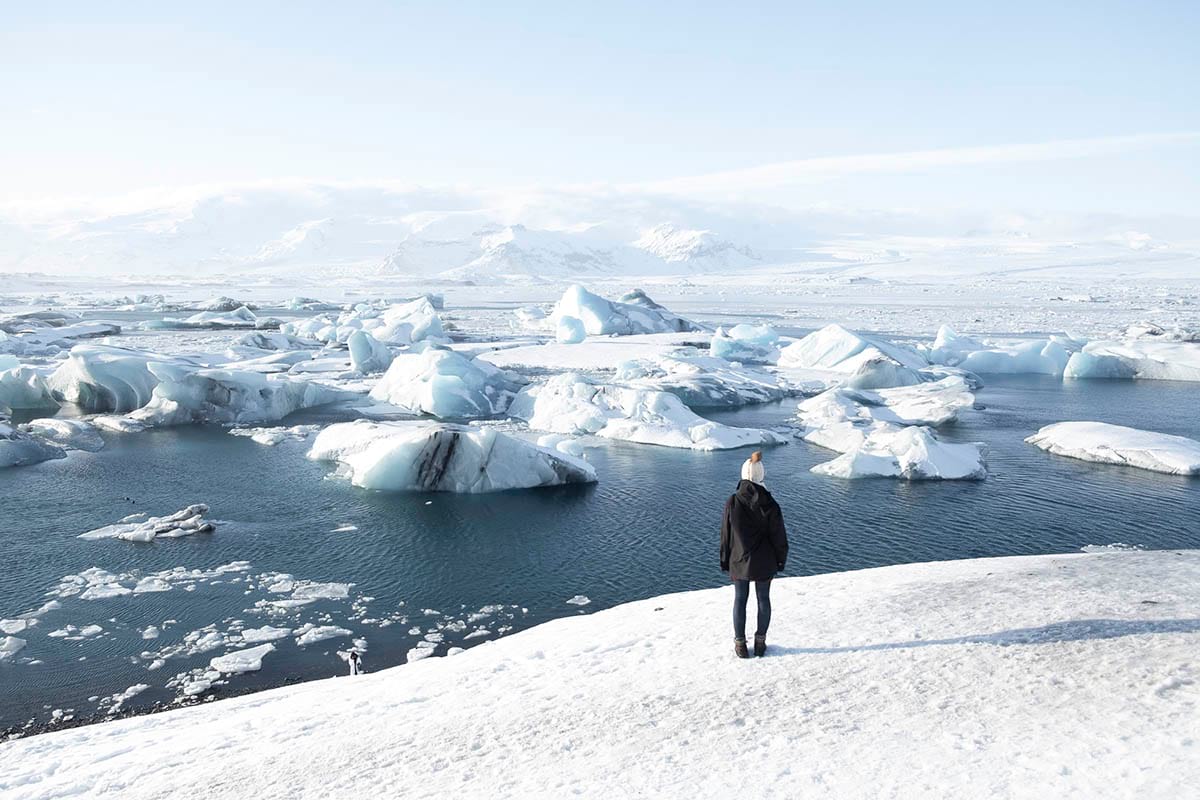 Diamond Beach
The Diamond Beach, located next to the glacier lagoon, gets the sparkling name from its unique combination of velvety black sands and hard glistening ice pieces. Blocks of icebergs in different shapes and sizes stay silently on the beach as waves come and go, creating a breathtaking rhythm of nature, which can only be found in Iceland. A popular spot for photographers and nature lovers to explore extraordinary Iceland is right in this place.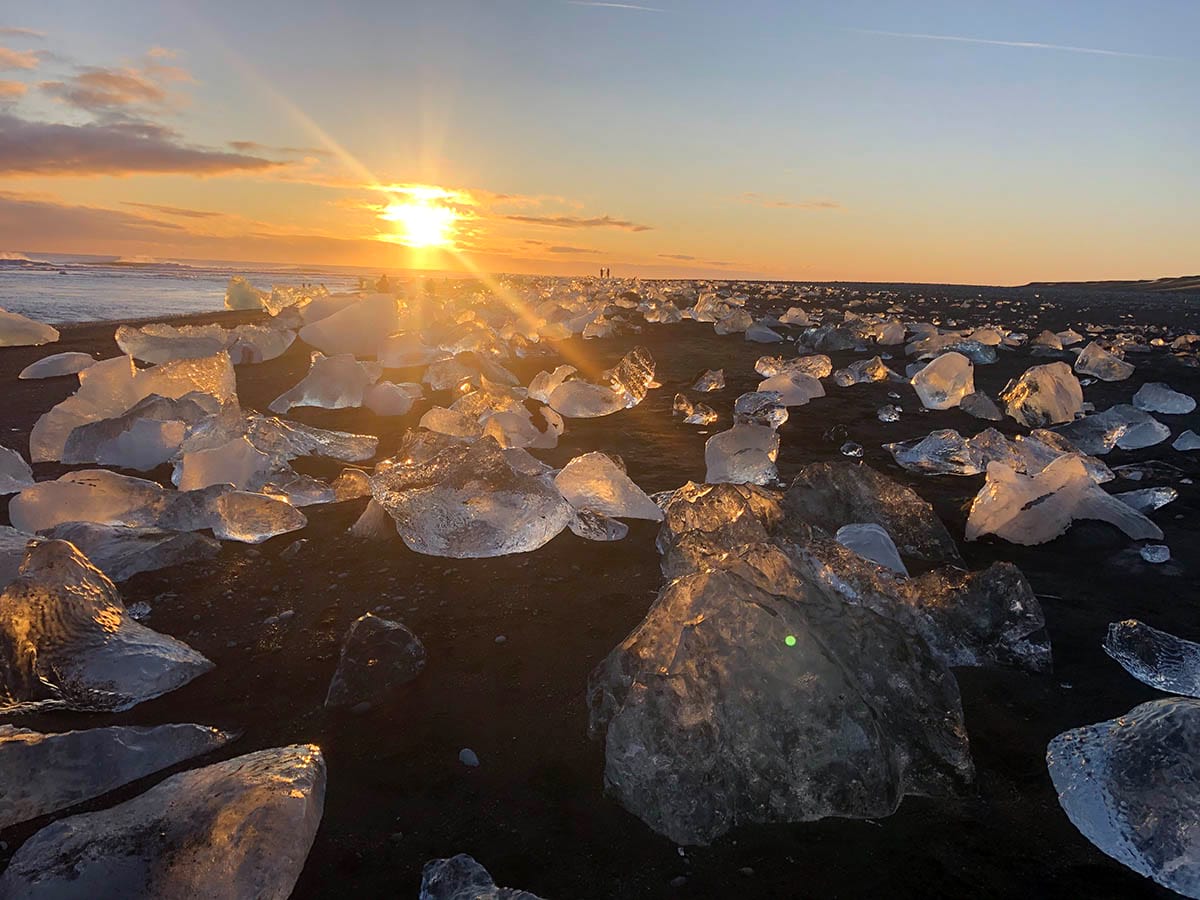 Glacier Lagoon Amphibian Boat Tour
The amphibian boat tour at Jokulsarlon Glacier Lagoon is a 30-40 minute excursion, taking you among the floating icebergs. The exciting trip offers a perfect opportunity to explore the glacier lagoon and its essential features up close. You will be accompanied by an English-speaking guide who will share the ins and outs of the geology and formation of the lagoon, and you also get the chance to hold and taste the ice that is at least 1000 years old.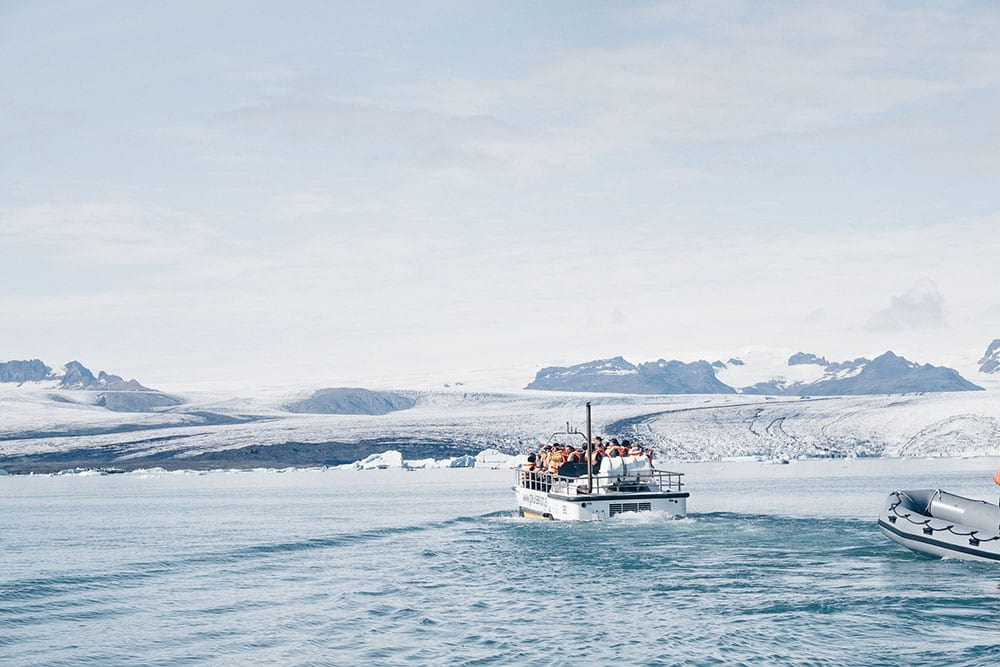 Stjórnarfoss waterfall
After experiencing the adventures and seeing the natural wonders of Vatnajokull National Park, we will head back to Reykjavik with more wonderful stops along the way. The first stop on our way back is the Stjórnarfoss waterfall, a hidden gem in a historic town, Kirkjubaejarklaustur. Stjórnarfoss waterfall is a two-stage drop - both about 15 meters (49.21 ft) - streaming out mysteriously from a secluded valley with moss-covered cliffs, covering a dome-shaped rock at the bottom, creating a symmetric cascade.
You will experience the less crowded side of Iceland with a fresh view, and amazing scenes.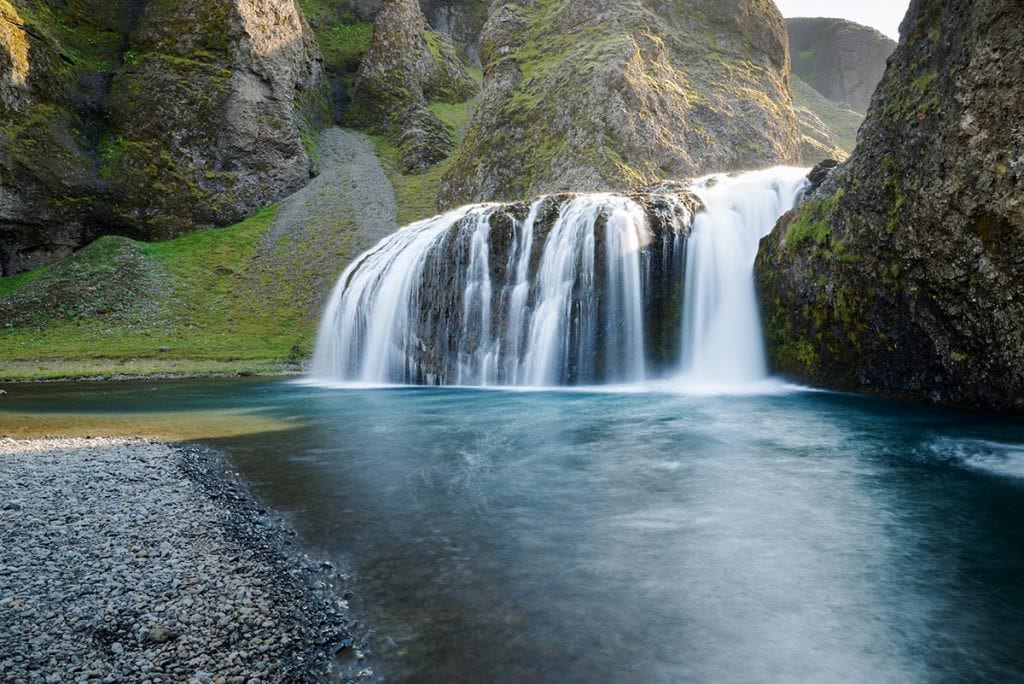 Village of Vík í Mýrdal
The charming Vík í Mýrdal is Iceland's southernmost town, a seafront fishing village hosting 300 inhabitants that doubles as a great place to rest and recharge. The church of Vik is an iconic landmark on the hill, and to the other side, you can see the majestic Reynisdrangar sea stacks from afar and many gift shops are available, where you can find Icelandic signature souvenirs.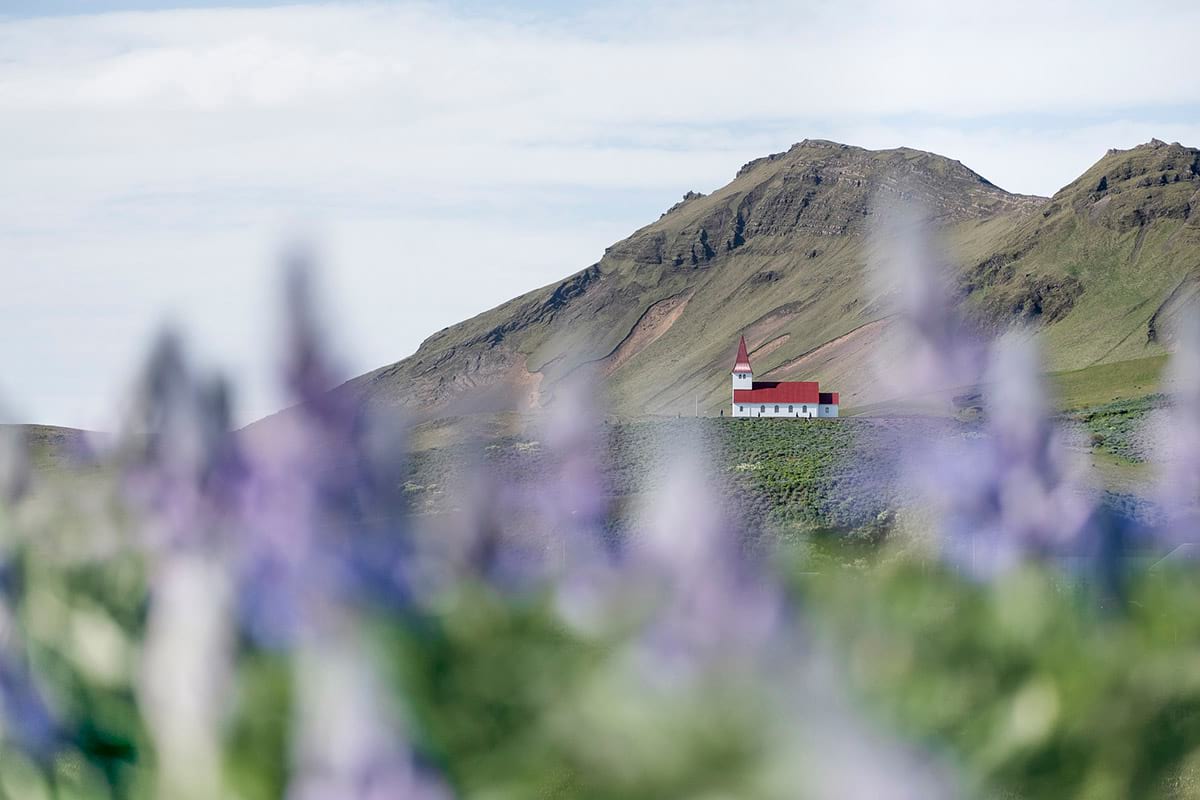 Seljalandsfoss waterfall
An impressive waterfall with a cascade of 60 meters, Seljalandsfoss is one of the most popular waterfalls in Iceland. Its best feature is a cave behind the cascade, which you can walk through, when the condition allows. This special surprise grants visitors a whole new perspective to appreciate the waterfall and its fascinating view of the surroundings.
Seljalandsfoss waterfall comes from the infamous tongue-twisting volcano Eyjafjallajökull glacier. As the fall drops from the concave cliff, you might even see a rainbow in the middle of misty air. Just keep in mind to watch your steps as the pathway can get slippery.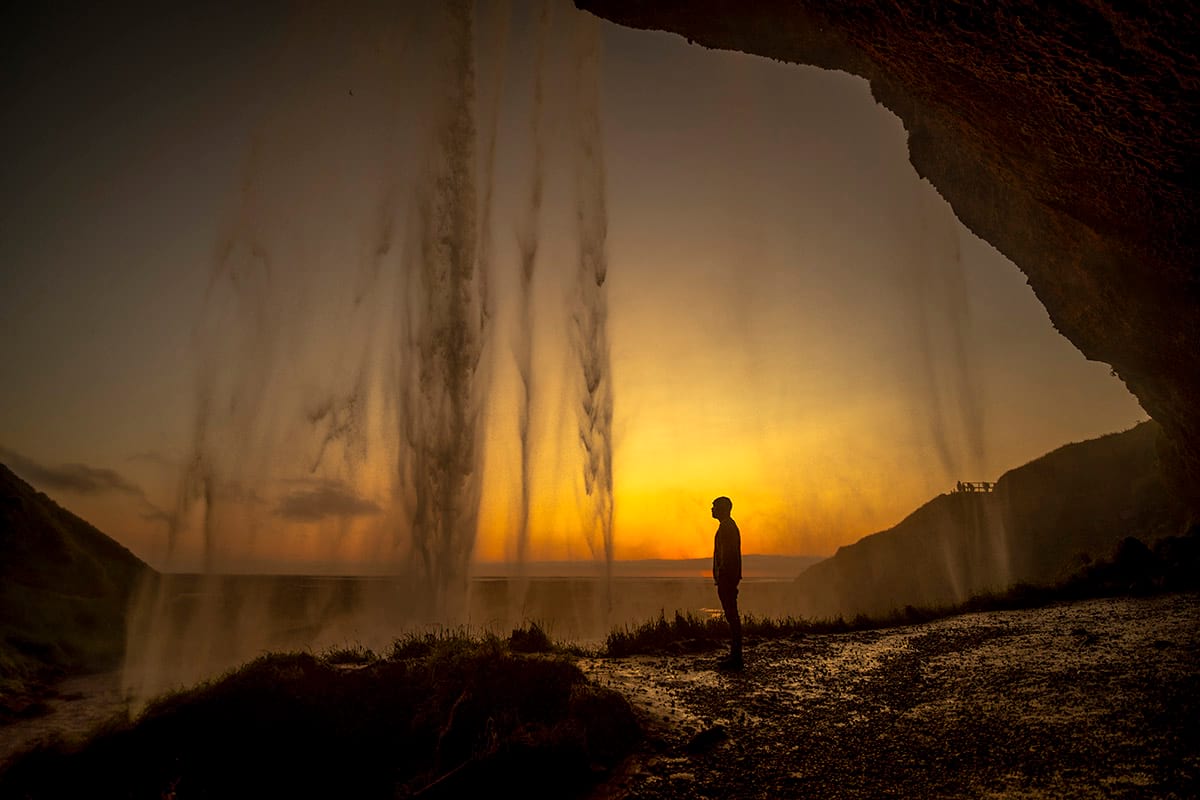 Our Jokulsarlon day tour begins with our fast and efficient pick-up service. We will come to pick you up either at one of the hotels in Reykjavik city center or from one of the designated stops across the city.
Once everyone is on board, we will head out to the south along the beautiful sealine of Iceland for a scenic drive. You will pass by black sand beaches merging with the blue horizon, see white-topped glaciers and mossy lava fields, the entire journey offers some amazing, dramatic landscapes of Iceland.
Our first destination is Jokulsarlon Glacier Lagoon. Praised as Iceland's natural crown jewel, Jokulsarlon is a must-see. It's fed by the glacial meltwater from the mighty Vatnajökull glacier, Iceland's largest and Europe's most voluminous ice cap, and situated adjacent to the North Atlantic Ocean.
When huge chunks of ice break away from the outlet glacier, they become free and start to drift into the lagoon. The appearance of Jokulsarlon is constantly changing with the icebergs coming and going, altering colors and shapes. Nature's artwork.
During this day tour, we invite you to sail with us on an amphibian boat ride to see the captivating icebergs up-close. Sailing among the floating shades of blue, and even holding a piece of 1000-year-old ice, this ride is made to be memorable.
Next to the glacier lagoon is the famous Diamond Beach. The floating icebergs go out to the sea, after a short time left stranded on the black sand beach. There's also a visitor center close by, you can learn all it needs to know about the area.
After the breathtaking glacial experience, we board our bus and head to Vík í Mýrdal, the charming seafront village in the south. We will get some rest and food, or you can get some souvenirs for friends and family. Next up, we will go visit Seljalandsfoss waterfall, another mesmerizing attraction in South Iceland.
This is one of our most popular tours, and features prominently is this Top 5 list of summer itineraries in Iceland - https://go.booknordics.com/en/blog/top-5-itineraries-for-travelling-iceland-summer
The tour takes about 14 hours. Just a reminder, there's no food included in the tour package, but we will make stops on the way so you can get some snacks or meals.
What's included
Professional guide
Free WiFi
What's excluded
Pickup and drop off
Food and drinks
What do I need to bring
Warm, water- and windproof clothing are always useful in Iceland.
All tickets are e-tickets so there is no need to print them out.
Important information
You can purchase a ticket for the boat tour from your guide for ISK 6000. Subject to availability. The boat tour takes around 30 minutes
Food and drinks are not included but can be purchased on the way.
The duration of the tour is 14 hours. Please be aware that the tour could run long if affected by bad weather or other delays.
Cancellation policy
Cancellation fee of 100% if cancelled 1 day or less before departure
Guided Language
Reviews!
Thank you for submitting your review
It is a must do tour when in Iceland. We got lucky with crystal clear sky and bright sunshine. Our driver Tomat and guide Jona were amazing. Yona has a great sense of humor, kept us informed and entertained throughout. The tour is very long but given the scenery, glaciers, landscape, black beaches and the unique lava fields, it is all worth. Special thanks to Tomat for being so amazing and driving us around patiently for such a long duration. Highly recommend this tour and this company to book with.
I booked several tours with different tour companies and this one was by far the best. Jonah is an amazing guide who gives plenty of information about Iceland, its history, geography, people and language. She answers all questions that might come up and adapts the itinerary to choose nicer restaurants and places to visit for us. Even in this long tour she did not seem to get tired and she never loses her temper, even if people were not back at the bus on time or did not turn up at all. With her great humor she covered up all little occurrences to make it a great experience for everyone! Would definitely do it again!
Ega and Michael were formidable guides and we spent a wonderful day with them. Very professional and friendly, Ega did interesting comments and was also very funny! Mickael was a very good and safe driver! Thank you so much!
If you sign up for this sublime tour (which was long, prolific, and transfixing from sun up to sun down) do your best to get on board with "Tommy" and the Magic Bus - I couldn't have imagined a better team. Aside from the amazing sight seeing, Tommy embodies a salty modern man of the Icelandic landscape and tradition; a wry and hilarious entertainer with a wealth of diverse experiences from blacksmith, electrician, to blues musician and proud father, he made this journey far more profound than I would have expected. His tour provides a unique and very engaged look through the prism of Icelandic culture at its incredible landscape with contemporary philosophical anecdotes, historic clarification, a brilliant dose of sarcasm, friendly inclusion and genuine curiosity, as well as refreshing lack of pretension. He dispelled myths and inspired others, and shared his personal narrative with steady stream of knowledge you likely wouldn't get from a tour book. I cannot recommend Tommy's roll enough. The tour itself is gorgeous and mindblowing, but Tommy's voice throughout truly made this experience a deeply insightful one. The bus driver "Magic" is also top notch, accommodating, very safe, patient, and is a true marathon man. This would be my team for any future tour in Iceland!
We had a fantastic experience on this tour. Our guide was impressively knowledgeable in geology, birding, and culture and history of Iceland. He kept up an engaging commentary throughout a 14 hour tour and ensured the comfort of all. The glacial lagoon, beaches and waterfalls should not be missed. Hjörtur Howser is nothing short of a rockstar.