Films shot in Iceland: Alien Worlds and Mystical Volcanoes
Iceland is a place of immense beauty and charm, but some of its landscapes are so breathtakingly alien that it inspires movie makers to film their wildest and weirdest environments right here.
Visit the alien landscape
Iceland is a place of immense beauty and charm, but some of its landscapes are so breathtakingly alien that it inspires movie makers to film their wildest and weirdest environments right here. From the frozen planet of Hoth, where tauntauns roam through frozen wastelands, over the alien backdrops of Oblivion and Interstellar, all the way to the frozen forests and glaciers north of Castle Black, Iceland's vistas were used to depict lands of both beauty and danger. So, put your hiking boots on, dress in warm and waterproof clothes and join us in a hike through the best known movie locations in Iceland.
Batman Begins (2005)
Vatnajökull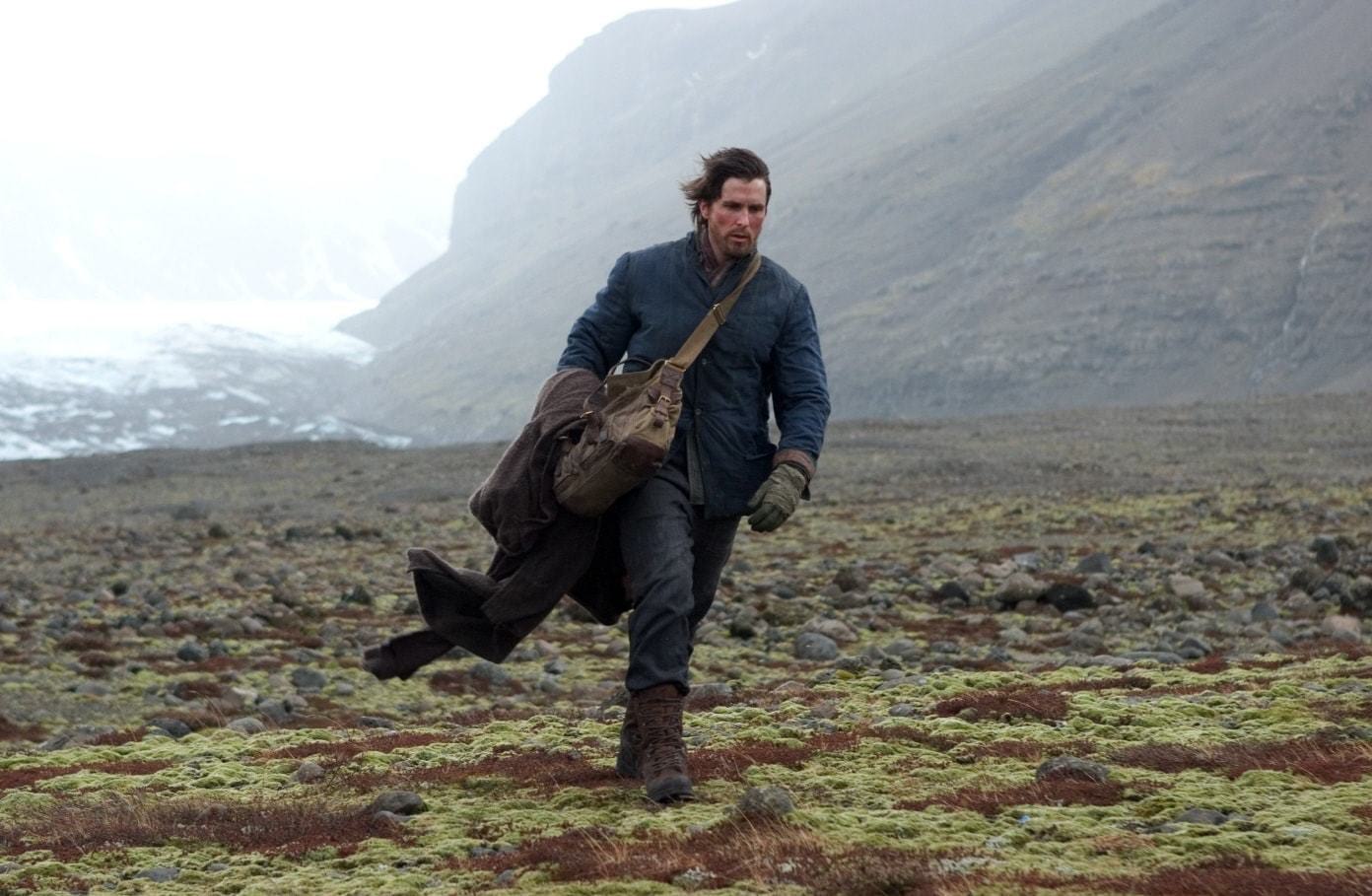 In Batman Begins, Bruce Wayne travels to Tibet to train under the watchful eye of Ra's Al Ghul, the leader of the League of Shadows. Since frozen lakes of Tibet weren't very accessible due to the political situation of the country, Nolan shot the scenes on Vatnajökull, the biggest glacier in Europe. The incredible combat scenes set against the even more incredible glacier make for one of the most memorable moments of this gritty re-imagining of the story of Batman. Before you decide to drop everything and run to Vatnajökull to join the League of Shadows and become a master of ninjutsu, remember that Liam Neeson is not there waiting to train you. Even though it will not shape you into the Dark Knight, the hike on the glacier will most certainly be one of the most memorable moments of your stay in Iceland.
Interstellar (2014)
Svínafellsjökull

Some of Iceland's backdrops are as lovely as if they were plucked out of a fairy tale, but some are so alien that they can represent alien worlds without any special effects. One of those locations is Svínafellsjökull. In Interstellar, it represents Mann's planet, an ammonia-laden atmosphere world near a supermassive black hole. As Matthew McConaughey struggles for his life, we are treated to a few impressive shots of the glacier in all of its glory. Even though, in the movie, the landscape is unforgiving, in real life it is more welcoming and you most certainly will not need a full life-support suit to visit it.
Journey to the Center of the Earth (2008)
Snæfellsjökull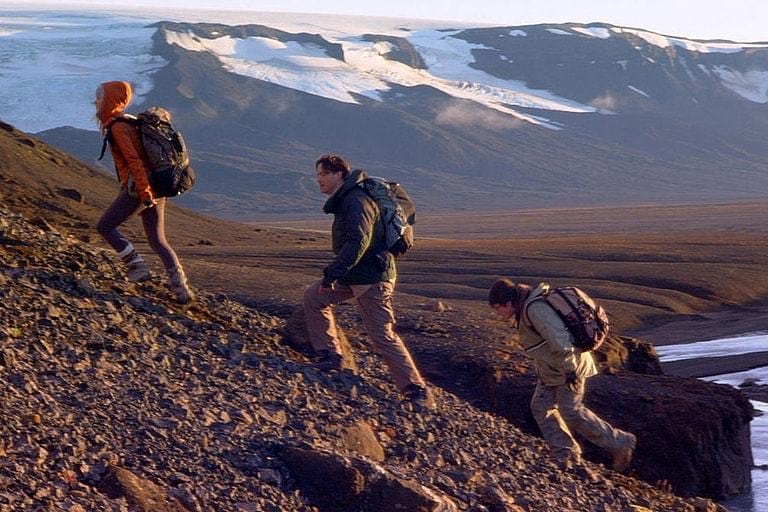 When the script calls for Brendan Fraser to climb into a volcano, the only reasonable location for filming is right here, on Snæfellsjökull. The entire movie is based on the idea of Hollow Earth, first dreamed up by Jules Verne, and the access paths leading to the underground world through the volcanic tubes. The clues that lead the main characters to Iceland's volcano are found in a copy of Snorri Sturluson's Heimskringla and soon after their discovery they are on their way to climb and enter the amazing 700,000 year old Snæfellsjökull. While it cannot be guaranteed that you will find underground caves filled with dinosaurs, the volcano itself is enough to take your breath away.
Prometheus (2012)
Dettifoss, Hekla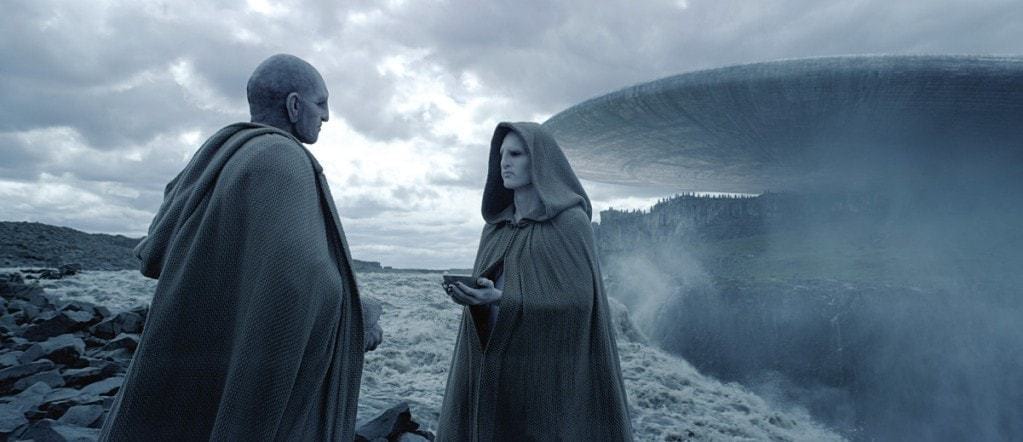 The opening scene of Prometheus is one of the most impressive scenes I have seen. An ancient alien, standing on the top of a waterfall, then jumping down and creating seeds of life by dissolving himself in the waters below. Even though Ridley Scott says that it could be any planet, at any time, I am prone to believe that the ancient Engineers, with their flair for epic, chose Dettifoss to create life on Earth. Later in the movie we are treated to even more Icelandic landscapes with Hekla standing in for the landscape of the alien moon LV-223 where the protagonists find a spaceship filled with corrosive, DNA-changing fluid. If you decide to visit Hekla, I guarantee that there is no corrosive, DNA-changing fluid there. As far as we know. It could erupt at any time, though; it is a few years overdue anyway.
Star Trek: Into Darkness (2013)
Vík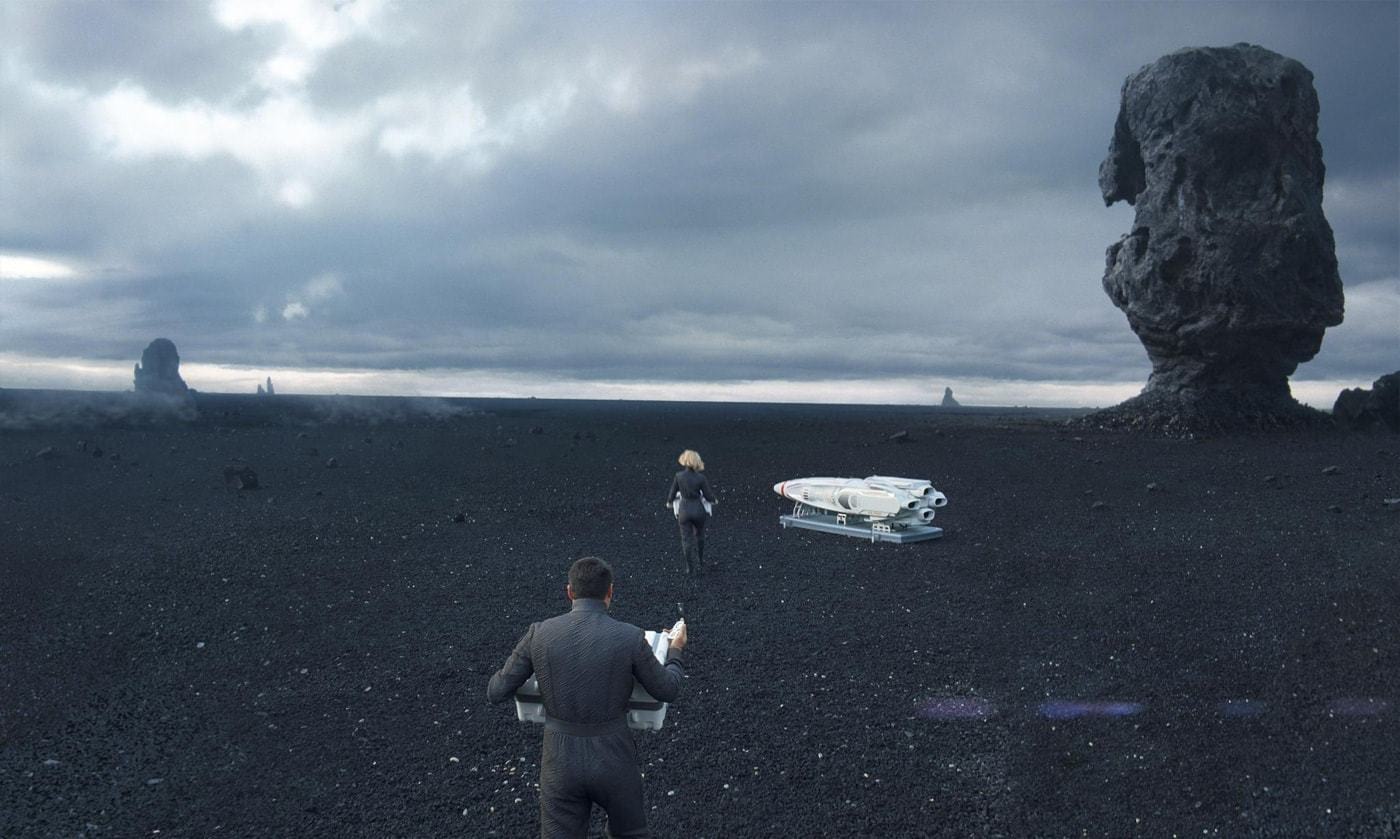 Where else to open and disarm a torpedo but on a deserted planetoid and where else to film a volcanic surface of said planetoid but on Iceland's black sand beach at Vík? As the two science officers beam down to discover the plot-changing content of the torpedo, we are swept away by the beauty of the black sand, with Iceland, once again, representing an alien landscape that takes our breath away. When you visit the black sand beach, please do not bring any photon torpedoes because our transporters have been rerouted through the main deflector dish and we cannot guarantee a safe beam-out. Do bring water-resistant clothing, good boots and a camera. Oh, and a tribble. We'd love some tribbles!
Stardust (2007)
Hafnarfjörður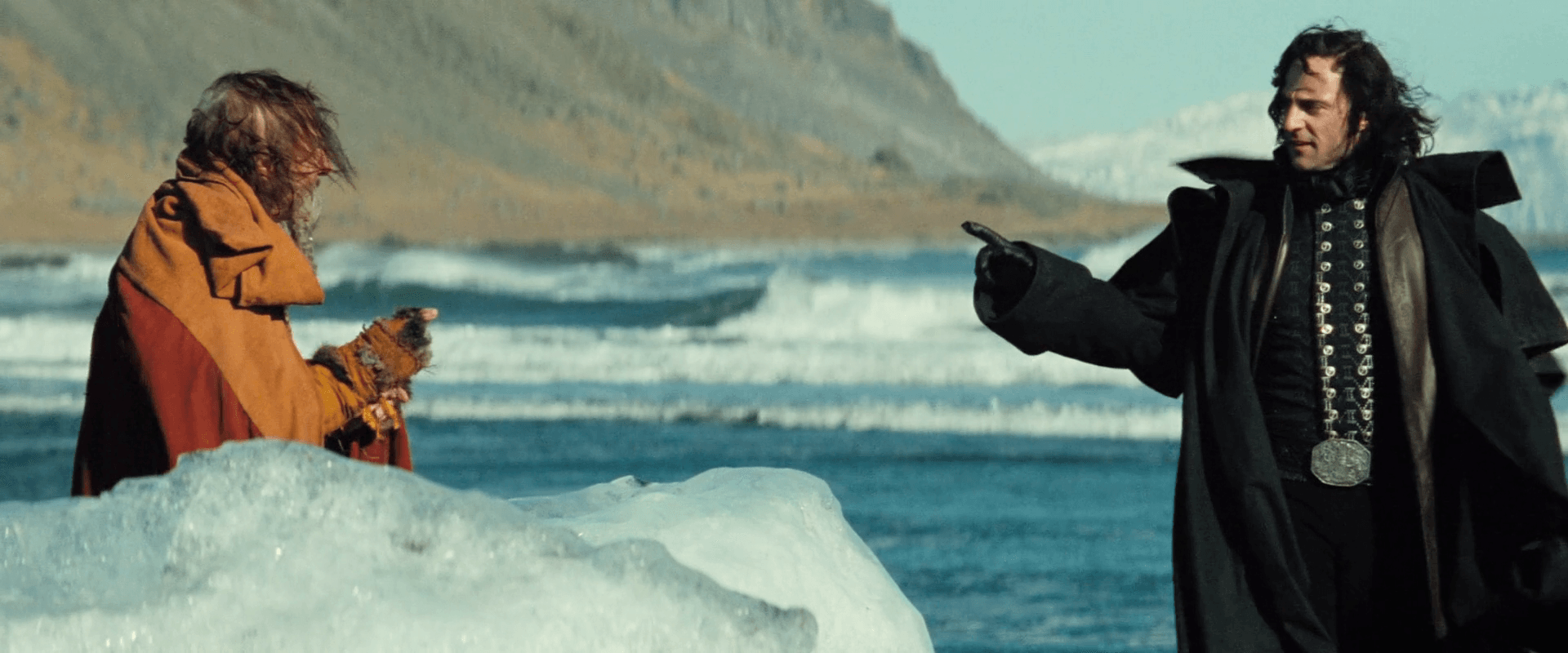 As far as fantasy movies go, this one has a special place in my heart. It is a heartwarming story of a man who travels far and wide to prove his love, but ends up finding his love (and luck) in the fantastic lands of Stormhold. It also features Robert De Niro as a flamboyant cross-dressing airship captain. When a prince that is trying to win a kingdom consults an unfortunate soothsayer, he does so on the icy beach at Hafnarfjörður, on the southwest coast of Iceland. Even though the incredible ice-covered terrain looks more like a great CGI, it is real down to the huge blocks of ice scattered on the ground and you can see it if you decide to visit the icy beach.
Oblivion (2013)
Gullfoss, Jarlhettur, Hrossaborg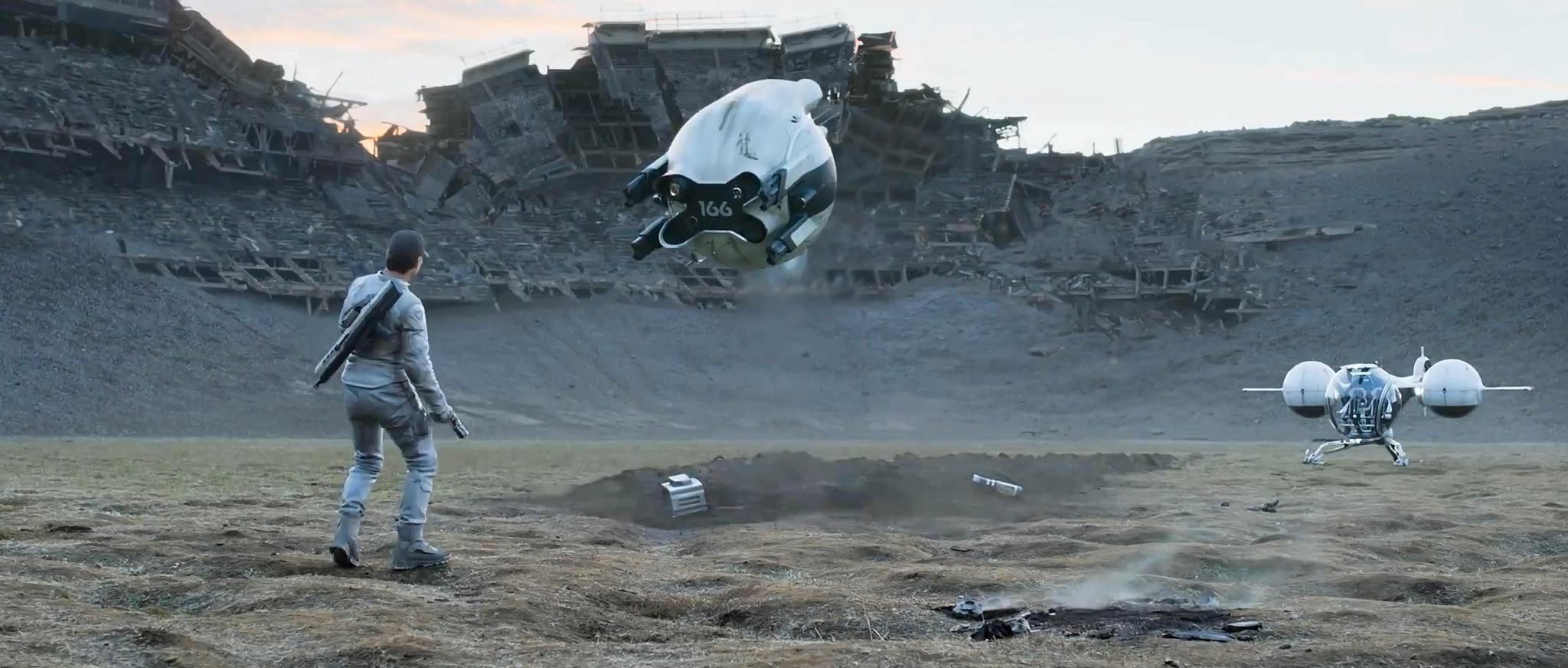 In Oblivion, the Moon was destroyed by aliens and the Earth is left a barren wasteland. The wide shots of that wasteland were filmed in Iceland, with the post-war version of the Empire State Building observation deck constructed in Jökulheimar. The same area was used for the shots of Tom Cruise riding the futuristic Moto Bike, making for some surreal scenes that seem like they would better belong to a futuristic moon landscape. Some shots of Eyjafjallajökull were taken from a helicopter and the cliff where Tom stops to survey the world, is Jarlhettur, not far from the famous Gullfoss waterfall. Once again, Iceland is perfectly playing its part of an otherworldly setting.
Thor: The Dark World (2013)
Þóristindur, Dómadalur, Skógarfoss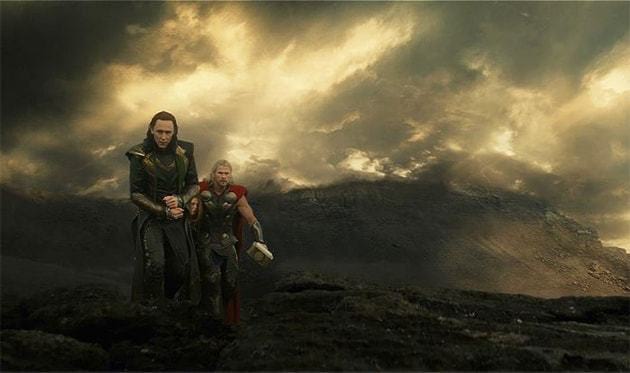 We have already established that movie makers like placing their alien landscapes in Iceland, but what better place to depict Svartálfaheim, the realm of the ominous black elves, than the land of ice. This Marvel featuring Thor is one of many Marvel Cinematic Universe movies to come out in the last decade and plays a significant role in the franchise's Infinity Gem arc. When the protagonists travel to Svartálfaheim, Loki is fatally wounded and Thor cradles him in his arms, promising to tell Odin of his sacrifice. This entire scene takes place around Landmannalaugar in southern Iceland while the mountains and lakes of Asgard are depicted by aerial shots of Dettifoss, the same waterfall that was the source of life in Prometheus. For those interested in seeking out the realm of the black elves, or at least the filming location of Thor: The Dark World, Landmannalaugar is a great hiking site that you can spend the entire day exploring and still not have enough of it. Chris Hemsworth and Tom Hiddleston probably not included.
Star Wars: The Force Awakens (2015)
Mývatn lake and Krafla volcano

We all have to admit to trying to use force at one point in our lives. We also have to admit that waiting for The Force Awakens has been excruciating, but well worth it. In the newest instalment of the epic space opera series that made so many hearts almost explode of happiness, the scenes of the battle between the First Order and the Resistance were filmed around lake Mývatn and Krafla volcano. It is apparent that Iceland was a great choice to film the scenes belonging to the frozen planet of Hoth, but unfortunately, there are no wild tauntauns to catch and ride. If, on the other hand, you don't care about wild tauntauns and you want to see incredible landscapes, you should take a walk through the untamed frozen wilds of lake Mývatn and Krafla volcano. If you plan on yelling "TRAITOR" while you're here, you have to bring your own Z6 baton.
Lara Croft: Tomb Raider (2001)
Jökulsárlón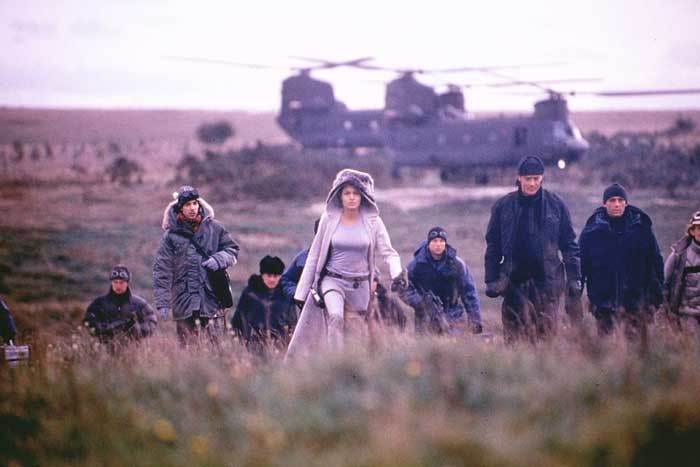 When everyone's favorite tomb raider travels to Siberia, she boards the helicopter in North Hampshire, lands in Salisbury Plain (also in Hampshire), but she actually travels to Jökulsárlón Glacier Lagoon, east of Skaftafell National Park. Although it does not contain a tomb with a giant model of the solar system, Jökulsárlón will make you feel like you are exploring ancient mysteries, but will also impress you by the floating semi-transparent icebergs that make the hike in the lagoon an unforgettable one. There are boat tours as well and the sights are amazing.
James Bond: A View to Kill (1985) and Die Another Day (2002)
Jökulsárlón
The makers of James Bond were so enchanted by Iceland that they decided to shoot not one, but two 007 movies on Jökulsárlón. In A View to Kill Iceland stands in for Siberia and the scenes were shot on the glacier lake, on the southeast tip of the huge Vatnajökull Glacier and in the tiny hamlet of Höfn on the southeast coast. In Die Another Day, Bond travels to the bad guy's ice palace in Iceland. The subsequent scenes of the intense ice chase were filmed on the frozen lake Jökulsárlón. Visiting Jökulsárlón will not only make you feel like a daring tomb rider, but also as a super secret agent here to save the world. All in all, it's a trip worth considering.
Bonus: Game of Thrones
Þingvellir, Svínafellsjökull, Skaftafell, Smyrlabjörg, Vík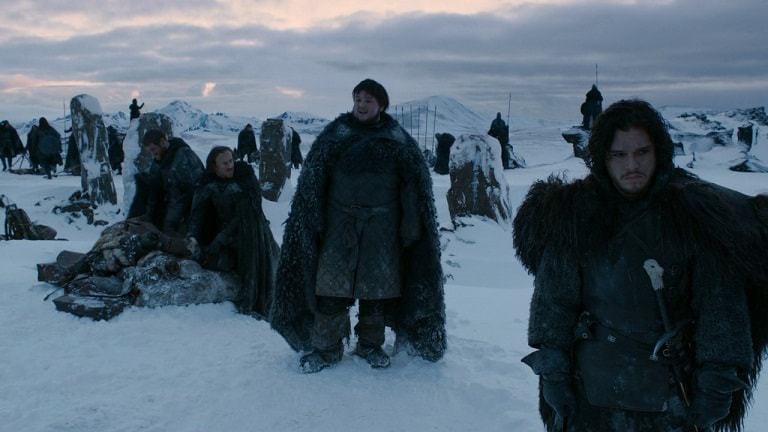 Yes, we are aware that the title says "movies", but while writing about filming in Iceland, it would be a real shame not to mention The Game of Thrones. In this series, there are lands of always winter, just north of the Wall that separates the civilized world from the Wilds. The brave rangers of Castle Black (which includes everyone's favorite and, until recently, very much "Schrödinger's" Jon Snow) venture north to explore the Wilds and protect the Seven Kingdoms from all dangers that could lurk in the cold mists north of the Wall. Most of the scenes that take place in the Wilds were shot in Iceland's amazing locations which include the lava field Dimmuborgir (as the wildling camp), Vatnajökull (as the mysterious land north of the Wall), Höfðabrekka (as the jagged peaks of Frostfangs), and Grjótagjá (as the cozy cave where Jon and Ygritte take a skinny dip). Þingvellir National Park was used to depict the mid-Westeros locations that Arya and The Hound traverse on their way to her relatives and his piles of money. If you are interested in seeing all interesting locations where The Game of Thrones was filmed, there are specialized tours that trace the footsteps of your favorite characters and end in Þjórsárdalur valley where the creepiest and bloodiest scenes of the Massacre at Hardhome take place. In case you are worried about the wights, they were all removed from the area after the battle and shipped back to their respective homes.
---