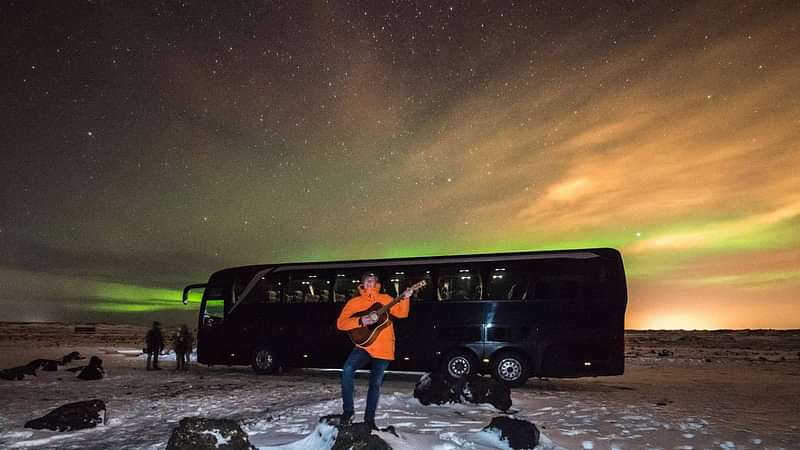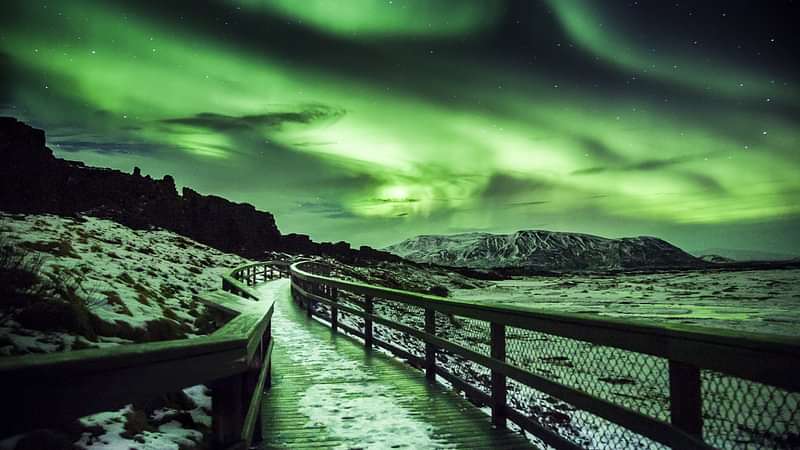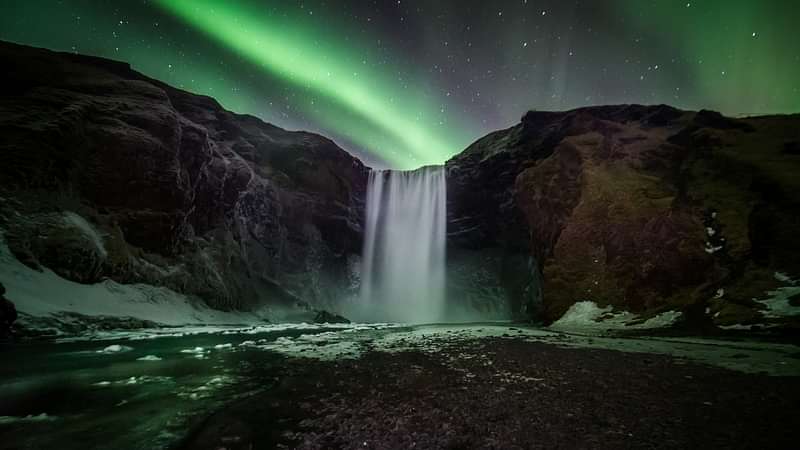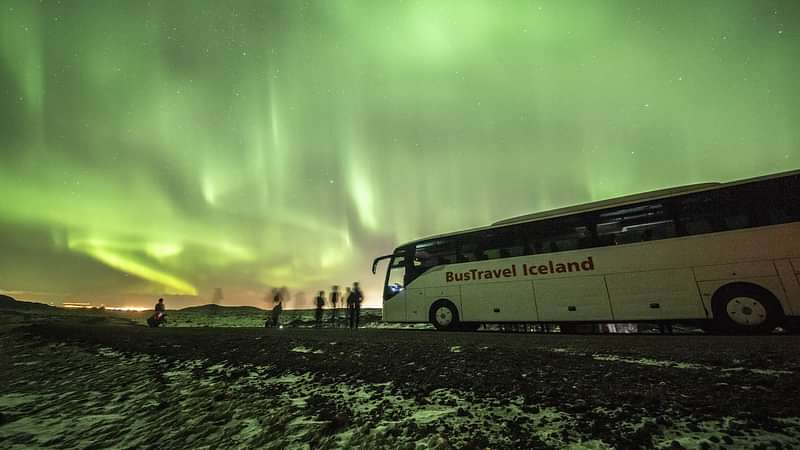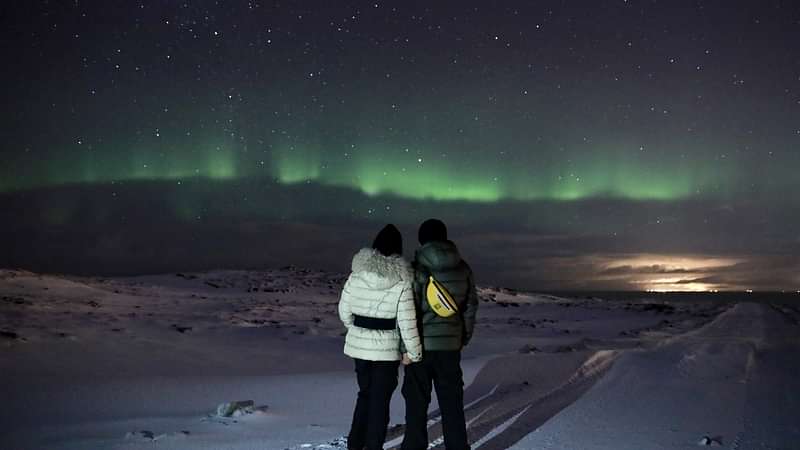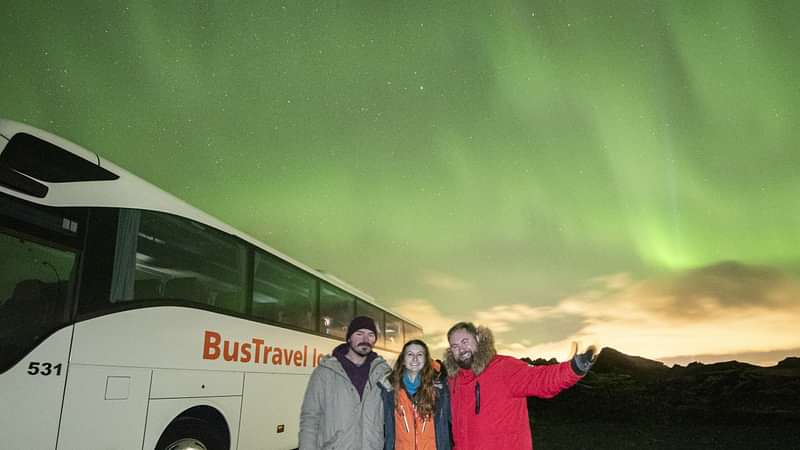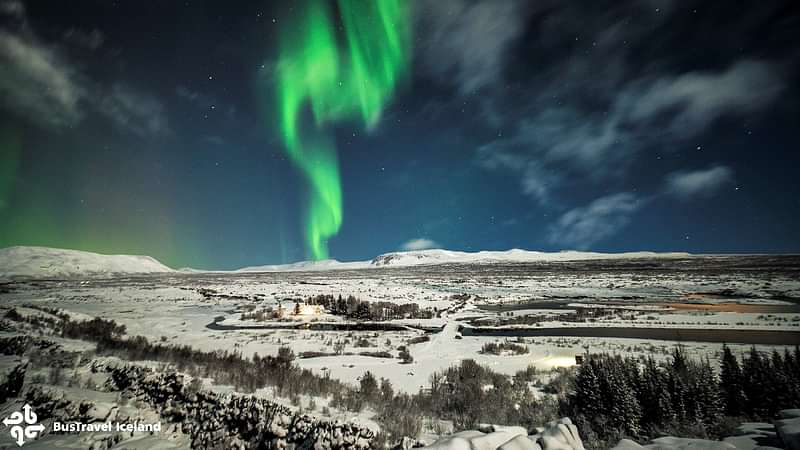 Description
Art and science collide for an evening of hunting through the Icelandic countryside for an opportunity to spot the elusive Northern Lights. Many people come to our shores from all over the world every winter to see them.
What begins as solar winds from the sun striking against the magnetic field of our planet like a piece of flint touching steel quickly translates into ribbons of white and green, sometimes even red and purple that flutter through the sky like paper bags caught in the wind. Sometimes the effect is subtle, just a flicker of light against the dark whilst other times it can feel like a full orchestra, but no matter how the lights may present themselves they are always utterly captivating. 
Join us on a northern light hunt experience and our experienced and enthusiastic guides will do their level best to hunt down the lights and create special memories for you. The night will be completed with interesting information, legend and stories about the phenomenon, topped with a special recipe of hot chocolate to stay warm. 
Your tour ticket comes with a free ticket to the Aurora Museum Reykjavík. The exhibition is a great introduction to the science behind this phenomena and also provides valuable insight into the best methods to photograph this lights. You can visit the museum at any time on the day of your booking and we can even collect you from there for your tour. 
For those nights where mother nature is not on our side, you will still be treated to a night sky full of stars and an ability to rebook and try another roll of the dice.
Reviews!
Thank you for submitting your review
Our bus driver (Georgios) and our guide (Josep) were great. The buses were on time, clean, and safe. Josep prepared us for the possibilities of success. He explained that our forecast chances to see the Aurora were "good" based on a Kp-index value of 2. Josep assured us of 2 things: 1) that was going to be cold and 2) that we were going to have hot chocolate. Depending on winds, clouds, and a full moon we were going to see something. They delivered the first two and over delivered on the lights and good times. Great show!
It was one of the memorable northern light chasing. Thanks to the expert guide Daniel, Highly recommended.
We simply had one of our best adventure on 4th March '22. This tour is the one to choose if you are hunting the NL. It was easy to book and also to reschedule, since the first night we didn't catch the lights. They are available on the phone and via email - there was no occasion we couldn't reach them - and they have pick up provided in Reykjavik, they send all info in emails frequently. Our tour guide was Geri (the best of all) and I do want to mention our driver Maciek also, since despite the snow and closed roads he did take us to the best spot and we felt safe the whole time with him, he is quite a character btw. Geri simply made this night unforgettable, picking the spot, talking about Aurora, helping with phone and camera settings to have the best pictures possible and giving us the night we never forget. Thank you Bustravel, highly recommend*****! (Oh, they had hot chocolate also, but we even forgot that during the amazing show.)
What a great tour! Everything was so good especially Daniel our guide, he was so knowledgeable about everything from the lights themselves to the camera settings on our phones and it's down to him we managed to see the lights! After a very cold wait in the middle of the national park he said we'd wait another 20 minutes with our hot chocolates (best we've had!) just in case despite the fact many other tours had already gone home and just wow. Not only did we manage to see the beautiful northern lights my partner and I got engaged under them and Daniel captured the most magical engagement photos. Would 1000% recommend!
非常棒的旅行体验,客服负责敬业,回复信息很及时,推荐推荐
We couldn't see anything. Daniel our guide was the best. We 're coming back next year to try again
Me and my family took the northern lights bus tour and we enjoyed very much. The trour was rescheduled two times because of the storm and the bad conditions, and every time there was a change they write and ask you in case you prefer to cancel. The BusTravel agency is a great company, the pickup is always on time. Regarding the northern lights bus, they have another car that goes ahead and is looking for clear sky and lights, so the bus knows were to go. When we were out of the bus looking for the lights, they gave us hot chocolate. In case you don't see northern lights, they allow you to repeat the tour for free. I really recommend you this company because of its transparency, kindness, good guides, and in case you need any help or change, they answer your email very quickly so you can solve any problem you have. We 100% recommend using this company not only for this tour, but for all the tours in Iceland.
The tour was good - enjoyed the drive and the guide was fun. Sadly, the lights were low key that evening.
Patience is a virtue when wanting to see the Northern Lights. However having spoken to other people who were in search for the lights the same day and were unable to see them, our tour guide took us out to the coast and after about 3 hours we managed to get some truly amazing pictures. Worth the wait, but you really do need to be patient. I have to rate this 5 stars as others who had booked with other companies were unable to see them that day.
We had a great evening chasing the Northern Lights guided by Daniel AKA "The Aurora Whisperer", Although we did not manage to get sight of the lights, we hope to take advantage of the free re-book next time we come to Iceland. Daniel was full of useful information an explanation which meant that the trip was still enjoyable. He was also in contact with other tours to try and find clear skies. He also helped us set up our cameras to best capture the lights if they appeared. The bus was comfortable and warm. We had some hot chocolate and some Lava Rock Chocolate which all added to the experience. Highly Recommended. many Thanks.
A good organisation, very professionals guides.
First time the tour was booked for Monday evening but we only had several snow storms and strong winds. Maybe the place was not the best - there was a strong light in little distance, I know that was not enough for not seeing aurora but that light was annoying. Next day we waited till midday for the rebook of the tour and in the end we had to write to the customer support. One from our six in the group had to write repeatedly during all afternoon/evening and finally got the rebooking. Second evening was totally different - a fantastic experience. The guide, Daniel, was brilliant with tons of information, including stars and constellations. His radio voice was fantastic! ;)) He helped us in having very decent/profi pictures by using his iPhone and shared them afterwards. Many many thanks, Daniel!
Awesome !! We could see the northern lights and the show was soooo wonderful ! Thanks a lot !
Great tour. Our guide Emma was very knowledgeable of the Northern Lights and knew a lot of the science behind them. We where lucky enough to see them on our first stop and we where shown how to set up our phones and those who had cameras where given advice on what settings to use. I'm an amateur astronomer and I learned something new that night. Totally recommend this tour just bring plenty of warm clothing and if your using a mobile phone try and bring a tripod or stand for your phone as you need long exposure shots.