Icelandic Christmas: December 24th
Written by Sam Daniels - 24 Dec 2018 2 minute read -
Kertasníkir (Candle Stealer)
The final Yule Lad and the one considered to be the most wicked comes to visit on the 24th of December which is the day that Icelanders celebrate Christmas. The story of this Yule Lad is the one that perhaps does not translate to modern times as well as the others but this Yule Lad was known for stealing and eating candles. In the times when these stories were conceived candles would have been made from tallow, a kind of rendered animal fat, and would have been the main source of light for most homes. Today candles are far less appetizing and also far less essential but he comes to steal them all the same.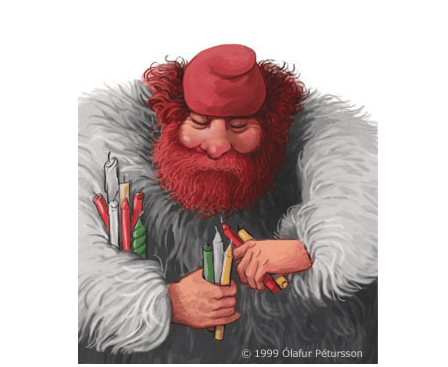 The thirteenth was Candle Beggar –
´twas cold, I believe,
if he was not the last
of the lot on Christmas Eve.
He trailed after the little ones
who, like happy sprites,
ran about the farm with
their fine tallow lights.
Christmas is clearly something very special here in Iceland with most people maintaining long-standing family traditions around this time of year. It is a time when the already strong sense of community that Iceland has is really kicked into overdrive as the streets come alive with the twinkle of fairy lights and the smell of roasting chestnuts. Christmas markets pop up across the city and snowflakes gently fall to complete the winter wonderland scene.
For any of our readers travelling during this festive period, we wish you a Gleðileg jól. The stories may seem a little strange but the feeling is truly magical.