Icelandic Christmas: December 12th
Written by Sam Daniels - 12 Dec 2018 2 minute read -
As we have mentioned there are thirteen yule lads, each who come down to the city to cause a particular kind of mischief to the people they encounter. Thankfully they have names that make it very clear what their intentions are!
They arrive (and depart) in a specific order during the 13 days leading up to Christmas which is celebrated on the 24th of December here in Iceland.
Stekkjarstaur (Sheep-Cote Clod)
This Yule Lad is the first to visit and comes on the 12th of December. He is known for having very stiff legs that are often depicted as being made of wood. Stekkjarstaur harasses sheep when he comes to town, he wants to get their milk but because of his stiff legs finds it difficult to obtain.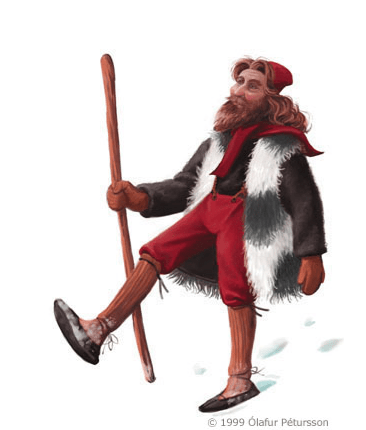 "The first of them was Sheep-Cote Clod.
He came stiff as wood,
to pray upon the farmer´s
sheep as far as he could.
He wished to suck the ewes,
but it was no accident
he couldn´t; he had stiff knees –
not too convenient."